20 best love songs for him to show your true feelings
Being genuinely in love is one of the best feelings in life. Expressing this profound feeling and wave of emotions can be, sometimes, difficult. Every time you see your man, your mood is brightened, and his voice melts your heart. How do you tell him how he makes you feel? Which words should you use? As Hans Christian Andersen asserted, "Where words fail, music speaks." Use the best love songs for him to express your genuine feelings and emotions.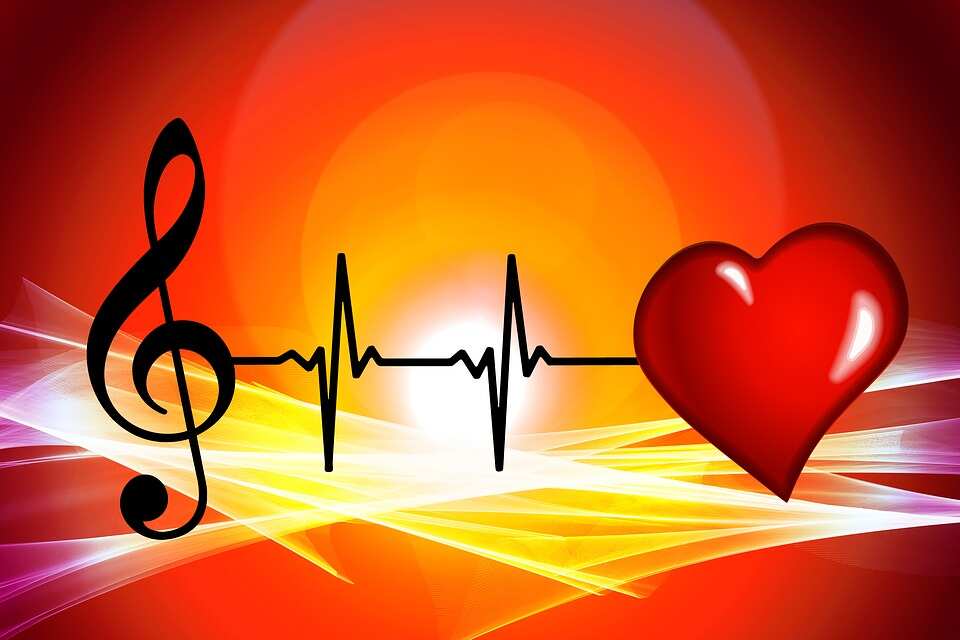 Finding the best love songs for him is a task that requires some thought and time. You should go through the lyrics to ascertain that they reflect what is in your heart. You do not want to dedicate a love song whose theme is a break-up. You should also ascertain that the song suits your intention. Perhaps you want to send a romantic gesture or to set the mood for love making. The selected love songs to dedicate to your boyfriend or husband should directly mirror your objective.
Top 20 love songs for him
These love songs are the best selection of partner songs. The lyrics express deep feelings, genuine attraction, and indisputable affection. Without a doubt, these are the best love songs for him.
Romantic songs for him
Without music, romance is incomplete. Romantic songs are the best songs to sing to your boyfriend to express your deep love for him.
READ ALSO: Here are the new Nigerian songs you have to listen to
1. When You Kiss Me by Shania Twain
Every girl who is genuinely in love prays, dreams and hopes that the love lasts their entire lifetime. Expressing these hopes and dreams can be hard, but Shania Twain captures this feeling. Some of the lyrics in the song are:
I can see you with me when I'm older
All my lonely nights are finally over
You took the weight of the world off my shoulders
(The world just goes away)
Oh, when you kiss me
I know you miss me
And when you're with me
The world just goes away
The way you hold me
The way you show me
That you adore me, oh, when you kiss me
Oh, yeah
2. A Thousand Years by Christina Perri
Finding true love is no mean feat. When you find him, you will want to love him for a thousand years and more. Christina Perri puts this deep desire in a beautiful song that you should dedicate to him right away.
The day we met
Frozen I held my breath
Right from the start
I knew that I'd found a home for my heart
Beats fast
Colors and promises
How to be brave?
How can I love when I'm afraid to fall
But watching you stand alone?
All of my doubt suddenly goes away somehow
One step closer
I have died everyday waiting for you
Darling don't be afraid I have loved you
For a thousand years
I'll love you for a thousand more
3. At Last by Etta James
When your dream of finding the perfect man comes true, you should let him know that he is the one. Men love knowing that someone loves them too. Kiss goodbye the lonely days and tell him that he is yours forever as Etta James says:
At last, my love has come along
My lonely days are over and life is like a song, oh yeah
At last, the skies above are blue
My heart was wrapped up clover, the night I looked at you
I found a dream that I could speak to
A dream that I can call my own
I found a thrill to press my cheek to
A thrill I've never known, oh yeah
You smiled, you smiled oh and then the spell was cast
And here we are in heaven
For you are mine at last
4. First Time I Saw Your Face by Roberta Flack
Roberta vocalises the deep love that a woman feels for her man. The lyrics are carefully selected. When he listens to this song, he will understand exactly how you feel. Some of the lyrics are:
The first time ever I saw your face
I thought the sun rose in your eyes
And the moon and the stars were the gifts you gave
To the dark and the endless skies
The first time ever I kissed your mouth
I felt the earth move in my hand
Like the trembling heart of a captive bird
That was there at my command my love
Modern love songs for him
If your man enjoys more modern music compared to the older songs, you can express how you feel using these modern songs with lyrics that are carefully selected. The songs have deep words and beats that younger men are more likely to relate to and enjoy.
5. Make You Feel My Love by Adele
Every man deserves a woman who will stand by him throughout the storms of life, someone they can rely on no matter the situation. When both a woman and a man are committed to each other, they create a force that can withstand anything. Let him know that you will stand by him using Adele's powerful lyrics, part of which are:
When the rain is blowing in your face
And the whole world is on your case
I could offer you a warm embrace
To make you feel my love
When the evening shadows and the stars appear
And there is no one there to dry your tears
Oh, I hold you for a million years
To make you feel my love
6. We Found Love by Rihanna featuring Calvin Harris
Sometimes, it takes a while before you can get your prince charming. Being delayed does not mean that he will never come along. When he finally does, you will be elated and full of affectionate feelings and emotions. Tell him that you finally found him after a period of waiting using this amazing song:
Yellow diamonds in the light
And we're standing side by side
As your shadow crosses mine
What it takes to come alive
It's the way I'm feeling, I just can't deny
But I've gotta let it go
We found love in a hopeless place
7. I'm Yours by Jason Mraz
This is the best song to remind your man that he is the king of your life. You are certain that you are his, and nothing can take you away from him. A man loves knowing that you are dedicated to the relationship and will be by his side no matter what. Some of the lyrics are:
Well you done done me and you bet I felt it
I tried to be chill but you're so hot that I melted
I fell right through the cracks
And now I'm trying to get back
Before the cool done run out
I'll be giving it my best-est
And nothing's going to stop me but divine intervention
I reckon it's again my turn
To win some or learn some
But I won't hesitate no more, no more
It cannot wait, I'm yours
8. Love Story by Taylor Swift
Sometimes, love does not come easy. Other people in life may oppose your relationship. When you have true and deep feelings for him, you both must fight for each other. Eventually, the two of you will make an unbreakable team. Love Story by Taylor Swift captures it all. She will go past the blockades to be with the one she truly adores:
So I sneak out to the garden to see you
We keep quiet 'cause we're dead if they knew
So close your eyes, escape this town for a little while
'Cause you were Romeo, I was a scarlet letter
And my daddy said "Stay away from Juliet"
But you were everything to me, I was begging you, please, don't go
And I said Romeo take me somewhere we can be alone
I'll be waiting, all there's left to do is run
You'll be the prince and I'll be the princess
It's a love story baby just say yes
Rock love songs
While many people associate rock music with being rough, rebellious and loud, some rock songs melt the heart. Whether it is modern rock or classic rock love songs, a rock song expresses what one truly feels as do other genres of music. Some of the fantastic rock songs to dedicate to him are:
9. You Make Loving Fun by Fleetwood Mac
Love brings happiness to both a man and his woman. More often than not, it makes one partner to overlook the flaws of the other. Instead, the focus becomes loving each other and having fun together. Let him know that he makes love fun today:
Sweet wonderful you
You make me happy with the things you do
Oh, can it be so
This feeling follows me wherever I go
I never did believe in miracles
But I've a feeling it's time to try
I never did believe in the ways of magic
But I'm beginning to wonder why
10. You're The Inspiration by Chicago
Real love should inspire you to achieve your dreams and potential. It should foster personal development. If he inspires you to be better each day and to pursue your dreams and passions, let him know through this powerful song:
You're the meaning in my life
You're the inspiration
You bring feeling to my life
You're the inspiration
Want to have you near me
I want to have you hear me saying
"No one needs you more than I need you"
11. I'll Stand By You by The Pretenders
Men have emotions and feelings too. Sometimes, they feel vulnerable and downcast. They must not always pretend to be strong when they are not. It is, therefore, necessary for a woman to create a space where he can be vulnerable and sad without judgement. Let him know that it is okay to go through the different phases of life, and in each phase, you will be there by him. The most powerful part of this song is:
I'll stand by you,
I'll stand by you, won't let nobody hurt you,
I'll stand by you
So if you're mad, get mad, don't hold it all inside,
Come on and talk to me now.
Hey there, what you got to hide?
I get angry too, well, I'm alive like you.
When you're standing at the cross roads,
And don't know which path to choose,
Let me come along, 'cause even if you're wrong
12. She Loves You by The Beatles
Sometimes, human beings in a relationship assume that their partner loves them, and they forget to remind each other of the same. Break the excess familiarity by reminding him that you have deep feelings for him. What better way to do this than by dedicating the song, She Loves You? Check out some of the lyrics now:
She says she loves you
And you know that can't be bad
Yes, she loves you
And you know you should be glad, ooh
She loves you, yeah, yeah, yeah
She loves you, yeah, yeah, yeah
With a love like that
You know you should be glad
Country love songs for him
Country music has the power to take you to a place of calmness. It creates a euphoric state of mind, especially among those who love this genre of music. Its simplicity is soothing to the soul. If your boyfriend, husband or partner loves country music, use it to express yourself:
13. It's Your Love by Tim McGraw ft. Faith Hill
It's Your Love is the best song to dance to with the love of your life at sunset. The lyrics not only soothe the heart but also remind him that he is the one. Some of the carefully selected words in this song are:
Dancin' in the dark
Middle of the night
Takin' your heart
And holdin' it tight
Emotional touch
Touchin' my skin
And askin' you to do
What you've been doin' all over again
Oh, it's a beautiful thing
Don't think I can keep it all in
I just gotta let you know
What it is that won't let me go
14. How Do I Live Without You by LeAnn Rimes
How do you live without the one you truly adore and cherish? You simply cannot. Let him know this by playing, singing along and dancing to this fantastic song:
How do I,
Get through one night without you?
If I had to live without you,
What kind of life would that be?
Oh, I...
I need you in my arms, need you to hold,
You're my world, my heart, my soul,
If you ever leave,
Baby you would take away everything good in my life,
And tell me now
How do I live without you?
I want to know,
How do I breathe without you?
If you ever go,
How do I ever, ever survive?
15. You're Still the One by Shania Twain
You're Still the One reminds both you and him that you have overcome many things to be together. Even then, he is still the perfect one for you. It is the perfect song for couples who have been together for a while. It will prompt him to reminisce over how loyal you have been towards each other, and motivate him to continue being the best partner and lover. Some of the profound lyrics from the song are:
You're still the one I run to
The on that I belong to
You're still the one I want for life
(You're still the one)
You're still the one I love
The only one I dream of
You're still the one I kiss goodnight
Ain't nothin' better
We beat the odds together
I'm glad we didn't listen
Look at what we would be missin'
They said "I bet they'll never make it"
But just look at us holdin' on
We're still together still goin' strong
16. When You Say Nothing At All by Keith Whitley
Knowing that he will always stand by your side gives you the courage to face life as it comes. It makes you a better person. Letting him know how much you love and appreciate him for being by your side is best captured by this song. The lyrics talk of a woman who is sure that her man will not leave her. This assurance is something that every woman should appreciate.
It's amazing how you can speak right to my heart
Without saying a word you can light up the dark
Try as I may I could never explain
What I hear when you don't say a thing
The smile on your face lets me know that you need me
There's a truth in your eyes saying you'll never leave me
A touch of your hand says you'll catch me if ever I fall
Timeless pop songs for him
Some of the best pop songs to dedicate to him are:
17. Thank You by Dido
Appreciating his love boosts his confidence and inspires him to continue being loving towards you. Tell your man that you appreciate him,and all he does for you by dedicating this song to him. Some of the profound words in this song are:
I want to thank you for giving me the best day of my life
Oh just to be with you is having the best day of my life
Push the door, I'm home at last and I'm soaking through and through
Then you handed me a towel and all I see is you
And even if my house falls down now, I wouldn't have a clue
Because you're near me and
I want to thank you for giving me the best day of my life
Oh just to be with you is having the best day of my life
18. Power of Love by Celine Dion
Love can conquer everything that comes in its way. It is powerful. This song will remind him that the two of you can face anything together. It also assures him that you are his, now and forever.
'Cause I'm your lady
And you are my man
Whenever you reach for me
I'll do all that I can
Lost is how I'm feeling lying in your arms
When the world outside's too much to take
That all ends when I'm with you
Even though there may be times
It seems I'm far away
Never wonder where I am
'Cause I am always by your side
19. No One by Alicia Keys
Love is beautiful, kind and patient. When love comes, you cannot deny that it is a life-altering experience. Let him know that you make the perfect team that cannot be separated.
You and me together
Through the days and nights
I don't worry 'cause
Everything's going to be alright
People keep talking they can say what they like
But all I know is everything's going to be alright
No one, no one, no one
Can get in the way of what I'm feeling
No one, no one, no one
Can get in the way of what I feel for you, you, you
Can get in the way of what I feel for you
20. Kiss Me by Sixpence None the Richer
Kiss Me is a beautiful song that gives both you and him all the good feels. It expresses your desire and longing for him and only him. Some of the lyrics are:
Oh, kiss me beneath the milky twilight
Lead me out on the moonlit floor
Lift your open hand
Strike up the band, and make the fireflies dance
Silvermoon's sparkling
So kiss me
Kiss me down by the broken tree house
Swing me, upon its hanging tire
Bring, bring, bring your flowered hat
We'll take the trail marked on your father's map
When deep feelings and emotions of love and affection hit you, expressing them to your man can be hard. One of the best ways of letting him know how you genuinely feel is by dedicating one or more love songs to him. Love songs for him will not only assure him of your love but will also motivate him to become a better husband or boyfriend. Let him know about your feelings today!
READ ALSO:
Top trending Enya songs 2019
Latest Flavour songs 2018-2019
Source: Legit.ng