Best I love you poems to send to your loved one
Short and sweet I love you poems are an excellent means to express your emotions. Send such a piece of art to your darling in the morning and make their mood bright and happy for the remainder of the day. A deep thought squeezed into just a couple of lines may touch the deepest strings in your dear one's heart.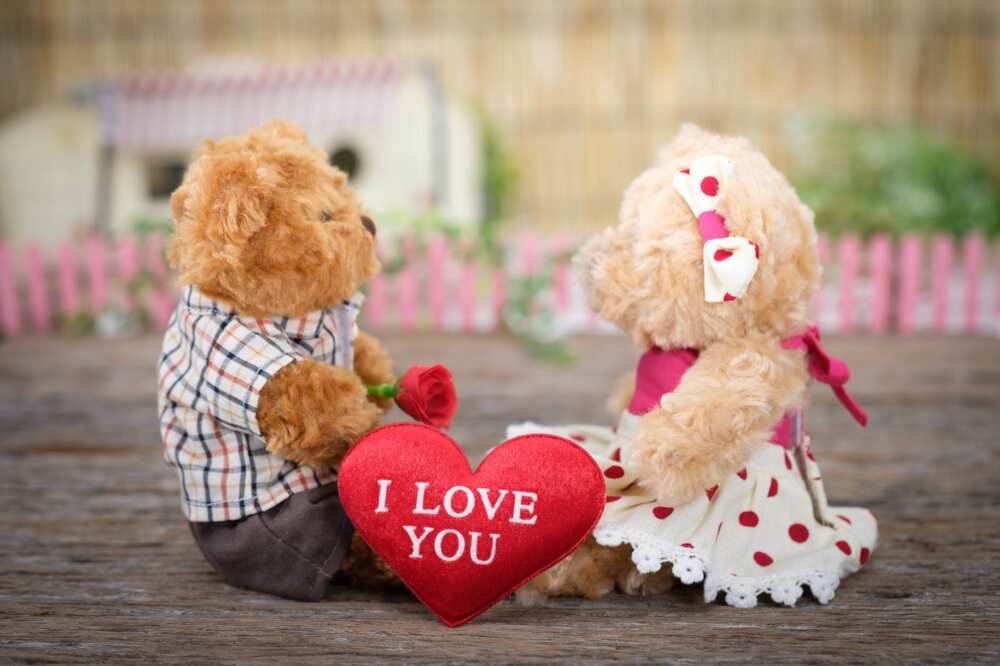 A sweet love poem does not need to be long. It does not even need to be perfect. If it conveys the true meaning of your emotions and their depth, it is already great. You should not think that if you have never been much of a poet, you will not be able to compose something charming and touching. Check out samples from the internet, and you will see that you can do it, too.
Several adorable I love you poems for every occasion
Check out this collection of tiny but cute verses that may suit any occasion and express the full spectrum of your emotions. Some of them are more playful and cheerful; others are quite dramatic and able to stir the depths of your sweetheart's soul. Just give them a little attention and choose the ones you like most.
I think of you; I just can't say how often I do.
I miss you; I just can't say how bad I do.
I need you; I just can't express how much I do.
I crave you, just you, and only you.
When you are not with me,
There's something I want you to keep.
The sweetest dream to colour up your sleep.
A piece of my heart so that if we're apart
It could whisper to you that I love you, I do.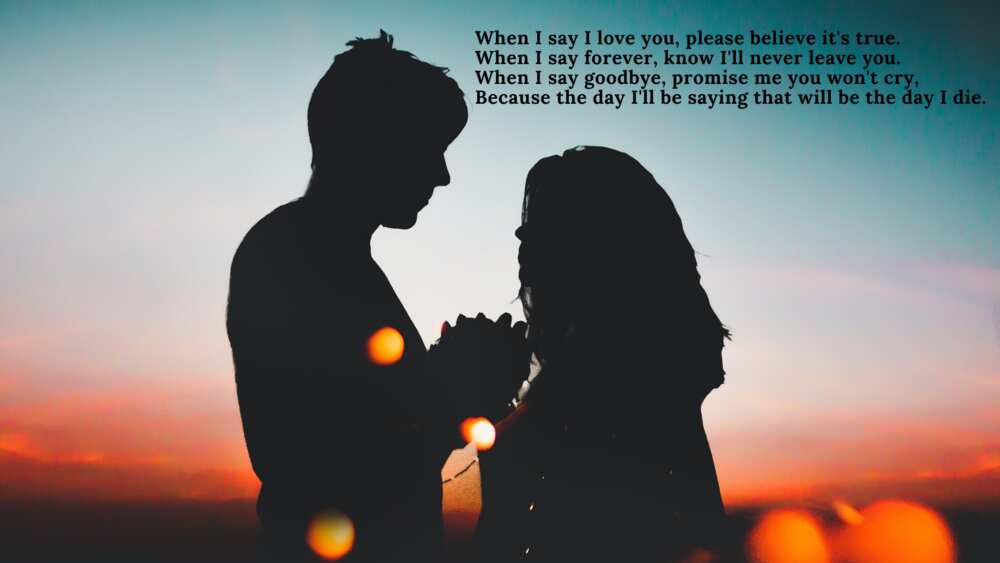 When I think of you, it's the sweetest emotion,
And only for you is my honest devotion.
Whatever I've wished you completely fulfill.
I adore you today, and so I always will.
The majority of beautiful and short romantic poems consist of only four lines. Check out these examples and maybe try to compose something on your own. You may be positively surprised at how easy rhymes come up in your brain when you are under the influence of some romantic emotion.
For me, you are the sun; for me, you are the moon.
When I have words for a song, you are my sweetest tune.
My water, air, and sun, you are my number one.
My ray of light at darkest times,
My best accords and loveliest rhymes,
When I say I adore you,
Believe me, it is true.
Want to speak to you like a lover speaks
With the help of kisses laid upon your cheeks.
With the help of whispers and gentlest caress -
You're my sense of life, and I want no less.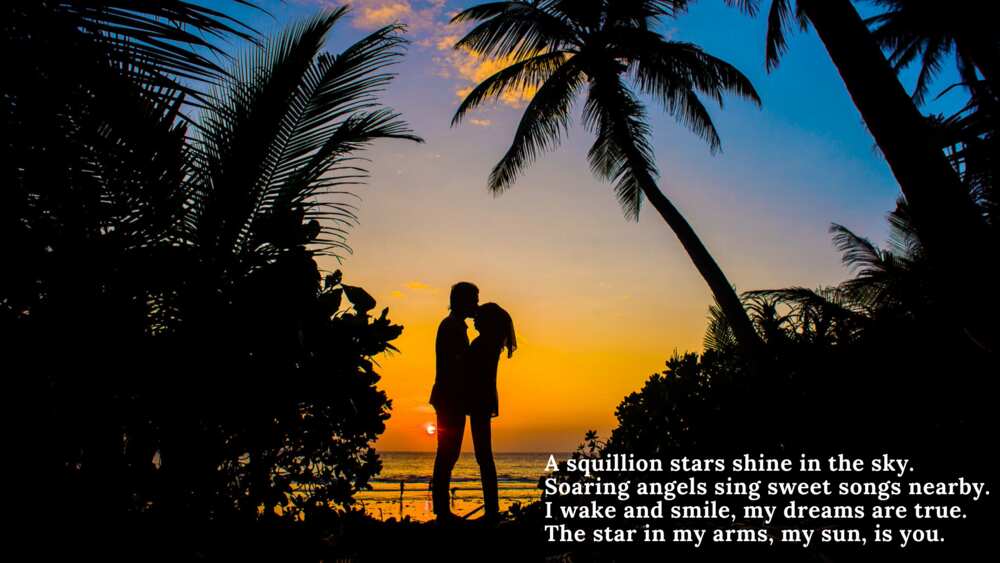 I crave your lips, so red as wine,
They are burning with your heart's desire.
I hold you tight and know you're mine,
My blessing, my wildest fire.
A good poem about love is deep. It has a profound meaning behind the sweet words. If you want your sweetheart to appreciate your efforts, choose lines that sound non-banal and that are meaningful.
You were like water on my desert soul,
Your love was the power that made me whole.
I have never dreamed of feeling like this before.
We're together now, and we'll part no more.
Who are you that came from heaven above?
Were you sent here to teach me love?
Before I met you, my heart had been in danger.
Stay with me forever; you're my guardian angel.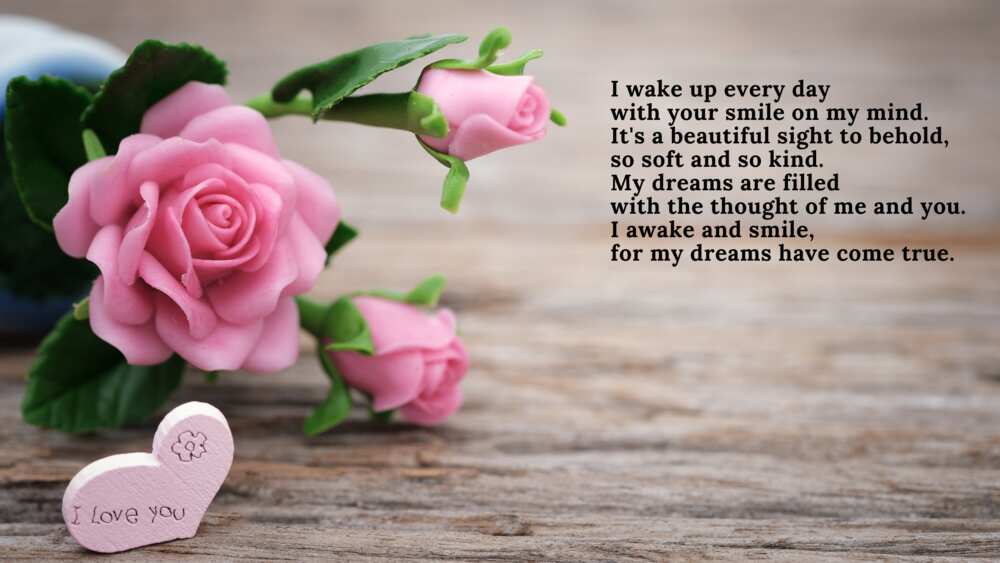 I will adore you, darling, until my very last breath,
And beyond it, beyond the verge of death,
When the world collapses, heaven falls from above,
The best thing that I had will be your love.
Many famous love poems speak about passion. Love can make a person think that his or her passion will last until their last days on earth and even longer. It is a fantastic feeling, a great source of inspiration.
When I see you, I get boiled and freeze,
When you speak to me, I am weak at my knees,
'Below' exchanges its place with 'above' -
Am I sick? No, I am in love.
You came into my life like sunshine
After years of lonesome rains.
You brought me your love and laughter
That wiped away tears and pains.
Now it's my turn to be your strength
Whenever you feel too weak.
It's my turn to be your voice
Whenever your heart wants to speak.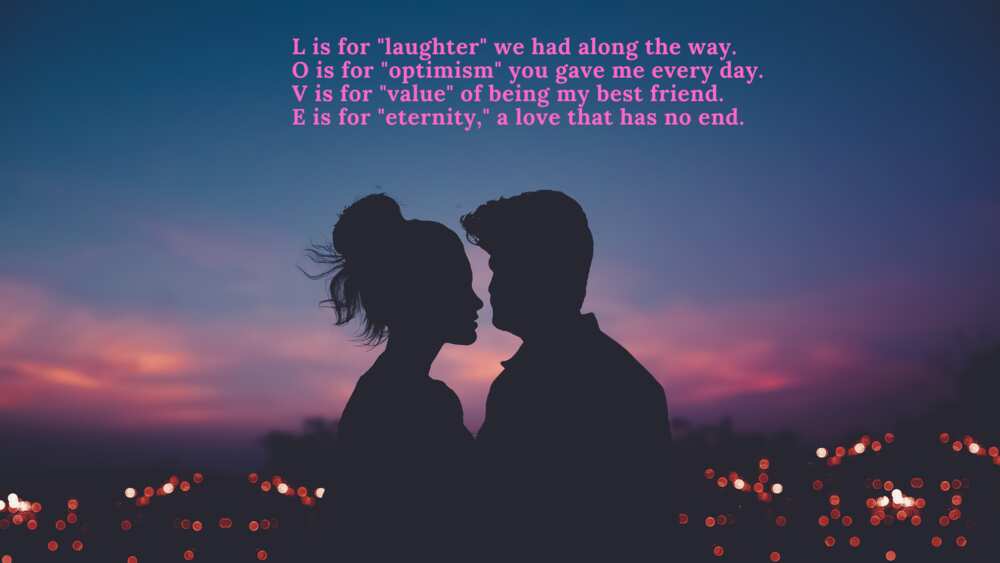 You're the core of my joy,
You're the bliss of my heart.
My dear, I promise you now:
Only death shall us part.
Cute romantic poetry is precisely what you need to create a light, playful mood without overloading your partner with emotions. If they already know you cherish them, such a little piece of art will be exactly what both of you need.
When I met you, I knew you were the prettiest of all.
Falling madly in love was beyond my control.
If you ask what I want, it's getting old by your side.
I adore you forever, and there's nothing to hide.
When I used to dream many years ago
I imagined how I met my own true love.
How our souls will meet, how our souls will touch -
I wanted the dreams to come true so much!
And now you are here, and now I am sure:
I have fallen for you like never before.
Make your man's day brighter with these cute love poems for him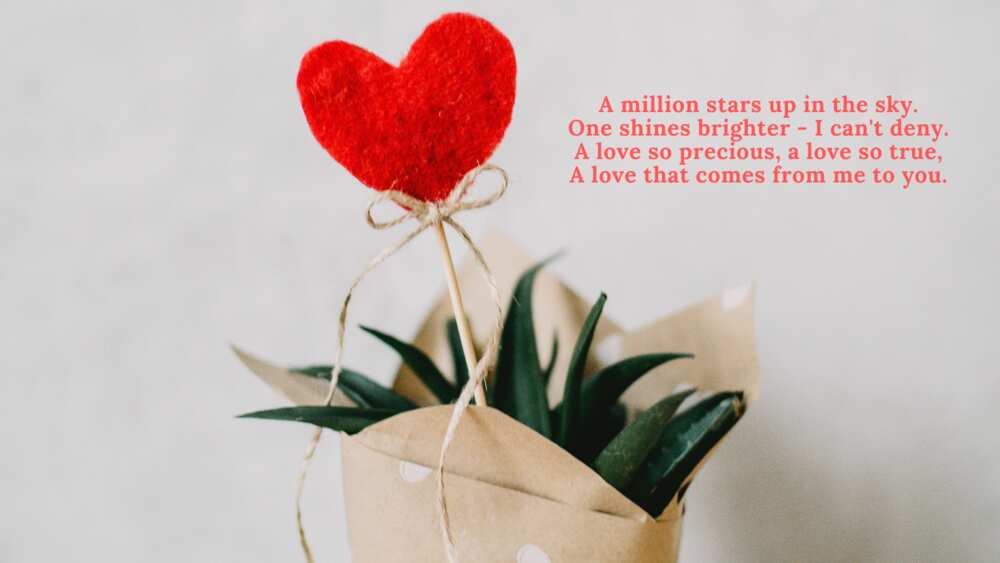 Will your man be pleased to know what you feel for him? It is very likely that he will, so you can try and make him feel cherished with the help of short and meaningful verses. Check these I love you poems and choose one which reflects your feelings best of all.
My love for you is so soft,
My love for you is so strong,
The only thing that is right
When everything else goes wrong.
Undoubtedly picks me up
Whenever I'm broken and down.
It's a blessing and pure delight
That rests on my heart like a crown.
The key is sincerity in the love poetry you choose for your sweetheart.
Embrace me like a river so deep,
Want to listen to your heart when I fall asleep.
Hold me tight, my king, my beloved man,
I love you as much as a woman can.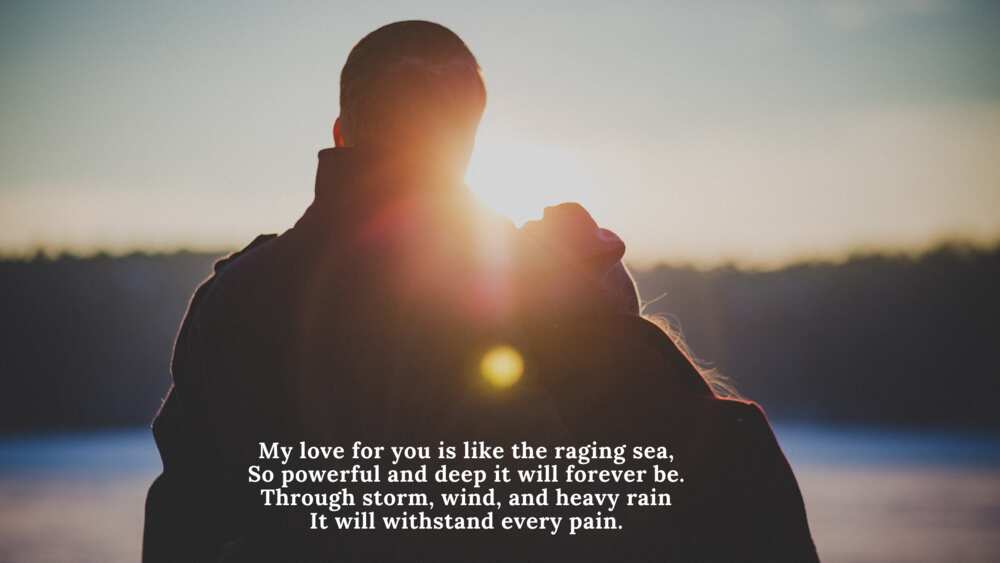 Sometimes, it makes sense to send your boyfriend something hot, frank, and even slightly provocative. Make him think about you through the day!
In the sea of desire.
You're the one whom I crave,
Who sets my heart on fire.
When I say I am crazy,
I am crazy about you.
When I say that I love you,
Please be sure I do.
A couple of incredible love poems for her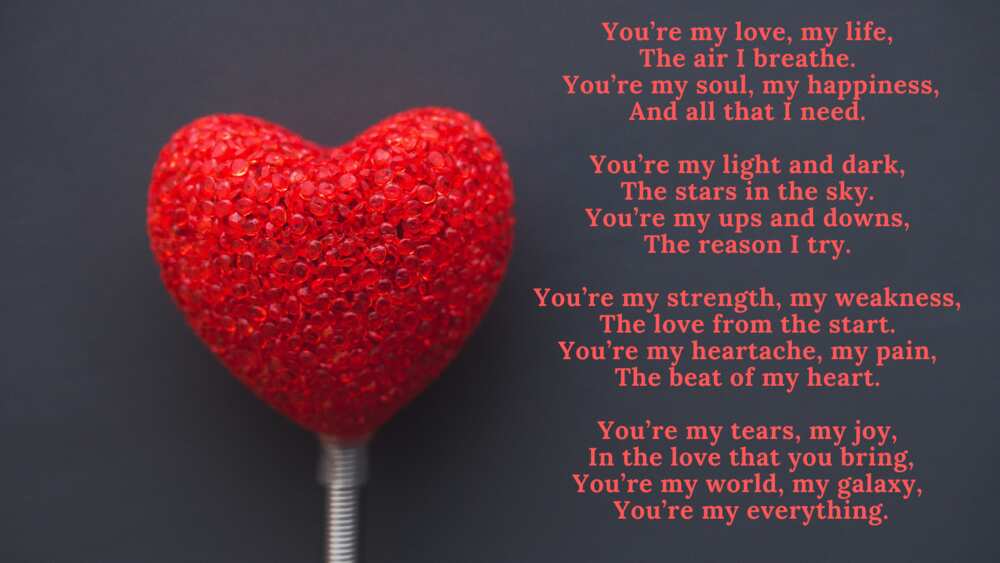 If you want to make your girlfriend smile, no matter how near or far you are from each other, send her these pieces of art. The sparkles in her eyes will make your day.
You are the cutest woman that one can ever meet,
I am honoured to confess that to you I will commit.
When I look at you, I feel real awe,
The sensation I've never known before,
My heart belongs to you; I am happy you are mine.
Hold my hand, and I will hold yours till the end of time
What about making a proposal with the help of a couple of cute poems? Such a lovely little verse may make your sweetheart smile. You need to be cautious, however, because some girls may be sensitive to matters associated with weddings and proposals. If you are not sure about your darling's sense of humour at the moment, you better not try.
How shall I start? What shall I say?
The look of your eyes takes my breath away.
I have not seen a prettier girl in my life…
Will you marry me and become my wife?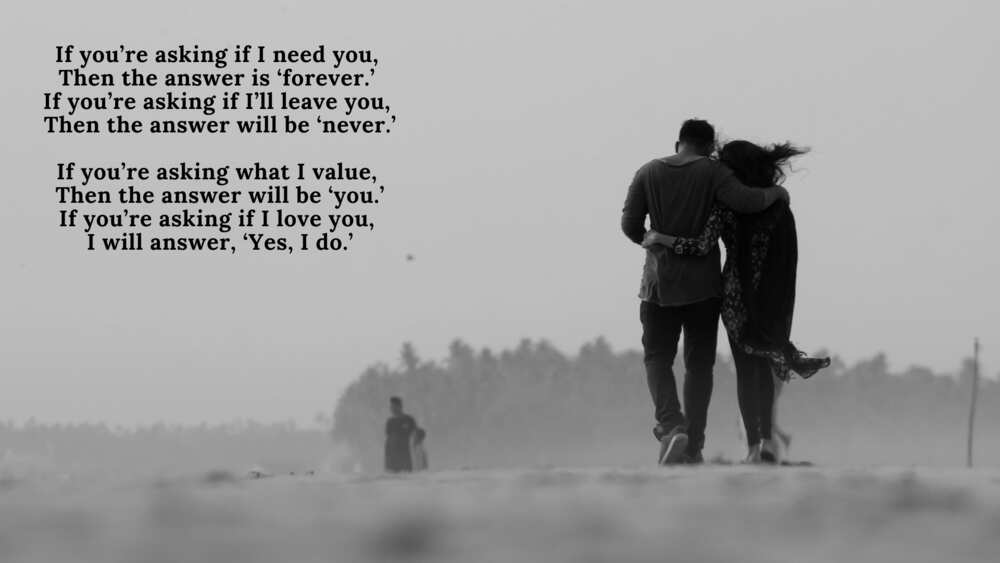 Sending a couple of beautiful lines to the woman who is already your wife is a great way to maintain the fire of affection in your family. Every tiny bit of affectionate attention you give to your wife will return to you.
The prettiest woman, the star of my life,
Who has once agreed to become my wife.
You are forever the queen of my heart,
And I make you a promise that we'll never part.
If you are in search of the ever best love poem for her or for him, you may also refer to classic poetry. Classic works of art may be longer but, at the same time, more exquisite. Everything depends on the impression you want to create.
Hopefully, you have enjoyed this small collection of adorable I love you poems. Please feel free to use them as they are or as templates to create your own masterpieces. Your sweetheart will be impressed and touched by either option.
Source: Legit.ng