Short romantic love messages for boyfriend
Sending love messages to your second half is the best way to express your feelings and make your man happier. If you want to know how to impress your man with a simple text, continue reading.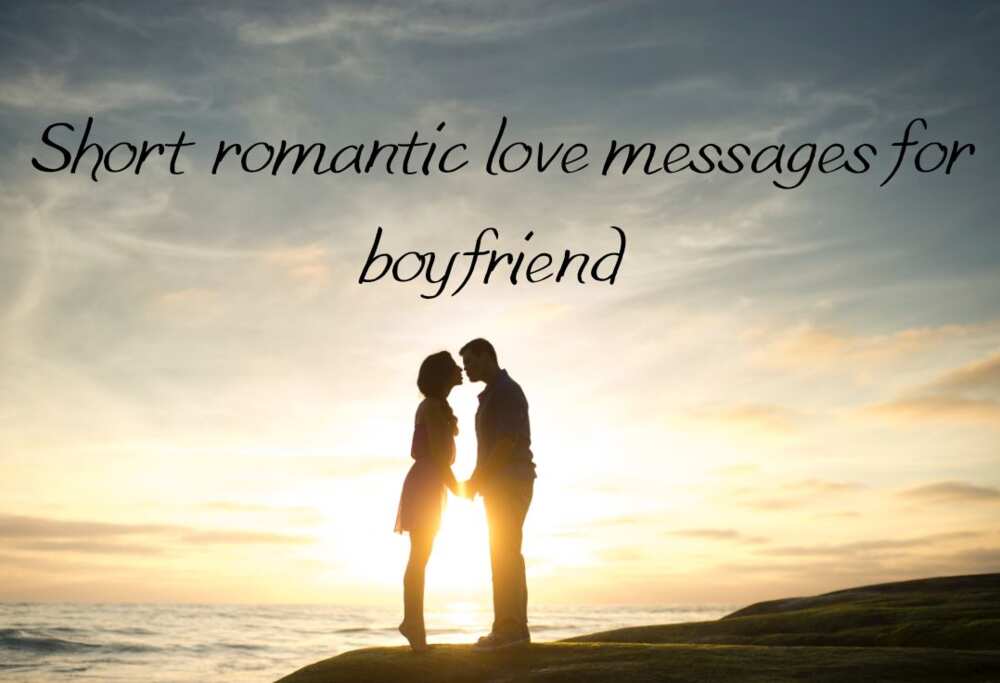 Sometimes a short love saying can express more than you think, especially when you put all your feelings into your text. Good wishes will help to make your better half's day better.
Short true love messages for him
If you noticed that something made your man upset, or he is just in a bad mood, send him a loving message, because deep down even the strongest man needs support.
Honey, I love you more and more with each passing day.
Without you, I would not know what love is. You brought it into my life and made me the happiest woman in the world.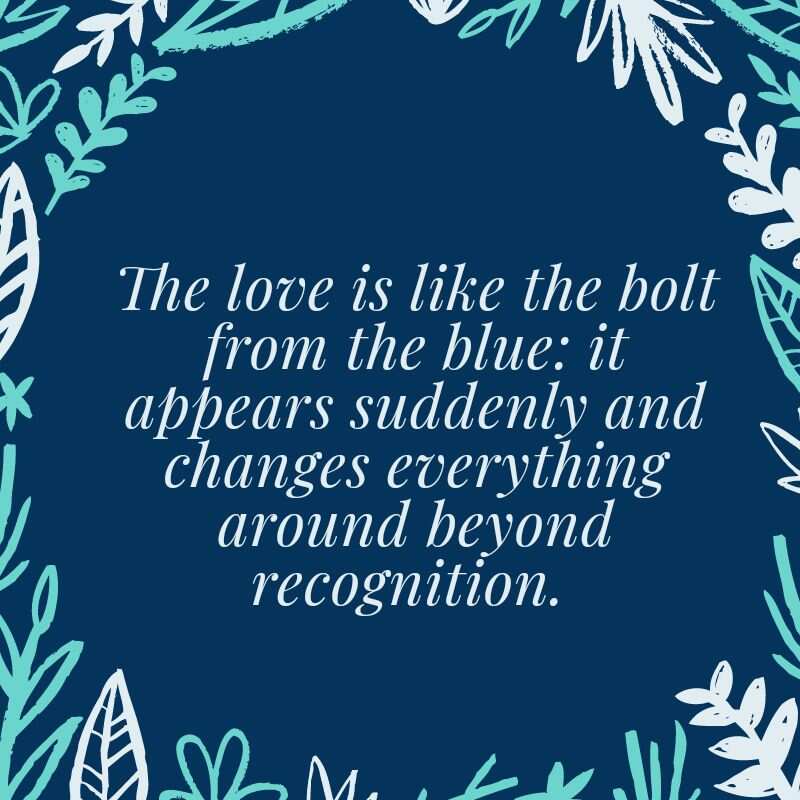 My greatest desire is to drown in you so that nobody can find me.My greatest desire is to drown in you so that nobody can find me.
There are many good men in the world. But for me, you are the one, whom I love.
If I cannot see your eyes, even the sunniest day for me is sad.
Long distance relationship letters
To save your love in a long distance relationship, you need to keep in touch with one another. Sometimes, unfortunately, it is impossible to make a phone call, so messages are the best way to cheer up your partner.
Let the hundreds of miles separate us, but you are in my thoughts, prayers and heart.
The longer we are apart, the stronger my love for you becomes.
READ ALSO: 75 romantic good morning my love quotes and messages
My love, you are the guardian of the key to my heart. You went away, having taken this key with you; and only when you come back, I will feel complete.
We can be on opposite sides of the world, but our souls and hearts are together forever.
Distance is not an obstacle to our love; it is one of the numerous tests the life throws at us. So, if we overcome it, our love will last forever.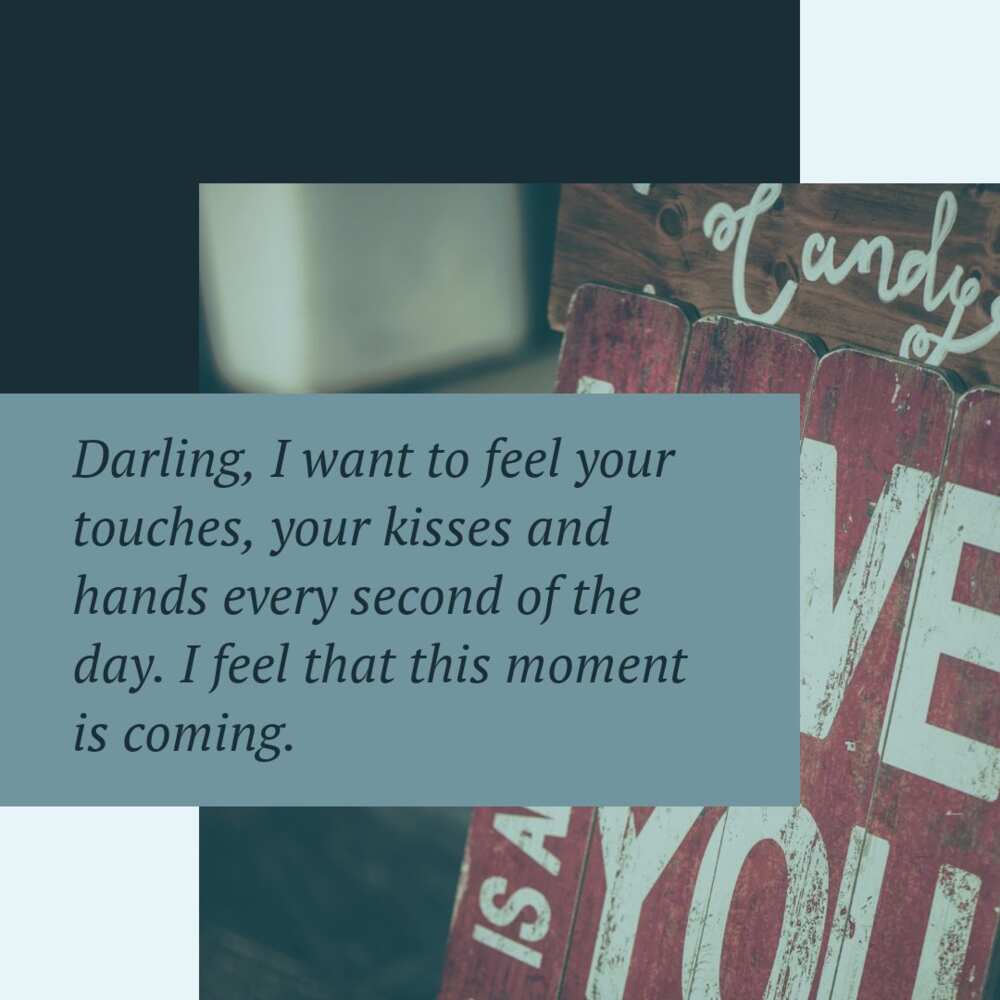 Heart touching messages for your man
Learn how to express your feelings, because men value those women who are not afraid of saying what they think.
I do not need any special reason to say that I adore you. When you come into my life, you turned it upside down, and I got to another beautiful world. I hope this feeling will last forever!
You are the sense of my life, and I want you to know one important thing: I love you to the Moon and back, and nothing can make this all-embracing love dies.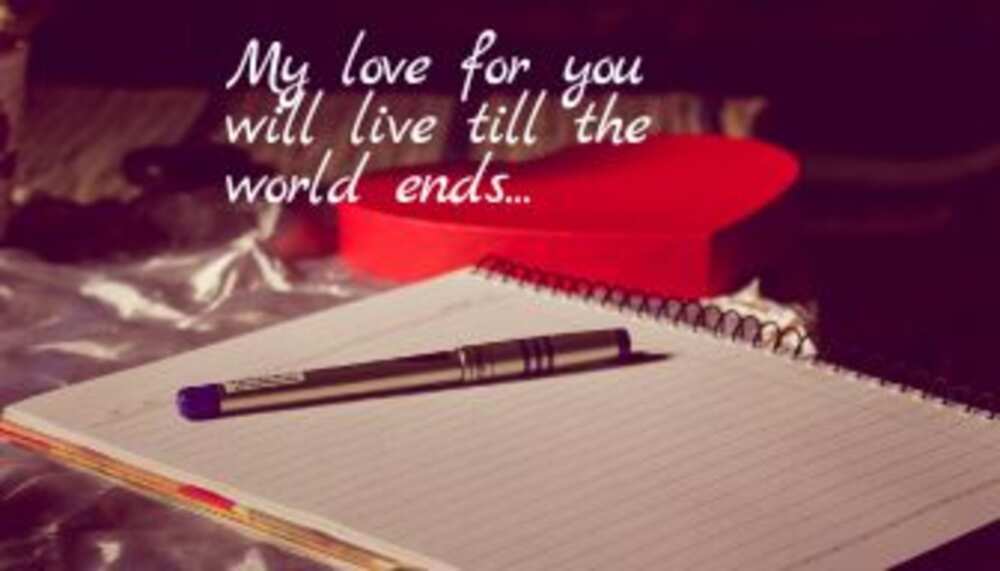 I might write the millions of love letters and fill out all libraries by them, but it has no sense because you know that I adore you. I have dreamed of you all my life, and now my dreams come true, my sunshine.I might write the millions of love letters and fill out all libraries by them, but it has no sense because you know that I adore you. I have dreamed of you all my life, and now my dreams come true, my sunshine.
Since I have met you, I can not think of anyone else. In the ocean of thousands of men, I see only your face. You do not leave me even in my dreams. I appreciate every moment spent with you and every day I look forward to seeing you. Only this can make me smile.
When I say that I love you, I mean that I feel it always — no matter whether you are smiling or depressed. I want to be with you, be supportive and fill your life with new colours. And I believe that our life is going to be better and better for us.
The best anniversary love sayings
An anniversary is the most important day for a couple in love. Here are some messages that will make this day even more special
True love is endless substance. I am happy to celebrate this anniversary with you, my love. I believe that our feelings will withstand the test of time and prove that they are real.
When I am with you, I am on cloud nine. I sincerely want this feeling to be endless, so happy anniversary, sweetie!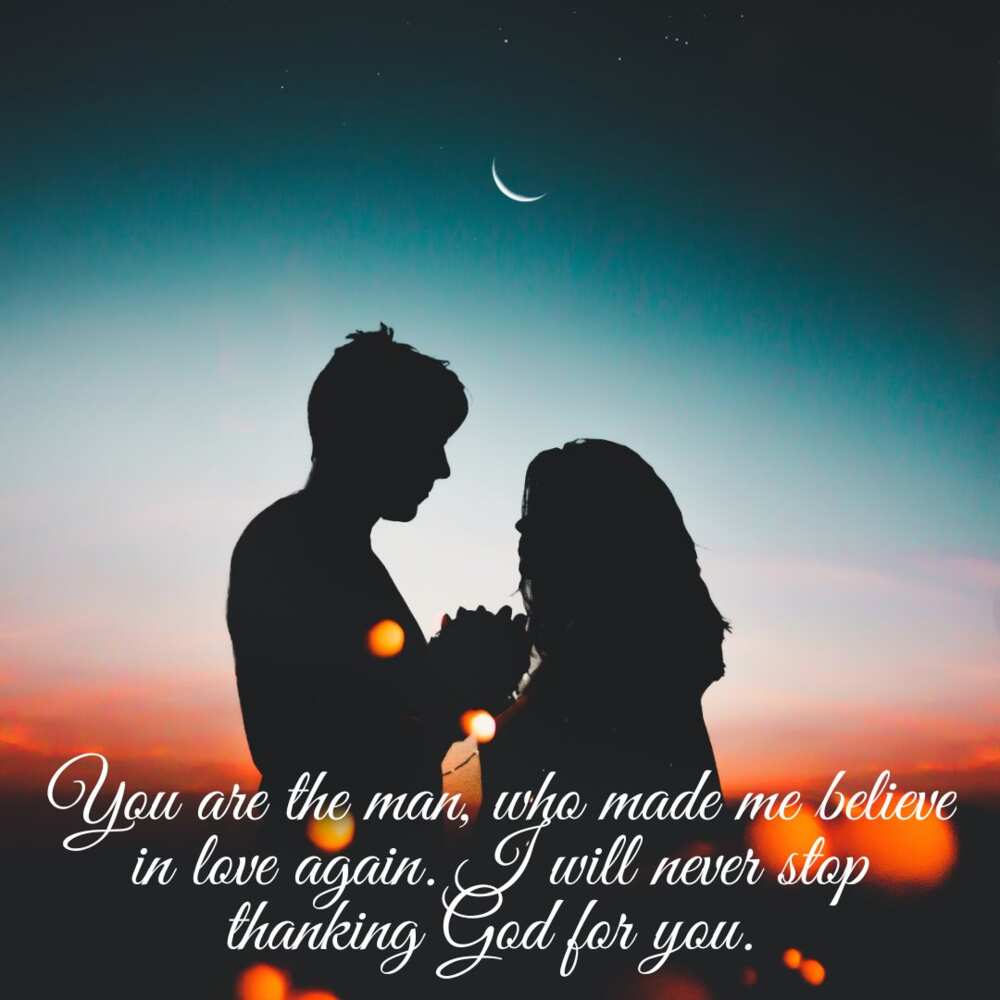 I am not afraid to be emotional on such a day. You are the best in the world. Only being with you I can feel weak and vulnerable. Only in your arms, I am safe and beloved. I want to be in your embrace every second of my life.
When I met you I had no idea that you would become the most significant person in my life. And now we already celebrate the anniversary. I am still can not believe how happy I am with you. Happy anniversary!
The St. Valentine brought us together not by chance. We are unique persons that should stay together to be powerful. I cannot imagine my life without you, my perfect man. Happy anniversary!
Good morning messages for your second half
Sending a loving message early in the morning is an excellent way to show your soul mate that you remember him and that you wish him a great day.
Let this day bring you happiness and success and my affection will accompany you.
Good morning! It is so hard for me to wake up from dreams with you, but the anticipation of meeting with you gives me strength.
Good morning, my love! I hope that my message and coffee will perk you. I wish you a productive day and remember that I love you.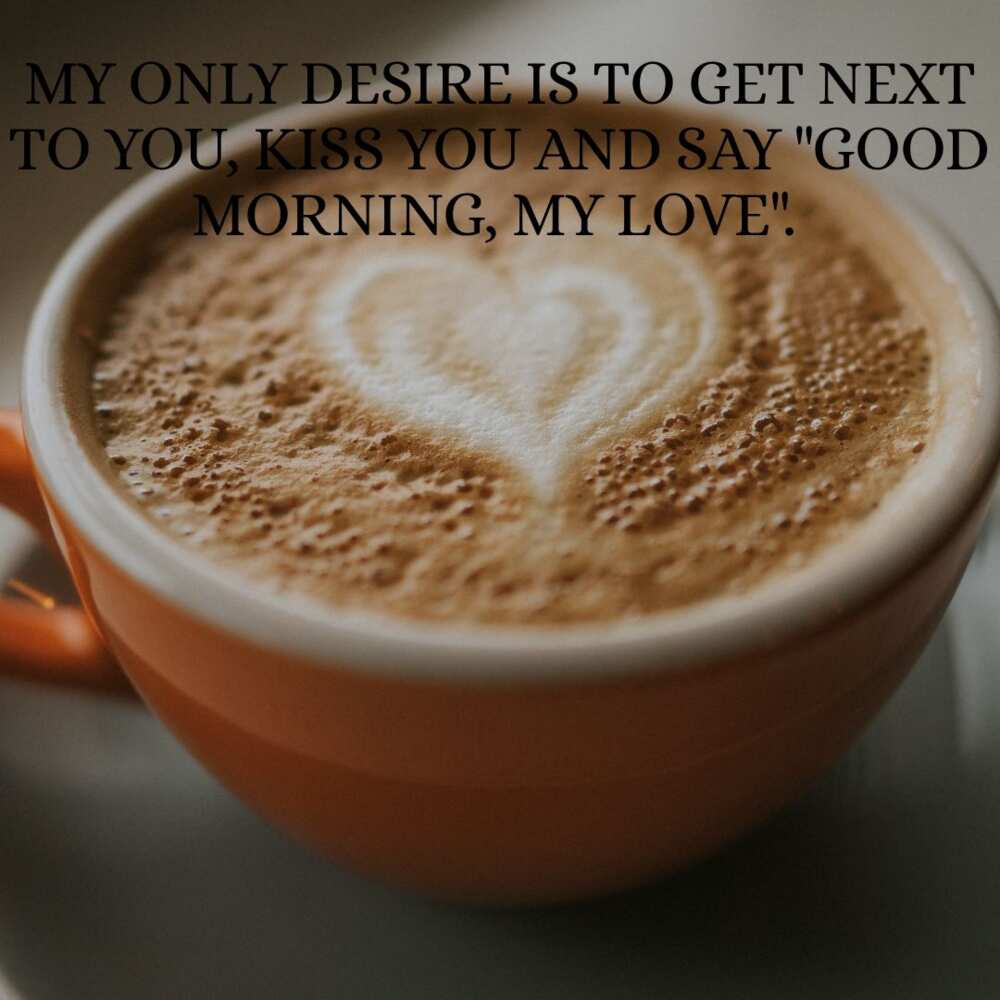 You are the unique guy. You can make me smile and laugh as no one can. Today everything is for you: the sun is shining, birds are singing, and my heart is beating. The whole world wishes you a good morning, babe!
Once you have added the light and sense to my life, so now I want to add more love and happiness to your day. Good morning!
Romantic good night love words
Here are some words that will end a perfect day well:
It was a hard day for us both, so I wish you a good night and hope that you will regain your strength for the next day. I look forward to seeing you soon and hear your sweet voice. Sleep well, my sweetie.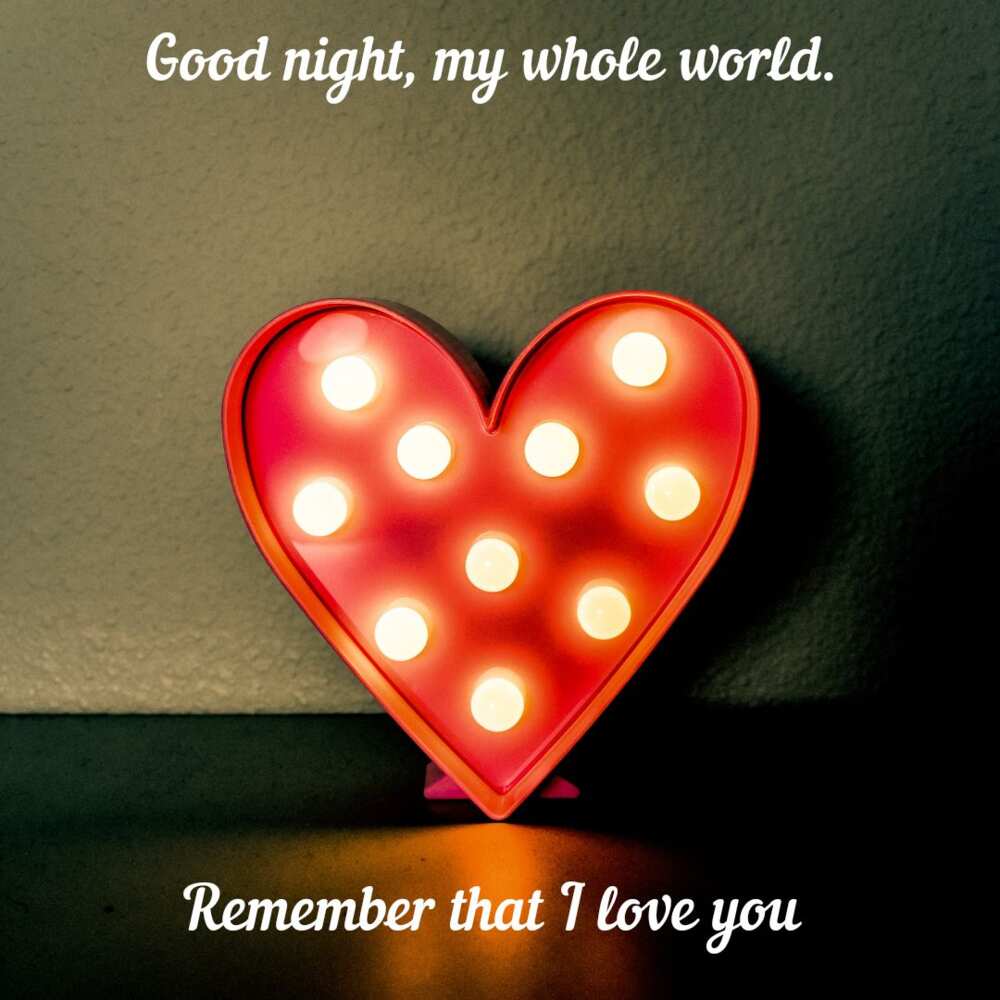 I fall asleep and wake up with a smile. The reason for this smile is you. I hope that smile does not leave your face too, and now close your eyes and go to sleep to see me in your dreams.
I wish you were here with me because going to sleep without your embrace is the hardest for me. Sleep tight and sweet good night!
READ ALSO: Top 50 cute quotes and love messages for husband
Every day I text you "Good morning!" and "Good night!" but we both understand that everything is good only when we are together. Although without this love words, my day is incomplete. Good night, the owner of my heart!
Good night! Let my love bring peace to your dreams and angels protect your sleep.
New Year messages of love
How do you tell the man of your dreams that you are happy that you will be spending the next year with him?
Happy New Year, my sweet prince! I hope this year will bring us more bright moments spent together, more happiness and love!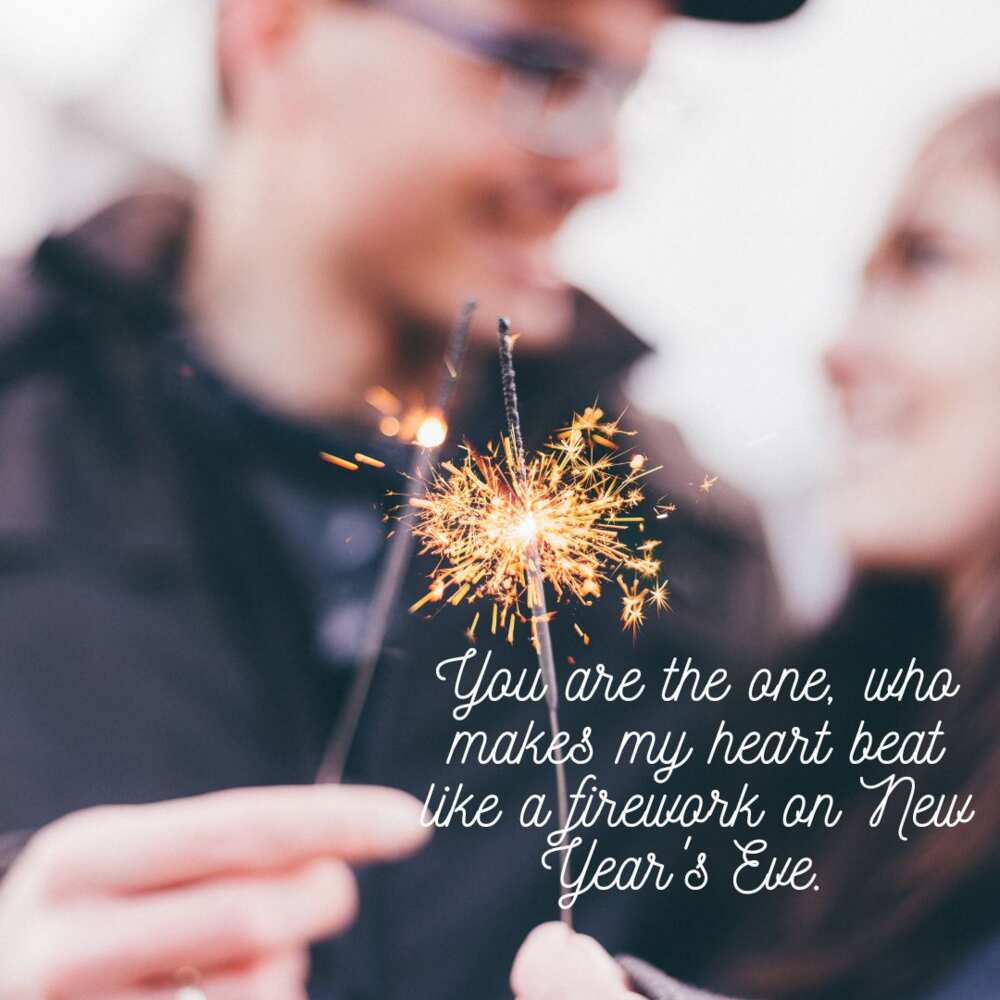 This year was very significant in my life because I have met the love of my life. It is you, my dear. I am sure that we will ring in the New Year plenty of times together. I am glad to congratulate you, darling. Happy New Year!
Happy New Year! We are on the verge of a new life. I wish you a year filled with new events, people and emotions. I would be the happiest woman if you spent this year with me.
READ ALSO: 75 good night my love messages, wishes and quotes
The last year was hard for us both, but we came through it and proved that we could move mountains together. I am sure that the next year will be great. I love you, Happy New Year!
Several New Years in a row, I wished to find a boyfriend, who will love me. Fate brought me together with the man, who won my heart. This man is you. This New Year is the first when I do not make any wishes because I have already had everything I dreamed of - I have you! Happy New Year!
Cute and sweet love texts for beloved ones
You do not need a special occasion like a birthday, New Year or anything else to remind your man about your love.
Every single day I am telling you I love you in English. I wish I could say it to you in all languages of the world, but my even speak for themselves when I look at you.
My darling, only 1 minute with you makes me happy for the rest of the day.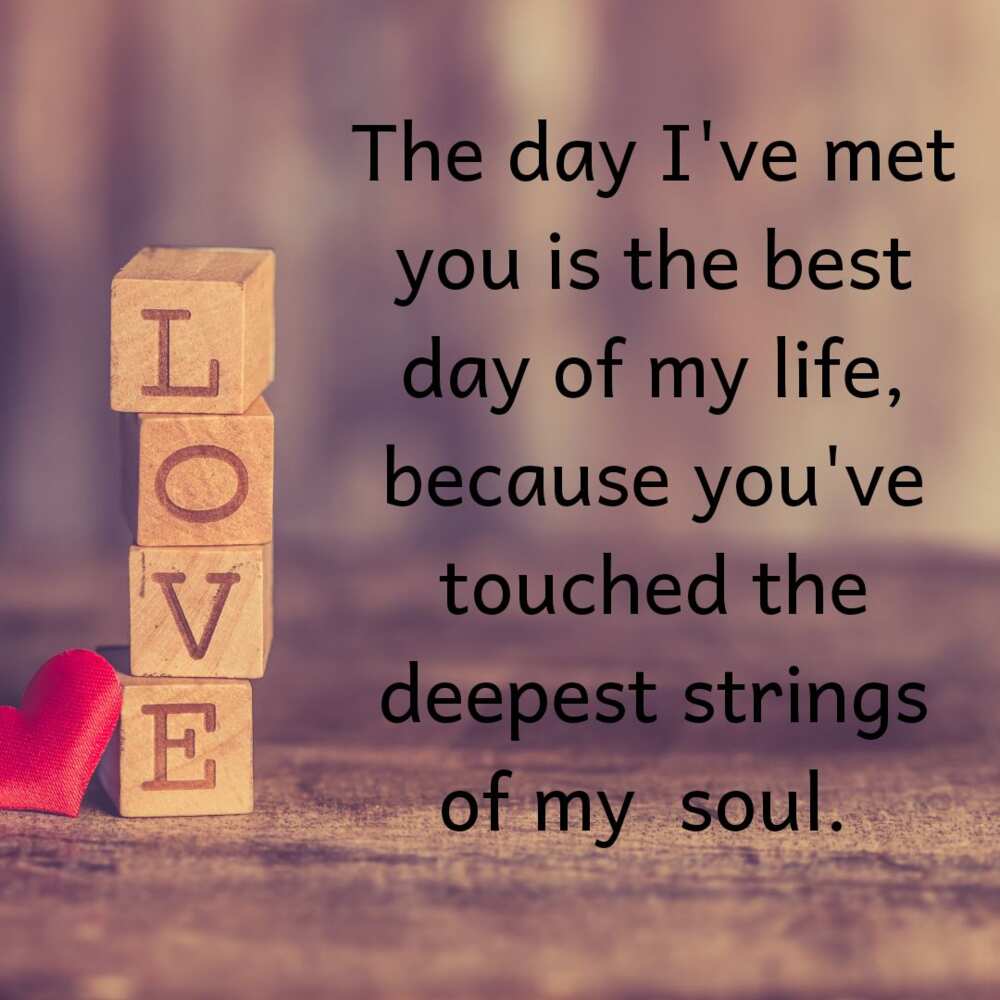 When I see you, I feel the butterflies in my stomach. I am sure that many years later this feeling will not leave me.
If I had the chance to go back in time, I would have done anything to meet you and fall in love with you once more.
My deepest desire is the future with you.
We hope that this compilation of love messages inspired you to text to your man and make him feel treasured and thought of.
READ ALSO: 50 happy new month messages, wishes, prayers and quotes
Source: Legit.ng