20 elegant wedding nails designs for the bride
Getting married, any bride should take care of many things, including wedding nails. We hope you have already bought your perfect bridal gown and prepared a banquet. We also hope that these 20 top ideas for wedding day nails will help you to complete your beautiful look.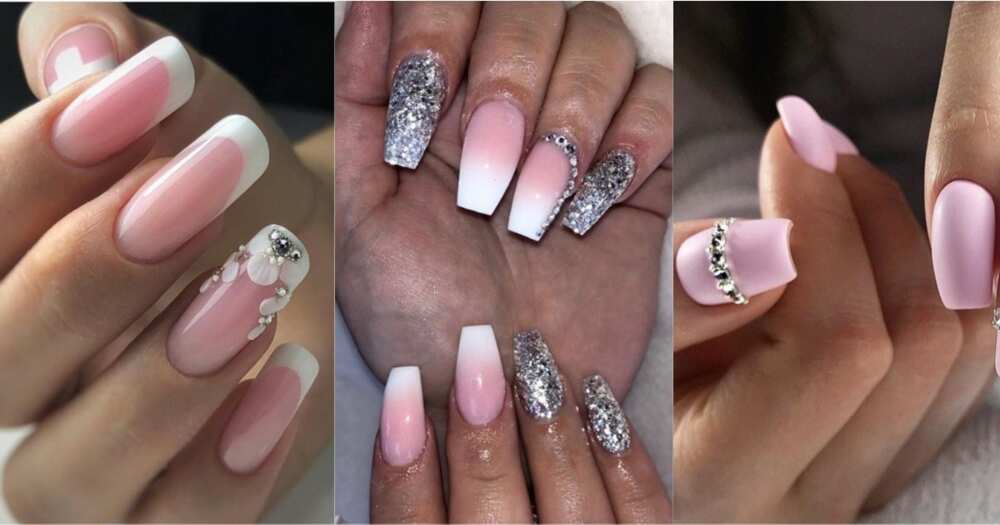 A wedding is an important event in the life of many ladies. Traditionally, a bride should be the most beautiful and graceful lady at the ceremony. A bridal gown is an essential element of the bridal look, but the bride's hands also attract attention. It is worth to think over the manicure in advance.
The manicure and outfit you pick must complement each other. Also, you should remember that the manicure design and length should be comfortable to wear during your special day. Artificial fingernails should not cling to your gown. Usually, ladies prefer acrylic or gel nails for wedding.
As a rule, white, pastel, and clear fingernail polishes, as well as various décor including sequins, rhinestones, and even lace, are used for the wedding nails design. Sometimes, the manicure uses one of the decor elements in the bridal attire: a rose, for example. Some brides draw delicate patterns on their fingernails, which are different from the decor of their bridal dress.
The polish should match the dress and shoes if you do not use the classic gamut of pastel colours.
READ ALSO: 50 best asymmetrical bob hairstyles for 2019
Many brides choose gel polish as the coating for this special manicure. The manicure with such a firm coating lasts up to several weeks.
Wedding nails for brides
Wondering what design to choose? It depends on the taste preferences of a bride and the overall image that she wants to create. If a bridal dress has plain tailoring, the manicure can be decorated with a 3D moulding or pattern of rhinestones. If the gown has complex tailoring with plenty of details, the manicure can be plain. You can use the ombre technique or classic French technique. Also, you can choose one option of the 20 wedding nails ideas listed below or at least get inspired by them.
1. Pearl design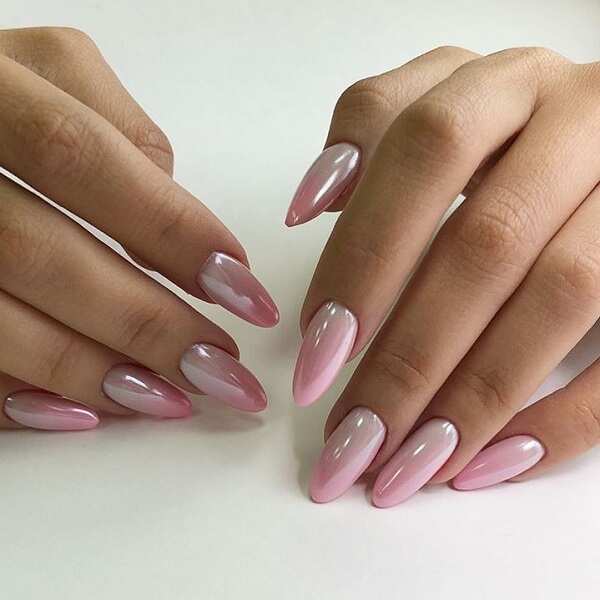 Different pearl polishes help to create an extraordinary beauty effect. Thanks to the special particles, light is reflected beautifully away, creating a beautiful effect. The pearl design can be supplemented with acrylic dressing, small flowers or rhinestones.
2. Manicure with sparkles and rhinestones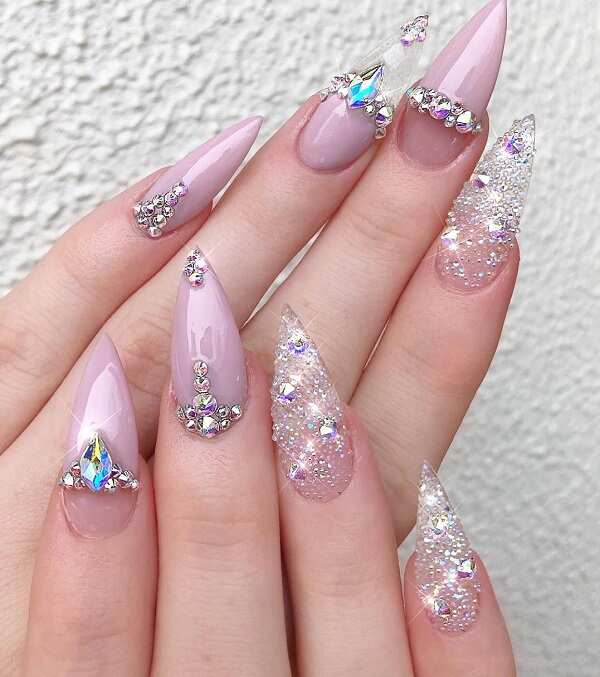 This is probably the most popular design of wedding nails for bride. The sequins and rhinestones can decorate any coating. A lot of manicure artists create stunning drawings and geometric figures with the help of rhinestones and sequins.
However, it is important not to overdo such a design. Highlight one or two fingernails on the hand with large rhinestones, and then add some small sequins.
3. 3D modelling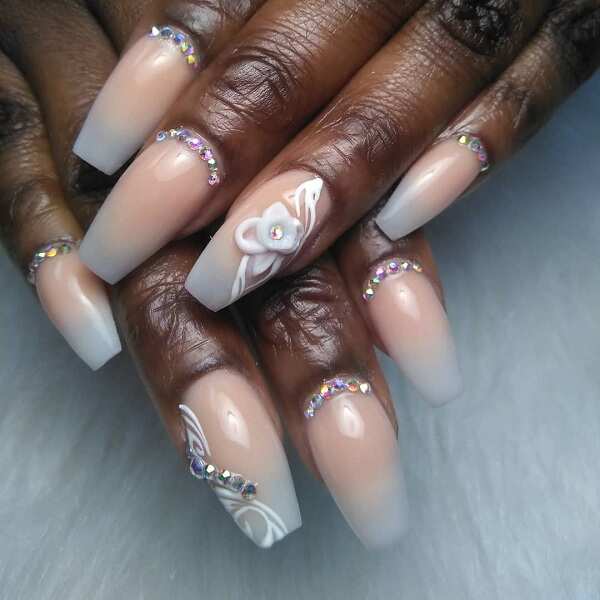 3D modelling looks impressive and beautiful. It is very often used for wedding acrylic nails. 3D flower modelling is the most popular among brides. Abstract and fancy 3D drawings are also trendy.
4. Ombre design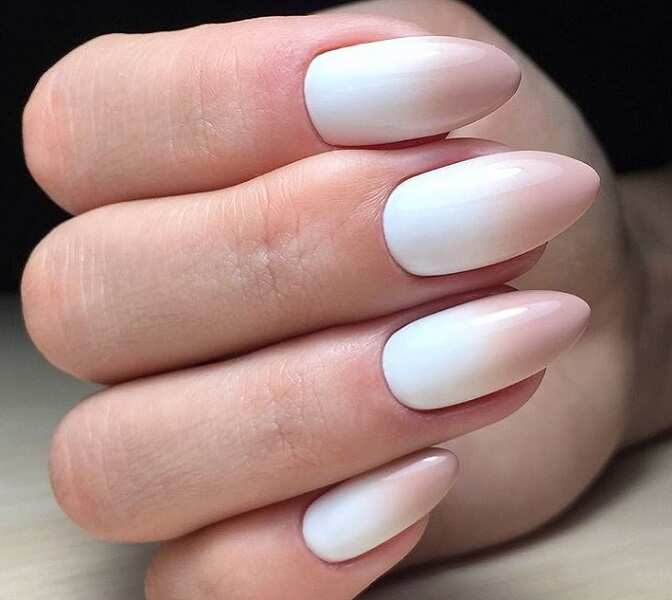 The ombre design is very delicate and exquisite. The smooth transition from the brighter to the paler shade of the same colour is very beautiful. Pink, ivory, beige and other pastel colours with the ombre effect make the image of any bride refined.
5. French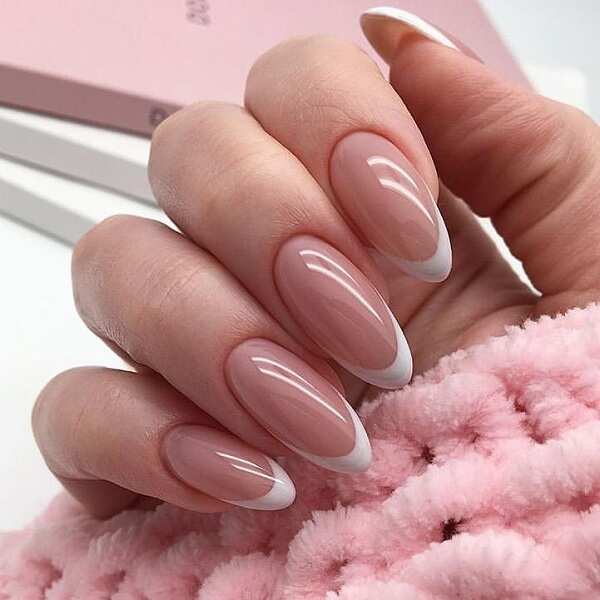 The elegant French design is trendy today and forever! The thin white strip along the outer edge of the fingernail is a classic option.
6. French with decor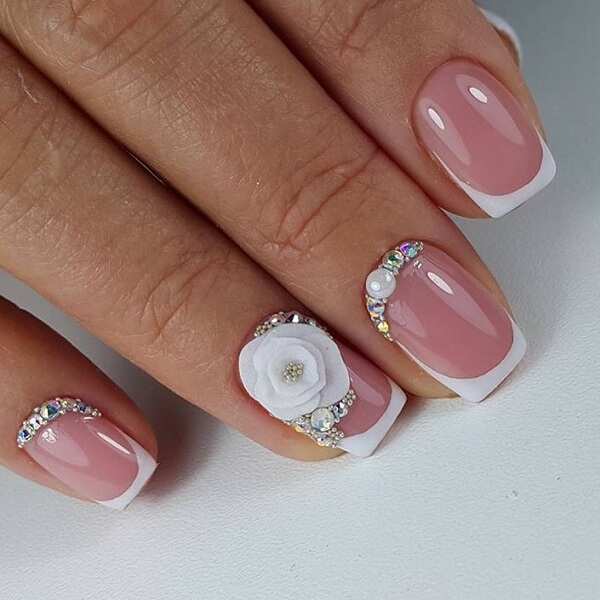 The French manicure has different variations. The strip can be diverse: pink, silver, gold, thin or thick. Besides, you can make several strips. Add the 'lace' décor or sequins to your French manicure. A 3D drawing on one fingernail can become a bright addition.
7. 'Lace' manicure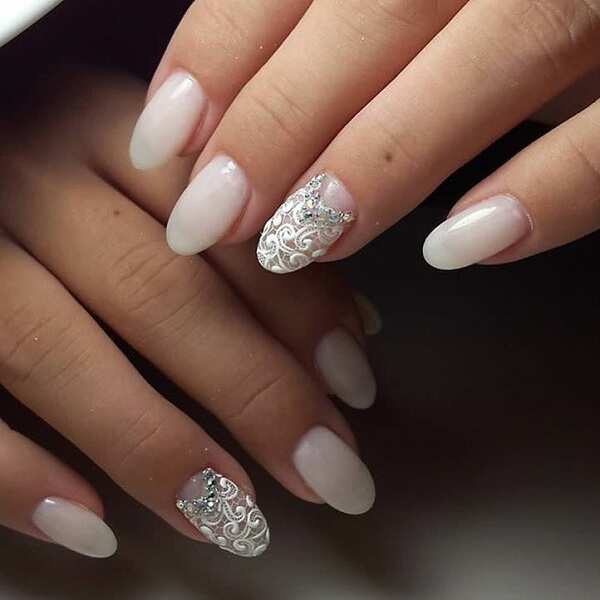 Many brides like a manicure with ornate patterns or 'lace' decor. Such a design looks like patterns on a veil or bridal gown and fits perfectly to any bride's image. As a rule, the 'lace' design is made by white polish on a pastel base. It is the ideal decision for wedding gel nails.
8. Shiny white
If you want to make your bridal look more vivid and memorable, use white polish as a winning background for the stylish decor. Complete the manicure with a shiny powder, mica spangles, and inlays.
9. Bridal manicure for short fingernails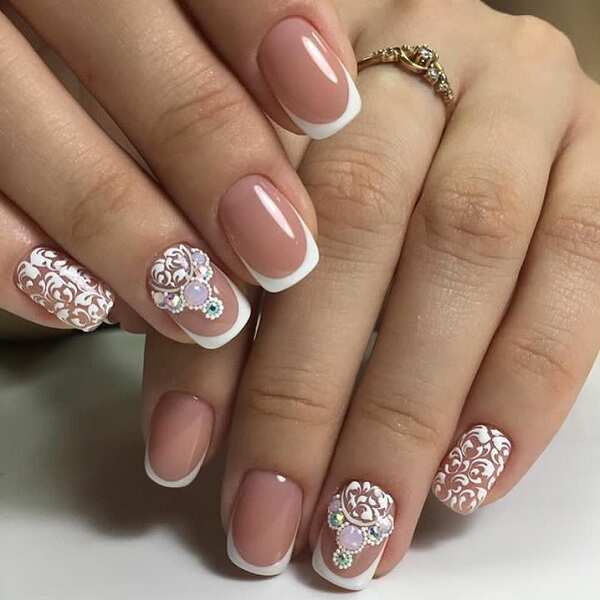 Do not worry if your fingernails are short. There are a lot of various wedding designs for a short manicure. The classic French or pearl manicure is the best option for your short manicure. Any pastel polish will suit your image. Add some sparkles, and your look will be stunning.
10. Bridal manicure with pictures
Take an artistic approach to your bridal manicure. Draw a picture on each fingernail. Let wedding nails pictures be similar but not the same. Choose one common element and repeat it on each fingernail, then let the details and small decor be diverse.
11. Nontraditional manicure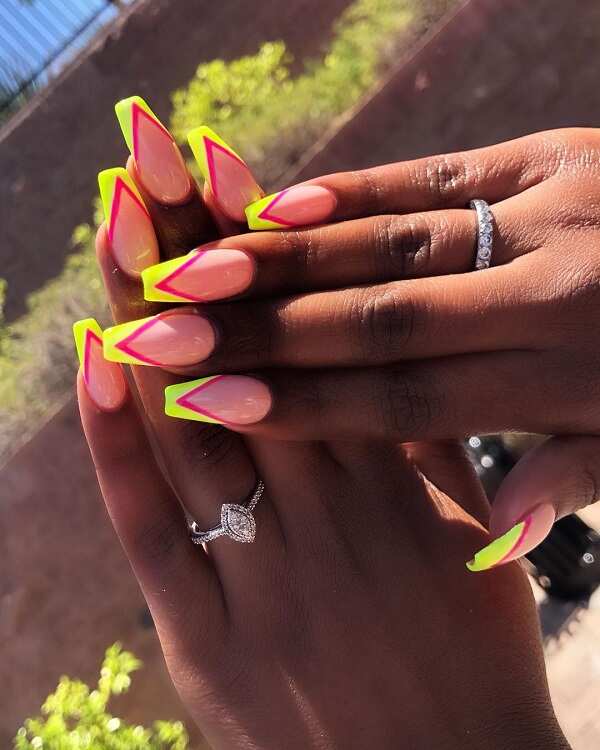 Some ladies like to make an impression. Any bright and even extravagant idea can be embodied in bridal manicure, as long as you feel comfortable.
12. Gold and silver décor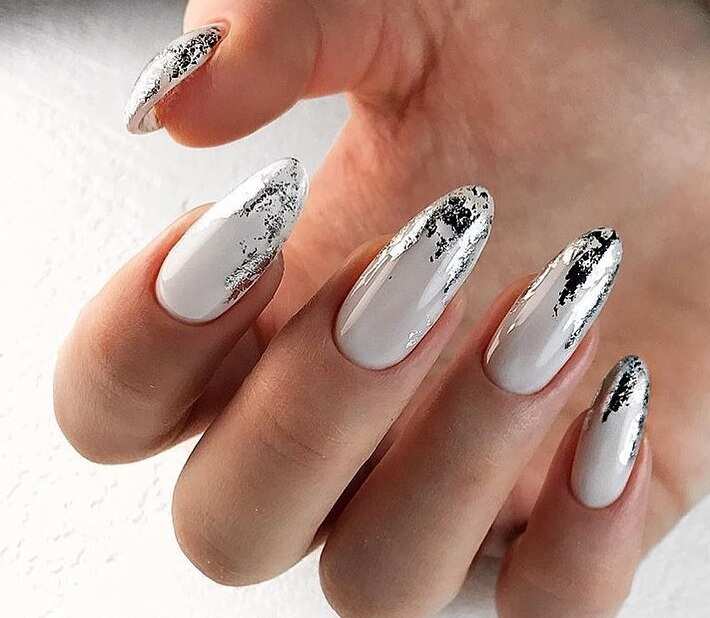 If you like to shine, then such a design is what you need. A gold and silver decor looks lovely on a pastel base. You can cover one or several fingernails with gold or silver completely, otherwise, place sparkles on the edges.
13. Flowers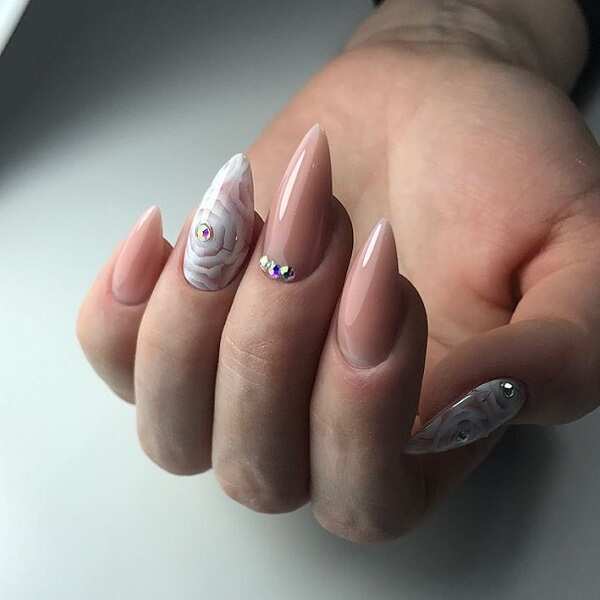 Many brides use flowers in the decoration of a bridal dress and ceremony. The same pattern can be repeated in the manicure design. Brides most often give preference to roses. You can place one large flower on the ring finger and a few small flowers or buds on the other fingers.
14. Geometric ornament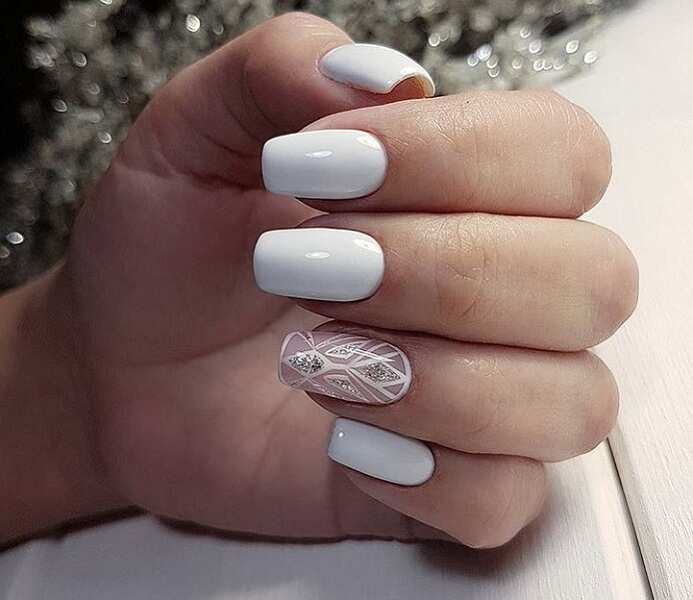 If a bridal dress has simple tailoring, use a geometric ornament for the manicure. Take one or two colours to draw a picture on a pastel background. Add some sparkles.
15. Marble pattern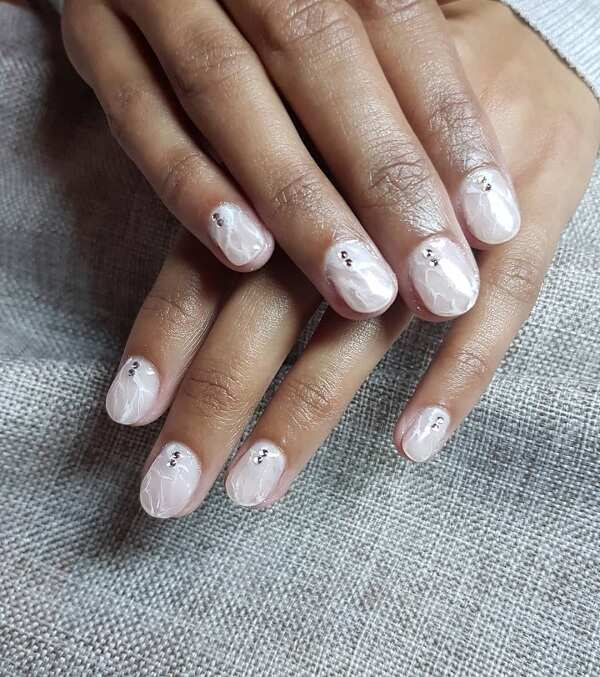 A marble pattern is very nice and gentle on a pastel or clear base. Thin 'marble veins' create a refined design.
16. Longitudinal lines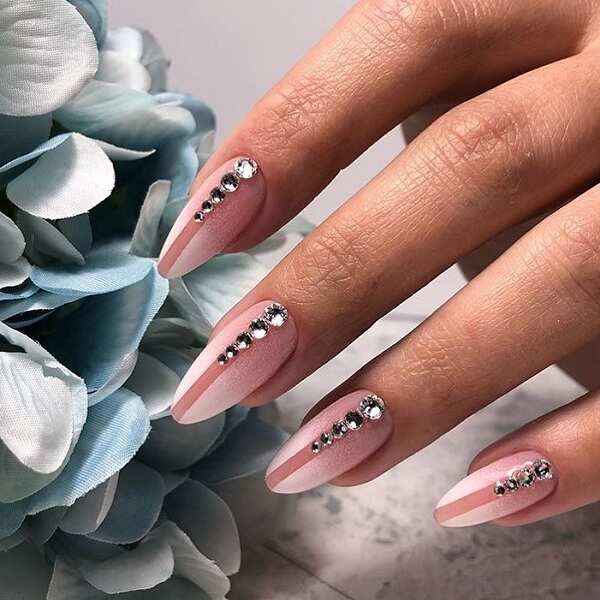 If you want to lengthen the fingernails visually, use longitudinal lines for the manicure. Draw a line of a different colour in the middle and add a couple of rhinestones.
17. Simple wedding nails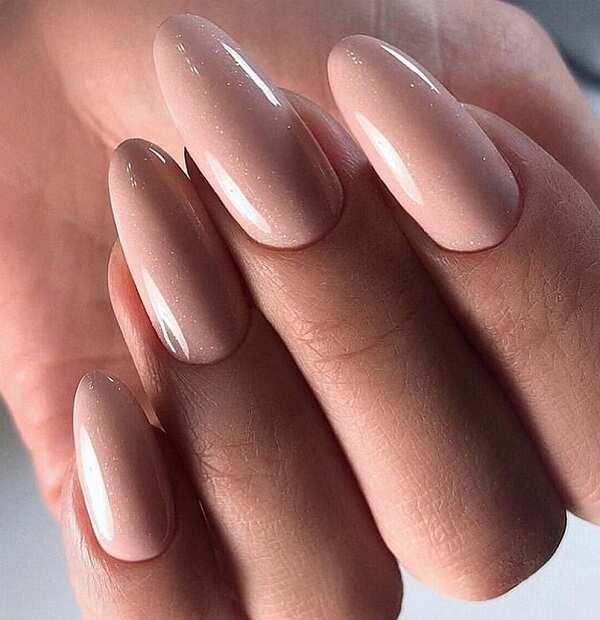 If you are not a fan of decor, choose a simple manicure. Cover your fingernails with pastel-coloured polish that best suits your image.
18. Transparent fingernails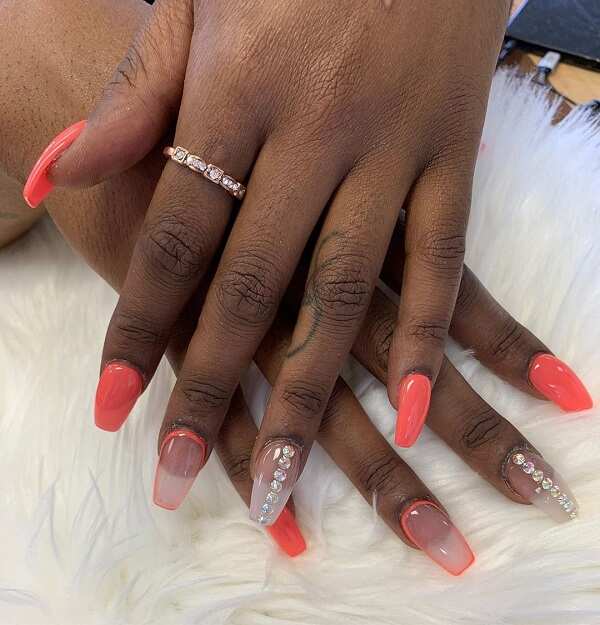 If you like the gel manicure, you can create a bridal design on a transparent base. Make French manicure on a transparent base or decorate a few fingernails with rhinestones.
19. Wedding ring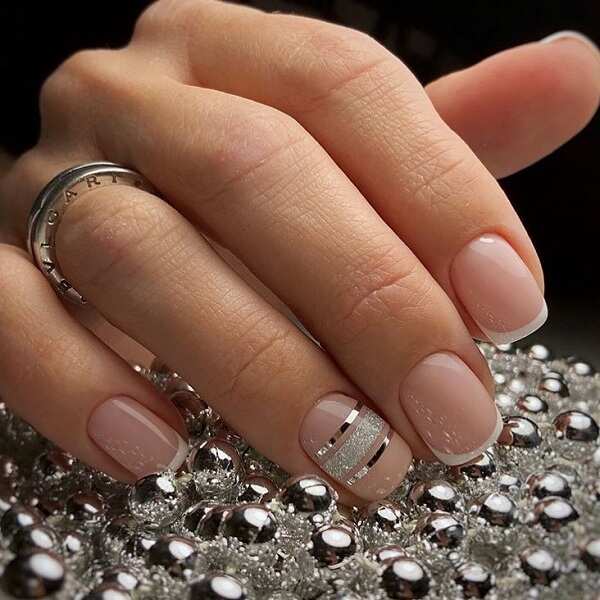 Draw a transverse line on your ring finger that resembles a wedding ring. You can emphasize the line with sequins or other additional decors.
20. Mix of designs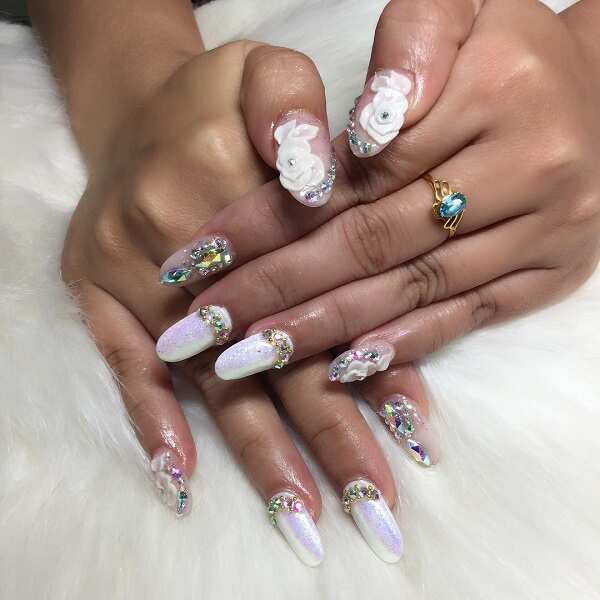 The combination of styles and techniques is in demand with the majority of ladies. The French, 3D modelling, as well as rhinestones, can be successfully used in the same design.
Wedding nails designers use a wide variety of colours, techniques, and decorating materials to transfer their ideas into fingernail art. Hope you get inspired by the ideas we have compiled for you.
READ ALSO: 50 long pixie cut ideas to try out in 2019
Source: Legit.ng