Nigerian fashion dresses for weddings
If you want to look your best on your big day (Nigerian style), then you should definitely check out our list of beautiful Nigerian dresses for wedding. We have collected the most gorgeous traditional wedding dresses we could find so that you can get some inspiration for your big day.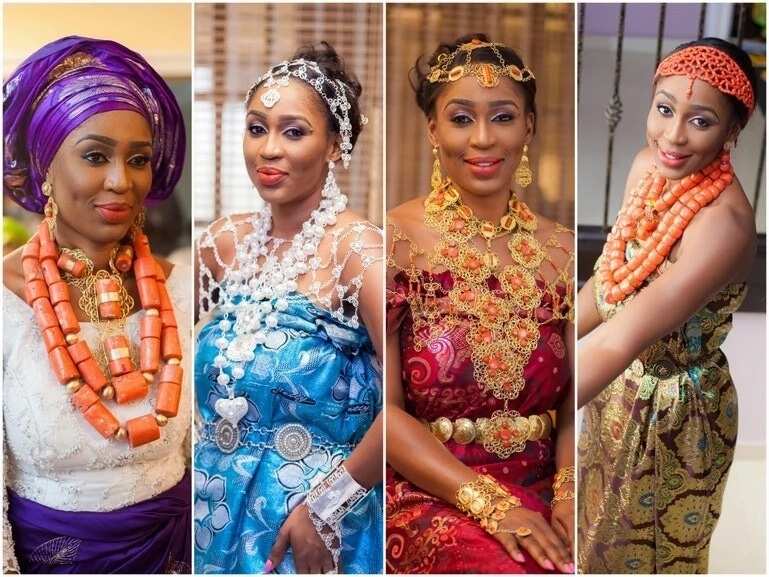 You can find all sorts of wedding gown styles. We have divided our picks into three categories: Hausa, Igbo and Yoruba dresses. That way, you can find a gown for yourself and check out how brides dress in other cultures. Let's go!
Hausa bridal dresses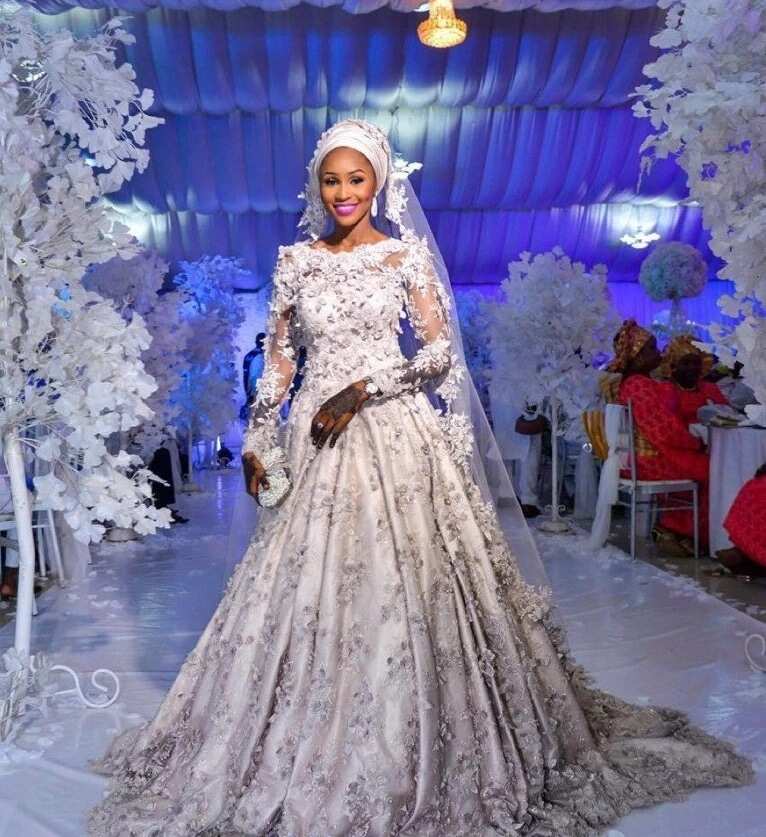 We want to begin our list of Nigerian wedding dresses with this absolute gem of a dress. It looks so stunning that it is hard to look at it for too long. The intricate lace detailing, the long flowing skirts, combined with matching accessories and the gorgeous lalli (traditional henna tattoos) create an unforgettable ensemble that can blow everyone's mind.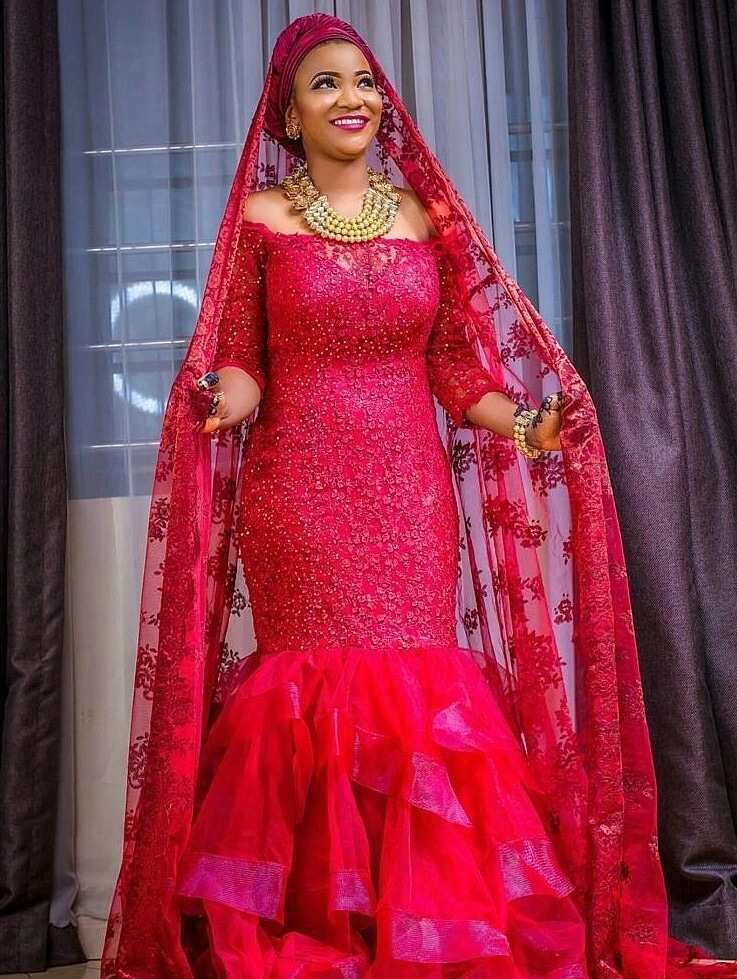 Next, we have this vision in ruby. The slim-fitted mermaid dress looks gorgeous, with its chiffon tail and the off-shoulder neckline. With a gown like this, you can show off your luscious curves without giving away too much. The matching chiffon veil with lace detailing, along with bulky jewellery, only adds to the overall look.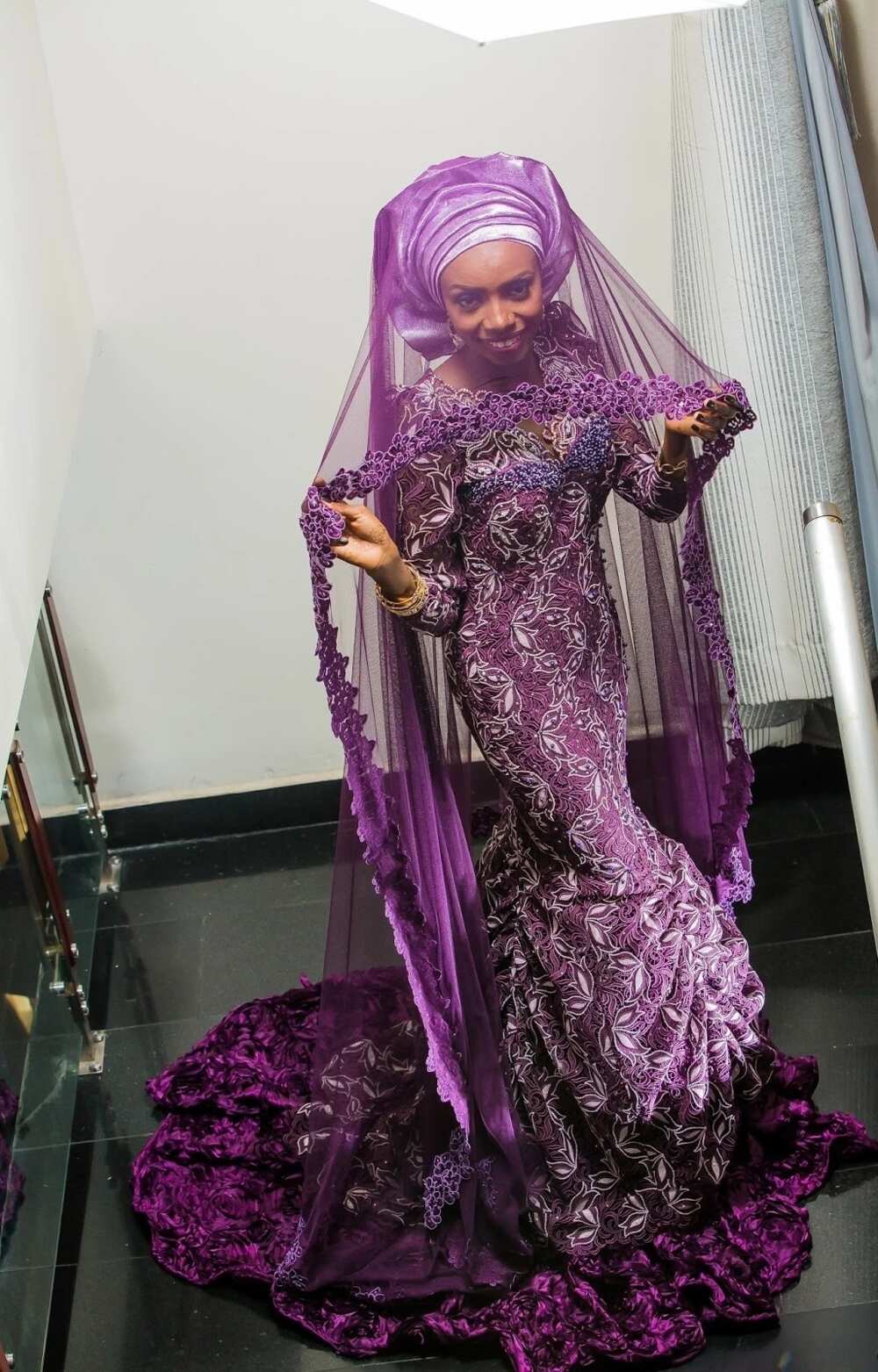 Gowns with trains are our favourite thing, as they make a person look regal and expensive if they are made well. In this case, the dress is exquisitely made, from the peculiar pattern to the pearl detailing. Combined with a relatively simple veil that does not take the attention away from the dress and the bride herself, it creates a beautiful wedding outfit.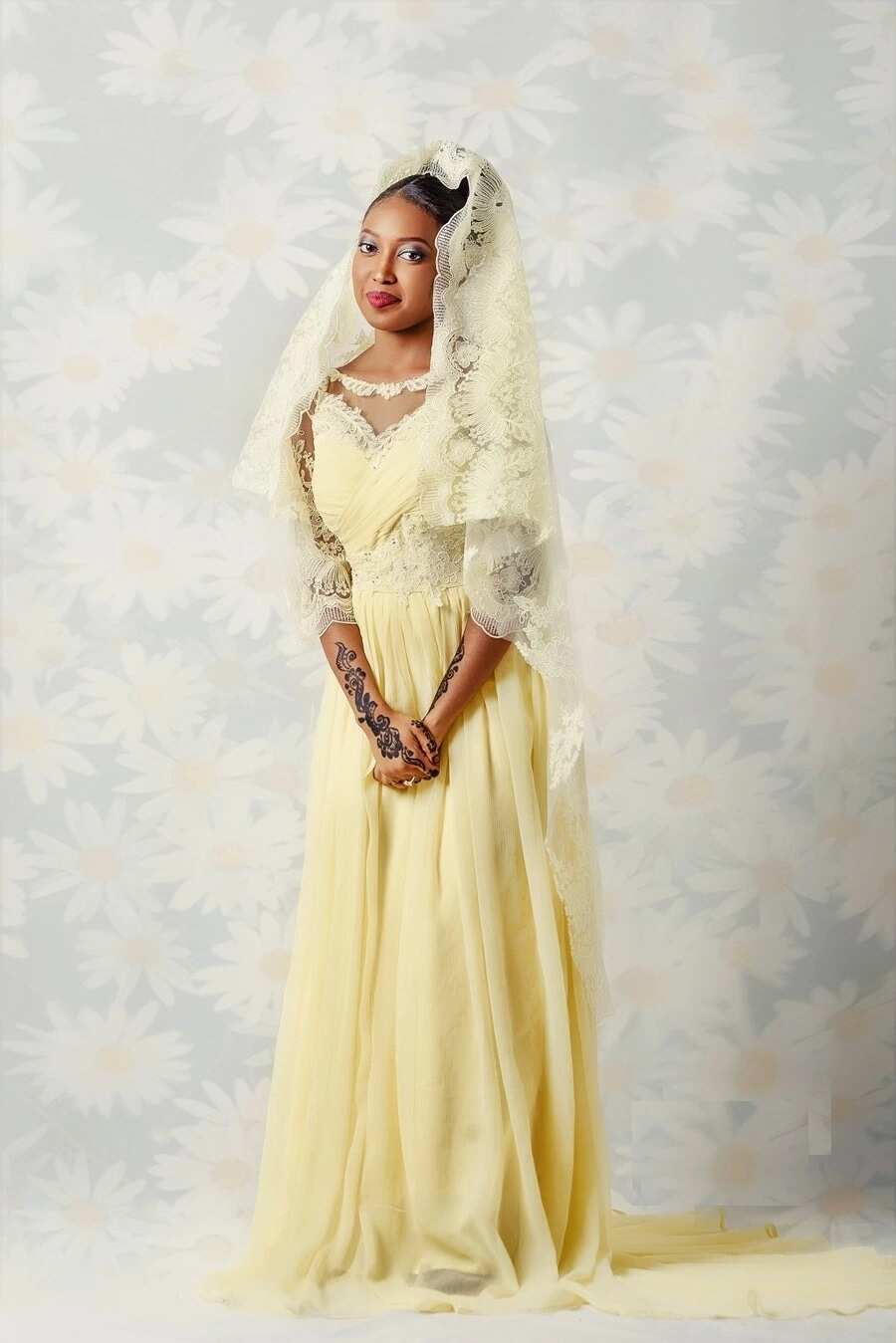 If you do not want to go all the way in terms of looks, but instead want something soft and simple, then consider having a dress like this. The soft pastel colours and the simple lacy veil can make you look out of this world, as if you came down from heaven just for this occasion.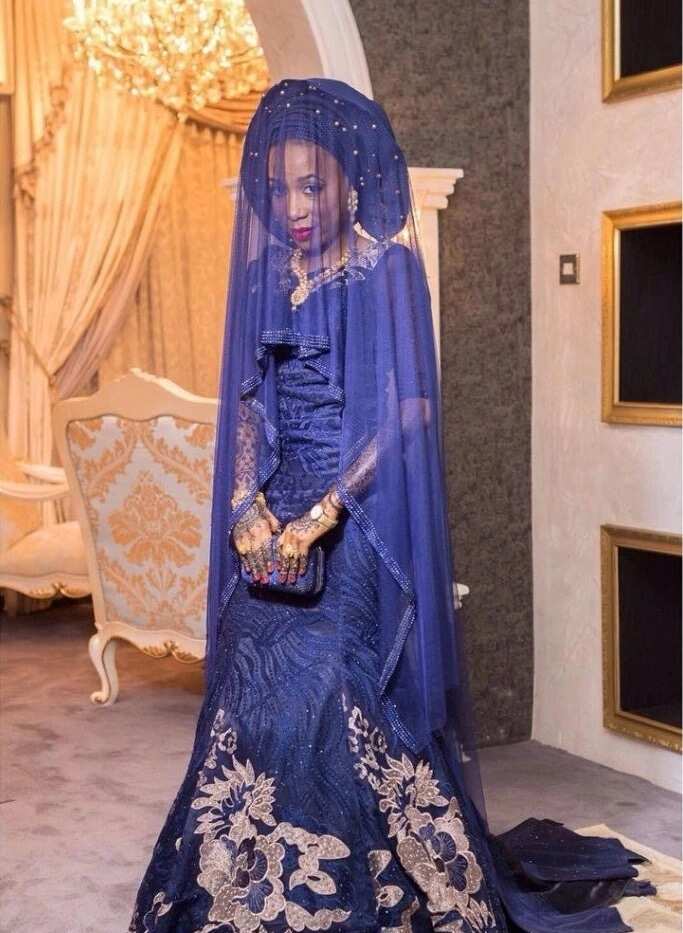 Our last pick in this category is this rich dark blue gown that, no doubt, looks even more amazing in real life. We absolutely love the way the gold jewellery matches the gold detailing along the neckline and on the bottom of the dress, and even the pearls on the head tie.
Igbo bridal gowns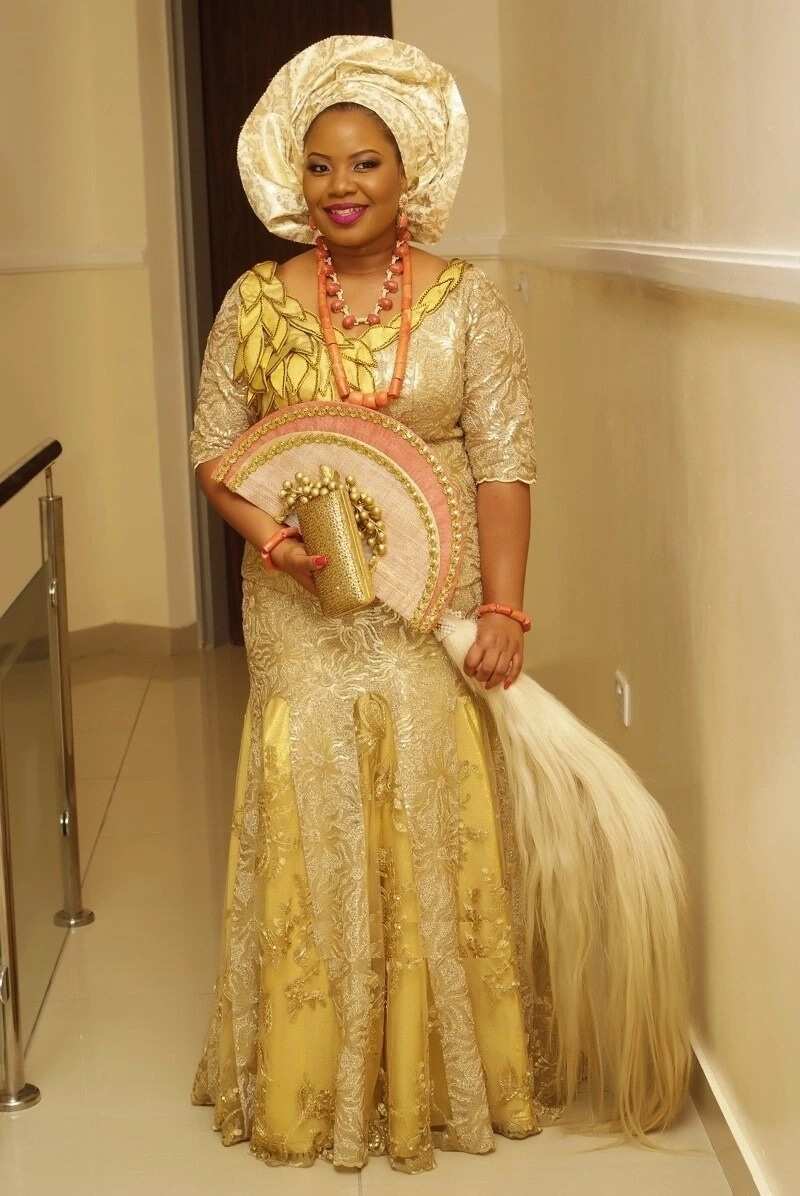 Who does not want to shine at their wedding? Then why not wear a beautiful shiny dress? This bride decked out in gold looks positively glowing :) Everything is very well thought out here, especially the coral element of the fan to match the traditional coral accessories.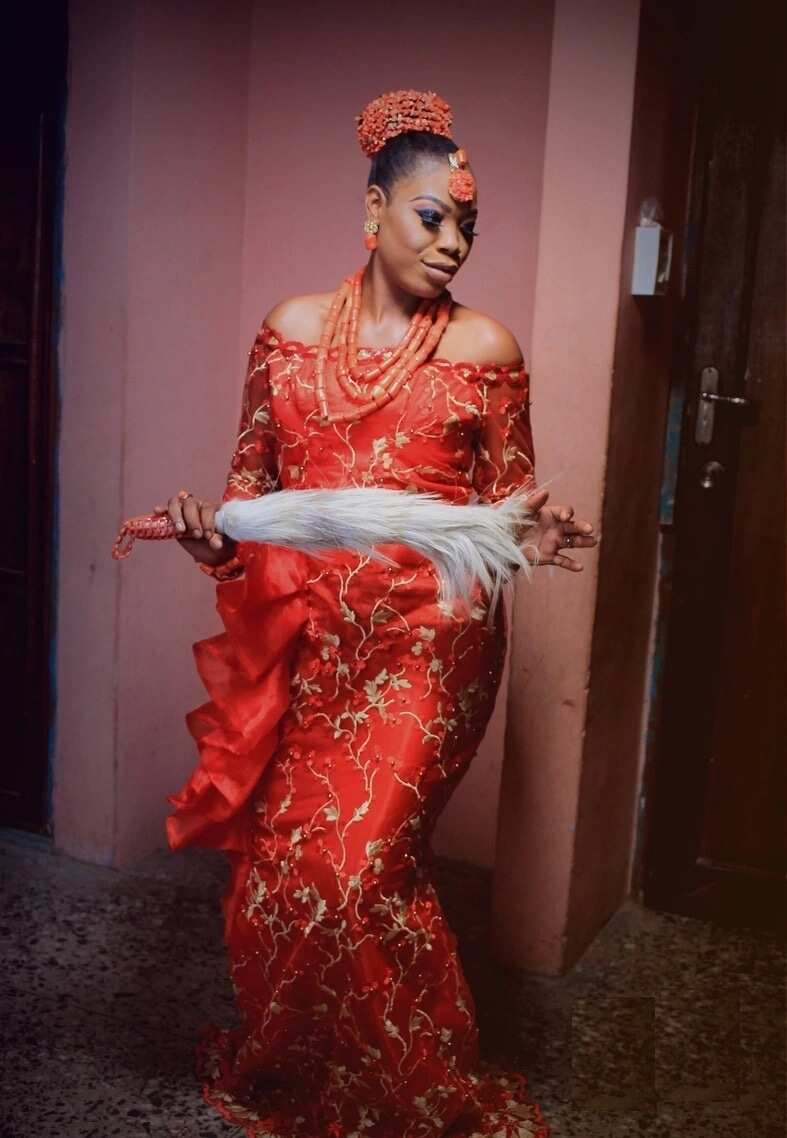 READ ALSO: Bead designs for traditional wedding in Nigeria
Coral red is a great colour for an Igbo wedding gown, as it matches the coral necklace, bracelets, earrings and headpiece. It is also a perfect choice for when you want to make sure that all of the attention stays on you. You can also add some extra elements, such as the ruffles on the side of the dress, just to make extra sure.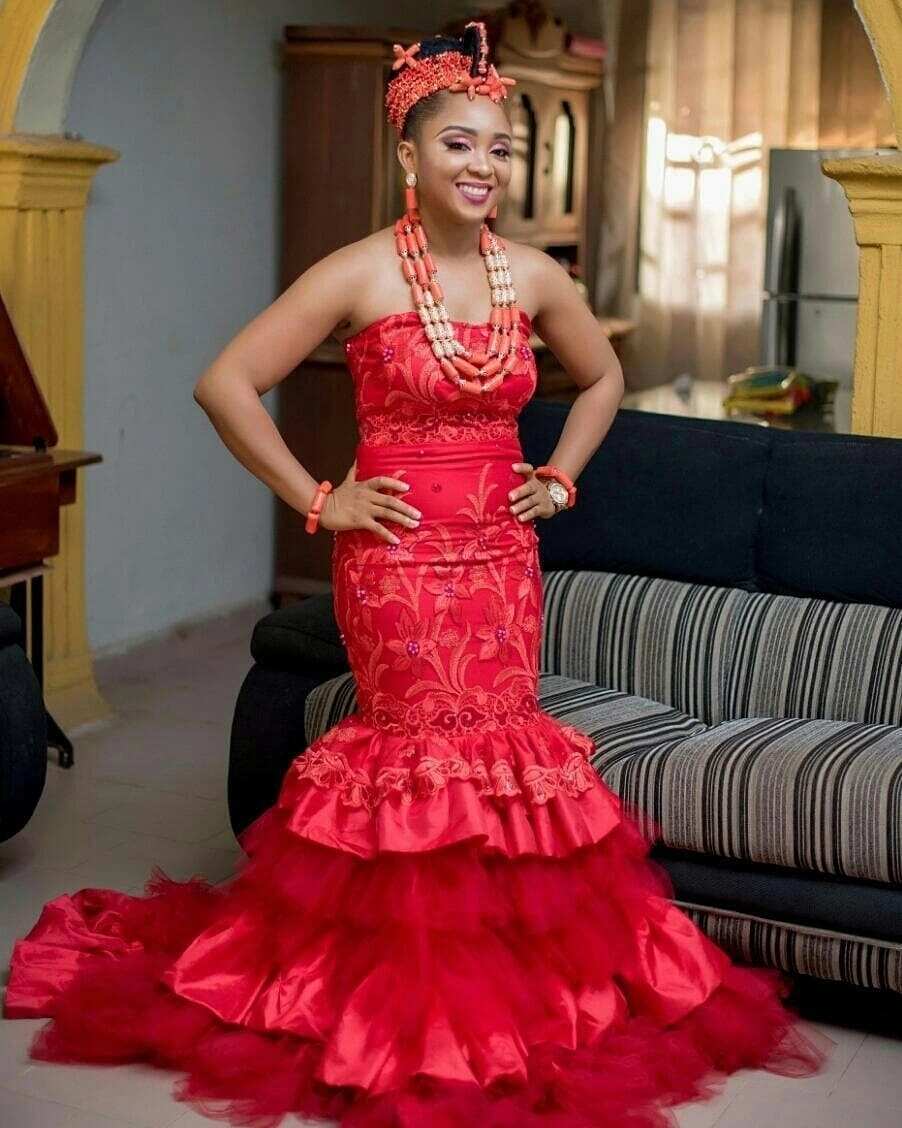 Alternatively, you can go a few shades darker and try something like this. We love how layered the mermaid bottom of this gown is. It makes it look like the bride is standing in a big red fluffy cloud. The slim-fitted silhouette and the strapless top work very well in favour of a curvaceous body.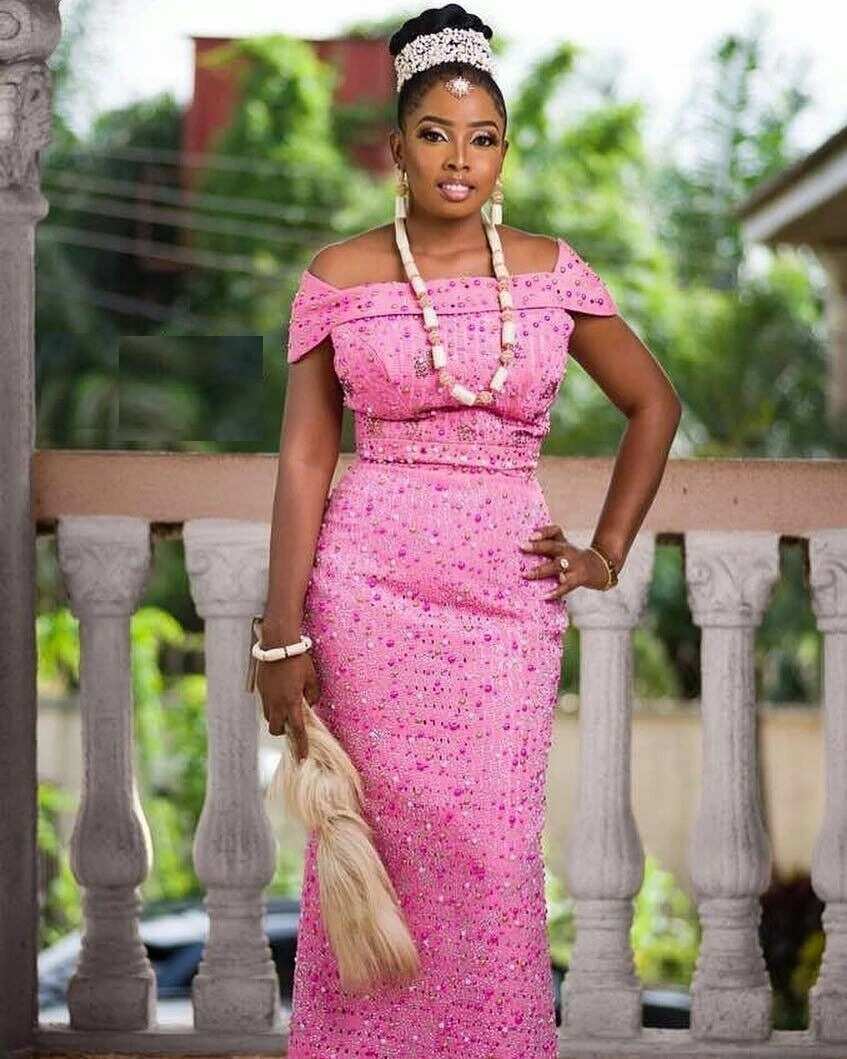 If trains, mermaid skirts and other over-the-top elements are not exactly your thing, then you can just stick to a classic cut and still look gorgeous. For instance, even though this dress seems rather simple compared to the rest of our picks, it looks rather unique and elegant. The pink sparkly balls in the coral jewellery are also a nice little touch.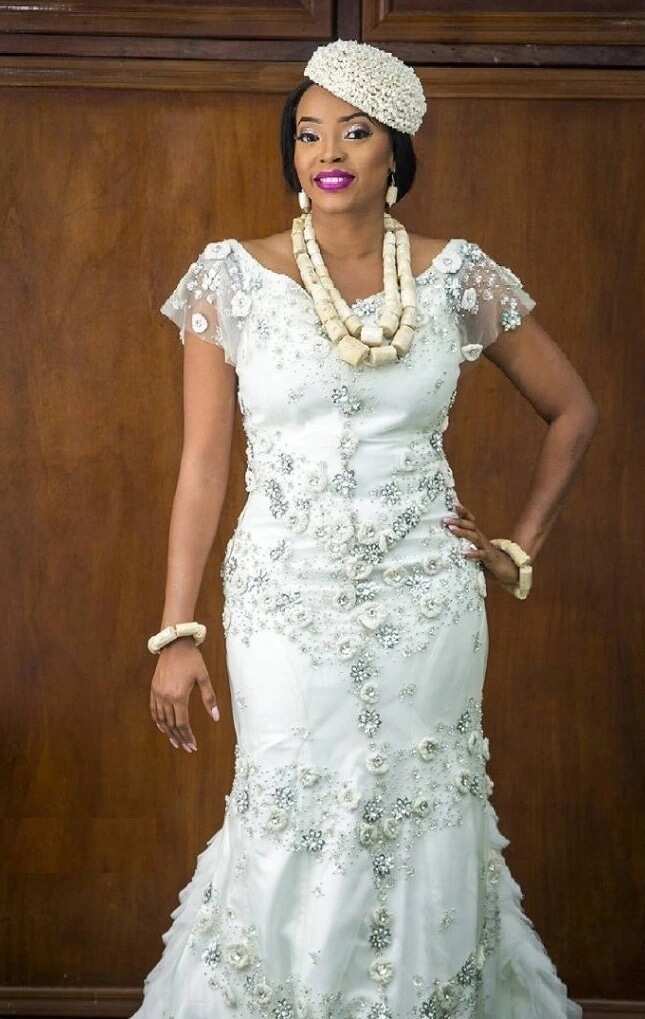 You can also combine the Igbo wedding tradition with the western ideas about weddings and have a classic white gown accessorised with white coral jewellery. A look like this will be a modern nod to traditions. Having a white dress at the wedding will also make you stand out quite a bit, as everyone else will most likely be wearing something colourful.
Yoruba wedding gowns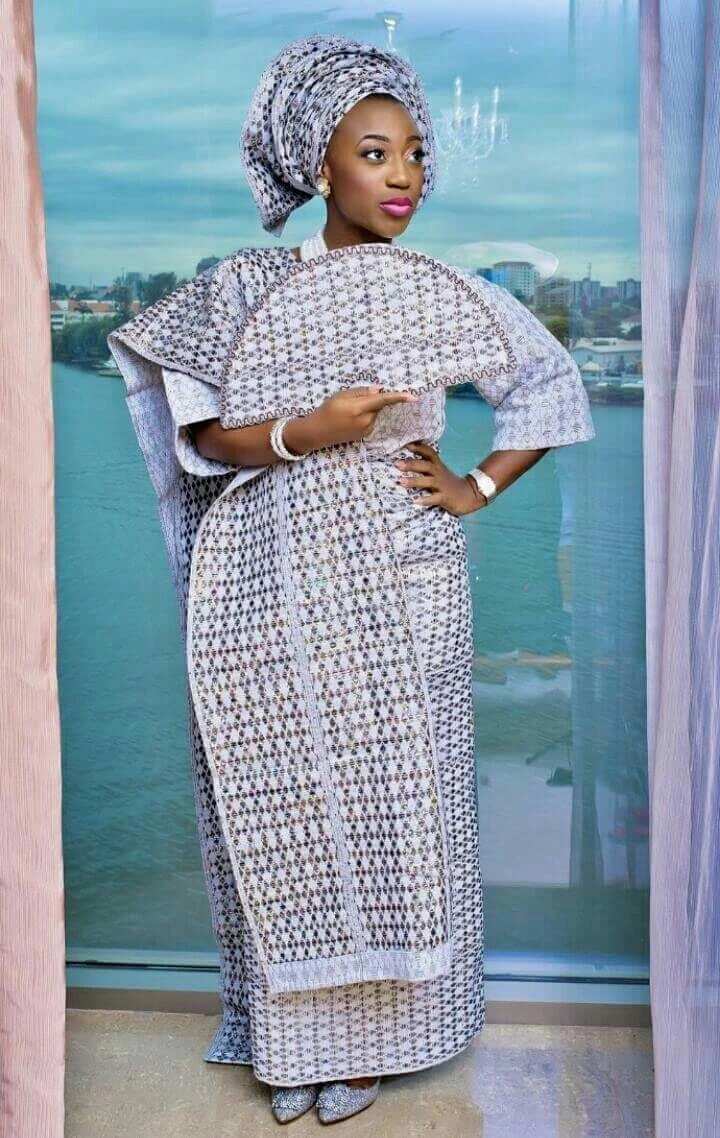 Now we have finally gotten to our third category of wedding dresses pictures, which is dedicated to Yoruba wedding dresses. A bright contrast to all the previous dresses, Yoruba wedding gowns are not nearly as slim-fitted. Nevertheless, they still create a distinct shape with the accent on the waist. This particular dress is incredibly fascinating, as it manages to combine several different patterns without looking garish. A matching fan is also a nice touch.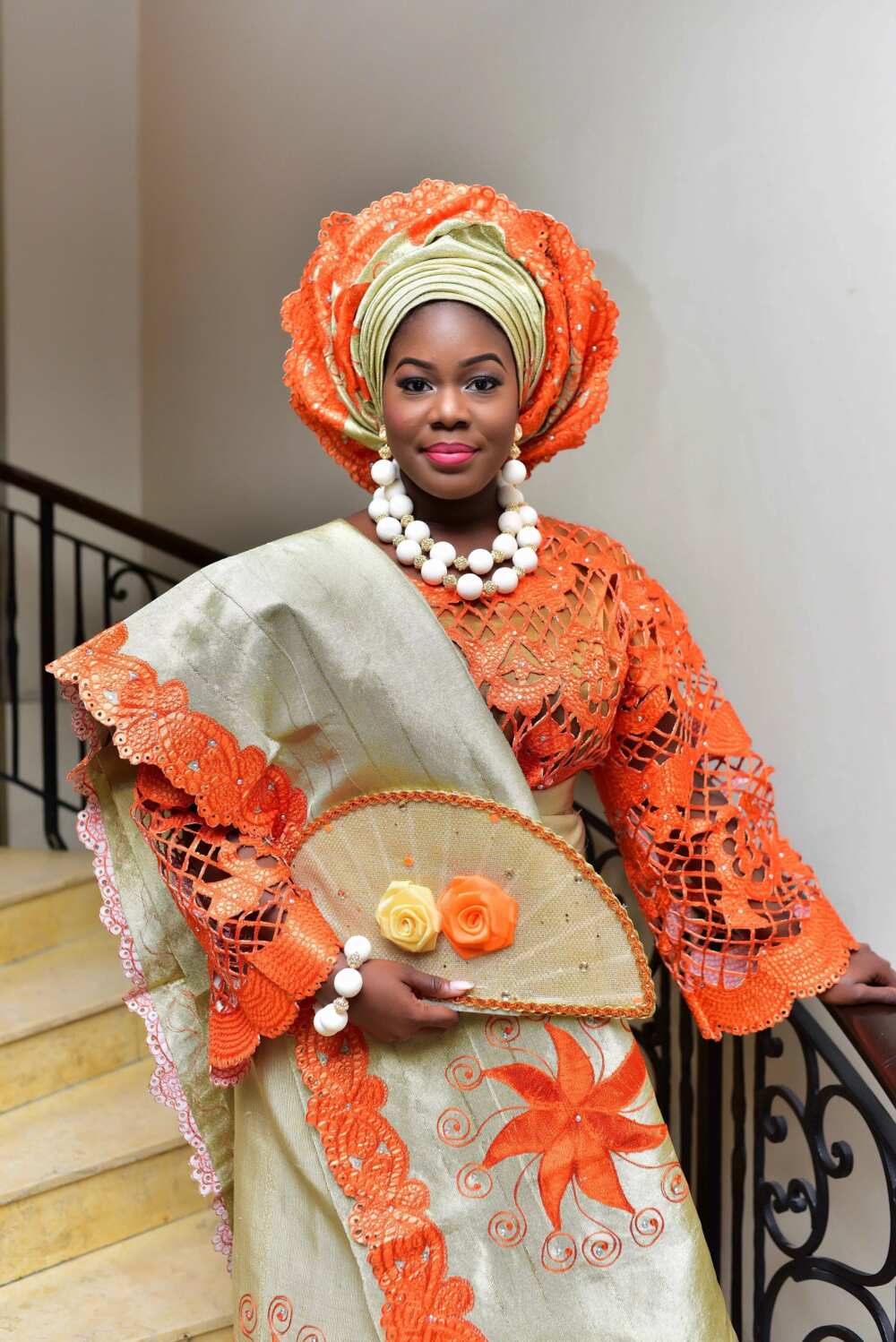 Here we have a very interesting and unique dress. It is made out of several distinctly different fabrics that somehow go together very well. Our personal favourite element here is the see-through coral material that is used for the top of the dress (known as buba), and that it corresponds with the coral elements of ipele (shoulder sash) and iro (the wraparound skirt).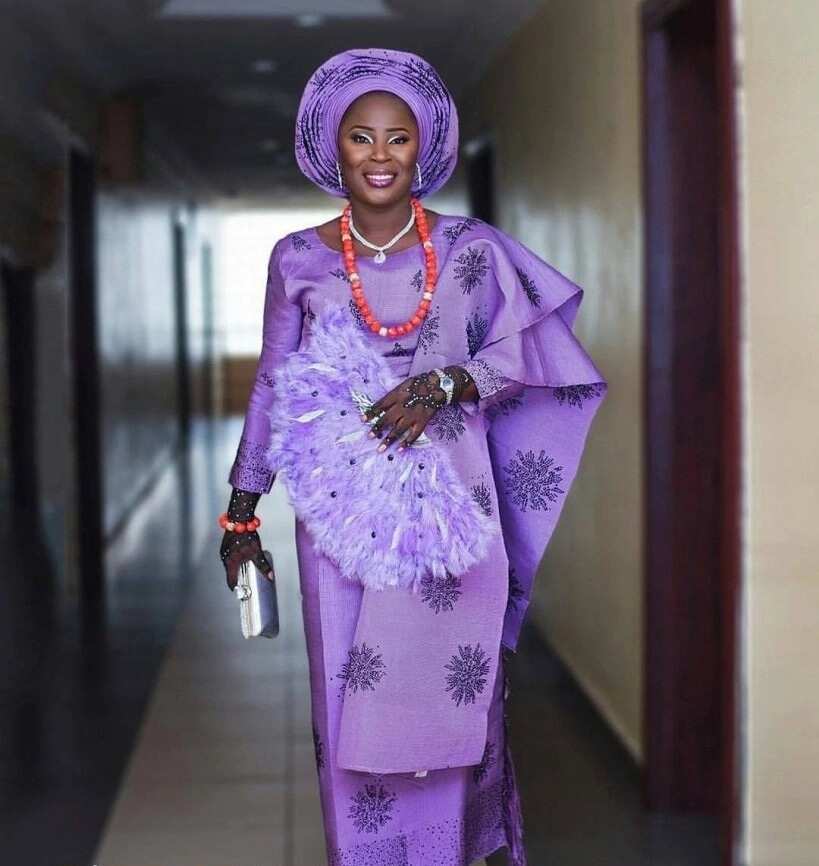 Next, there is this beautiful dress in the luscious purple. It is quite simple (compared to the other entries on this list) yet elegant and stylish. The wonderful feathery fan works very great with the rest of the outfit, and the gele looks absolutely perfect.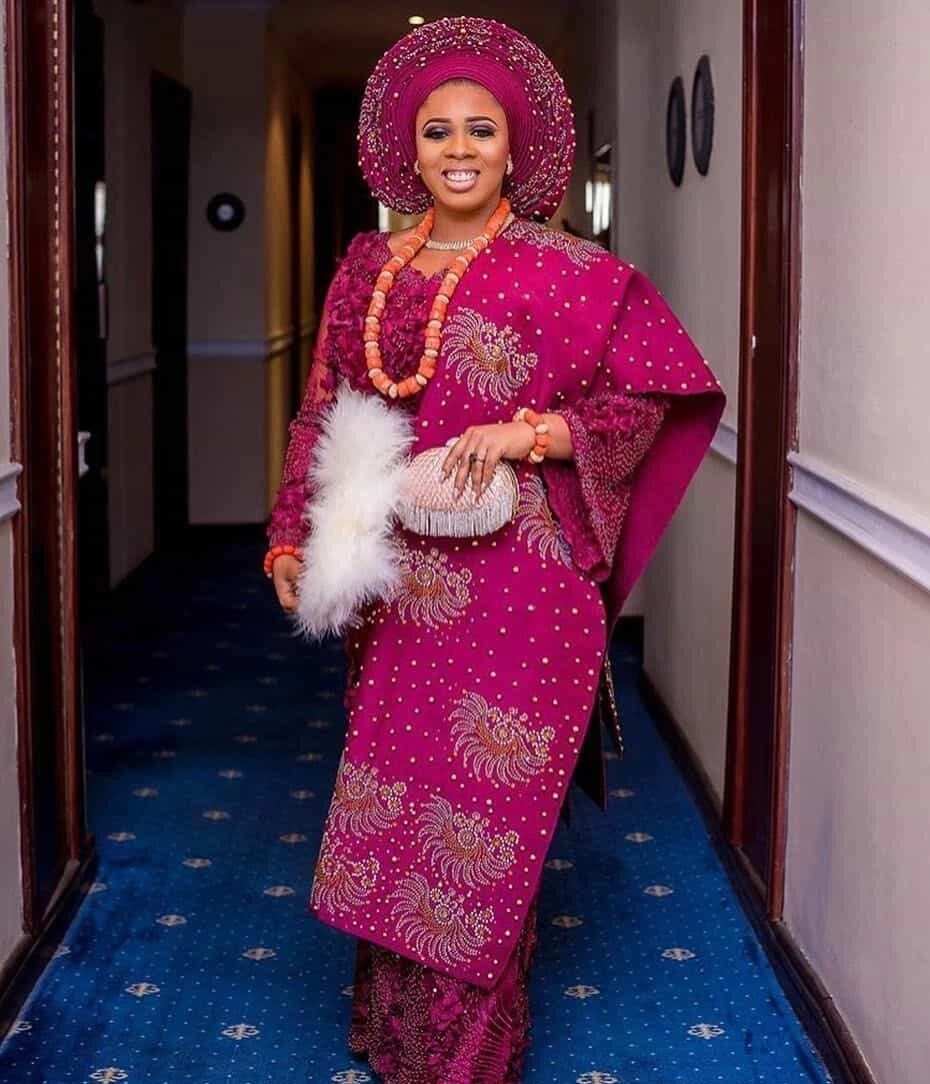 It makes sense that you would want to be the brightest and most beautiful person at your wedding. For that reason, you should definitely consider something like this fuchsia dream. The matching pearly gele and ipele complement the dress really well. And you can be sure that nobody else will look more stunning on your big day.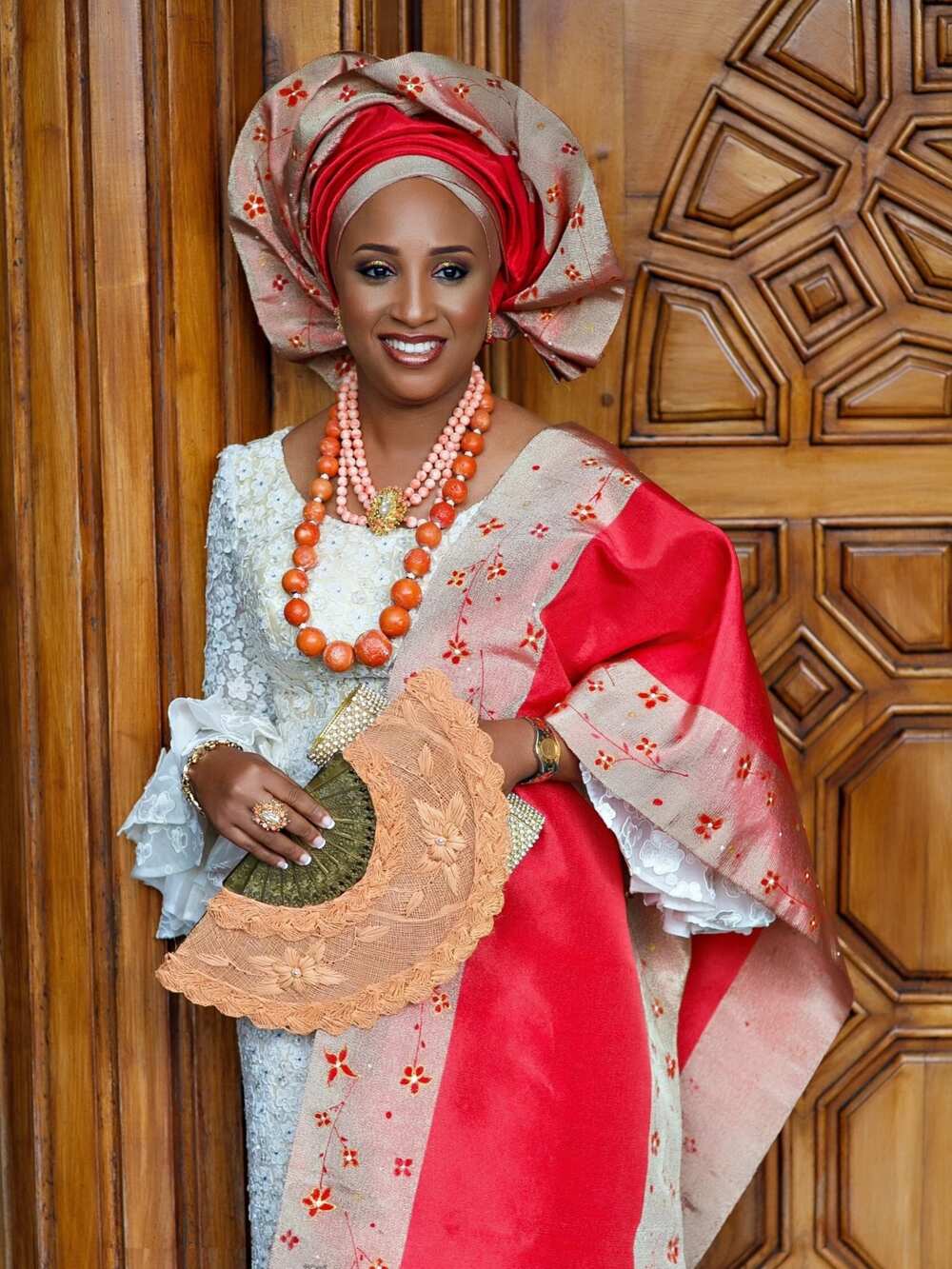 Last, but certainly not least, we have this beauty of a wedding outfit. Most of the attention here is focused on the ipele and matching gele, thus attracting more attention to the lovely bride's face. The dress hiding underneath is quite subdued and demure so as not to make the whole look overly busy.
Those were all the picks we had for you this time. Did you like our selection? Have you found a dress you would want to wear to your wedding? Let us know which ones you like the most.
READ ALSO: Colours that go with purple for a wedding: Best combinations
Source: Legit.ng