Nigerian traditional wedding outfits: latest styles
Despite the fact that white classic ceremonies are very popular in Nigeria, Nigerian traditional wedding outfits will never lose their relevance. Below, you will find many interesting ideas for your celebration.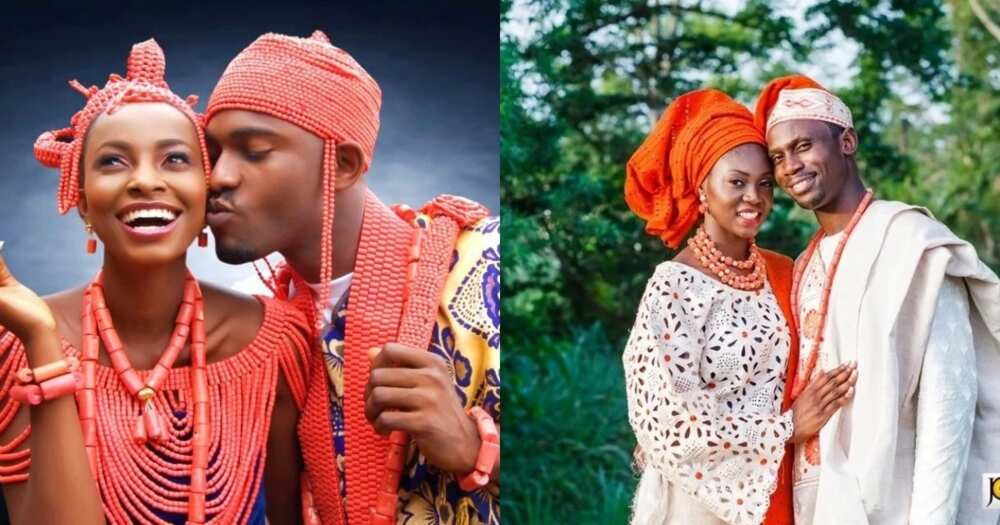 Traditional wedding attire for bride
Most of Nigerian native wears are sewed of Aso-Oke. It is a natural fabric that has a very wide color palette. Lace and George are also among the most popular fabric. Modern designers create real masterpieces using native motifs and this material.
There are also many impressive variants of lace Aso Ebi in the market. They can have different length and colors, asymmetrical elements, decollete shape, cutout on the back.
READ ALSO: Native wears for pregnant ladies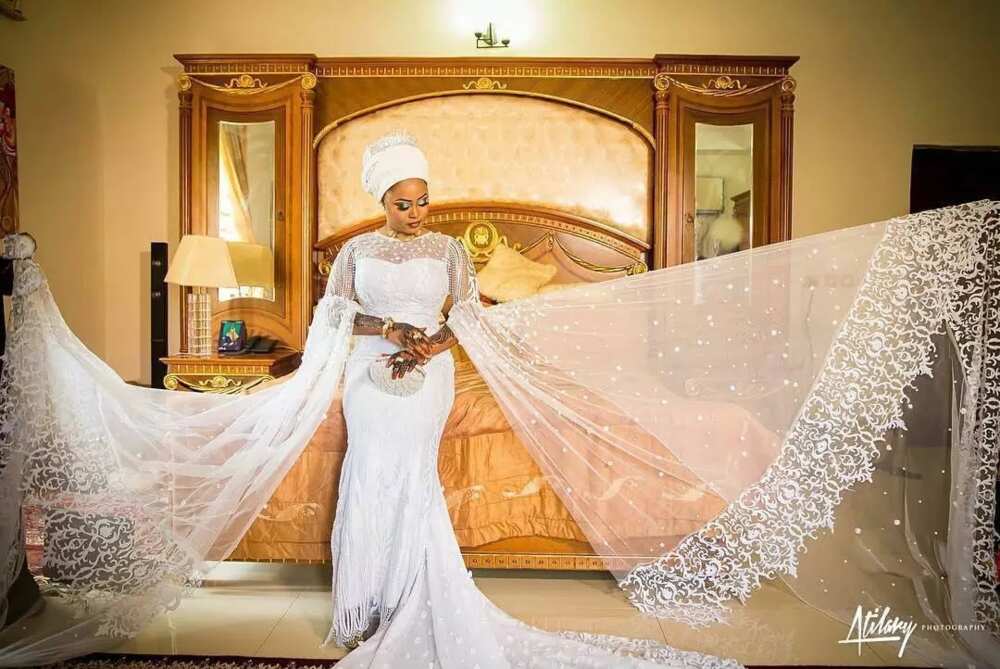 As for the customs of wedding fashion, they were created by our ancestors and preserved by modern newlyweds, which can't but rejoice. Yoruba brides include the following elements to their attires:
Iro is a long piece of cloth that women wrap around the waist.
Buba is a comfortable and elegant blouse of loose cut with long sleeves.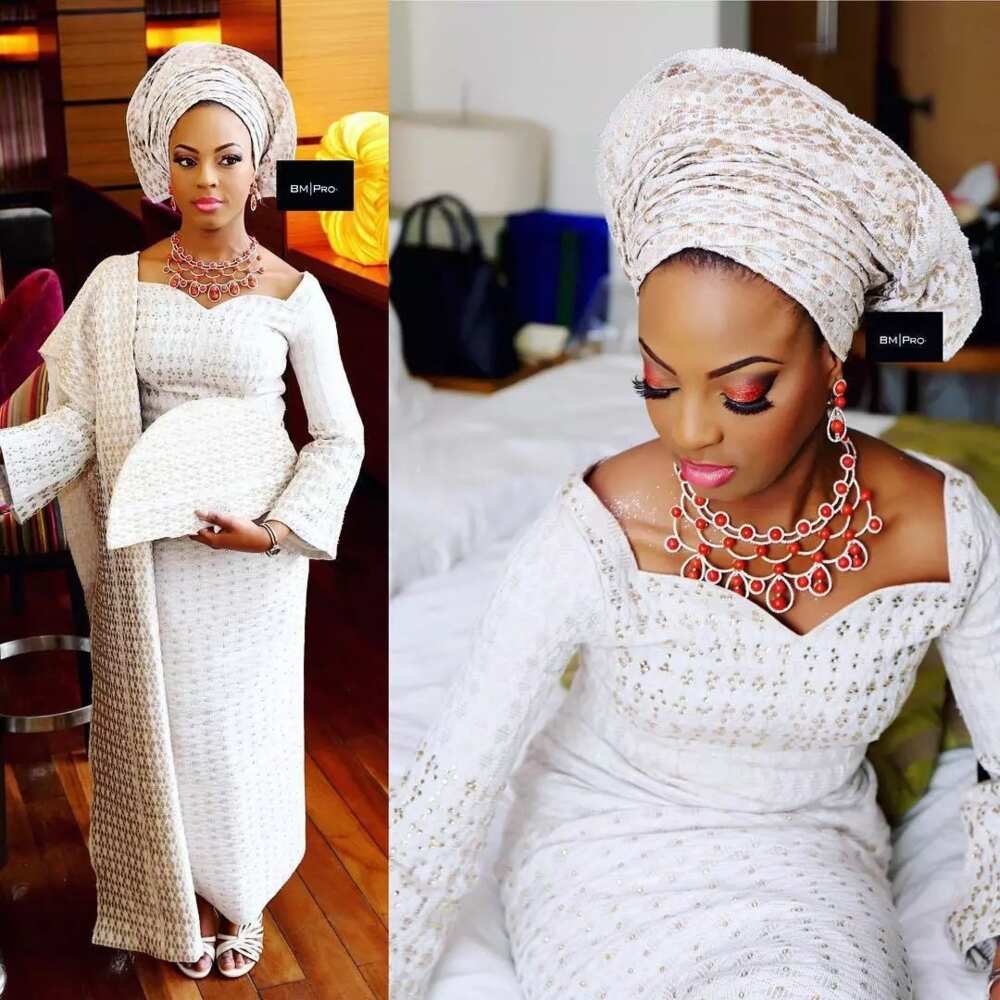 Aso-Oke and other fabrics are used to bead a Gele - traditional headdress.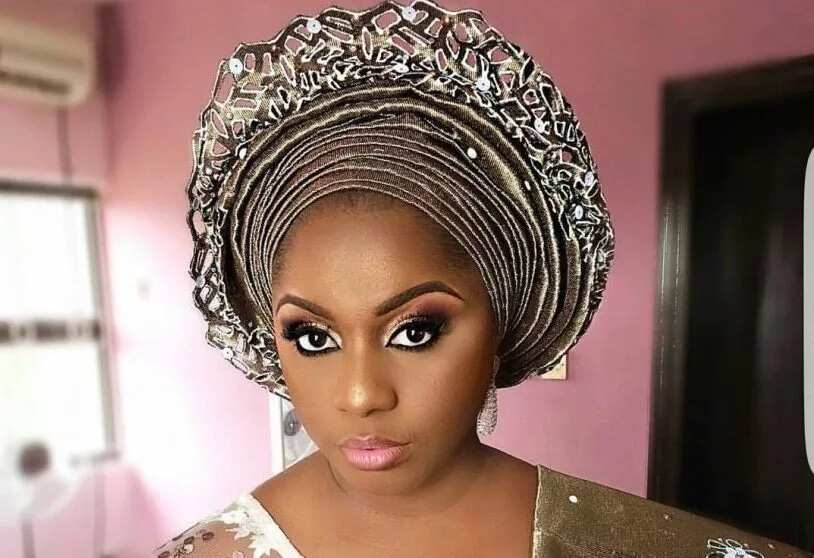 Iborun/ipele - a piece of cloth that is placed on the shoulder.
Also, you should add the jewelry Ileke, beads, bracelets, earrings.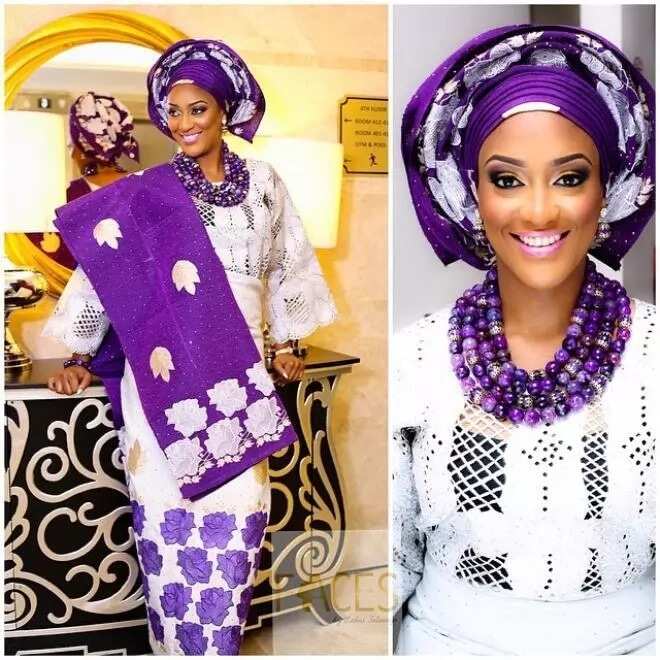 An elegant accessory can be a fan.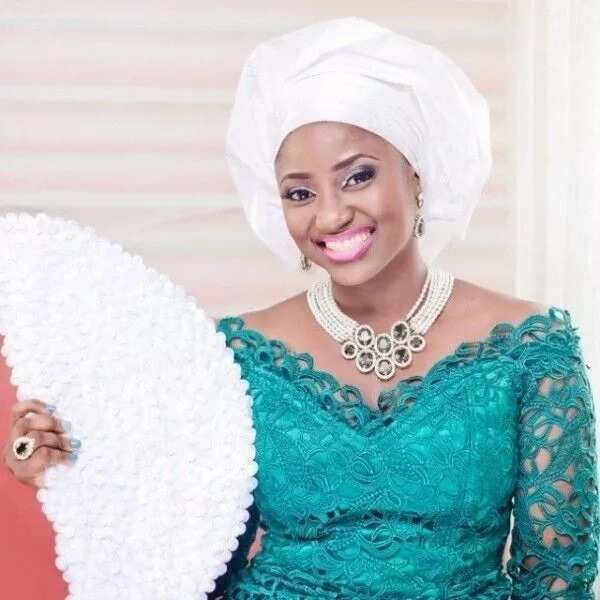 Flickering beads can be called a trend of 2018. They make the bride's outfit truly luxurious.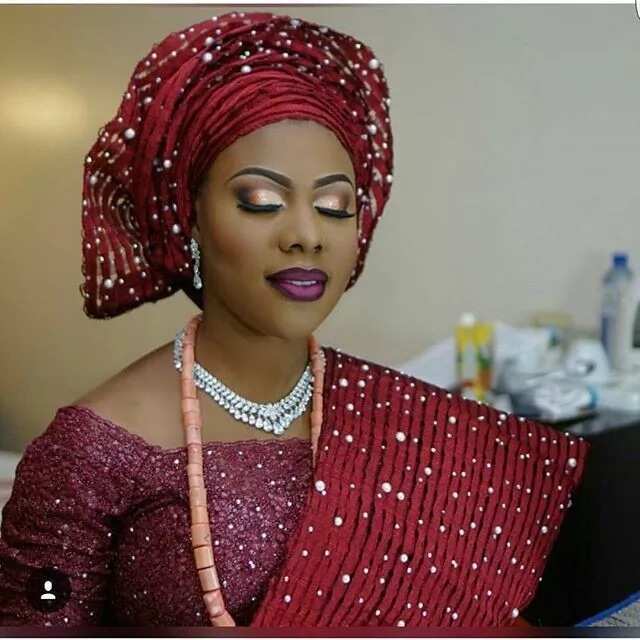 If you want to organize Igbo wedding, wardrobe will be somewhat different. Brides and grooms of this tribe prefer dresses of warm colors (orange, golden, yellow). They also sometimes wear blouses and wrappers.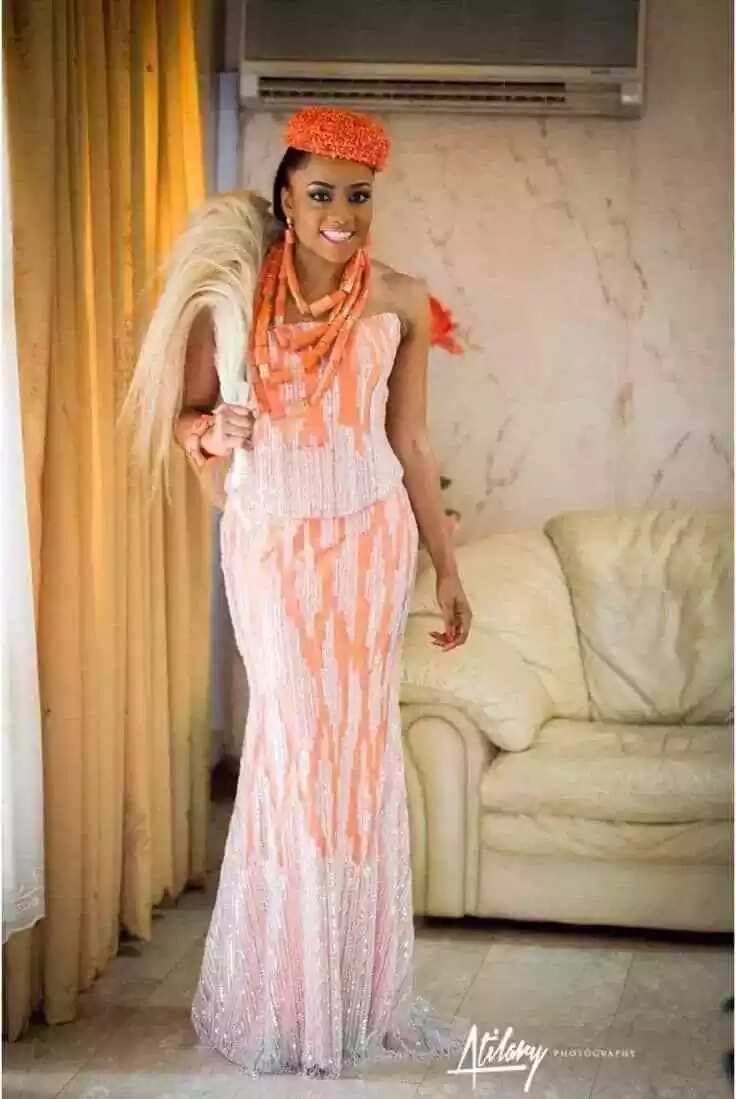 Immutable attributes of Igbo brides are coral jewelry and lush feathers.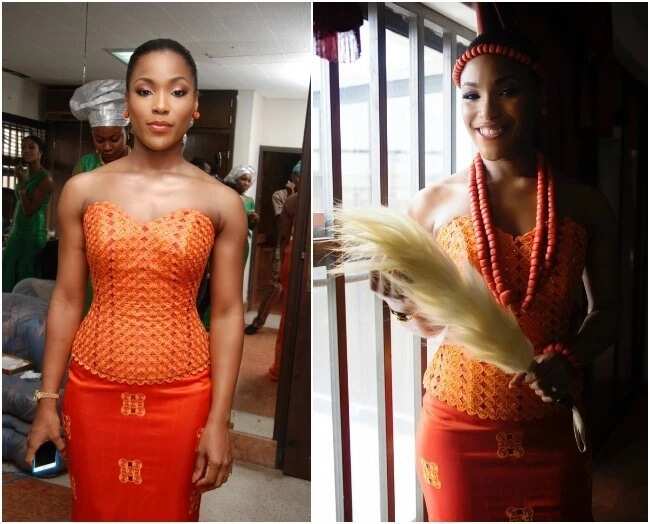 Hausa girls prefer rather closed but elegant dresses and compliment them with beautiful lali on their hands and feet. They are very fond of beautiful flowy hijabs that also form a train to the brides outfit.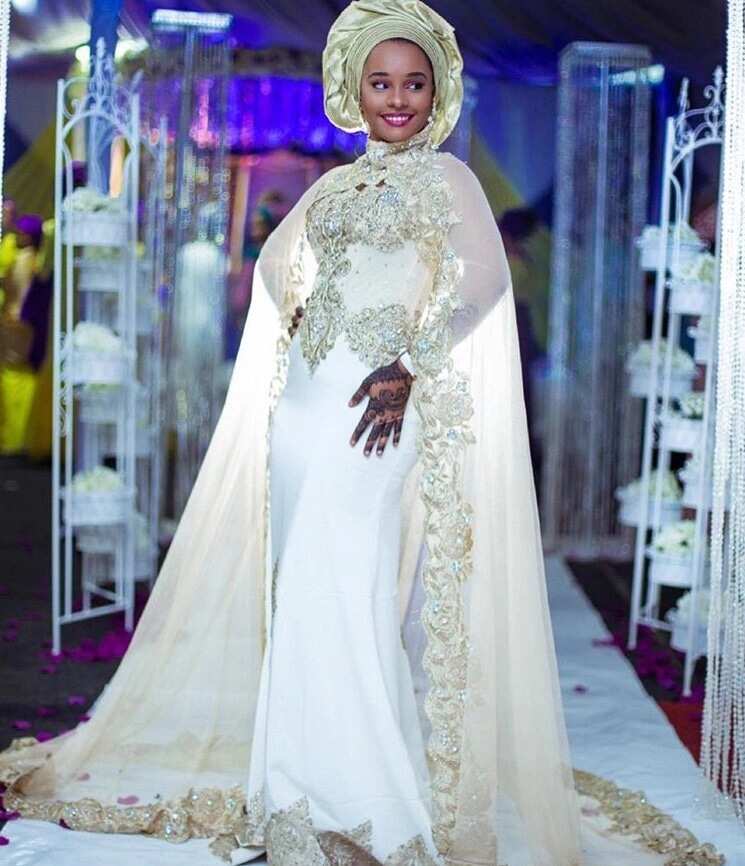 Traditional wedding attire for groom
Agbada is the most popular traditional wedding attire of Yoruba men. It can be supplemented with a cap of matching color.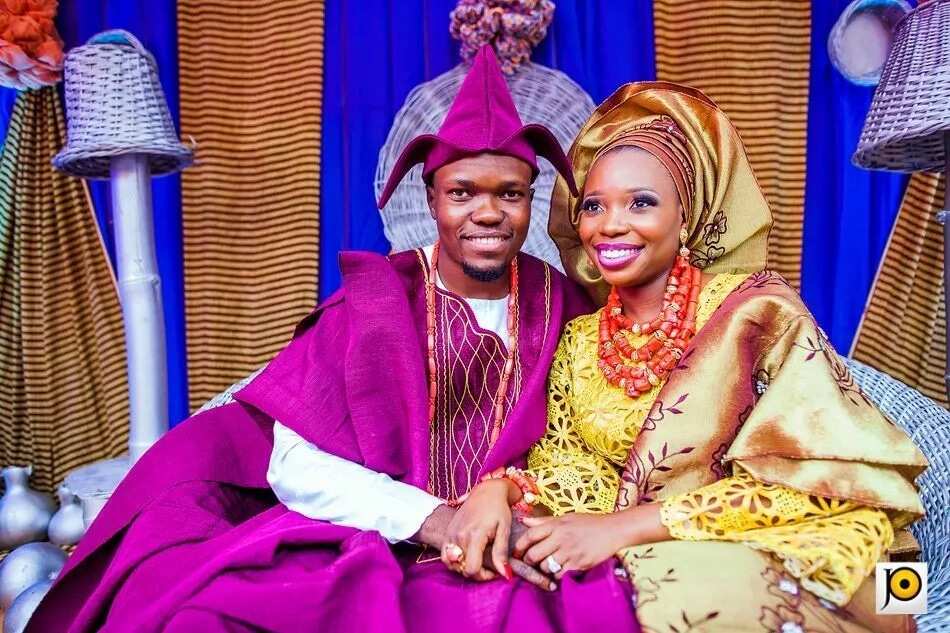 Igbo guys have a special wedding fashion. They complement ordinary trousers with attractive shirts on materials with animal patterns, images of weapons and other attributes of male power. A special place in the Igbo groom's dressing is occupied by red or black caps to which feathers are often attached.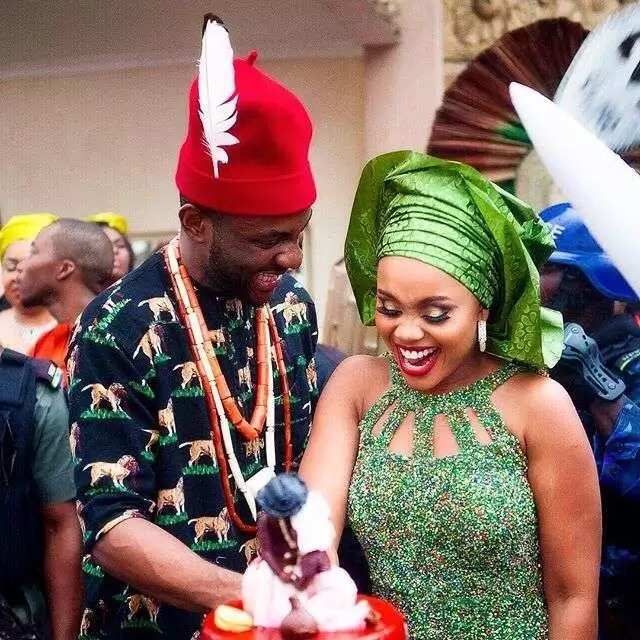 If you want to look really solid at your traditional wedding, be sure to buy a cane. By the way, Igbo men also wrap the materials around the waist.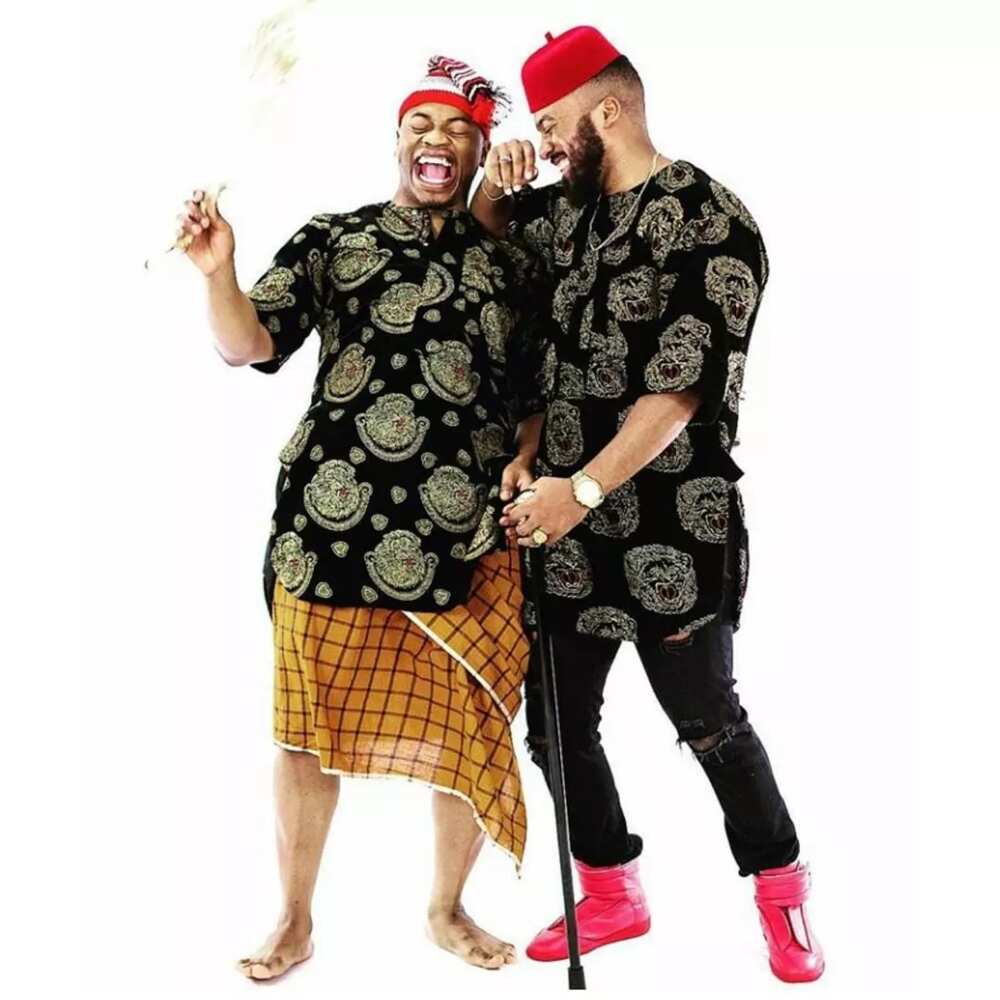 The choice of male outfits and female wedding gowns in Nigeria is really great. The above-described attires remain in demand for decades. Let's hope that time will not change them too much in the future. We wish you a successful and bright wedding!
READ ALSO: Best agbada styles for guys to rock in 2018
Source: Legit.ng