Most people have grown up watching Batman movies and comics. This superhero is famous among many people all over the world, who are inspired by him; not to mention that his story features many more interesting and sophisticated personalities. There are a lot of memorable lines connected to this iconic saga, and today you have a great chance to reminisce all of the notable Batman quotes.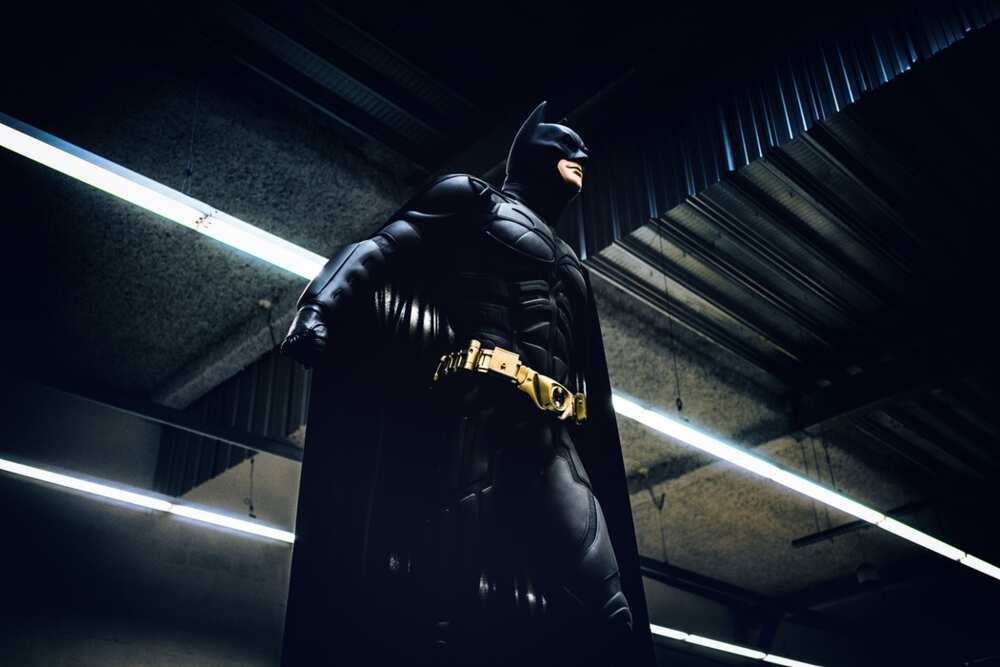 The Batman franchise won people's hearts because it is action-packed, dynamic and inspiring. It holds the sixth place on the list of the highest-grossing franchises of all time. The first appearance of the household-name superhero is dated 1939, and since then, famous Batman quotes have been known all over the world. Eighty years and counting, people surely will not be forgetting this brave hero and his stories anytime soon.
Best Batman quotes — Top 30
Whether you are a big fan of the franchise or still have not gotten around to getting acquainted with it, we are confident that these famous Batman quotes will find their reflection in your soul. Whether they are inspiring, sad or funny Batman quotes, they have proved to be not so easily forgettable.
Lego Batman quotes
In 2017, the fans got treated with "The Lego Batman Movie", which is a comedy genre 3D animated film created by Warner Bros. Pictures. The fans loved the movie because it had good animation, humour, voice acting and soundtrack, and it was a colossal box-office hit. Many of the funniest Batman famous quotes come from here. The list of Lego Batman movie quotes that are worth our attention is endless, but we picked a few sharp lines said by different characters.
"I saved the world again today. It was off the chain." — Batman/Bruce Wayne
Bruce, in his superhero form, always saves the world, and he is fully aware of his importance to the citizens. His wits and ability to say the right thing at the right time are the main reasons why the fans love him so much.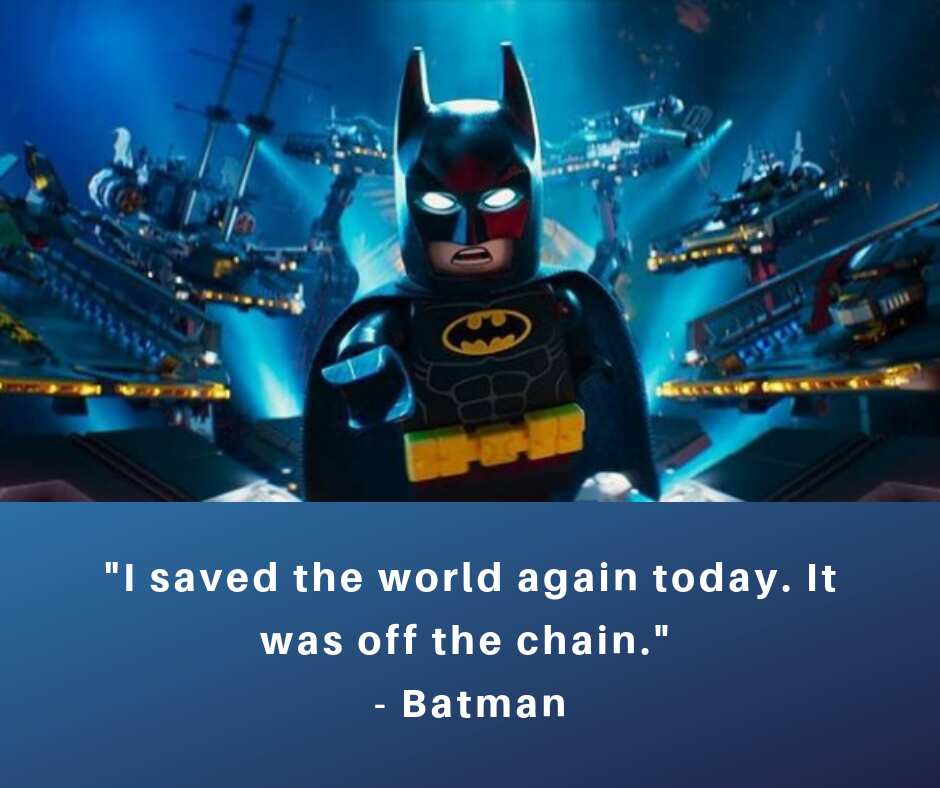 "Bruce Wayne is Batman's roommate?" — The Joker
He totally meant to say it without the addition, but it is hard for him to believe that Batman and Bruce Wayne are the same.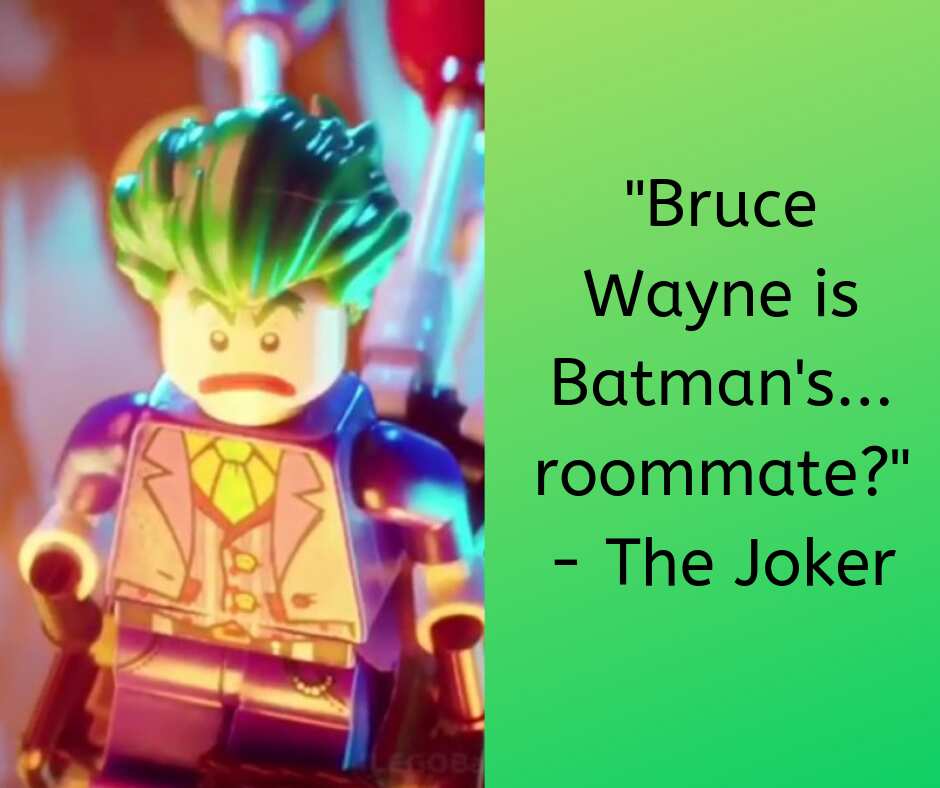 "If you call me "Batgirl", can I call you "Batboy"?" — Barbara Gordon/Batgirl
Have you ever wondered why it is not "Batboy" but "man"? Why not "Batwoman", but "girl"? The linguistic choice does not sit well with some fans, and the movie makes fun of it in an entertaining way. It is also a funny pun on "bad boy".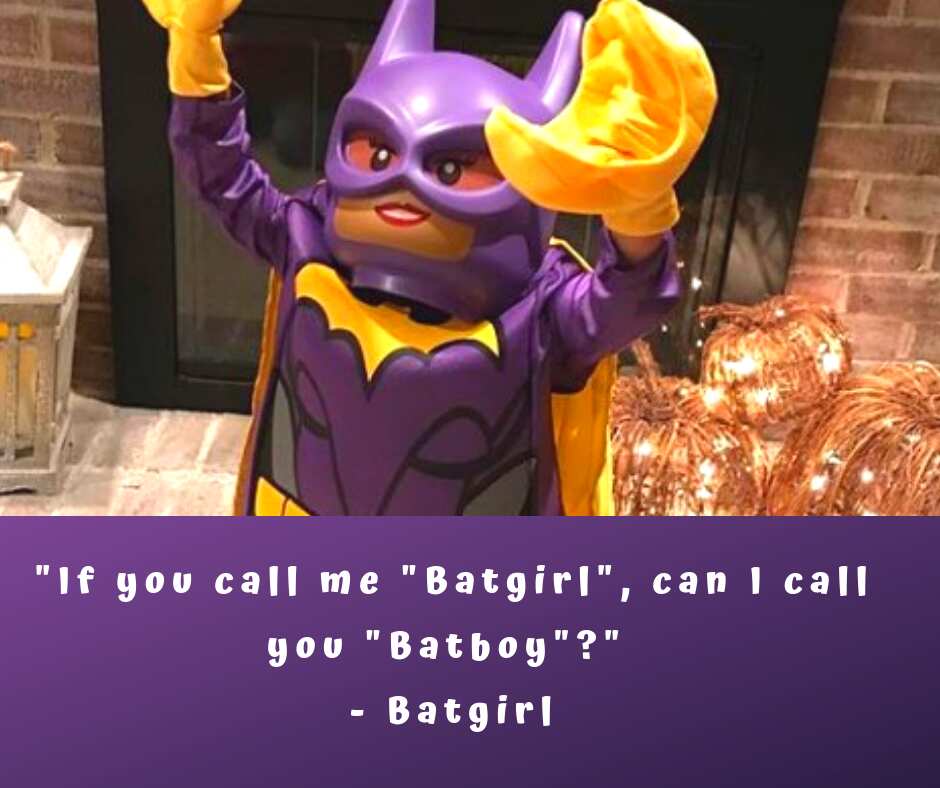 "Sir, if you don't mind my saying, I'm a little concerned. I've seen you go through similar phases in 2016, and 2012, and 2008, and 2005, and 1997, and 1995, and 1992, and 1989, and that weird one in 1966." — Alfred Pennyworth
Alfred hints that he has seen the leading superhero throughout different phases in his life.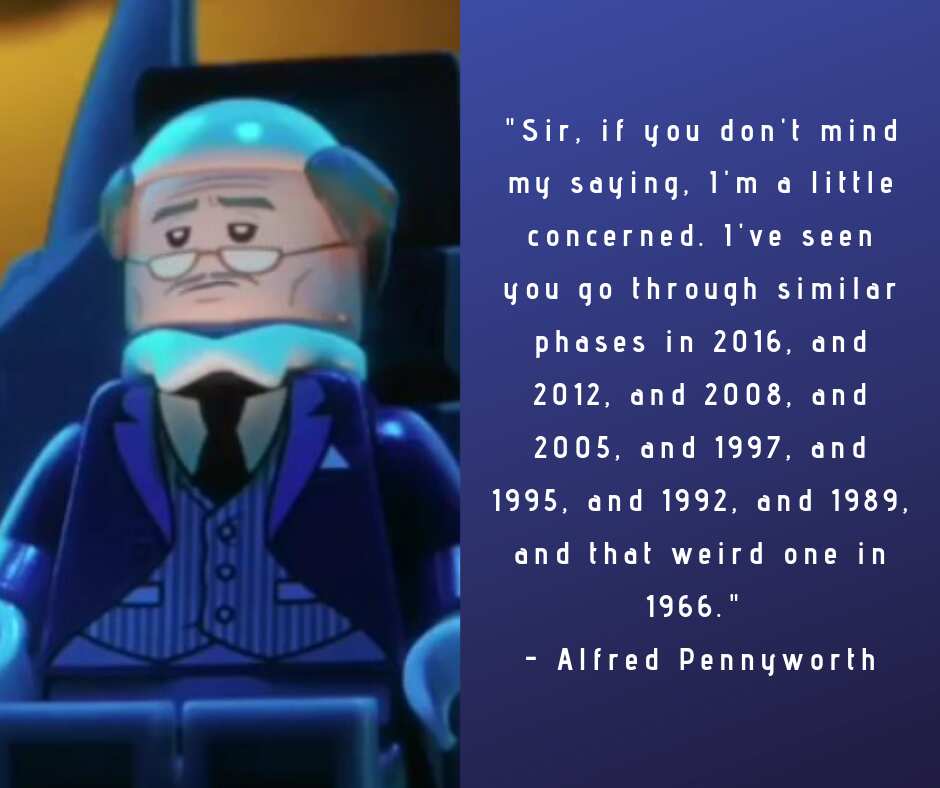 "Nobody's got a smile like you, Mr J." — Harley Quinn
Harley and Joker's relationship cannot be called healthy and loving, but their bickering and fights are precisely what made them so famous. For Harley, Joker is always beautiful.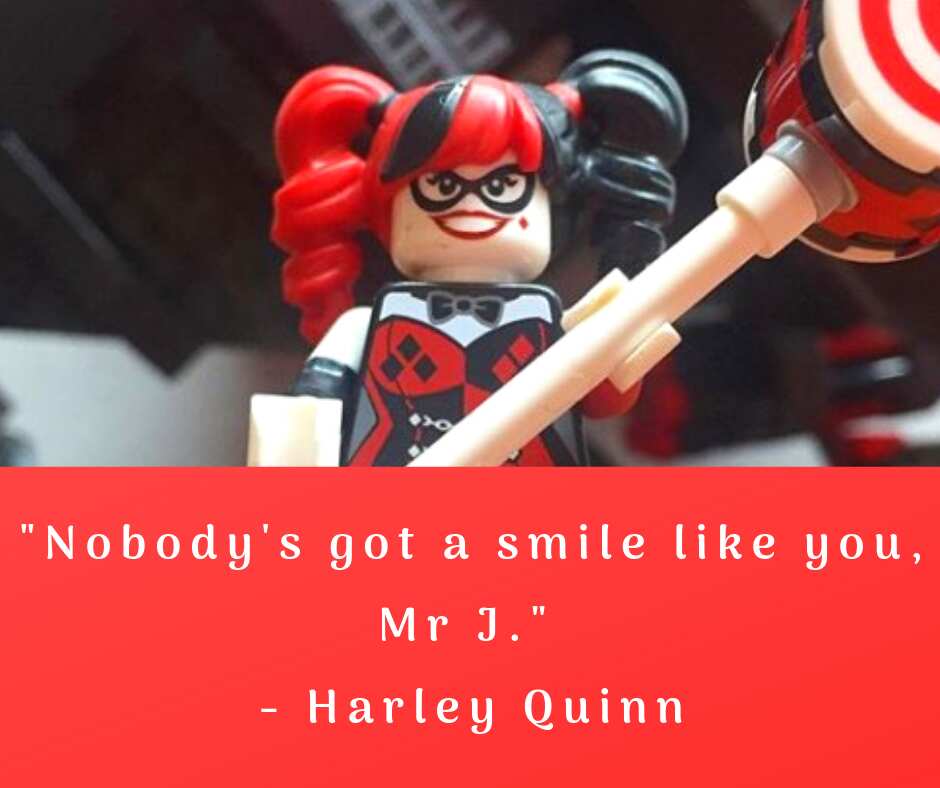 The Lego movie was great, but the live-action ones have no less exciting lines delivered by the characters that are well-known to the watchers.
Batman Begins quotes
"They told me there was nothing out there, nothing to fear. But the night my parents were murdered, I caught a glimpse of something. I've looked for it ever since. I went around the world, searched in all the shadows. And there is something out there in the darkness, something terrifying, something that will not stop until it gets revenge — me." — Bruce Wayne/Batman
The first part of the trilogy created by Christopher Nolan opens with Bruce expressing the clear desire to avenge the deaths of his parents. He menacingly describes himself, indicating that he should not be underestimated.
"It's not who I am underneath, but what I do that defines me." — Bruce Wayne
According to our main character, his identity behind the mask does not define him, but his heroic actions do.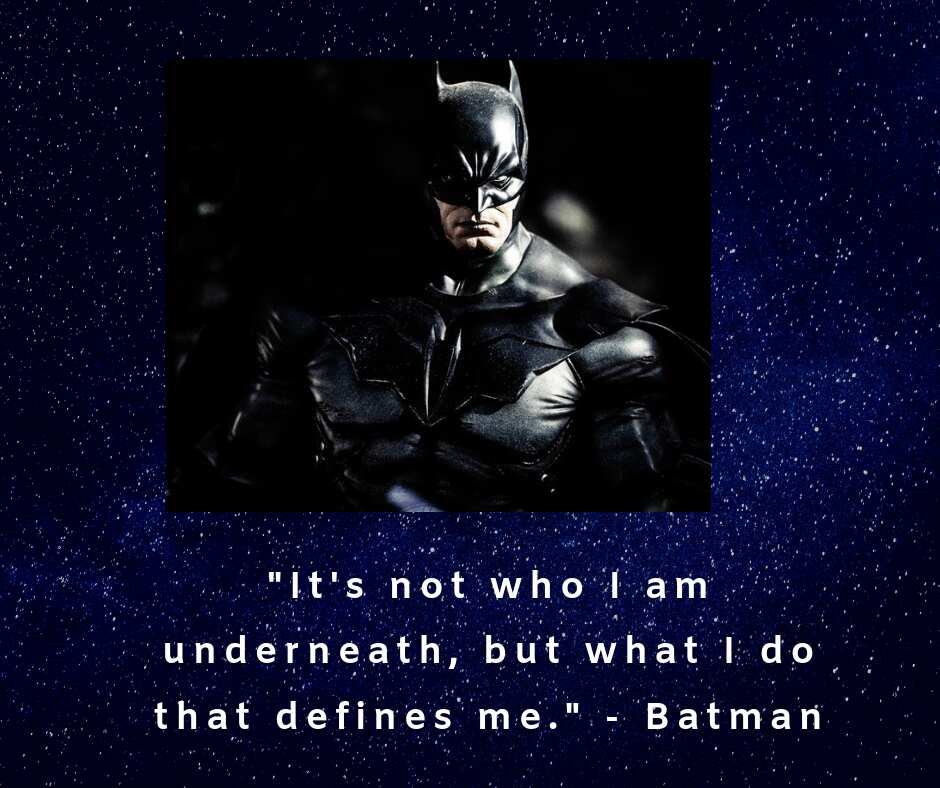 "I won't kill you, but I don't have to save you." — Bruce Wayne
Even though the hero has a clear philosophy not to kill people, he knows that saving everyone is impossible and not what he has to do.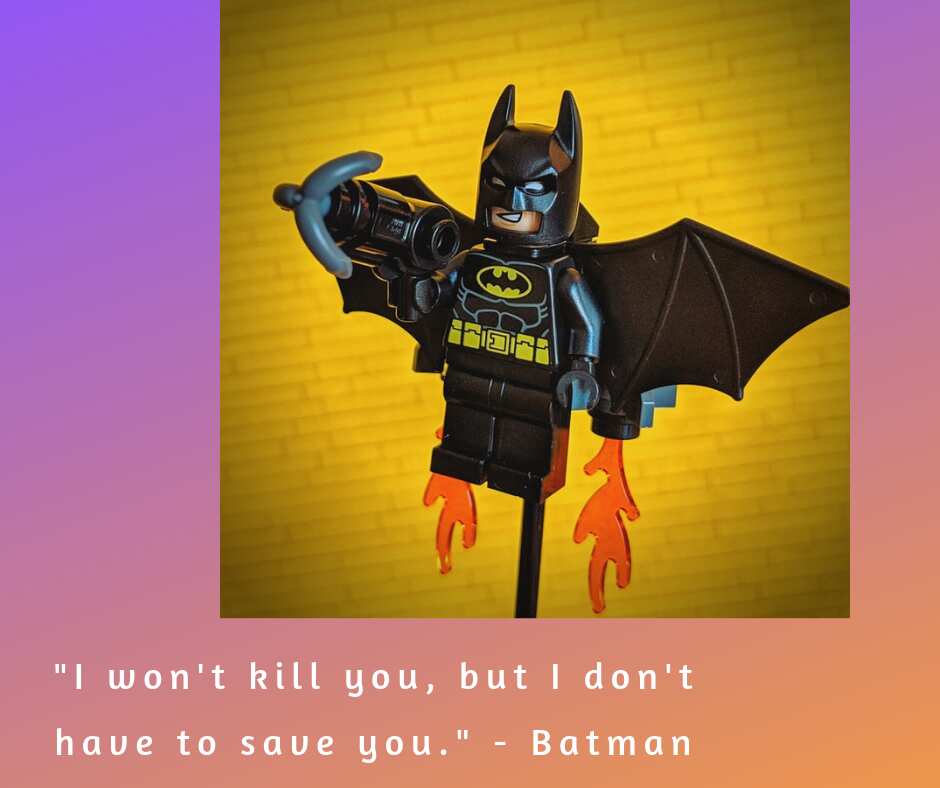 "Why do we fall? So we can learn to pick ourselves up." — Alfred Pennyworth
Alfred gives an abridged and clear version of why people have to struggle and fall. All the troubles of life are shaping us and making the moment when we stand up again more powerful.
"You're not the devil. You're practice." — Bruce Wayne
Most of the hero's quotes show us that he does not take anybody messing with him lightly.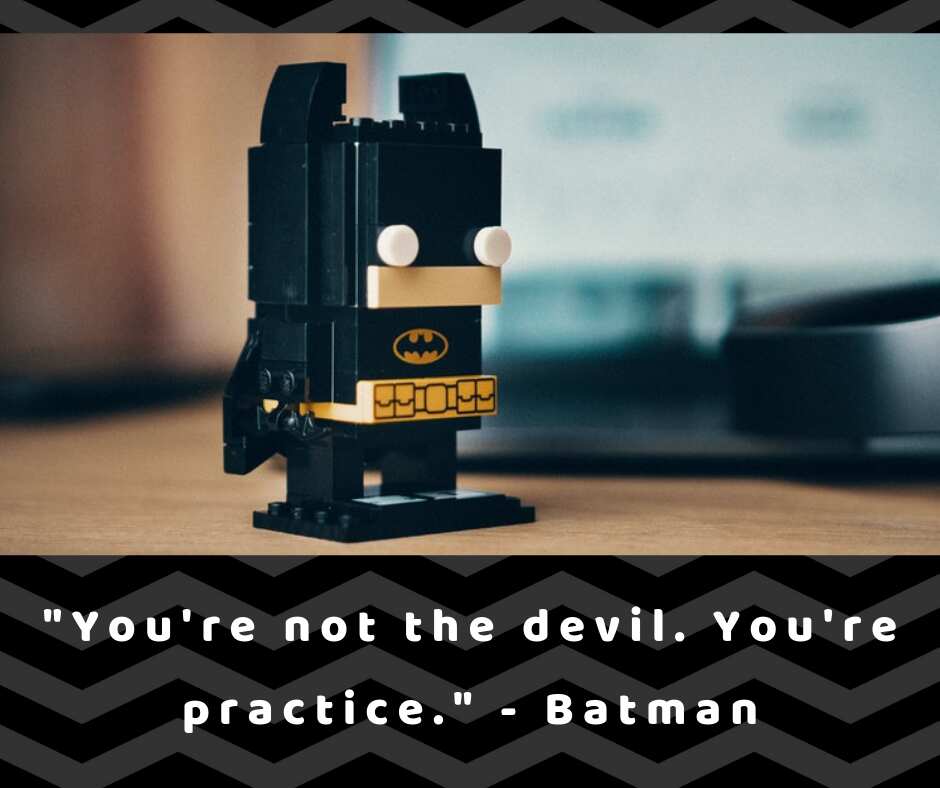 The next section is dedicated to the great memories of Adam West's representation of our favourite character!
Adam West Batman quotes
One of the most famous people to play the superhero in a bat suit is the late Adam West, who was a well-known actor back in the 1960s. Many old-school fans still admire and appreciate this man, and his fancy lines are hard to forget.
"Let that be a lesson. In future, be more careful from who you accept free lemonade." — Bruce Wayne/Batman
The brave hero teaches children some essential life values, just like not accepting any snacks from strangers.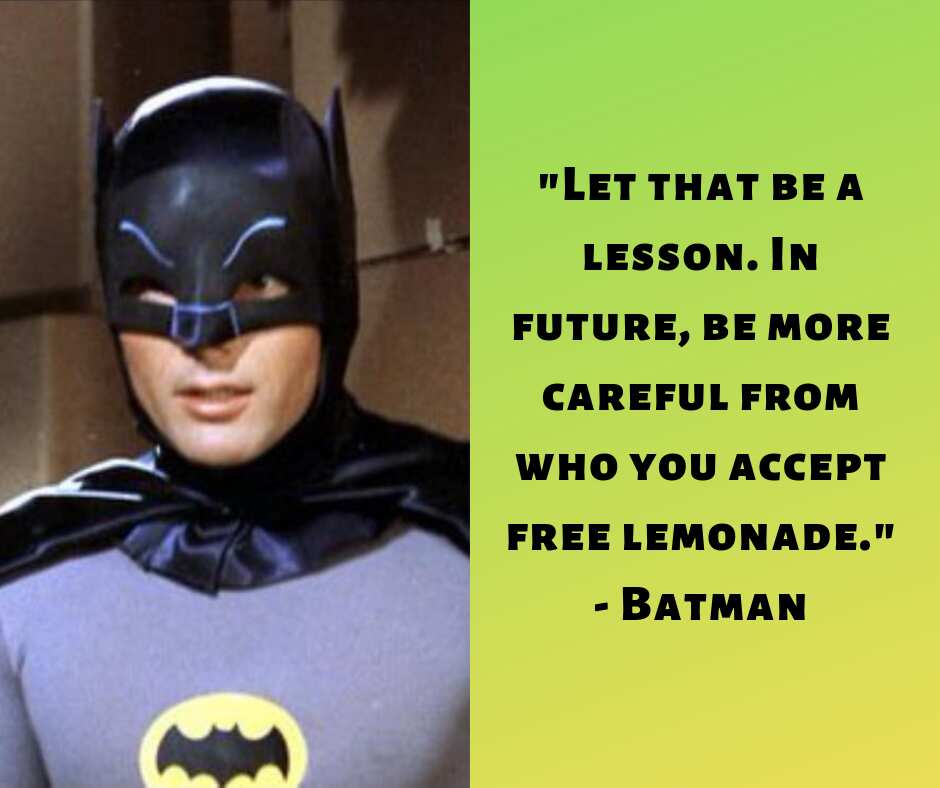 "It is the duty of every good citizen of Gotham City to report meeting a man from Mars in a public park." — Bruce Wayne
Unusual things are all around us, and sometimes it is good to let qualified people deal with them.
"It's obvious. Only a criminal would disguise himself as a licensed, bonded guard yet callously park in front of a fire hydrant." — Bruce Wayne
The mystery-solving skills of that iteration of our favourite superhero are mind-blowing. He notices things that not everyone might have picked up on.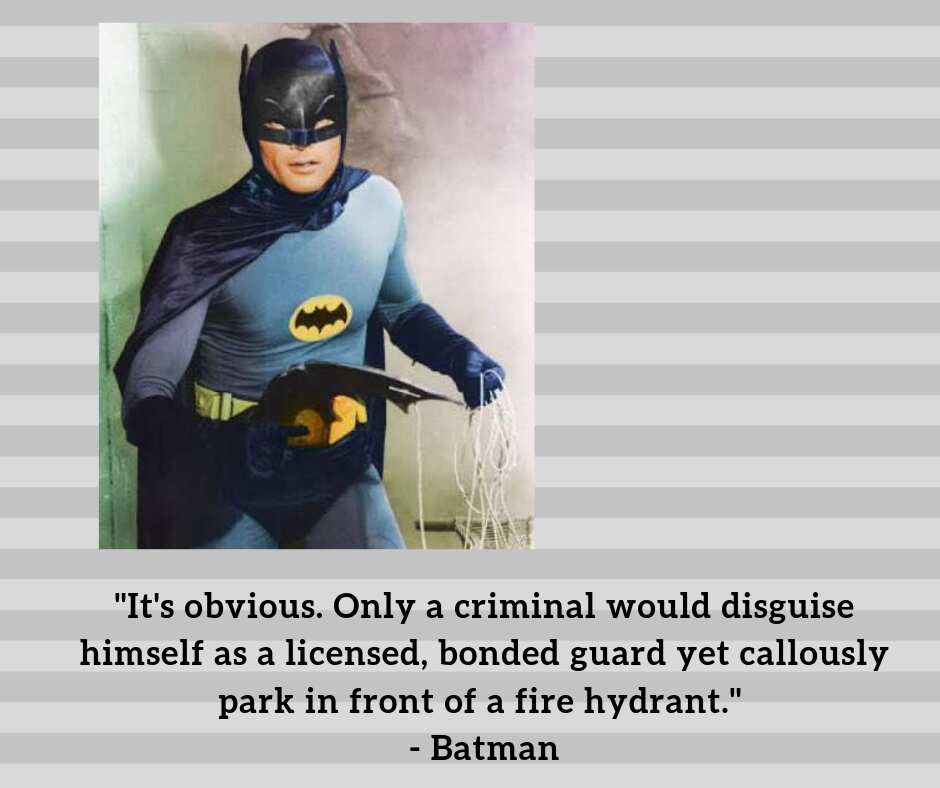 "A reporter's lot is not easy, making exciting stories out of plain, average, ordinary people like Robin and me." — Bruce Wayne
This hero knows for sure how to make fun of himself and his sidekick, Robin. They are one of the most iconic pairs in modern media history.
"That's one trouble with dual identities, Robin. Dual responsibilities." — Bruce Wayne/Batman
The 60s Bruce voices exactly what can apply to every superhero: two identities means that each one comes with the responsibilities of its own.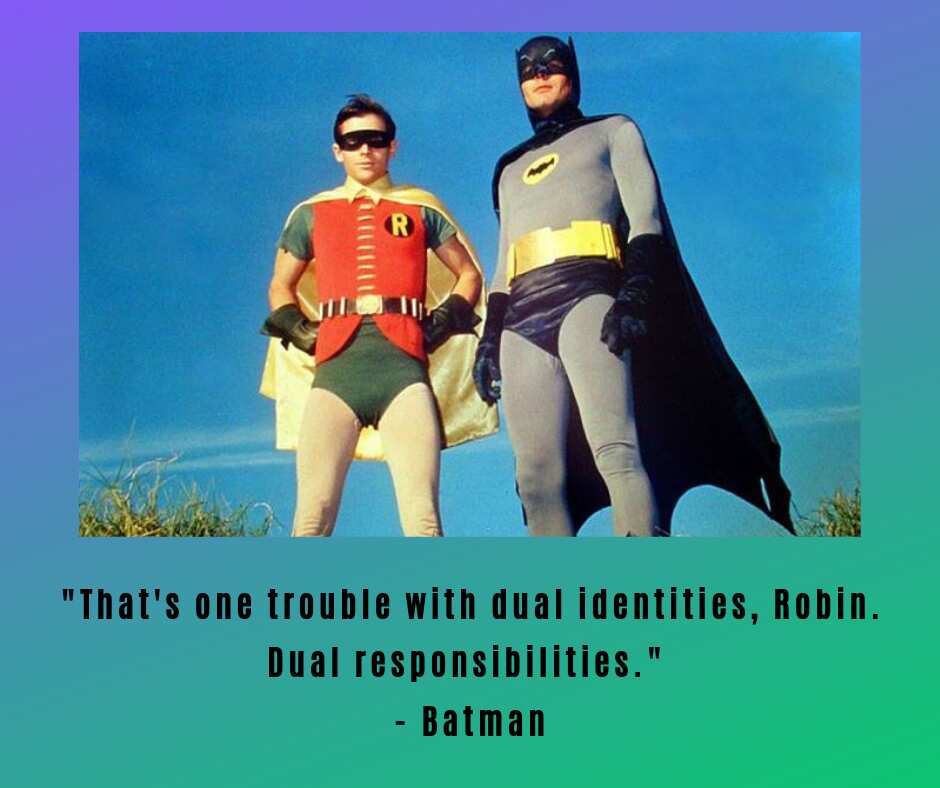 Next up, quotes from the epic battle against Superman!
Batman v Superman quotes
The admirers of superhero movies were thrilled to see the epic battle in "Batman v Superman: Dawn of Justice", the adventurous 2016 movie. As usual, it blessed us with plenty of quotable sayings.
"The world has been so caught up with what Superman can do, that no one has asked what he should do." — Senator Finch
Sometimes we get so fascinated with the heroic powers of extraordinary people, that we forget they are just regular humans who do not always make decisions lightly.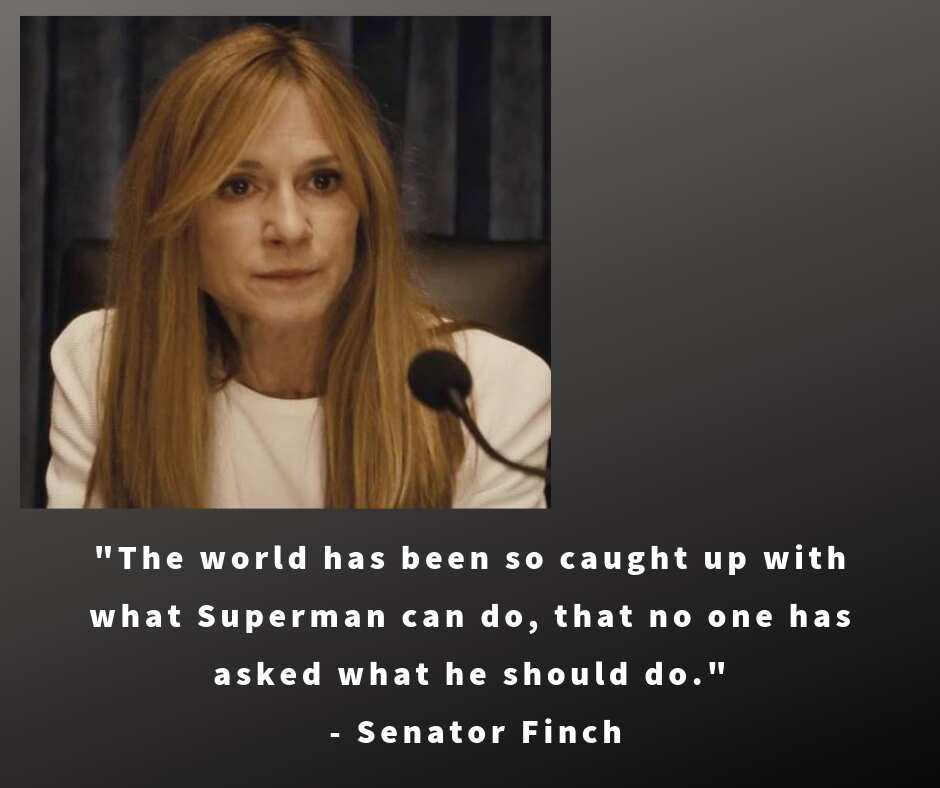 "We're criminals, Alfred. We've always been criminals; nothing's changed." — Bruce Wayne/Batman
Bruce turns to Alfred and says exactly what he thinks about the meaning of their existence. Even though he is a hero, he also killed a lot of people.
"It's true what they say about little boys: born with no natural inclination to share." — Diana Prince/Wonder Woman
One of the most popular female heroines, Wonder Woman, thinks that a lot of men should learn to share.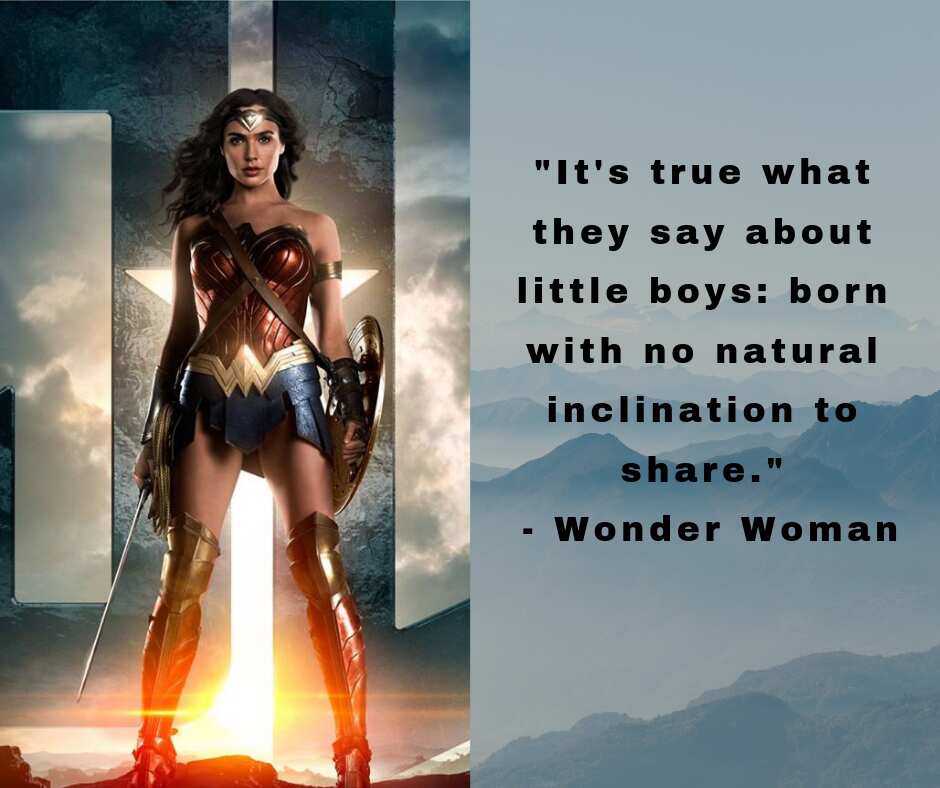 "I've failed him in life. I won't fail him in death." — Bruce Wayne
Without spoilers, one of the deaths that occurred in the movie has particularly influenced our hero, and he made a promise not to fail this person anymore.
"My world doesn't exist anymore." — Clark Kent/Superman
When you lose something or someone important to you, it feels like nothing matters anymore.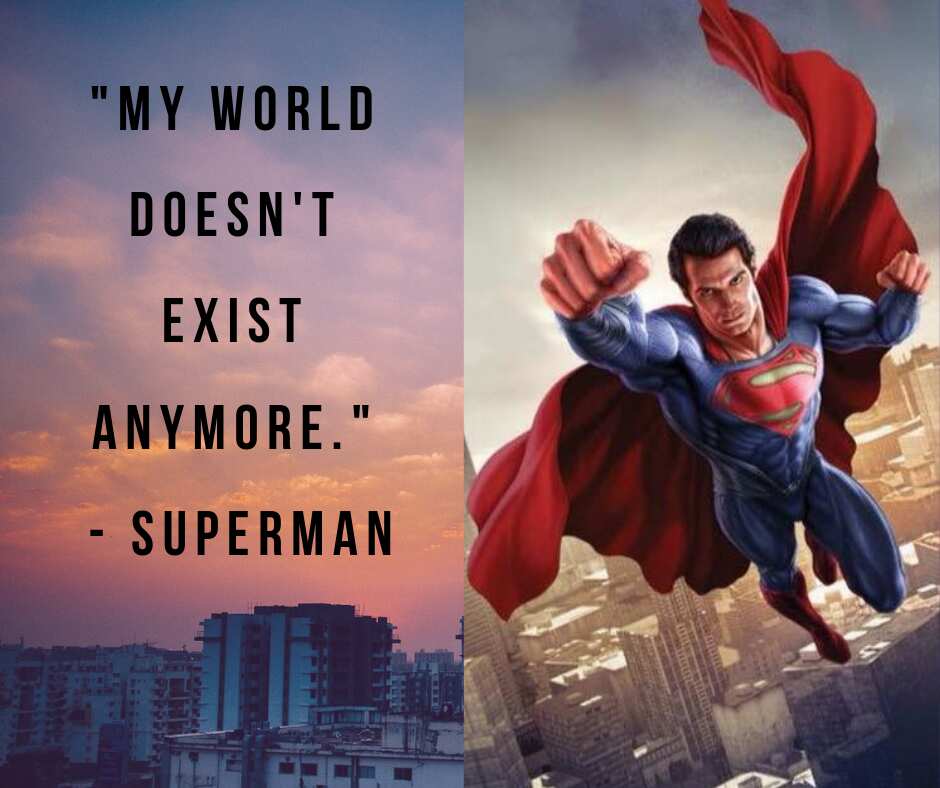 Batman and Superman had a lot of chemistry on screen. Now, we move on to one of the most famous movies about one of the world's greatest fictional heroes: "The Dark Knight".
READ ALSO: 50 best Star Wars quotes every fan needs to know
Batman Dark Knight quotes
So many of the Batman quotes Dark Knight have stayed in our hearts forever. Some of them are quoted even by those people who have never been familiar with the franchise.
"You either die a hero or you live long enough to see yourself become the villain." — Bruce Wayne/Batman
Bruce delivered one of the most famous lines in movie history when he felt guilty about Harvey Dent's death. It can be applied to many stories where the protagonist eventually became a villain.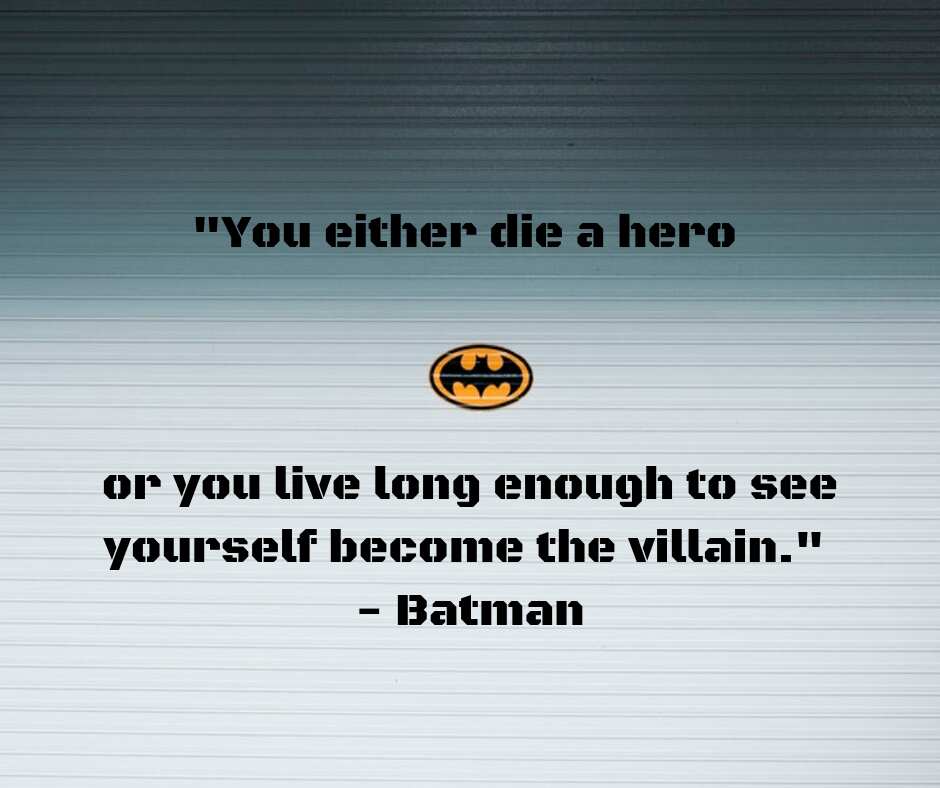 "Then, you're gonna love me." — Bruce Wayne
The context behind this quote is interesting: Rachel puts up a fight against Joker, and he comments on how much he appreciates a little fight. Immediately, Batman appears and says "Then you're gonna love me".
"Sometimes the truth isn't good enough; sometimes people deserve more." — Bruce Wayne
The character has to hide from people when he is blamed for Joker's wrongdoings, and he thinks that he needs to restore people's faith in him.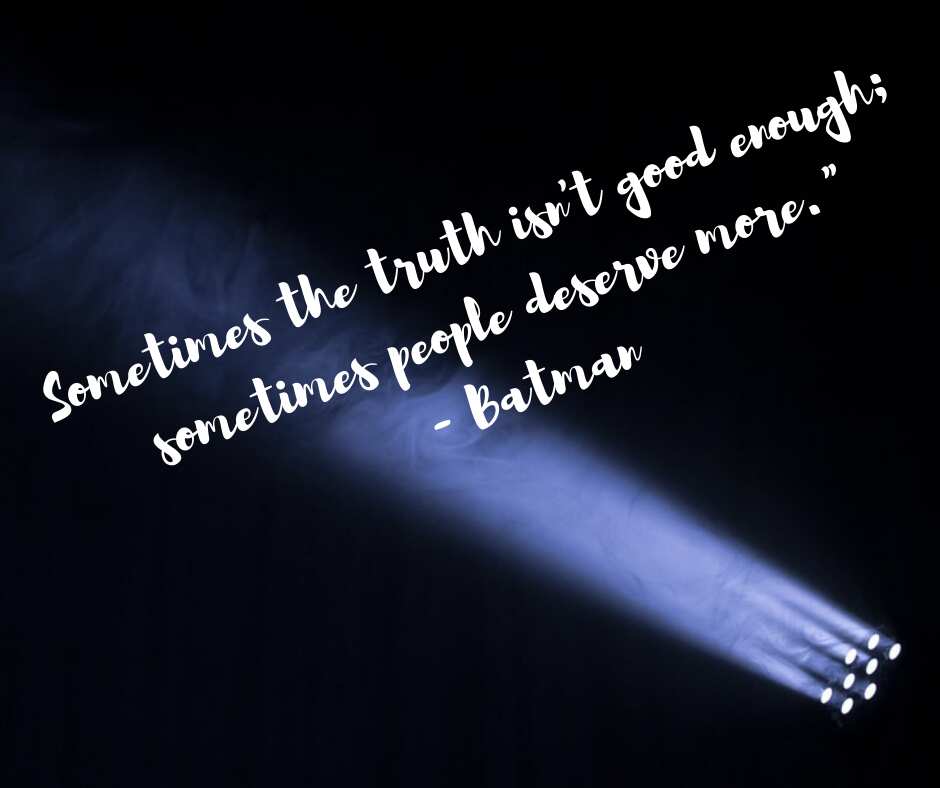 "What were you trying to prove? That deep down, everyone's as ugly as you? You're alone!" — Bruce Wayne
Joker conducts a social experiment where one of the two boats has to blow, and people have to decide whether they would blow the other to improve the chance of their own survival. As the hero in a bat suit delivers this saying, he decides that neither of the boats has to explode today.
"Well, I grew up in Gotham, and I turned out all right." — Bruce Wayne
When Natascha asks Bruce how he would raise his kids in Gotham, the hero answers that he turned out fine growing up in this city. From the audience's point of view, this saying includes a bit of irony but is also great to describe his personality.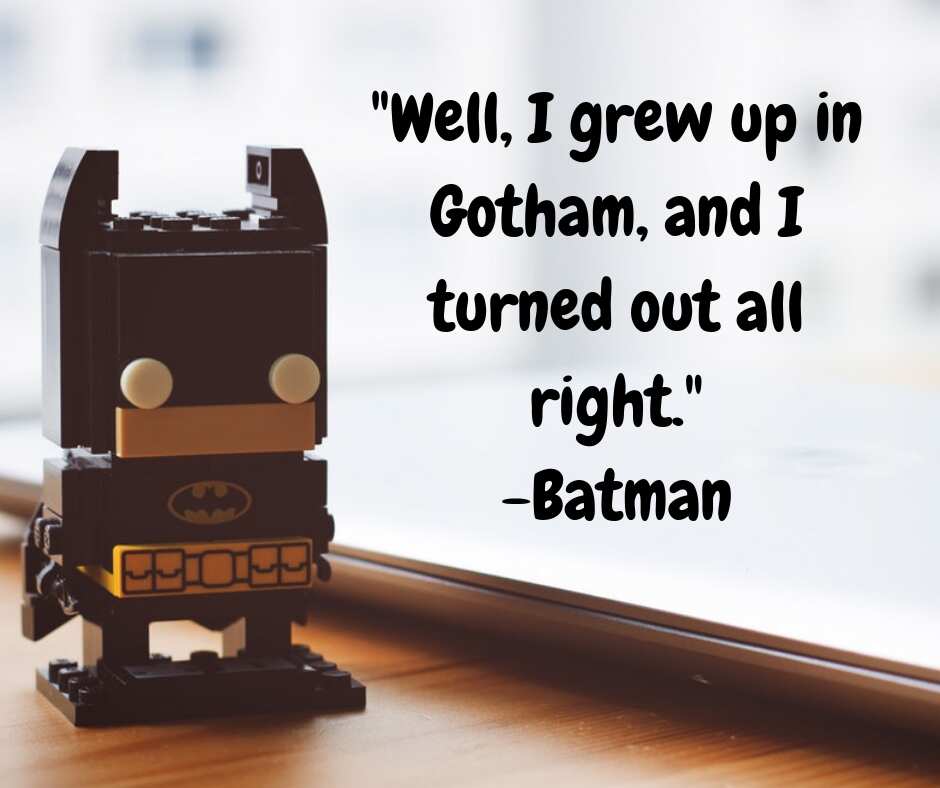 The Batman universe does not only limit itself to the movies: there are also a lot of comics about this hero. Of course, they have memorable lines as well.
Batman comic quotes
The first appearance of a mysterious hero in a bat suit took place in 1939, and the fans loved him so much that he got his own comic series. Since then, the entire generations grew together with these comics.
"Criminals are a superstitious, cowardly lot. So my disguise must be able to strike terror into their hearts. I must be a creature of the night, black, terrible..." — Bruce Wayne/Batman
The superhero wants to instil fear into the hearts of people who commit a crime and be the person who stops them all.
"Sometimes it's only madness that makes us what we are." — Bruce Wayne
Come to think of it, sometimes we do either fantastic or terrible things because of our own madness.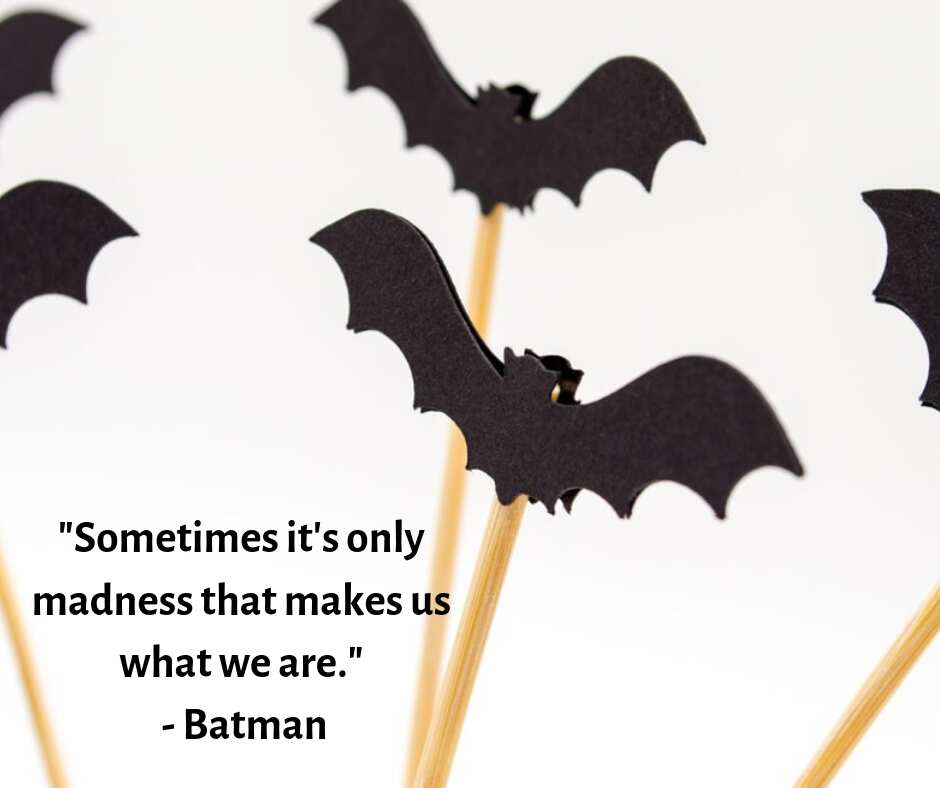 "Hello. I came to talk. I've been thinking lately. About you and me. About what's going to happen to us in the end. We're going to kill each other, aren't we? Perhaps you'll kill me. Perhaps I'll kill you. Perhaps sooner. Perhaps later." — Bruce Wayne
Our beloved hero says these words to the Joker and expresses the idea that one of them is going to die by the hands of another.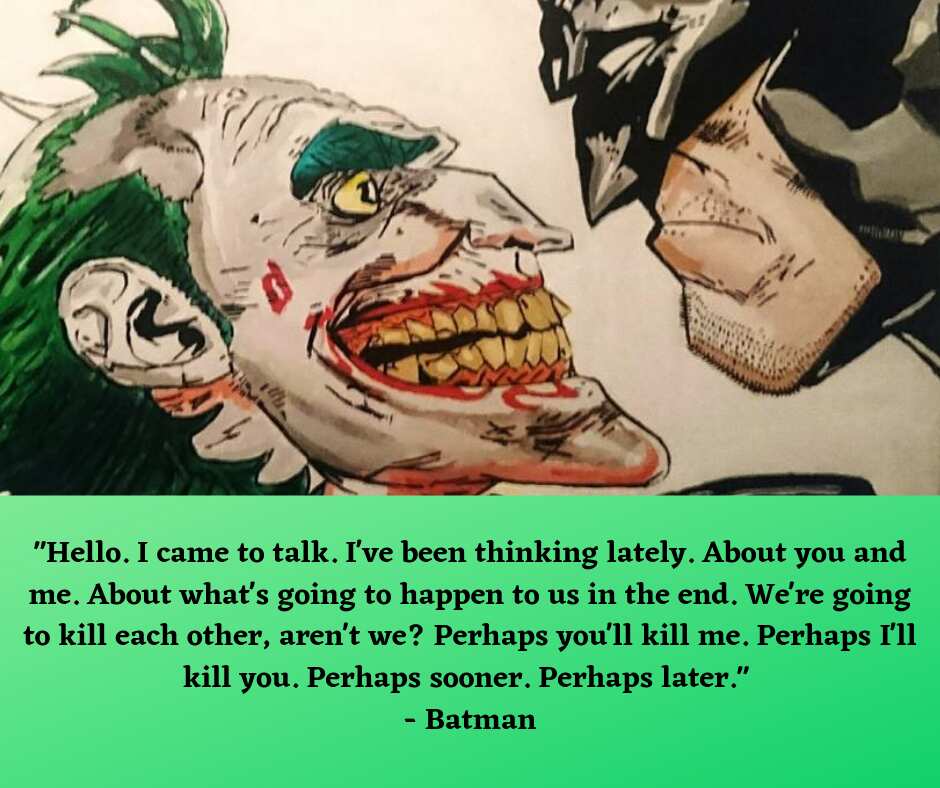 "Deep down, Clark's essentially a good person... and deep down, I'm not." — Bruce Wayne
The main protagonist's opinions on his fellow hero, Superman, are always interesting to learn, and enthusiasts appreciate their interactions.
"And as the sun that had been too afraid to show its face in this city started to turn the black into grey, I smiled. Not out of happiness. But because I knew that one day, I wouldn't have to do this anymore. One day, I could stop fighting. Because one day, I would win. One day, there will be no pain, no loss, no crime. Because of me, because I fight. For you. One day, I will win." — Bruce Wayne
Maybe the iconic character is right: one day, all the pain and crime will go away, and love will prevail.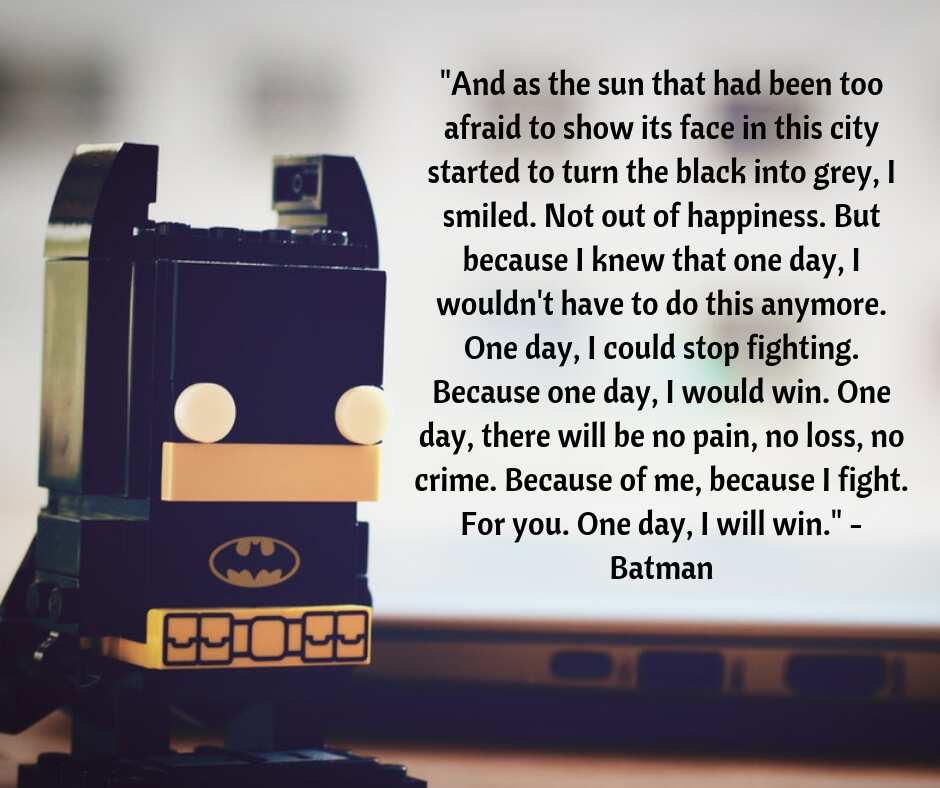 Those Batman quotes are special to all the fans, and casual readers may find them interesting. We hope you enjoyed this little insight into the superhero universe!
READ ALSO: 45 great Harry Potter quotes from books and movies