Awesome Harley Quinn quotes to inspire you for some mischief
Harley Quinn is one of the most memorable and iconic characters from the DC universe. After her debut in "Batman: The Animated Series", this chaotic villain has found a place in many people's hearts. Sometimes, we all need to get inspired by the most mischievous Harley Quinn quotes from comics, series, and movies where she made an appearance.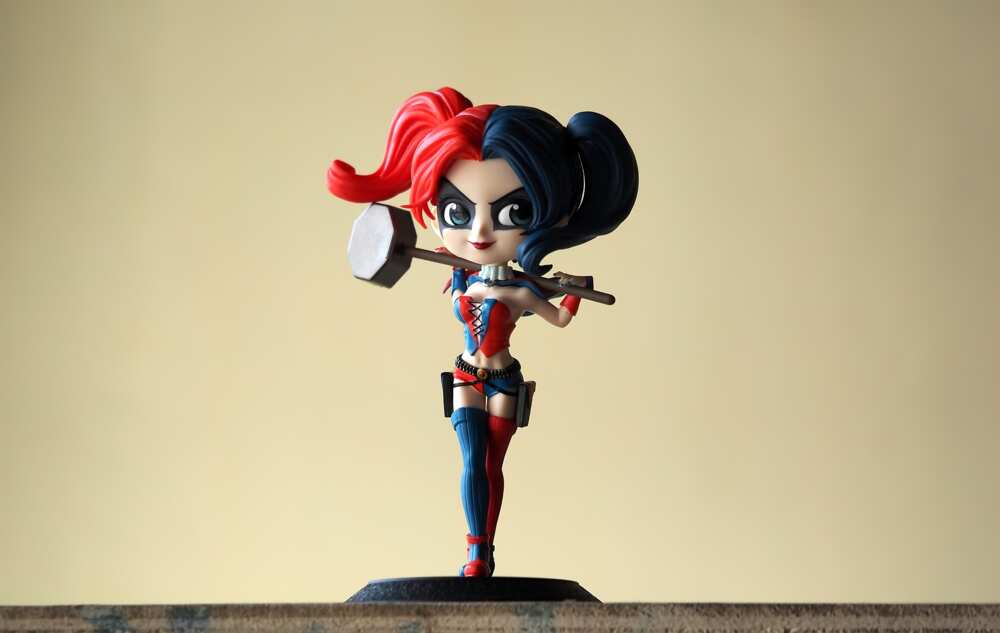 Harley's roguish personality, witty humour and unique sense of style has made plenty of fans fall in love with her. She debuted in 1992 as Joker's sidekick, and eventually became the star on her own.
Every Harley Quinn quote has some unique charm to it and makes people root for her, despite her technically being a villain. Here are some of her most iconic lines that have some wit and wisdom in them.
Best Harley Quinn quotes
Many of the lines that belong to this charming and stylish lady are unique and unforgettable, just like her character and personality.
"We can't change the past, but there's a difference between moving on and letting go."
"I know how the world works, okay? And when it comes to the heart, everyone for themselves, right?"
"You really put the 'fun' in funeral."
"They've got Hello Kitty on them. They're fashionable."
"I'll never understand why Superman wears the same outfits every day."
"I'm having a BAD DAY! I'm sick of people trying to shoot me, run me over or blow me up! All I wanted was a new dress – and I actually paid for it!"
"If I get mad at you, that means I still care. Worry when I don't get mad."
"You thought I was just another bubble-headed blonde bimbo! Well, the joke's on you, 'cause I'm not even a real blonde."
"Hush, little baby, don't say a word, Momma's gonna kill for you the whole d*mn world."
"All of that chit-chat is gonna get you hurt."
"You can't deny there's an element of glamour to these super-criminals."
"I'm going to kill you. For everything you've done to me. All the times you've made me feel useless and small. For all the times I will never forget. For all the things I can never forgive."
Joker and Harley Quinn quotes
The relationship between Joker and Harley was exceptionally toxic, yet due to their supervillain charisma, they are one of the most discussed couples. For a while, Quinn was so obsessed with her partner that she had developed an unhealthy dependence on him.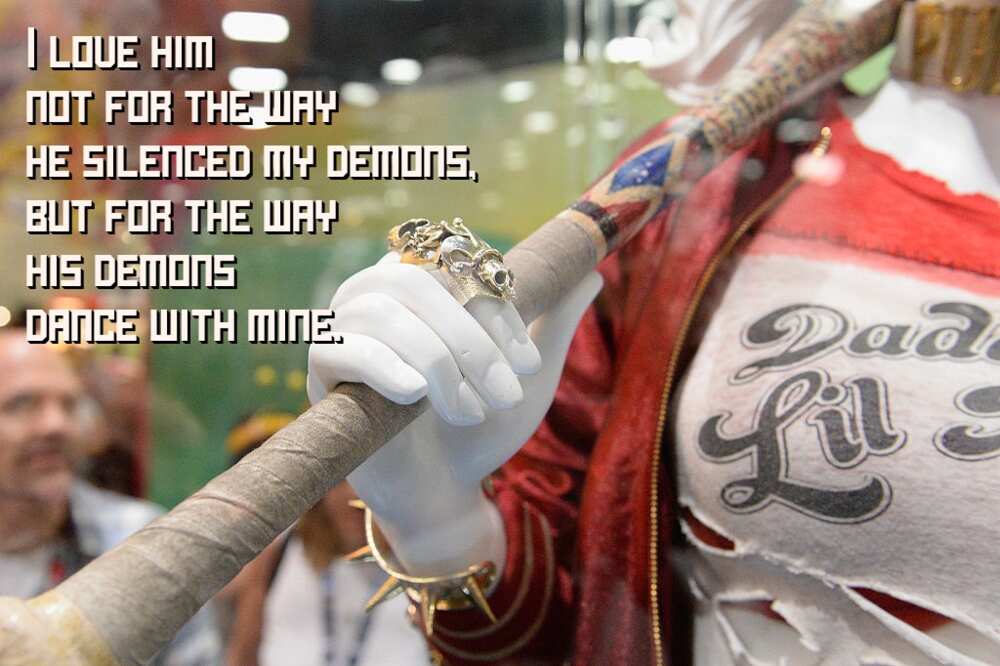 "I found The Joker's psyche disturbing, his dementia alarming — and his charm irresistible! What can I tell ya? The guy just did it for me."
"That's so cute, you think you're scary. Well, mister, I've seen scary, and you don't have his smile."
"I love him not for the way he silenced my demons, but for the way his demons dance with mine."
"Don't get me wrong, my pudding's a little rough, but he loves me, really."
"You don't have to be crazy to be in love. But it helps."
"It soon became clear to me the Joker was actually a tortured soul. Yes, I admit it. As unprofessional as it sounds, I had fallen in love with my patient. Pretty crazy, huh?"
"We had mad love, once upon a time. But now that's over, Mister J."
"Never again. No more obsession, no more craziness, no more Joker. I finally see that slime for what he is: a murderous, manipulative, irredeemable…"
"Face it, Harl, this stinks! You're a certified nutso wanted in twelve states and hopelessly in love with a psychopathic clown."
"I'll burn the world just to see the fire in your eyes!"
Harley Quinn quotes Birds of Prey
The movie "Birds of Prey: And the Fantabulous Emancipation Of One Harley Quinn", which starred Margot Robbie in the role of this iconic anti-heroine, contained a lot of memorable lines spoken by her. In this film, she moves on from her relationship with Joker and starts a brand new life for herself.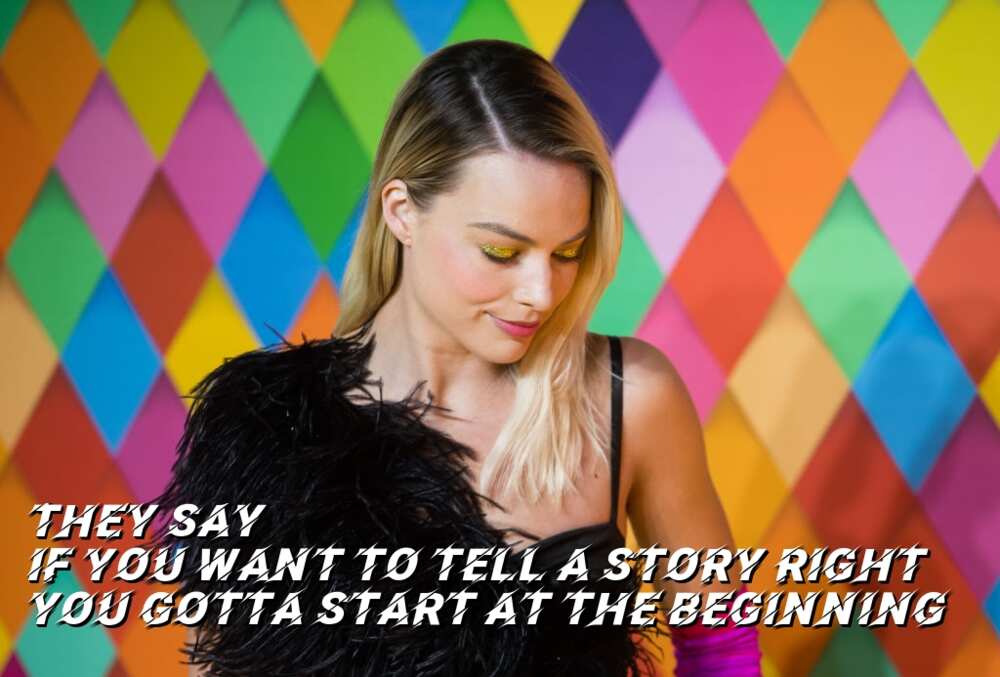 "They say if you want to tell a story right, you gotta start at the beginning."
"You know what they say: behind every successful man is a badass broad."
"And what's worse, every person I ever wronged now felt free to come and take their pound of flesh. Turns out, I wronged a lot of people."
"If you want boys to respect you, show them you're serious. Shoot something, blow it up!"
"Call me a softie, I dare ya!"
"I'm not shopping at this store – I'm robbing this store. Paying is for dummies!"
"You made me want to be a less terrible person."
"Number 1: No one is like me."
"Psychologically speaking, vengeance rarely brings the catharsis we hope for."
"THAT is childhood trauma right there."
Harley Quinn catch phrases
There are some short Harley Quinn phrases that this charismatic villain has said at some point, or keeps saying repeatedly. Now, they are closely associated with her.
You can check them out and find out what they mean.
"How rude!" - this line was spoken by her in relation to Lois Lane, who was angry at Joker for planning to murder Superman.
"Angel." - this word demonstrates her obsession with the mad supervillain, as she called him an "angel" after he pushed her out of the window and then sent her a get-well-soon note.
"A-Okay, Mr J." - this was what she said to Joker to please him when she nearly died for him in a brutal fight against Mercy.
"Puddin'." - this is a nickname that she gave to Joker, and she keeps calling him that with affection.
"Now that's a killer app!" - she said this in "Su*cide Squad", when she witnessed someone's head getting blown off by a detonator chip that Rick Flag used.
Harley Quinn captions for Instagram
Many of us have this playful side that we sometimes want to show, even if it is just on social media. Here are some creative Harley Quinn lines which would be perfect for your Instagram posts.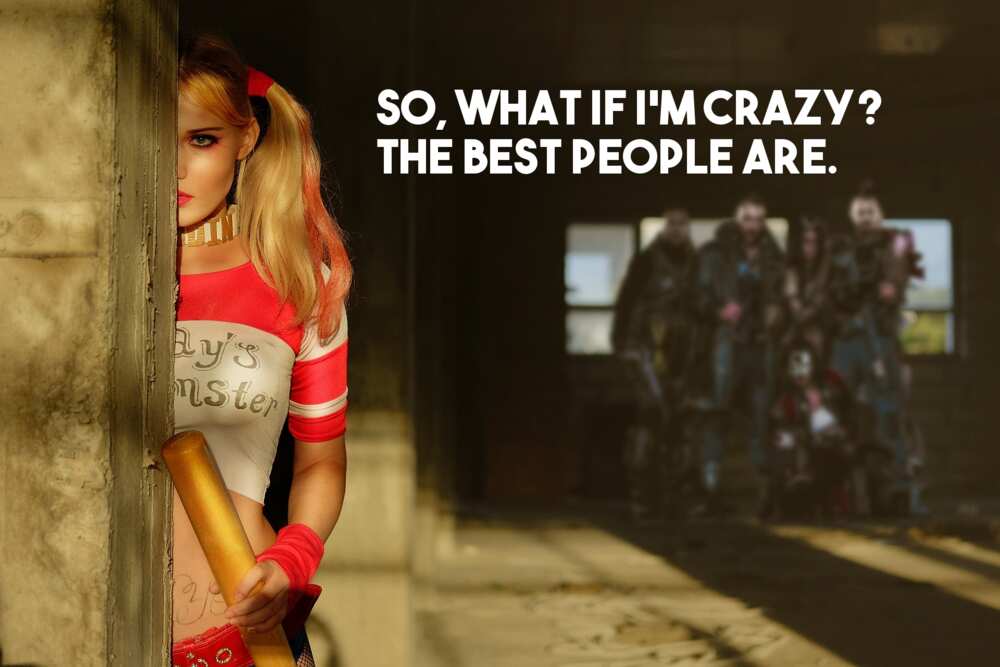 "So, what if I'm crazy? The best people are."
"Whatever doesn't kill you simply makes you stranger."
"Sometimes, the only way to stay sane is to go a little crazy."
"Every woman has a crazy side that only the right man can bring out."
"The world can be amazing when you're slightly strange."
"You don't like me? Fine. Don't waste my time then."
"I tried to play by the rules, but no! They wouldn't let me go straight! Society is to blame!"
"I don't go crazy. I am crazy. I just go normal from time to time."
"You think I'm just a doll. A doll that's pink and light. A doll you can arrange any way you like. You're wrong. Very wrong. What you think of me is only a ghost of time. I am dangerous. And I will show you just how dark I can be."
All of these Harley Quinn quotes contain just a little bit of mischief in them and perfectly capture her villainous, yet lovable personality.
READ ALSO: 30 best Doctor Who quotes from all of your favorite doctors
"Doctor Who" is a timeless show, which has retained its popularity throughout many decades. Every actor who plays the Doctor possesses an undeniable amount of charisma.
Legit.ng reported about the most iconic quotes from every incarnation of the Doctor. They are always incredibly true and relatable to the society.
Source: Legit.ng