50 ideas for brown hair with blonde highlights to try in 2019
Sometimes you feel that you need to make changes to your appearance. For some people, it means shopping and getting new clothes designs, while for others, it means changing their haistyle. In 2019, you can enjoy many beautiful combinations of brown hair with blonde highlights. Such a style looks awesome, and with 50 ideas to try, you can easily create different hairstyles for every day of the month.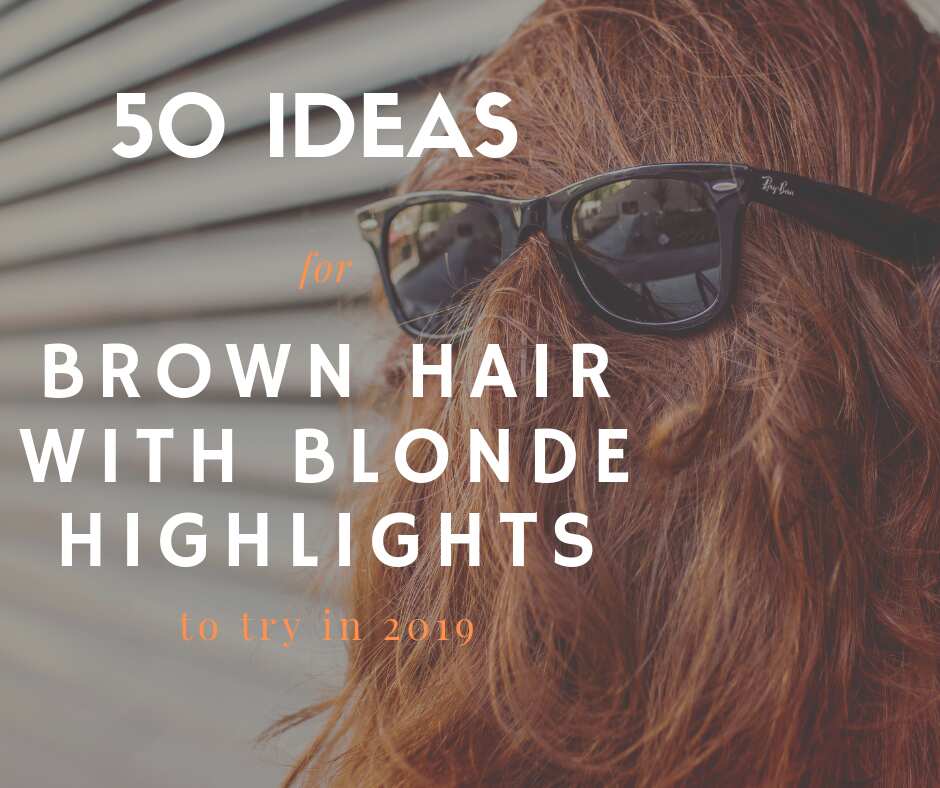 Women have enjoyed highlights for dark hair for many years in a row. Any hair looks impressive when you add some golden layers that shine in the sun and attract everyone's attention, no matter what skin tone you have. Simple highlighting can bring incredible changes into your life because your hair will get impressive depth, brilliant look, and some extra volume to it.
Everything you need for such changes is little shiny blonde accents.
Brown hair with blonde highlights: 50 hairstyle ideas
A woman with a beautiful and stylish hairstyle always looks attractive. She can have no makeup on her face, but once she smiles and shakes her head, she will look like a queen. Pretty hair is a beautiful finish to any outfit, and that is why you might consider the following 50 ideas for an attractive hairstyle.
READ ALSO: New braid hairstyles you should try in 2019
Besides, there are so many different shades of blonde highlights, from ash and icy to beige and golden, that you can find the best match for your unique style and mood.
1. Caramel blonde highlights on dark hair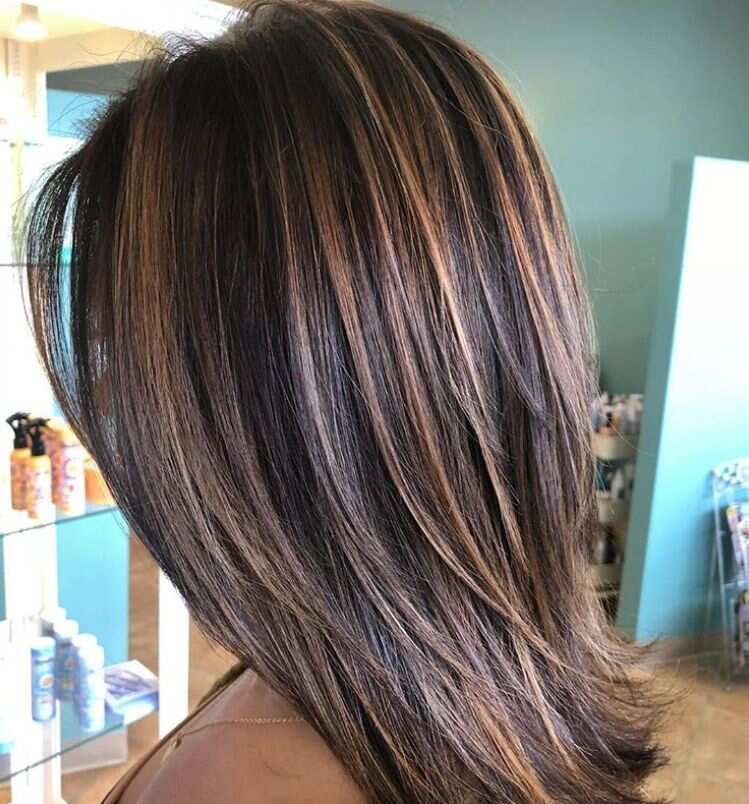 Such a shade of blonde can look extravagant and beautiful on dark and light brown hairstyle. It will always be attractive and add a stylish touch to your head. Caramel streaks look fantastic at any season of the year, so give it a try if you have not yet.
2. Light brown hair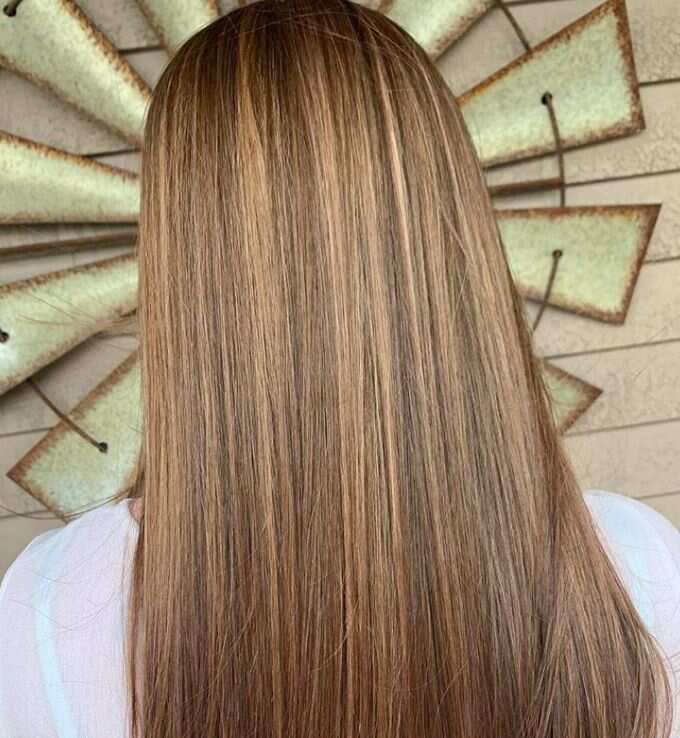 Fans of natural colours, if they are against of dying their hair with an icy shade of blonde, can choose light golden touches to their light brown hair. There is no need to completely change your style if you can add just several streaks focusing on the sweet shining effect.
3. Blonde highlights and messy curls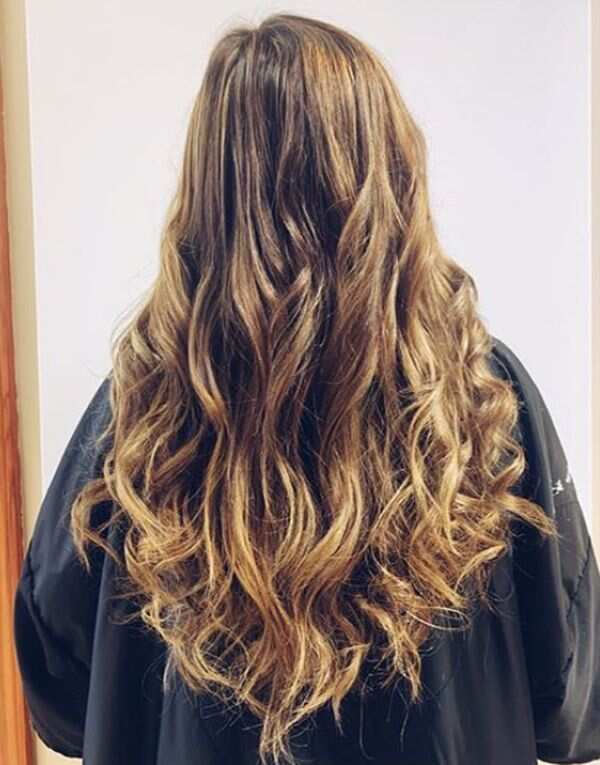 If you like to wear messy curls, you can consider highlighting your brown hair and enjoy the pretty waterfall of light curls on the darker background. Each spiral is easily distinguished, and the two colours do not mix into one. Instead, you can outline your natural beauty and add a golden contrast to your hairstyle.
4. Dark brown hair with blonde highlights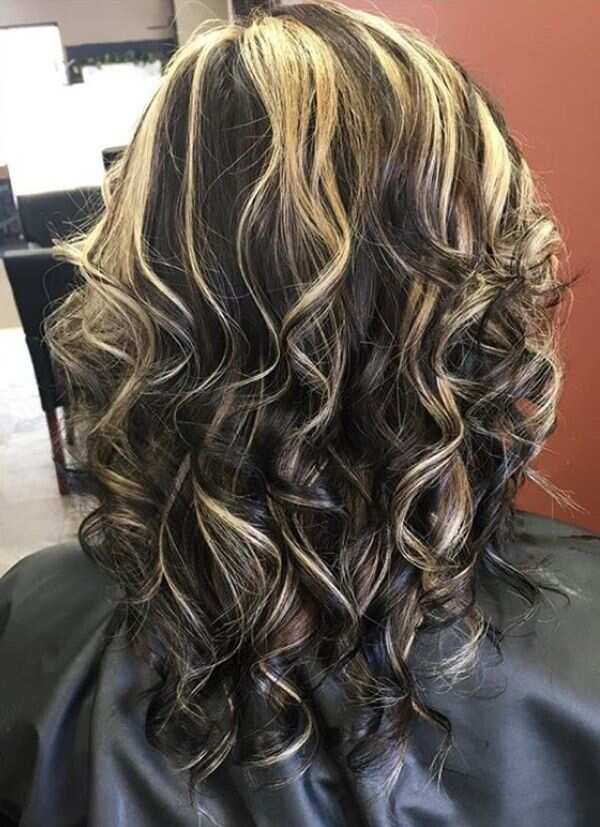 Adding some variation to your natural hair colour in the way of chunky blonde highlights is a fantastic idea for women who are ready for experiments with their hairstyle in 2019. Such a test does not affect your hair health, but it adds extra depth and shine to your ordinary hairstyle.
5. Brown hair with highlights in a braid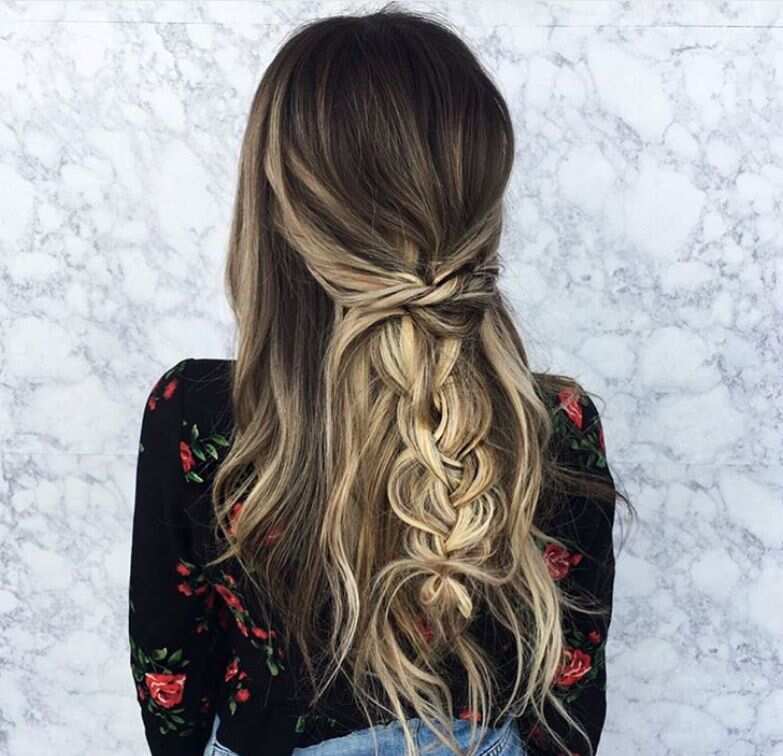 Simple hairstyles such as braids can look astonishing if your dark natural colour has contrast blonde stripes in it. The final look can be fantastic because lighter areas create extra volume and make the braid thicker and prettier than ever.
6. Partial highlights
Unlike any other colour, blonde adds the sun-kissed look to the brown background. Some combinations look as if you never dyed your hair, and as if it got these cute light streaks while you were bathing in the sun. It is one of the reasons why so many women are happy to bring the golden shine to their hairstyle in 2019.
7. Dark brown hair with pintura highlights
There are many different techniques on how to dye your hair. Some women enjoy one of the latest trends of adding 'pintura' hand-painting method of highlighting particular areas, mostly on the curls, to make the hairstyle stand out.
8. Blonde highlights on brown hair
If your natural tone is light brown, you can still add beautiful golden streaks and achieve a fantastic result. If you focus on thin lighter stripes, it is possible to place tiny sparkles all over your head making the hair shine and look very fresh and unique.
9. Dark hair with highlights
Fans of ombre style can use this method to create a fantastic hairstyle. Leave the roots naturally dark and add a pretty blonde gradient to the ends. Does not such combination look impressive on the short straight or slightly wavy hairstyle?
10. Highlights for dark hair
Pretty waves also look fantastic if you add light ombre style to them. Leaving the dark roots and highlighting the waves with a golden gradient down to the ends can make your head look very beautiful. The shades of gold and brown look so beautiful and natural that it is hard to not look back at a woman with such a hairstyle.
11. Beach highlights for dark brown hair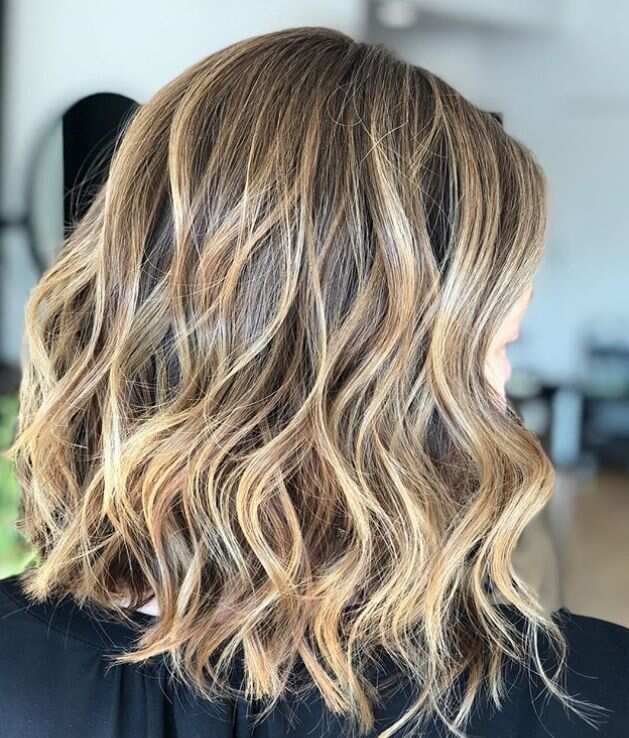 Fans of wavy hair can mix their natural dark brown colour with light blonde highlights. Such a combination is perfect for vacations and days at the beach. Wet hair looks darker than usual, and the light blonde shade will make it very stylish, likes kisses of the sun.
12. Chestnut blonde highlights in a short bob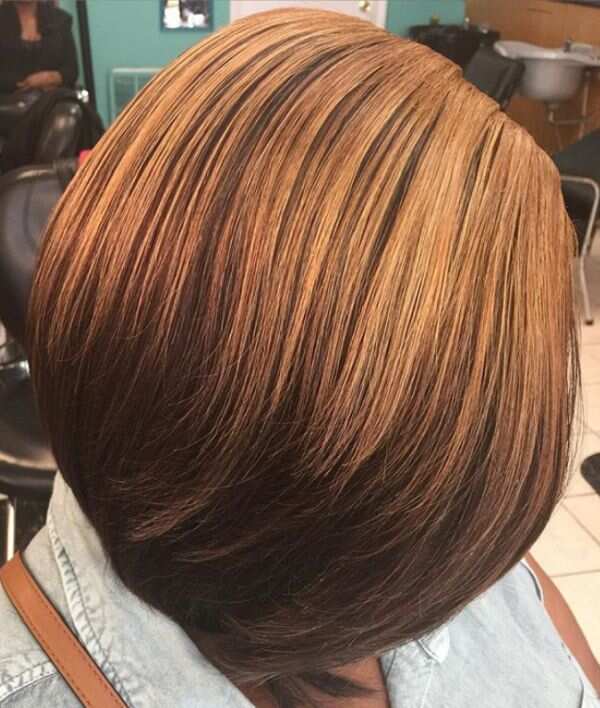 Even if your hair is short and you love your bob hairstyle, you can play with it by adding some beautiful chestnut highlights around your face or all over your head. The effect can be gorgeous.
13. Layered highlights for dark hair
Women whose haircut is done in layers can add highlights to them and wear it loose or pulled back. Any style will look incredible, and the sun-kissed areas will look playful surrounded by the darker shades of your natural colour.
14. Long hair and caramel highlights
Caramel shade of blonde can look amazing on long brown hair. It is like adding delicious caramel jam into the chocolate you love the most, making it both natural and tasty-looking.
15. A bun with blonde highlights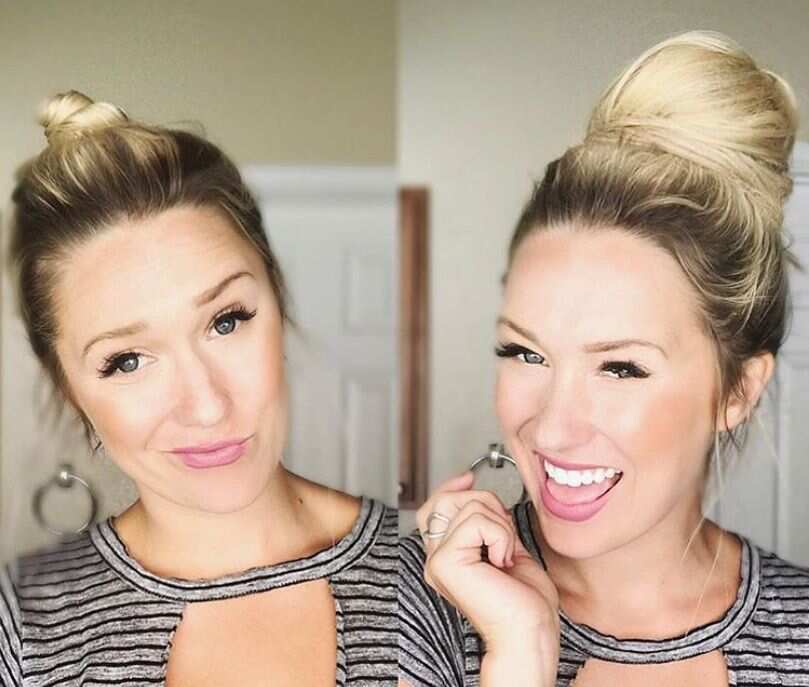 Wearing a medium length or long hair in a bun is ordinary for ballerina dancers and women who are in a hurry to work or busy with their home tasks. Even such a simple hairstyle can look fresh and attractive if you add some blonde highlights to it.
16. Sombre highlights for dark hair
Is your hair messy in the morning? It will always look gorgeous in any state if you have platinum or golden streaks in a loose hairstyle. It can be a quick solution for any occasion.
17. Platinum and brown shades for impressive balayage
Some people believe that platinum blonde is a glamorous hair colour. Now imagine the contrast from brown to platinum blonde, and choose balayage style for making a beautiful rise from lighter into the darker shade. It looks too beautiful to be natural, but still overwhelming to give it a try in 2019.
18. Icy partial highlights
An impressive combination of 'cold' icy streaks with 'warm' brown tone makes a wonderful hairstyle. It reminds us of the yin and yang effect that makes you look stunning.
19. Sweet strawberry effect
Some shades of champaign can add a strawberry effect on brown hair. Warm champaign shades can look like pretty light orange and red streaks if you are brunette with a strong love for the red colour in your clothes.
20. Ash blonde streaks in dark curls
Curls look impressive on their own. Some women choose to leave it as it is, and others are open for an experiment of adding ash pale shade to achieve beautiful results. Each curl receives light sparkles in the sun, looks prettier, and attracts everyone's attention.
21. Pastel accents that impress
Brunette women do not have to visit a salon every other month if they wish to add light pastel accents into their waves. While such accents do not look that bright like golden or champagne shades, they add a lovely 'chick' look and do not require too much care.
22. Champaign highlights for any hair length
You do not have long hair if you wish to impress your friends with champaign highlights. All women can enjoy some golden touches of a professional colourist.
23. Light and dark contrast
By playing with golden highlights in the dark brown hair, it is possible to achieve an incredible contrast with different depths, lowlights, and shades. The result can be so natural-looking that people around you can easily believe that you were near the ocean instead of going to a salon.
24. Balayage blonde highlights
It is another popular hair colouring technique that can add various shades of golden blonde to your natural light brown tint. The results can look natural, and your loose waves will look like after a Photoshop effect.
25. Complicated colour that adds life to your hair
It is possible to balayage your brunette head with delicate golden shades of blonde. This popular technique of hair highlighting can help you to achieve a complicated and stylish colour instead of the smooth brown look.
26. Short hair with highlights for dark hair
Those women who are not willing to dye their brown hair can use a temporary blonde colour to create pretty layers of golden streaks. Such a method is great when you need to make an illusion of a solid and deep tone before an important event in your life. Later, you can wash your hair to remove the temporary highlights.
27. Honey gold highlights to enjoy
While caramel colour looks impressive on the dark hair, honey gold touches can also improve the texture and add a touch of warmth to your hairstyle.
28. Amazing buttery effect
Adding nice buttery-like highlights to the dark hair can change your style. Such colour idea is perfect when you prefer narrow lines that add natural shimmer to your coiffure.
29. Silver blonde highlights
Sometimes when you are going through the big changes in your life, you also need to add dramatism into your everyday style. Think of doing silver blonde highlights in your dark brown hair, and you can achieve a wonderful effect of asymmetry.
30. Warm shades for a younger look
Some people believe that if you combine brown tone with blonde highlights, you will look younger. Your colourist can create a new you by outlining your face lines, focusing on your eyes, changing your cut, and simply warming the natural hair tone with caramel and golden accents.
31. Dirty blonde highlights in dark hair
Mixing the dark colour with dirty blonde is extremely popular among celebrities. Women who like to follow the trends and look stylish can also choose this option for their coiffure.
32. Peachy effect
While dark chocolate and milk combination attracts attention and looks a bit odd, adding a light peachy effect to your brown hairdo can create an extra volume and additional glare effect. It can be a wonderful option for women who prefer to look as natural as possible.
33. Pink blonde shades
Chocolate hair can look incredible with pink blonde strips. Girls who love to attract attention, pink tint, and modern accessories can easily create their perfect colour combination of pink blonde and brown.
34. Chestnut blonde highlights for brown hair
If you are tired of your natural colour, add a chestnut blonde effect to bring your brown hairstyle back to life. Warm accents look great with different skin tones, and your impressive complexion can positively influence your mood.
35. Rose gold princess effect
Mixing dark brown locks with rose gold strips creates an interesting princess effect, especially if you like to wear your hair loose. It looks beautiful with light pink glosses.
36. Sandy accents in dark brown hair
A beautiful chocolate shade of your hairstyle can look more impressive if you add sandy accents to it. Choose any colouring method to bring a stunning structure and nice volume effect, according to the seasonal trends.
37. Vanilla partial highlights
Fans of vanilla colour can add its shades to their medium or light brown hair. It is an easy way to achieve a lovely face-framing effect and brighten your natural tone.
38. Caramel beachy waves
Women whose haircut is below their shoulders can create astonishing caramel beachy waves to light up their brown colour, add a cute 3D effect, extra volume, and an interesting dimension. Such style looks very attractive.
39. Front waves
There is no need to add blonde highlights all over your head if you only wish to frame your face. Play with several strands closer to your face, light them up, and these waves will make you look intriguingly and hot.
40. Fascinating partial highlights
Even a couple of caramel touches can completely change your hairdo. Adding several partial highlights to your brown colour can make it alive and extremely attractive.
41. Beige accents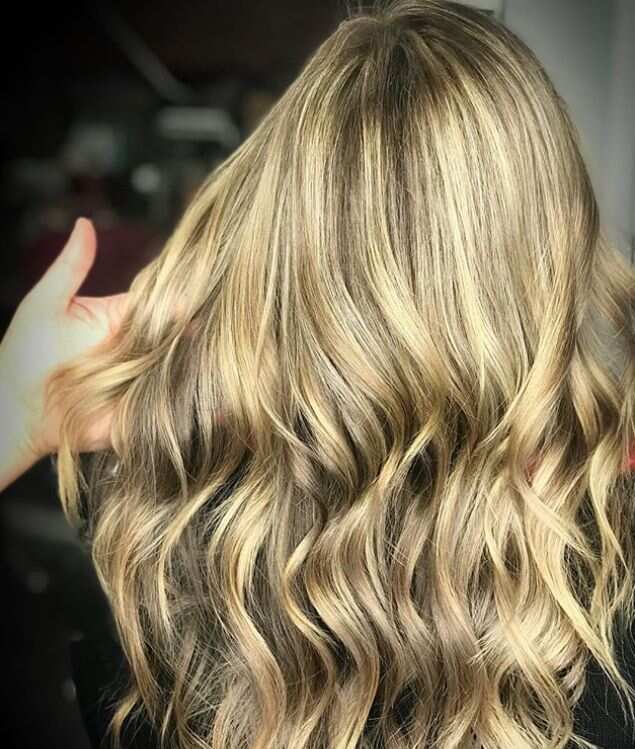 It can be nice to become a beige brunette if you like gentle touches of sun-kissed effect to your hairstyle without spending too much time in the direct sunlight. Modern colourists know how to achieve this effect by adding nice beige highlights.
42. Bronze blonde highlights
If you need to brighten your hairdo, you might like to add blonde highlights to saturate your natural brown colour with bronze accents. The effect can be overwhelming.
43. Classic honey strips
Women with long straight brown hair can gently touch some of the strips with honey blonde highlights. The natural effect of such a colouring method adds complexity to your natural tone and makes you look stylish and romantic.
44. Light-reflection effect
If your hair is usually straight, but you love to curly it just a bit, think about adding changes to the tone in the mid-shaft of your hair. This way your curls will get an extra focus and shine more in the light as if reflecting it.
45. Tight curls and light brown hair
Women with tight curls can light up their natural brown colour and outline each spiral. Golden and honey accents in the locks make an incredible hairstyle for ordinary days and special occasions.
46. Highlighting the ends
It is easy to achieve a beach effect by adding blonde shades to the ends of your hair. It will look like the brown sand near the roots with bright sunshine touches outlining the bottom and adding more volume to your hairstyle.
47. More light for large curls
Women who are in love with large curls and prefer wearing such a hairstyle always look gorgeous. However, the brown colour does not distinguish each curl unless you add a bit more shine to it through the highlighting method. Use caramel blonde or icy tone for your brown hair, and you will love the result.
48. Bronze effect
If we combine brunette shades with dark caramel blonde tint, we can come up with an interesting bronze effect. It makes the hair colour alive by adding extra shiness and more shades.
49. Layers of light brown hair on the darker background
Ladies who like to cut their locks in layers can create a beautiful colour combination by highlighting the top layers with blonde strips and leaving underneath layers as a dark brown background. It is a gorgeous mixture with a lot of volume and gloss.
50. Toffee partial highlights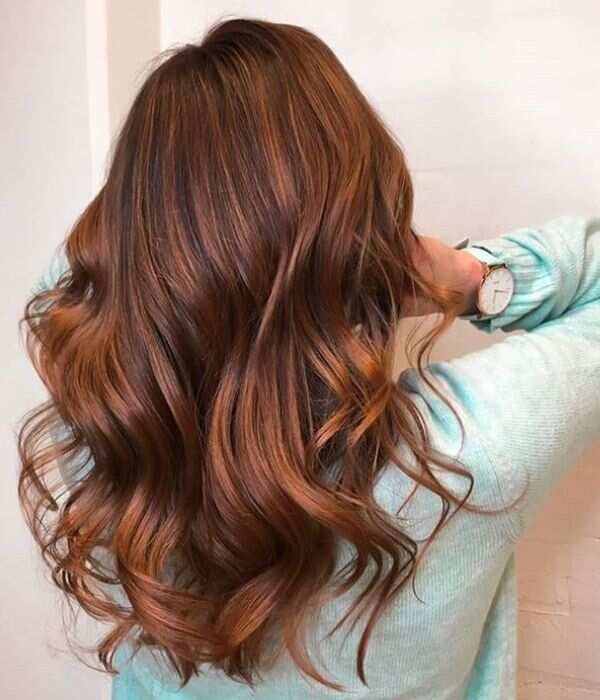 Dark brown tone can get a brilliant toffee-like look if you add caramel blonde partial highlights. Such a combination looks beautiful if you have long hair.
As you can see, brown hair with blonde highlights looks terrific with different hairstyles. You can wear curls, braid your hair, leave it straight, make it long or short, and your appearance will be fantastic thanks to the natural gloss and golden warmth added by the simple highlighting procedure.
READ ALSO: Long braids hairstyles trendy in 2019
Source: Legit.ng