Top low cut hairstyles for natural hair
There are so many hair options for lovely African ladies, and those who are new to having natural hair might often find themselves in confusions when it comes to styling. Checkout our cool low cut hairstyles for natural hair that you can rock!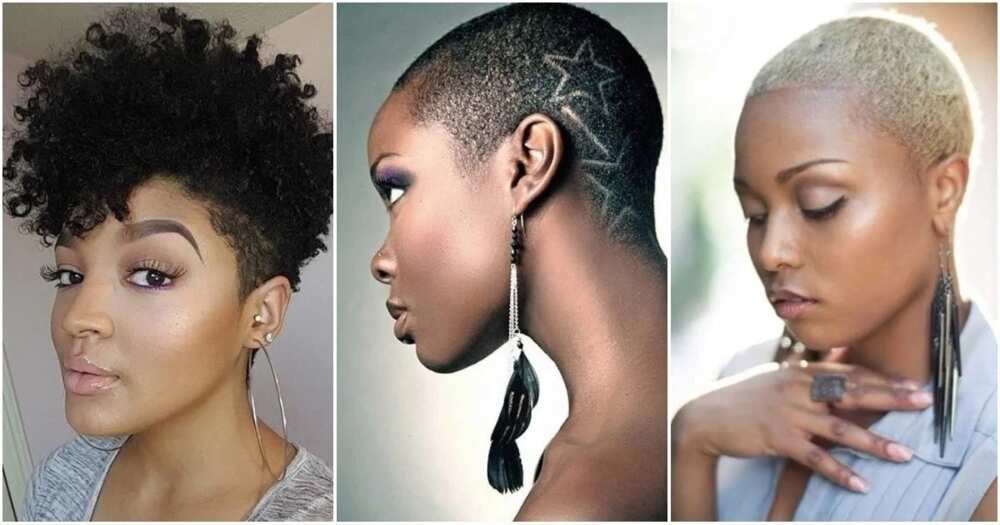 Short hairstyles for black women: the best ideas for low cut styles
Sometimes, there are situations when the best solution for you will be doing a short haircut and then wait for new growth of your hair so it can look more healthy and alive. You should not worry about the looks – there are a lot of trending hairstyles in Nigeria that are perfect for short natural hair!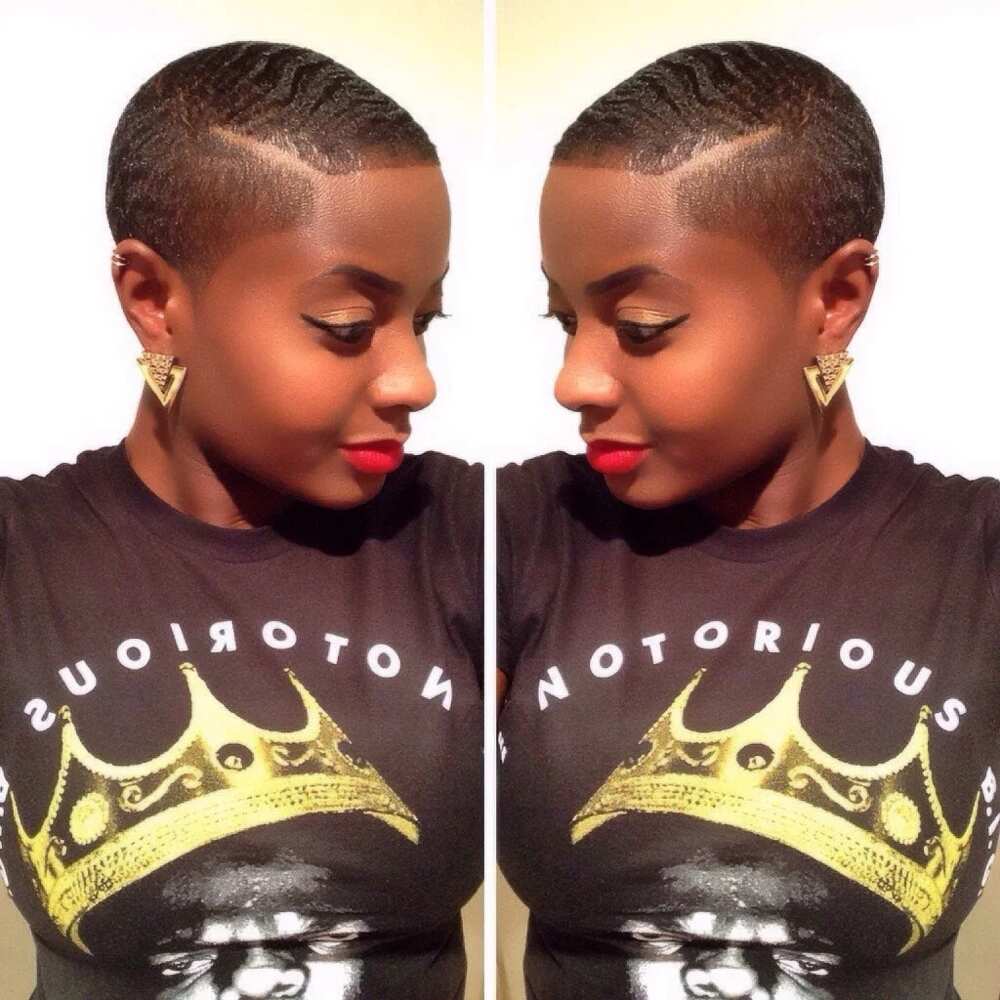 Here we will give you a few ideas for your hairstyles that you can use for looking incredibly gorgeous. You can choose the latest hairstyle in Nigeria and make it your own:
Delicate updos. These hairstyles will protect your hair from loss of moisture and look especially lovely.
Twists. This kind of hairstyle will add extra volume to your hair and look elegant and fancy, whether you will choose to wear your hair loose or in the updo.
Puffs. Basically, the puff is just the same as a usual bun, and it is one of the most popular hairstyles for black women. Many ladies include the elements of braids in their puffy hair, and this is truly unique and appealing.
Mohawks. The Mohawk is never going to go out of style, and this hair would be perfect for a rebellious and independent woman.
Finger coils. If you want an extremely detailed and textured hairstyle, then finger coils would be a brilliant idea. By the way, they will truly depict the culture and spirit of Africa.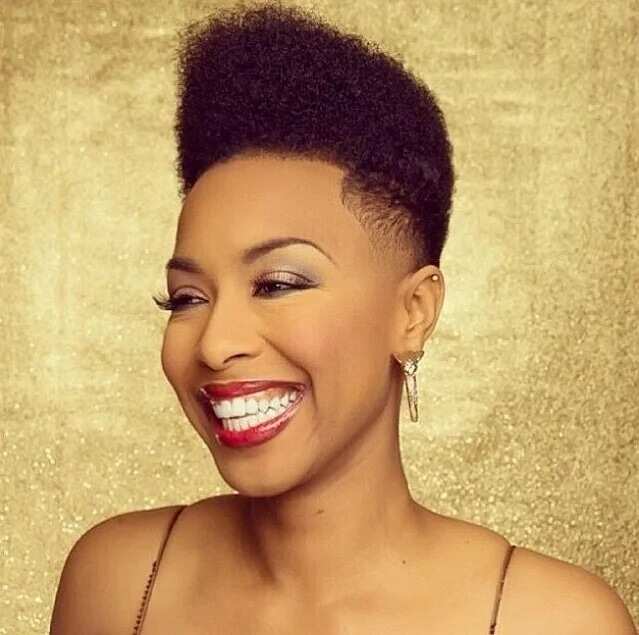 Now, we can suggest you a couple of really unique and inspiring low cut hairstyles that can look absolutely beautiful on you. Check them out!
Flat twist with twist-out
This hairstyle is especially easy and light for short-haired women who want to have curls but have no desire to grow long hair. The style is quite easy to do and maintain, not mentioning that you can sleep with it without any worries that you will mess it up. Also, this hairstyle includes a flat twist details for the better protection of the hair edges, which are quite prone to breaking.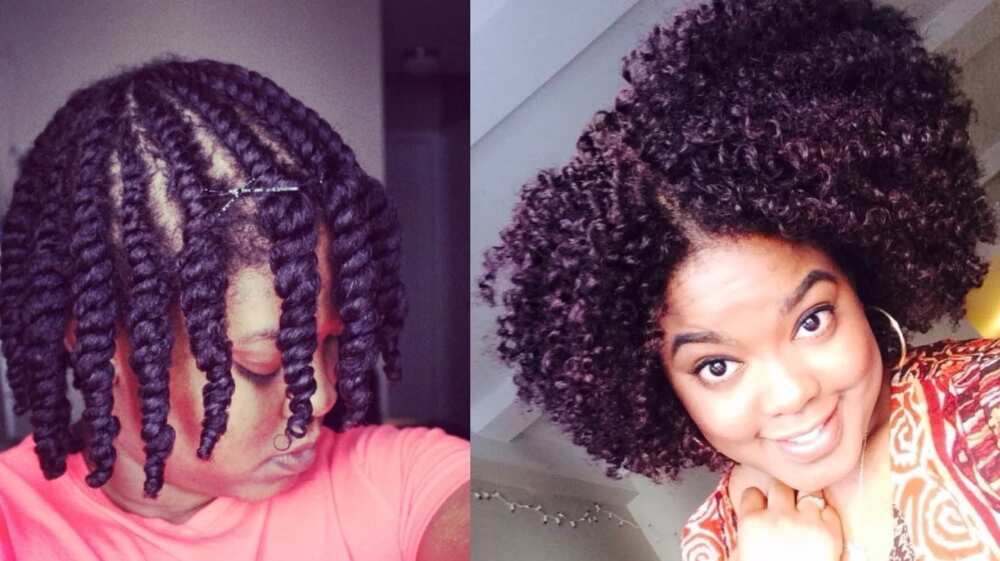 Curly hairstyle with closely clipped sides
This hairstyle will make you look confident and appealing, and it is the best for people who like driving attention to themselves. The curls which are growing longer in the front look like a bang which adds some mysterious beauty to your look. In case you would like to look daring and rebellious, you can add the classic red or dark lipstick and winged eyeliner to your image. Nice makeup always complements the hairstyle in the best way.
READ ALSO: How to style short box braids: Step-by-step guide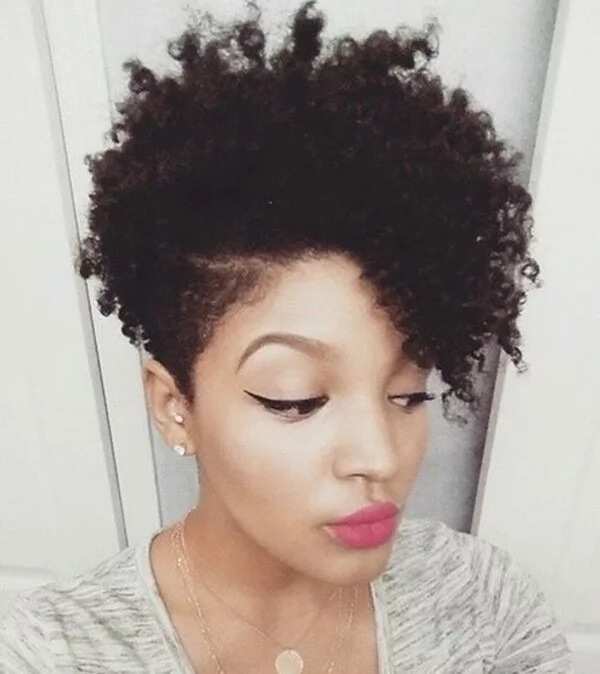 Fauxhawk with undercut
A lot of curly-haired ladies tend to struggle with edges, especially when they become a mess and refuse to curl up it properly. If you keep your hair short on the temples and add more volume to it on top of your head, it will be an awesome way to refresh your hair and look elegant and fierce at the same time. You can also go creative and shave out some patterns on the sides if you are up for it.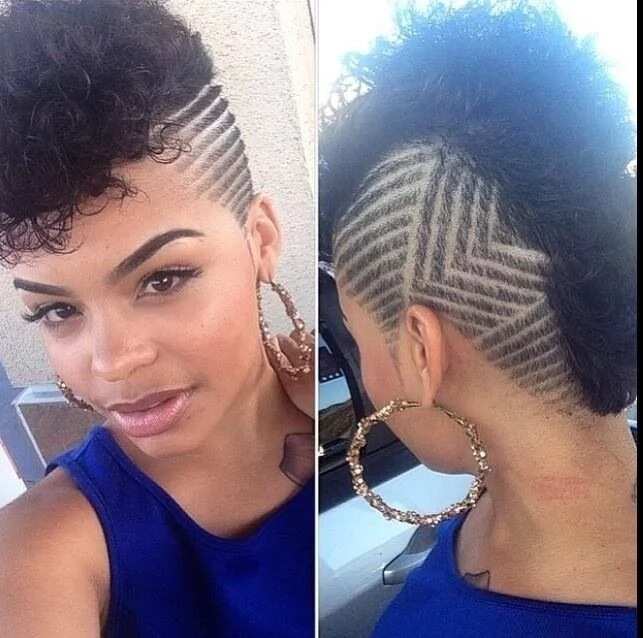 Short Mohawk with flat twisted sides
There is one large convenience about short natural hair, which is the ability to customize them: you can get a lot of various looks by just modifying the same haircut. Also, natural hairstyles really look different depending on who is wearing them. This hairstyle will refresh your look and make you stunning. People often add flat twists to curly updos, because they give a youth vibe and contrast the twisted curls very well.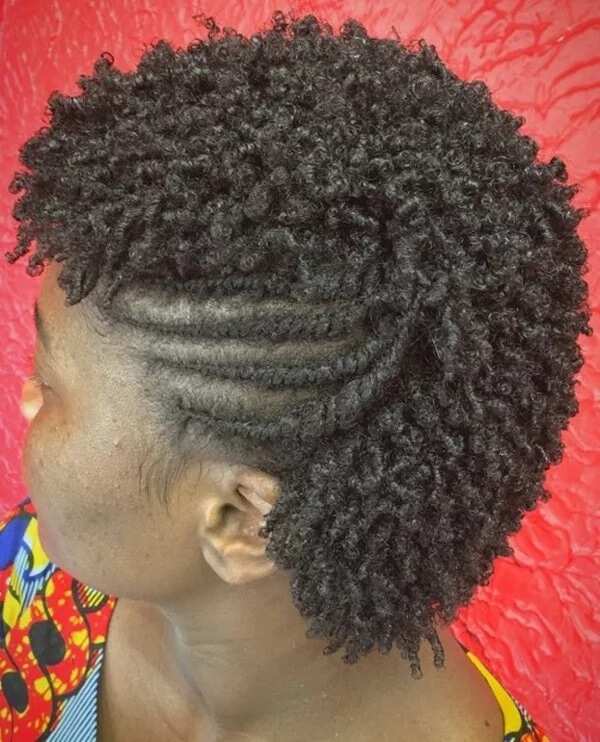 Blonde curly Mohawk
If you like braids, flat twists and are determined to bring some cuteness and fun into your new hairstyle, you can bring a new colour to your lovely natural hair. Golden blonde, strawberry blonde, and other shades of light color will look gorgeous in combination with your skin tone, and curly hair will only add some charm to your image.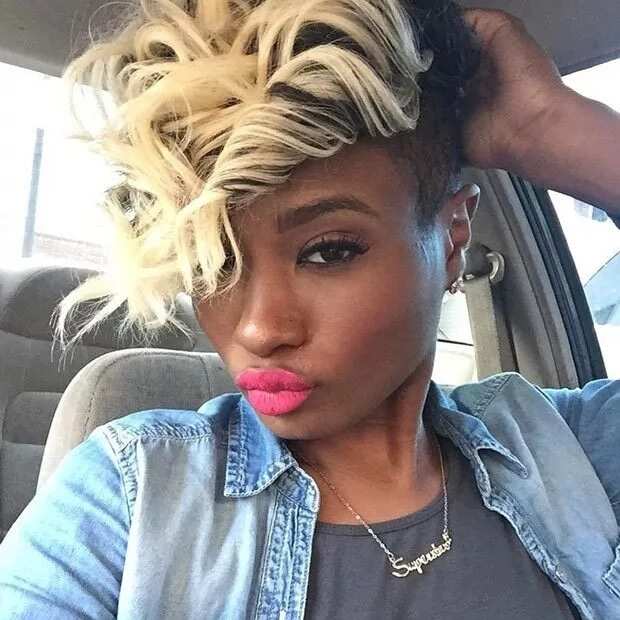 Sectioned Mohawk
This is the best hairstyle for those who not only want to look great but are also tired of their hair falling on their face all the time. Sectioned Mohawk with the coils will help you to keep your hair in order without the necessity to gather it in a ponytail. Besides, this will also be much healthier for your hair. You can also do braided Mohawks.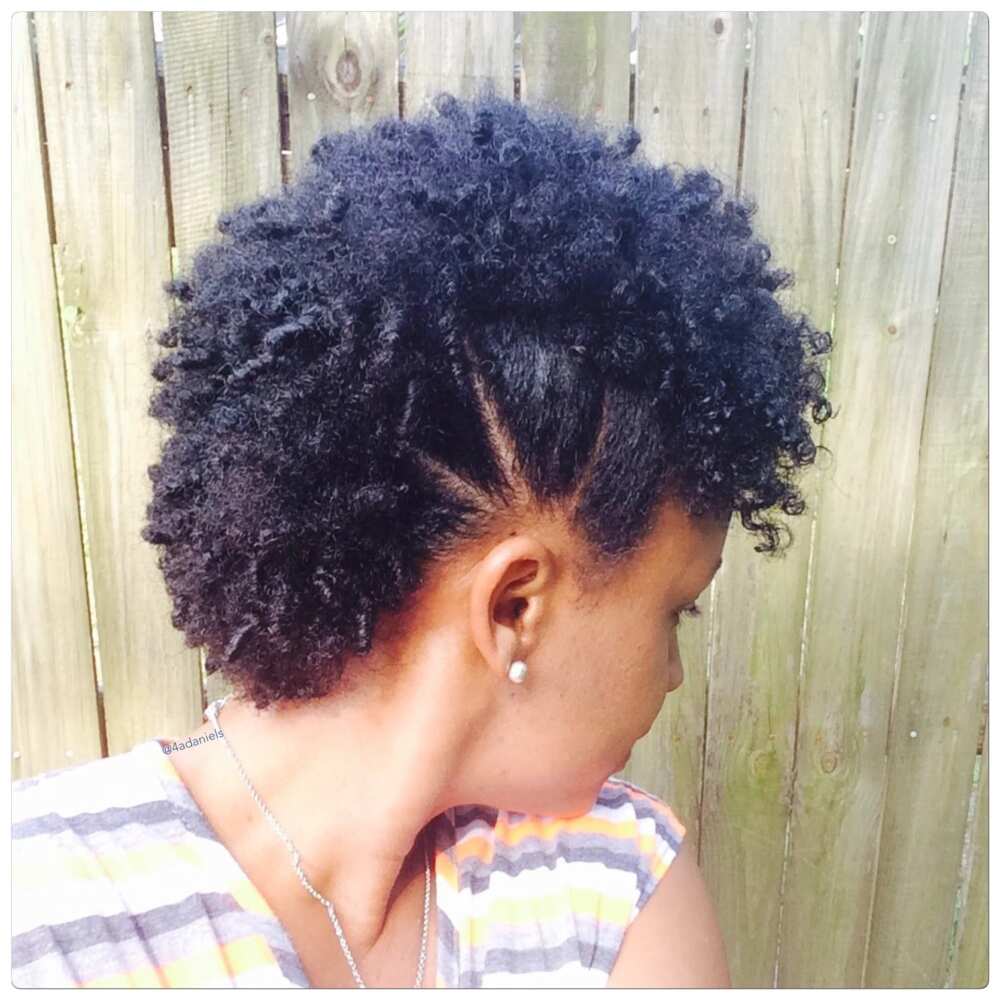 Updo with the bangs
Nothing will add the volume to your hair as well as the bangs. They will not only make you look younger and fresher but they also are a nice accessory for an updo. You can wear bangs everywhere – from the holiday event to the casual meeting with friends. The amount of bangs depends on your preference. You can also do puffs instead of bangs if you prefer so.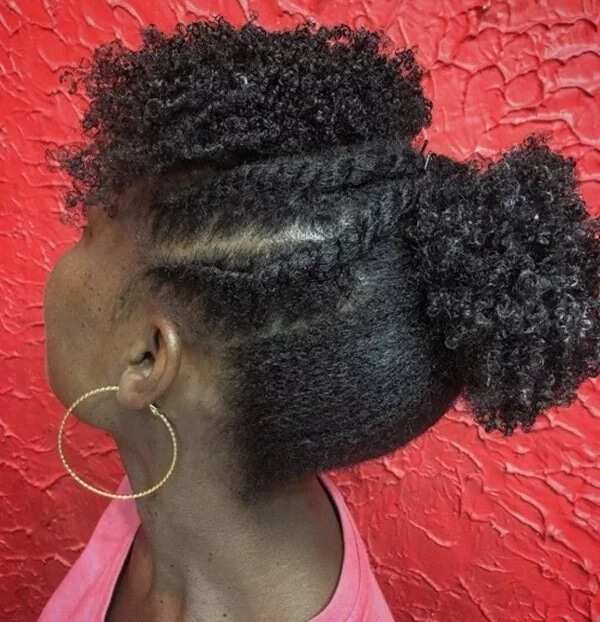 Multicoloured curly hairstyle
If you want to do shorter curls, you do not necessarily have to make them of one colour. The upper curls can be of one shade, while the lower one can gain the darker tone. Also, you can mix two colours together. You can definitely try this creative type of hairstyle by painting your hair into a few nice colours – for example, burgundy and copper seems to be a pretty common combination. Also, you can try different shades of red for some edgy look.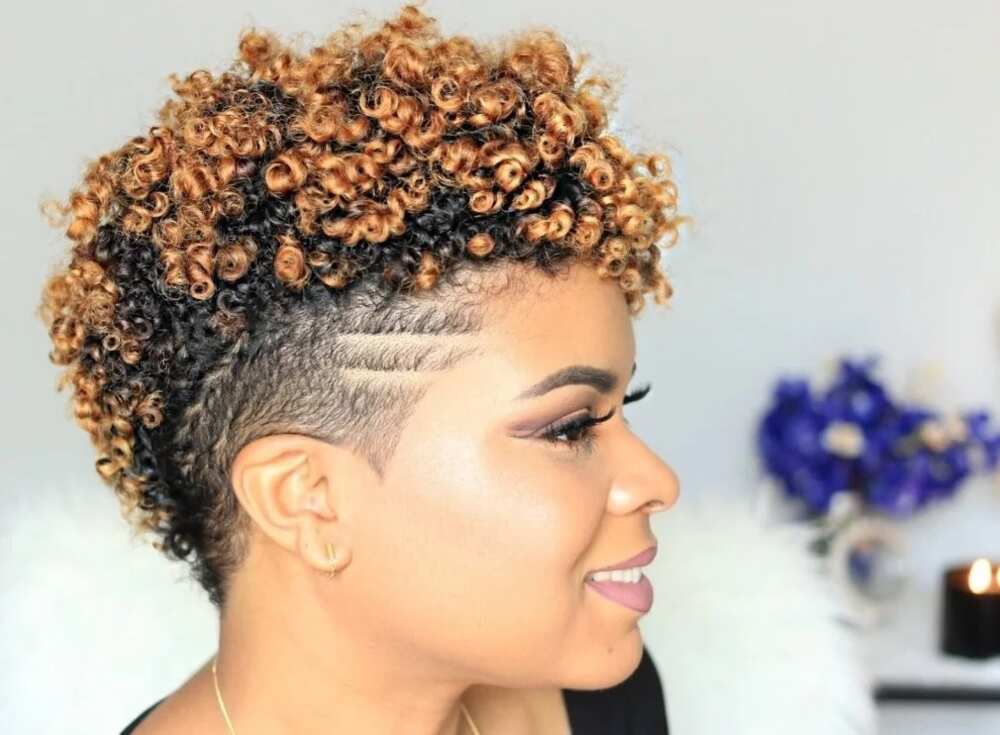 Lovely headscarf
No matter what is your type of natural hairstyle, you can always add a headband, bandana, or headscarf on it, to make your look versatile and protect your hair. Besides, it can be a nice look for the days when you are not keen on showing your hair for some reason. A headscarf will make you look elegant and glamorous, with vibes.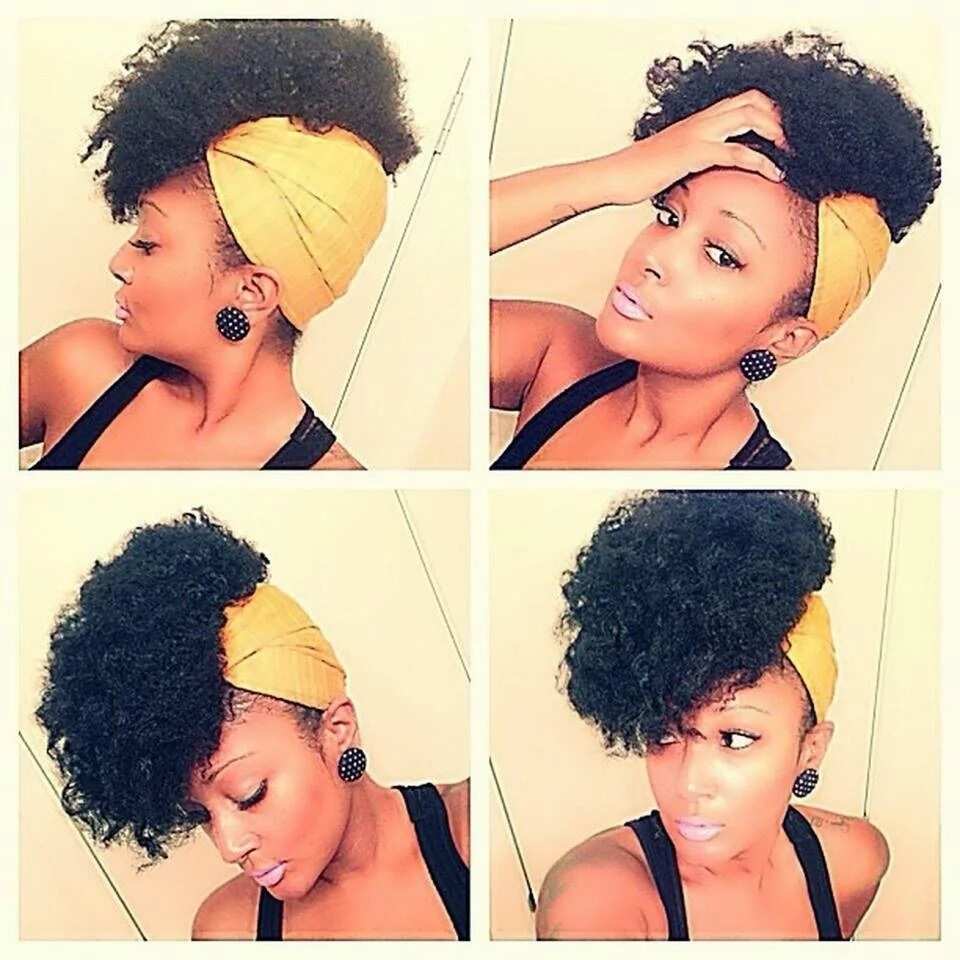 As you can see, you can play with your short hair as you wish – do braids, updos, bangs, puffs and many other nice things to add a unique touch to your hairstyle. Show your natural hair with pride!
READ ALSO: Best Nigerian hairstyles with attachment to rock in 2018
Source: Legit.ng