Natural hairstyles in Nigeria for every day and solemn events
Whether you are going to a party or want to style your hair so it would be convenient and comfortable for you at work, there are a lot of natural hairstyles for every event. Luckily, Nigerian women have a huge variety of options, and they can pick among them anytime. See the list of best natural hairstyles in Nigeria!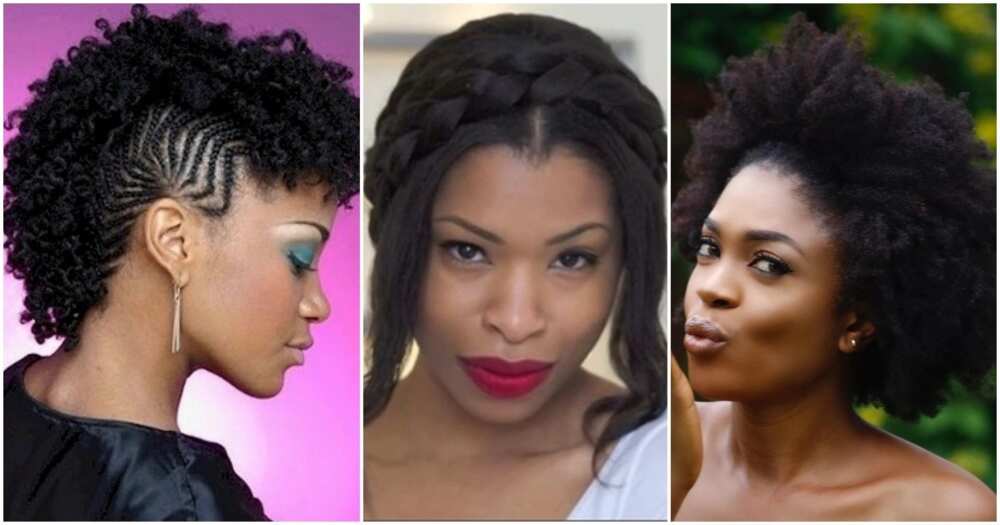 Hairstyles for natural hair: the complete list
Depending on the length and quality of your hair, there are a lot of options that you can choose for yourself. Nigerian hairstyles exist for expressing your style and personality, and they are truly interesting and attractive. It doesn't matter if you prefer the natural hair braids, natural hair weaving styles, or natural hairstyles for short hair, we hairstyles that will satisfy your needs in this post.
Without further introduction, we present the most captivating and original, but at the same time simple and classic styles for your beautiful natural hair. Most of them can be worn both for every day and special events, depending on how you style them.
1. Natural afro
One of the timeless hairstyles for women is, naturally, the afro. It will show that you truly belong to the African culture and are proud of your origins. Nowadays, people wear afro in different ways. Some prefer keeping it as natural as possible, but some dye the parts of their hairstyle in various colours. The addition of brighter colours will show that you are the optimistic and cheerful person who loves life. Besides, maintaining the afro is really easy and does not require as much effort compared to some other hairstyles. The messiness of this hairstyle is natural and looks cute. It can be worn every day, but if you want to wear afro to a particular event, you can experiment with it – decorate the hairstyle with some interesting elements, or wrap it into a ponytail or a bun.
2. Twisted bun
If you are aiming to go for a protective hairstyle, then the bun would probably be the best choice for you. With the bun, you will look really professional and serious when you are at work. However, when you are going somewhere out and need to look brilliant, the bun will also work quite well – you will need only to add some cute decorations to it. The bun will protect your hair in the best way and keep your natural strands healthy.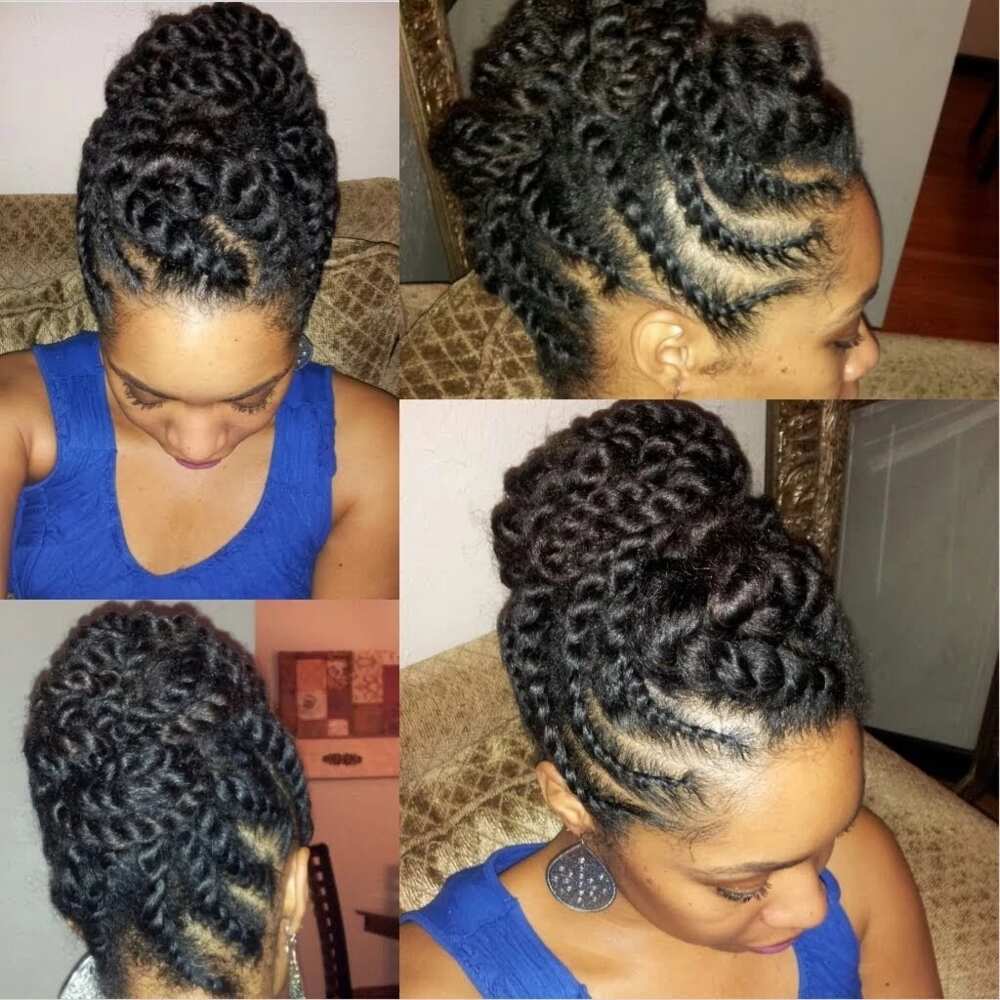 3. Frohawk
For the bold and confident women, the option of frohawk would be just right. It might seem like more of a hairstyle for fun events, but with the right clothing and makeup, it would also look amazing when you are in the office or attending some official event. Some people choose the one-coloured frohawk, while others go for the ombre style.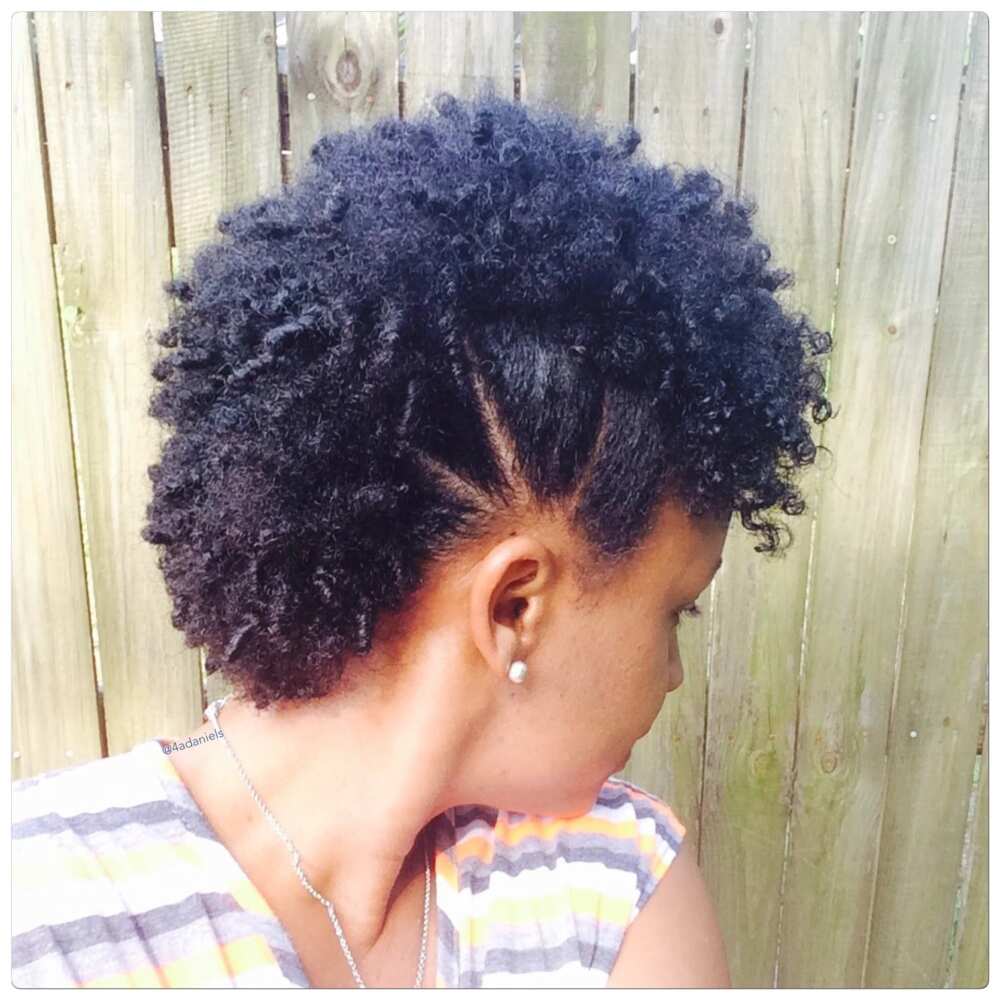 4. Bantu knots
There probably is no hairstyle that is more African and traditional than Bantu knots. They will make everyone admire your cultural roots, and of course, they are a really protective option for your hair. With the Bantu knots your hair will always be prevented from early breakage, especially if it is dyed. And it is worth mentioning that this hairstyle also helps to keep your hair moisturized. Many people who pick Bantu knots as their everyday hairstyle like creating some unusual geometric patterns on their head, in order to give a truly unique vibe. Luckily, with Bantu knots it becomes more possible than ever. By the way, when you get tired of wearing this hairstyle, you can create lovely twist-outs for relaxing your hair.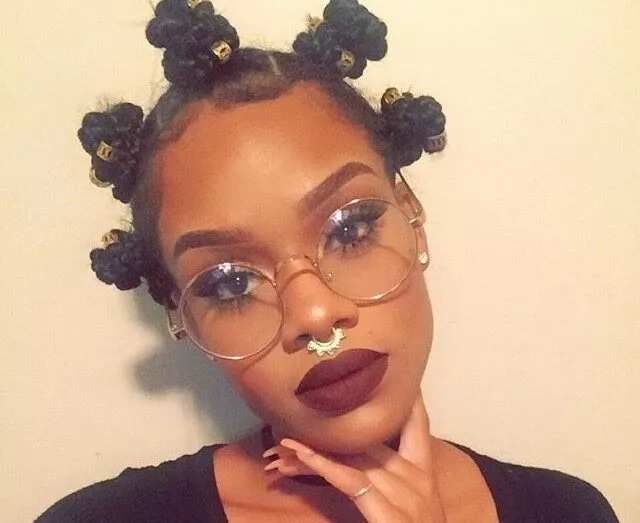 5. Natural twist-out
The cool twist-outs are usually a result of wearing the same Bantu knot or another complicated hairstyle for a period of time. It will allow your hair to take a break from the tied-up state and just have some rest. Besides, it also looks elegant and lovely and is suitable for any event, no matter if it is formal or casual. You can dye your cute twist-outs in any colour you like. Many people leave them brown or black because they choose more natural hair colour, but there are those who prefer making twist-outs colourful and vibrant.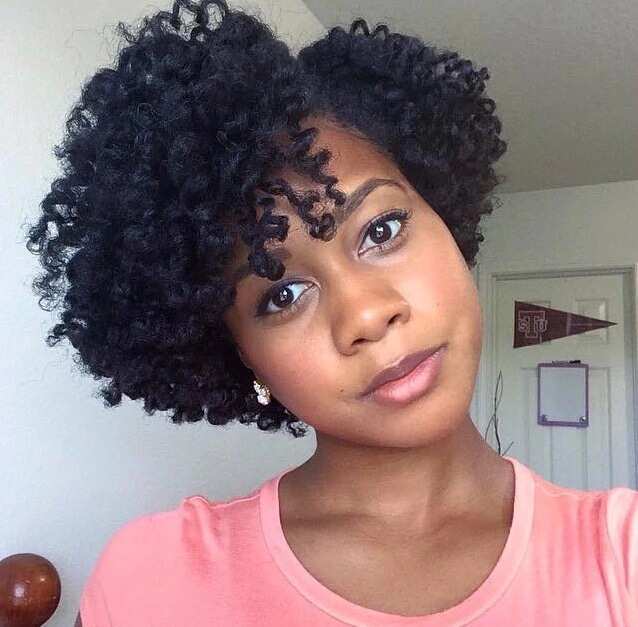 6. Natural curls
If you want volume and beauty, you have to go for defined curls. To create this hairstyle and maintain it, you will have to use a lot of hair products, but it will be totally worth it in the end. African girls absolutely love curls, and this will show that you are keeping up with the latest trends. In addition, this is one of the best hair options for fun-loving and outgoing girls who enjoy their life, so it would be perfect for any kind of casual outings. However, you should not worry about showing up to the official kind of events with this hairstyle – it can easily be wrapped into a bun or ponytail or pulled back. With this type of curls, you will not have to be concerned about styling them – just let them loose and enjoy.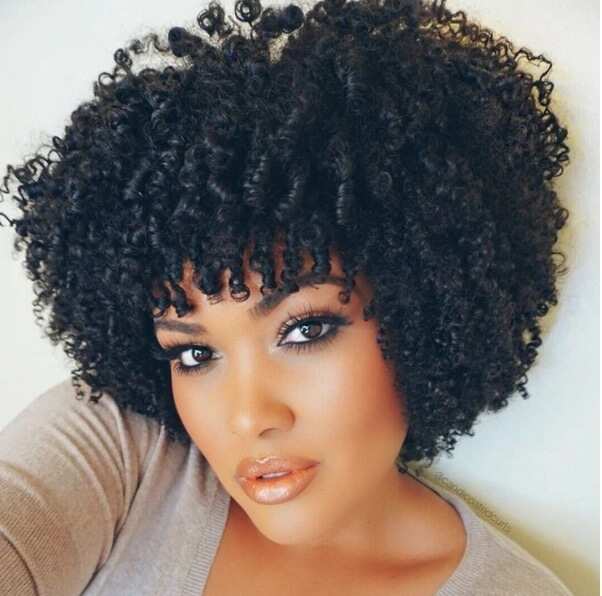 7. Short afro
Perhaps the long and bouncy afro is one of the most popular styles, but if you prefer natural hairstyles for short hair, you definitely will not say no to the short afro. It is the ideal hairstyle for those who have natural short hair and are not willing to style their hair every day. The maintenance of such hair choice requires minimum effort, and you will always look impressive with it. The short afro is pure perfection for business women and office workers or those who have a dynamic type of work and do not want hair strands to bother them. However, when you are going out for a day or heading to the party in the evening, you can beautify your short afro curls with ribbons, scrunchies, beads and various other accessories, as well as put on nice necklace and earrings. You will look stunning with this hairstyle.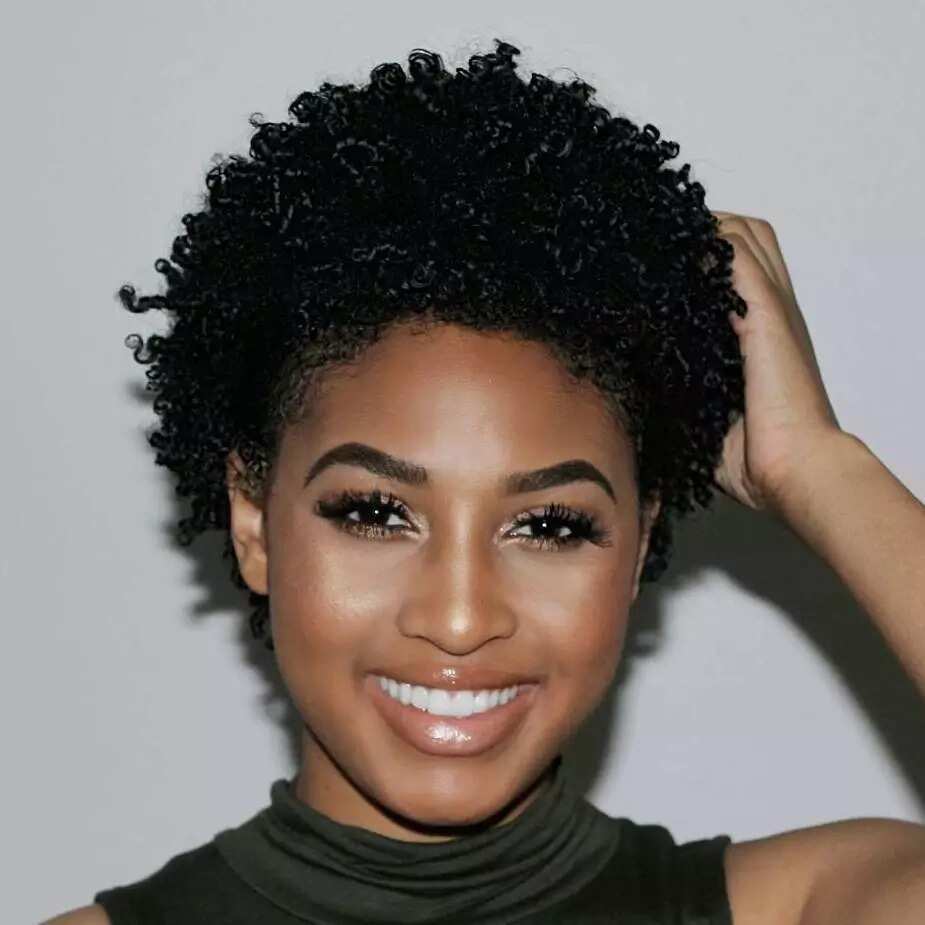 8. Short buzz cut
Of course, not every woman can rock the ultra short hair. However, if you have a beautiful face shape and deep defined eyes, you can go for a risk. First of all, this hairstyle is probably the most convenient out of all the alternatives. You definitely will not have to think about how that one hair strand got out of place, or how your hair is distracting you from working.
READ ALSO: Latest Ghana weaving hairstyles in Nigeria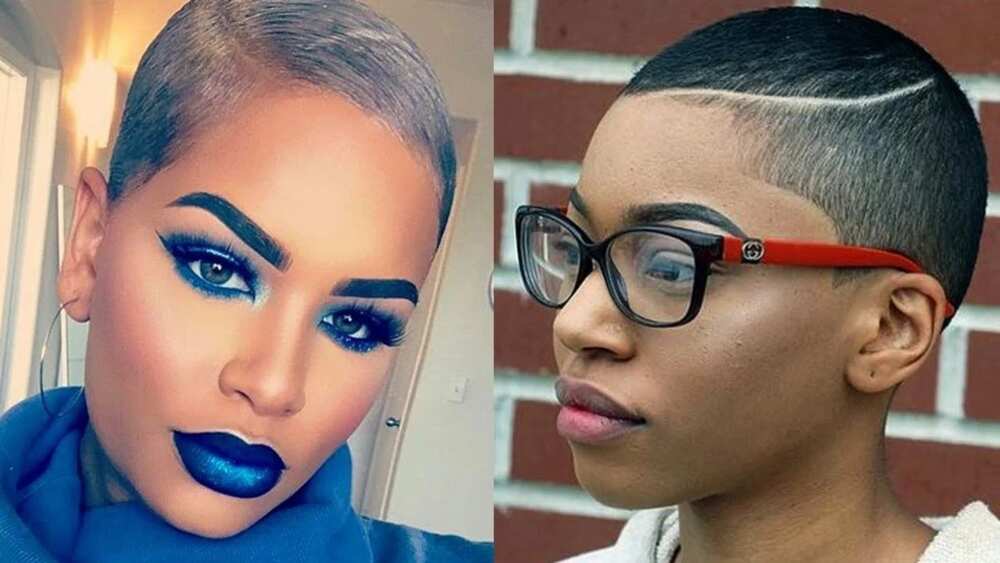 9. Cute curly updo
If you have lovely curls and are desperate to try something new with them instead of just letting them loose all the time, then try out this sweet hairstyle! It would be absolutely perfect for any kind of events, of course, if you choose the right set of accessories to go together with it. Speaking of which, the sparkly headband would be just right together with curly updo – it will give your look some additional festivity, and you can go further and choose beautiful earrings and neck accessories to complete your image.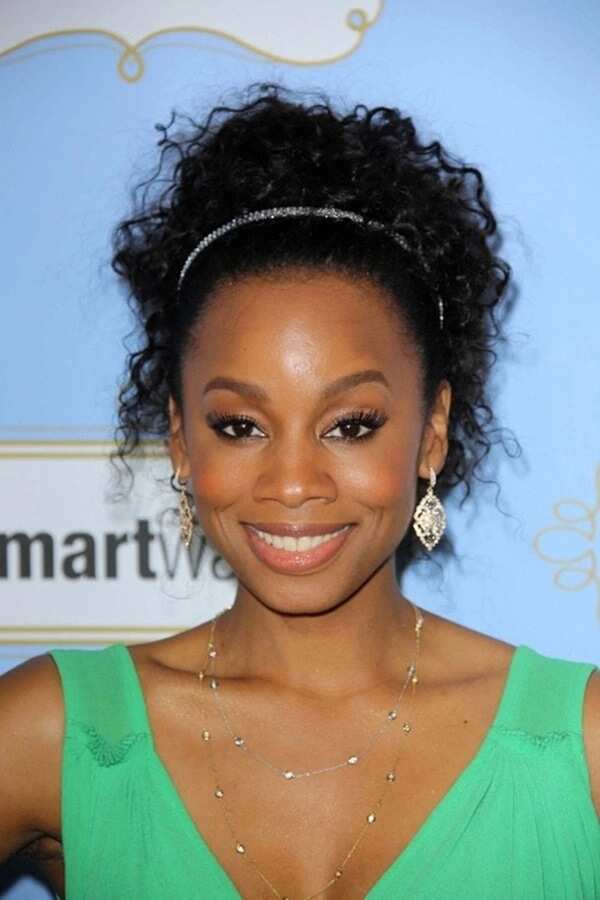 10. Crown braid
Would you like to feel like a princess and at the same time create the unforgettable look? Everyone who has worn the crown braid at least once has agreed that this hairdo is suitable both for the formal situations and daily routine. It will protect your natural hair from outside factors and drive everyone's attention to your interesting styling. This hairstyle would get some additional appeal if you have the ombre effect on your hair. Although this hair choice is the best for those women who have long enough hair to weave into the braid, you do not necessarily need to grow your hair. Sometimes, it is just enough to buy the attachable braid that matches the colour of your hair – it is easy to wear and not damaging to the growth and health of your natural hair.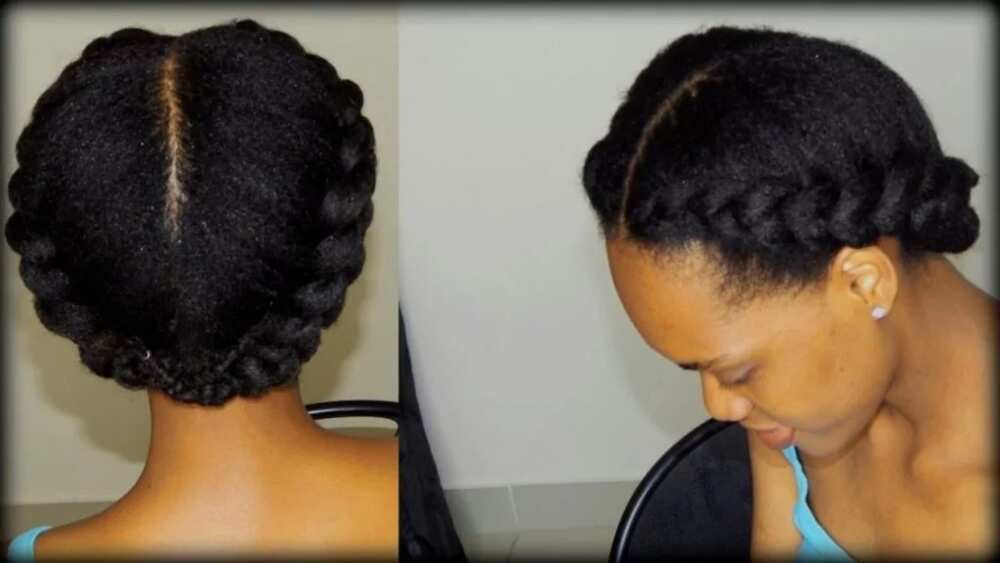 11. Updo with the scarf
Do you like wearing different types of headbands, including scarves and wraps? Then this interesting sort of updo would probably be just right for you. It will give your look the unforgettable vibe of the 60s. Of course, the headwear will also protect your natural curls from the environmental issues that could damage it. If you want to add more spice to this hairstyle, you can put some of the hair in front, and some in the back instead of putting all the hair in the back. Also, some cute earrings would not hurt.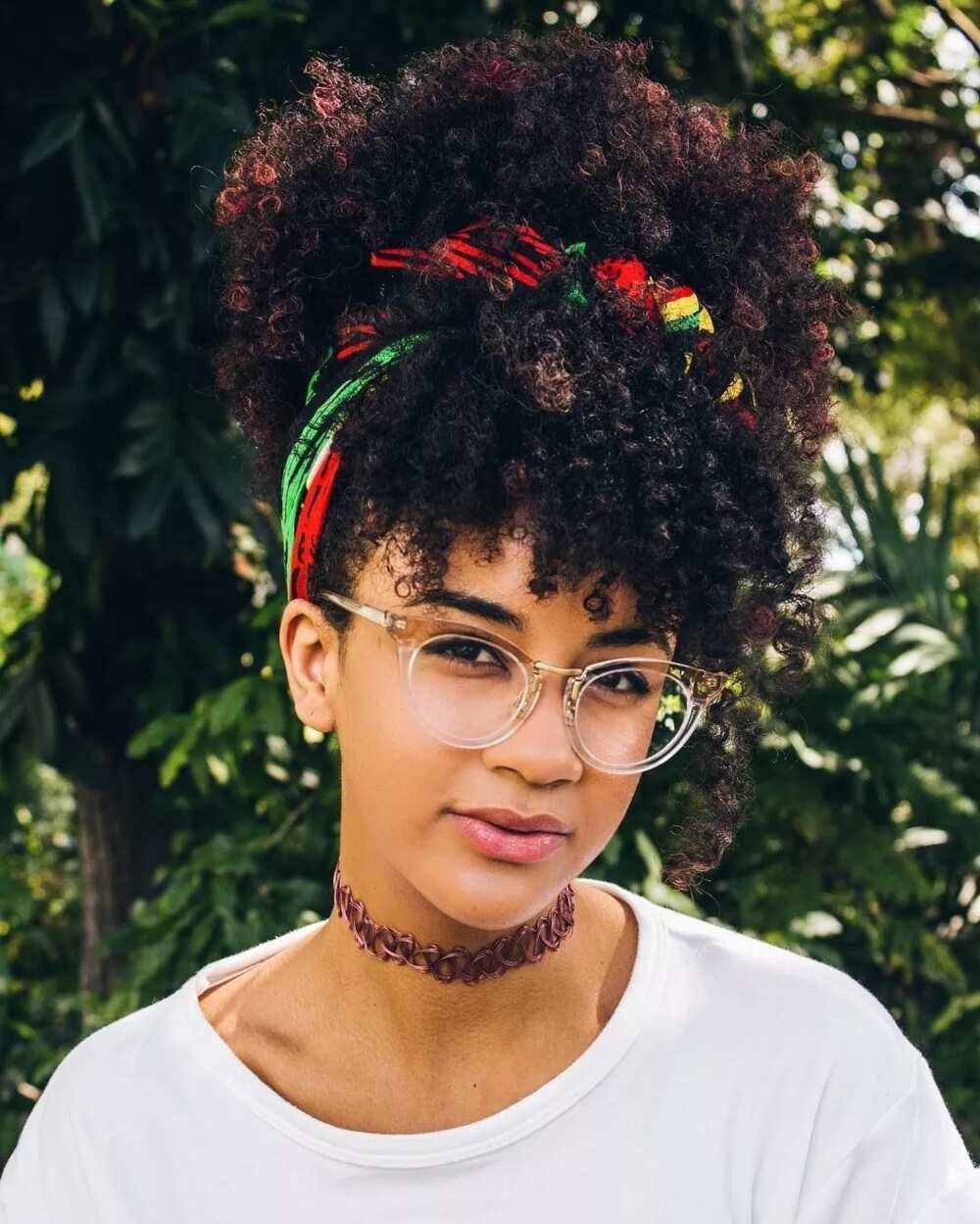 12. Spiral braid
If the weather is cold, and you would prefer having the ends of your hair tucked in rather than keeping them on the outside, you can try the versatile braided bun. This hair choice is for those women who have long and thick braids, even though it could work with the thin braids too. The spiralled braided bun has an elegant vibe to it, and you can combine it with the nice dress and large circled earrings. Another interesting fact is that undoing the bun would give you the hairstyle which is no less beautiful. If you feel comfortable with buns and have been searching for a creative, but at the same time simple hairstyle, then this one is a good choice for you.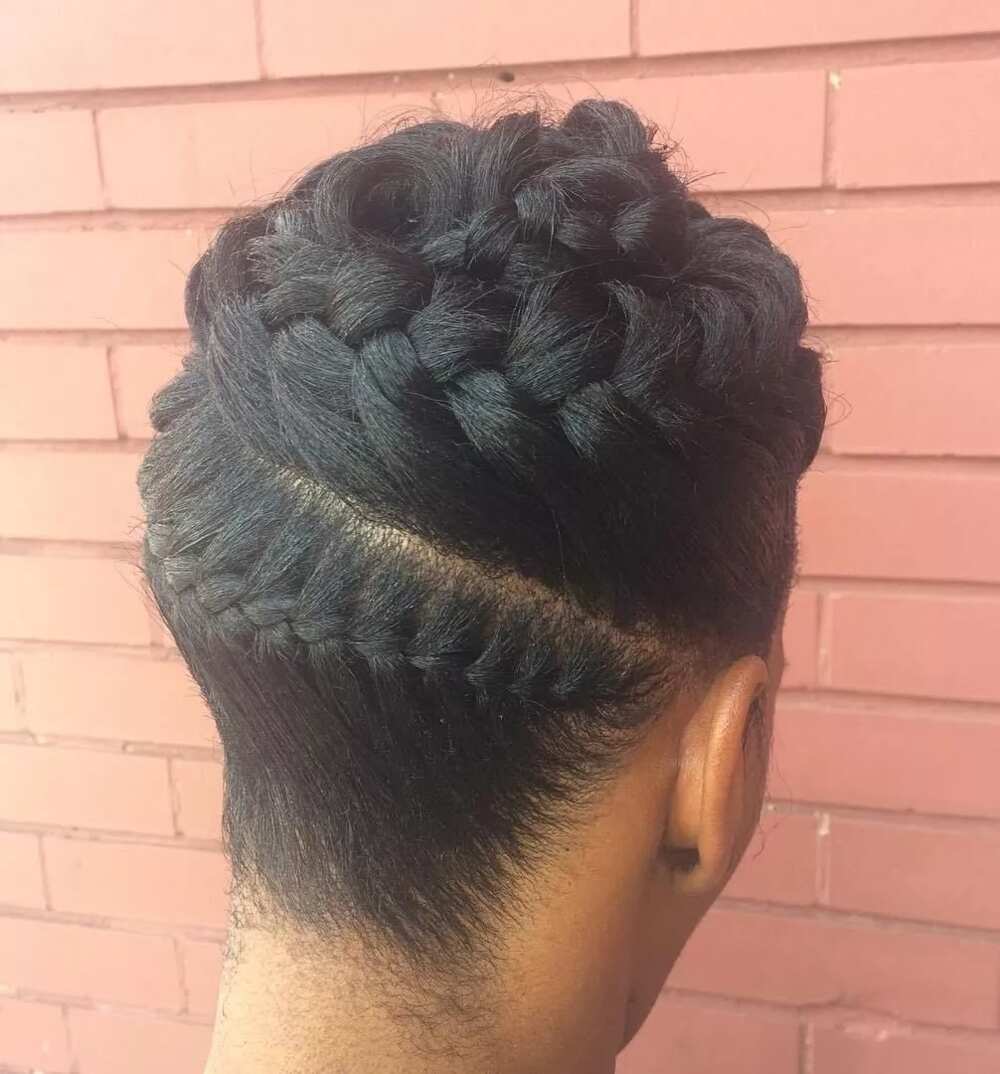 13. Marley twists
You probably know that the Marley twists are a huge trend among Nigerian ladies, especially those who want their hair to have texture and volume. Even if some extensions need to be used to show the full potential of this hairstyle, this does not stop the women from trying the twists out, and many of them report that the Marley hair additions are light and easy to wear. By the way, it is quite easy to make them even more beautiful by using the special hair accessories, like beads and ribbons. Some Nigerian women also like dying one or two strands of their twists, to make them seem more outstanding and individual. This style would do for any kind of event, no matter if it is a casual or formal one. You can create basically any sort of hairstyle out of the Marley twists.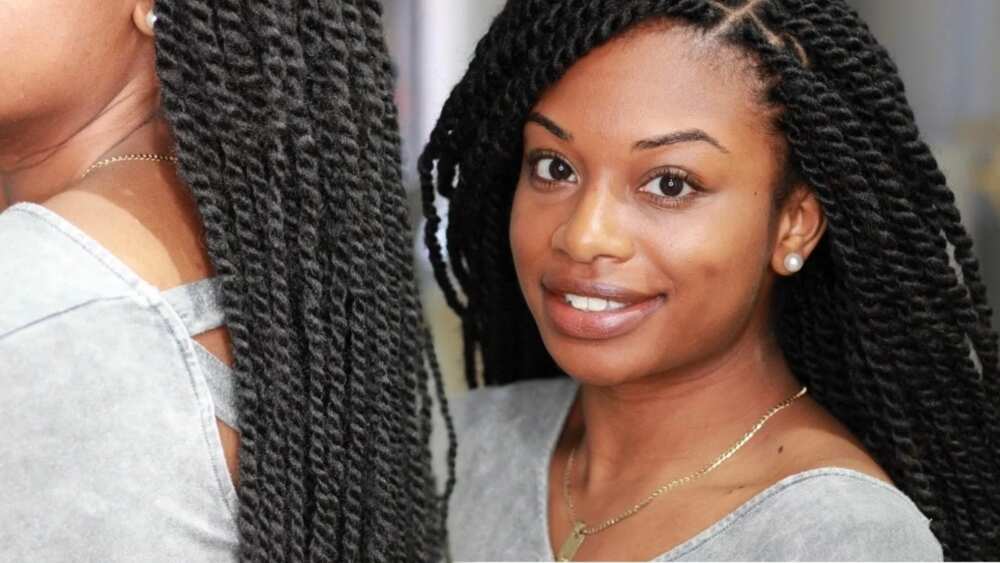 14. Long box braids
Box braids are a universal hairstyle, and many fashion lovers know that they can be really different, depending on the taste of the person who wears them. Some girls prefer the thick braids that give their hair additional texture, while some go for the thin ones that let them have more options. One good thing about box braids is that you always can be super creative with them. You can also create many classic hairstyles out of these braids, starting from the buns and ending with the pigtails. The box braids always look natural, and you can wear them anywhere. The creatively styled braids always are the main focus of everyone's attention.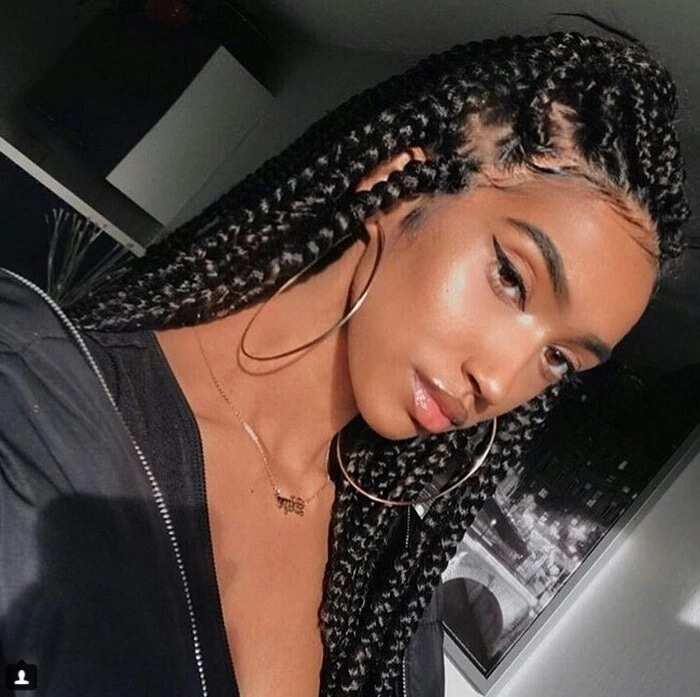 15. Cinnamon roll hair updo
This hairstyle is one of the unique choices for ladies with short natural hair. You will not need any special effort for creating this one. The cinnamon roll updo is entirely different from all the other natural options – braids, twists, or curls. But it is still really charming and appealing. Lots of Nigerian women who are interested in fashion have chosen to reproduce the cinnamon roll updo on their head, and they find it extremely convenient for both everyday situations and the formal events where you need to look on point. Besides, it will perfectly emphasize your beautiful face shape and put a bigger accent on your makeup and accessories.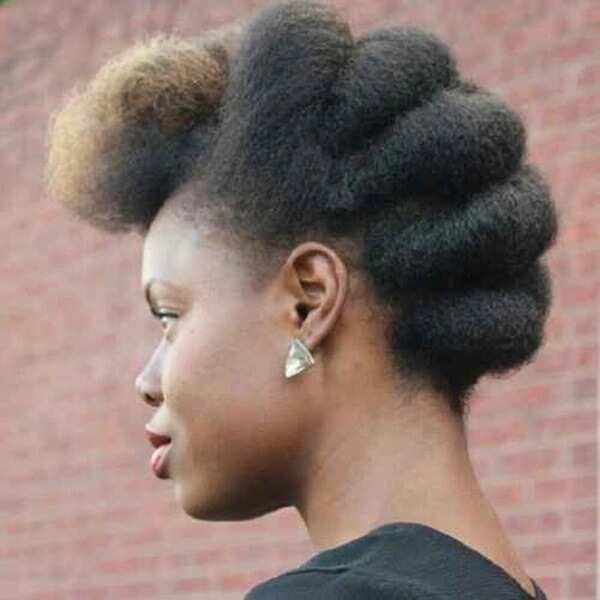 These hairstyles are some of the favourite ones which are loved by Nigerian women. Most of them can be worn both for events and everyday routine.
READ ALSO: Nigerian hairstyles with wool
Source: Legit.ng