50 trendiest strawberry blonde hair ideas for 2019
Strawberry blonde hair is a huge modern trend, and many celebrities and fashion lovers pick it up. The reason why so many ladies love this kind of fair hair so much is that the strawberry blond colour is gorgeous and stylish, with diverse shades ranging from warm pastel to darker vibrant shades. You should get inspired by the best ideas of strawberry blonde hair that you can rock in 2019 and look like a star!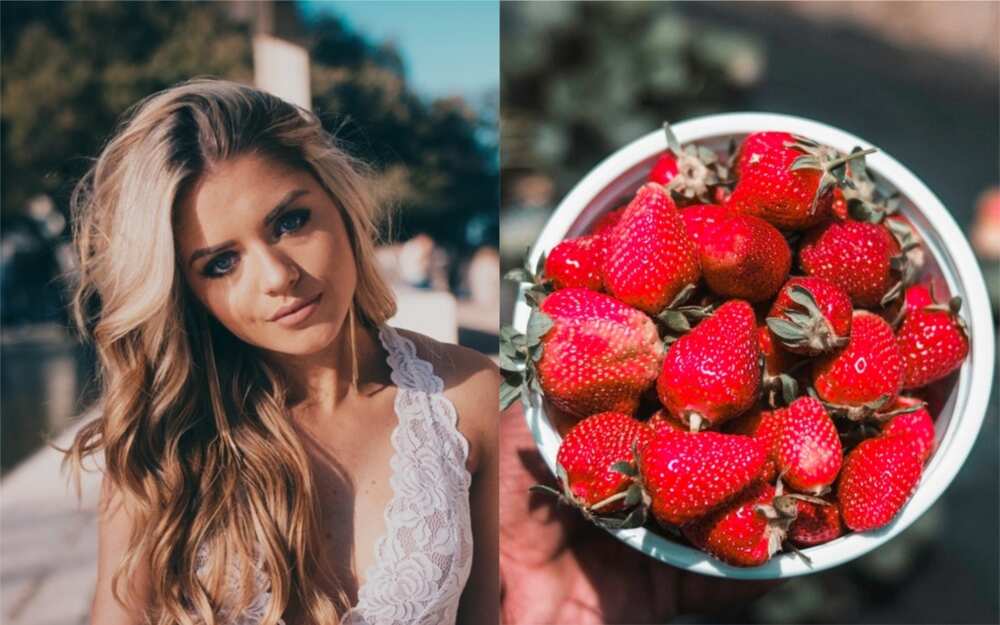 So many blonde actresses, including Blake Lively, Nicole Kidman, and Jessica Chastain are loving their strawberry blonde highlights because it showcases their beauty and uniqueness even more. Thousands of Instagram models and beauty experts already tried strawberry blonde hair dye, and they all agree that such a style is beneficial to their appearance. The natural strawberry blonde hair is rare because of the red shade, which is not common in people, but most of the modern fashion enthusiasts use high-quality dye.
The best strawberry blonde hair ideas
If you are still hesitant about getting a strawberry blonde hair color, here is a chance to look at 50 most attractive ideas and choose your own!
Pastel red tones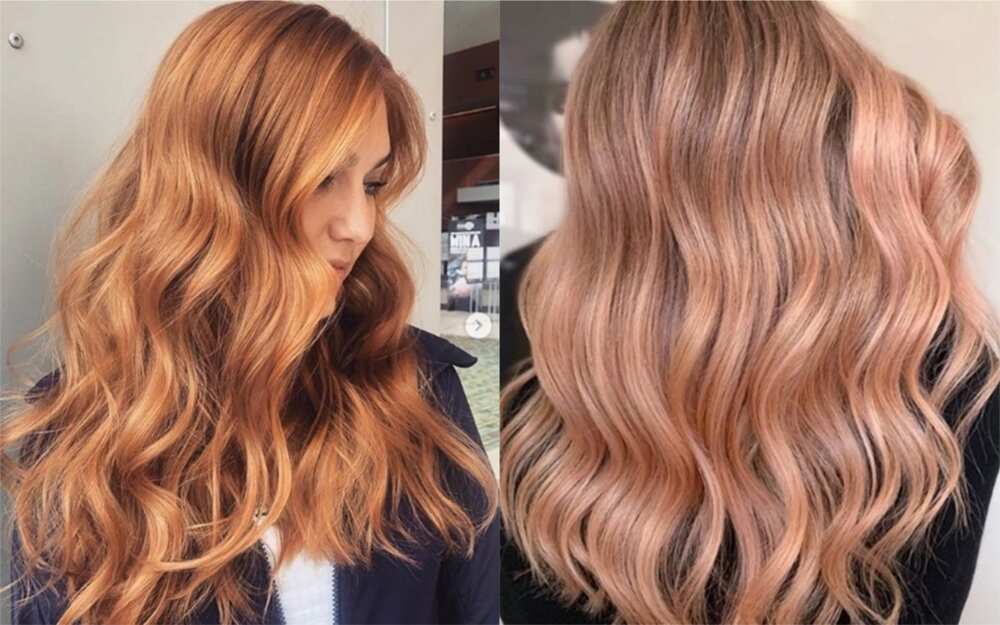 There are different types of inserting red in your strawberry hair colour. Sometimes it can be a hot ginger shade, while at times the red can be rosy and subtle.
Warm vibes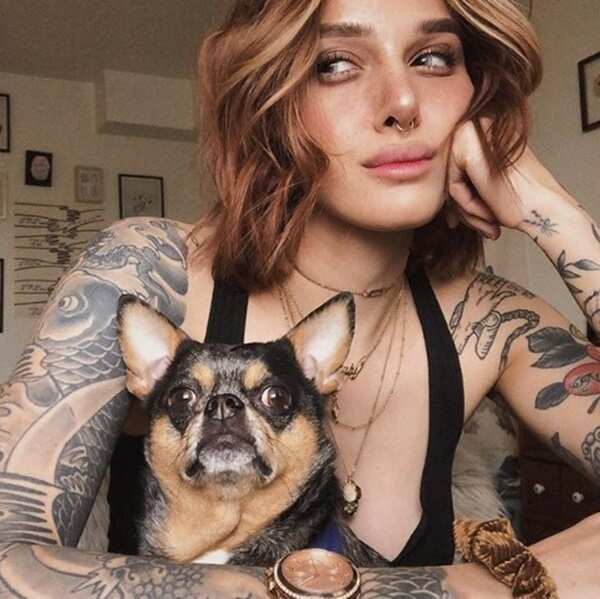 This hairstyle is perfect when you need a fresh and youthful look which radiates warmth. It is suitable for stylish women who are not afraid to experiment.
Ginger explosion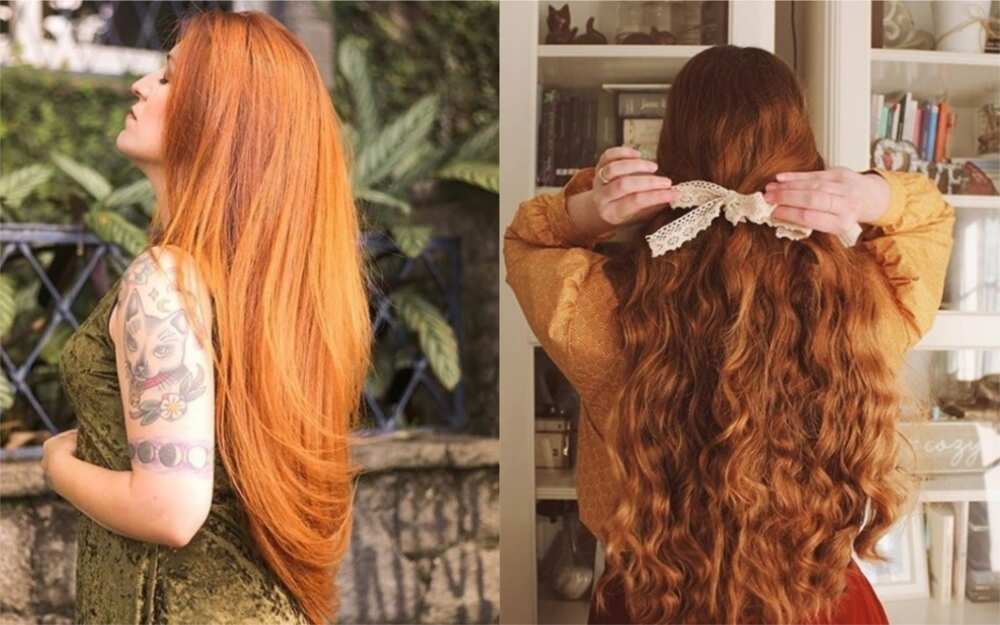 Naturally, the Weasley family from "Harry Potter" is a strong association with the redheads for many of us. The warm reddish fair shade, ranging from bright to more humble, can be just right for smart souls.
Light blonde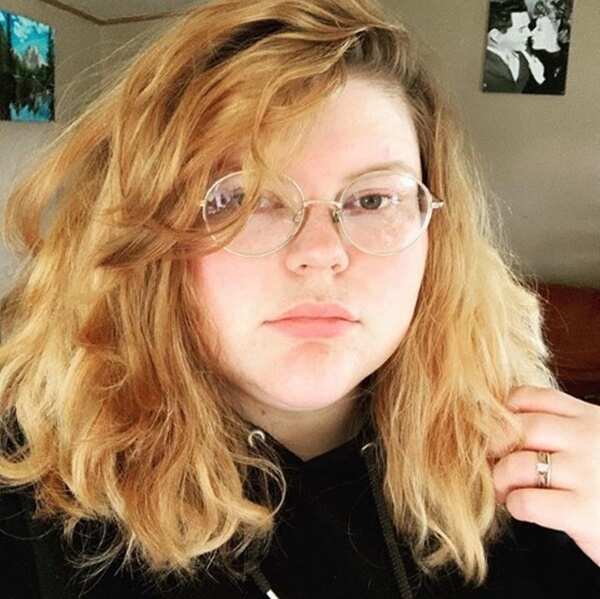 The shade you are seeing is a beautiful fair tone that looks almost natural and gives an impression of a welcoming personality. You can notice how different tones play out and create a stunning full picture.
The variety of curls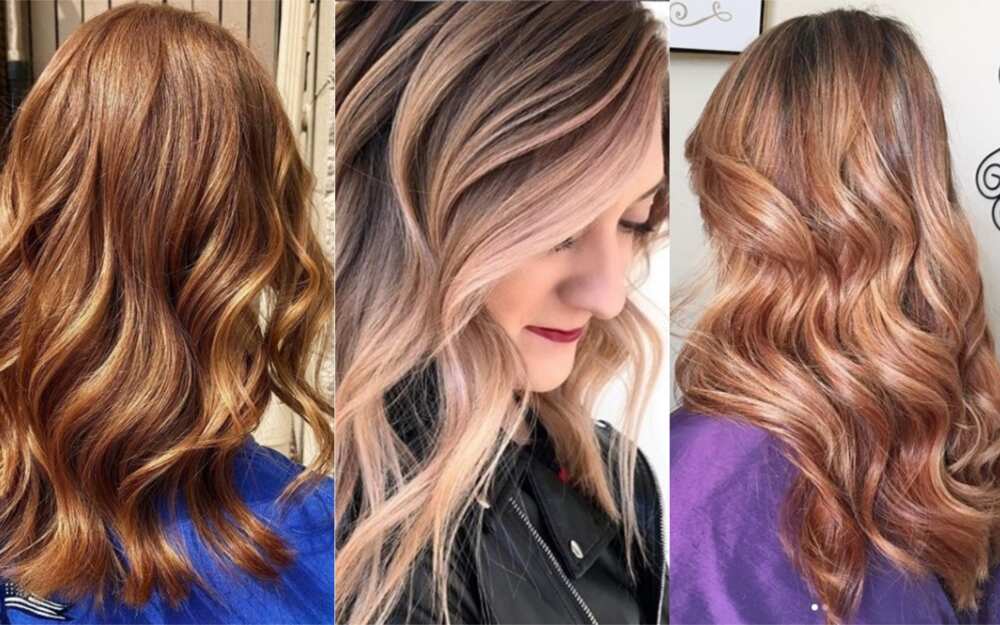 Curly hair is timeless, and with a gorgeous strawberry blonde ombre, every style would get better. No matter which shade you choose, the ombre and highlights will create a stunning effect on your curly locks.
Chic warm ombre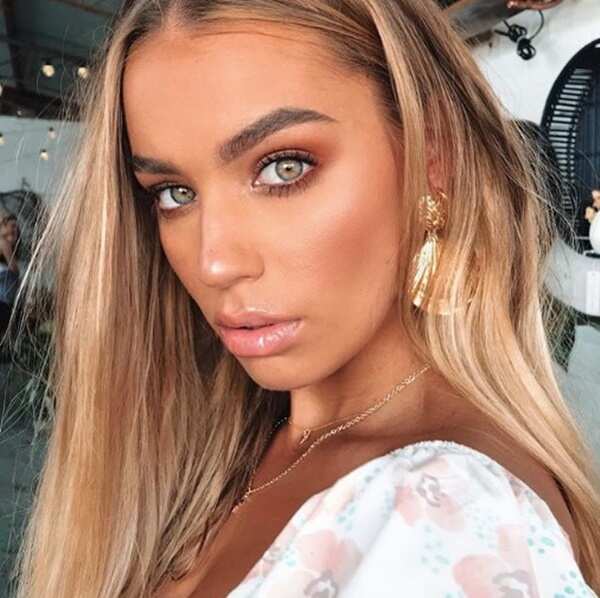 The transition from darker to lighter hair is always a win, especially in combination with some impressive makeup and accessories. Looking like a Hollywood celebrity has never been so easy!
Warm copper balayage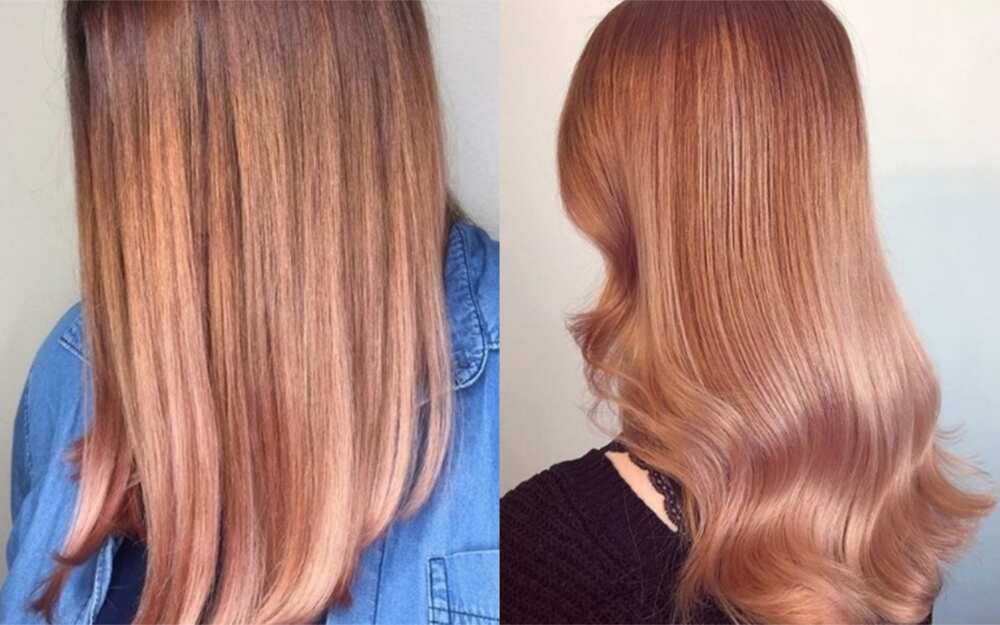 Strawberry hair is distinct from the other colours because it always has a certain amount of red shade in it. One of such shades is copper, which looks stunning when done in a popular balayage technique.
Honey hair with highlights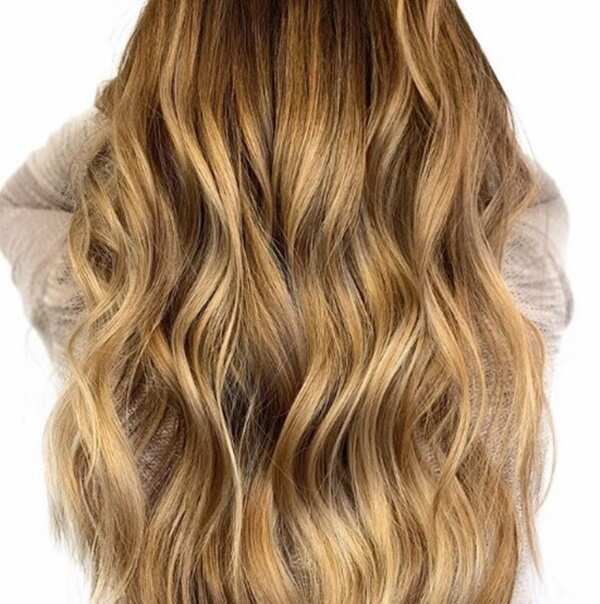 Here is a great way to make your honey hair look even more presentable. As usual, the smooth transitioning from the darker roots to the lighter locks is worth all the attention and love.
Short style with pink streaks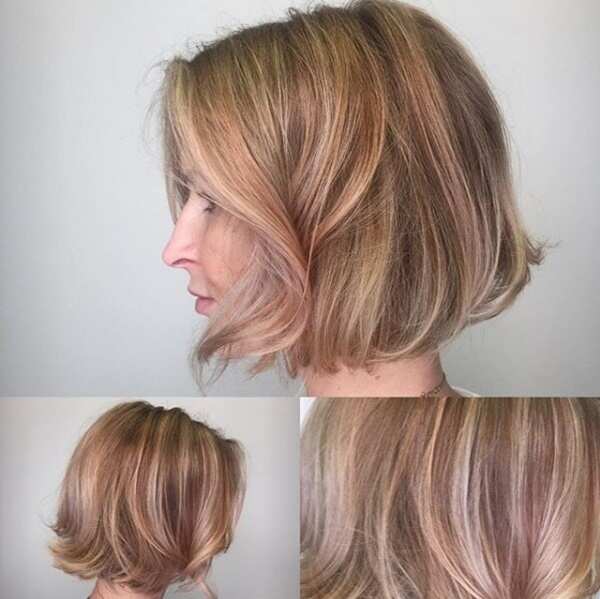 See those barely visible pinkish streaks in a classic short voluminous haircut? Their charm will drive everyone's eyes to your hair like a magnet.
Flamingo pink middle-length haircuts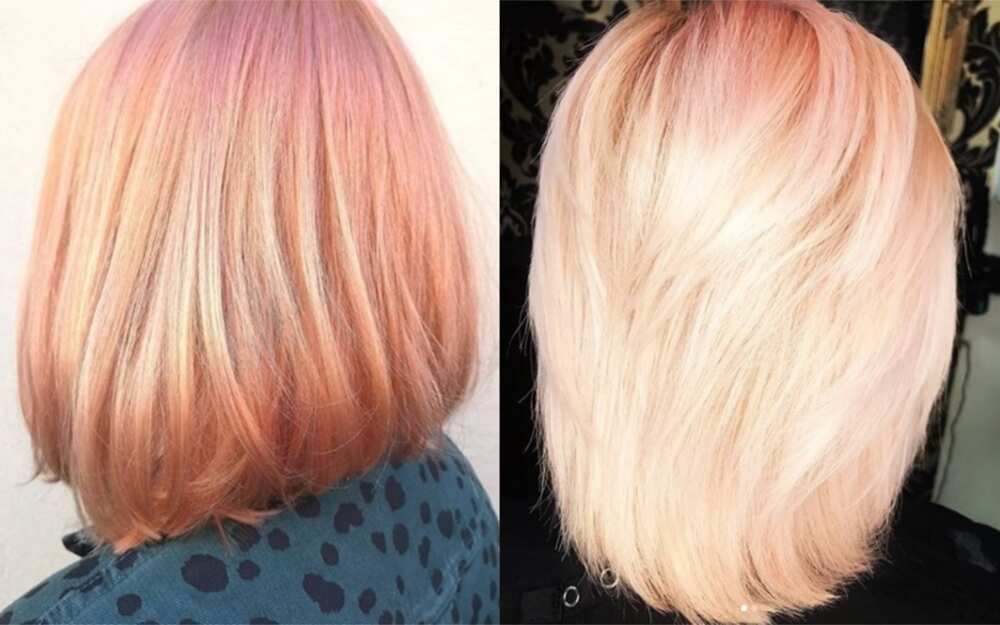 One more appealing colour to rock this year is the lovely flamingo pink, which instantly provokes everyone's curiosity about your image. In combination with the elegant middle-length styles, it looks incredibly attractive.
Straight hair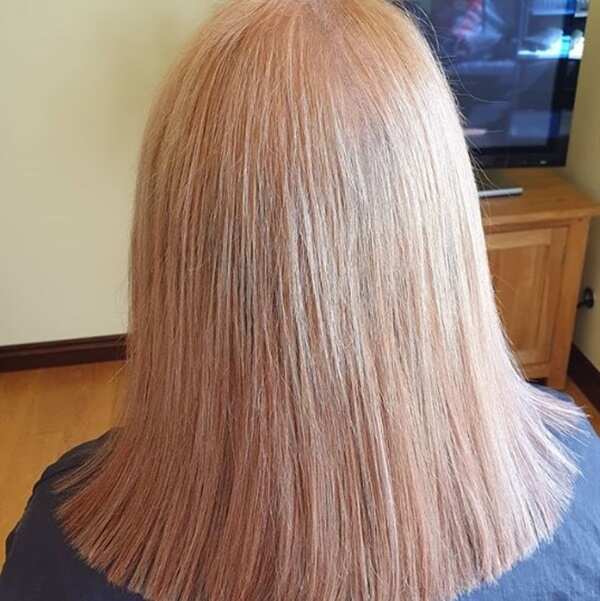 If you are not a big fan of cutting your hair short, you can trim the ends in a particularly neat way. A choice like this seems especially sweet if your hair is of a light pinkish shade.
Salmon locks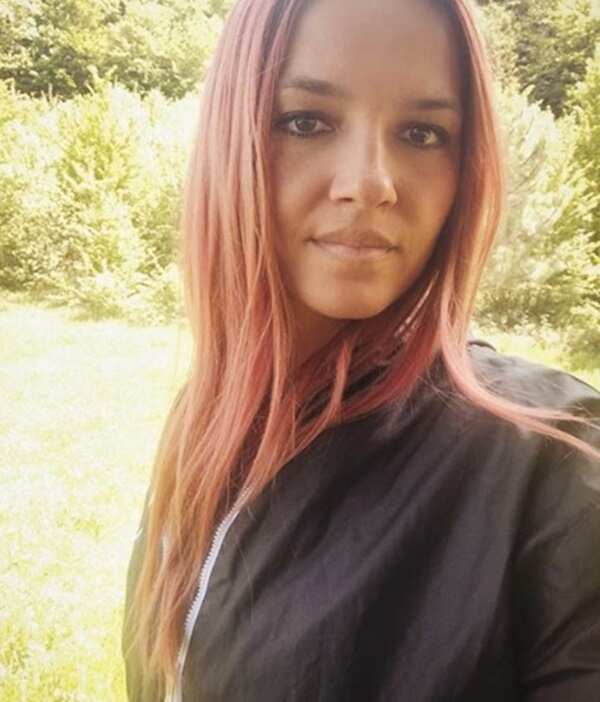 Proud of your long hair and are not a big fan of the idea of cutting it? You can embrace your natural long locks and give them a new life by dying them in a delightful salmon colour.
Darker shade with fair highlights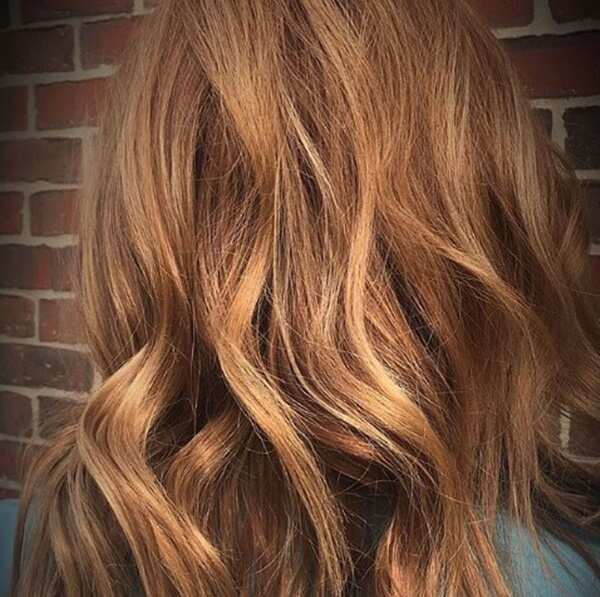 The most impressive thing about strawberry shades is that they can range from light to dark ones and lie on a huge spectrum.
Vintage ginger tone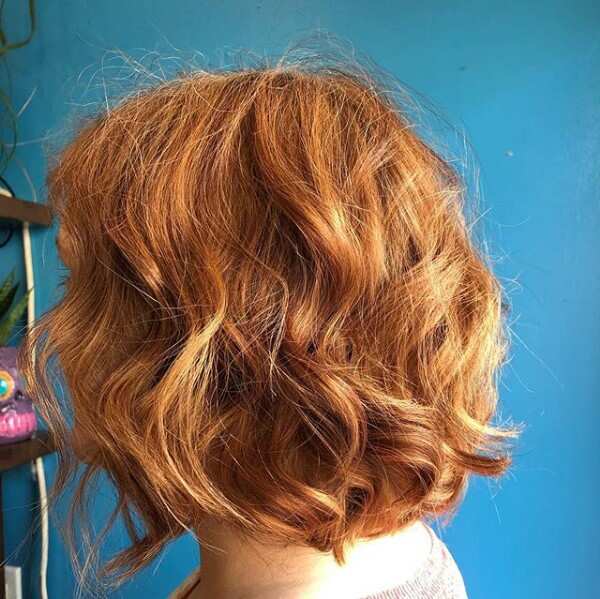 Are you an admirer of those short messy hairstyles that old movie stars were wearing? Fall back into the vintage style with these warm sunny curls.
Medium blonde wavy hair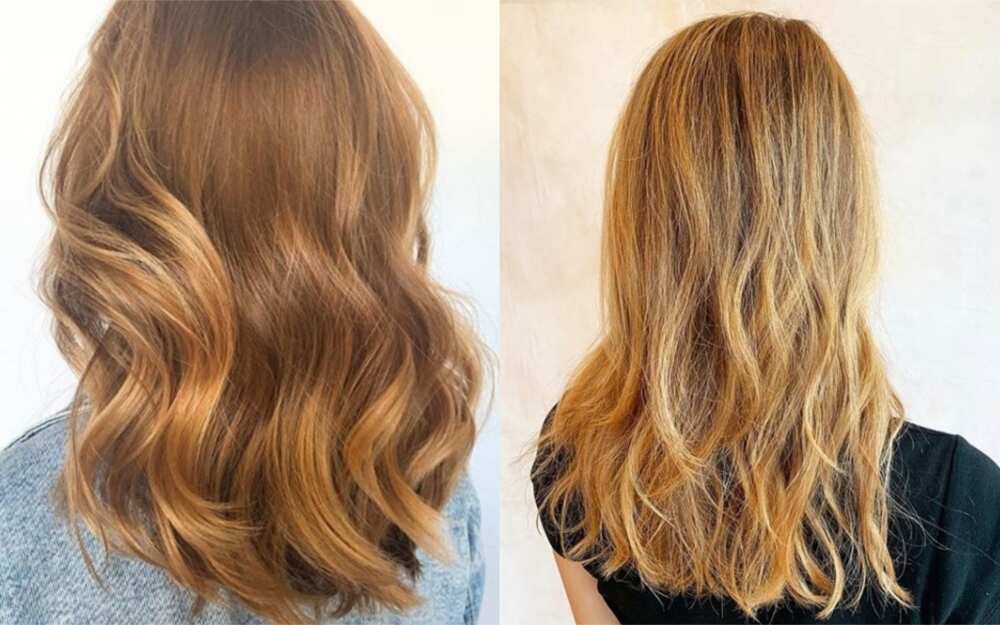 Wavy hair makes a woman look like a princess, which is one of the most powerful arguments for it. Medium tones are a nice choice for those ladies who want to be stylish and professional at the same time.
Fabulous sandy blonde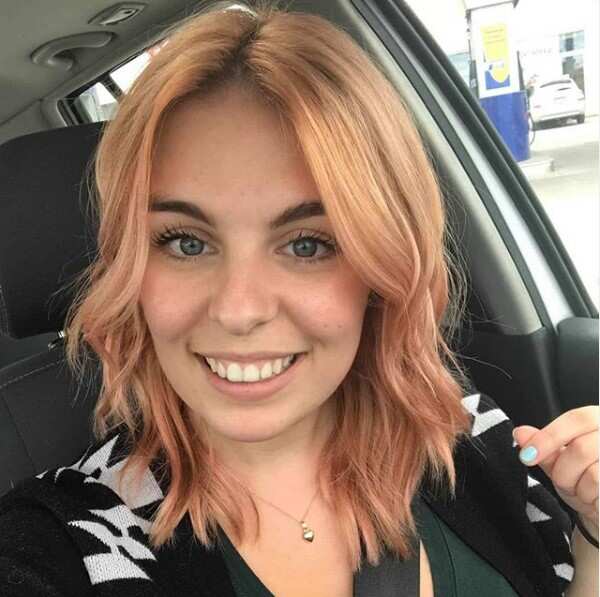 One of the unique shades is sandy, which goes well with any eye colour – blue, green or hazel.
Chestnut curls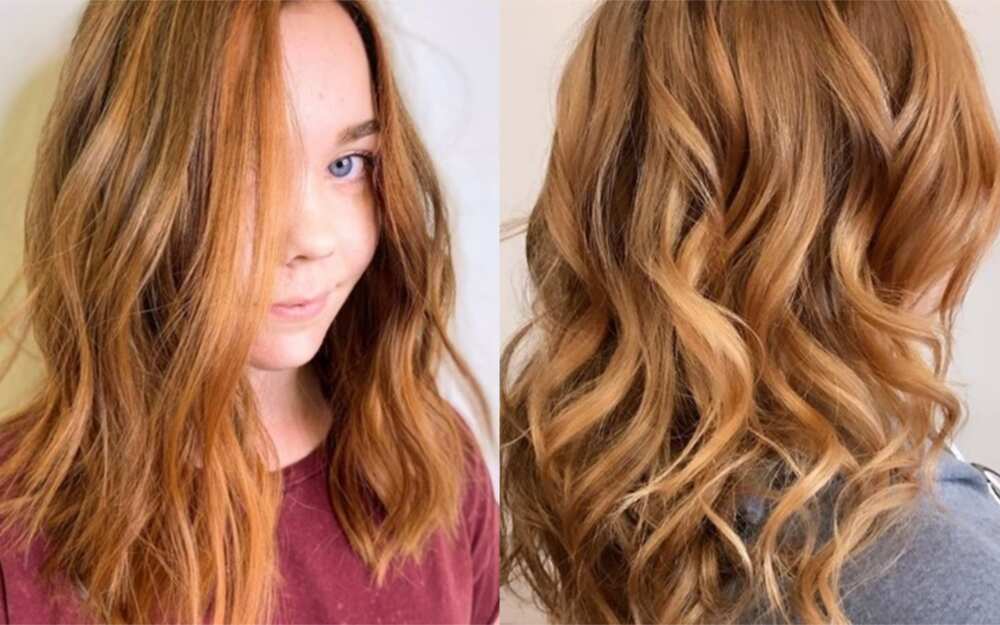 Curls are always loved, and they have a double power to win the hearts with the admirable chestnut tone. It looks noble and beautiful, and you can add some lighter highlights to create the volume.
READ ALSO: 30 lemonade braids hairstyles you should try in 2019
Stylish cuts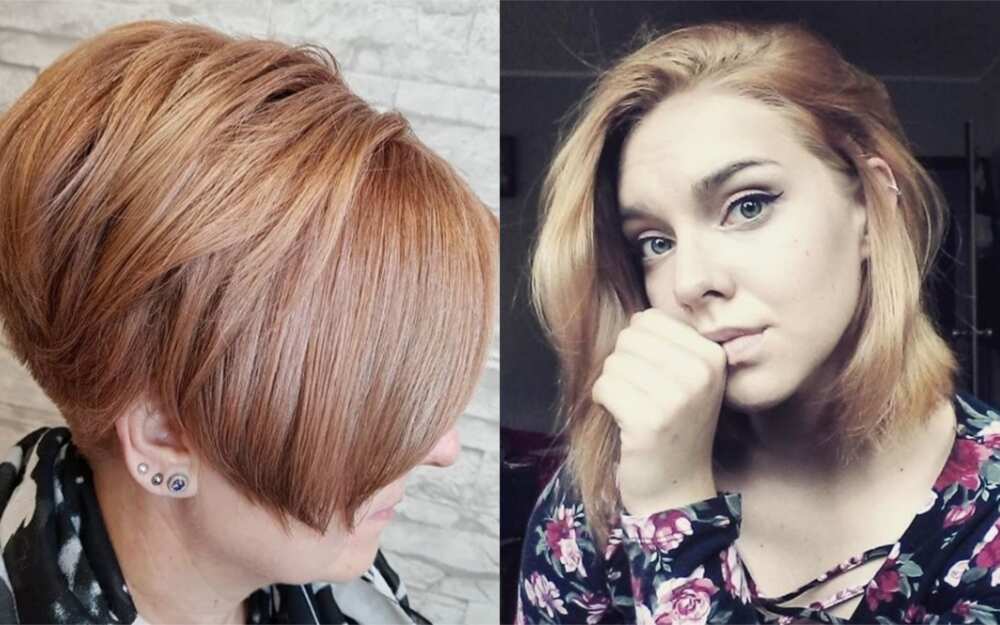 While our primary hair colour in question is undoubtedly attractive, a trendy haircut can make it look even better. The boldest women should consider a fresh pixie cut or other types of short styles.
Long ombre and streaks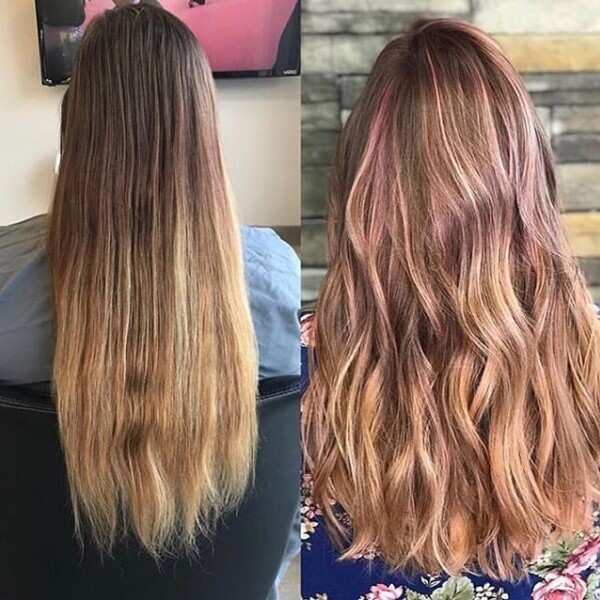 There are so many various ways to style your hair that will make you stand out from the crowd! For instance, you can try pink highlights or light ombre.
Beach blonde hair with playful tones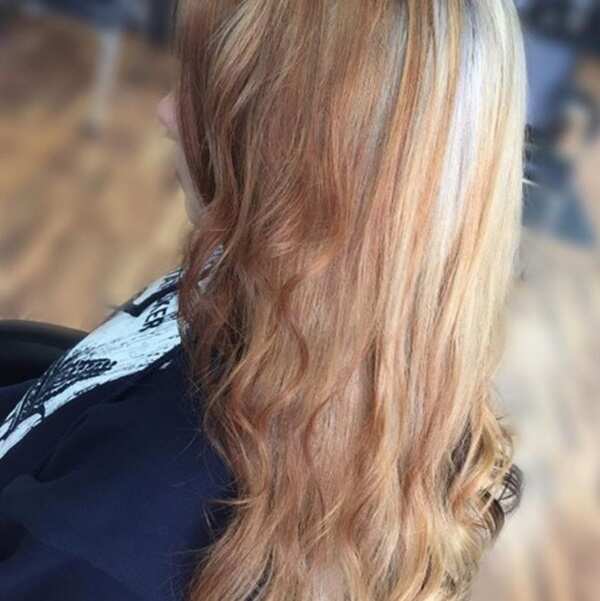 Some people prefer not just to dye their entire hair one colour but play and experiment with the hue instead. Also, the hairstyle may be a perfect combination of straight and curly.
Trendy cut with barely visible dyed ends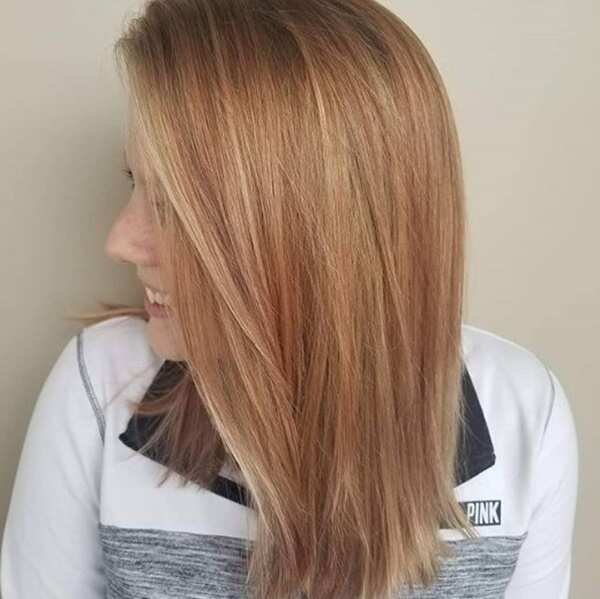 What about opting for the blush tone, but having short ends dyed lighter? This choice can frame your face in a great way.
Caramel blonde with transitions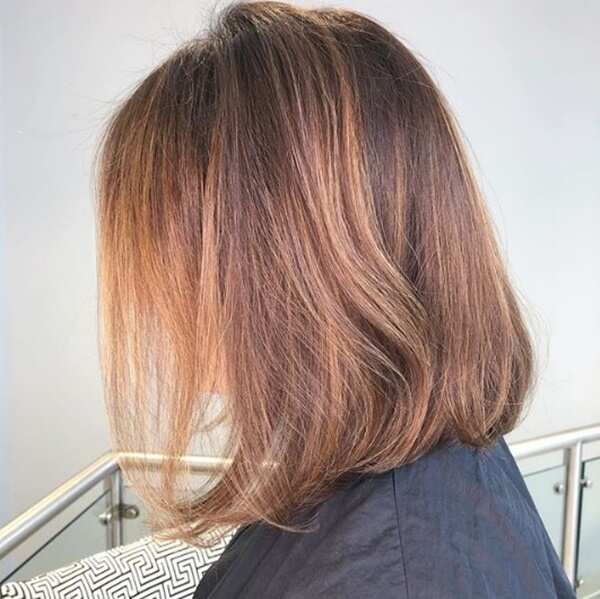 Many people pick caramel because it is a hit of the season. Still, they try to make their locks diverse.
Gingery curly explosion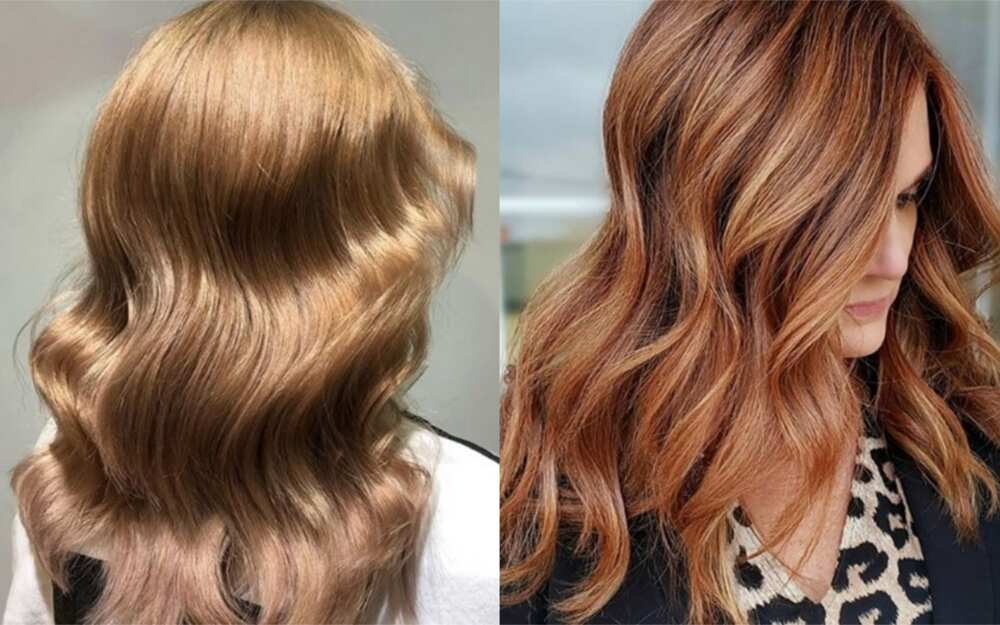 Now you have a chance to become reminiscent of these models from the commercials! Make your hair just as saturated and shiny as theirs.
Warm amber tone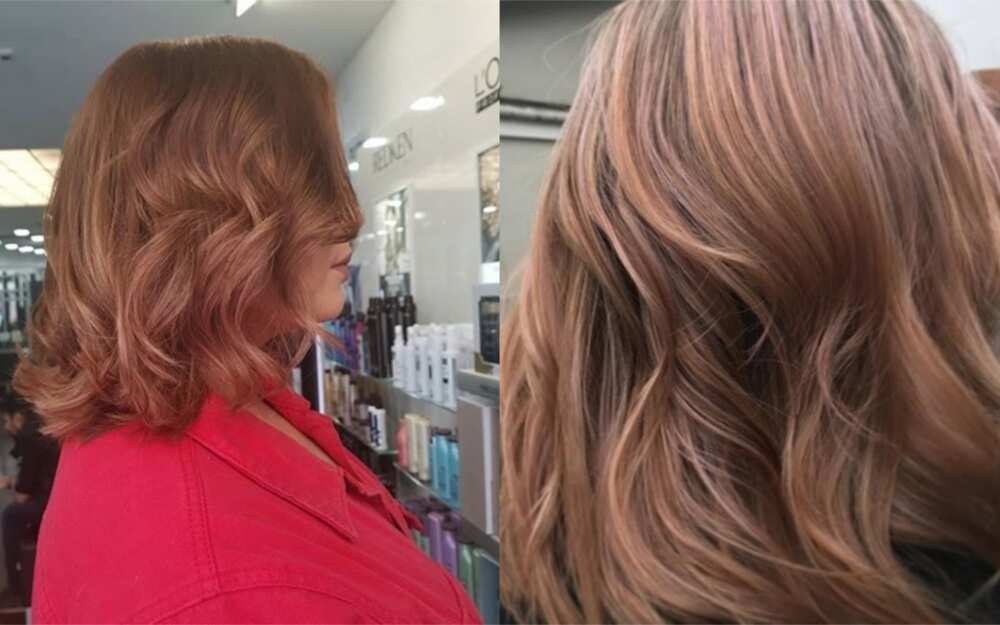 Middle-length hair in amber tones can showcase your unique beauty this season.
Creative short haircuts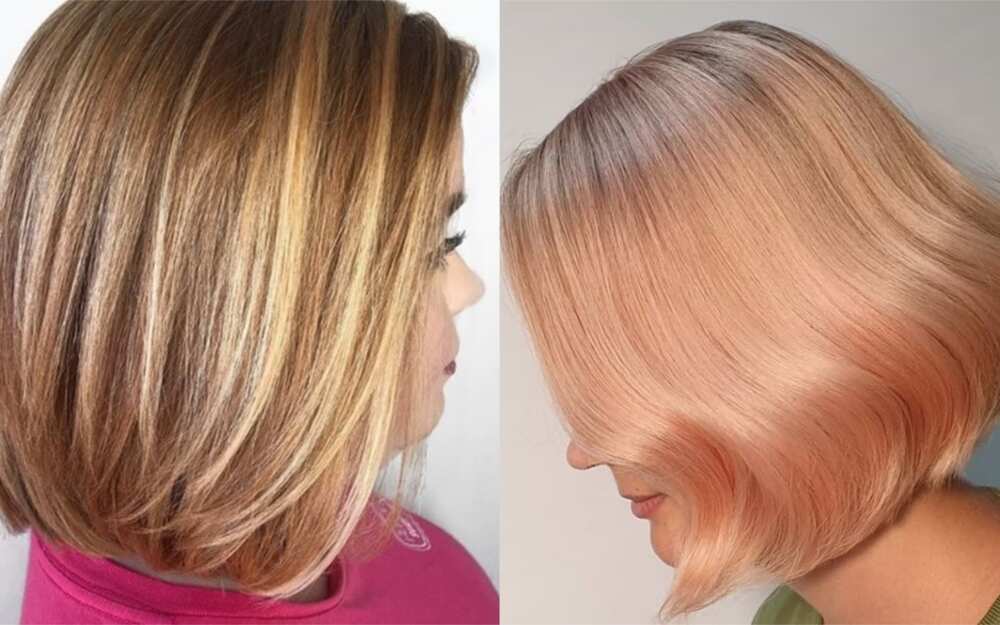 Ranging from natural to peach shade, modern haircuts can make any face shape look presentable.
Fiery unnatural shade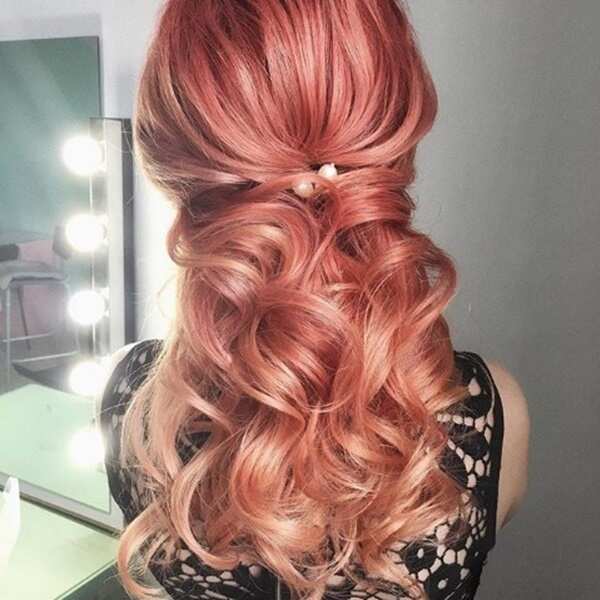 See this coral hair with a salmon-coloured ombre? This is how you make a statement.
Bold pink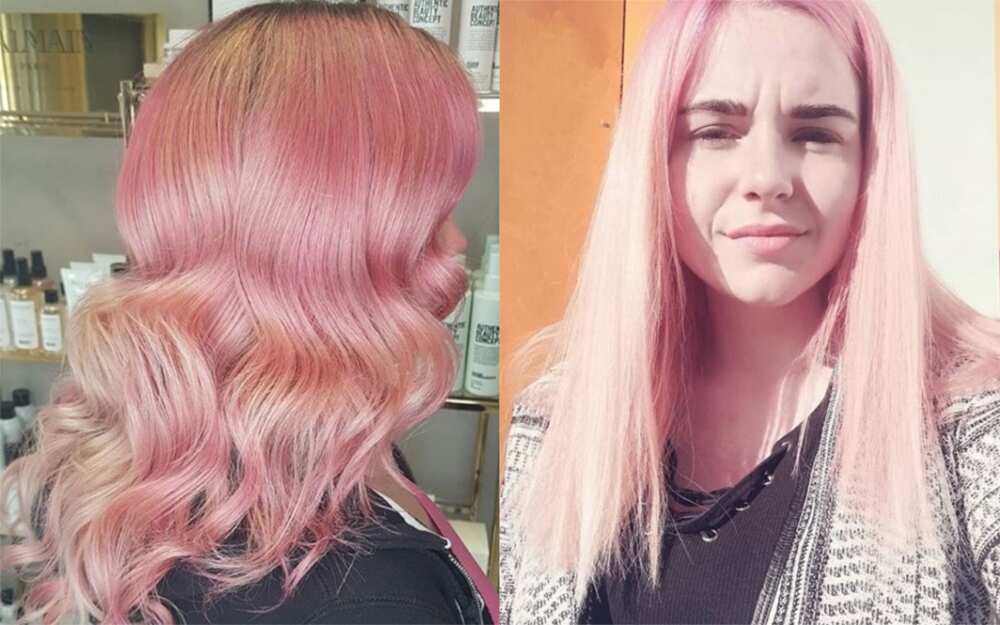 Sometimes, going fully pink can be a bold move. Eventually, you may realise and discover a lot about yourself and your colour preferences.
Fair ombre with an accessory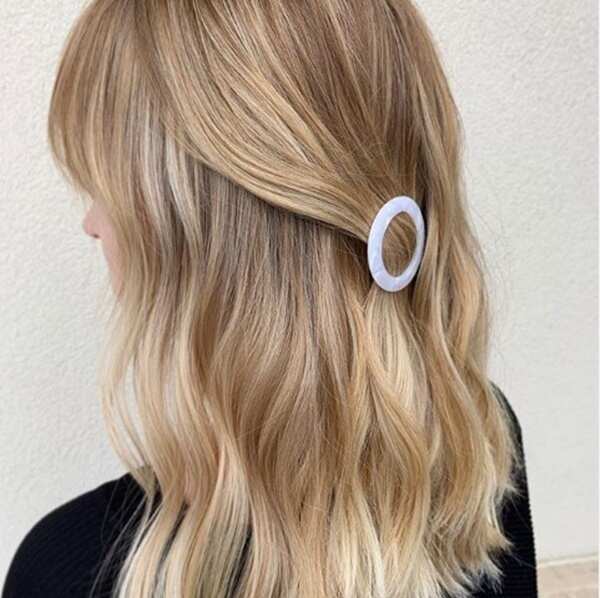 When you get your desired hair dye, it is useful sometimes to experiment with different accessories to find your vibe and image.
Blorange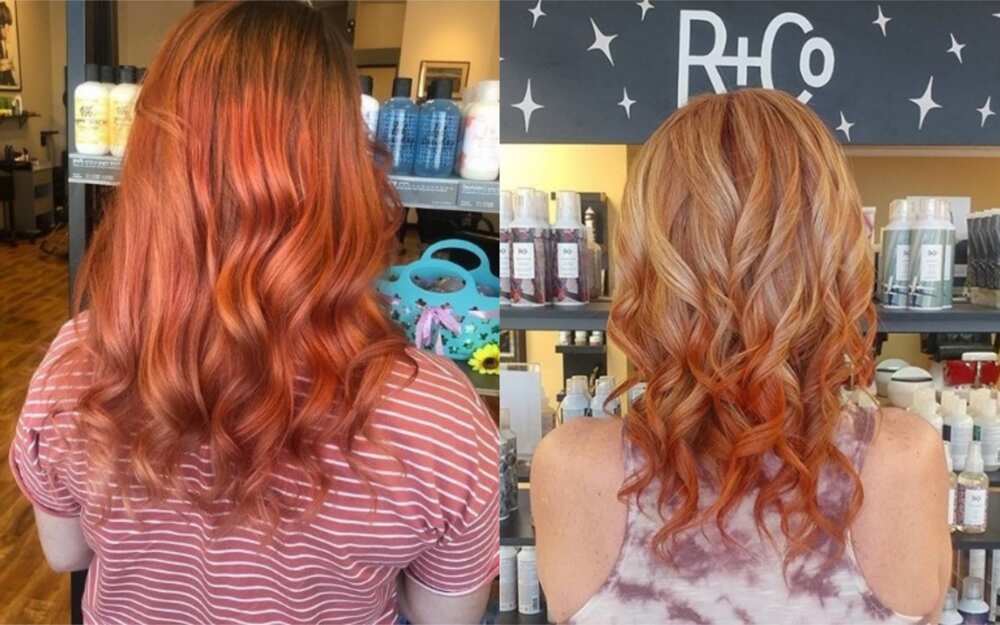 The combination of blonde and orange will light up the fire in our hearts!
Soft rosy tone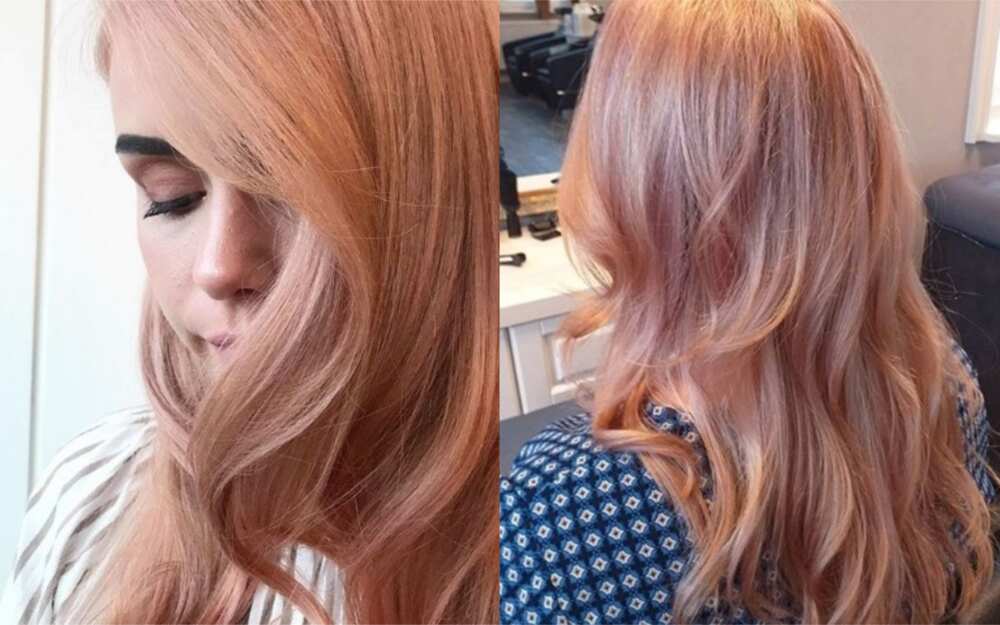 The good thing about such a colour is that you can see such a rich mix of undertones in it.
Dark blonde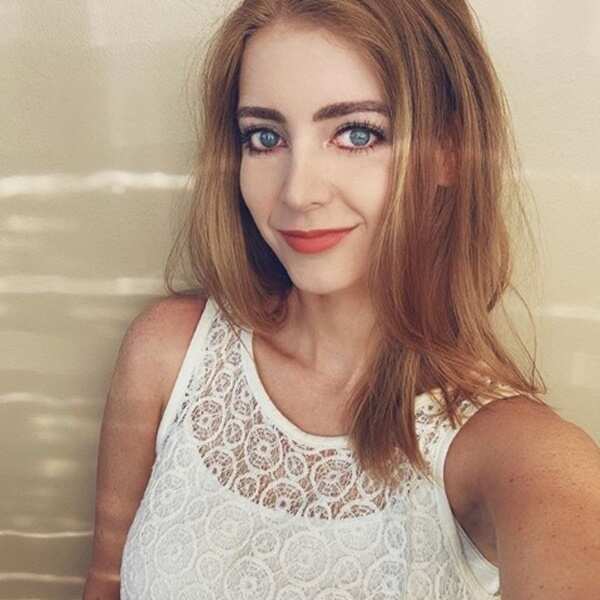 Such a shade looks best with ombre or highlight techniques and is great with any makeup.
Different highlights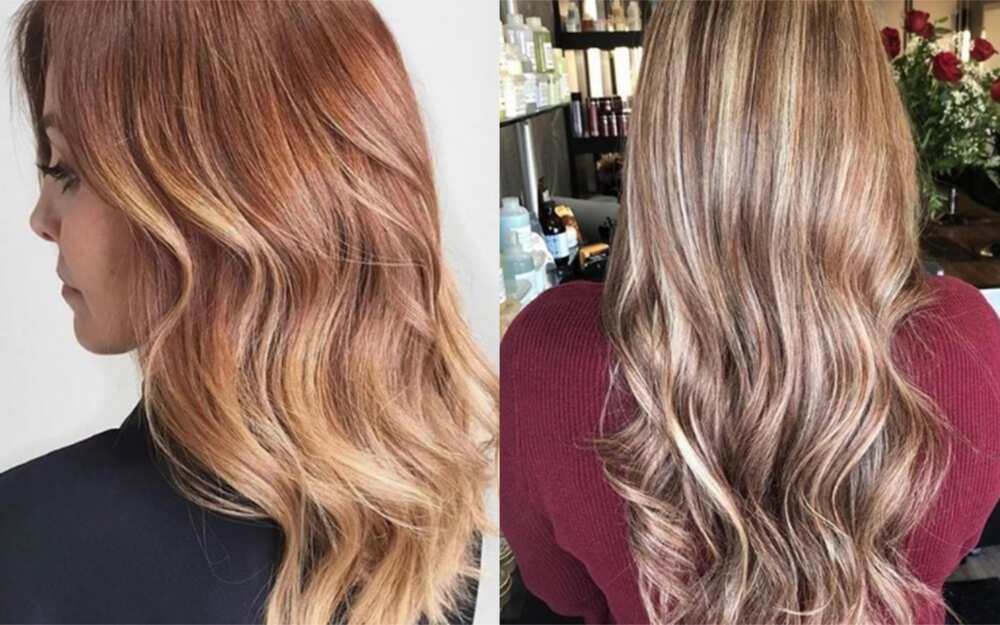 From colder to warmer tones, the streaks can be a deciding force in the uniqueness of a style.
Mellow hair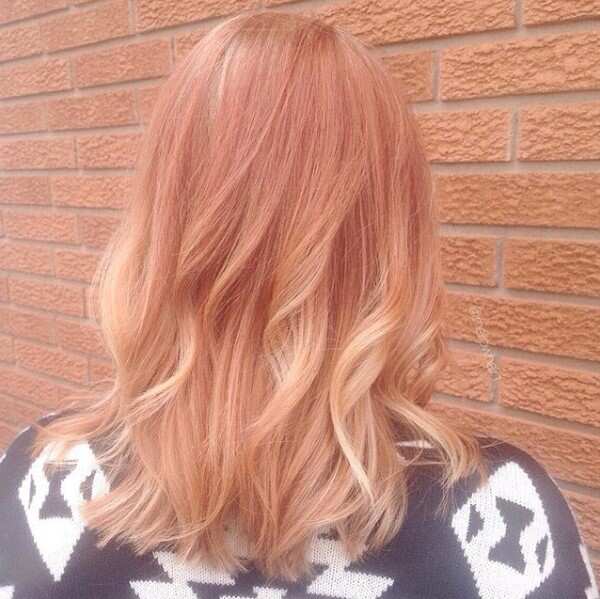 There is always a hairstyle that makes us nostalgic and reminds us of fairies and princesses.
Striking flames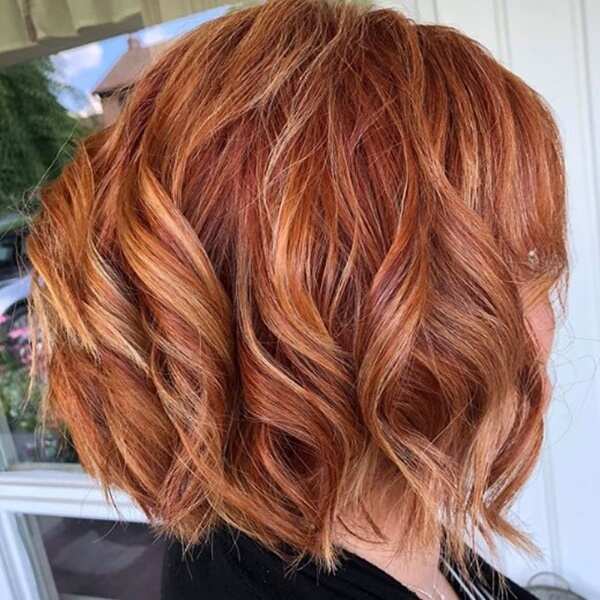 If you are more on a ginger side of this colour spectrum, make sure to try these wondrous fiery curls!
There are so many strawberry blonde tones and hairstyles that knock it out of the park. We wish you to find your own!
READ ALSO: Top 20 Ghana weaving Shuku hairstyles to try in 2019
Source: Legit.ng