Very short natural hairstyles for real fashionistas
Is is not only women with long and gorgeous hair that can have amazing and creative hairstyles. There are more ladies with short natural hair than you think, and you can do something really outstanding on your head. Have a look at the very short natural hairstyles and see which one would be a perfect match for you!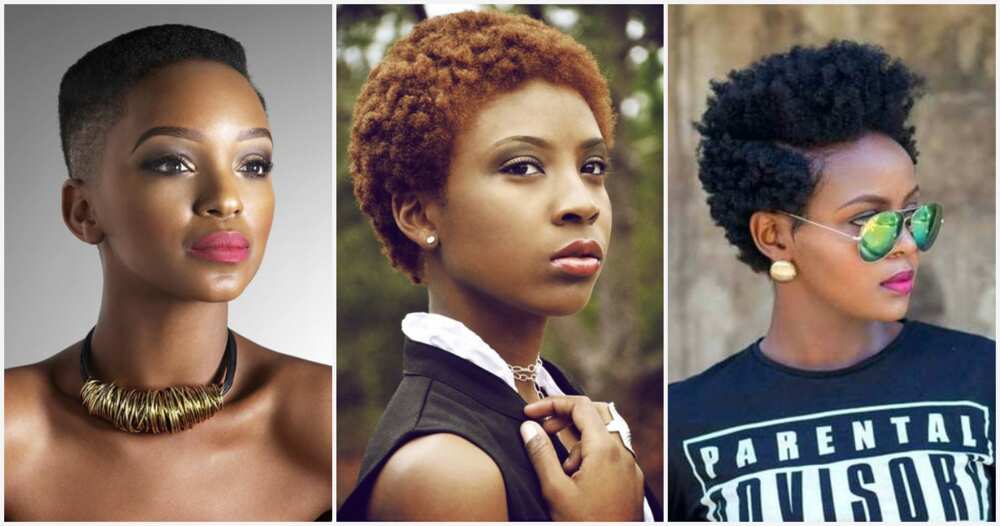 Short natural hairstyles for black ladies
It is hard to wear long hair and extensions all the time, and sometimes your hair will not grow out properly. Natural hair is always quite complicated to style, or it lacks proper length for the versatile hairstyles that are used to impress people, which you probably often see on the internet. There are also issues with the hair getting dry because of all the experimenting with different styling products and procedures. Even if you used to have long hair, sometimes it can just get unhealthy, and the only way to take care of it in this situation would be getting a short haircut and waiting for it to grow out healthily.
This is where another problem emerges – how to style your hair in a way that it looks good and not messy or scruffy? You should not worry about this, because short hair can also be styled in many different unusual ways, and short natural hairstyles are a very popular trend these days. There are plenty of stylish ways to create your own unique short hairstyles for natural hair. Some of them are truly fantastic and remarkable.
Some of the available hairstyle options for you if you have short natural hair are the following:
Twists. They add extra volume and will always look fancy, no matter if you choose to wear them in a loose way or put your hair in an elegant updo.
Protective updos. Not only they look very nice and comfortable, but they will also protect your delicate hair structure from the loss of moisture and different harmful elements.
Puffs. African ladies simply adore puffs, which are basically a substitute name for the common bun. Puffs can also be easily combined with the twists or braided elements, and you have an opportunity to come up with a beautiful and unforgettable hairstyle.
Finger coils. If you prefer the noticeable textures on your hair, then the coils will be a great idea for your new hairstyle.
Mohawks and fauxhawks. No matter what, these hair options will never go out of fashion. They are ideal for black ladies, who are always open to the brave decisions and extravagant hairstyles.
Now, we will present our list of short natural hairstyles for black ladies which are the most popular and fashionable nowadays.
1. Natural curly locks with the caramel highlights
Are you going through all the steps of growing out natural hair locks right now? Well, this would be a really nice time for you to spice up your hairstyle a little bit, and add the vibrant color splash to your curls. This hair option is unique because the regular simple curls are very smartly and nicely livened up by the caramel-colored highlights. The dye is used on top of the head, as well as on the ends of the hair strands, which creates a whole new dimension.
As most of the short natural hairstyles with color are. And just think about it – you will not have to be concerned about styling your large and long braids every single day.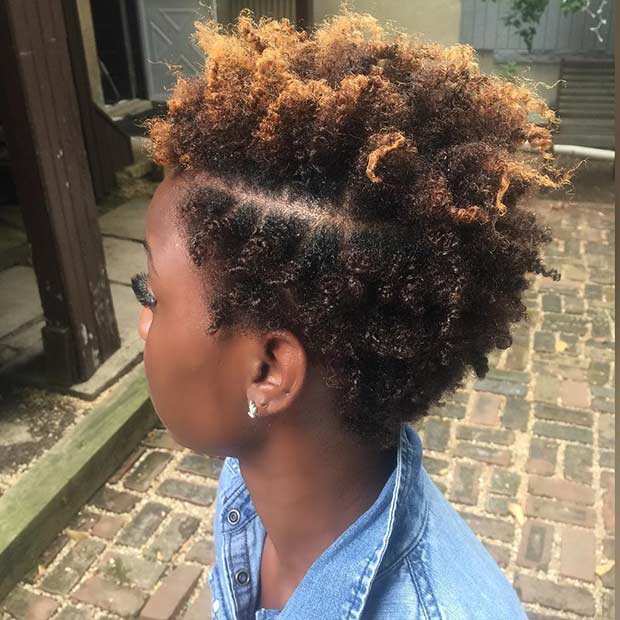 2. Natural Mohawk hairstyle
This short black hair style (or, if you want to try something new, you can dye it any other color) is for brave ladies who want to go super short and are not afraid of it. Even though this hairstyle requires a lot of courage, it also has a lot of benefits. First of all, you will look like a very confident and determined woman, and no one would want to mess with you. Second of all, with the right makeup and clothes, you will look like a queen. And, lastly, this look does not require a lot of effort to maintain – you can just comb your hair, make sure that you are keeping it well-moisturized and hydrated, and then you are ready to go wherever your plans require for today.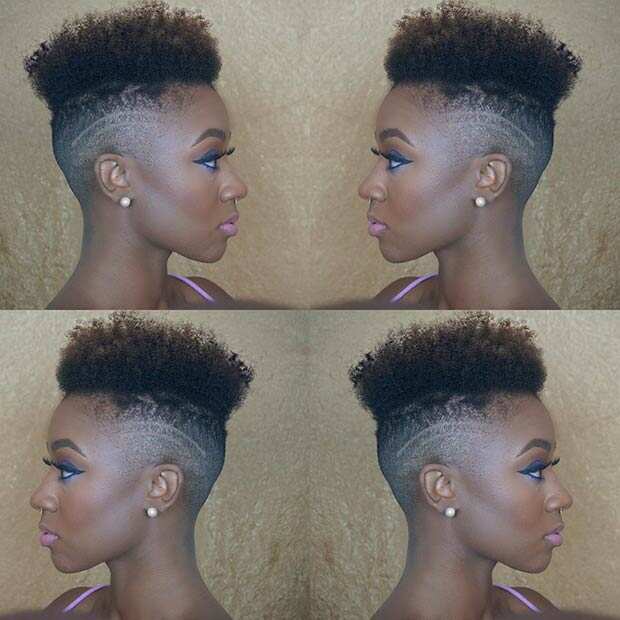 3. Short curly hairstyle with the shaved sides
This haircut is one of the basics when it comes to the hairstyles for short hair, but nonetheless, it is still very charming and cute. The curls are very lovely and bouncing, and the shaved sides can be decorated with whatever patterns you prefer. Shortly, it is a very natural and sweet style. Depending on makeup and clothing fashion, you can either look gentle and feminine, or tomboyish and androgynous – the options are endless.
This hairstyle does not require any special care, but one tip for maintaining it and keeping it healthy would be not over-washing it. The entire point of short haircuts for black women is doing your hair a big favor by letting it rest, so you are recommended to wash your hair less frequently than daily. You can try to wash it once in two or three days, and use the natural oily care which really does magic to your curls. In the end, your hair will definitely thank you for your change of habits.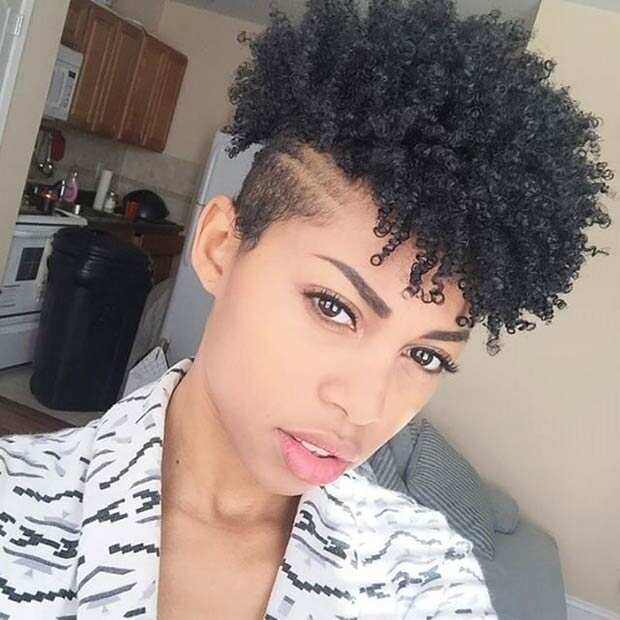 4. Short tapered cut
If your hair has always been curly and you were so tempted to get the hair straightening tools, you should realize that having curls has its own huge benefits. First of all, if you are not comfortable with long curly hair, you can always go short and refresh your entire look. Besides, if you use the tools on your already damaged and dry hair, which has been tired of the extension use for a long time, your hair will not appreciate the usage of overheated tools – they will only do harm to it. The point of the short tapered cut is giving your hair a break, and your looks – a large boost. You will feel like a whole new person after going out with the nice short curly hairstyle.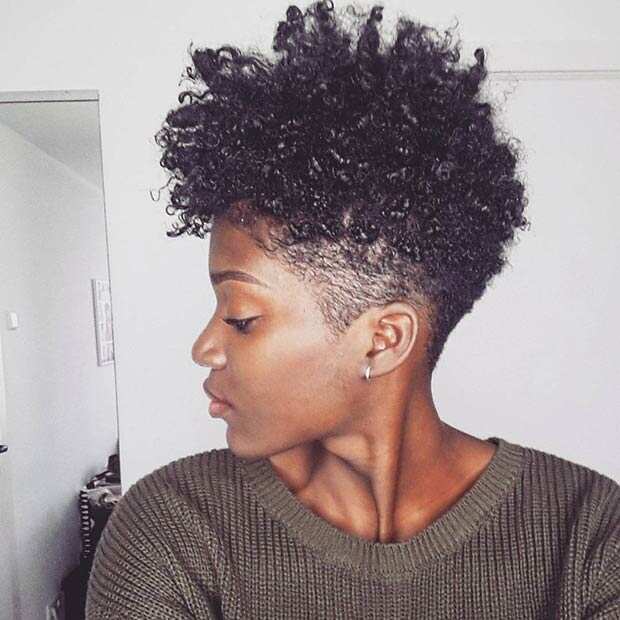 5. Teeny-weeny afro hairstyle
In case you are constantly ready for big changes, and you would like to have a hairstyle which will not be bothering you during your important business, the teeny-weeny afro is just what you need. So many women nowadays try out this hairstyle for the summer, when they are preparing for the heat, and they are all satisfied with the instant lightness and relaxation.
This extra-short hair is not going to take any of your time on maintenance and styling, and you will be able to spend this time on more important and valuable business. By the way, this hairstyle is also super cute and will show how beautiful your face shape is, as well as demonstrate your perfect eyebrows and makeup skills.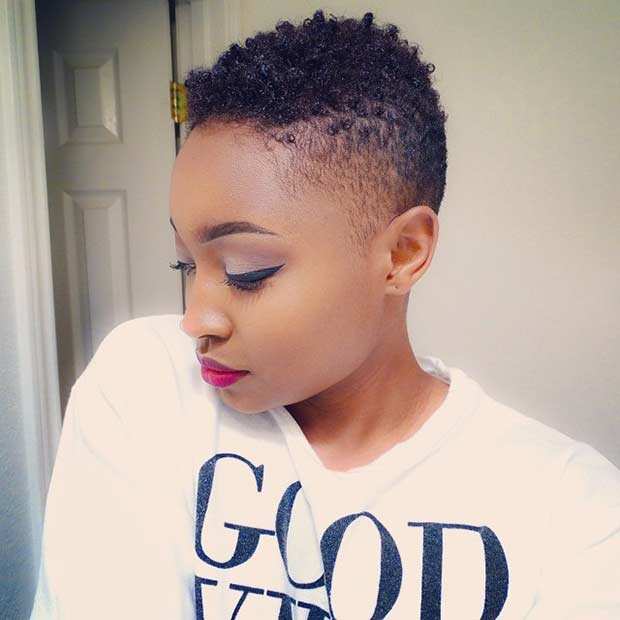 6. Extra-short blonde haircut
Among the other short natural hairstyles for black ladies, the one that really stands out and is considered to be a radical change is the very short blonde haircut. This style is definitely not for everyone, but if you are a lady who wants to try everything in life and thinks that long and dark hair will not properly show your defined face shape and magnetic eyes, you can totally go for it.
The actress Amber Rose is well-known for this hairstyle which is now like her trademark. It is very sassy and short and will show your three F's – fierce, fabulous and feisty. Still, before such an abrupt change, you will need to have a talk with your hairdresser. Perhaps, you will be advised to get a different length or color.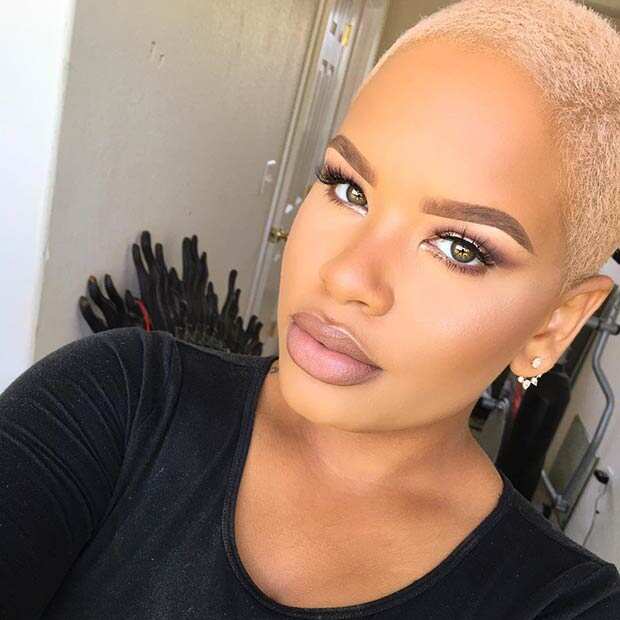 7. Simple natural curly style
African women often do not realize the fact that natural hair makes them different and amazing, and there are so many diverse ways to style it. No matter what anyone tells you, you have to know that natural hair is very beautiful on its own, and this is a fact. So, you should not try to hide the grace of it behind various hair procedures, like straightening. You can play with your hair and different styling techniques when it is still in the wet stages. The wet locks are extremely easy to move around, braid, twist, and curl. But also, they can be just left as they are in a cute natural hairstyle, without excessive experimenting. Perhaps you should just let your locks rest, put on nice earrings and makeup, and embrace your natural beauty.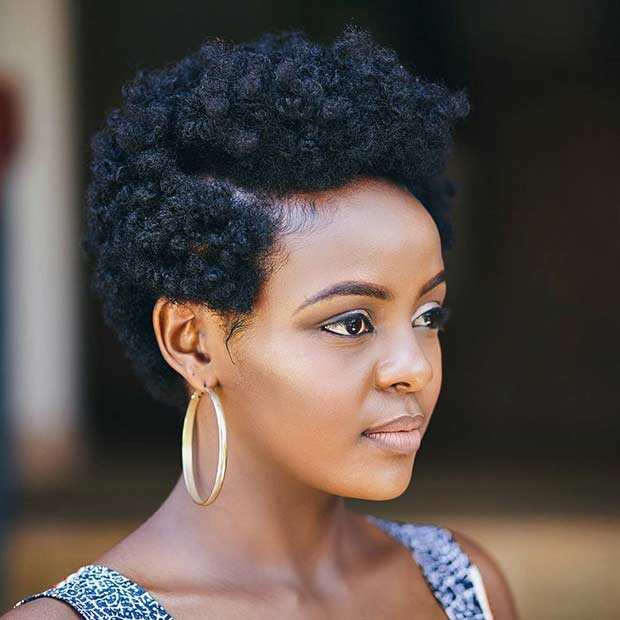 8. Faded Mohawk
If you like the fauxhawk styles, you will probably appreciate this one. It is just like the regular curly Mohawk, but with the subtle change in form of the undercut. Still, this undercut can make you stand out because the shaved lines are a very memorable part of every hairstyle. And if you do not want to shave off simple lines, you can create whatever design you want on your head – just remember to trim it regularly. Actually, the shaved areas of the head will not take a long time to grow out. This hairstyle needs a little maintenance compared to the other similar ones, but it is still very cute, easy and protective.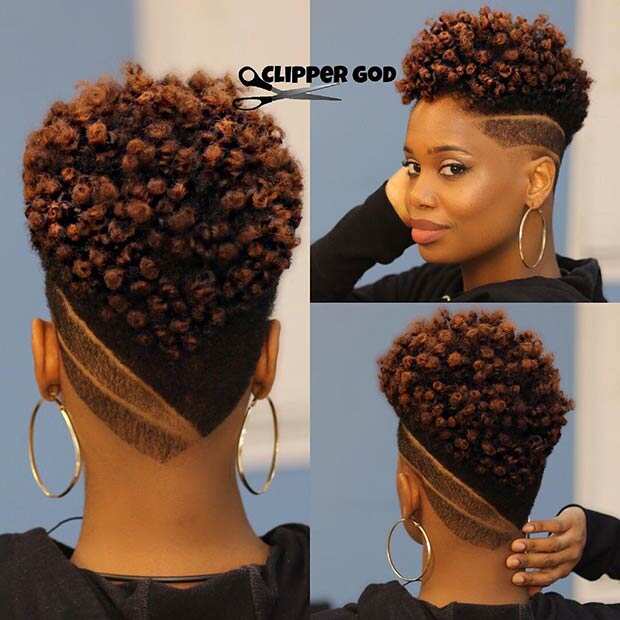 9. Long pixie cut
Pixie cuts can not only be straight and conforming to the usual standards – you can try a beautiful and sweet curly pixie haircut. This hairstyle is often worn by the biggest celebrities who want to look stylish every single day and set a good example for fashion lovers. For example, Rihanna used to have a similar look – she alternated between the stylish straight pixie cut and curly natural hair like in the picture. This hair option is something really cozy, comfortable, and sweet, so you can absolutely try it out if you want something new and stylish, but at the same time vintage and nostalgic.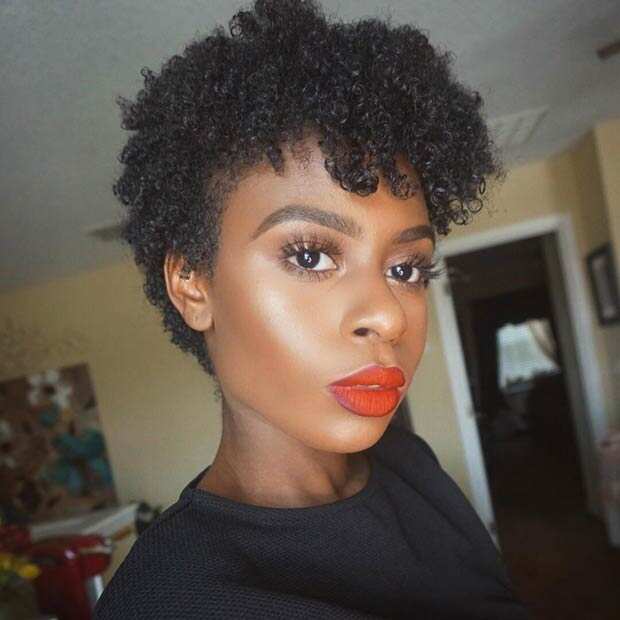 10. Short natural hairstyles with color
If you have been asking, "what can i do if my hair is damaged?" then we have an answer for you right here. You can just cut it short and put more effort into the intensive hair care. You will have to use a correct combination of oil treatments to keep the hair healthy.
Before washing your hair, you have to add some oil and leave it on the hair for a half an hour, and then wash it off. Once you have your hair washed, you should dry it with a towel instead of a blow-dryer which will most likely damage your hair. Add some conditioner to your curls, and then style them. Afterwards, patiently wait for them to dry.
If you are up to some experimenting, you can add color to your hair. It would not be a good idea if your hair is damaged, but once it recovers a little, you can choose a high-quality hair dye and try to highlight the ends of your hair with color.
READ ALSO: Protective hairstyles for short natural hair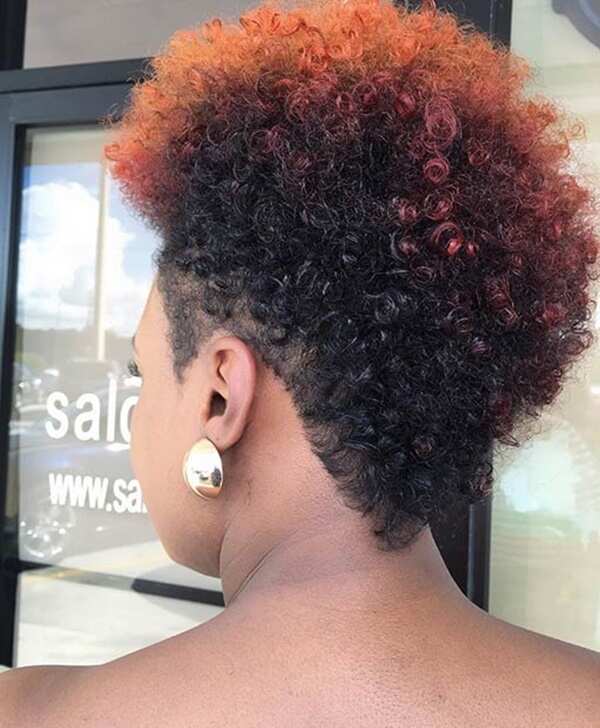 11. Finger coil fauxhawk
There are a lot of beneficial options of not using hair extensions. First of all, maintaining the hair extensions will take you a lot of time and effort – you will have to go to the hairdresser regularly and have your whole head done, which is a few hours at best. Think of all the things that you could have done instead of sitting in the hairdresser's chair.
Finger coils are one of the most practical and cute hairstyles, which is also very original and interesting. It is one of the hair options which would suit every black woman very well because it is quite easy to create finger coils out of natural hair. If this hairstyle is your thing, you can definitely try it out!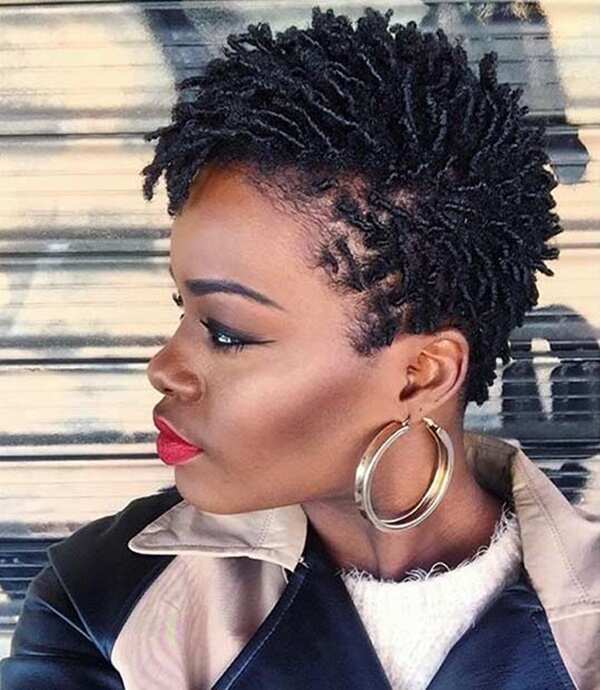 12. Faded haircut for ultra-short hair
When you choose the natural hair, it is not only the time that you are going to save: you will also save a fortune in the hair stylist appointments, the high prices of extensions and all the treatments that are supposed to maintain them and preserve their good looks. However, sometimes you can just embrace your natural beauty and choose the hairstyle which will best show your African pride. For instance, one of such hairstyles is a faded haircut – you will have a fauxhawk out of curly natural hair, and the rest of your head will be shaved off.
You can implement a lot of creative ideas when it comes to your shaved section of the head. For instance, you can opt for geometric patterns, drawings, or lines. The beauty of a shaved head is that it is basically a free canvas for art. However, to keep these lovely paintings on your head, you will have to trim your hair at least once in a while, since it grows out pretty quickly.
13. Short gray curly hair
Gray hair is a huge hit of the last couple of seasons. Ever since the African women started dying their hair grey, everyone noticed how beautifully it goes together with the dark skin and matte lipstick, as well as the cool trendy sunglasses. There are different variations of this color, too: for instance, you can choose the light silver grey or the darker gun-metal grey. Shortly, there is a shade for every taste. The hairstyle we would absolutely want to suggest is some grey curls on top of your head, which will look amazing together with some accessories. It is an adorable and modern look, and you will not regret it, as it will showcase your individuality and fun-loving character in the best way.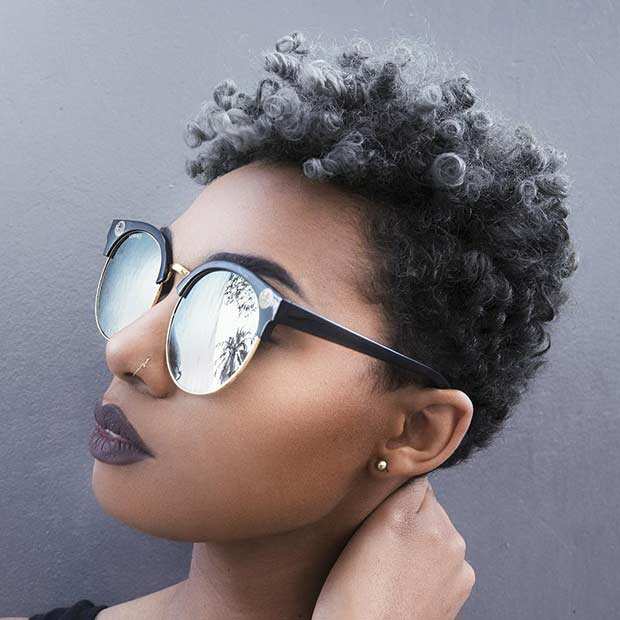 14. Short copper hairstyle
Basically, we can call this hair a "sunset hair", since it is so colorful and fiery. Red and orange tones will beautifully cooperate with one another, and make you look like a superstar.
If you have been looking for a perfect hairstyle which will show how bold and determined you really are, this is one of your options that should go right on top of the list. Your curls will look like the sun shines directly on your hair, and we have not even mentioned the beautiful geometric patterns yet. You can shave off these lines on your shaved head section and then maintain them with regular trimming. Another recommendation will be using some noticeable earrings and a bright lipstick, to show your multicolored and positive state of mind. These flaming shades of orange and red are for the bravest women, so are you ready to take on the challenge?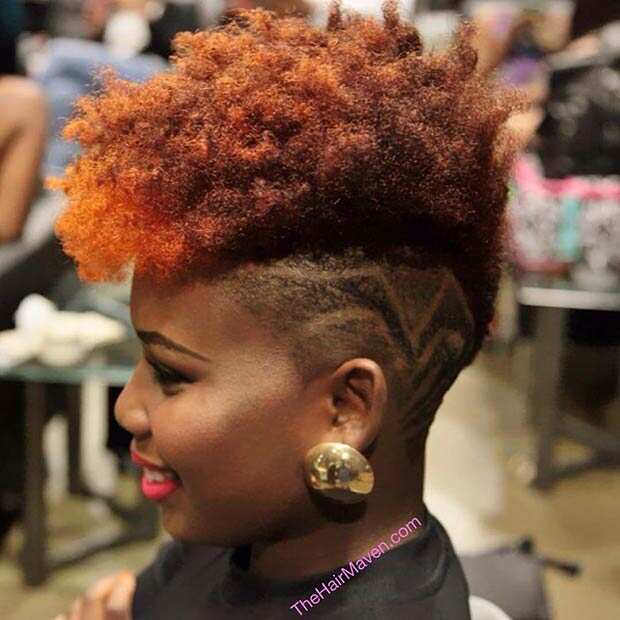 15. Cute short hairstyle
Sometimes, there are situations when you are forced to cut your hair super short, in order to give it a rest. You should never think that it is too simple or not too pretty because, in fact, this hairstyle is very flexible and gives a nostalgic vibe. Another benefit of it is that the hair will let you freely perform your business and will not bother you when you are doing something important. It is also very simple and easy to take care of it. The only thing you will need to do when you wake up in the morning is adding wax to the hair, and then you are ready to go. If you choose this hairstyle, you will forget about the hair-styling hassle forever.
READ ALSO: Top twist hairstyles for natural hair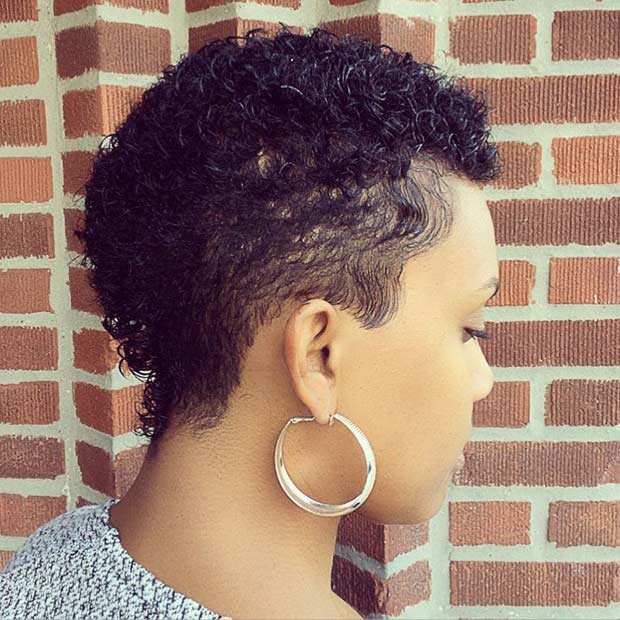 16. Lovely caramel curls
This is a favourite hairstyle of many influential black women (including Jada Pinkett-Smith), which also means that it is the latest trend among the Nigerian and African ladies. The reason for it is that beautiful caramel coloring goes very well together with the smooth dark skin and golden accessories. You can combine your natural black curls with the caramel-colored ones on top of your hair, which will look even more stylish and modern. This hairstyle only needs basic treatment and looks really on point. You can embrace your hot and fierce nature by choosing the caramel curls as your new hairstyle. After all, it will not hurt if you try, right?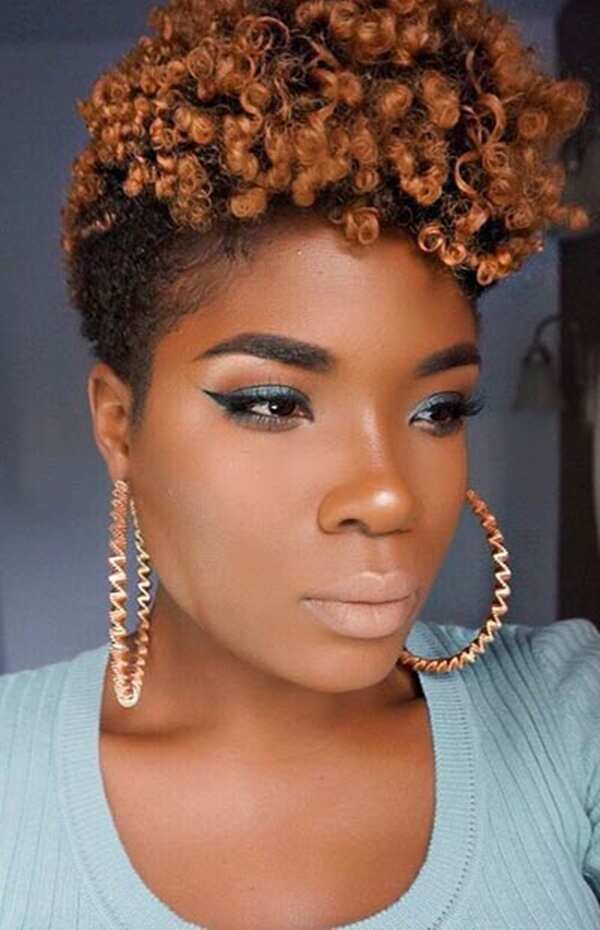 17. Lovely tapered haircut
This fluffy hairstyle has been adopted long ago by many beautiful black women. For instance, the sister of Beyonce, Solange Knowles, had her hair grow out when she got tired of the weaves and extensions. It was a really brave decision, and it looked absolutely gorgeous. So, if you had a long hair for a while, and grew exhausted of all the extensions and multiple hair treatments, then it is probably time for a change. This is a hairstyle that embraces your sweet and kind nature, while also showing that you are a brave and hardworking woman who will never let go of her purposes. By the way, another thing that goes incredibly well with this hair option is the circled earrings, as well as natural glossy makeup.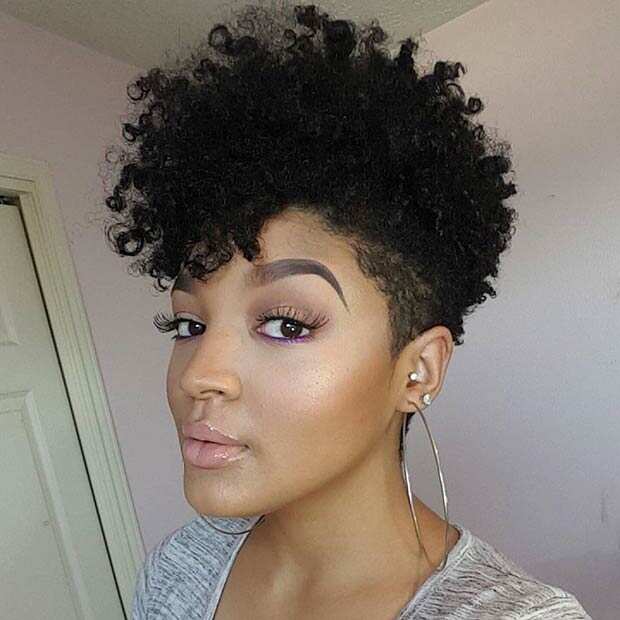 18. Creative cut with a pop of blonde
If you are a truly experimental person who is never afraid of trying and embracing anything new, you can enjoy this hairstyle. First of all, it is one of those haircuts which is put together from the elements that seem to be an unlikely combination – shaved head, black curls, blonde pop, and geometric lines. However, it still looks very interesting and imaginative together. This look will be absolutely perfect for hot summer days when you need to combine beauty with practicality. We are sure that everyone will notice and appreciate your little pop of blonde.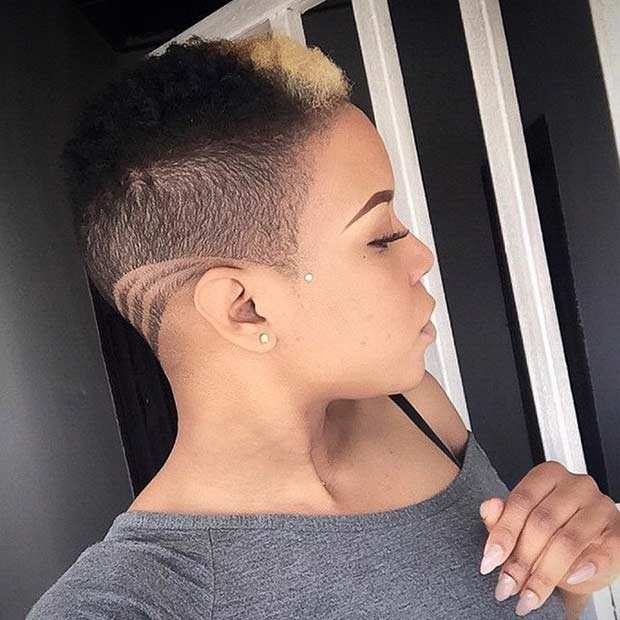 19. Short hairstyle with a shaved line
This one is truly for the bravest women who are not afraid to shave off most of their hair and achieve a masculine yet at the same time very gentle and attractive hairstyle. Though this haircut seems very simple, it can actually be made more creative with just a little touch – a shaved line, which will make a huge difference. This extra addition transforms your entire look and makes it more creative and innovative. You can be both an edgy and stylish person with a spark of rebelliousness in your eyes, or you can be a smart-looking office woman who knows her business. The choice is yours, and this hairstyle will give you endless possibilities!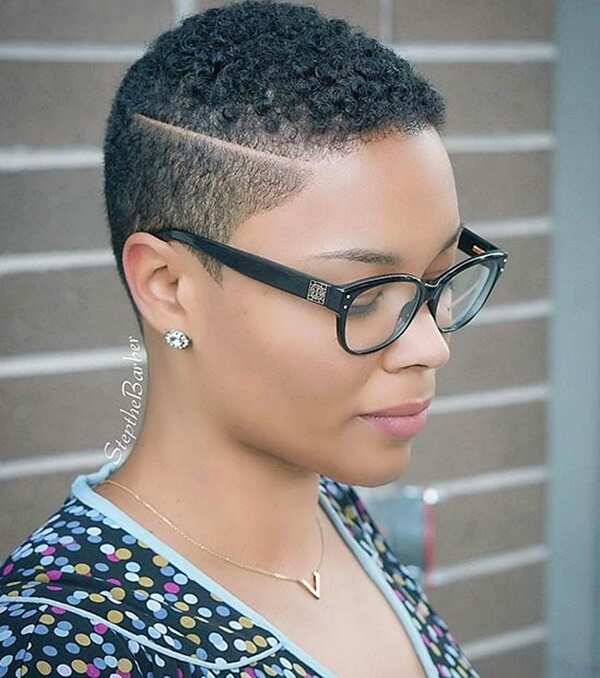 20. Lovely twa-cut
The twa-cut is a look which would fit every black woman incredibly well. It is very neat, tidy, and cute. In the picture, the classic teeny-weeny afro is being incorporated in a haircut, which is done gradually across the sides of the head and back. This look was once known as known Halle Berry hairstyle, and it says a lot if one of the most respected and famous black actresses totally pulled it off. Also, nowadays it is very trendy to combine dark matte lipstick, a choker and some piercings with such short hairstyles – it will give your look a special charm.
READ ALSO: Trendy braids for short natural hair to rock in 2018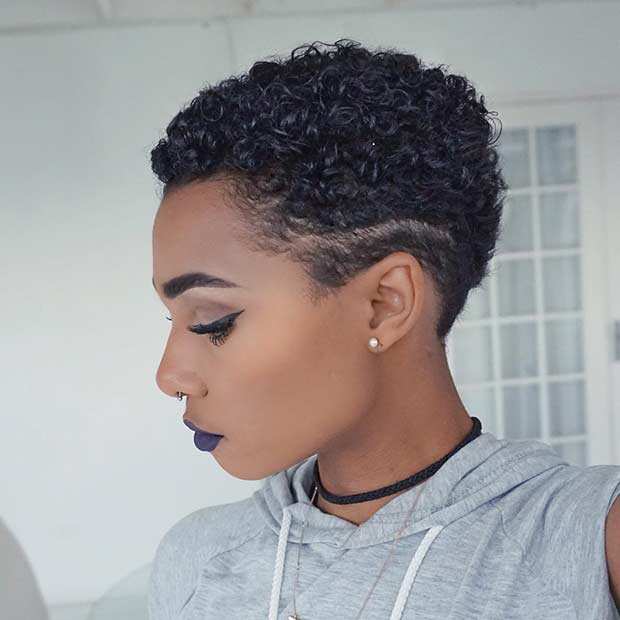 You have read about twenty amazing short natural hairstyles and seen the pictures of them. They are clearly hair goals. We hope that one of them will become your hairstyle soon and you will wear it with pride!
All the photos are taken from the website stayglam.com.
READ ALSO: Big twist braids hairstyles for real fashionistas
Source: Legit.ng