Protective hairstyles for short natural hair
African women have really thick and dense natural hair, which opens up a world of opportunities for creating amazing natural hair styles. Even though this type of hair has visible drawbacks, it is not so hard to take care of. In this article, we will show you some of the best protective hairstyles for short natural hair.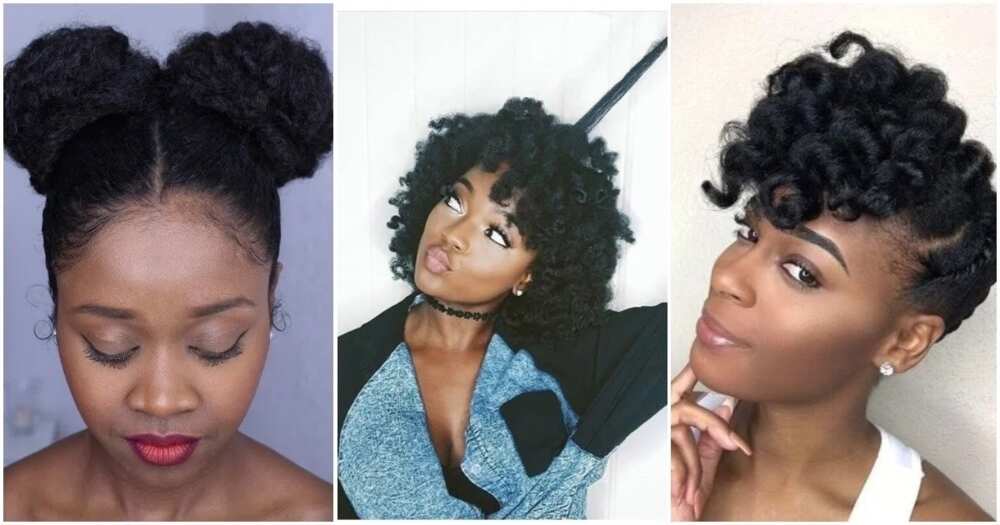 Natural hairstyles for short hair and their benefits
If you have short natural hair, you probably know it can easily get dry and needs a lot of special care. There are a lot of protective hairstyles for natural short hair that can limit the outer stress for the health of your hair, influenced by the environmental factors. They have got a lot of benefits, among which are the maintenance of hair moisture, retention of length, protection from the unhealthy elements, and of course, the trendy and stylish look. Protective hairstyles are timeless and priceless because they make your hair ends tucked, thus they are protected from the damaging factors from the outside; not mentioning that they give your look additional elegance and flawlessness.
Taking good care of your natural hair is quite easy. First of all, nourishing your hair with the natural oils or the special hydrating balms before you get to style your hair is important. You can let the hair dry overnight. Wearing a hat or a head tie to protect your hair from the low or high temperatures is crucial for the health of your hair. In addition, you can choose to sleep with a satin scarf covering your head.
How to style natural hair? Best hairstyles for short-haired ladies
1. Cornrow protection for short hair
You can opt for a protective braided hairstyle for your short hair. Professionally done braids will protect your hair from the outer factors for the whole day long, and the braided patterns will make your hair look unique. With this style, you will always look confident and beautiful.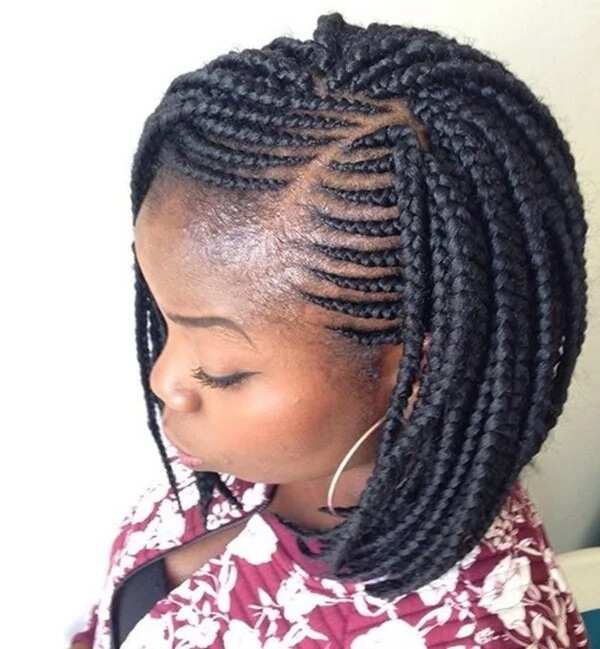 2. Classic braids
The best benefit of braids is that they are long-lasting – they can basically be practical for weeks, with very little effort from you to maintain them. Braided hairstyles for shorter hair are no less great than the longer ones – they give you this special charm, and they are light and comfortable to wear. Try the bob-length braids, add the smile to your face, and your look will be perfect.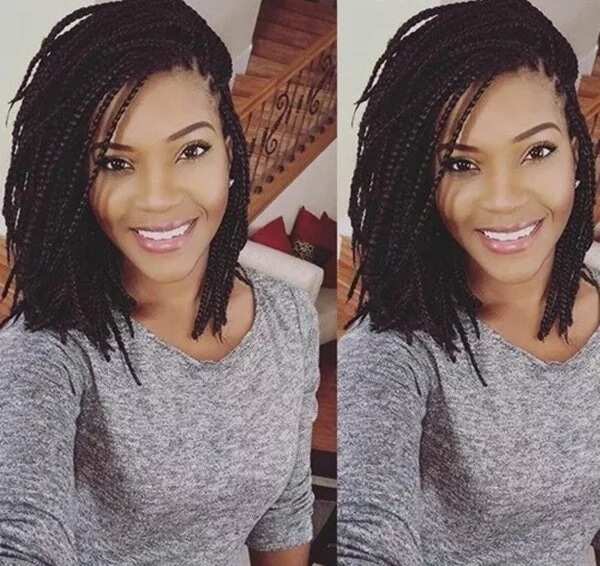 3. Sealed hair with twist
In order to create this hairstyle, you can smooth out your natural hairstyle, and then twist it towards the back of the neck. Then, secure it with a low bun. Your look is completed! This is the hairstyle for those who are always young and vibrant.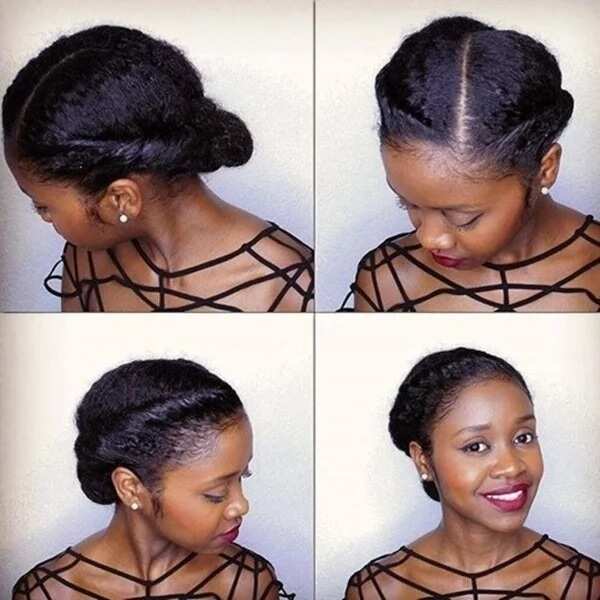 4. Braided crown with low bun
This interesting hairdo will turn you into a real princess or queen, and of course, boost your confidence. In addition, the braid is one of the simplest ways to keep up a regular low bun. The hairstyle looks especially formal, so you can wear it to the events that are special to you.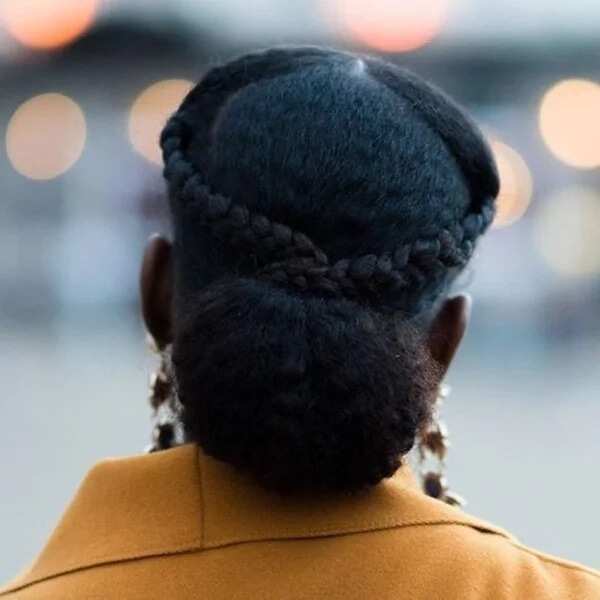 5. Natural flat twist hairstyle
Flat twists are one of the most common protective hairdos for women with short hair. They give the cornrow vibes, but they are much faster and easier to make. If you want your updo to last at least a few days, you should definitely turn to this styling.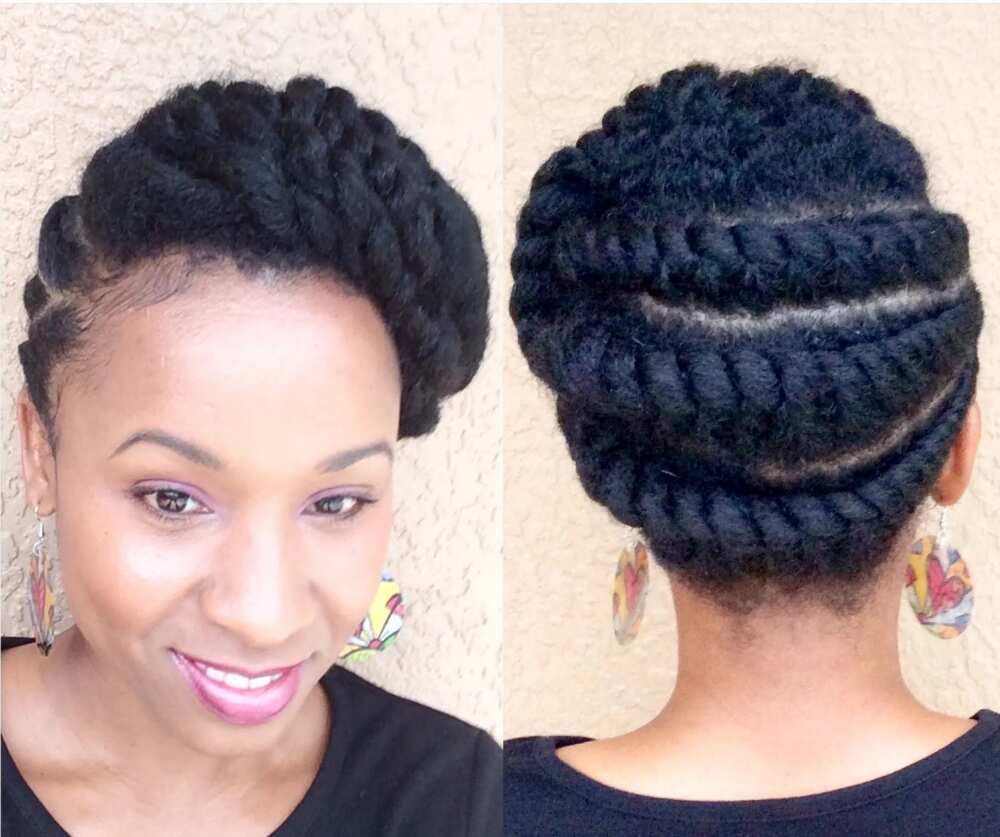 6. Pineapple updo
This updo will make you look daring and brave, which is incredibly important for you when you want to seem confident in other people's eyes. To style your hair this way, you should just pile all of your hair to the front of your head. This method can also be used when you have made a twist-out and want to sleep without ruining the style.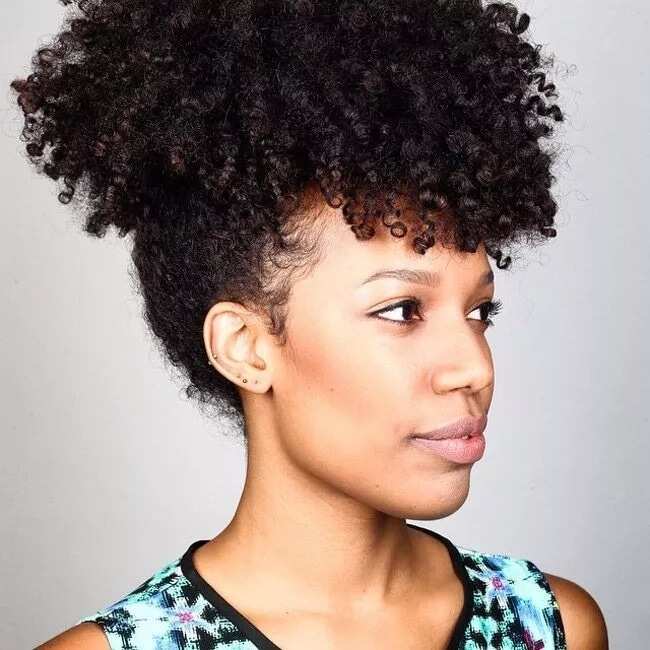 7. Protective twists
Every woman with natural hair knows that after washing your hair, you often have to see it shrink. As a result of this, the hair seems more cropped than it is. In case you want to add the texture and try something that will keep your hair in order, you can choose the protective twists or braids.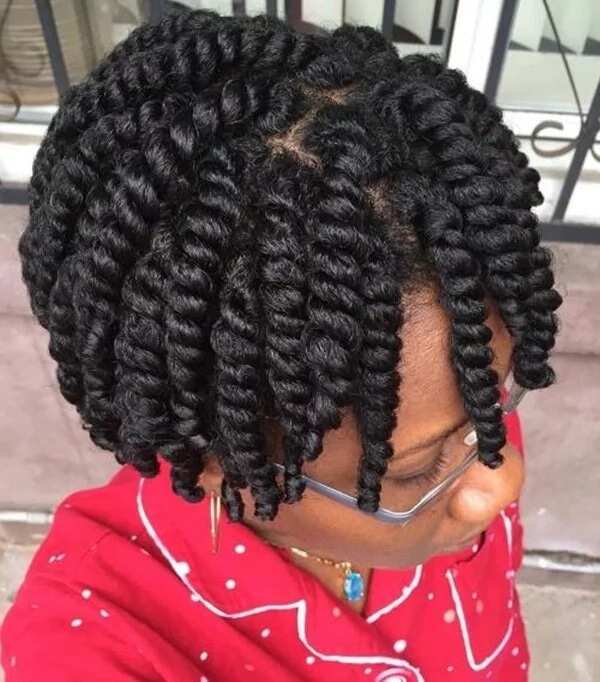 8. Flat twist updo
Many of the natural hairstyles like jumbo cornrows or box braids have a downfall of pulling on edges or weighing down your strands. This is the opposite of hair protection that you need. In order to achieve the needed protective effect, you can pick the flat twist updo. It has a similar effect but is much easier and lighter for your head to wear.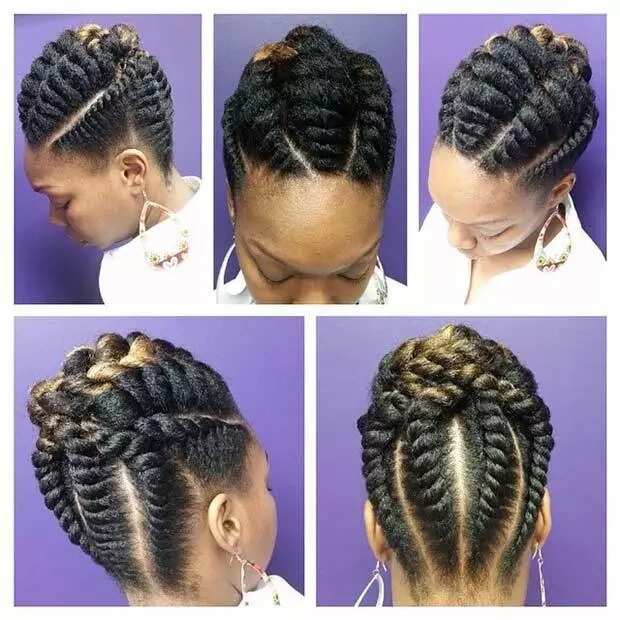 9. Mixed textures
Mixing two different textures together would be a really unique idea. For instance, you can try front cornrows and back twists, which will easily add the visual appeal to the hairstyle. Even without using accessories, this hairdo will always be on point.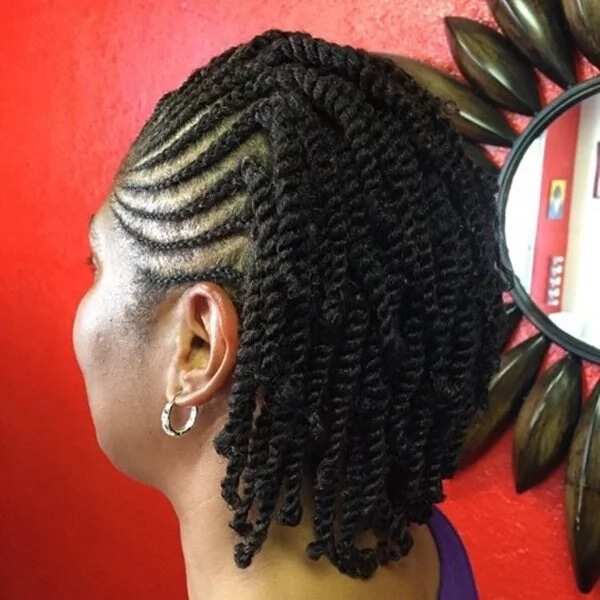 10. Twisted chignon
This hairstyle will not be easy enough to make at home. However, if you hire a professional hair stylist to do it for you, you will surely get a long-lasting protective hairdo that also looks elegant. Besides, you can also classify it as sporty. In case you are not a fan of flat twists, they can be easily replaced with cornrows.
11. Simple natural hairstyle
Simplicity is the key to the perfect hairstyle, so you can try the Dutch roll on your natural hair. It can be really good for these days when the twist out style does not turn out the way you want it to. The cute natural updo will always look neat and pretty.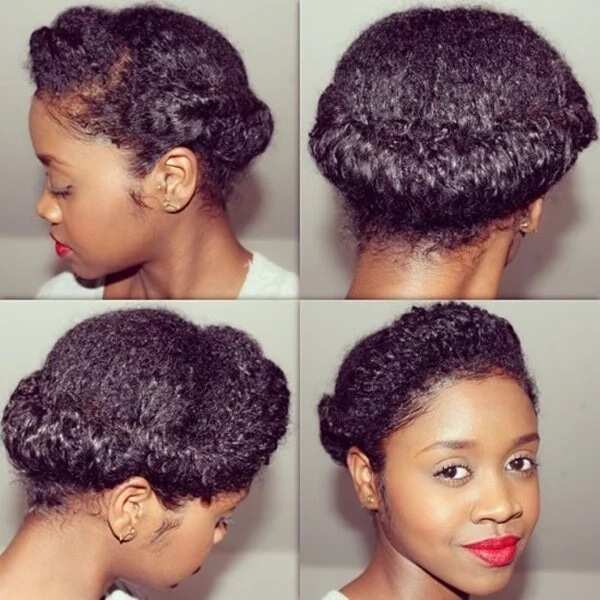 12. Twist with side bang
The soft curls in protective natural hairstyles can work perfectly unless you decide to use flat irons or curling. Instead of these, you may choose to use the flex rods. By the way, this hairstyle radiates elegance and would be good either for daily activities or for some special outings.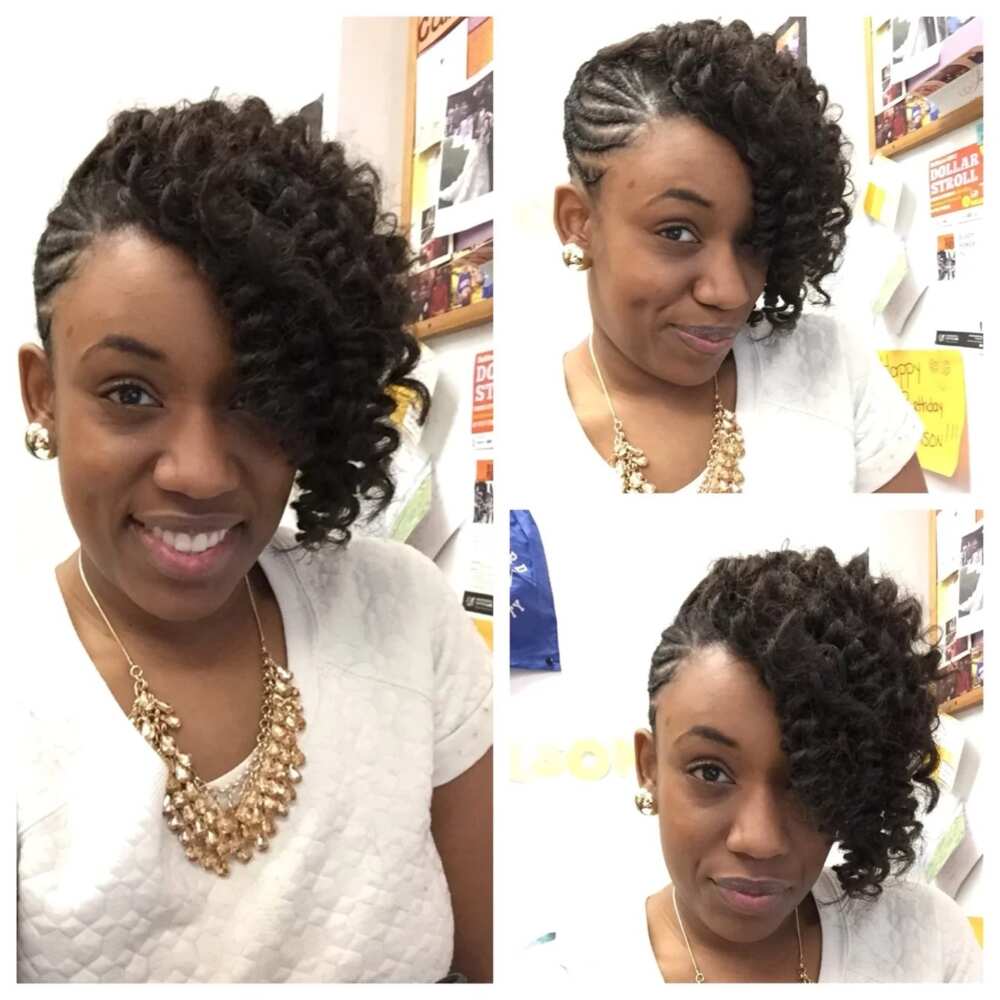 13. Side partial updo for natural hair
While the low bun is a classic and timeless look that could work out well for any occasion, sometimes you might wish to add more elegance to it. In this case, you might add a roll that frames the face. This look will be ideal for any kind of business meeting, presentation at work, or special event after working hours.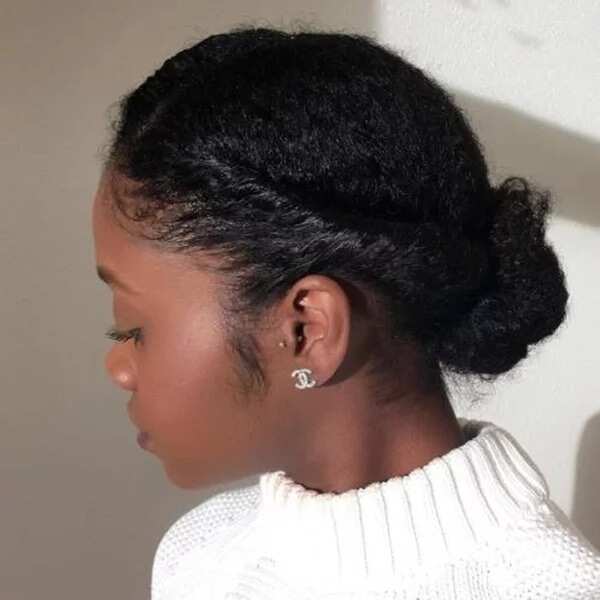 14. Fauxhawk with twists and cornrows
Mohawks made of cornrows offer you so many unique options of the designs that you can create, instead of simply shaving your head. These styles are more than just beauty and uniqueness – they also help your hair to grow longer and become healthier.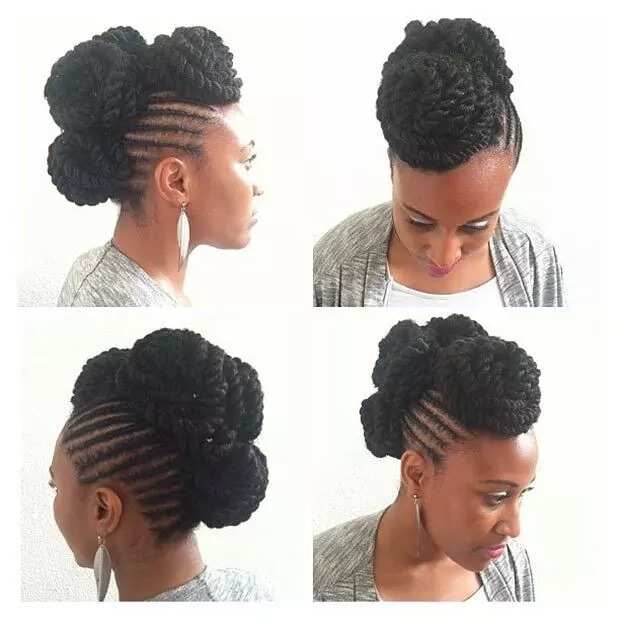 15. Multi-sized bun
You may say that the buns are not original anymore, but look at this one, made of cornrows! If you combine the thick braids with the thin ones, you will be amazed with the result. For achieving this look, you can ask your hairdresser to braid up your hair into a ponytail, so you can later make a bun or any other lovely hairstyle out of it.
READ ALSO: Braid hairstyles for long hair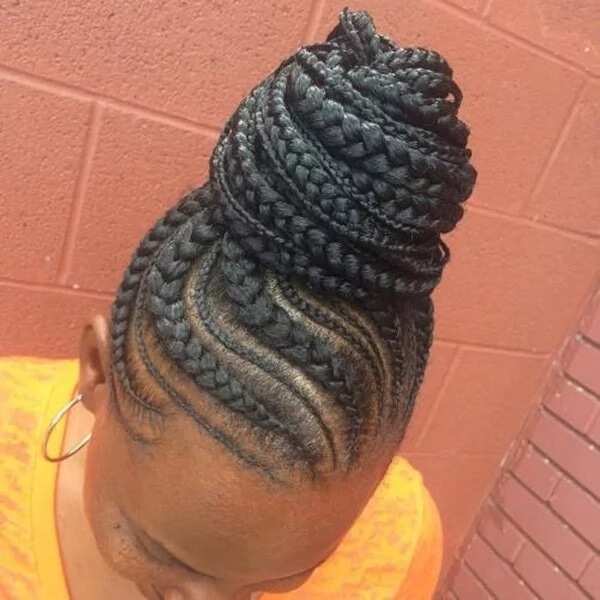 16. Upswept flat twists updo
This hair option is both elegant and practical, which means it will not bother you when you are busy working on something, and it will as well be perfect for casual outings, gym visit, and morning jog. This is a whole new outlook on the original flat twist updo. It will keep your hair growing, and make your tresses stay out of the neck when it is warm outside.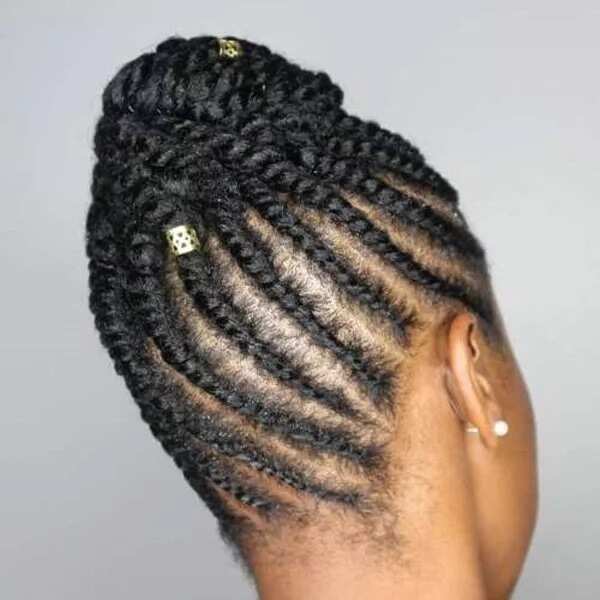 17. Asymmetrical braided updo
While individual braids are good as a protective style, there is one issue with them – they can get bulky, and their weight will pull on the hair edges, eventually causing hair breakage. So, maybe instead of box braids, you can choose the asymmetrical cornrow updo style, which will end up as a side bun or ponytail.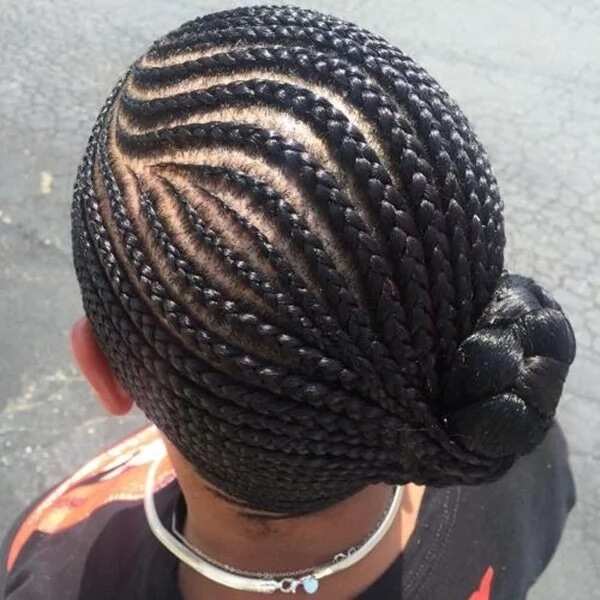 18. Asymmetrical twist braid as a side bun
This is a really sophisticated hairstyle, which means that you can wear elegant earrings and attractive makeup together with it, and create a smart and casual look. Most importantly, this hair will not take too long to style.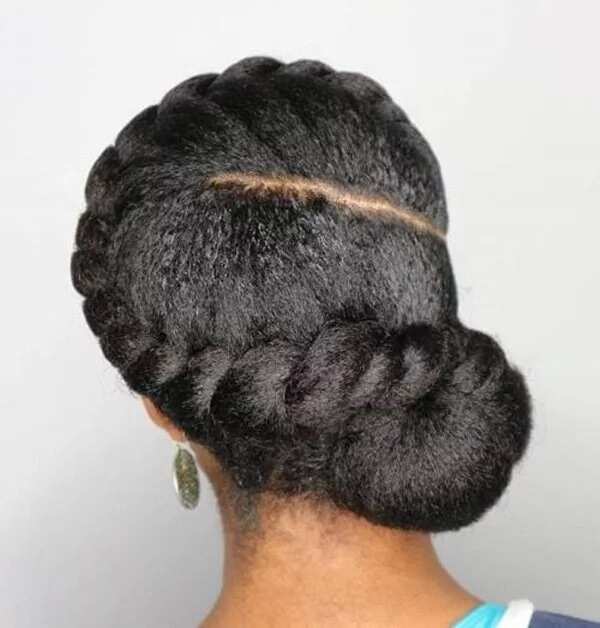 19. Crown twist braid with chignon
Here is another elegant hairdo which could be worn to various working events, and under certain circumstances, to the formal events as well. It can work with short to medium hair. Combined with natural black hair and its original beauty, this hair will look great on everyone.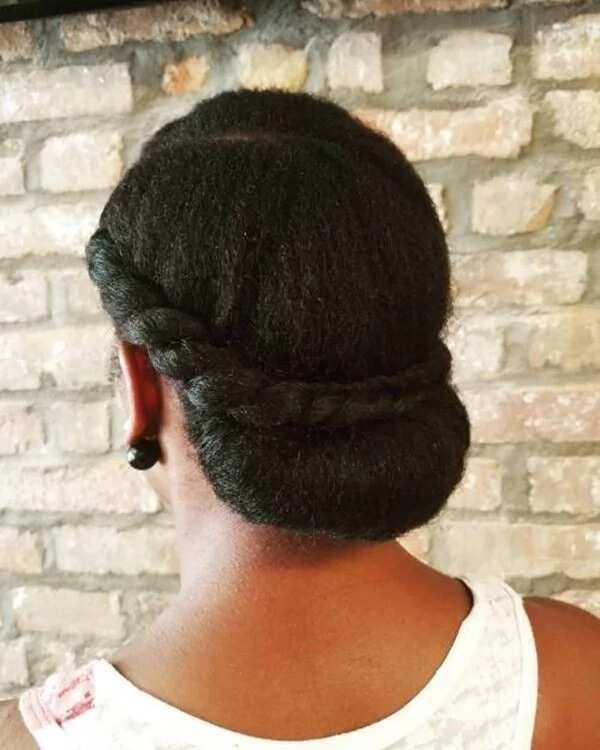 20. Goddess braids
You might have thought these gorgeous braids work only with long hair, but we can assure you it will look just as great on the person who has a shorter hairstyle. This choice guarantees that you will end up with a lovely hairdo which will protect your hair and attract the attention of natural braid lovers.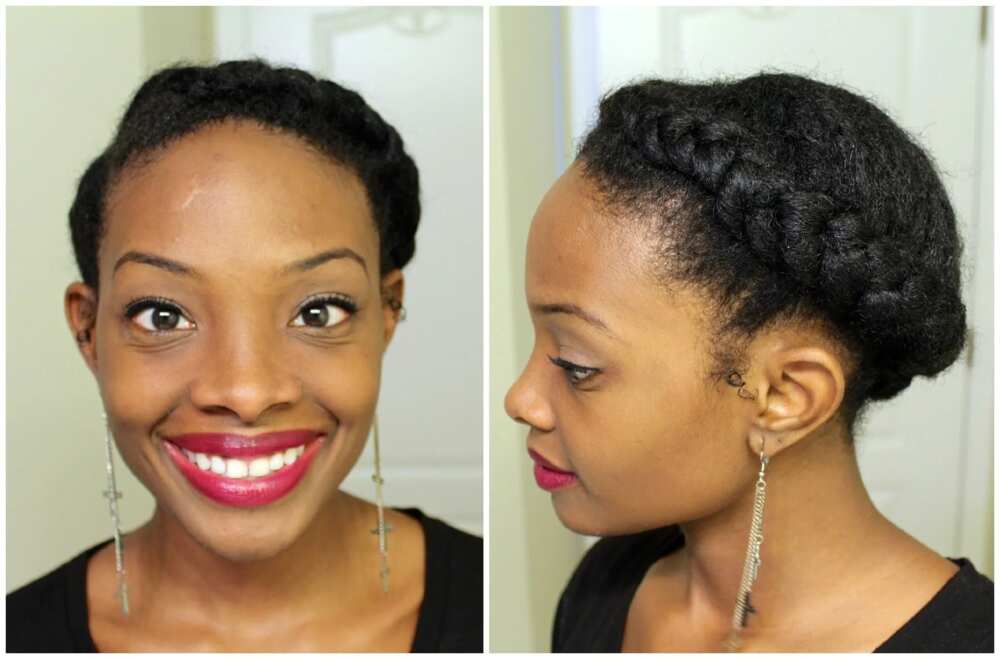 21. Short natural twist updo
Having short hair does not indicate that you barely have any options – in fact, it is the opposite. The larger twists will give you a chance to have a cool textured updo, even in case your hair is too short for a bun or ponytail. By the way, highlighting or ombre style will definitely add some dimension to your twisted updo.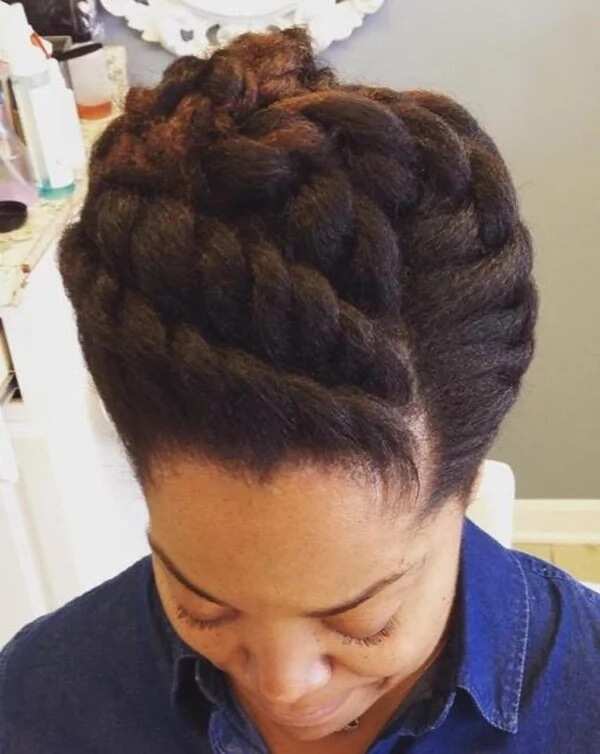 22. Crown updo with spiral braid
The braid which is involved in this hairstyle offers you some difference. It starts from the back of your ear and then goes around the head until reaching the top. The hairstyle is cute and very easy to construct on your own once you have some practice. And it will look incredibly unique in the photos.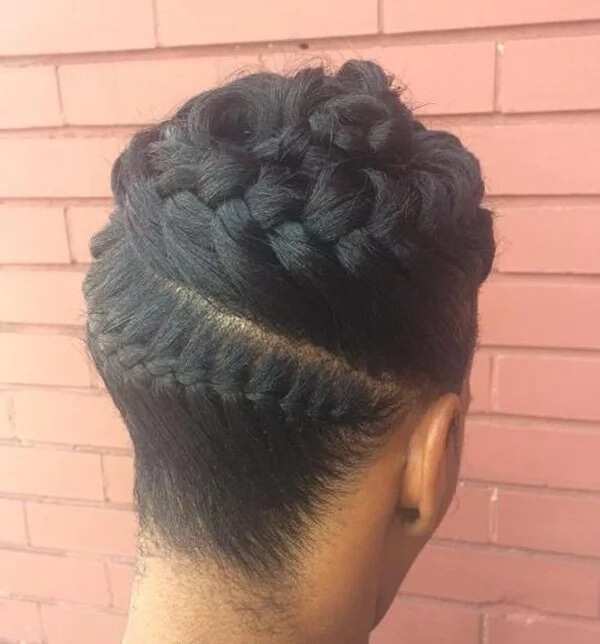 23. Side twist hairstyle
The quick natural hairdos are perfect on the days when your hair is damp and you are running out of time so you are unable to create a twist out. This hairstyle can be suitable both for short natural hair or middle-length hair – the length does not matter here. You can either make it into a two-strand twist or a Dutch roll.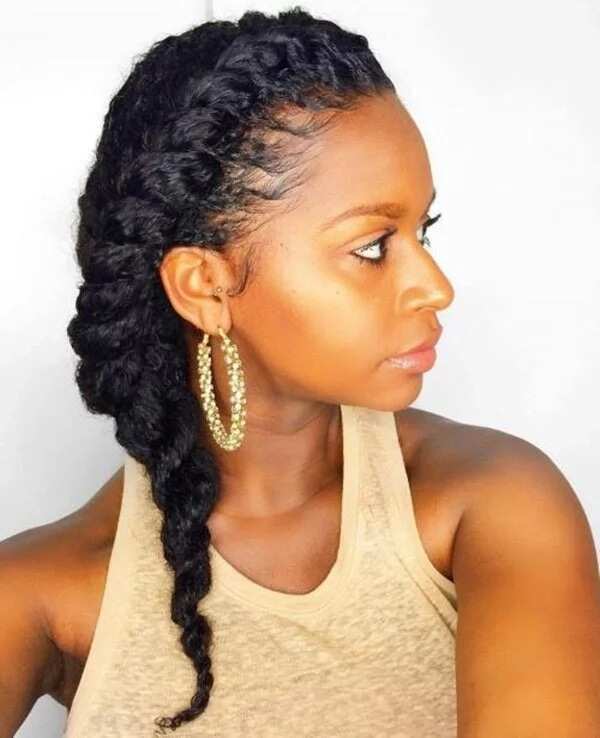 24. Braids with curls
This one slightly resembles a pineapple style, but is even more interesting, as you get to braid your hair at the scalp and leave a cute explosion of curls on top of the head. The curls will be your pride, and the braids will bring visual interest for people.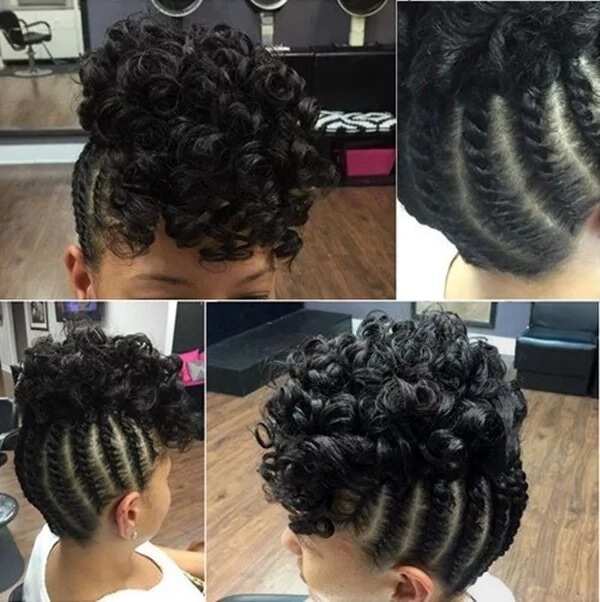 25. Angled hair parts with braid and bun
If you want a simple, yet attractive natural hairstyle which will protect your hair, you can easily go to this fusion of the most used hairstyles. Turns out that the braid, the bun, and some angled hair parts will work perfectly together and bring you an unusual result.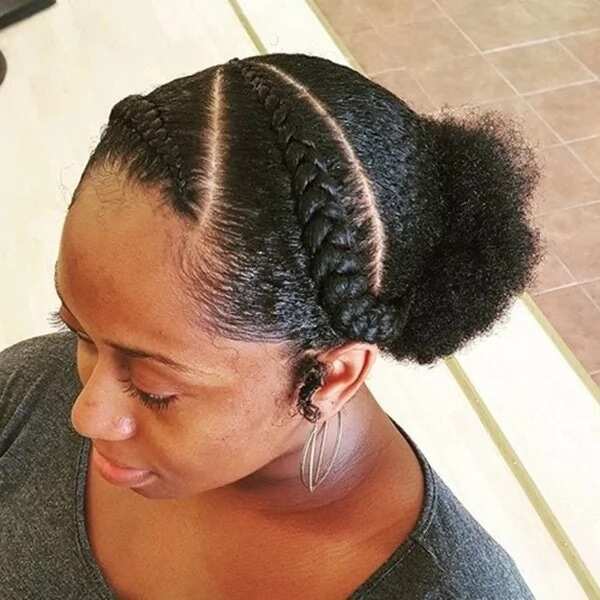 26. Low chunky bun with twisted braid
This hairstyle is quite easy and protective for any everyday occasion. You should just create a twist braid from the side of your head, and then gather the rest of the hair into a bun. As an interesting addition, you can put on the glamorous earrings. This look is chic and would go well for the formal occasions.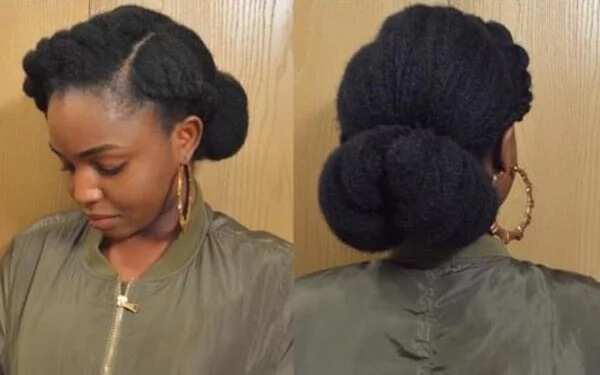 27. Natural hair with a few buns
One bun is good, but why not make a whole row of cute buns on your head? This will perfectly showcase the appeal of your natural grown hair and be especially perfect for a regular office day or stroll with your closest friends.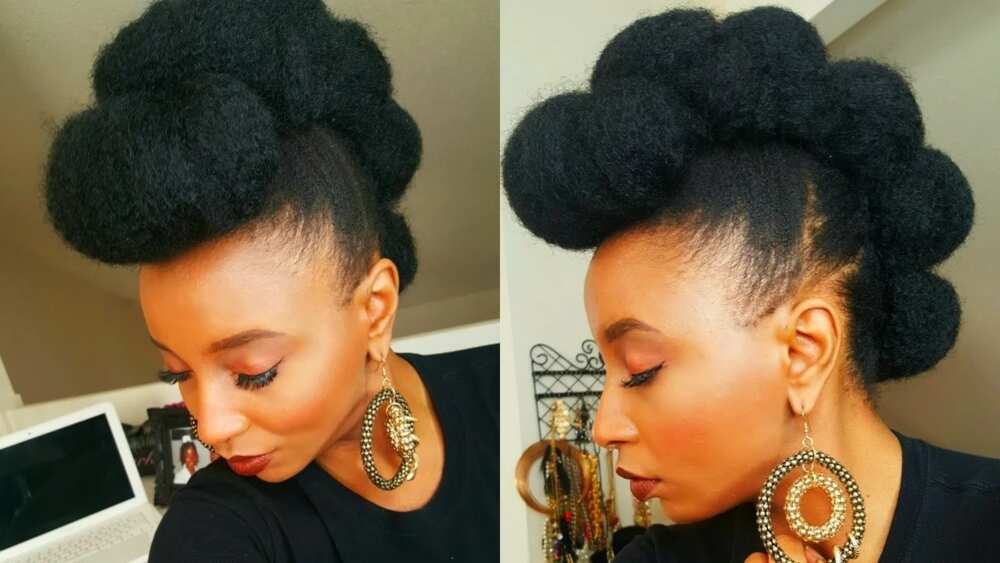 28. Shoulder length faux locs
Faux locs are a nice protective hairstyle, which you install by braiding your natural hair or twisting it, with latter wrapping the additional hair around braids or twists. No wonder you can play with it however you like, by adding some colorful locs. It will be a great hairstyle for short natural hair, and definitely shows how much you love extraordinary fashion choices.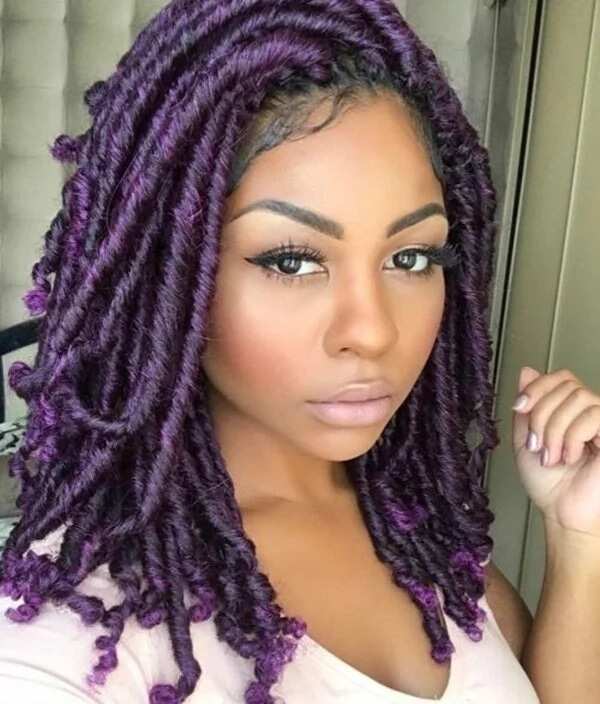 29. Formal chignon hair with asymmetrical twists
If you want a hairstyle that would be both polished and have an interesting design, then you should consider getting this one, because it is good for any type of events. It will make a difference in your usual style and help you stand out from the crowd. The great makeup and accessories can make the general picture even better.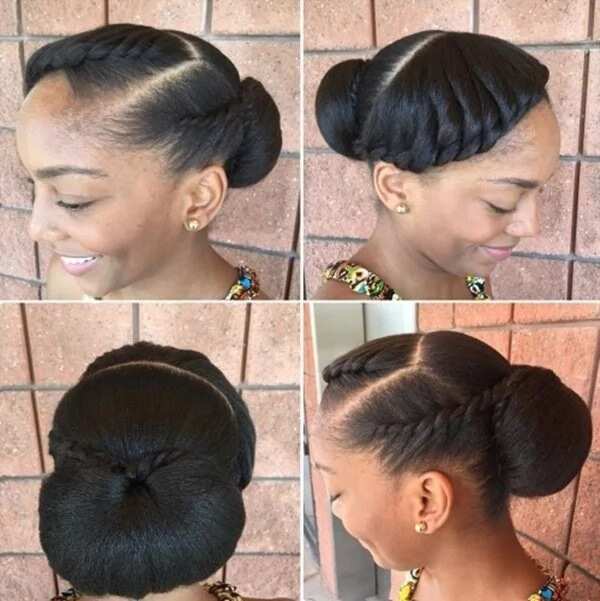 30. Underbraids updo and a low bun
As we already know, the braids of different sizes provide a lot of volume, texture, and visual interest to the hair. This hairstyle offers you the attractive pattern of braids which will be able to capture everyone's attention, no matter if these are your friends or strangers in the street. For convenience, you can gather your hair in a low bun.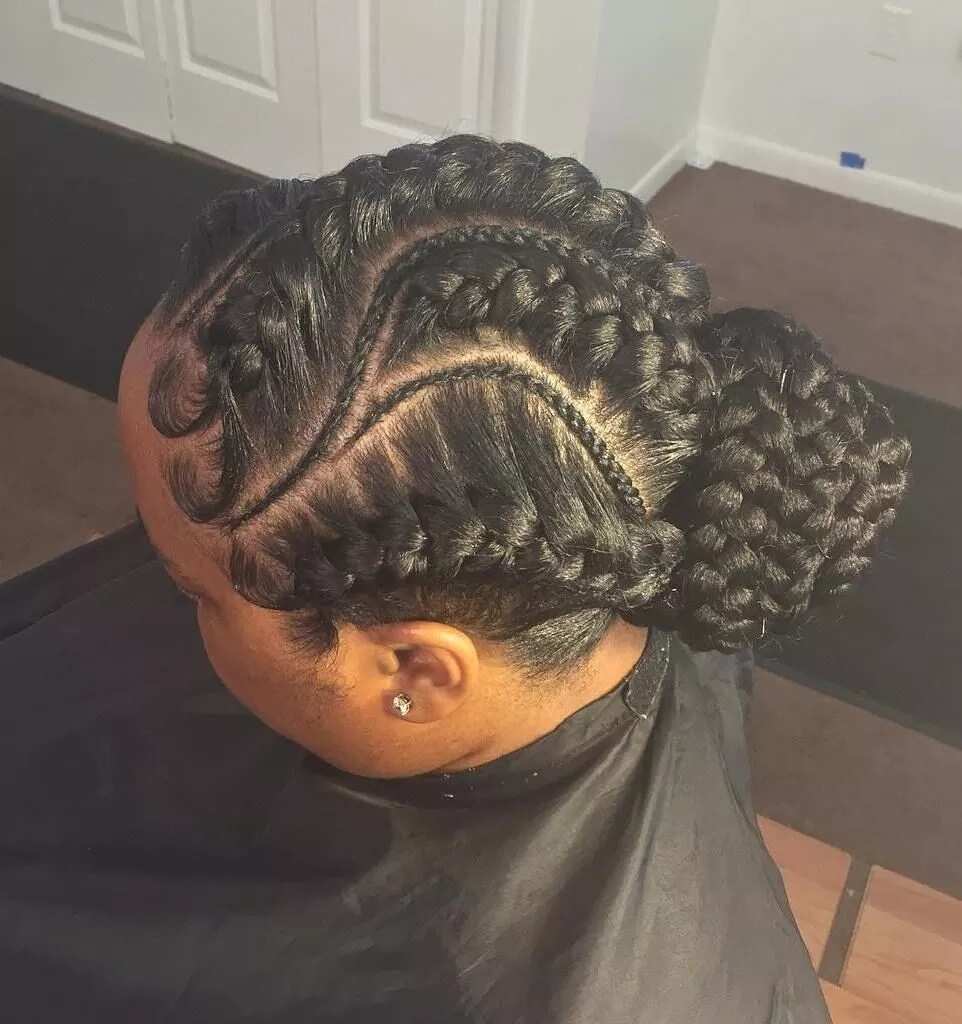 31. Jumbo twist updo with buns
Everyone loves jumbo twists because they make natural hair look incredibly healthy and attractive. If you want a lovely playful look, you can gather your jumbo twists into two little quirky buns. Depending on your preferences, you can choose a cute scarf or jewelry to match this adorable hairstyle.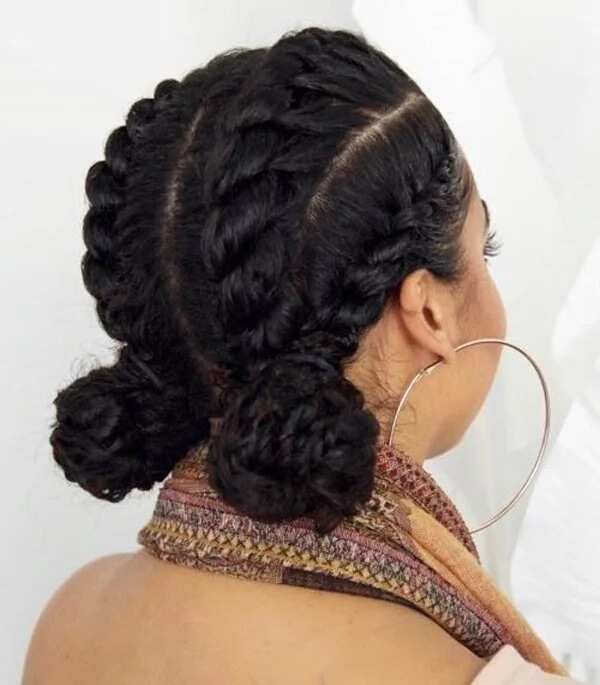 32. Natural updo
You definitely will not have to do something out of place if you want to style your short natural hair in an interesting way. Sometimes, the simple natural updo will be just what you need. This hairstyle has been popular for many years, and its popularity is still far from falling, as many girls and women of different ages wear it.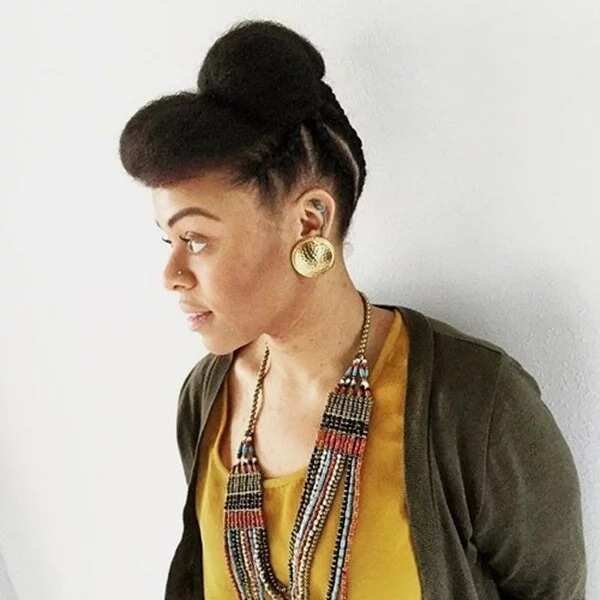 33. Two twisted braids of medium length
While the long braids offer you volume and texture, the medium-length braids will make you look cute and flirty. This is definitely one of the simplest, yet timeless hairstyles for natural hair. You can wear short braids for casual events like a jog or a walk with the company of friends.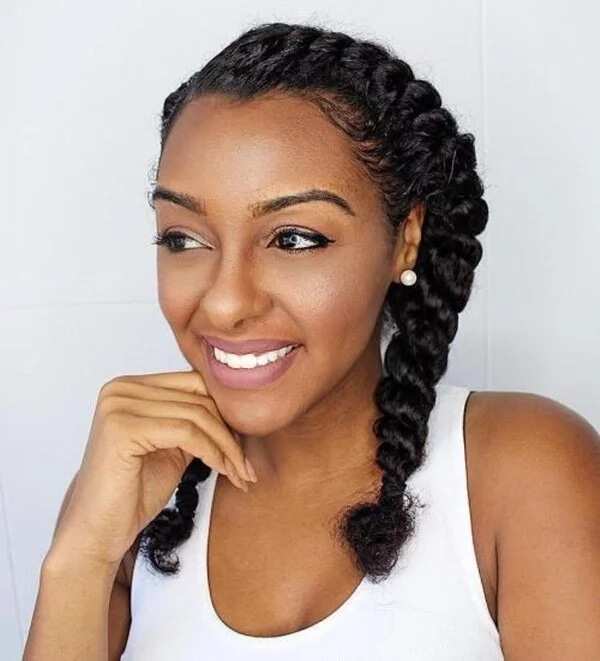 34. Braids with beads
Nowadays, braids in various shapes and forms are incredibly popular. More and more celebrities, like Beyonce, wear them with pride. If you have seen only long braids everywhere and assume it is not the right hairstyle for short hair, then you should forget it. Shoulder-length braids are adorable, and if you add some beads to it, your charm will be seen from afar.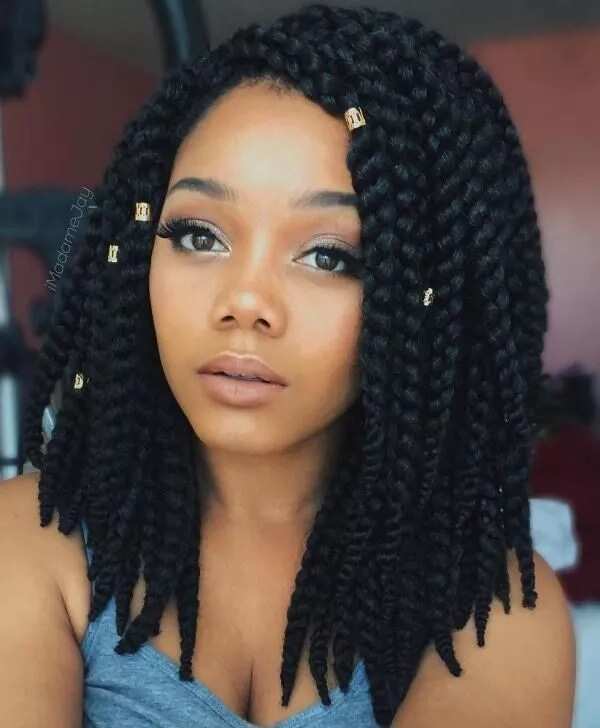 35. Natural side bang with an undercut
Side bang made of curls – what can possibly look cuter? This hairdo is a great experiment, mainly because you can choose among many different ways to style your bang. In addition, you can always pull your hair into a simple bun, and make an interesting shaved pattern on the shaved area of your head. This looks both minimalistic and incredibly fascinating at the same time.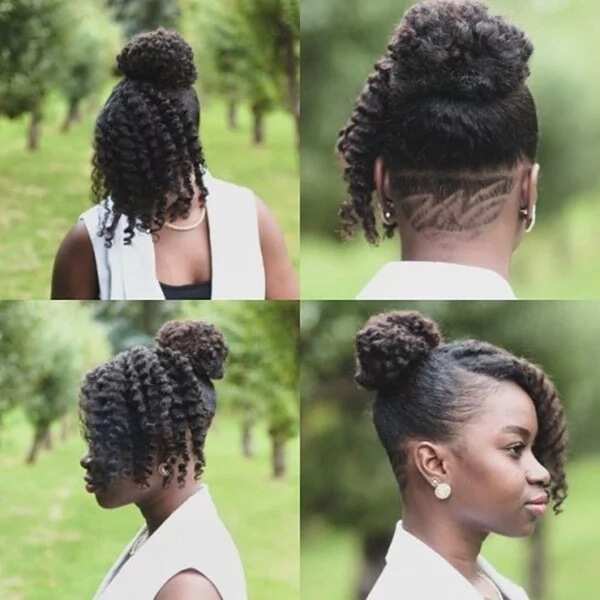 Always remember that you can get your own ideas in process of styling your hair according to our suggestions. There is no single way to style natural short hair – in fact, there are millions of ideas, from simple to weird and unusual ones. All we can wish you is to find the perfect hairstyle which will match your appearance and mood, along with keeping your hair healthy and safe!
READ ALSO: How to pack natural hair: best styles in 2018
Source: Legit.ng