50 best asymmetrical bob hairstyles for 2019
A fun asymmetrical bob haircut has been popular among women of different hair colour and styles. Such a hairstyle can sharp the right angle near the pretty female face, make it more expressive, softer, and beautiful. This type of bob is perfect for every body type and face shape because it can outline your best features and still look unlike on different ladies.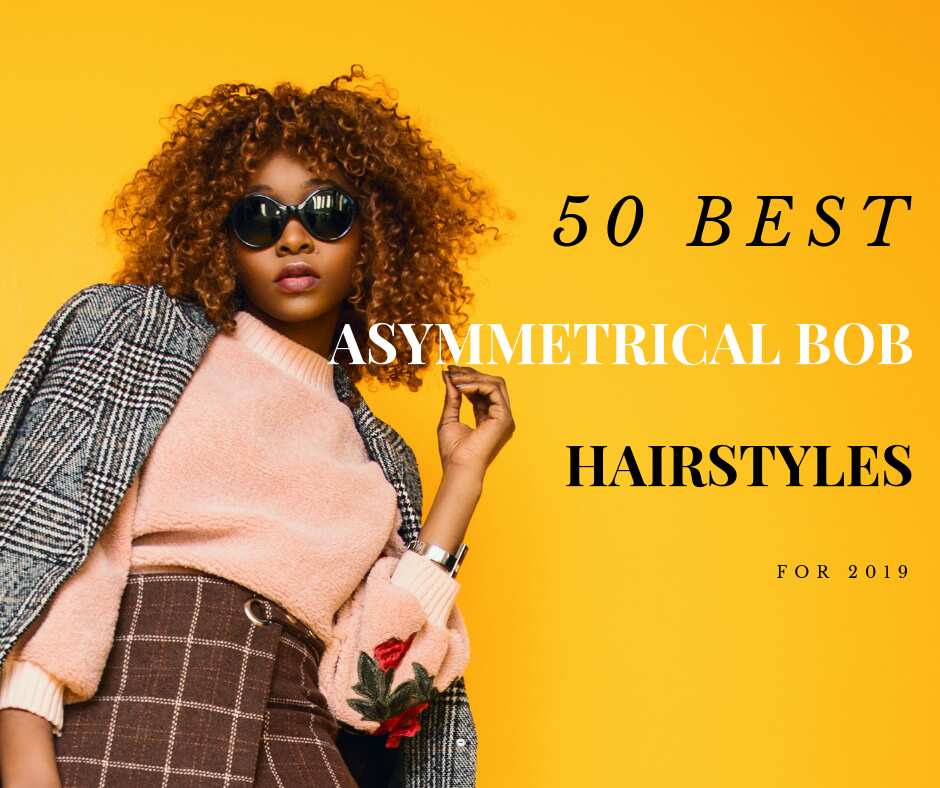 There are so many ways how to make your head look pretty depending on the length of your hair and its tone. You can consider any of the 50 best asymmetrical bob hairstyles described below for 2019. Each one can refresh your look and make you unique, hot, and sensual.
Asymmetrical bob
A bob with uneven sides, when one is shorter than the other, or front layers are longer than the rest of the hairline, is called an asymmetrical bob. It is a popular hairstyle in 2019 because it never looks dull or too simple.
READ ALSO: 50 ideas for brown hair with blonde highlights to try in 2019
It gives you enough space for imagination and experiments. It can look impressive on different types of hair, including tight curls, waves, and straight strands. You can easily make it playful and complicated by adding blonde highlights or various colours.
Asymmetrical bob haircuts: 50 styles for 2019
Many bob hairstyles are not a wash-and-wear style. They might require additional everyday styling with a flat iron, round brush, mousse, wax, hairspray, and other products and tools for finishing touches.
1. Asymmetrical curly bob for black hair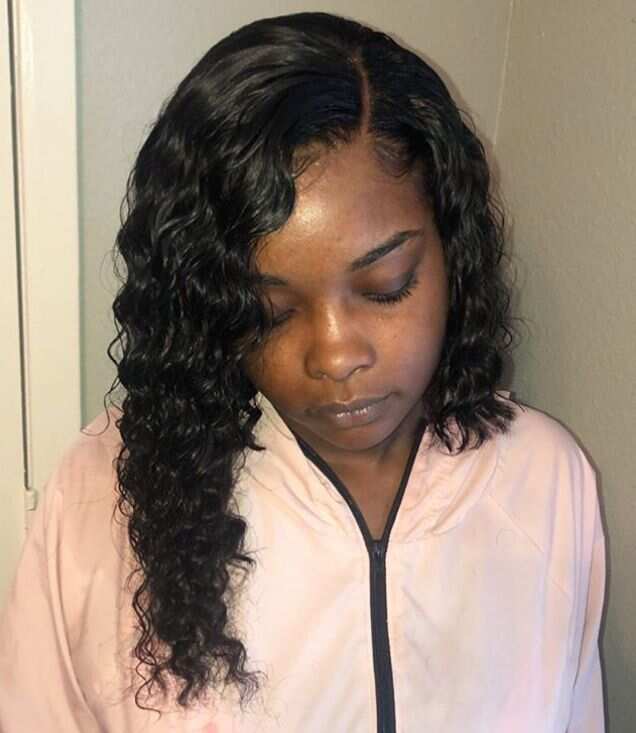 Keep your natural curls and cut one of the sides shorter than the other. Such a curly bob asymmetry adds a nice touch to your style, making it unique, beautiful, and romantic.
2. Short asymmetrical bob
Women who love to keep their hair short can think of adding some jagged lines to complete the look in 2019. Such cuts look extremely beautiful when you highlight the strands of your hair and add some shiny blonde accents to outline the top layer.
3. Asymmetrical long bob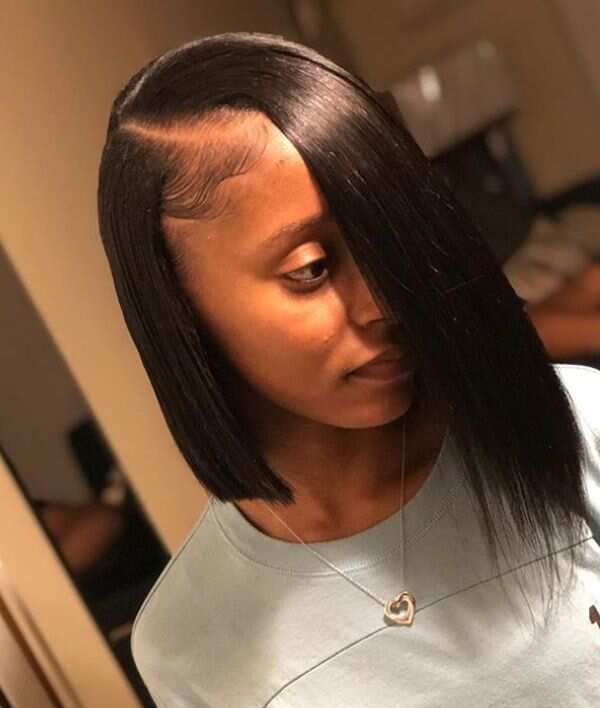 If you cannot decide which is your perfect hair length, you can cut one side shorter and create two different styles at once. Long bob cut with asymmetrical sides is impressive and fresh. It is a trend in 2019, and you can easily give it a try.
4. Asymmetrical bob with bangs
Uneven strands of hair can look extreme yet attractive. You can create all possible shapes and angles, outline your face and eyes, make fantastic bangs, and enjoy one of the most extravagant haircuts ever.
5. Long asymmetrical bob with colours
If you look around, you will see many bright colours. Nature impresses with different tones of blue, green, purple, pink, and other tints. If you get inspiration from plants and birds, you can end up with a beautiful and colourful long asymmetrical bob haircut. Some green shades can be obsessive.
6. Asymmetrical bob haircut for blonde hair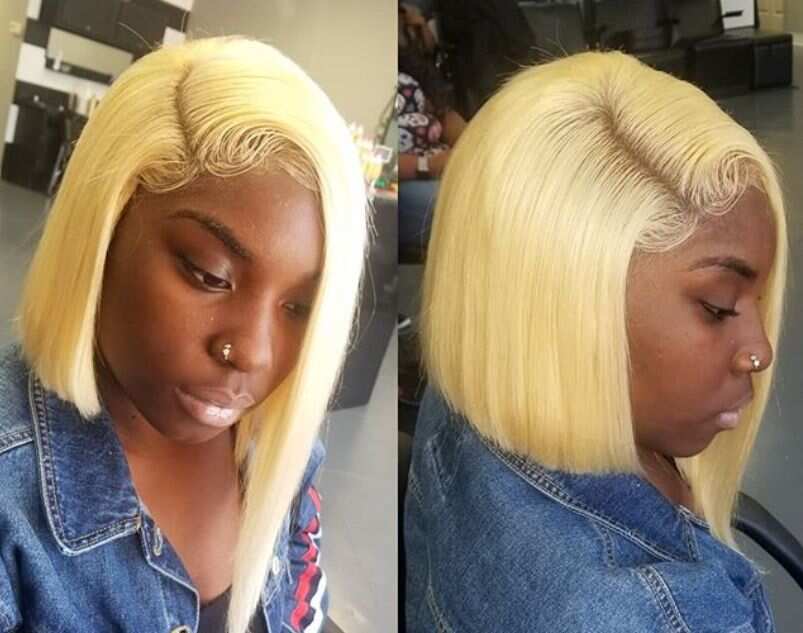 Beautiful golden hair looks very impressive with an uneven haircut. When your master creates an interesting angle from the back to the front of your head, you will enjoy how light and beautiful your new haircut feels.
7. Curly asymmetrical bob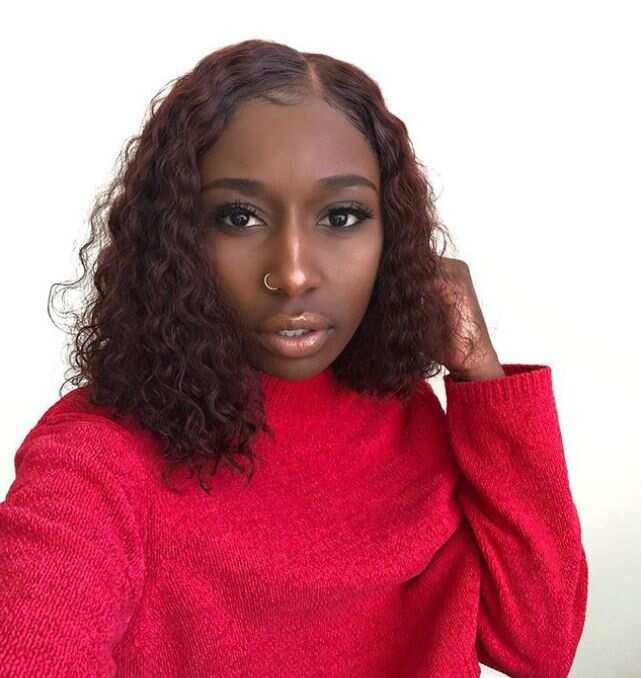 Even if you have tight curls, you can cut your hair with two uneven sides and create a beautiful look. Adding some colour to the longer and shorter sides can make each curl distinguished and playful. The final expression can be gentle, feminine, and impressive.
8. Asymmetrical bob short for dark hair
If your hair is dark (black or brown), you can enjoy a short haircut and make it shorter on one side and longer in the front. Add some highlighting strands to your natural colour, and you will notice how playful and beautiful your new style is. Experiment with the angles and create an unforgettable hairline.
9. Asymmetrical pixie bob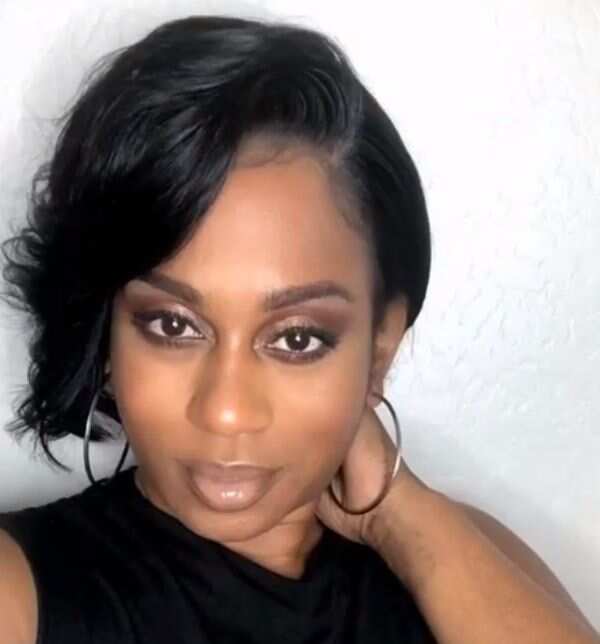 Such a pixie haircut will catch the attention of everyone. You can style the longer side the way you want and look unique every day.
10. Asymmetrical short bob for brown hair
This cut gives many ways for variations. Keeping it extremely short at one side can be an awesome idea. Such a cut helps to create a beautiful shape from right to left and from top to bottom of your hair. Such a unique style looks so brave and extreme, even in 2019. You can outline some strands by highlighting them and enjoy an extra volume and fantastic dimensions.
11. Wavy asymmetrical bob
Such a cut looks so fresh and messy. It can make any woman look playful and extremely cute. If you choose to add blonde balayage or highlight some strands, your head will get a beautiful texture and sunny-kissed accents. Messy waves and blonde highlights make a wonderful combination, do not they?
12. Chin-length asymmetrical bob
Outline your chin with one of the bob-styled sides, and your uneven haircut will get a romantic look. Add some blonde highlights to achieve a sun-kissed style, and your head will look impressive.
13. Collarbone asymmetrical bob
Leaving your longer side down to collarbone can be a neat idea. The other side can outline your chin. Such a lob-sided style looks fresh and beautiful. You can make it unique by highlighting the top layers and creating a deep contrast between dark and light shades.
14. Asymmetrical bob that touches your shoulders
Playing with the length of your locks is incredible. You can let both sides of your haircut touch your shoulders, and at the same time, you can keep one side longer than the other one. Mixing this idea with nice curls creates a finished look that suits all types and colours of locks.
15. Asymmetrical bob with long layers at the front
Cutting your hair shorter in the back and longer at the front can create a romantic look. Such an uneven bob style can look even more beautiful if you choose to highlight the ends of your hair. Add simple waves and achieve a curious everyday look that is trendy and fresh.
16. Straight black asymmetrical bob
If your black hair is straight, you can consider cutting it into a bob with one side down your chin and the other one down your shoulder. The final look will impress anyone who follows the trends 2019 and likes the idea of brave yet gorgeous restyling.
17. Sun-kissed inspiration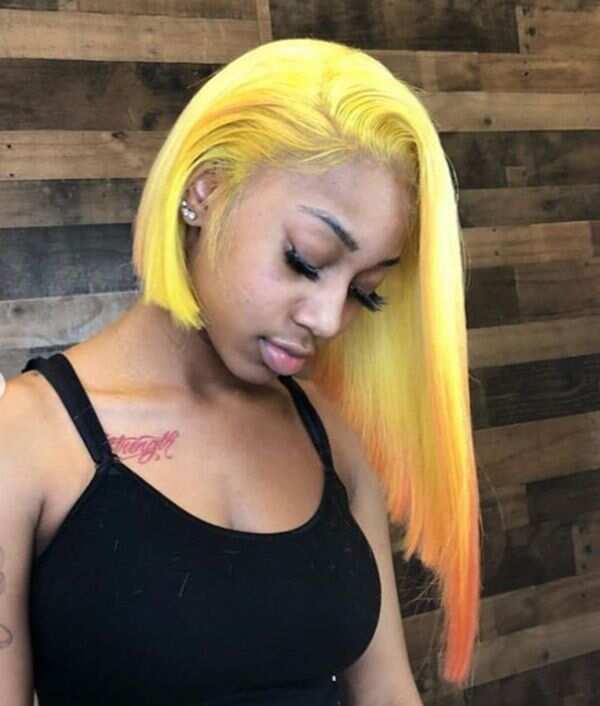 Women who love to experiment with their hair and are not afraid of bright colours can choose this amazing style for unforgettable photoshoots or romantic vacations near the ocean. Combining any asymmetrical bob haircuts with ombre colouring technique can lead to a fantastic fairy-tale look.
18. Pretty wavy asymmetrical bob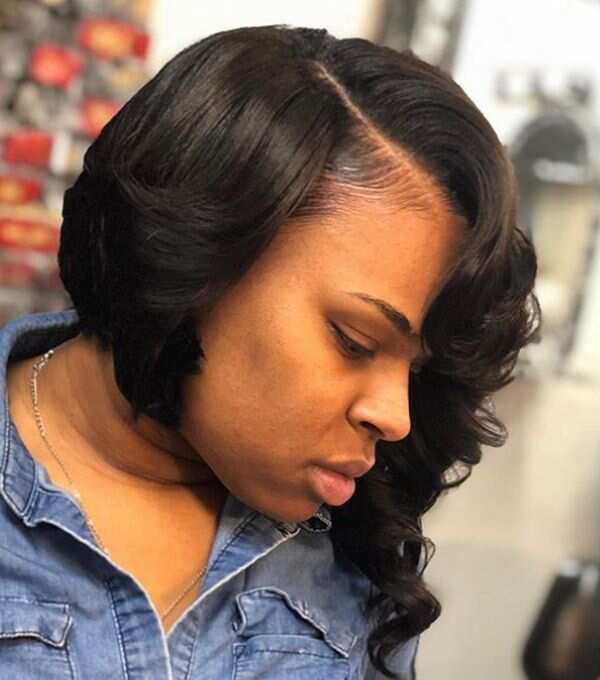 Beautiful black hair colour can look fantastic if your hair is cut unevenly with one side being way longer than the other one. Such style looks great if you wish to make your face brighter and expressive by creating pretty waves.
19. Asymmetrical bob coupe
Women who love extra volume for their cut can leave one side way longer than the other and style it in numerous ways. For example, you can use the longer strands as your bangs and hide half of your face underneath. This way you can look mysterious and secretive.
20. Lopsided braids
If you ever get tired of wearing uneven haircut, think about creating lopsided braids. They can refresh the look of your asymmetrical bob and make your style look exceptional. Such braided elegance suits everyday need and can make you look like a chic at the party.
21. Uneven pixie style in waves
Fans of pixie bob haircuts can play with their hair length and create beautiful waves on one side of the head. Add some wax to these waves and complete your look. Leave the opposite side shorter, and your head will look messy and attractive.
22. Over-all extreme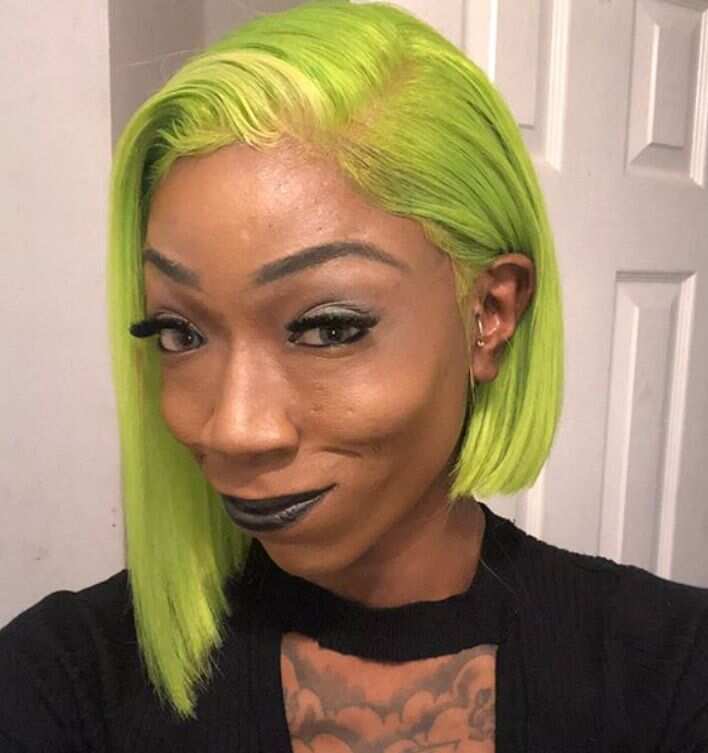 Playing with your hair length and bright colours can lead to an over-all extreme effect that will turn every head in the street your way. Colouring your asymmetrical bob into green shades is thrilling and exciting. But not every woman is ready for such an experiment with her style.
23. Pixie chic with bangs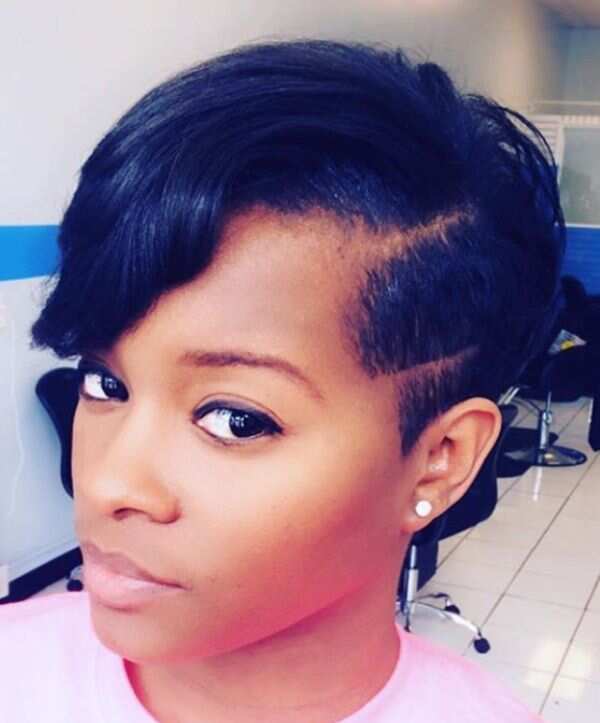 A beautiful face looks great with any haircut; however, an asymmetrical pixie bob can be your perfect choice if you prefer bangs and your hair type is wavy. Such a cut includes several layers, so it might be a wonderful idea to style your locks and enjoy more volume.
24. Fun irregular bob style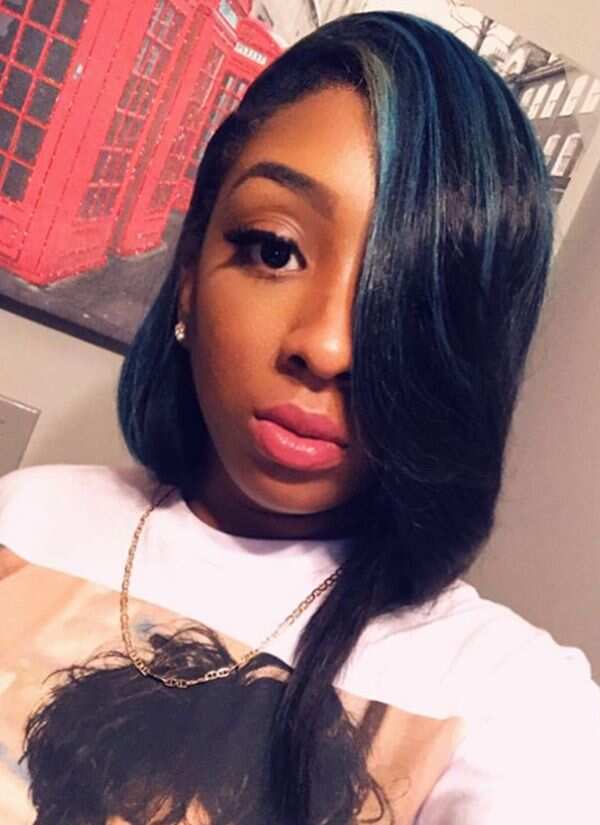 Girls with blue stripes in their hair look fantastic when they keep at least one of the sides long. Do not be afraid to chop several centimetres from the other side if you would like to refresh your looks and impress everyone with a chic coiffure.
25. Black asymmetrical bob with highlights
Women with black hair can enjoy an uneven haircut with blonde highlights. Adding a couple of white stripes in the underneath and top layers can create a beautiful final look. Dark strands shine brighter when the background has some lighter brown streaks which add contrast and additional volume.
26. Asymmetrical bob with undercut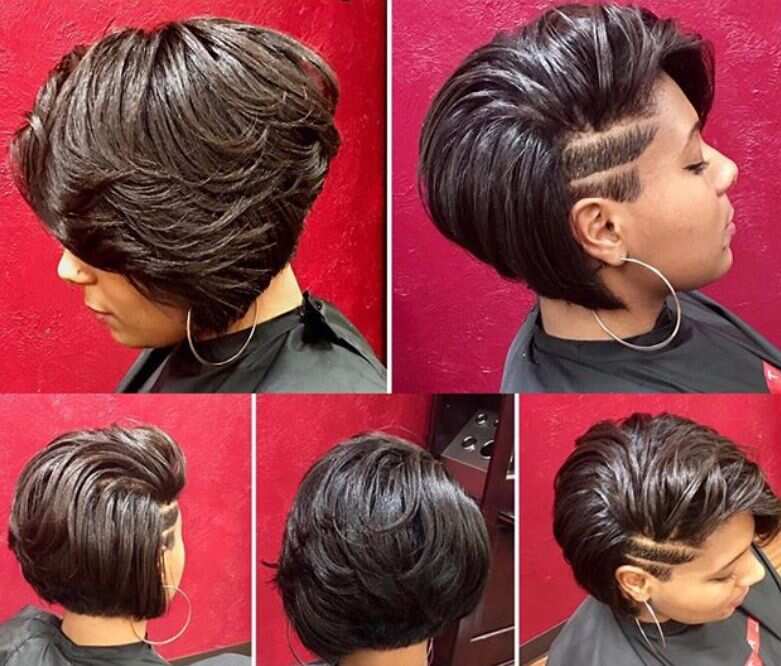 When it becomes too hot outside, you can add an undercut to your uneven bob trim. Some women find such a style too extreme, but others give it a try and fall in love with the result to repeat the same experiment even for colder times of the year.
27. Glamorous asymmetrical bob haircuts idea
Would you like to look like a celebrity or a movie star? Ladies with thick dark hair can enjoy a glamorous uneven hairstyle with one side going down your shoulder line and the other side outlining your chin. There is no need to add bangs because everyone will fall in love with your beautiful look.
28. Angled bob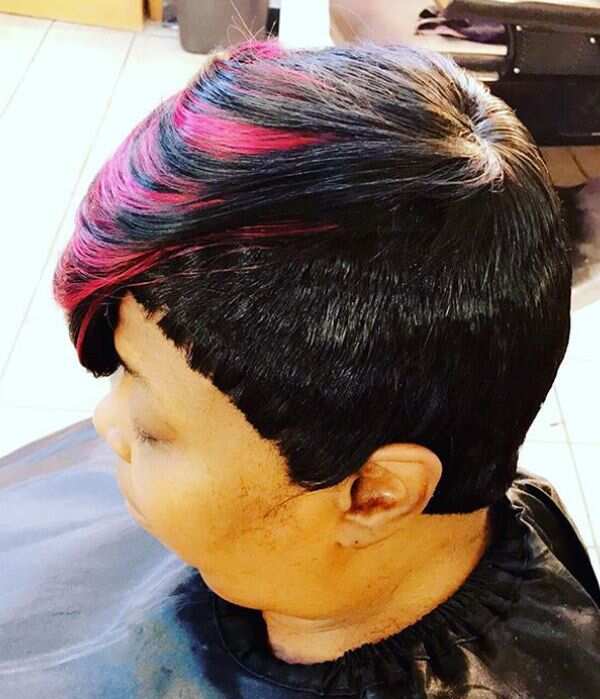 It is awesome when you can combine two different styles in one haircut. Just imagine how you take photos of an extremely short boy-like side of your head, turn around and catch another shot with a beautiful angled bob at the opposite side of your head. Such an angled haircut looks fantastic if you add some bright colours to the longer strands.
29. Burgundy style
Uneven haircuts give you so much room for imagination. It is possible to play with colour on short and long layers of the hair, and achieve a fantastic effect of a burgundy shade. Do you like it like this?
30. Rainbow mood
If you are an artist deep in your soul, you can express your rainbow mood in colourful locks that look extremely bright and beautiful in an asymmetrical bob style. Play with pink, green, blue, yellow colours. Do not be afraid to 'paint' your head as if it were your canvas for unexpected experiments and fun projects.
31. Long asymmetrical bob with babylights
An asymmetrical bob is so beautiful when you choose to ash out the ends with balayage technique and design astonishing angles for both sides of the coiffure. Such a beautiful trim is great for dark hair with blonde babylights.
32. Blonde lop-sided hairdo
Do not worry about the symmetry of your face when you decide to go with a lop-sided coiffure. Such a bob cut looks brilliant on dark highlighted hair. It is easy to take care of and style if you have straight blonde strands and choose a short-to-long length for both sides.
33. Raspberry asymmetrical bob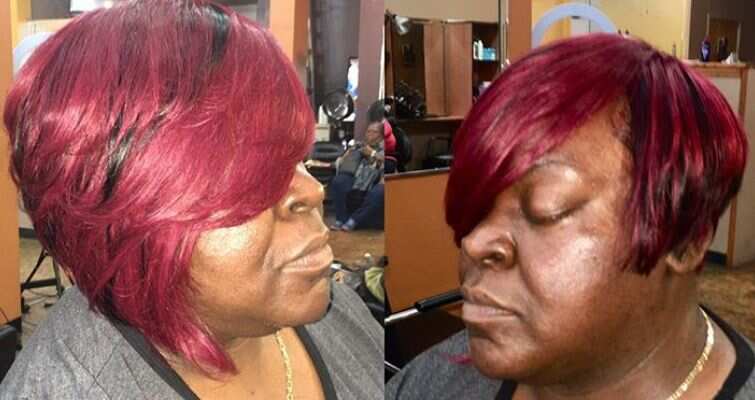 Attractive raspberry colour and uneven sides of your bob look fantastic when combined. Such style looks awesome if you like bright tones such as red or pink.
34. Blue and pink combination
Women with dark hair can colour strands into bright tones, such as red, pink, blue, and achieve a gorgeous look by styling the coiffure into a lop-sided bob.
35. Fantasy black style
Pretty black hair looks romantic when styled into an uneven bob cut. Women whose hair is shiny by nature are lucky. Most coiffure styles look impressive when combined with glossy effect.
36. Vanilla asymmetrical bob haircut
Colouring your naturally dark hair into vanilla tone can create an impressive style. You can leave your roots nearly untouched and ask your master for a beautiful bob to complete a celebrity-like look.
37. Hair colour game
Those fashionistas who love to experiment with their hair can go with a punk-like short asymmetrical bob with long bangs that go to one of the sides. Dye your bangs into a bright tone and create a wow-effect with blue accents or other touches.
38. Short asymmetrical curly bob
Natural curls look awesome even if you have a short and uneven cut. You will stand out if a couple of your strands will be highlighted to outline your beautiful locks.
39. Yellow asymmetrical bob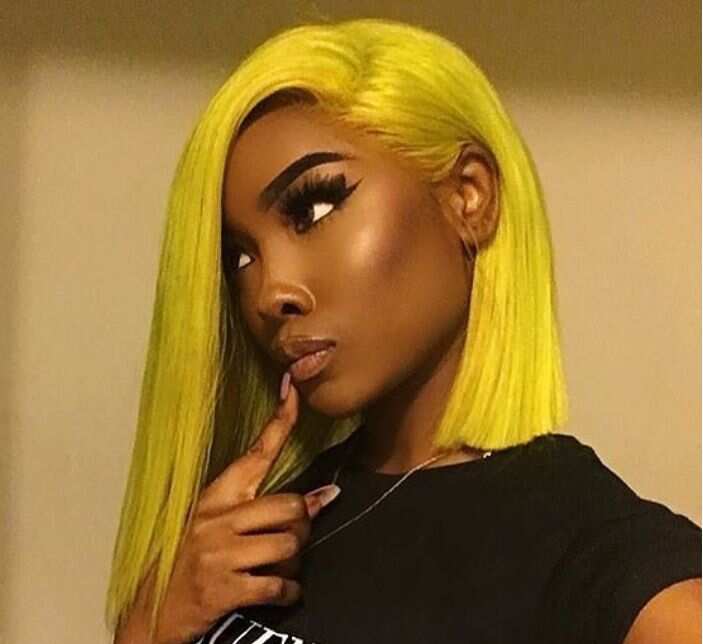 Adding yellow strands and colouring your hair into sunny shades can create a beautiful chic-like look. Such an uneven bob style will always be noticeable in the crowd.
40. Cute braided bob
African braids look impressive in a short asymmetrical haircut. For uniqueness and more style you can decorate the ends of your braids with colourful beads.
41. Dark roots asymmetrical bob
The bright contrast of black and blonde colour looks stunning if you leave dark roots in your uneven haircut. The combination of this style with dark brows and natural makeup completes a fantastic diva look.
42. Romantic gloss
Deep black hair colour has a beautiful gloss in the light. If you want to gain more attention to your romantic haircut, make it an uneven bob style with one side of your hair getting down your shoulder. The second side can rest near your collarbone line.
43. Pretty orange style
Ladies who love orange colour can add this tone to their hairstyle. With laces outlining the face and sharping the angle down to the collarbone, this cut looks very fresh and stylish when combined with a bright hair tone.
44. Feeling ruby
If you ever decide to go with a lovely ruby asymmetrical short bob, add a similar colour to your makeup palette. The combination will be hot and gorgeous.
45. Extra volume bob coupe
Lopsided bobs are awesome for girls and women with thick black hair. Uneven side layers look stunning when you style them with a flat iron (or if your hair is naturally straight and shiny).
46. Golden asymmetry with bangs
Straight locks dyed into golden colour with slight asymmetry towards the face line look romantic and beautiful. When combined with a purple lipstick and gloss, this cut becomes impressive and lovable.
47. Brown bob cut with lopsidedness
Play with your dark hair colour and highlight the edges to achieve a chocolate gradient on your lopsided bob cut. Natural hair tones look fantastic when one side of the bob is short, and the other one gets down to your chest.
48. Choppy yet elegant style
A choppy bob chic with two uneven sides can look elegant if you choose a mid-length cut and style your hair with a round brush. Such a hairdo is wonderful for everyday wear.
49. Sandy chic
Sand and yellow colours look brilliant if you are extravagant and risky enough to try asymmetrical bob cut. Your sandy chic will impress everyone around you.
50. Messy elegance and uneven waves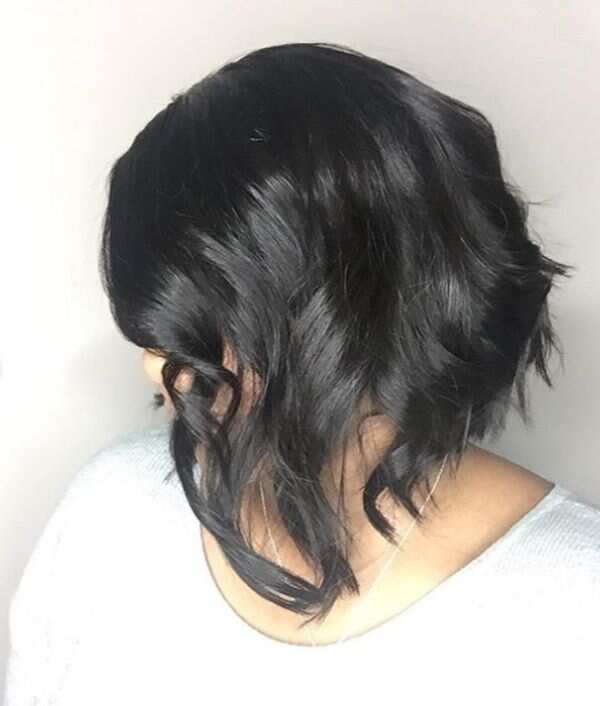 Women who love a messy look and choppy hairstyle can create simple waves for their asymmetrical bob hairdo. Such style always looks elegant with a romantic nuance and playful tone.
These are 50 ideas for unique and beautiful asymmetrical bob hairstyles that can help you to express yourself in 2019. We are sure that anyone can embrace this incredible trend and get inspiration for creating the most fabulous haircut ever.
READ ALSO: Long braids hairstyles trendy in 2019
Source: Legit