Quick short natural hairstyles for Nigerian ladies
We all want to look stylish and gorgeous, and the hairstyle is one of the most noticeable parts of our appearance. While some women prefer long and flowing curls or braids, some would opt for the quick short natural hairstyles. In our article, you will be able to have a look at some quick and easy short natural hairstyles. They are all very easy and will not require a lot of effort. Be stylish with our super trendy list of hairstyles!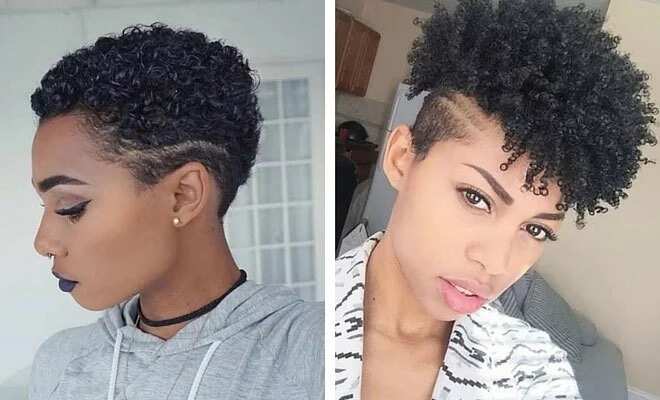 Quick natural hairstyles for short hair
Nigerian women who have natural hair are really lucky, but together with natural hair can often come a lot of problems. When you have short hair and are dreaming of long beautiful curls, these issues double. Growing out your hair is a tedious process, and in the end, it will not always grow as you want. You probably choose to wear the various hair extensions and weave to make your hair seem longer and healthier. However, after the long use of hair extensions, your hair certainly needs a break from all the pressure.
If you think that there are not many cute natural hairstyles for short hair that you can try out, then you are wrong, because there have always been a lot of them for any hair type. With our trendy suggestions of easy hairstyles for natural hair, you will not have to wear the tiring extensions anymore and, hopefully, will learn to embrace the beauty and lightness of your short haircut.
They will give you a chance to experiment with your hair and style it in a different way, as well as impress your friends with your brand new amazing look. These quick hairstyles for short natural black hair pretty much suit everyone, so pick your favorite natural hair styles and try to implement them in real life! We will start right now, so get ready for the ride!
1. Natural curls with caramel highlights
In case you are going through the process of growing your hair out, you can easily add some charm to your hairstyle. The caramel splash of color will make your curls livelier and add a new dimension to them. Besides, the curls will style themselves, and you will not have to worry about them all the time.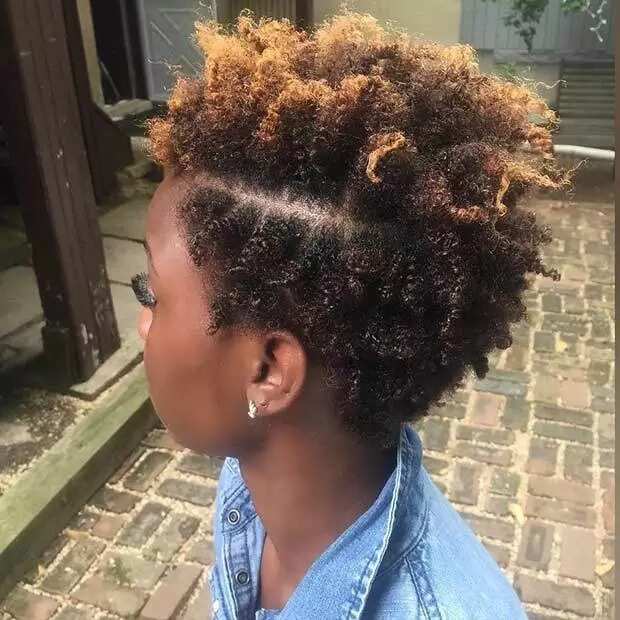 2. Natural Mohawk style
This option is especially for those women who are bold, brave and not afraid of shaving off their hair almost completely, leaving a courageous Mohawk in the middle. To rock this hairstyle, you have to know for sure that extra short options suit you and emphasize on your face.
The most awesome thing about this kind of hair choice is that you will not even have to comb your hair most of the time – only the very top of it. The only thing you need to remember is to keep the hair moisturized and hydrated, for it to stay healthy. Otherwise, you will not have to sacrifice a lot of time to styling it and making it look perfect because it already does.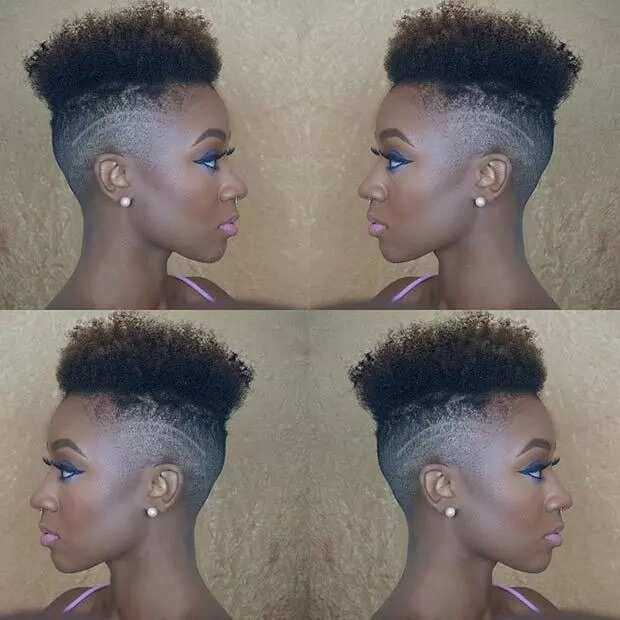 3. Short hairstyle with shaved offsides
This is one of the basic hairstyles, but nonetheless, it is really charming and attractive. The sweet curls are mixed with the rebellious shaved offsides, and you will look quite mysterious with this hair choice. In terms of caring for this kind of hairstyle, you have to remember that washing it too much will not do any good to your natural curls.
So, in case you go for it, you may go for two-three day periods of time without washing it, but you will need to make sure it stays moisturized all the time. And of course, using natural oils is very healthy for the hair and will do wonders for it.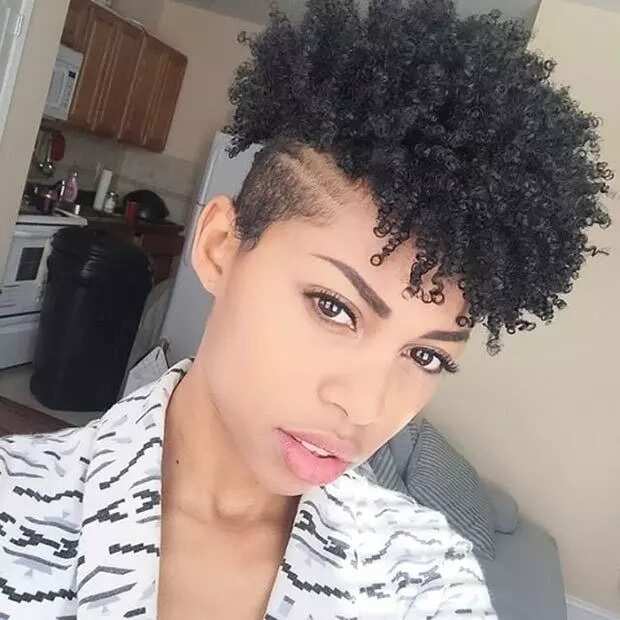 4. Short natural tapered haircut
If you want to create an unforgettable messy hairstyle that will make you look like a fun-loving person, you should certainly pick this one. The styling tools will not be needed for your desired look, and if you are resisting the temptation to get hair straighteners or heated tools, you totally should not – the curls are extremely charming and beautiful as they are. If you already have damaged or dry hair, or problems from many years of using hair extensions, the heated tools will not help your locks, only hurt them. The point of this hairstyle is giving your hair a well-deserved break.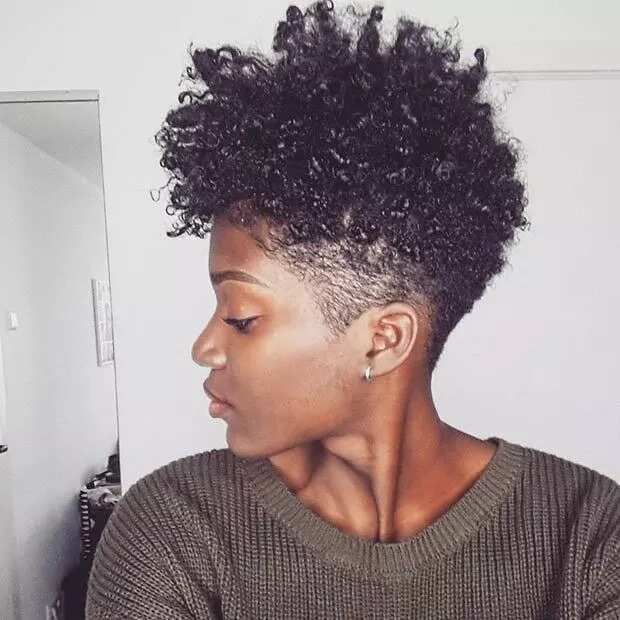 5. Teeny-weeny afro hairstyle
The ultra-short afro is an item as well. If you want a hairstyle that will not get in your way and bother you, and if you are courageous enough to adopt an extra-short hairstyle, then you should definitely choose this option.
This is one of the freshest and cool looks of the year, and your short haircut will give you the great opportunity to show your best accessories, like earrings and ear piercings, as well as the stunning makeup.
Teeny-weeny afro does not need a lot of maintenance and styling – in fact, it requires the bare minimum of it. This hairstyle will give you plenty of time for your eyebrows and makeup routine.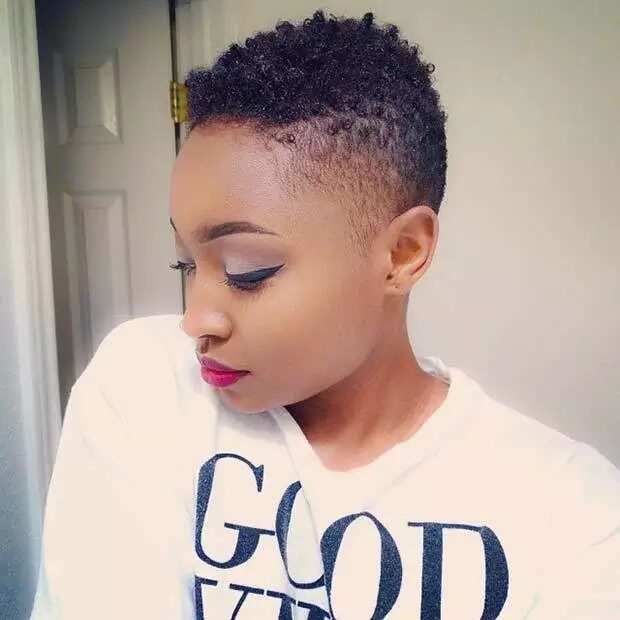 6. Extra-short blonde hairstyle
You can follow the steps of Amber Rose and dye your short hair platinum blonde. It will emphasize the shape of your head and attract attention to your amazing makeup. This style is sassy, fabulous and fierce, and every single day you will look like a celebrity.
Before making this radical step, you will have to talk to your hairstylist about the color change and its benefits and determine if it would suit you in particular. There will not be a lot of hair for playing around, and your chosen color will have to work out nicely together with your skin tone.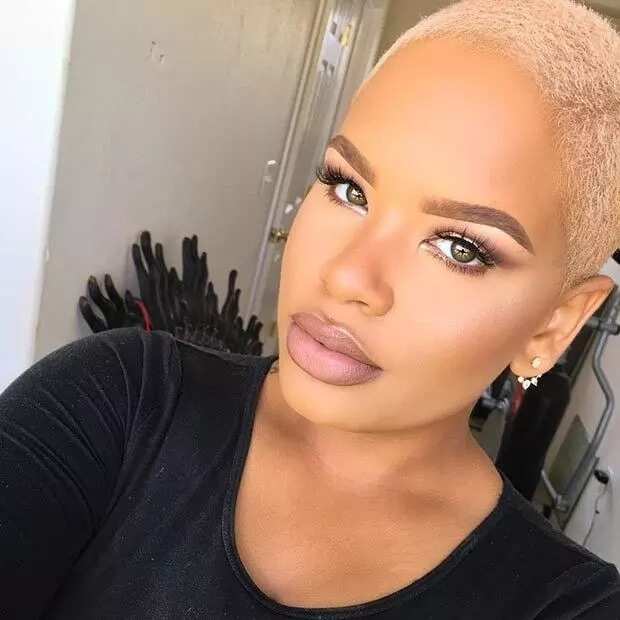 7. Simple natural style
When you had your hair washed, you can play around with different solutions, techniques, and ideas. For instance, when your hair is in wet stages rather than already fully dried, it is much easier to operate with it. You will be able to move your locks, twist them, make braids and curl them into various styles.
There are so many ways to style your natural hair, and sometimes you may not notice that, but it is a fact. Experimenting with twists and curls when the hair is still wet will give you the most original results that you would have never thought of. This particular hairstyle is really classy, nostalgic and reminds of old times, so it would be perfect for vintage lovers.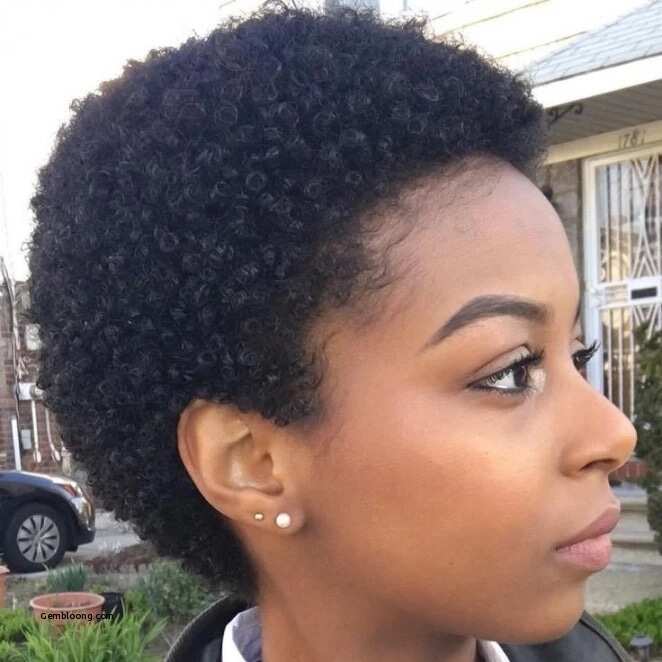 8. Mohawk with fade
The change from the regular Mohawk hairstyle will be very subtle, but it will surely add some originality and confidence. Your curly Mohawk will still be on top, but the undercut will go through minor changes - a design will be shaved on it to add more excitement to the old classic hairstyle.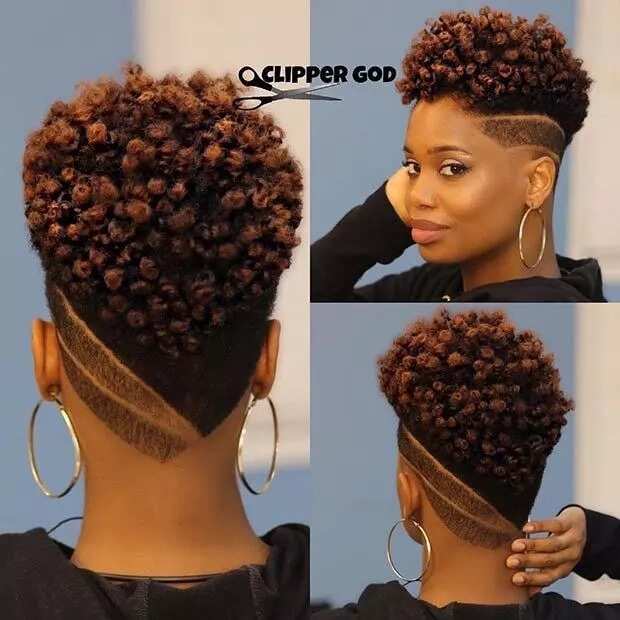 9. Long pixie haircut
This hairstyle has been rocked for a while by the music superstar Rihanna, and she looked just gorgeous. She was alternating between the regular pixie cut that you usually see around, which is completely straight, and the pixie haircut consisting of the natural curls, which you can see right here.
They are both lovely, but the natural pixie cut is less common, therefore giving you a chance to make it your own. You can achieve a look like this if you refuse the extensions for a while and let your hair flow in its natural way. Perhaps, you would like to look like a celebrity? Then it is time for you to try out your own pixie cut.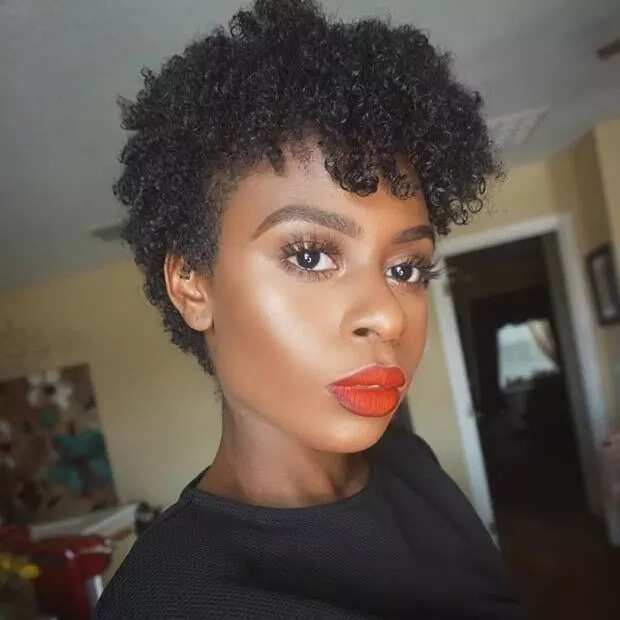 10. Short natural hairstyle with colored tips
Coloring your hair in different original shades is really common nowadays, simply because the women know so many multicolored options to choose for their hair to make it look like no one else's. In case your hair has been damaged because of constant coloring and drying out, you should make certain that you use the right oils and other means of treatment to keep it healthy and hydrated.
Before washing your hair, you should add some oil treatment, and then leave it like this for about half an hour before you start washing it out. Once you have washed your hair, you should dry it with the towel (using the blow dryer would not be helpful in this situation), then add some conditioner, and style your hair before it is fully dried.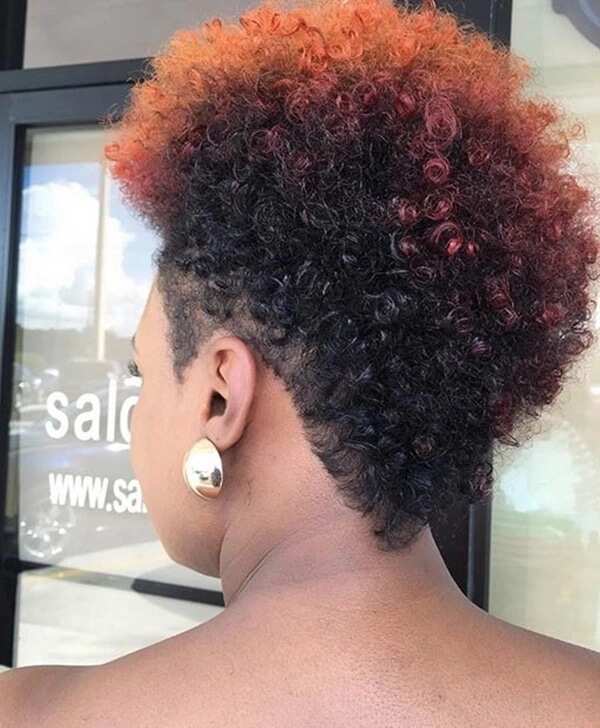 11. Fauxhawk made of coils
Not having hair extensions in your hair really has a huge amount of benefits. For instance, you will have a lot of free time which you normally would have spent on going to the hairdresser's to style your hair.
Coils are really simple and do not need any special treatment, so you will notice the benefits of such a hairstyle in the first few days when you have it done. This hairstyle is perfect because it both looks pretty and does not require much effort to create and maintain.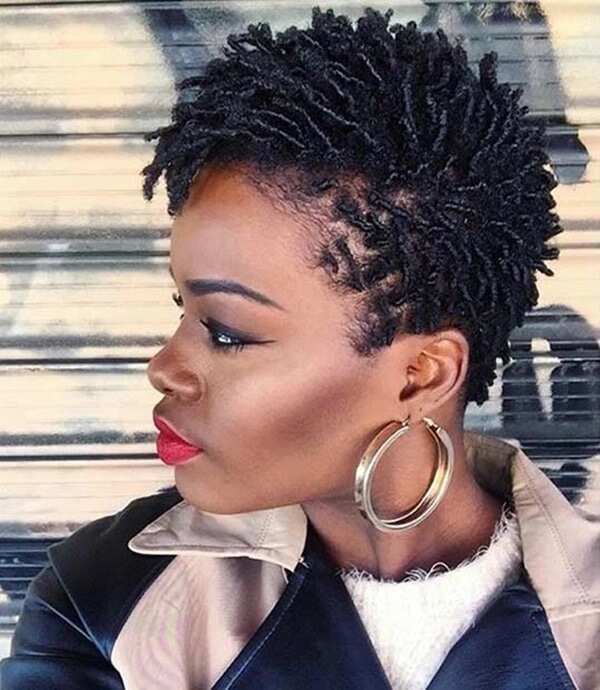 12. Fading haircut
This type of hairstyle is a huge room for creativity. You can create breathtaking designs on your head with the help of your hairdresser. Fade is one of the latest trends, and more and more people find this design element extremely attractive and distinctive. So, if you want to be in tune with fashion, you can try it out and discover how cool this hairstyle looks on natural hair.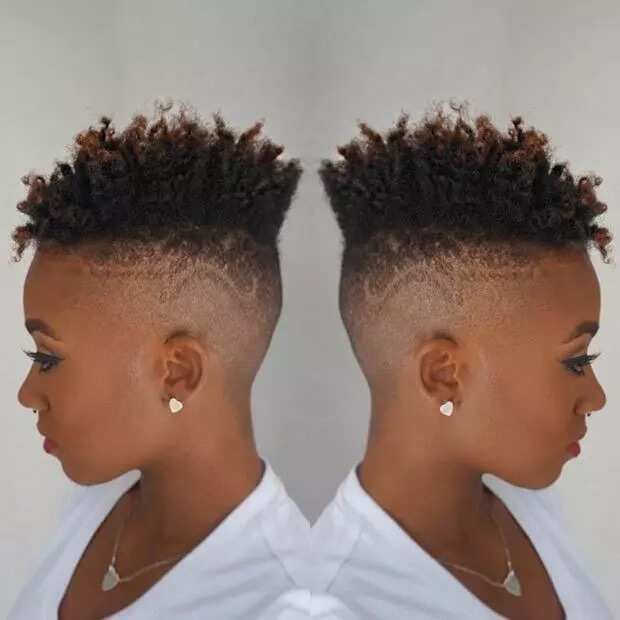 13. Stylish gray curls
Gray is the trend of the latest few seasons, and more people started realizing that it is possible to look trendy and fashionable with gray hair. This color has a lot of shades, from dark metal gray to the light silver, every one of which can contribute to a stylish hair dye and classy ombre.
Everyone has got their favorite shade of this tone, and on our list, the cute short gray curls possess an honorable place. This hairstyle gains extra points in our compilation because the hair is darker closer to the roots and lighter on top of the head, where the curls are most visible. It is modern, cool, and just right for young people who are in search of themselves.
Also, this option is very acceptable for beginners who have never colored their hair in some unusual shades before. It might be the right time to try out something new.
READ ALSO: Protective hairstyles for short natural hair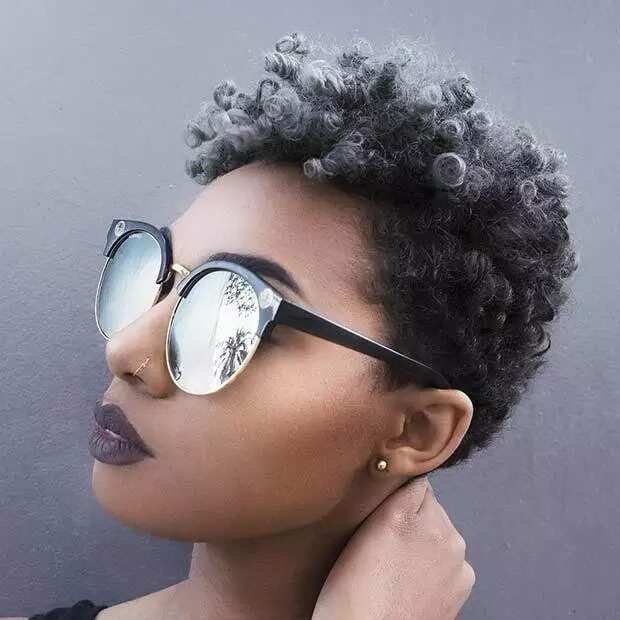 14. Short copper natural hairstyle
This style could be as well called "the sunset hair" because it just gives extremely strong associations with sunset. Nowadays, the different variations of red and orange are really popular among black women and suit very well together with their skin tone, so you should really consider choosing this one for your new image.
This is one of the coolest short natural hairstyles for women, and not only because of its radiant coloring, but also because of the unforgettable designs on the faded part of the head. With this hairdo, you can also showcase your makeup choices and noticeable accessories.
Everyone will see you as a bold and brave woman who can always stand up for herself, knows what she wants, and is not afraid of any challenges.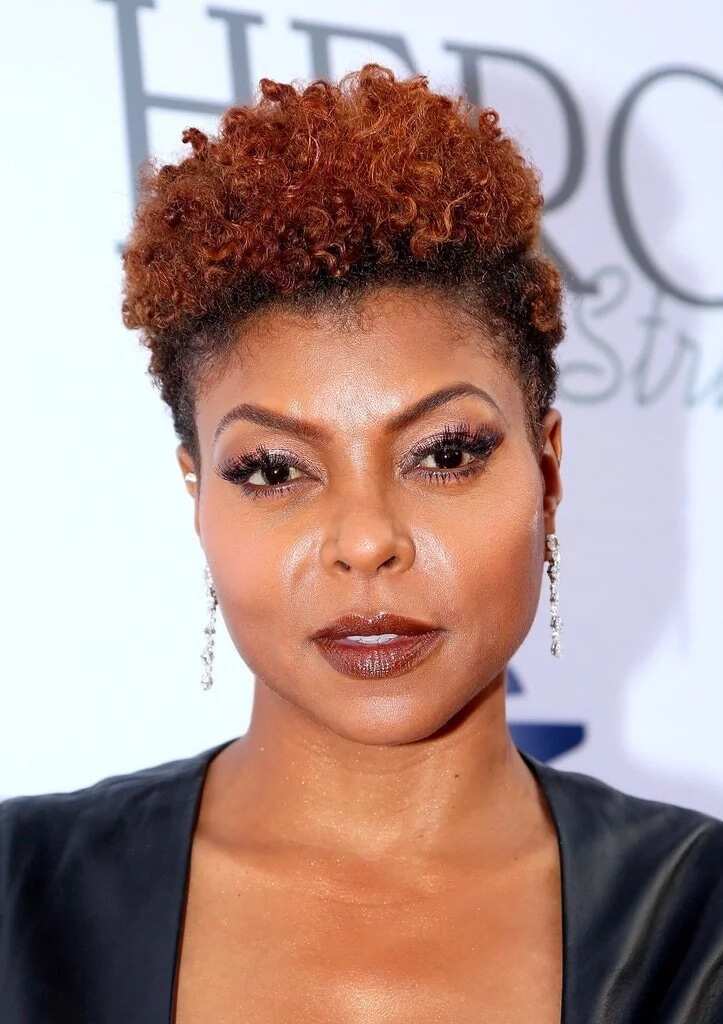 15. Simple and cute short style
If you have decided to cut your hair really short, you can just go for an extra short easy style. The beauty of this hairstyle is in its simplicity and relaxation. Your hair will thank you if you just leave it be and will not do anything too radical and harmful to it.
This choice is good for the women who want to repair their hair and let it rest after the long-term procedures and wearing heavy extensions. All you will need to do to maintain this haircut and keep it healthy is adding some wax to it, but even this is not necessary. With this style, you will forget about all the hassle of hair care.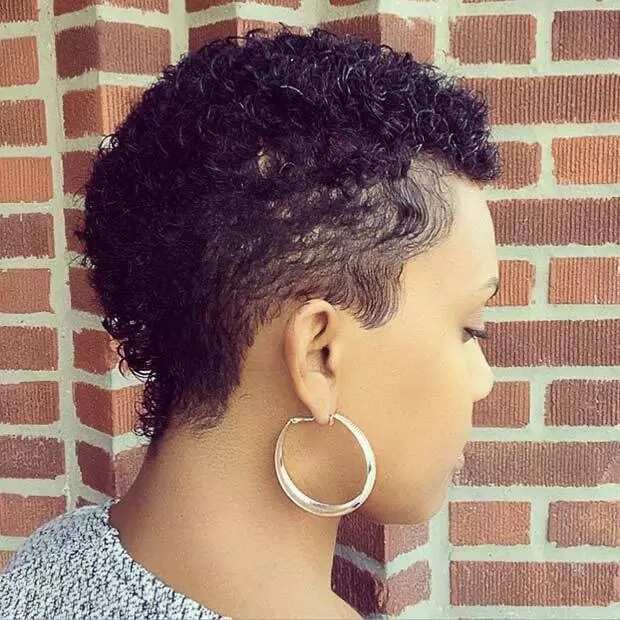 16. Caramel curly hair
Today, so many hair colors are in trend, and it looks like the fashion universe just gives every woman the perfect opportunity to be unique and unforgettable. Caramel curls are one of the hairstyles that would suit every dark-skinned woman and make her look like a queen.
So many celebrities have picked this hair color for their curls and they had no regrets about it. Besides, if you were just about to give your head a rest and choose a relaxing and charming hairdo, this is a great choice for you.
The caramel curly hair is a huge fashion statement, and everyone will notice you in the crowd if you appear at the party full of people. Do you want to be one of those who dictate fashion, instead of just following it? Try our pick for every season! This is one of our favorite looks, and we strongly recommend it to every Nigerian fashion-loving woman!
READ ALSO: Top low cut hairstyles for natural hair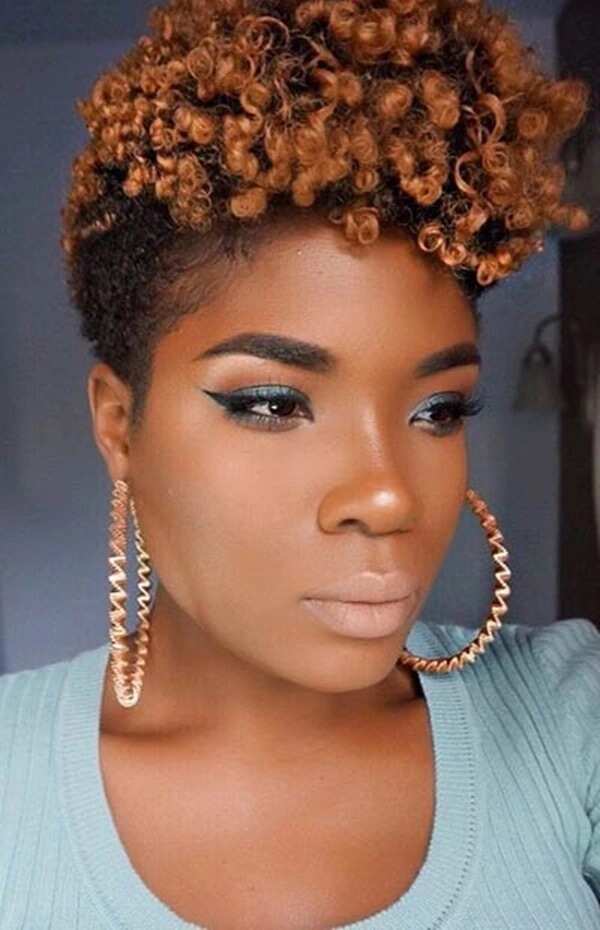 17. Tapered haircut
This is a hairstyle which is majorly inspired by the biggest Hollywood celebrities. For example, the sister of music queen Beyonce, Solange Knowles, used to have a long weave, but when she shaved her head, she decided just to go for a natural look and did not regret growing out her curls. Therefore, this beautiful hairstyle emerged.
The whole appeal of it is in how simple and adorable it is, and this is why it is on the list of our recommendations. In case you have had long locks for a while, and your heart is open for a change, maybe this is your look that you should try out. By the way, you can choose whether to dye your hair or not – both options would look stunning.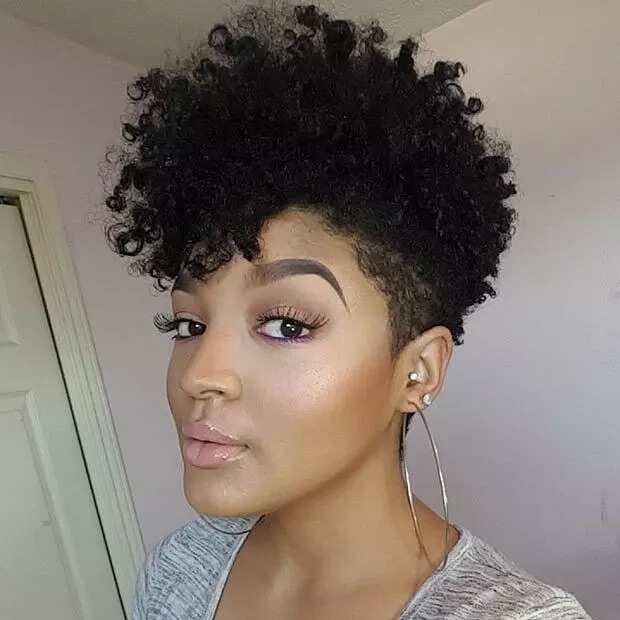 18. A little pop of blonde
Here we have one of these hairstyles which can definitely attract everyone's attention because of its unusual nature. This haircut reminds of some science fiction movie characters, with its futuristic geometric vibe. And the appeal of this style lies in its uniqueness. If you are not fully ready to go for an absolute blonde dye, you can just dye a little tip of your hair blonde, leave the other hair of your natural color, and shave off the sides, also adding some curious designs on the bottom. You should feel free to play with different colors – caramel, copper, and grey, which were already mentioned on our list. Feel free to make this haircut truly your own.
READ ALSO: Latest weavon hairstyles to fix in 2018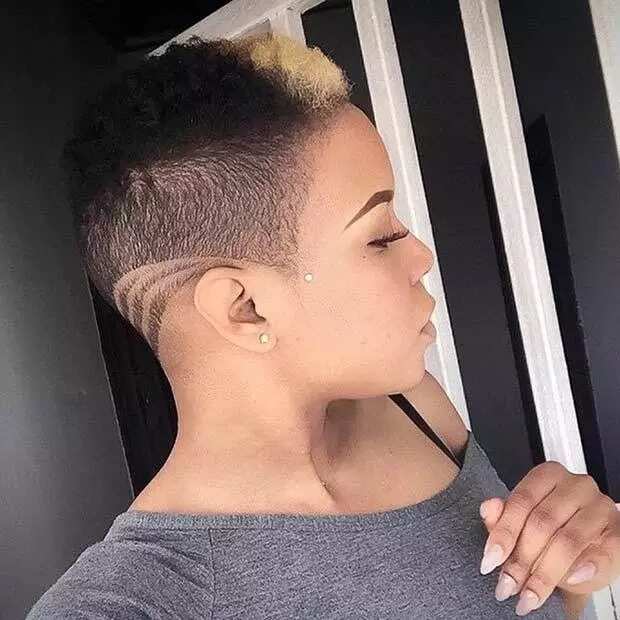 19. Ultra-short style for rebellious and hardworking ladies
If you want to leave just a thin line of curls on your head, you can play with it and make it bolder than just that. This said, just a simple shaved-off straight line can become the great design and make a difference in your entire look. This addition is really small, but it will create an unforgettable image that everyone will remember you for, and transform yourself into a fierce and confident lady. This little touch will change your hairstyle from a generic short hair to something very playful and funky. By the way, you can also try a similar haircut, but with a chop instead of curls – this one was worn by many famous celebrities, notably Raven Symone.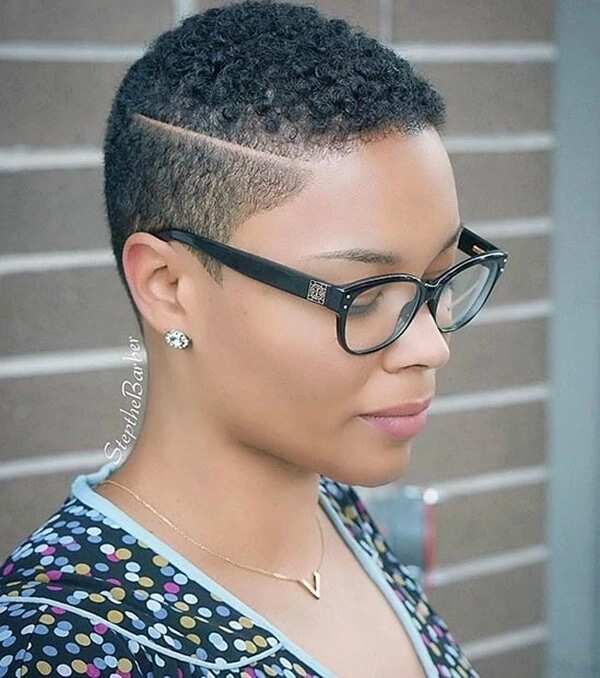 20. Statement-making twa cut
Have you ever heard about a twa cut? This look was incorporated into popular hairstyle culture when the popular actress Halle Berry wore it to the various celebrity events. Since then, many young black women aspired to look like one of the most famous and good-looking Hollywood actresses of all time – elegant and classy.
This haircut basically looks like a teeny-weeny afro, with a cut across the sides and then back. It gives the hairstyle a tidy and neat look and makes you very feminine and graceful.
The best accessories for this kind of hairstyle would be a choker and some small piercings, as well as neatly done makeup. Twa cut can not just be done in one style – there are plenty of options on how to do it. For example, you can shave off our sides, leaving only some hair on top of your head, if you have a defined face shape that you want to show off and are completely sure that this risky pick will satisfy you.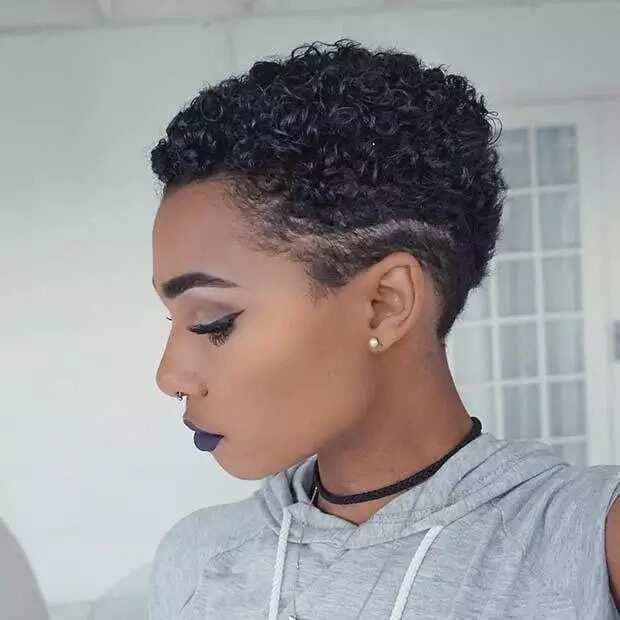 Those are the top 20 best short natural hairstyles for women who want to keep their hair short! As you can see, short hair is wonderful because you can both preserve a pretty natural hairstyle and be free of all the hair-styling routine that can sometimes get boring.
The benefits of short hair are countless, and if you have natural hair, you can safely flaunt your impressive shortcut. Let us know what you think about these hairstyles in the comments!
All photos are from pinterest.com and Instagram.
READ ALSO: How to pack natural hair: best styles in 2018
Source: Legit.ng