Top trousers styles for ladies
Today, we want to present to your attention the latest trending trousers styles for ladies. We have chosen the best styles, that should definitely be taken into consideration by every fashionista. We hope that our collection will inspire you to create new and unique outfits just for you.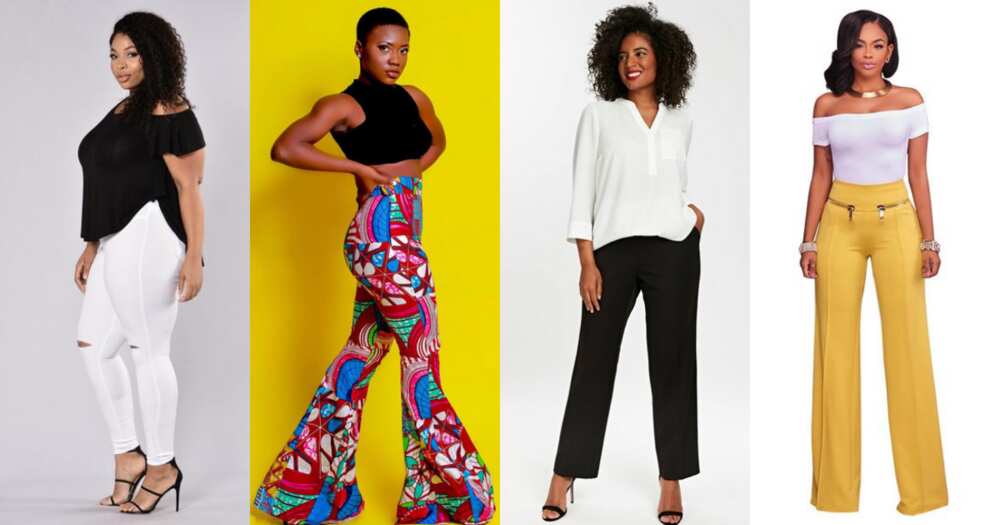 Trending pants for ladies
It is believed that the trousers is the best skirt. But each time, choosing a new design among latest trousers style for ladies, one has to solve the question if is it suitable for me. To make a perfect choice, it is not enough to have just a background knowledge of fashion trends. You should carefully examine all styles of trousers for ladies and adopt the best ideas.
We owe their appearance in the women's wardrobe to the great Mademoiselle Coco Chanel, who personally brought them to Parisian light in the 20s of the last century. The idea of ​​Chanel turned out to be practically brilliant as the brutal men's clothing item completely re-imagined the female image, adding to it an incomprehensible, shocking but undeniable sensuality.
Military trousers styles for ladies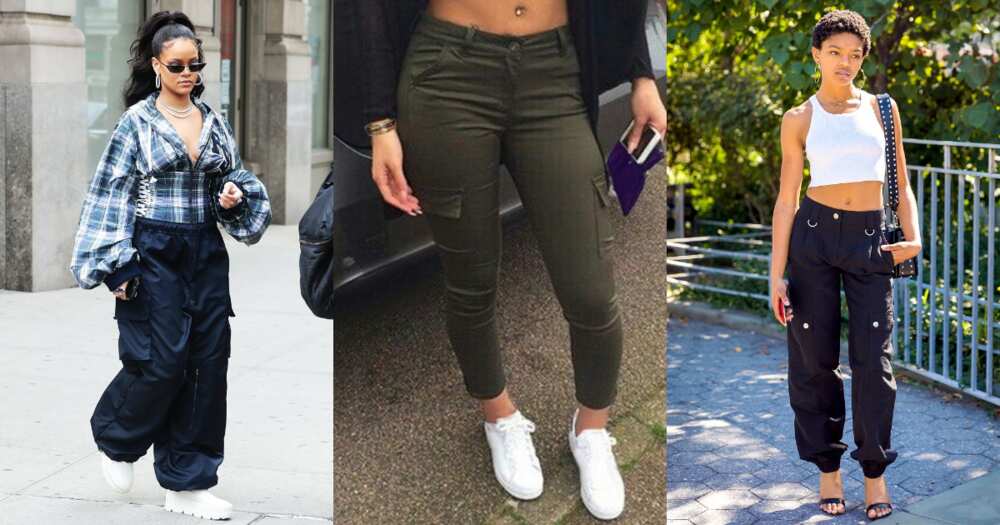 Classic trousers that are considered the necessary thing of any elegant women's wardrobe have become the modern version of this style. Even if your usual style of dressing is far from the classic, you should definitely try this design. It will give an individual chic to your outfits in a variety of styles. The idea of ​​borrowing was continued, and in the women's wardrobe, these styles of trousers for ladies appeared to be very successful interpretations of almost all the fashionable styles.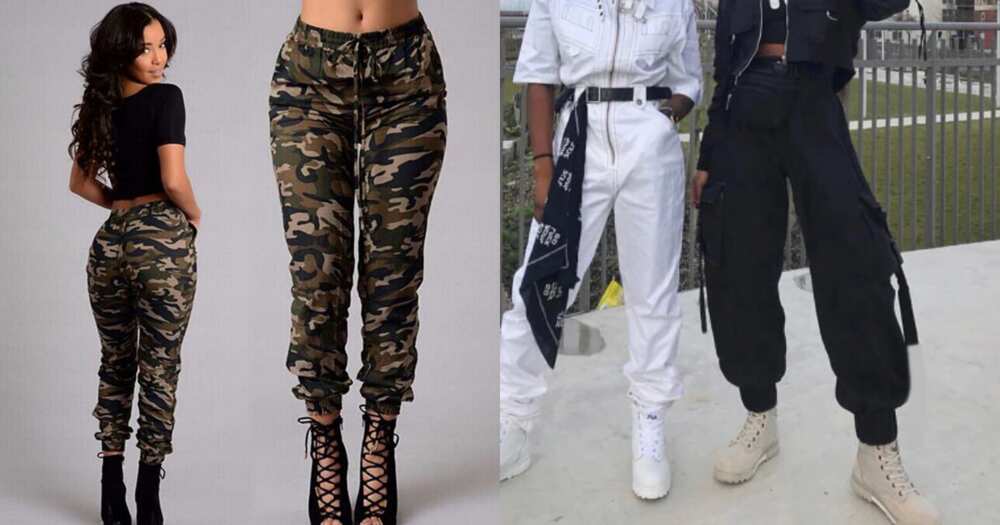 They also accentuate the femininity and fragility of the image, adding intrigue to it. A style with large pockets, flaps, and loops was borrowed from actual "military" trousers. The most prominent example is cargo pants for women. Today, such models correspond to the style not only of military or safari, but this is also an important element of the outfits in the spirit of "early retro."
Throughout the history of the existence of this unique item in the women's wardrobe, many bright styles appeared on the runways, which do not lose their relevance over time. Fashion, as you know, is cyclical, and each of its turns presents us new versions of stylish ideas.
Wide pants for women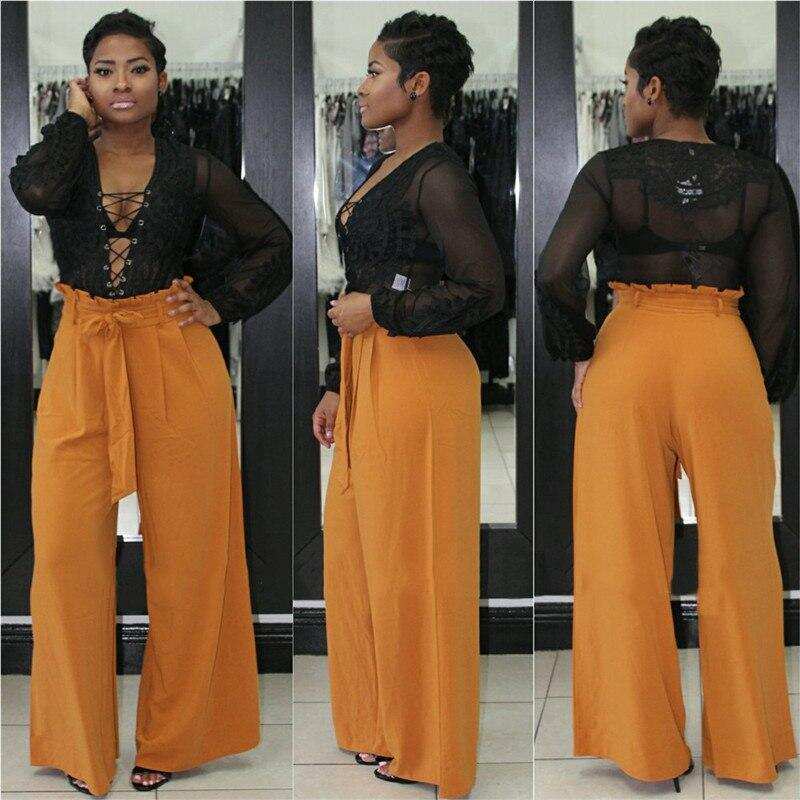 READ ALSO: Beach dresses 2018-2019
The choice of wide women's trousers for any type of figure and, of course, style is also quite democratic. Classic, flared from the hip styles, complemented by expressive cuffs and a strict belt with a high waist, perfectly demonstrate feminine proportions. Trousers length is an important point in the selection of any dress pants for women. In addition to the fact that radical, practically maxi, is the latest trousers style for ladies.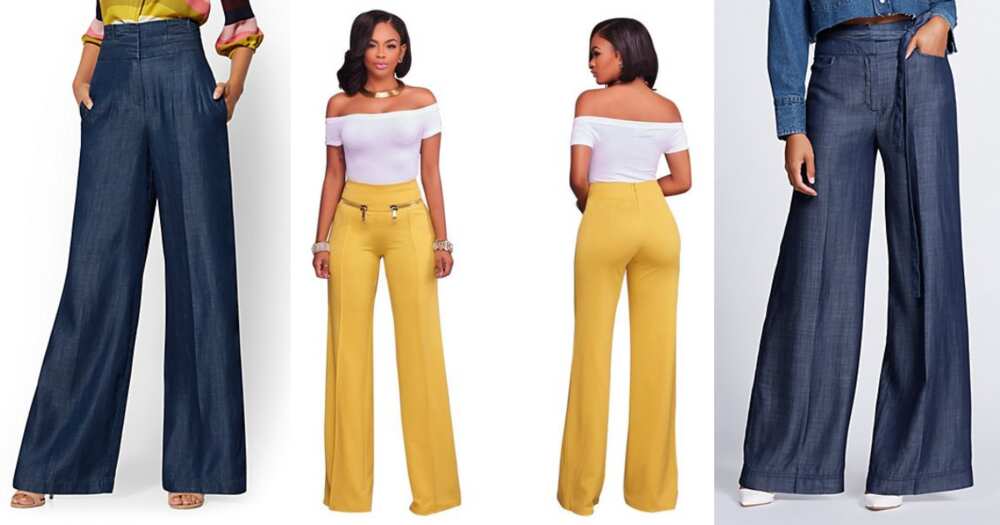 There is one immutable classic rule for the successful choice of such trousers. The looser the cut and fit, the longer the length should be. Look at the pictures, the types of women's trousers is a real range of styles. A separate, but a mandatory item of fashionable wardrobe are sports pants. Choosing their style, you should use the rule of one of the best fitness gurus, supermodel Cindy Crawford. It is simple: color and style are not important, only a reflection in the mirror that you like makes sense.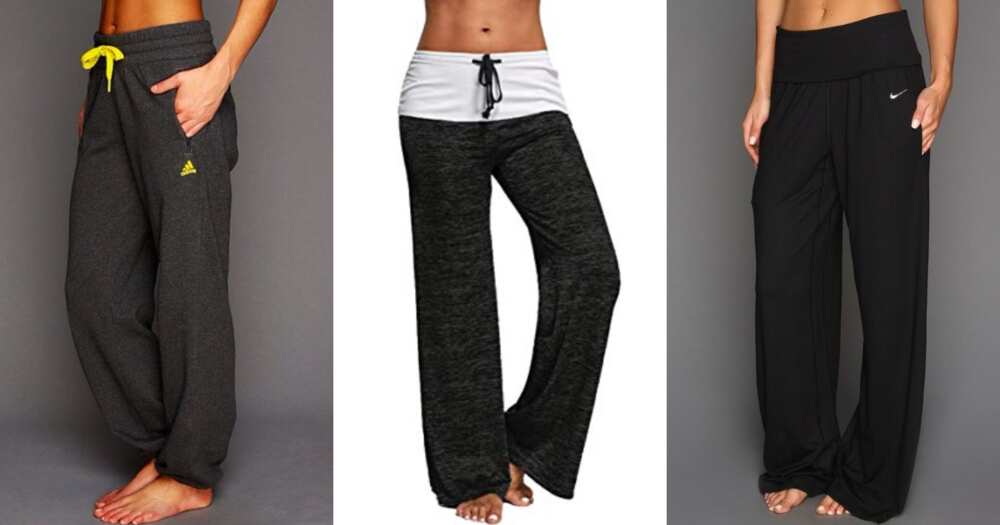 Straight-cut styles of trousers for ladies
There is no such style and direction in which they would not become a fundamental model. The optimal and immaculately elegant version of this straight trousers feminine style. The secret of such styles lies in impeccably accurate fit to the waist and hips, nothing superfluous, only the structural details that give clarity to the silhouette lines. In this case, classic slіt pockets and a distinct belt are completely useful.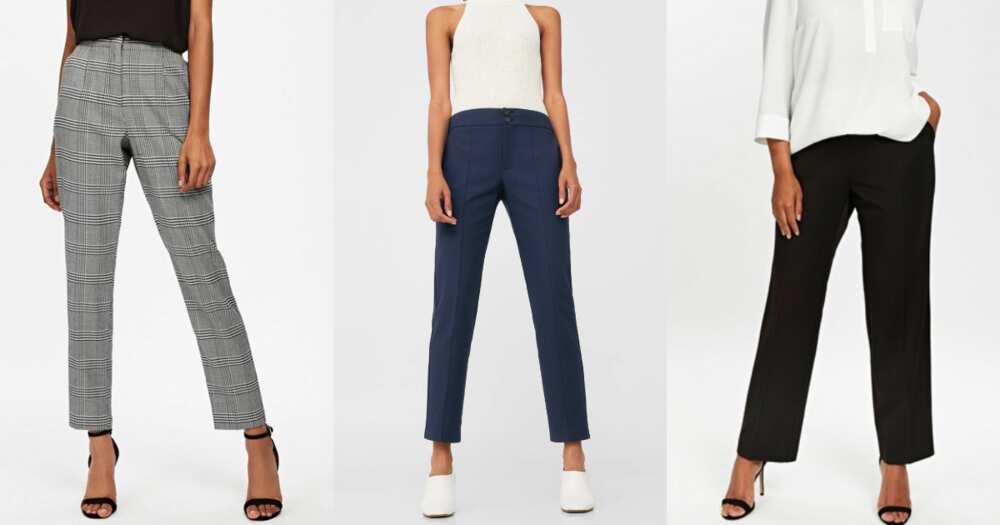 With the straight models, a high fit and an expressive, corset belt cut will be a perfect match. The right length also plays an important role.Pleated steams will only emphasize the impression. They will complete the vertical image of the silhouette. Simple at first glance, the details of this model make it a real standard of good taste.
Skinny trousers styles for ladies
Leggings, slims or drainpipe trousers and other fitting styles of trousers appeared by the standards of world fashion quite recently, a little more than half a century ago. Fitted designs were the answer to a very dynamic and active lifestyle and modern standards.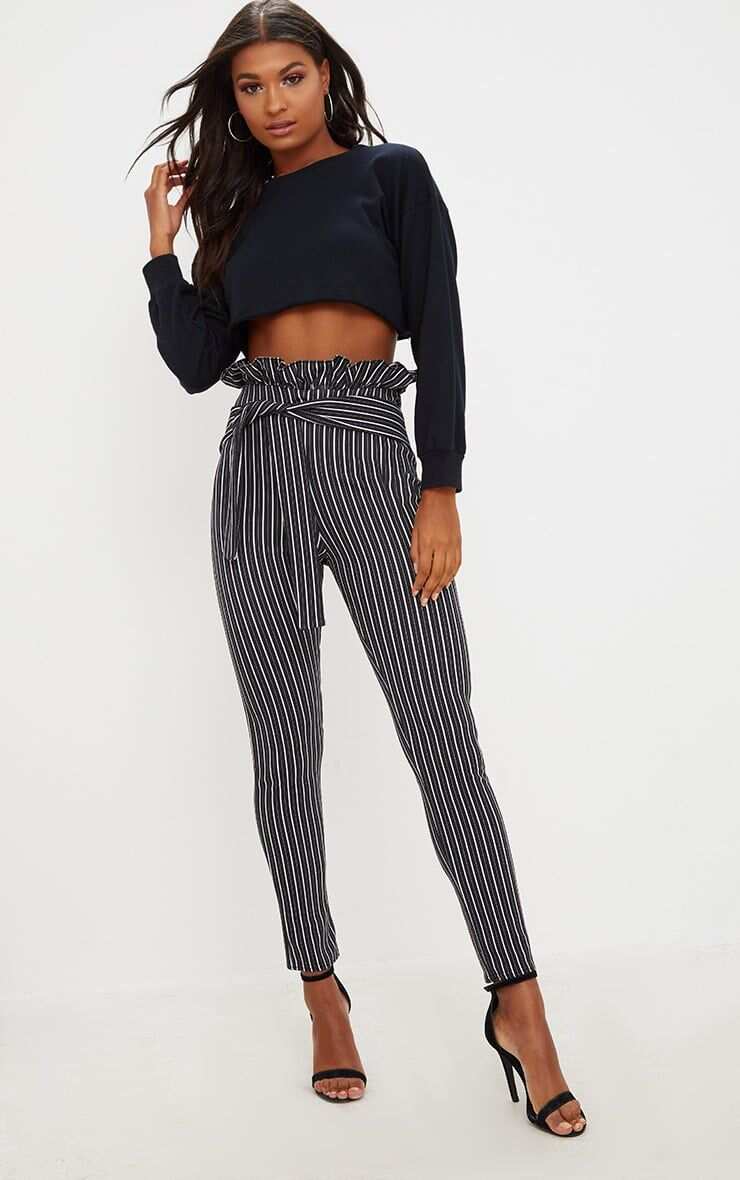 A loose sweater or tunic, voluminous, but the "airy" top is the most elegant combination with such models. Skinny pants are perfect for any outing. The style has long overstepped the boundaries of informal and casual styles.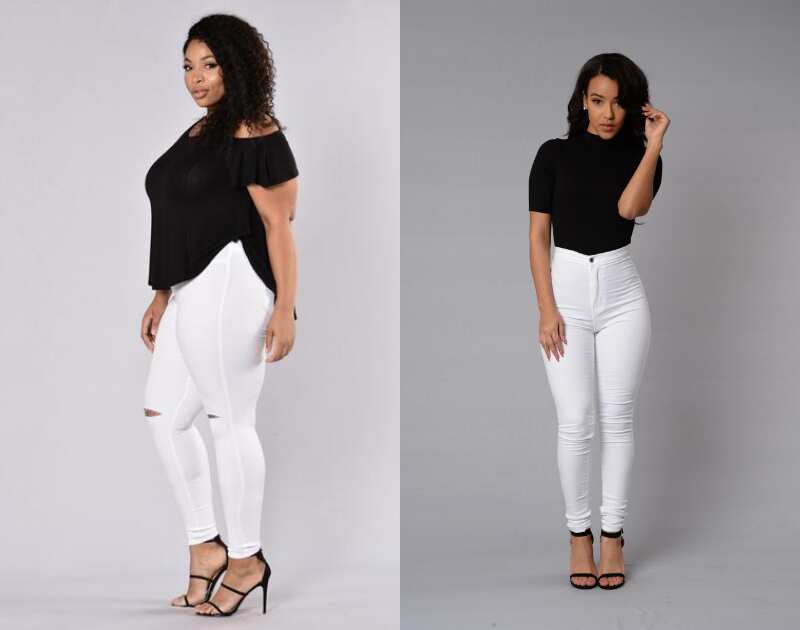 READ ALSO: Top party gowns in Nigeria
The best way to emphasize an excellent figure with the help of such styles is absolutely simple. You just need to avoid any additional and in this case excessive, details of the style.
Ankara trousers styles for ladies
Ankara styles of trousers for ladies are a separate section of fashion, that is definitely worth being accentuated. There is plenty of pants for women going in Ankara fabric. So, we decided to show you the best styles that will attract your attention and be to your taste.
Ankara wide pants for women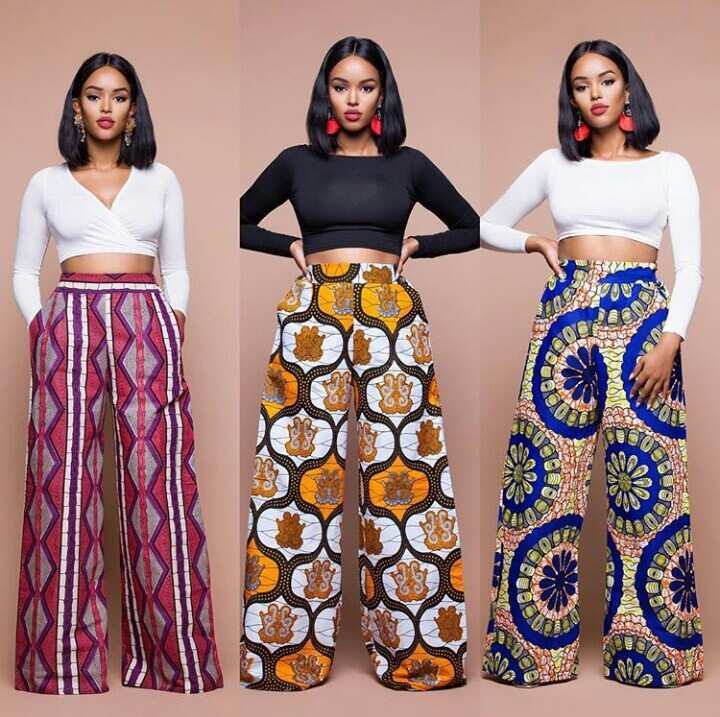 This style of Ankara pants for women will undoubtedly look fantastic and gorgeous on you. Wearing this Ankara pants style, you obtain the option to supplement your outfit with individual patterns, and also you get an ability to combine this Ankara style with different tops and blouses. You have a wide choice starting from tank tops, and crop tops and ending with loose tops.
Bell-bottomed Ankara trousers styles for ladies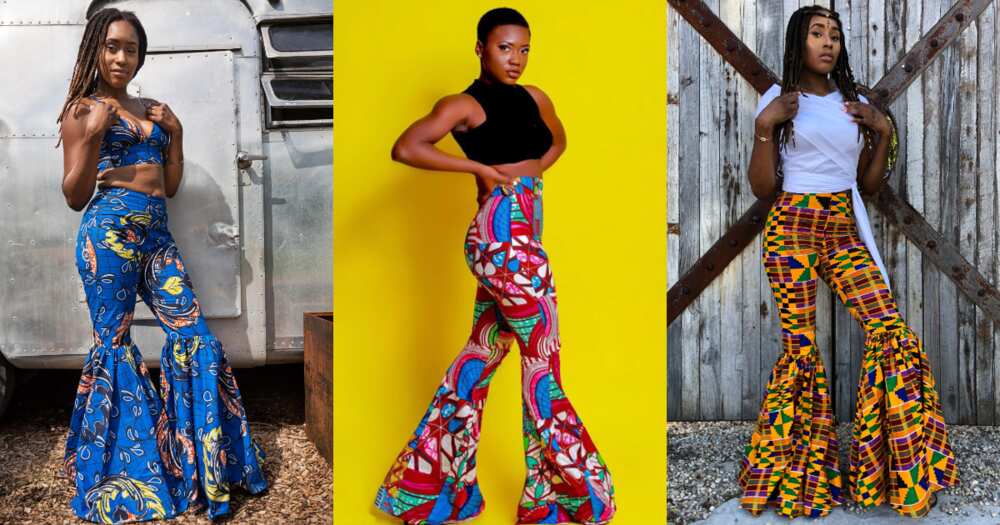 Bell-bottomed Ankara trousers are one of the most trending pants for ladies. It look very stylish and fashionable, giving your outfit a fantastic charm. There is also a variety of tops that you can combine with your bell-bottomed Ankara trousers. Everything depends on your mood and taste. You can go for a modest and straightforward top to lay the main emphasize on the pants. Or you can go a little bit extra and chose a bright top of solid color or the same Ankara pattern to create a unique and attractive image. Such outfit would be a perfect match for a party or even date.
Palazzo Ankara pants for women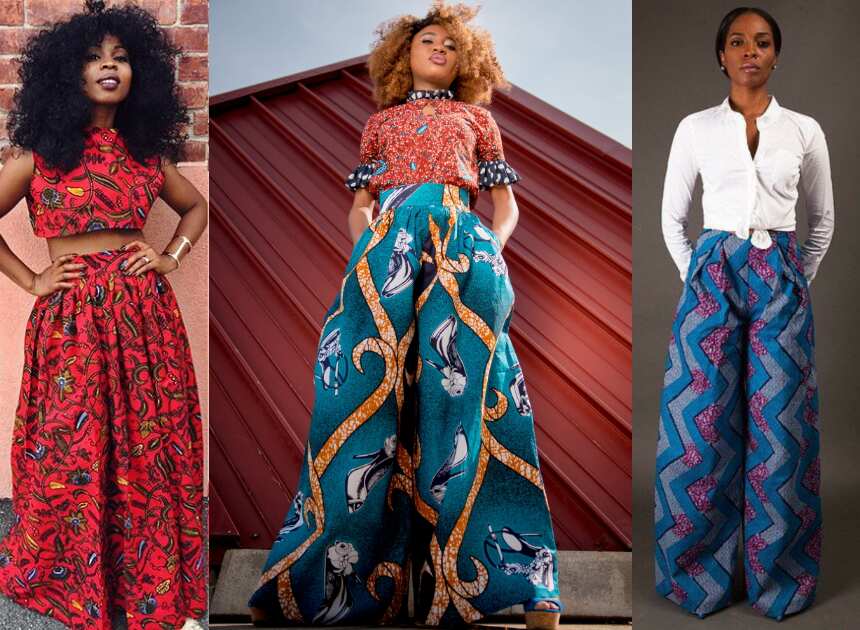 We want to finish our collection of Ankara trending pants for ladies with another loose-fit style called Palazzo. You should definitely take them into consideration if you have had a bellyful of cheesy skinny pants. These styles of Ankara trousers also excellently go with different types of tops. Palazzo Ankara trousers look absolutely unique and fantastic, drawing all the attention to your gorgeous outfit.
READ ALSO: Popular a line ankara dresses for Nigerian women
Source: Legit.ng