This year, the world saw another beautiful British royal wedding which made us all wish we could become a part of royalty. The entire planet had a chance to witness Prince Harry and Meghan Markle's romantic wedding ceremony. Of course, many people started wondering when and how the Prince Harry and Meghan Markle meet.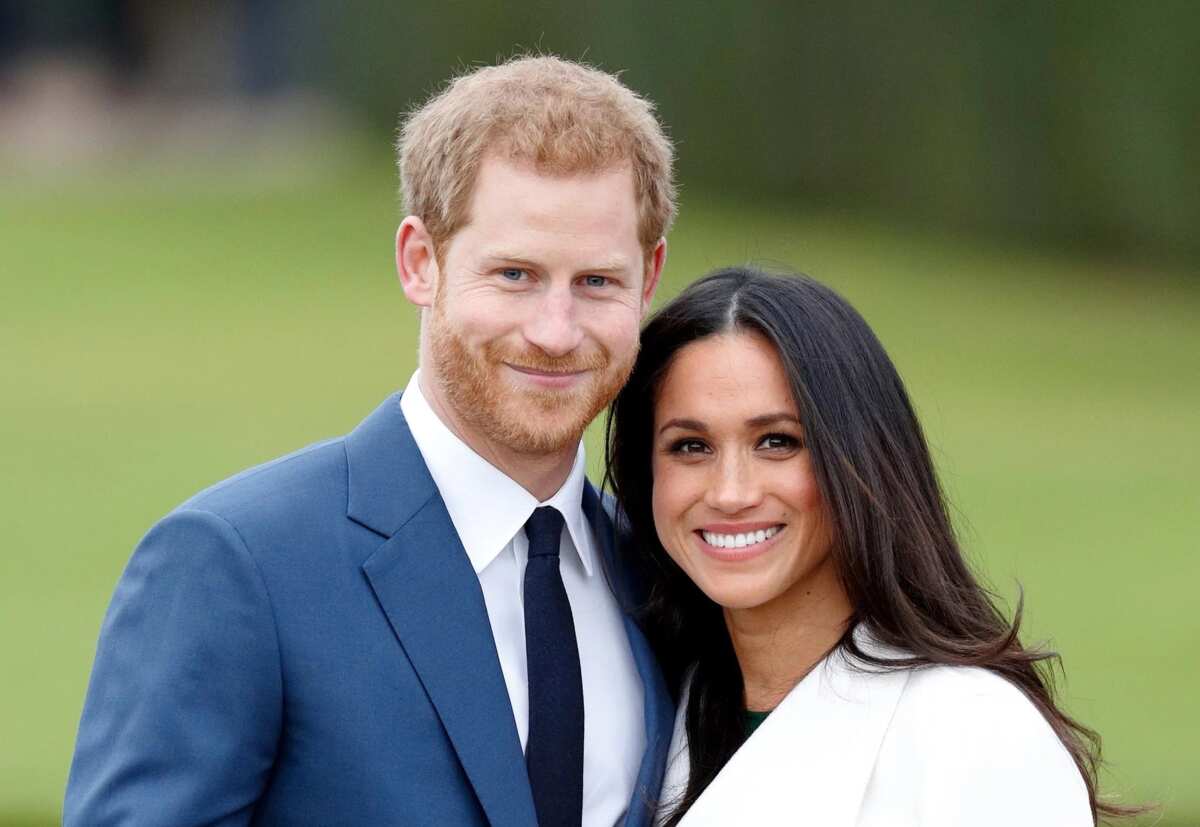 Prince Harry and actress Meghan Markle love story
According to the two lovebirds, they first met on a blind date. Usually, blind dates will not result in anything serious, but in their case, they ruined all the stereotypes. Harry said that he knew Meghan is the one the exact moment he met her.
Nobody knows exactly who their matchmaker was, but people speculated it was one of Harry's friends. Some sources point out that it was the friend of the royal family, Violet von Westenholz, while some other theories suspect the fashion designer from Britain, Misha Nonoo, who has been Meghan's close friend for many years. No matter who it was, this person unknowingly made history by introducing Prince Harry and Meghan Markle to each other.
When she was speaking about their first meeting, Meghan Markle said that she did not know much about Harry, but she asked the person who set them up if he was a nice person. She wanted to date a kind person with a good heart; otherwise, it would not make any sense for her. The two instantly liked each other on their first date in July 2016, when they grabbed some drinks. Both Harry and Meghan wanted to meet again, and they asked each other what they are doing tomorrow. After that, they went on another date and hit it off very soon.
Harry and Meghan's trip to Africa
Prince Harry was smitten by the American actress so much that he decided to go for a risk. They only managed to go on two dates before he offered her to go with him to Botswana, Africa. Surprisingly for him, Meghan agreed, and the two travelers went on their romantic trip.
This trip was so significant for the royal couple that even the diamond stone in Meghan Markle's engagement ring was from Botswana – usually, the royals use their own collection of gems for these purposes.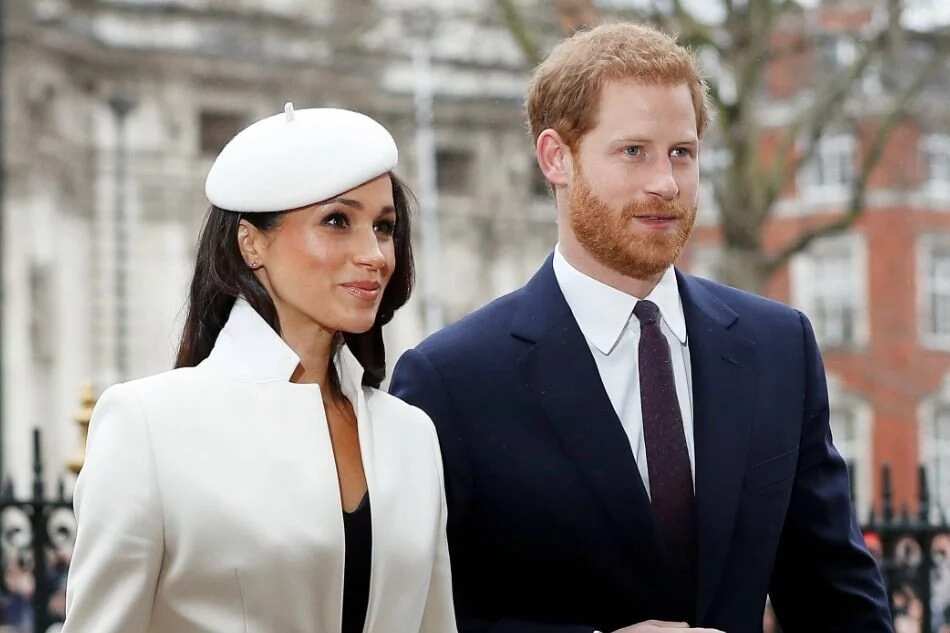 The start of the rumors
After their trip to Africa, the two did not loose connection. They kept dating in private for about six months, finding time in their busy schedules for each other. During that time, Meghan was filming a movie in Toronto, and Harry was busy with his various royal duties. Half a year later, the media finally found out about their romantic connection, and the article about Harry and Meghan first appeared in the Sunday Express newspaper.
Their reports said that Harry was absolutely smitten by the American actress, and people started suspecting that the most famous royal bachelor finally found his dame of heart. Hello magazine noticed the matching bracelets of the couple. Some other tabloids tried to analyze the timeline of their relationship, checking Meghan's Instagram photos and connecting them to Prince Harry's traveling schedule.
The media attack on Meghan Markle
Even though Meghan was happy as Prince Harry's girlfriend and he was prepared to do anything in the world for her, not everything was a fairytale. Harry and Meghan themselves did not experience any relationship problems, but the media were not so kind to the new love of the Prince. Things supposedly got out of hand so much that the royal family had to issue a statement, which asked the media outlets to leave Meghan Markle alone.
The statement highlighted the racism and misogyny against the American actress since the media emphasized the fact that she is African-American and was already married once, but her marriage ended with a divorce. Because of that, Prince Harry was really worried about his girlfriend's safety and was feeling disappointed that he was unable to protect her from all the bullying and harassment.
According to the statement, he always knew that the media are overly curious about his private life, but the media storm against his girlfriend has gone too far. It turned out that the attack has spread on her mother, who was unable to enter her own house because of the photographers. All of her close friends were also bombarded by the media in attempts to dig out exclusive information about her. The royal family raised awareness about how much the media abuse affects Prince Harry's girlfriend and admitted that she has to endure a lot of legal fights against the newspapers who spread untrue stories about her. After the statement was issued, a lot of people admired the courage of Meghan Markle and Prince Harry who had to go through all of this just to be happy together.
Meghan later revealed that despite being an actress and starring in the movies, she is not a public person at all, and that is why all the initial attention was shocking for her. She said that tabloid pop culture is not who she is, and she prefers the quiet life with her loved ones. Meghan confessed that at the beginning, she and Harry were hit with lots of fake stories and lies and this was stressful enough for both of them. In the end, she made a decision not to read any of these stories, and focus fully on maintaining and nurturing her relationship with her beloved Prince Harry.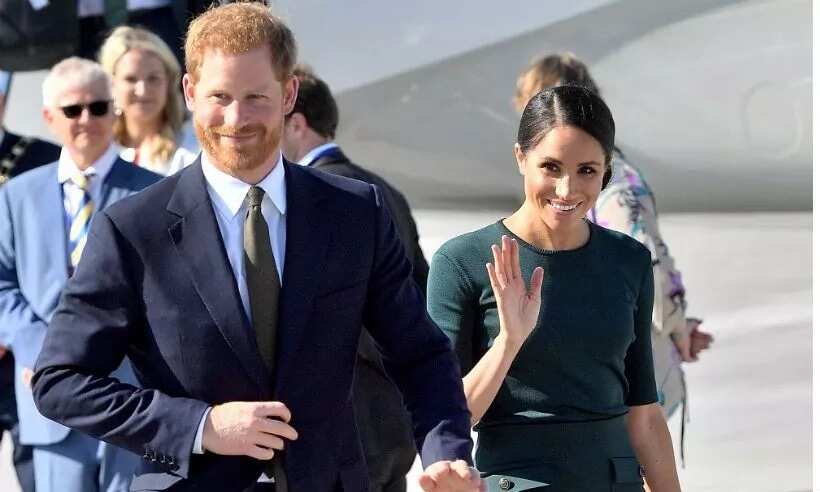 Harry and Meghan's first public outing
The statement, which was released by Kensington Palace, became the official confirmation of Prince Harry's relationship with Meghan Markle. They first came out together in December 2016 – the two lovers went Christmas tree shopping in London, and then they attended the West End show. As the witnesses stated, the couple looked like they are absolutely in love.
The media reported that Harry just came back from his Toronto trip – he went all the way to Canada just to visit Meghan. Also, journalists noticed that Meghan and Harry started wearing the matching golden necklaces, which had the first letters of their names – M and H – on them. The couple ended up spending Christmas apart, but instead, they celebrated New Year's Day with each other in London. Afterwards, Harry and Meghan went on a romantic trip to Norway – they wanted to see the beautiful Northern Lights.
In January 2017, Harry decided to introduce his girlfriend to his famous family. The media portrayed this meeting as being quite stressful for Meghan, but it went better than expected. It was rumored that the first ones to break the ice were Prince Charles, Harry's father, and Prince William, his brother. Meghan was also introduced to Duchess of Cambridge Kate, William's wife, and her daughter Princess Charlotte. Kate and Meghan got along really well. The actress was very happy and blessed to get to know the family of her significant other, and they all welcomed her with open arms.
In May that year, the couple appeared together publicly again. Meghan was cheering for her beloved man at the charity polo game. Later, the photographers caught them kissing each other passionately. Prince Harry also proved that he is absolutely devoted to Meghan Markle when he drove about one hundred miles just to pick her up for the wedding of Pippa Middleton, Duchess Kate's sister. The media pictured it as a sign of love and devotion.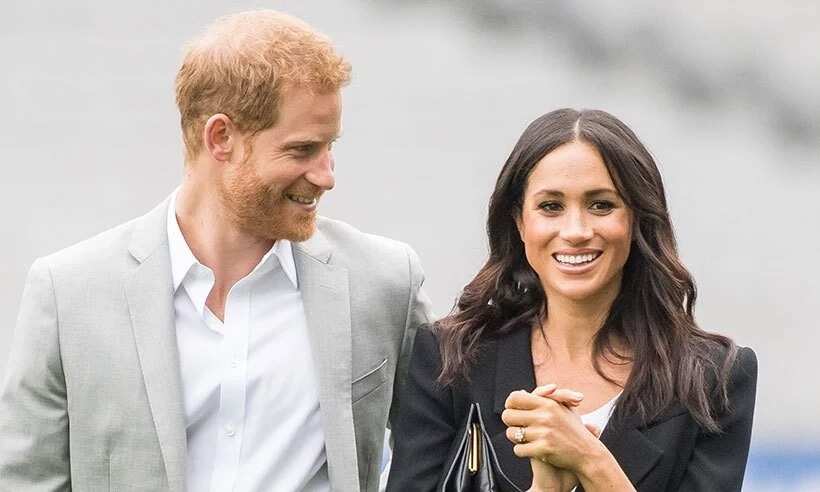 Harry and Meghan become closer
For Meghan Markle's 36th birthday, which coincided with the first anniversary of their relationship, the lovebirds returned to Botswana – the place which was so special for them. They went to observe the beautiful wildlife habitat together, and later they visited Victoria Falls. Their trip was extremely romantic, and both were satisfied with it.
Meghan gave an interview for Vanity Fair magazine, where she confirmed that she and Prince Harry are a couple who are in love with each other, but she refrained from giving the magazine too much insight into their relationship. She asked people for understanding, as she said that in the future she and Harry would be able to tell a lot of stories and recall a lot of beautiful memories, but for now, it is their time, and they want to keep it rather private from the prying eyes.
Afterwards, Harry and Meghan were spotted once again in September at the Invictus Games event in Toronto. The event was also attended by Meghan's mother, Doria Ragland. As the reporters assumed, this was when the Prince had a chance to ask Meghan's mother for her permission to propose to her daughter.
The same autumn, the couple received the royal permission from the Queen for their engagement. Meghan met the Queen in the Balmoral Castle, and the meeting went well. Prince Harry talked fondly of that day's events, saying that Meghan was instantly loved by the Queen's corgi dogs. He said that for his entire life, the dogs kept barking at him, but when Meghan walked in, they instantly approved of her. He also added that the corgis are probably the hardest members of the royal family to please, so their opinion means a lot.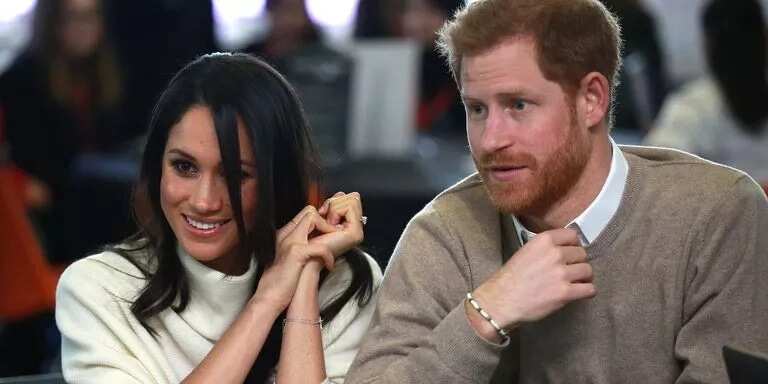 Prince Harry and Meghan Markle's engagement
When everything was sorted out, and the families of Harry and Meghan approved of their relationship, it was time for moving their relationship to the next level. According to the insiders, Prince Harry officially proposed to his beloved American girlfriend in Nottingham Cottage, on a quiet November night. The Prince got down on one knee and popped a question in the informal atmosphere when the couple was casually cooking roasted chicken. When Meghan was interviewed by the BBC, she confessed that she was extremely pleased by her beloved man's surprise, and found it sweet, natural, and romantic.
Harry put a lot of effort into designing a perfect ring for his future princess. As we have already mentioned, he added the rare Botswana diamond to the ring. Aside from that, he also incorporated two other precious stones from the collection of his late mother, Princess Diana. Harry and Meghan had a photo shooting in Kensington Palace on the occasion of their engagement. The photos depicted a beautiful couple who were totally in love with each other and prepared for their family life after their exciting year and three months together. When Harry was asked about his relationship with Meghan, he could not hide his happiness and admiration for his sweetheart. He said that he fell in love with her so quickly, and he almost feels like the stars were aligned for their meeting. According to Harry, she just came into his life so quickly, and he came into her life, and it felt very natural and right for them both.
Before the wedding, Meghan Markle made some steps to becoming a future royal figure. She left the series "Suits", which she had a long-lasting role in. Meghan also decided to close all of her social media accounts.
READ ALSO: Jay-Z and Beyonce marriage life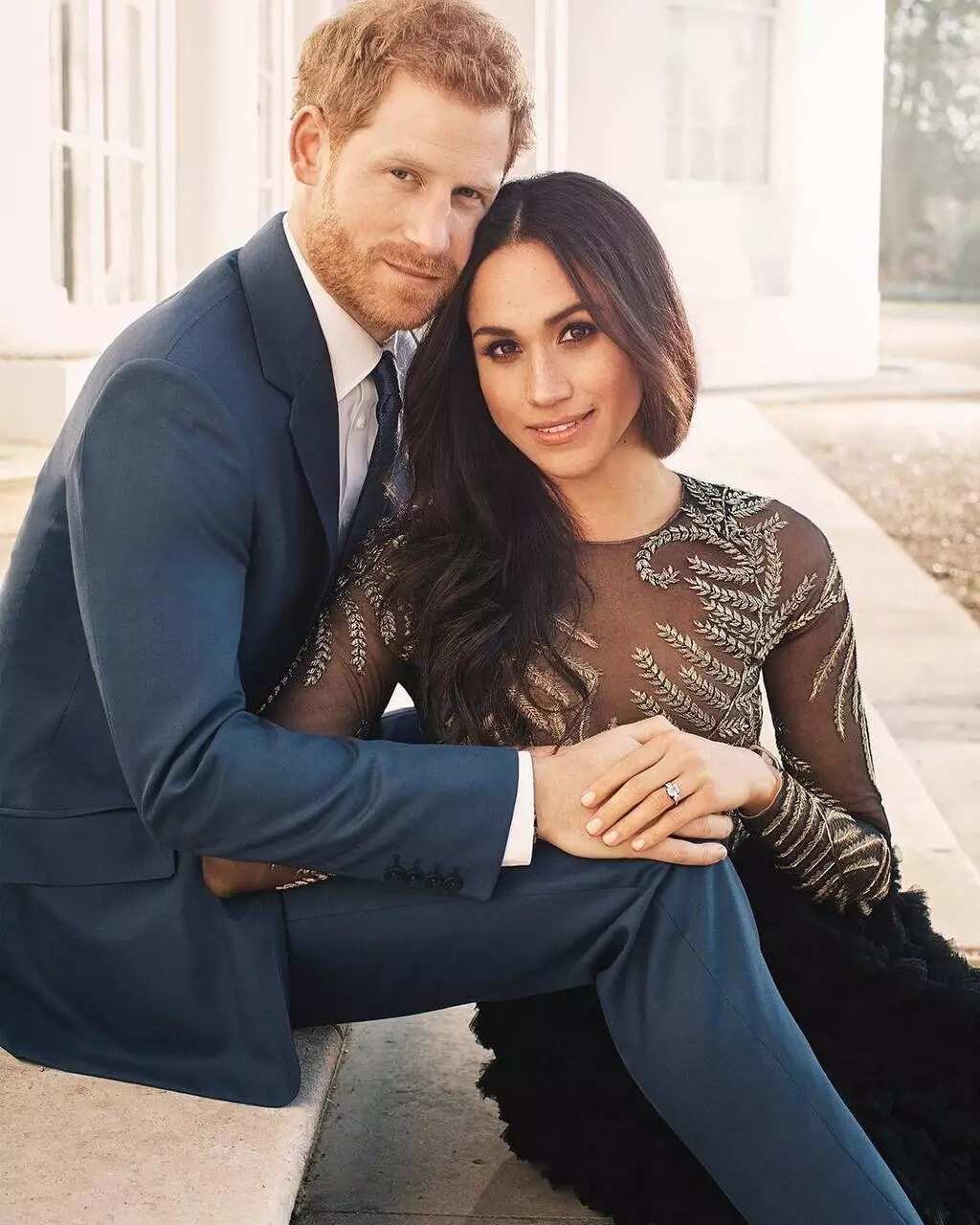 Prince Harry and Meghan Markle wedding: everything you need to know
The royal wedding became a huge event for all of the United Kingdom and the rest of the world. It took place at the St. George's Chapel, which is in Windsor. This venue previously served as a place for the former royal weddings of Prince Edward, Earl of Wessex, who is Harry's uncle, and also Harry's cousin Peter Phillips. Harry's father, Prince Charles, and his stepmother Camilla, Duchess of Cornwall, had their marriage blessing at the same chapel.
The wedding took place on May 19th, 2018. Unlike the previous royal wedding of Harry's older brother Prince William, this day was not officially declared to be a bank holiday. Ironically, the date coincided with the FA Cup Final, where Prince William is usually present as the official President of Football Association. This was an expensive wedding – it was fully financed by the royal family, and the overall cost of it is estimated to be 32 million pounds. The wedding attire was specified in the invitations – for men, it was dress uniform, lounge suit or morning coat, while for women it was day dress with the hat.
Meghan Markle's wedding dress was designed by Clare Waight Keller, British designer who works for the Givenchy fashion house. The addition to her beautiful dress was a 16-feet long veil, embroidered by 55 flowers.
The bride was also wearing the diamond tiara, which was created in 1932 for Queen Mary, and generously lent to her by Queen Elizabeth. Meghan's shoes, which were made in a pointed couture style, were also by Givenchy brand. Her hair was done by the professional hairdresser Serge Normant – it was a fringe that nicely framed her face and was tucked behind the ears. Meghan's make-up was done by the artist Daniel Martin, who went for a minimalistic look.
She had her nails painted in a neutral color, described as "pinky-beige". She carried a beautiful bouquet created by the florist Philippa Craddock and contained various flowers, such as sweet peas, forget-me-nots, astilbe, lily of the valley, astrantia, sprigs of myrtle and jasmine. These flowers were chosen by Prince Harry, and he chose forget-me-nots to honor his late mother, Princess Diana.
The overall style of Meghan Markle was following the theme "something old, something new, something borrowed, something blue". The "new" part was her brand new gown and veil. The "Borrowed" was a tiara from the Queen and sprigs of myrtle that were also used in the wedding bouquet of the Queen herself. The "old" was a piece of fabric from the wedding dress of Princess Diana and her favourite flowers in the bouquet (which also represented the "blue"). The dresses of the bridesmaids were designed by the same Clare Waight Keller. These dresses had a high waist and puff sleeves.
All in all, Meghan's look was very praised by the media and the fans of the royal family. Many people called her one of the most gorgeous brides in the British royal history. She and her stylists decided to go for the natural look, and it was definitely the right choice because Meghan is a naturally gorgeous woman who does not have to hide her beauty behind tons of make-up and accessories.
READ ALSO: Meghan Markle's mother, Doria Radlan, who is she?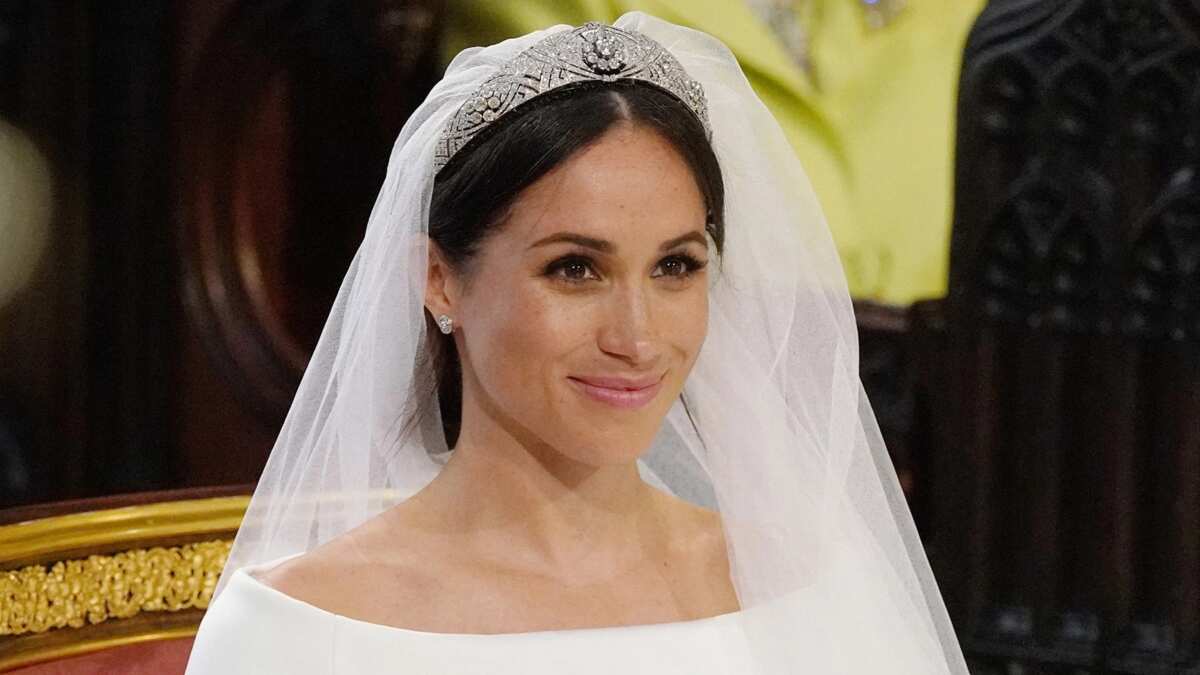 There were a lot of important announcements made prior to the wedding. First of all, since Prince William is a Football Association President, the speculations began that he will miss the FA Cup Final game. Although the timing of the wedding and football game did not coincide, the Duke of Cambridge decided not to attend the game, as he was his brother's best man at the wedding and wanted to stay at the celebrations after the event.
The media also speculated about Meghan Markle's maid of honor. Some people said it would be Jessica Mulroney, her good friend. But Meghan decided to go without the maid of honor, instead, she decided on having a total of ten young bridesmaids and page boys, who were all the relatives of her and Prince Harry. Unfortunately, her father Thomas Markle Sr. could not walk her down the aisle, because he ha a difficult heart surgery recently, so Prince Charles, Harry's father, walked his son's bride down the aisle instead. The whole 250 members of British Armed Forces took part in the royal wedding, mostly those who were connected with Prince Harry.
The wedding was attended by approximately 600 guests, and most of them were the friends and family of the couple. None of the British and American political leaders were invited, with the exception of the former Prime Minister, John Major who has a close relationship with the brothers William and Harry.
The royal wedding included some beautiful music, for instance, the hymns "Lord of all Hopefulness" and Princess Diana's favourite song "Guide Me, O Thou Great Redeemer" – Prince Harry even cried a little during the ceremony.
READ ALSO: Hailey Baldwin and Justin Bieber engaged?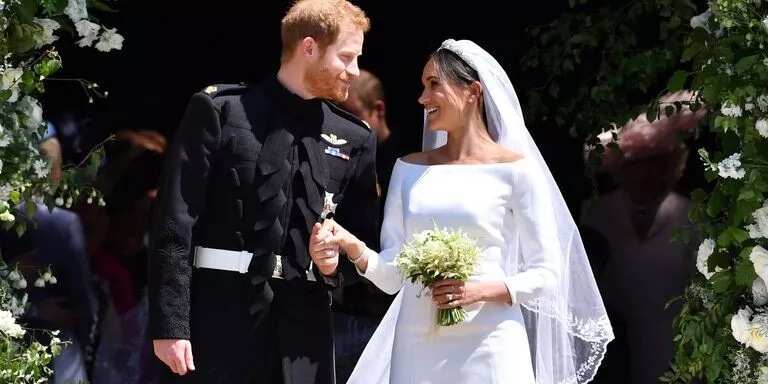 After the ceremony, the royal family celebrated the marriage of Harry and Meghan in a more private setting. There were two receptions – the first one was held after the carriage procession in St. George's Hall, and it was hosted by the Queen herself. The special guest at this reception was the famous singer Elton John, who performed for the guests. Both Prince Harry and his father gave speeches.
Then, there was another reception, which took place at Frogmore House and was more for the close friends and family. Meghan was taken to this reception by Harry in his Jaguar car. She wore a beautiful dress by the designer Stella McCartney along with the emerald ring, which used to belong to Princess Diana. Meghan made a touching speech at this event. Another speech was made by William, Duke of Cambridge and the groom's brother. This reception ended with fireworks.
Harry and Meghan's wedding was a huge event which was covered in many countries of the world and watched by millions of people. The official status of Meghan Markle after the wedding became "Her Royal Highness Meghan, Duchess of Sussex" since Prince Harry received the "Duke of Sussex" title and a few other titles.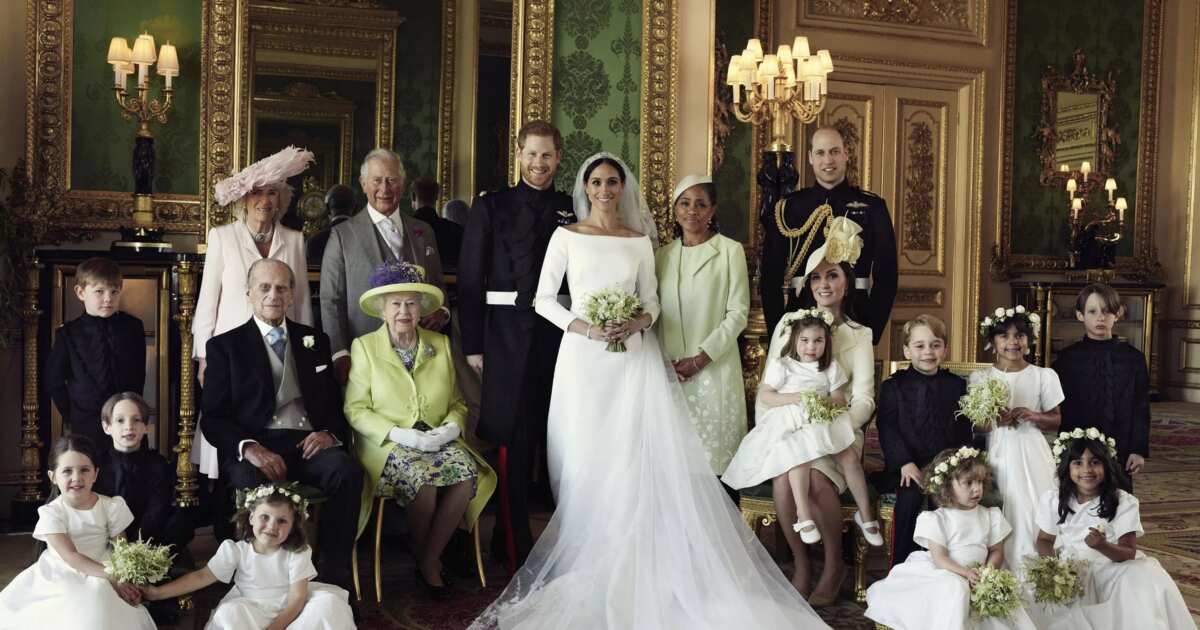 This was the amazing love story of Prince Harry and Meghan Markle. They are a very loving and caring couple, and we hope that their admiration and respect for each other will last forever.
You can see more amazing wedding photos of Prince Harry and Meghan Markle's special day in this article.
Source: Legit.ng