Ghana weaving styles for natural hair
It's time to lay down on the beach and provide some attention to yourself. Today girls will get the full scale of Ghanaian weaving styles in Nigeria! Check our top 10 hairstyles from this magical country!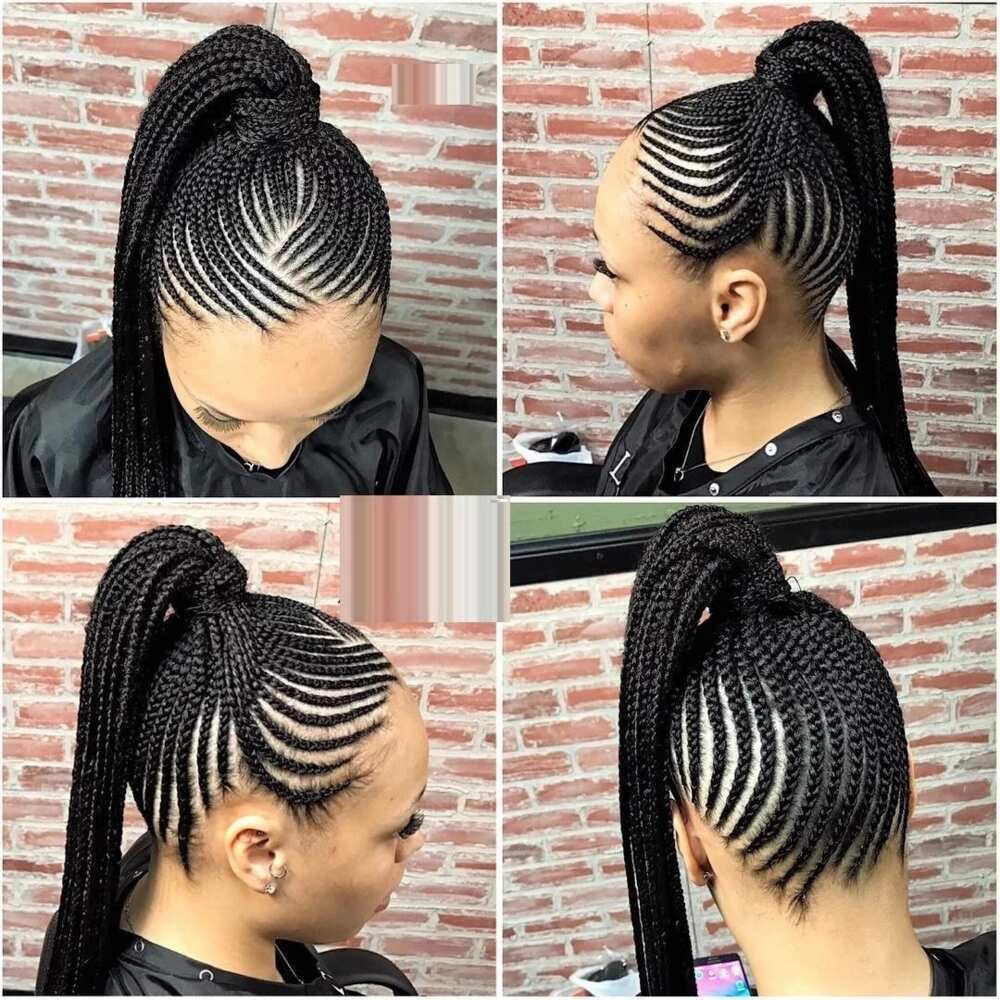 Ghana Weaving Natural Hair
Before we get to the hot point of the discussion, it's necessary to provide some information that Naturals are restricted to the certain types of hairstyles. Moreover, any change in your hairstyle should be reasonable. Still, it doesn't mean that you can opt for any style that you want. It's just needed to remember what you actually need and how you can protect your hair from any damage.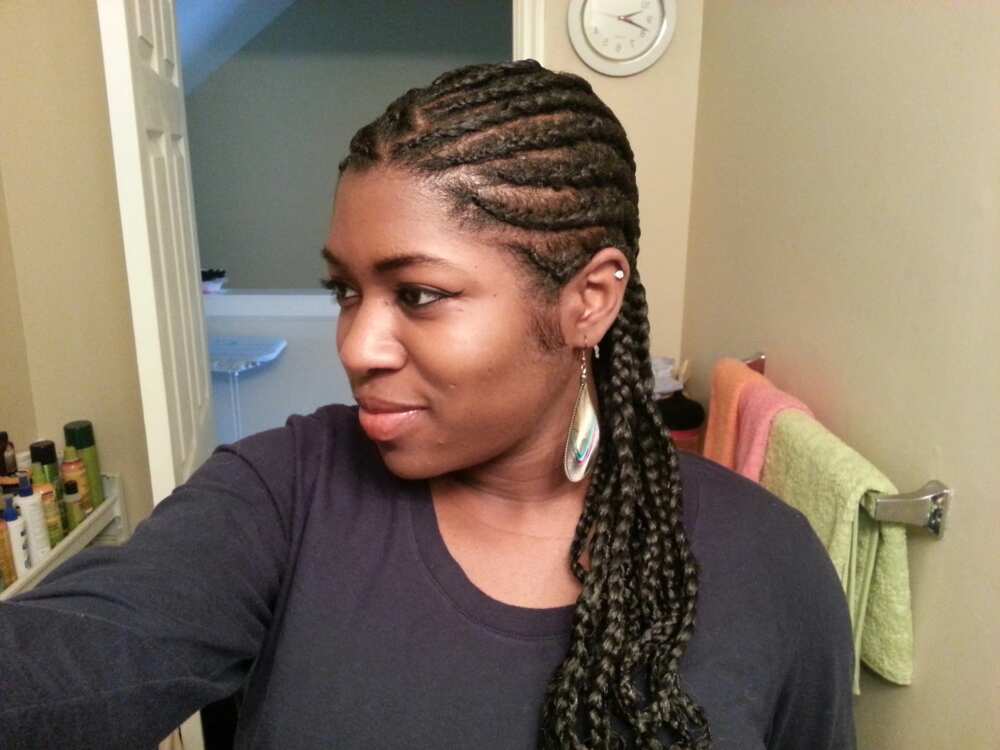 READ ALSO: 10 different types of cakes to bake at home
Ghana weaving styles are very popular for today. You can see a lot of them not only in Africa but also all over Europe and America. Therefore, you will need to make certain protection moves to make your hair perfectly fit. Check these top tips before you start weaving your Ghana braids!
First thing is connected with edges, if you don't have edges, then you need to choose another style of hair. In this case, Ghana braids will not fit you. It will just expose your bold spots on your head.
The second tip is very simple! You need to wash your hair properly. Freshly washed and conditioned hair is exactly what you need for Ghana hairstyles.
It's necessary to blow dry your hair before you start anything. It will make your hair smoother, and the whole process will be less painful. You don't want to hurt yourself by not blowing your hair dry. If you didn't blow your hair dry, then you can thread. It's possible! You just need to make your hair stretched.
You can do the styles from some point of your head to the center or side of your hair. That's how you can make that the tension of your hair is made not throughout your hairline. It's also possible to go for styles with little brushing allowance. These styles are usually named after the famous reality TV show celebrities.
Do not spritz it your hair with water or it will jeopardize the longevity of your hairstyle. Therefore, it's recommended to sleep in your satin bonnet. Just try to leave the conditioner on your hair and apply oil on your scalp.
The last thing to know is to remember that you are the owner of your hair. You will need to take care of it whenever it's possible.
Top 10 Ghana weaving styles
10. Cornrows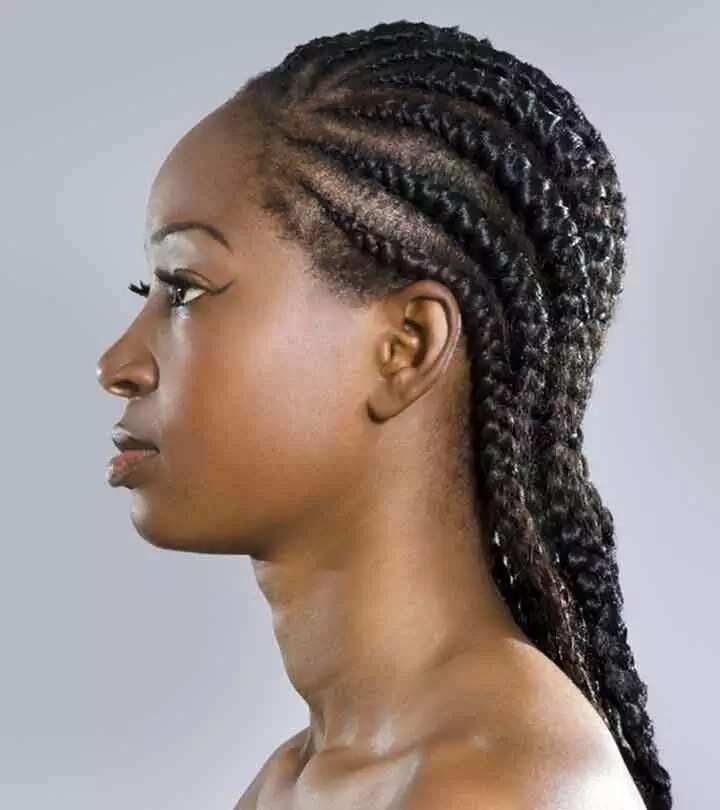 Classical cornrows will be the best fit for natural hair. If you need to protect your hair, then it's your first choice. A quick trip to the salon will leave you beautiful and confident. This hairstyle will be the best choice for you for several days.
9. Classic Ghana Braids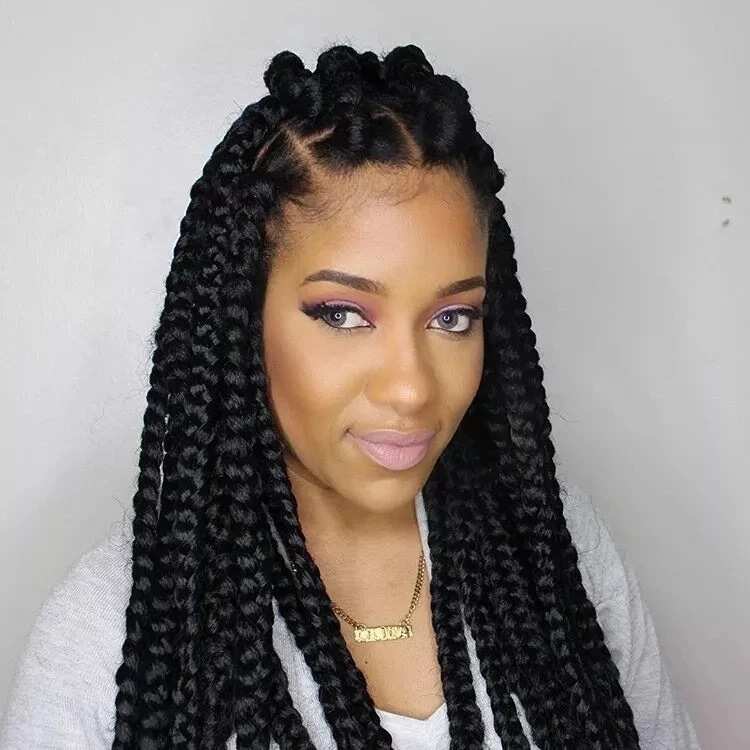 It's the oldest trick which every woman should have in her sleeve. It's not difficult to maintain this hairstyle for at least three weeks Depending on the amount of care you put into the hair, you may extend the longevity of the hairstyle up to one month.
8. Twisted Protective Ghana Weaving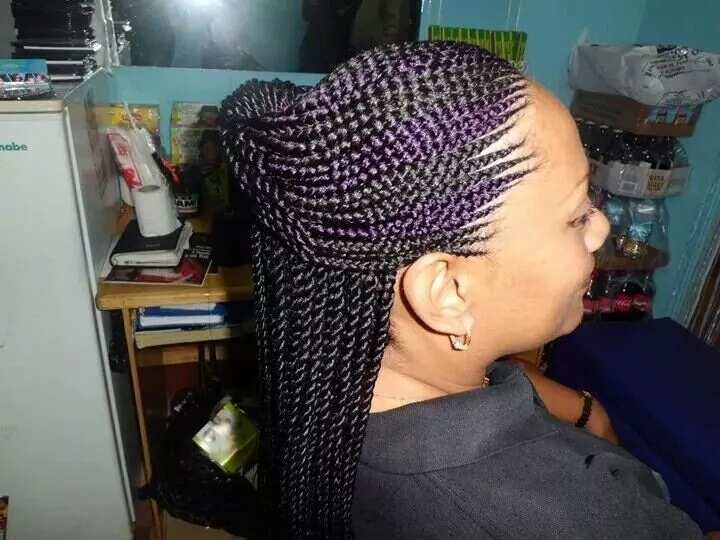 Shrinkage can be a real pain for a lot of women. They all have to deal with shrinkage after washing. If you need to make the procedure less painful, you will need to try your favorite curl cream. After that, just twist your hair out.
7. Crochet Braids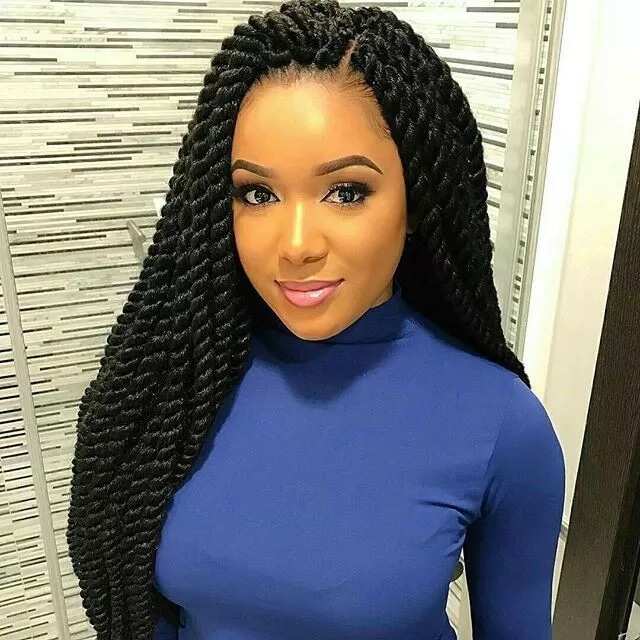 It's one of the most popular hairstyles in Nigeria. It's a quick alternative to the classic braids. The crochet braids are unraveled. They need to be well hydrated and maintained. If you keep them well, you can reuse it several times.
6. Ghana Twists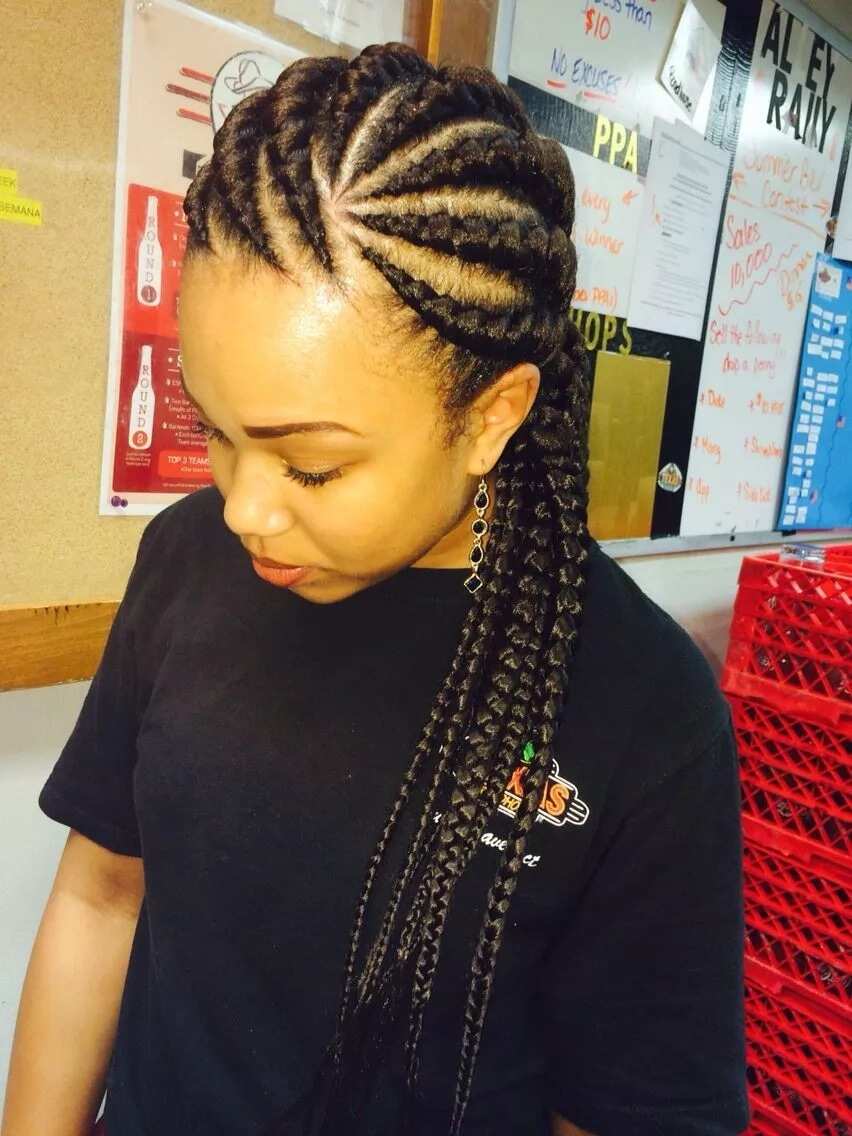 They can also be called Havana braids. Therefore, you will need to use Havana hair extension and create two standard cornrows. You will need bigger and thinner twist to pull them tighter together.
5. Ghana Braids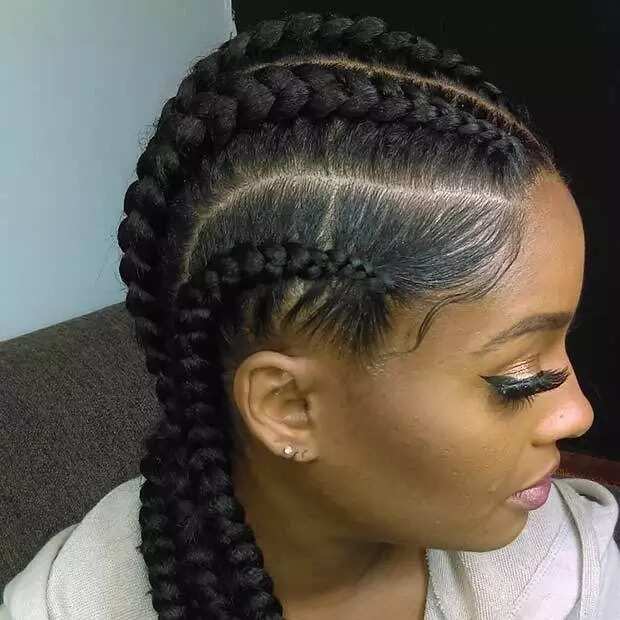 It's the very African style of wearing hair. These hair braids last very long. It may offer a fabulous hairstyle almost in no time.
4. Long Two Tone Ghana Braids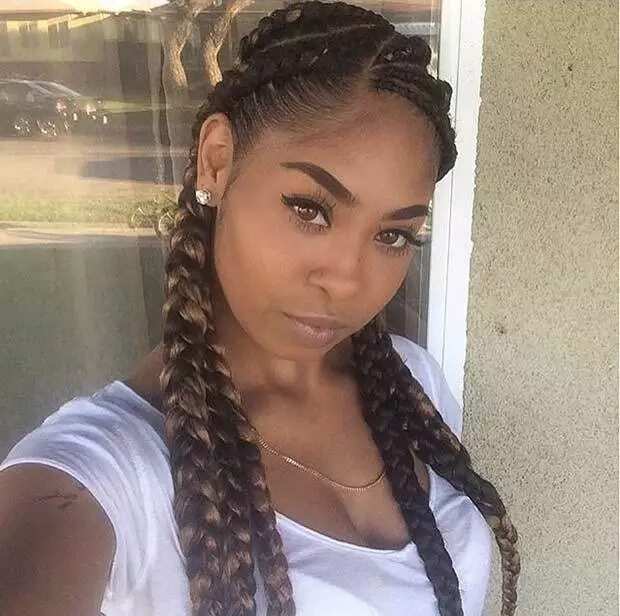 These long Ghana Braids can actually feature two colors of braids. These colors can be completely different from one to another. It can be named bold and pretty. You may simply connect two perfectly different colors for your hair, and that will be all!
3. Ultra Long Natural Hair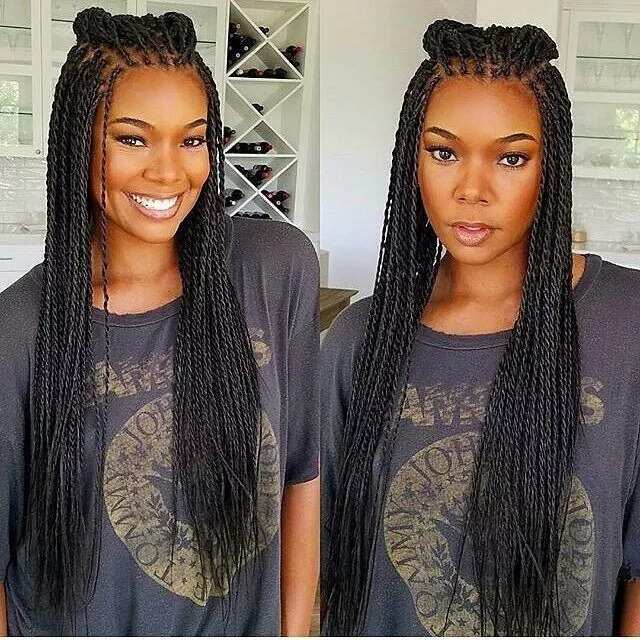 If you have ultra-long hair, then you can definitely opt to the ultra-long Ghana braids. If you need to take control over your long curly hair, you will need to invest in a good quality edge control. It's necessary to use this good quality edge control all the time. It may cost you a little bit more money than you might have expected, but it will provide you a fascinating look!
2. Spiral Pattern Ghana Braids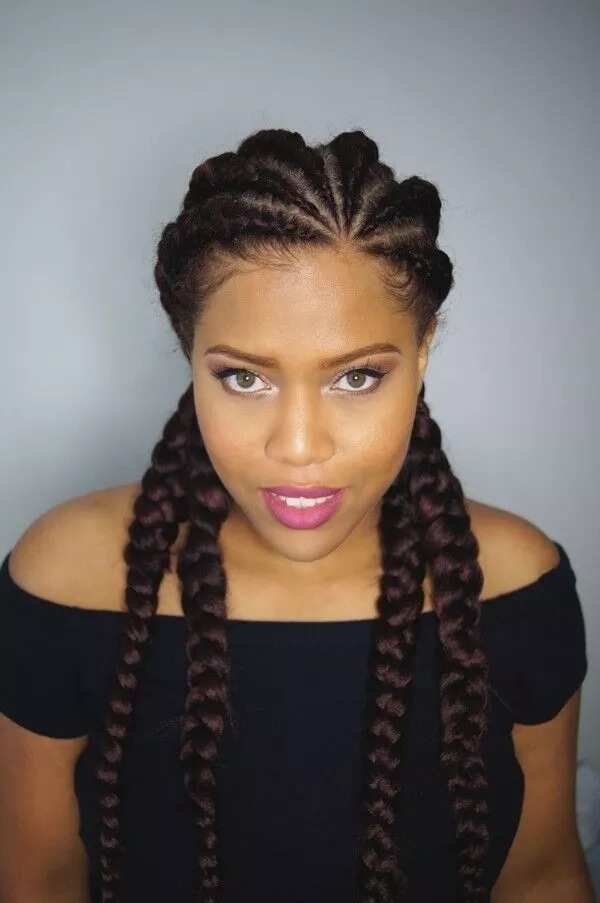 You will need to start weaving this hairstyle from the center of your head. Ghana spiral pattern will provide a slightly different look from your everyday style. These braids might be a good option for you until you master slightly simple patterns.
1. Ghana Braid Pigtails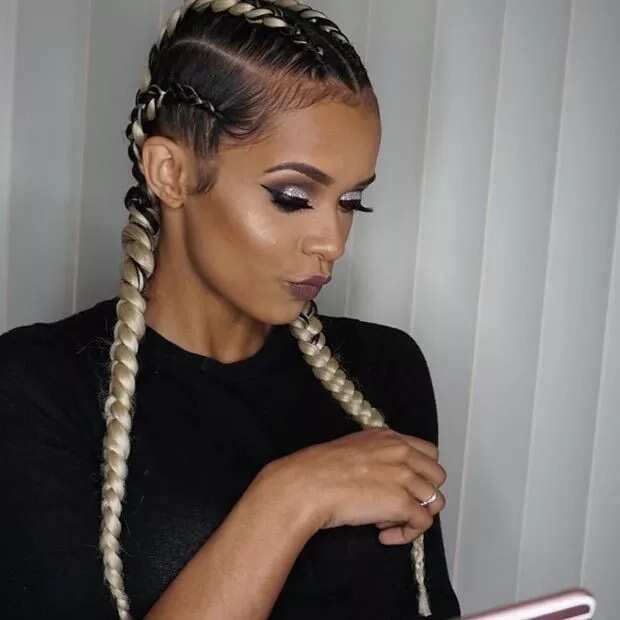 Who does not like pigtails? This Ghana hairstyle will be the best option for you as they are really simple to weave. Pigtails style is one of the most fun for today. Therefore, if you want to add some interesting peculiarities to your hairstyle. Moreover, your man will also like to see you wearing these fantastic pigtails!
Conclusion
If you want to use one of the above-mentioned hairstyles, then you need to prepare your hair properly. You will need to use our tips for getting your hair ready for everything. Natural hair will help you in many situations. First of all, you will need to take care and buy lotions, oils, and creams for your hair. Nobody will look after your hair better than you do.
READ ALSO: Wedding suits in Nigeria: top 10 the most stylish ideas
Source: Legit.ng