President Muhammadu Buhari biography: age, education, children, wife
Muhammadu Buhari is a popular Nigerian political leader. He served as Nigeria's head of state between 1983 and 1985. In 2015, Buhari was democratically elected to hold the Nigerian president office and re-elected in 2019.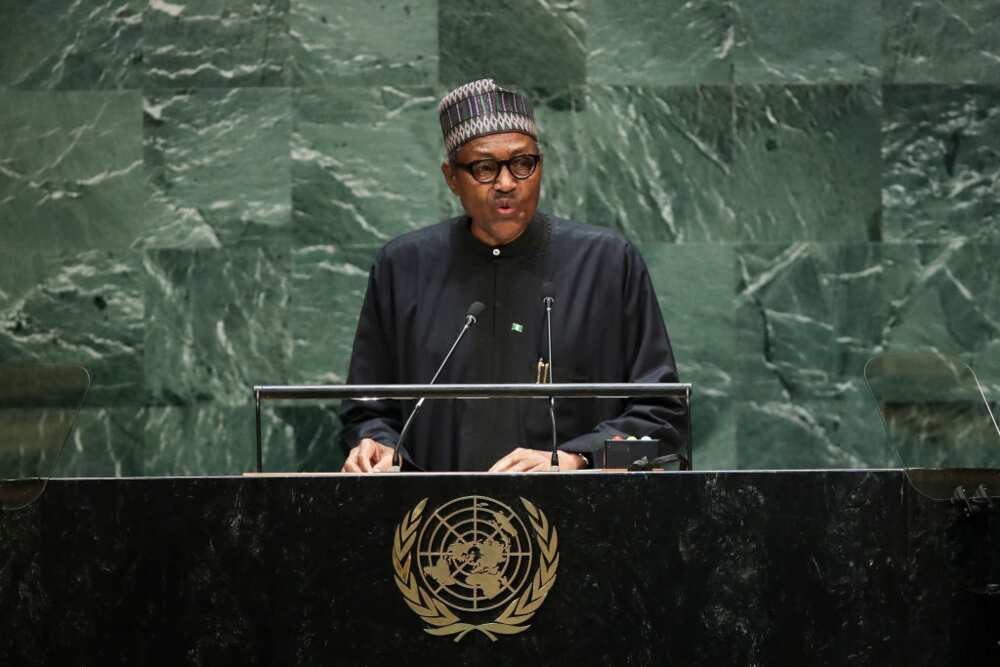 Before his election to the presidential position, he held top positions in his county's military. At one point, he served as the military head of state.
Profile summary
Full name: Muhammadu Buhari
Date of birth: 17th December 1942
Place of birth: Daura, Katsina State, Nigeria
Buhari age: 78 years (as of 2021)
Nationality: Nigerian
Ethnicity: Black
Marital status: Married
Spouse: Safinatu Yusuf (1971-1988), Aisha Halilu (1989-present)
Net worth: $110 million
Muhammadu Buhari biography
He was born on 17th December 1942 in Daura, Katsina State in Nigeria. How old is Buhari? He is 78 years old as of 2021. His parents were Fulani chieftain Mallam Hardo Adamu and Zulaihat.
Buhari is the 23rd child of his father. His father passed away when he was four years old, and thus he was raised by his mother.
Muhammadu Buhari education
He began his studies in Mai'adua and Daura primary schools before he joined Katsina Middle School in 1953. Later, he went to Katsina Provincial Secondary School.
He joined the Nigerian Military Training College (NMTC) in 1962. Between 1962 and 1963, he took his cadet training at the Mons Officer Cadet School in Aldershot in England.
Military career
In 1975, President Muhammadu Buhari was part of the military coup that ousted Yakubu Gowon. As a result, he was appointed to take up the position of the military governor of Borno, formerly known as North-Eastern State. The same year, General Olusegun Obasanjo nominated him as the federal commissioner for petroleum resources.
In 1977, Buhari became the military secretary at Supreme Military Headquarters. By September 1977, he was performing regular duties in the military. He was also the division commander in Kaduna.
Upon the election of Shehu Shagari, the country suffered dismal economic status, and this was perceived as corrupt politics by everyone, including the military. This led to another military coup which took place on 31st December 1983. He was unanimously chosen as the new head of state.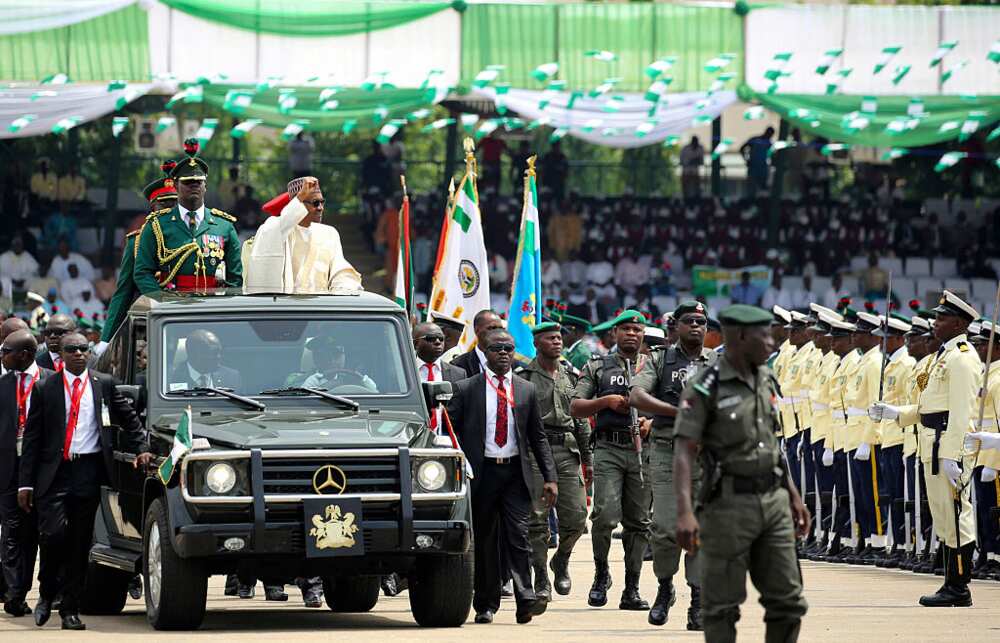 When he entered office, the previous government had already plagued numerous systems in the country. He was forced to take a tough stance on corrupt individuals. He launched a program known as War Against Corruption in a bid to enact positive reforms.
Even though Nigerian citizens initially welcomed his efforts, the repressive measures caused huge discontent.
Political career
Buhari's political journey began in 2003 when he ran for the presidential seat but lost it to Olusegun Obasanjo of People's Democratic Party (PDP). He ran again for the same position in 2007 but was defeated by Umaru Yar'Adua from PDP. In 2011, he tried again but lost to Goodluck Jonathan.
In 2014, Buhari was nominated as the presidential candidate by the All Progressive Congress party (APC) for the 2015 election. He emerged the winner among 14th contestants with 2.5 million votes more than his closest competitor, Jonathan from PDP.
He was inaugurated on 29th May 2015. He was re-elected as the president during the 2019 general elections held on 23rd February with 56% of the total votes.
Accolades
Over the years, the president has not only held numerous positions, but he has also received multiple awards and nominations. Some of them include:
Defence Service Medal (DSM)
Congo Medal (CM)
General Service Medal (GSM)
Grand Commander of the Federal Republic of Nigeria (GCFR)
Global Seal of Integrity (GSO)
President Buhari wife and children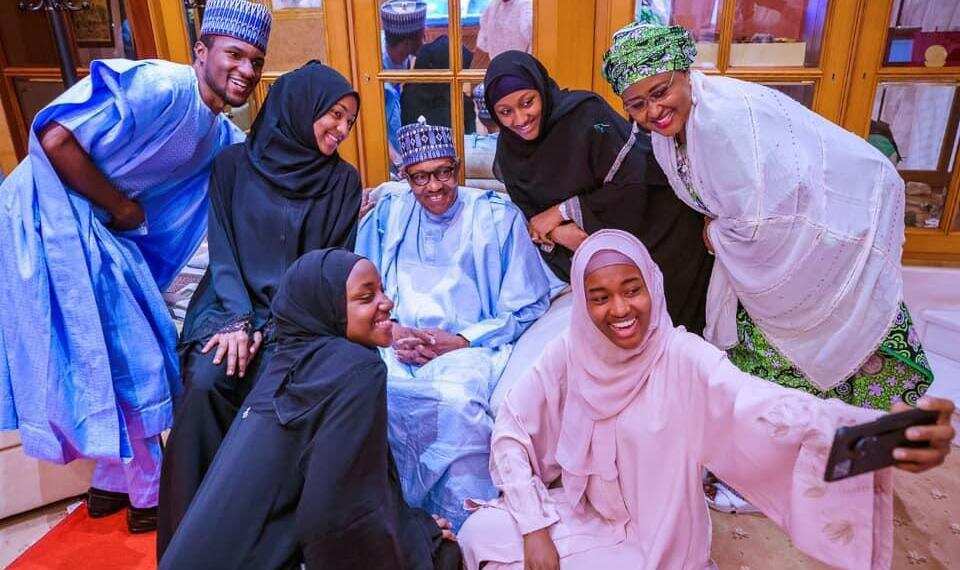 Buhari was first married to Safinatu Yusuf in 1971. Together they had five children, namely Zulaihat (deceased), Fatima, Musa (deceased), Hadiza and Safinatu. Buhari marriage to Safinatu ended in 1988. On 14th January 2006, the former first lady succumbed to diabetes.
After the divorce, the president married for the second time in December 1989. Buhari new wife is known as Aisha Buhari, and the duo has five kids. Muhammadu Buhari children from his 2nd union are Aisha, Halima, Yusuf, Zahra and Amina.
President Buhari net worth
Nigerian President Muhammadu Buhari is considered to be one of the wealthiest individuals in the country. As of 2021, his net worth is estimated to be roughly $110 million.
President Muhammadu Buhari is one of the most influential people in Nigeria. Nigerians have felt his leadership impact since his service in the military to his current position as the president.
READ ALSO: Regina Daniels: Nigerian actress biography
Legit.ng recently reported about the life of Regina Daniels, a Nigerian actress well known for her roles in Broken Chakkels, Hand of Fate 2, and Brave Mind. The actress, who is just 20 years old, is one of the biggest icons in the Nigerian entertainment industry.
At just 20 years old, Regina Daniels has managed to become one of the biggest and most popular actresses, not only in Nigeria but also all over the world.
Source: Legit.ng