Adorable Ankara styles for mother and daughter
We have made a selection of adorable Ankara styles for mother and daughter. This fashion trend is sure to win the hearts of young Nigerian ladies and their little ones. Get inspired and create your own beautiful look!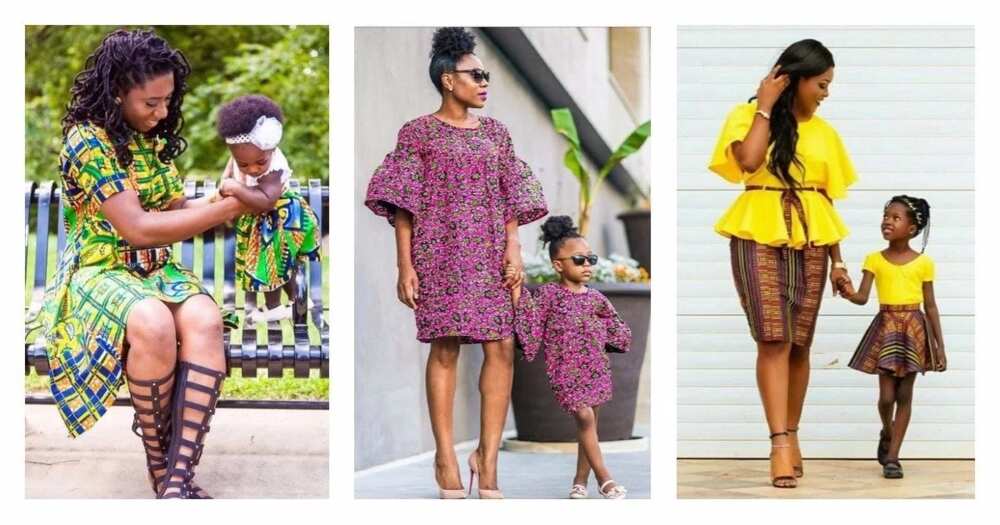 From the earliest childhood, mothers are a model of beauty, style, and taste for her little daughter. Until the girl learns how to form her own wardrobe, her mom makes it. Here, you will see stylish moms and their cute daughters dressed in similar styles. The so-called Family Look is very attractive.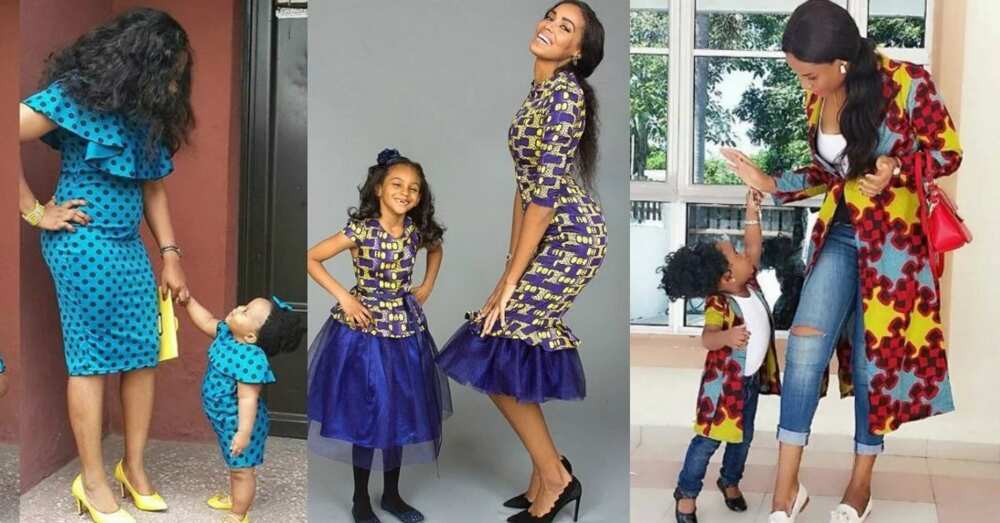 The Family Look style becomes more popular everyday.
Ankara styles for mother and daughter
The same dress for mom and daughters is a certain type of fashion. Lovely Ankara styles are in demand among Nigerian ladies of all ages. A mom and daughter in identical outfits can be very adorable.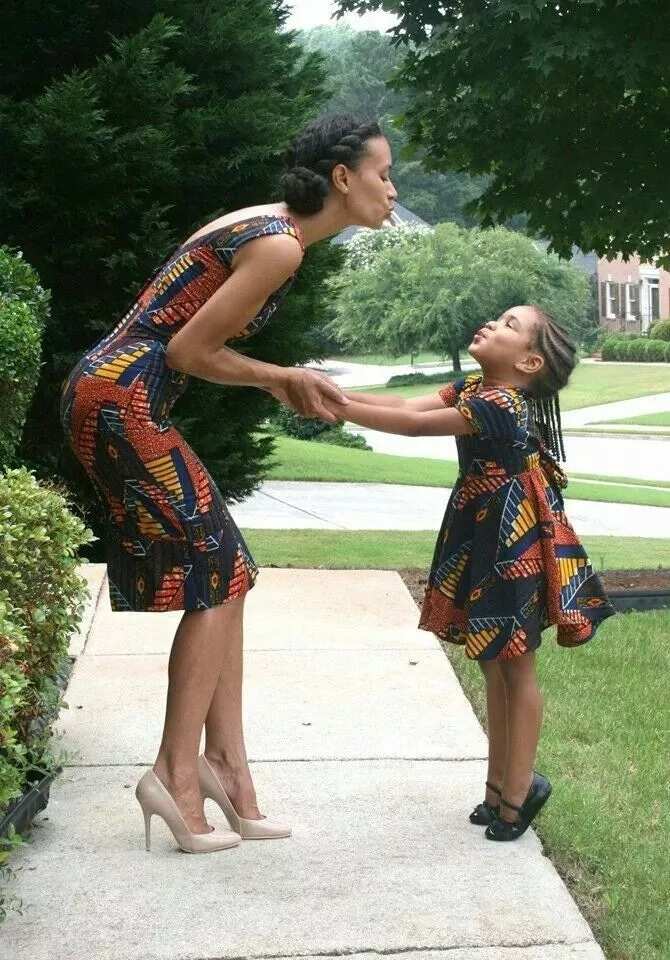 As for the tailoring, flared skirts, sundresses with a coquette, "A" line gowns, and outfits with a raglan sleeve look very good. Some dresses perfectly and strictly emphasize the female form but don't always look good for the little ladies. In this case, you can dilute the severity with bright colours.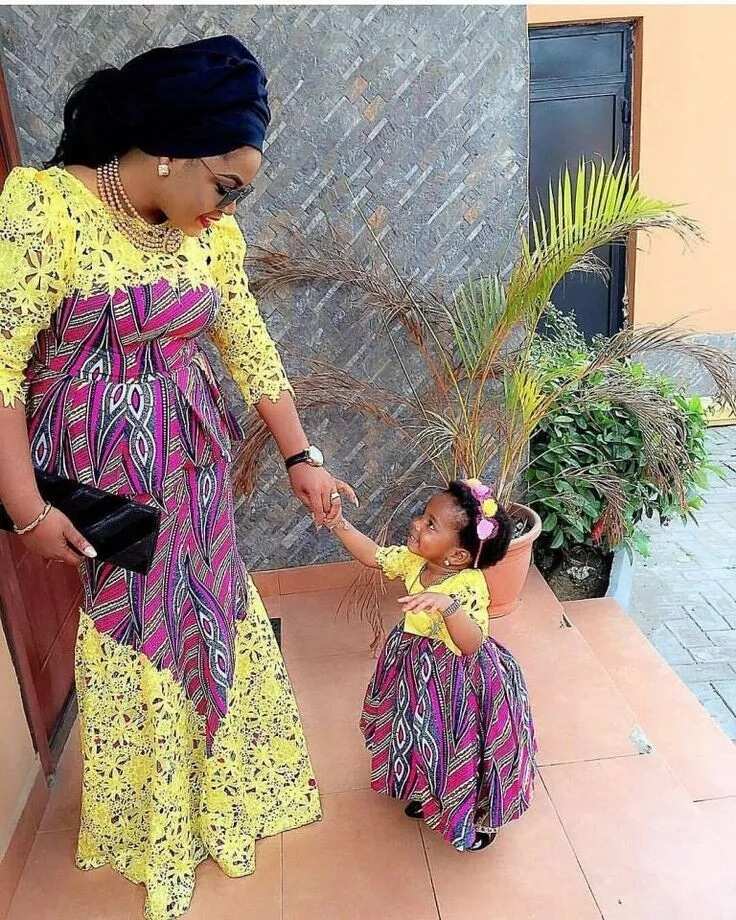 For festive events, the same styles of Ankara dresses for a daughter and mother must correspond to the following standards: elegant attire for mother and a "princess" outfit for daughter. Some details of the daughter's gown should match the mother's dress. Also, dresses can be sewn from one fabric or be complemented by similar decorative elements.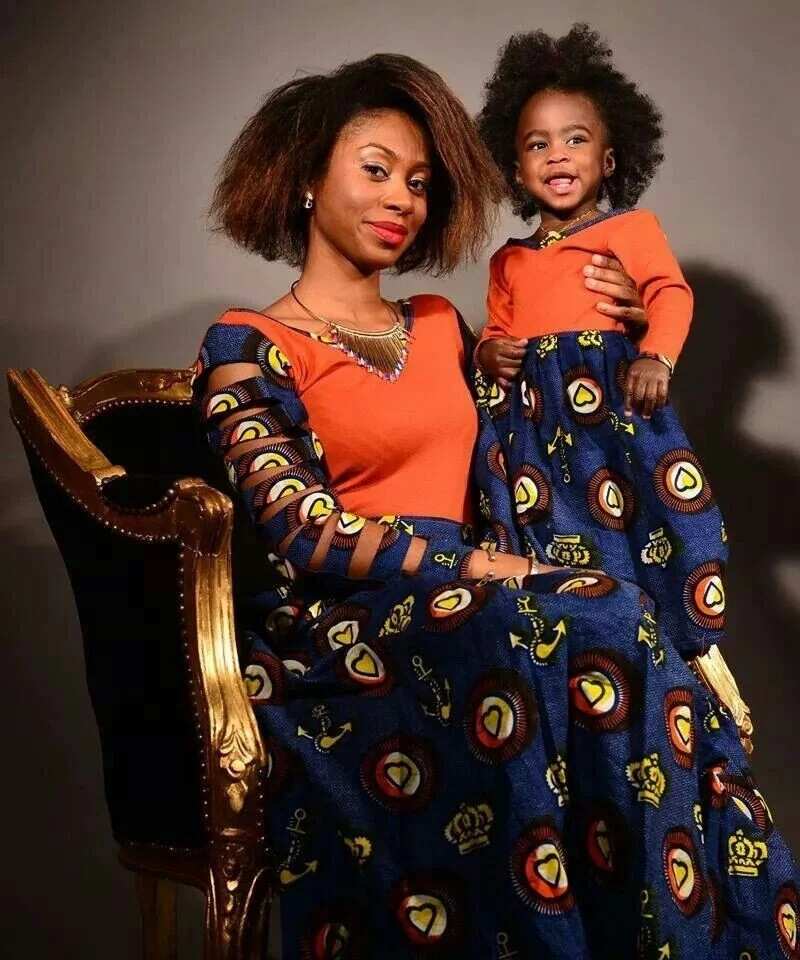 The main criteria for selecting mom and daughter's look in the Family Look of Ankara styles are as follows:
The items must correspond to individual requirements. In some cases, it's more reasonable to give up on making completely identical outfits and select just a few similar elements.
Do not use dark and gloomy colors.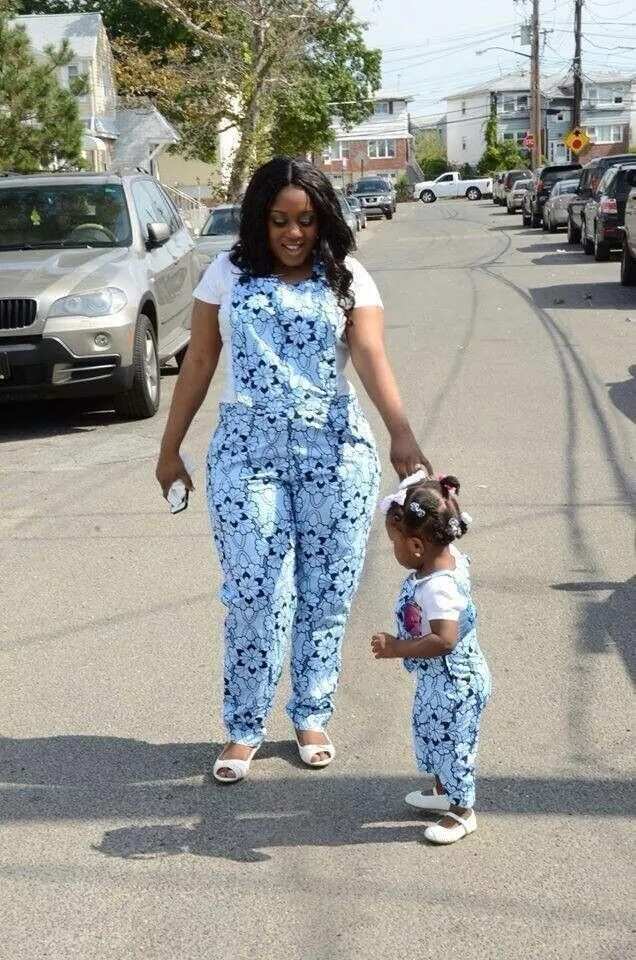 Advantages of the same attires for mom and daughter:
sense of harmony, warmth, and unity in the family;
little fashionista feels like an adult when dressing like her mother.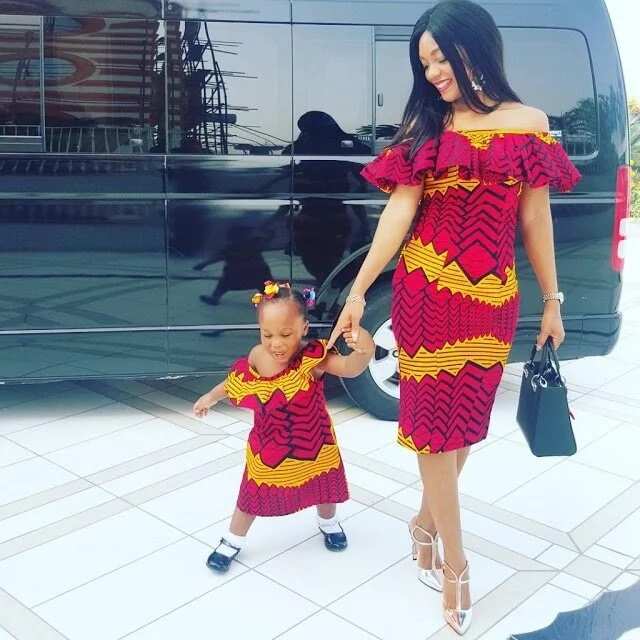 Types of Family Style attires
Every type of clothing has its own style and tailoring. The kind of family's outfit depends on the occasion.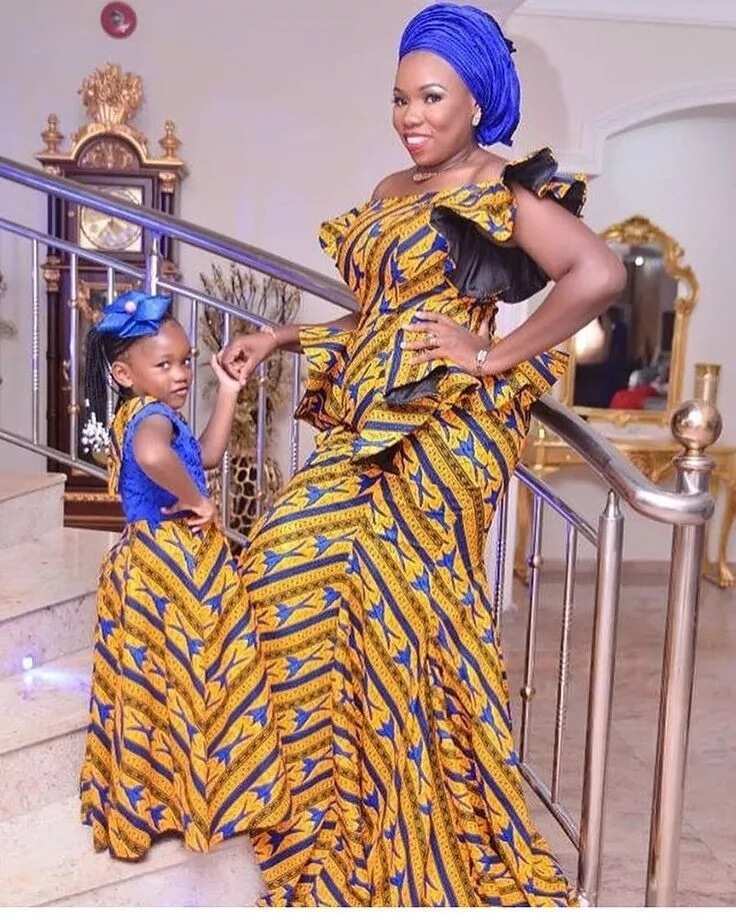 Festive outfits
They are designed for festive occasions. Make such dresses with high-quality Ankara fabrics. They can be decorated with rhinestones, lace or chiffon to make really beautiful Ankara styles. You can pick any color and pattern you like: from small black dresses with Ankara inserts to luxurious, colorful Ankara textiles with bright ornaments.
When you have the same color palette and style of dresses for mom and daughter, various cuts are allowed. For example, if a mother feels comfortable in a tight-fitting dress, then for a girl, it is better to sew a more convenient and free gown in the form of a bell.
READ ALSO: Top Ankara shirt dress styles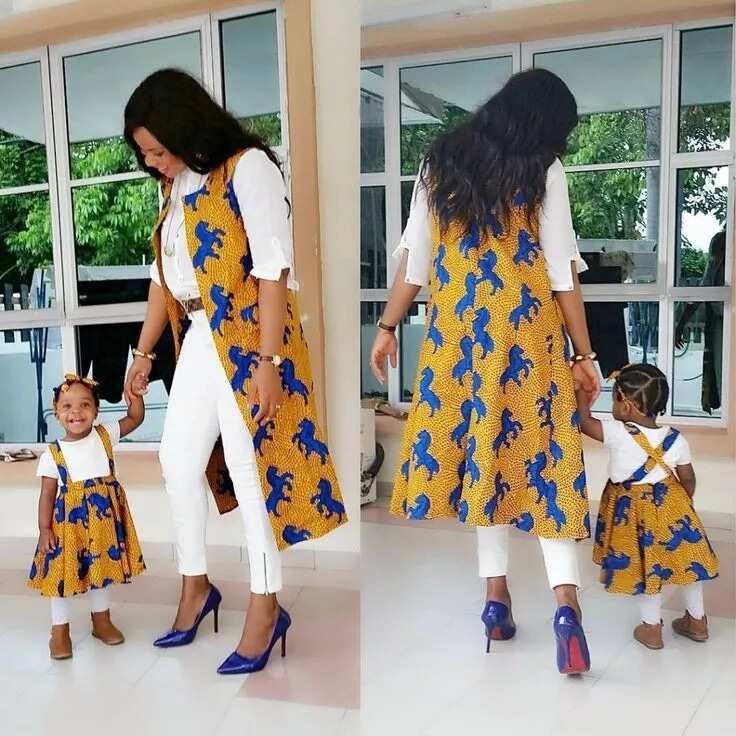 Casual outfits
Attires in the casual style of latest Ankara designs are simple, with free cut, and neutral fabrics. These styles are practical and common. The tailoring can be straight, trapezoid or with an hourglass silhouette. When you are choosing clothes for a hot day, special attention should be paid to the material and quality.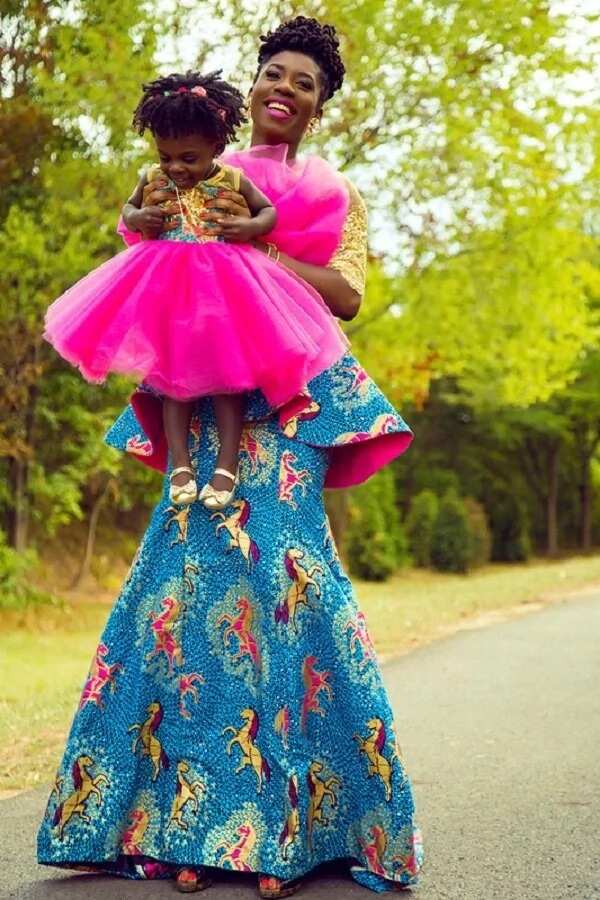 Weekend outfits
It's a combination of the first two types. These type of dresses can be worn to a kid's party, or you can just walk around the city, park, or even go for a fun picnic. Light maxi dresses, peplum styles, and mermaid designs can make for nice Ankara styles too.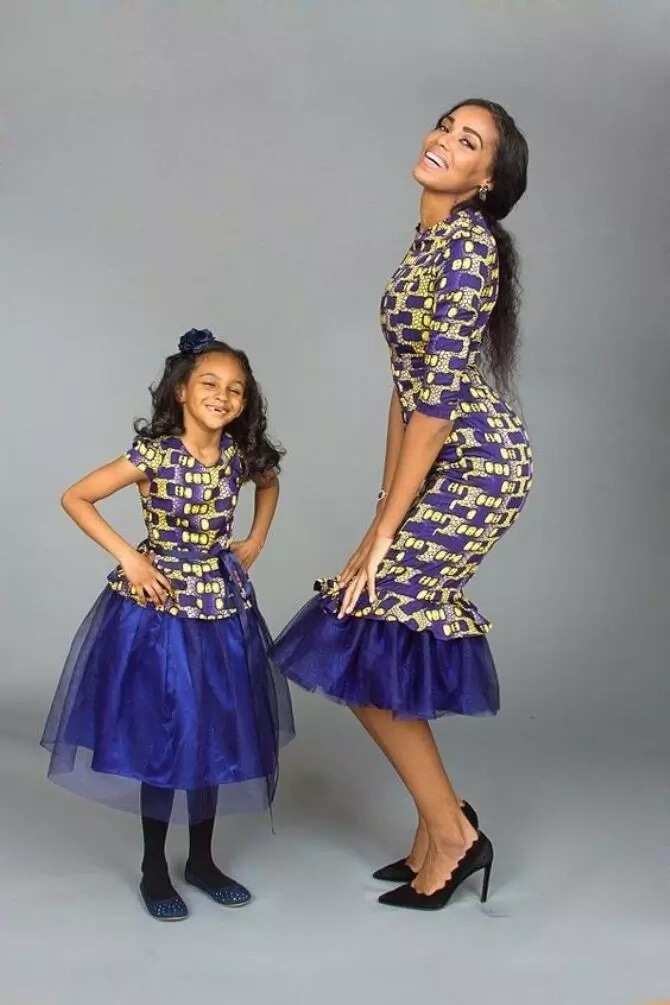 By the way, it is not just dresses for mom and daughters that can be the same. Combinations of other types of clothing also look great. It isn't compulsory to have a 100% similarity in attire. It's okay if only a few individual elements are identical.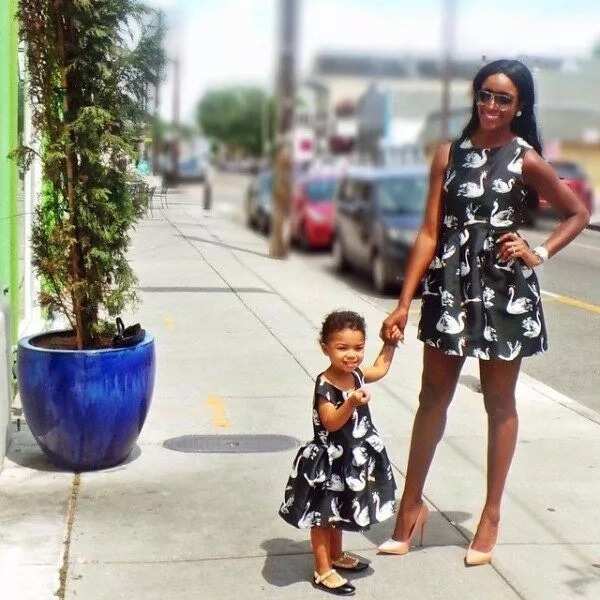 There are five main ways to create a lovely Family Style look for you and your daughter. Take all of them into consideration.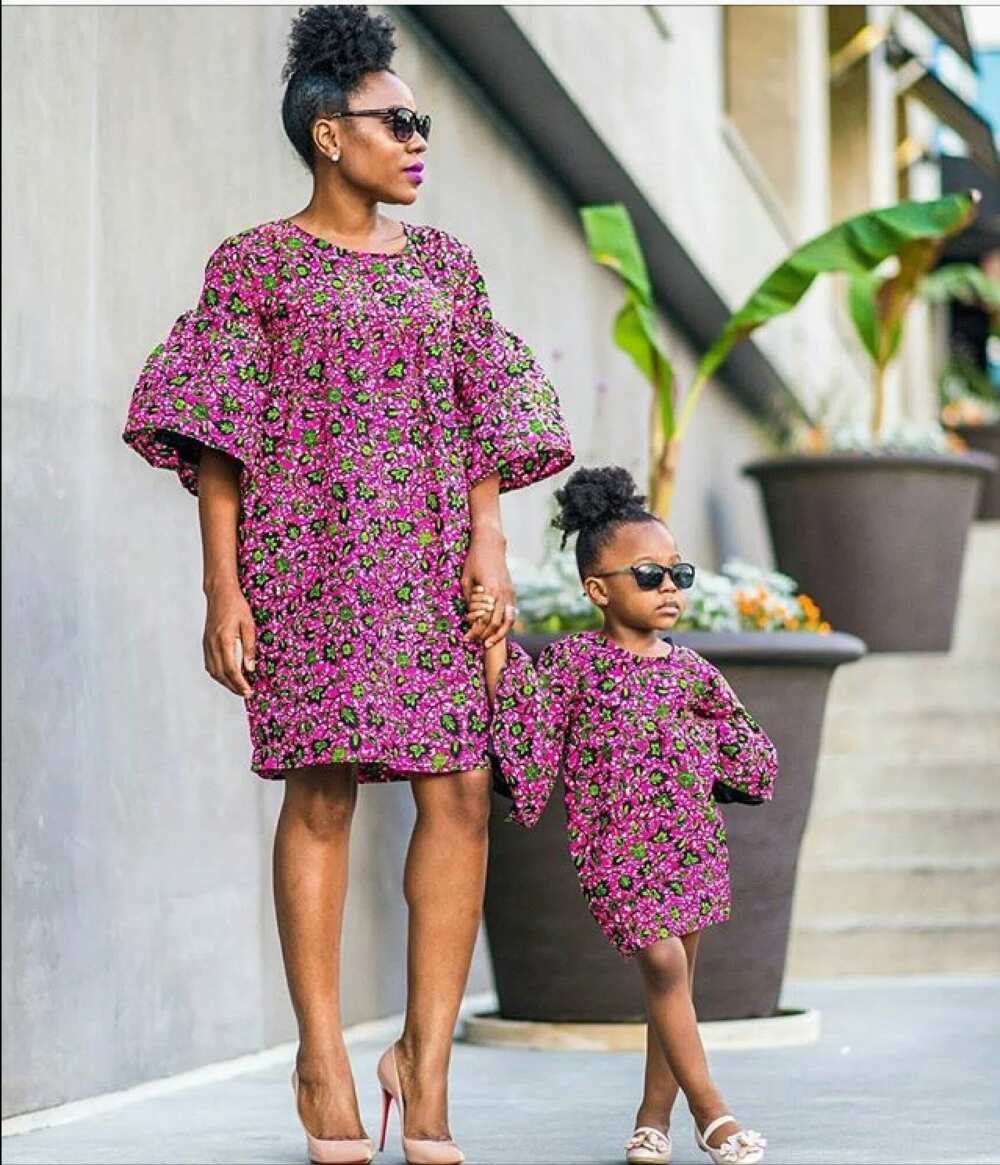 1. Put on identical dresses
The easiest option is to find completely identical dresses in an adult and a child size. Imagine that you and your daughter look like beautiful twins.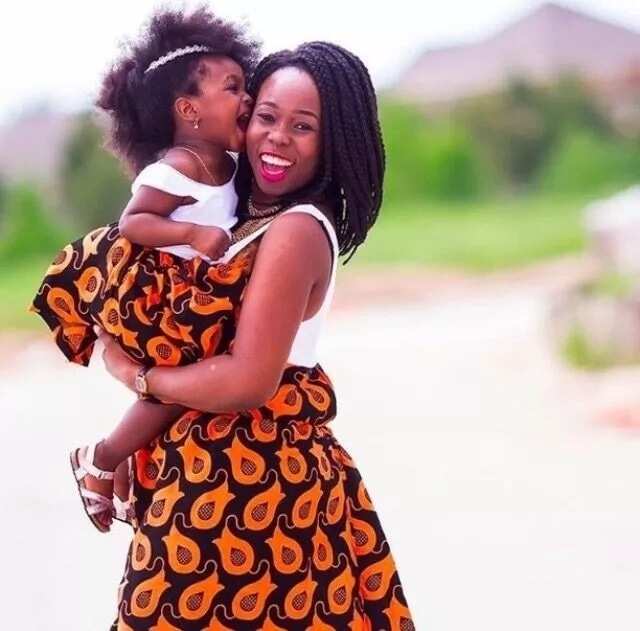 It isn't necessary to dress in identical outfits every day. Just create beautiful looks of mom and daughters for a birthday or another family event. This is pretty amazing.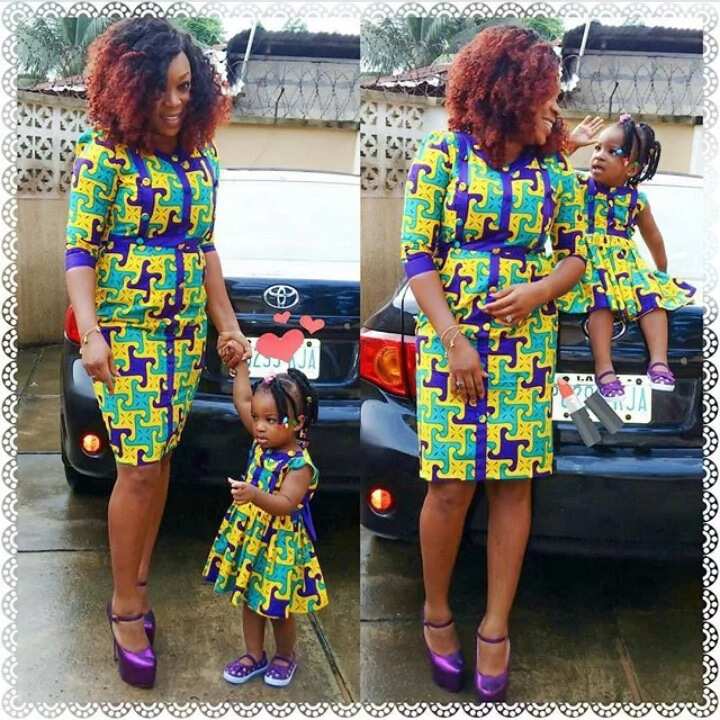 2. Buy or sew gowns of different styles made of the same Ankara fabric
The dresses don't always have to be the same. For example, if you like styles with a deep neckline or open shoulders, but extra cut-outs are not good for a little girl, you can use the same fabric but in different styles.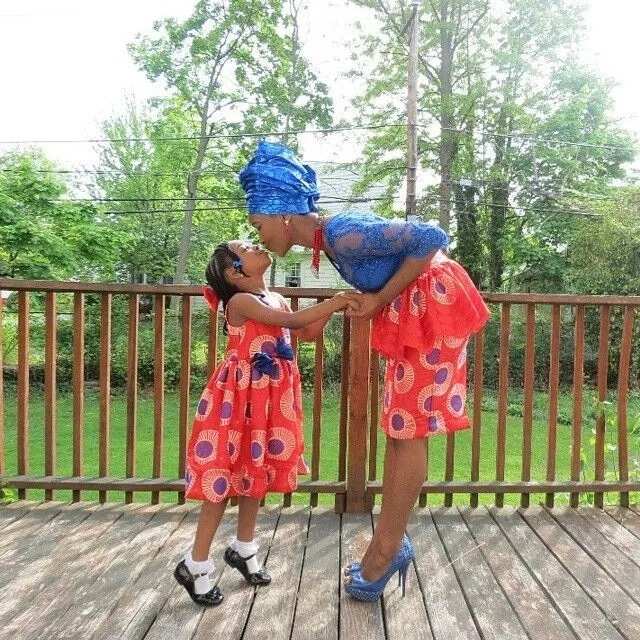 It's clear that children's clothing and women's attire differ in shapes and silhouette. But the essence doesn't change: you and your daughter will perfectly complement one another.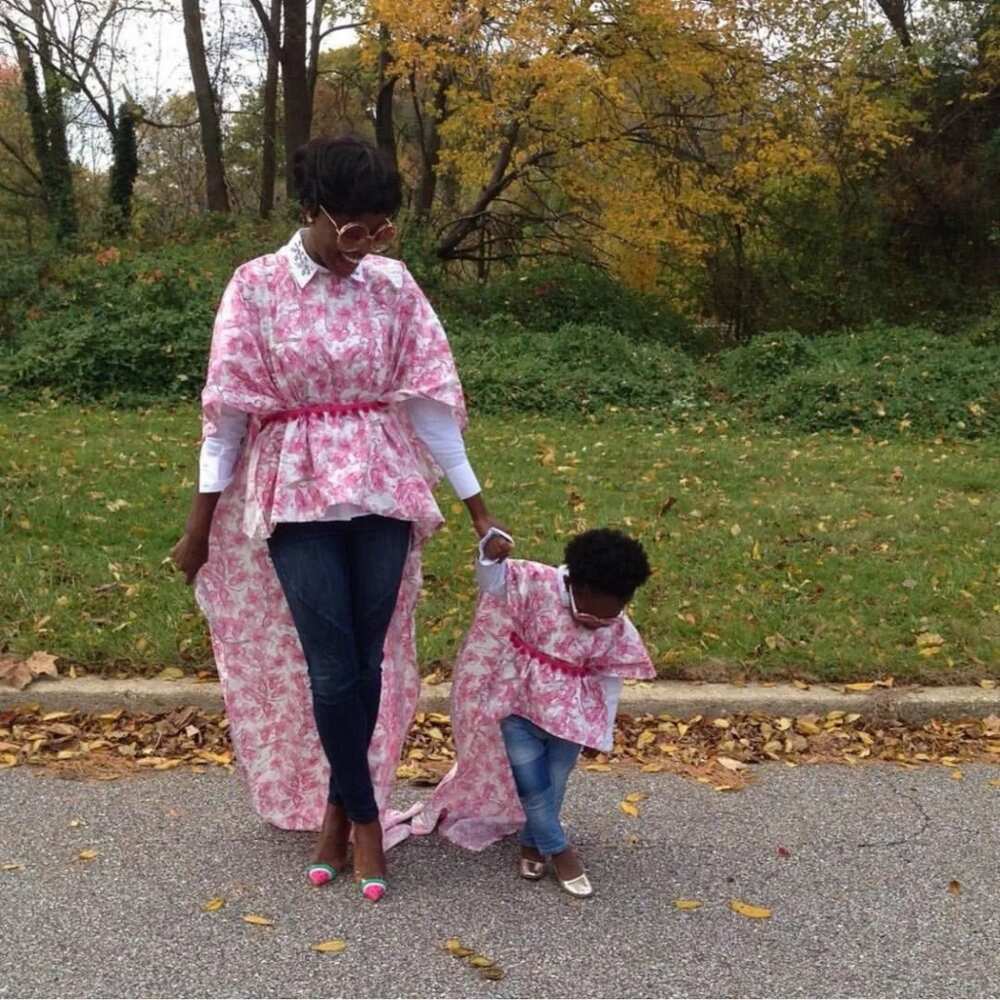 3. Dress up in almost the same clothes: skirts, T-shirts, blouses, jeans, jackets
The more practical way is to come up with the same look for mom and daughter from everyday items. For example, you have denim trousers and bright Ankara shirt, and your daughter has denim trousers of different color and colorful Ankara shirt – put on the same outfits. You can also add a couple of accessories of the same color to your looks.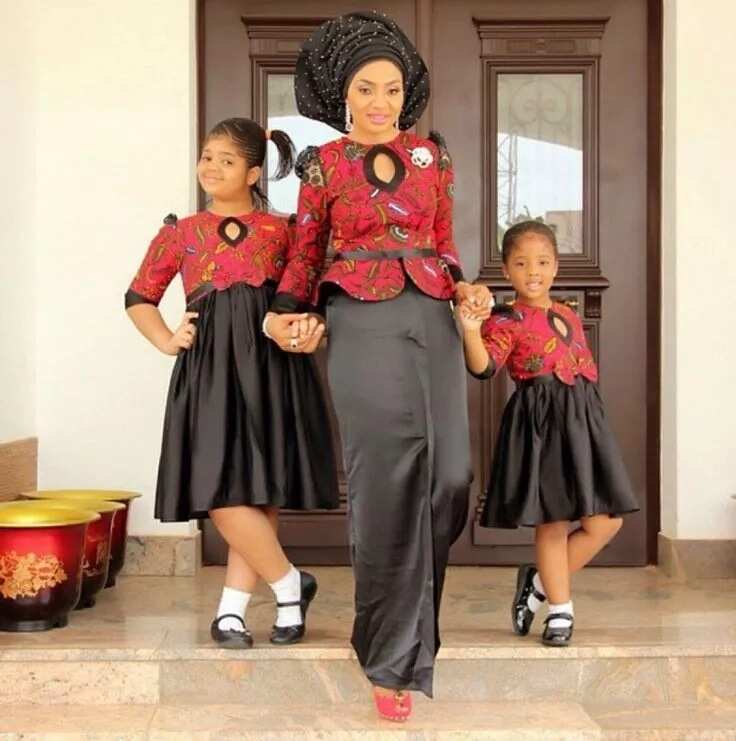 4. Add similar or identical accessories to the looks
If you cannot create a set of casual clothes. Then you can have only one or two similar items.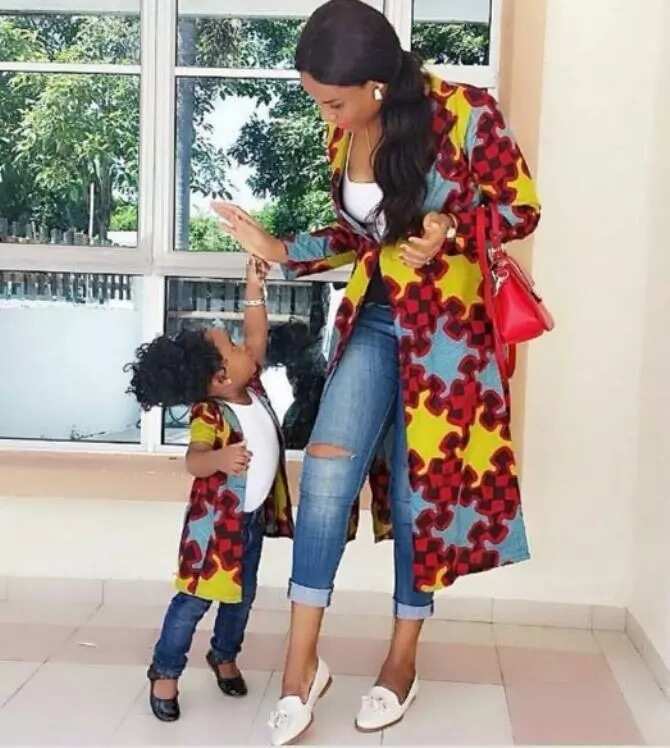 Ankara shirt, cardigan, jacket, cape, scarf or denim shorts - even a small detail can turn you into a charming "family couple."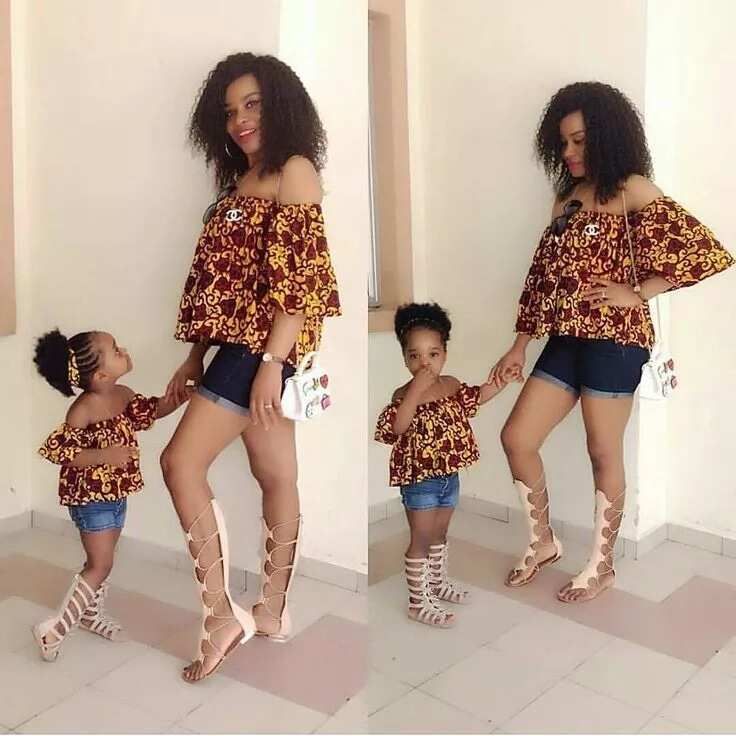 5. Get dressed in the same style
If you want to have similar great style and taste in your family, then dress your daughter as you dress yourself. In general, children (especially small kids) always repeat what their parents do. Remember this.
See more attractive photos of mother and daughter Ankara styles and choose the best and trendy look for you and your little girl.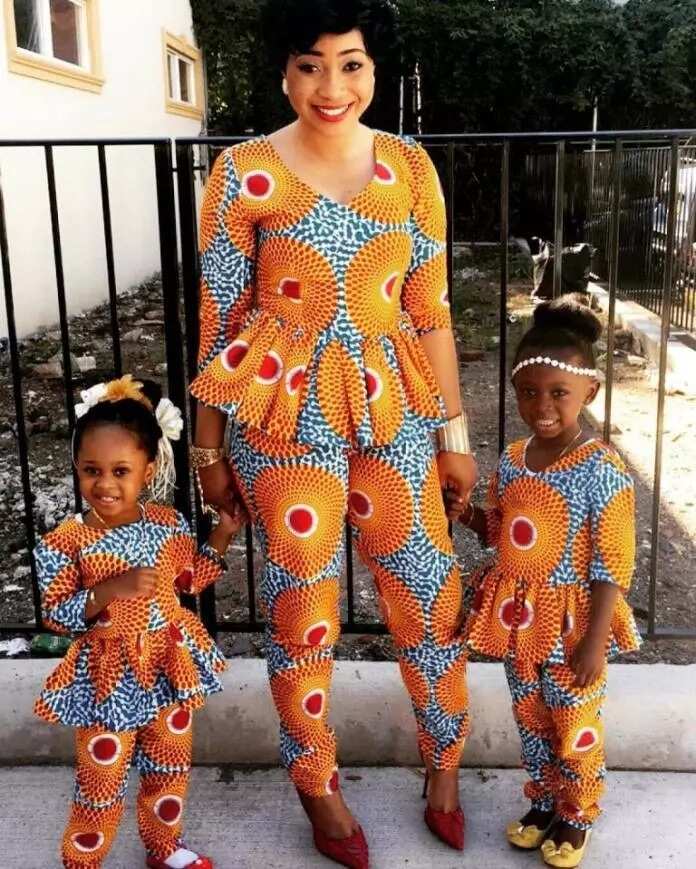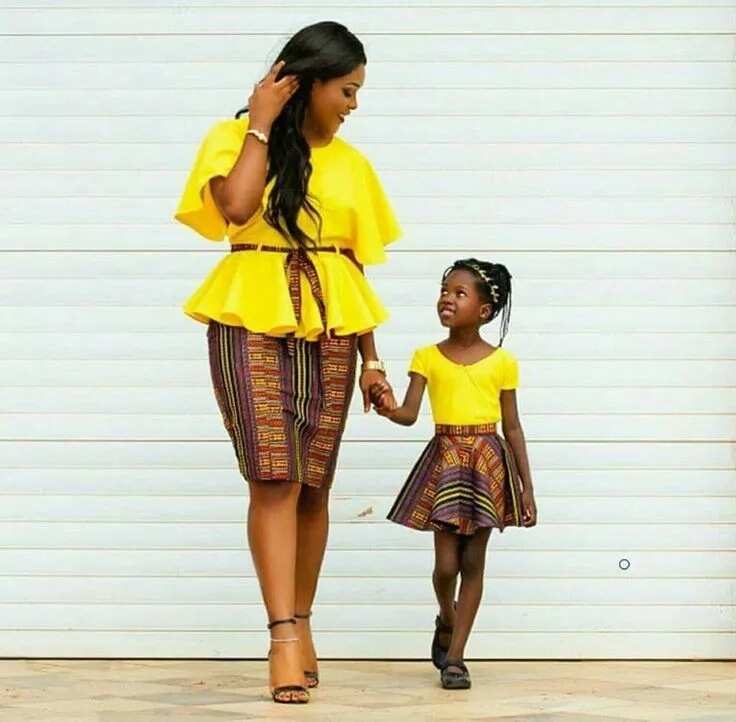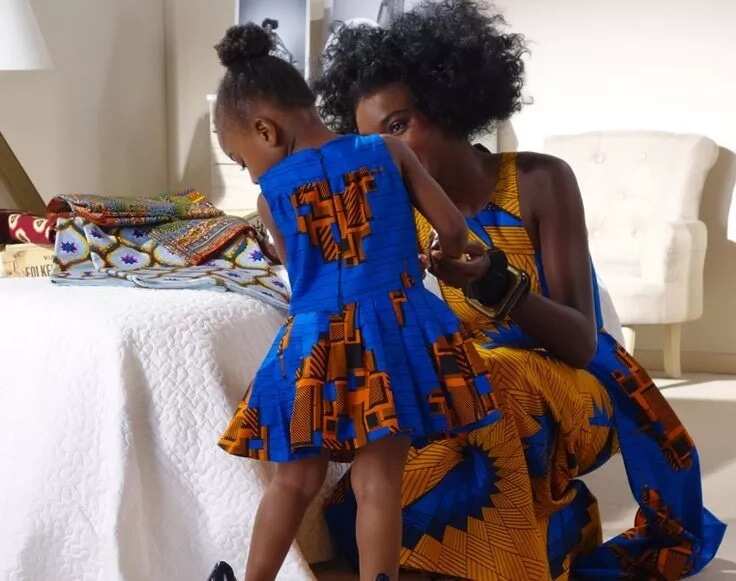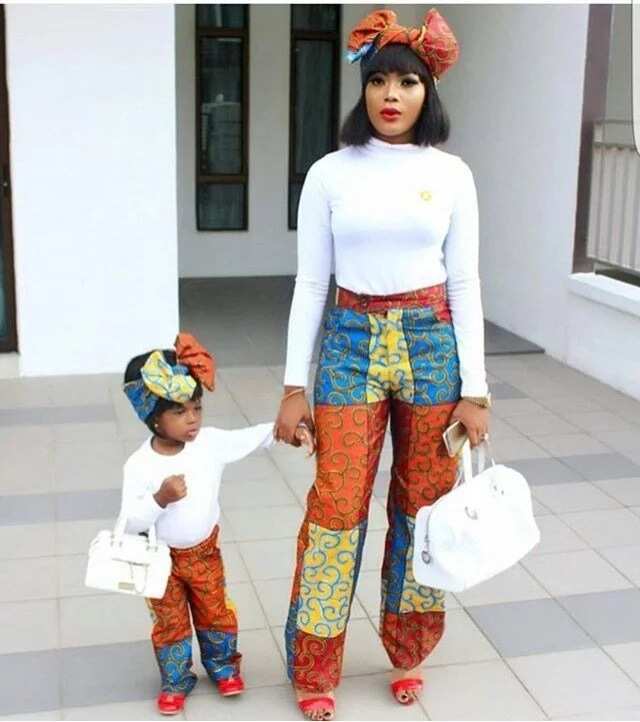 READ ALSO: Trendy styles made with Ankara for ladies and men
Source: Legit.ng