Obi/Atiku vs Tinubu: Report Shows When Supreme Court May Inaugurate Panel That'll Hear Appeal
Atiku Abubakar and Peter Obi have presented their appeals to the Supreme Court, insisting that the decision of the tribunal could not stand
After faulting the tribunal's refusal to void the 2023 presidential poll over the "doctrine of legitimate expectation", Atiku filed 35 grounds of appeal
On his part, Obi filed 51 grounds of appeal and wants the apex court to set aside the tribunal's judgement that affirmed Bola Tinub as the president
FCT, Abuja - The Supreme Court of Nigeria may inaugurate the panel that will hear the appeal of the presidential candidate of the Labour Party (LP), Peter Obi, and his counterpart in the Peoples Democratic Party (PDP), Atiku Abubakar, next week.
Messrs Atiku and Obi had earlier filed grounds of appeal at the apex court, asking it to nullify the judgement of the Presidential Election Petition Tribunal (PEPT).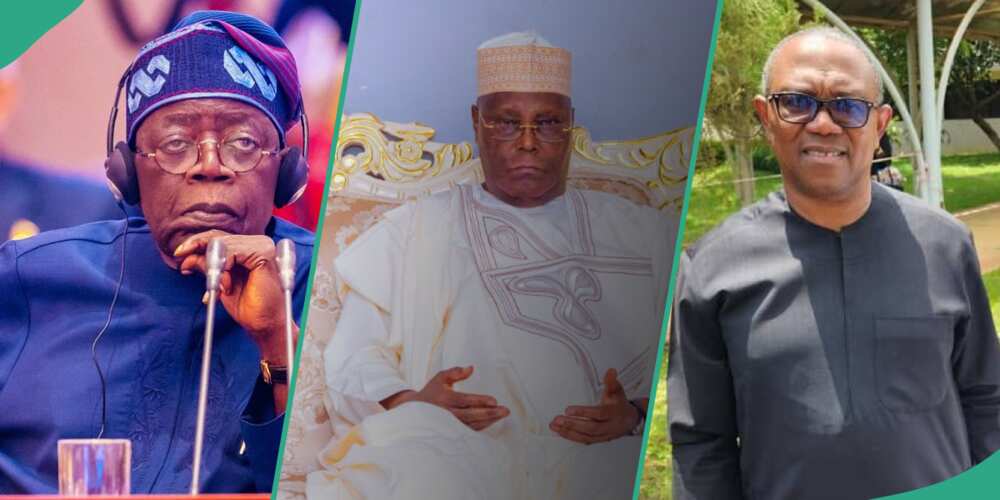 Obi, Atiku's appeal at Supreme Court
According to The Punch, a top source at the Supreme Court disclosed that the panel could be instituted next week.
The source said:
"Well, let us look at next week. All things being equal, it should not go beyond next week. But the issue is the strike; we hope it does not disrupt things.
"I can't pick the day but hopefully next week, we should have a panel in place. I can't say the number of the justices and the names that will make the panel."
"A new Nigeria will come": Pastor Okwukwe
In related news, Legit.ng reported that Pastor Kingsley Okwukwe of the Revival and Restoration Global Mission said "a new Nigeria" will surely be achieved.
Pastor Okwukwe, who is an open supporter of Obi, shared the "prophecy" via Rap TV.
Supreme Court's hearing: Cleric shares prophecy
Legit.ng also reported that the founder of the Champions Royal Assembly Ministry, Prophet Joshua Iginla, said as long as the PDP and LP are "divided", they will be "defeated again" when Nigeria conducts its 2027 general elections.
Prophet Iginla said the lack of "collaboration" between the top two main opposition parties puts them in a disadvantaged position.
Atiku, Obi to lose at Supreme Court
Legit.ng also reported that Iginla predicted the defeat of opposition candidates Obi and Atiku.
While addressing his church members recently, Joshua said God showed him that Obi and Atiku lost at the Supreme Court.
Source: Legit.ng