David Umahi: Ex-Governor and 5 Other Interesting Things To Know About Minister of Works
David Umahi is the former governor of Ebonyi state, from the year 2015 through the year 2023
He was a former chieftain of the Peoples Democratic Party and then he defected to the ruling All Progressives Congress (APC)
But his appointment as a minister of works under President Bola Tinubu did not come as a surprise to many rather a deserving one due to the magic he performed in Ebonyi state
David Nweze Umahi CON is one politician in the nation's polity that does not mince words when it comes to performing his duty to the people.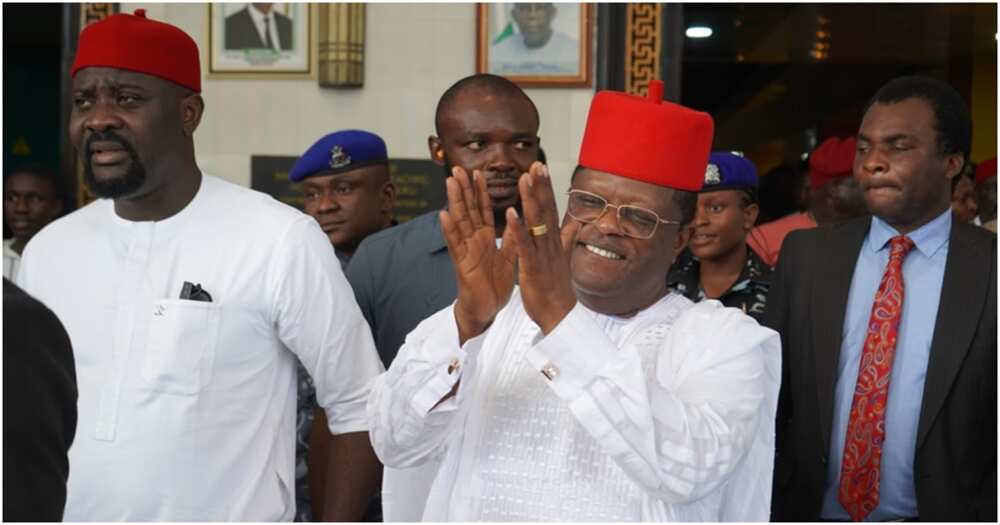 Umahi has carved a niche for himself amongst top Nigerian governors who gave their best to ensure the state they governed is well represented at the national level.
Before his appointment as the minister of works under President Bola Ahmed Tinubu's cabinet, Umahi served as the governor of Ebonyi State from 2015 to 2023, and as deputy governor from 2011 to 2015.
However, this article by Legit.ng, presents some interesting facts about Dave Umahi, a former governor, then-senator and now a minister;
PAY ATTENTION: Follow us on Instagram - get the most important news directly in your favourite app!
1. Umahi's as an Engineering guru
Umahi was born on July 25, 1964. He is the son of Elder Joseph Umahi Nwaze and Margaret Umahi of Umunaga, Uburu in Ohaozara Local Government Area, now in Ebonyi State.
Umahi received his secondary education from Ishiagu High School and the Government Secondary School of Afikpo before entering the Enugu State University of Science and Technology in 1982. He graduated in 1987 with a Bachelor of Science Degree in Civil Engineering.
In 1990, he co-founded Norman Engineering and Construction Nig. Limited with Ombo Isokarari and served as its general manager until 1993.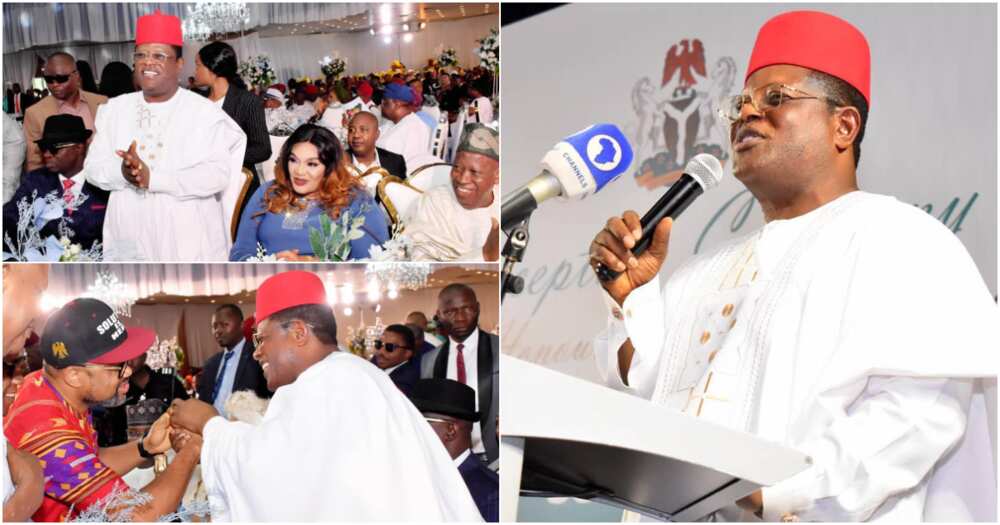 2. Umahi's as Ebonyi state governor, dumped PDP and joined APC
Umahi 's foray into politics was an interesting one. In 2011, Umahi became the Deputy Governor of Ebonyi State on a ticket with the-then Governor Martin Elechi, under the People's Democratic Party (PDP).
Umahi was elected to the role of Governor on April 12, 2015 and on March 16, 2019, Umahi was re-elected as governor in the Ebonyi state governorship election.
In 2020, Umahi declared interest to join the ruling All Progressives Congress (APC) and Umahi proceeded to win APC Ebonyi South Senatorial district elections in 2022; the Nigerian politician who is the current senator representing Ebonyi South Senatorial District since 2023.
President Bola Ahmed Tinubu appointed the former Ebonyi State governor as minister of works following his nomination, screening and approval by the Senate.
3. Umahi as a champion of infrastructural revolution
The newly appointed Minister of Works, Dave Umahi, would replicate the "Ebonyi magic" in tackling the infrastructural deficiencies in Nigeria.
This is because Umahi has completed over 20 roads within the capital city of Abakaliki. He has rebuilt some federal roads, especially the Afikpo-Abakaliki Road and the Nkalagu Road.
4. Umahi promoted agricultural initiatives as Ebonyi state governor
Perhaps, the best achievement of the state government so far is its agricultural initiative. The administration poured billions of naira into the sector as soft loans to farmers, targeting expanded rice farming. The plan worked and rice production tripled this year. The government also procured parboiling machines for its three rice mills. It is also partnering with the federal government and the central bank in this regard, with the objective of making the state the nation's biggest producer of rice.
5. David Umahi's national award and recognition
In October 2022, a Nigerian national honour of Commander Of The Order Of The Niger (CON) was conferred on him by President Muhammadu Buhari.
6. Umahi made Ebonyi state APC state
Umahi, who is the senator-elect for Ebonyi South District for the 10th Senate, has made Ebonyi state, "completely APC" state; this was so as he gave almost all the National Assembly seats to the party.
The former Ebonyi State governor was awarded The Sun Man of the Year 2021, describing the award as not only prestigious but also gratifying
Umahi also received an excellent award of Grand Service Star from the government of Rivers State.
Ex-APC women leader, and 4 other quick facts about Betta Edu
President Bola Ahmed Tinubu on Monday, August 21, 2023, administered the oath of office to Dr. Betta Edu and other ministers-designate, formally ushering them in as Ministers of the Federal Republic of Nigeria.
By this, they are to resume their duties in their respective ministries.
In light of the above, Legit.ng compiled some interesting facts Nigerians should know about the minister of Humanitarian Affairs, Betta Edu.
Presidency reveals date Tinubu will swear in new ministers
President Bola Ahmed Tinubu will, on Monday, August 21, swear in the newly appointed ministers at the State House Conference Centre, Aso Villa, Abuja by 10:00 am, presidency affirmed.
The secretary to the government of the federation (SGF), George Akume, made this disclosure on Wednesday night, August 16, 2023, in a statement.
Source: Legit.ng