What Tinubu Told Us in His First Security Council Meeting as President – CDS Irabor, NSA Monguno Reveals
Details regarding the meeting President Bola Tinubu had with the service chiefs have finally been revealed
Defence Chief Lucky Irabor and the National Security Adviser Babagana Monguno disclosed Tinubu charged them to come up with a key strategy to tackle Nigeria's security challenges
The president however urged the service chiefs to work together in other to achieve one single purpose
President Bola Ahmed Tinubu on Thursday, June 1st, directed the heads of Nigeria's security agencies to come up with a blueprint to tackling the security challenges bedevilling Nigeria, an official has said.
The Chief of Defence Staff, Lucky Irabor, who briefed journalists at the State House Abuja after the meeting Tinubu had with security chiefs, said the president also condemned the security situation in many parts of the country, PremiumTimes reported.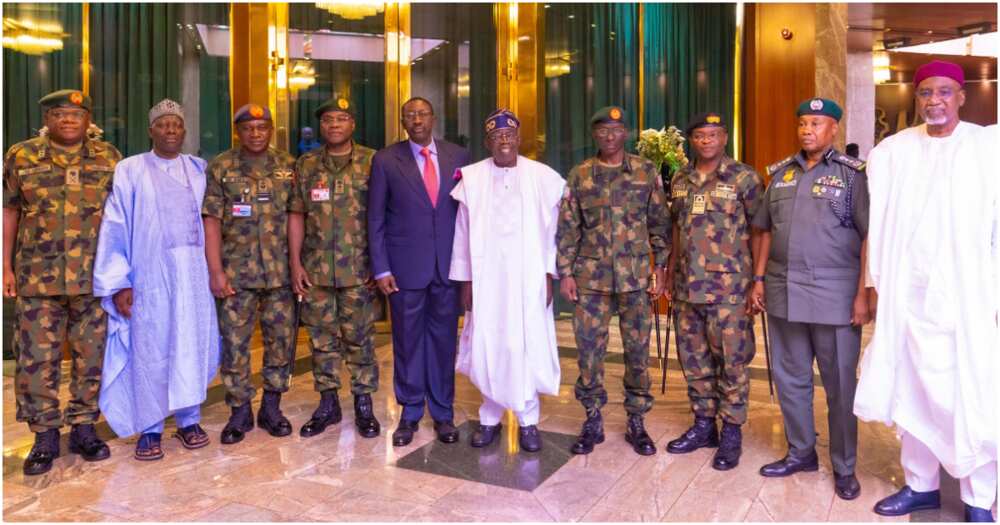 CDS Irabor speaks
"He has already mandated the security agencies to come up with a blueprint. As far as he knows, he doesn't have the luxury of time and whatever changes will be made, have to be done as soon as possible," Mr Irabor, an army general, said.
"The President has made it clear that he will not accept the situation in which our fortunes keep declining. His own trajectory is that security has to be coordinated, whether it is a basket situation, it must be a clearing house."
National Security Adviser Babagana Monguno reveals details of meeting with Tinubu
The National Security Adviser, Babagana Monguno, also told journalists that Tinubu charged the security agencies not to work at cross purposes, THISDAY report added.
"All agencies must work to achieve one single purpose. Working at cross purposes and colliding with each other is not something that he will condone," Monguno said.
"He has made it very, very clear that all the security agencies must comply with the demands of coordination, with the demands of frequent consultations and also timely reports which must be acted on," Monguno added.
Thursday's meeting is the first Security Council meeting to be presided over by Tinubu since he was sworn in as president on Monday, May 29.
Tinubu in crucial meeting with Lawan, Gbajabiamila at presidential villa
President Bola Ahmed Tinubu has entered a crucial meeting with Senate President Ahmad Lawan and Speaker of the House of Representatives Femi Gbajabiamila at the presidential villa in Abuja.
Reports confirm that the meeting between the three top citizens of the nation began at about 2 pm at the presidential office complex of President Tinubu.
Tinubu entered into the meeting between the two legislative principals shortly after meeting with service chiefs and the inspector-general of police.
10th Senate Presidency: Huge Setback for Akpabio as APC, Tinubu Allegedly Withdraw Support, Details Emerge
In another development, President Bola Ahmed Tinubu has reportedly withdrawn his support for Senator Godswill Akpabio in the race for the Senate president.
The new Nigerian leader is said to have heeded the advice of his trusted associates.
Akpabio is one of the leading candidates for the Senate presidency seat and was announced as the APC's choice in May.
Source: Legit.ng