From Balewa to Tinubu: Full List of Nigerian Past Presidents and Heads of States Since 1960 Emerges
After Nigeria's independence in 1960, she has had several leaders who were as a matter of fact not all presidents.
PAY ATTENTION: Сheck out news that is picked exactly for YOU ➡️ click on "Recommended for you" and enjoy!
There's been Monarchs, heads of states, military leaders and civilian presidents over the course of the nation's existence.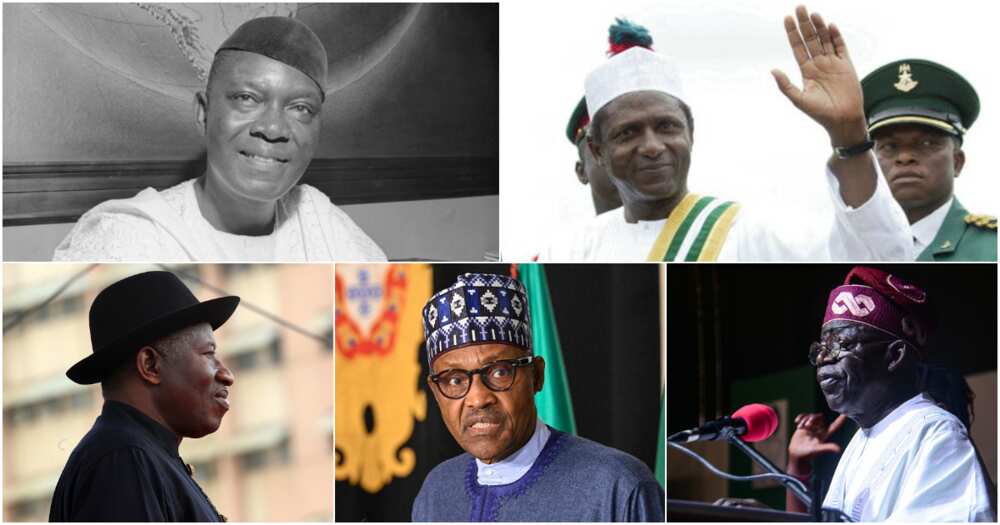 Since Nigeria became a republic in 1963, 13 individuals have served as head of state of Nigeria under different titles. While the incumbent president Muhammadu Buhari is the nation's 15th head of state, he served as the 7th head of state during a military regime between 1983 and 1985.
In less than a day, President Muhammadu Buhari's tenure will end on Monday, May 29, after eight years in office.
The president-elect, Bola Tinubu will take over leadership from Buhari as Nigeria's next ruler.
PAY ATTENTION: Share your outstanding story with our editors! Please reach us through info@corp.legit.ng!
In view of the above assertion, Legit.ng compiled a full list of the past president and heads of states of Nigeria, from the declaration of Independence in 1960 until the present.
Background
From 1960 to 1963, the head of state under the Constitution of 1960 was the queen of Nigeria, Elizabeth II who was also the queen of the United Kingdom and the other Commonwealth realms. The monarch was represented in Nigeria by a governor-general. Nigeria became a republic within the Commonwealth under the Constitution of 1963 and the monarch and governor-general were replaced by a ceremonial president. Nnamdi Azikiwe served as the only indigenous governor-general of Nigeria.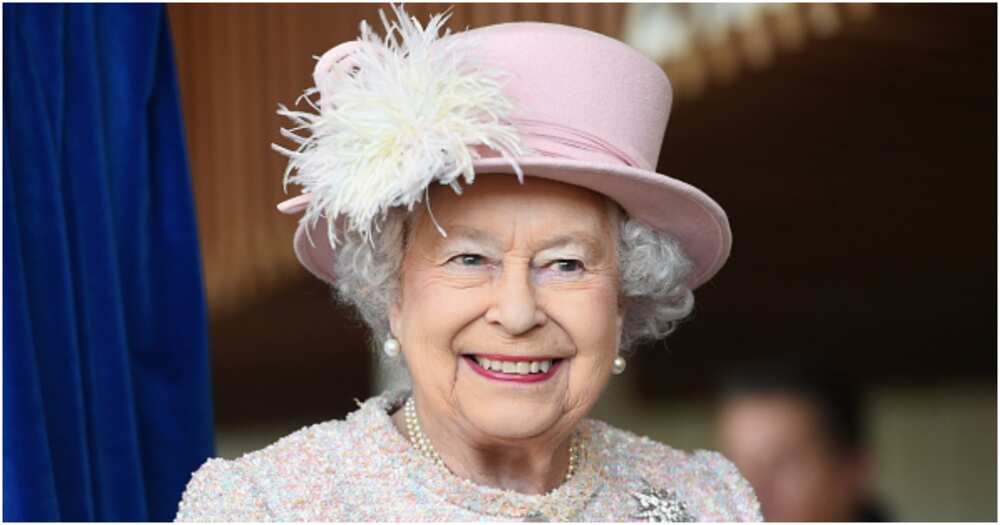 Queen Elizabeth II of Nigeria
During the period Nigeria was subjected to Colonial rule, her official leader was the Queen of England, Queen Elizabeth II. She remained in power even after independence — until Nigeria became a republic in 1963.
During her reign, Nigeria had two Governor Generals — Sir James Robertson (October 1st, 1960 to November 16th, 1960) and Nnamdi Azikiwe (November 16th, 1960 to October 1st, 1963.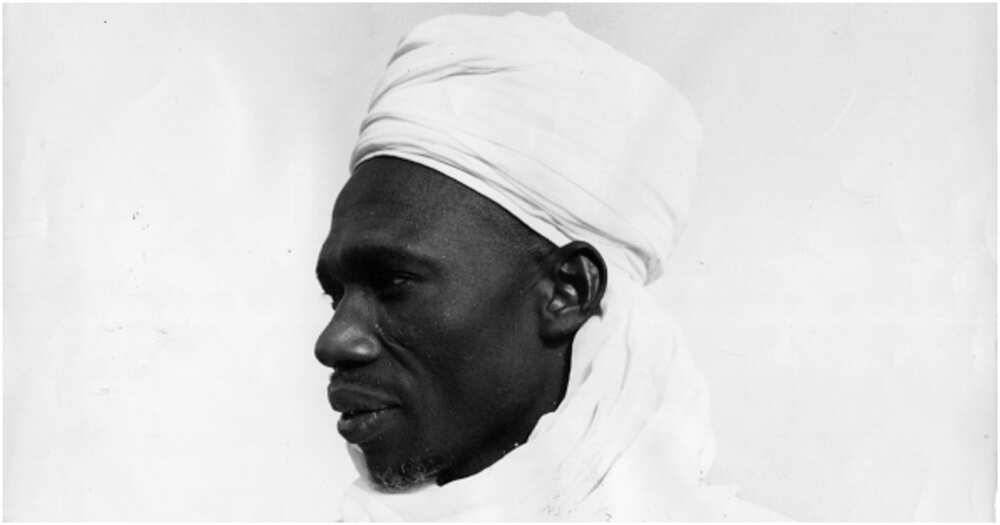 Abubakar Tafawa Balewa:1960 - 1966
Tafawa Balewa serve as the first and only Prime Minister of Nigeria after the country gained its independence.
Balewa died in the year 1966 after they removed him from office during a military coup.
The late prime minister is the one used as the face of the Nigeria's ₦5 naira note.
Nnamdi Azikiwe: October 1, 1963 – January 16, 1966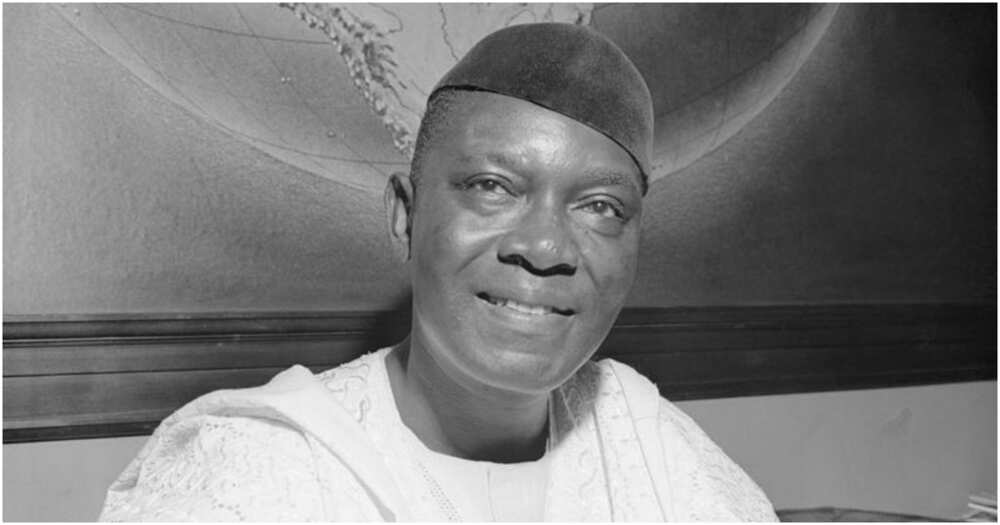 Nnamdi Azikiwe was voted president of Nigeria by a parliament in 1963.
He previously held the position of Governor General during Queen Elizabeth's reign. Under Nnamdi Azikiwe, Tafawa Balewa held the position of Prime Minister — making him Nigeria's first prime minister.
Nnamdi Azikiwe's tenure lasted from 19th October 1963 to 16th January 1966, contrary to the stipulated 5-year tenure. The cause of his ousting was a coup led by Major Chuckwuma Kaduna Nzeogwu.
Major General Aguiyi Ironsi : January 16, 1966 – July 29, 1966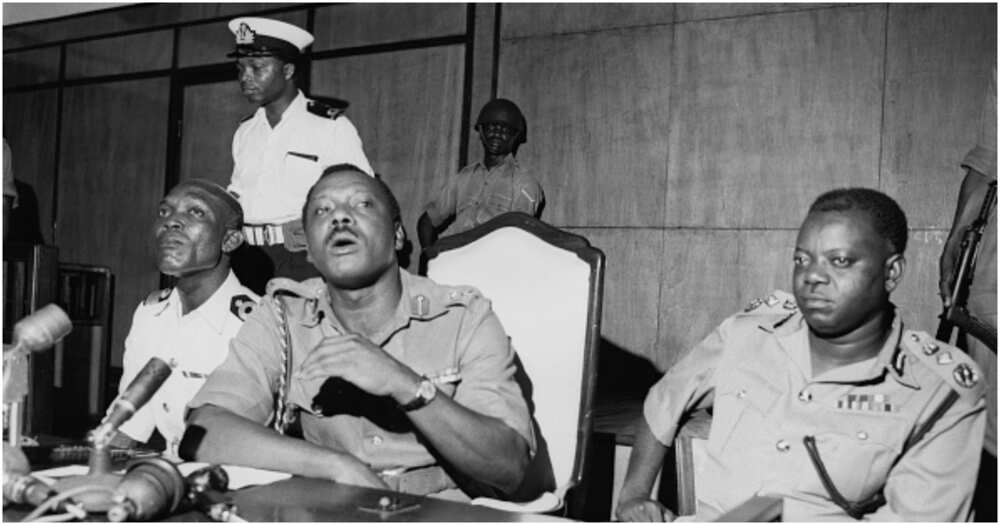 Major General Aguiyi Ironsi was Nigeria's first Nigerian Military ruler.
He was sworn in on 16th January 1966 after the coup that seize power from the di country's democratic government.
But he died that same year in July from soldiers who attempted a counter-coup.
He held that position for 194 days until his assassination. After which, Yakubu Gowon took over.
General Yakubu Gowon: August 1, 1966 – July 29, 1975
Yakubu Gowon was the youngest political and military leader to rule Nigeria.
Gowon ruled Nigeria at the age of 31 as Military Head Of State.
It was during his reign the civil war started in the country. When the eastern region then declared formal secession to become the Republic of Biafra.
And his reign lasted for nearly 9 years — 8 years, 362 days to be exact. It was during his rule Nigeria prevented the secession of Biafra.
After the civil war, Gowon then established the NYSC as an avenue for reconciliation, reconstruction, and rebuilding of the nation.
General Murtala Muhammed: July 29, 1975 – February 13, 1976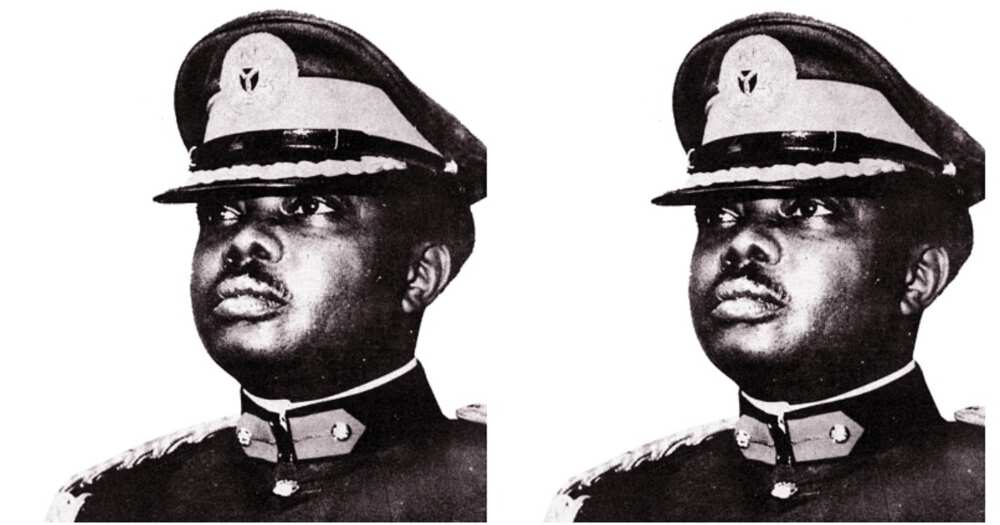 General Ramat Murtala Mohammed resumed office on 29th July 1975, and maintained the position of Head of State until his assassination on 13th February 1976. Making his reign exactly 199 days.
General Olusegun Obasanjo: February 13, 1976- October 1, 1979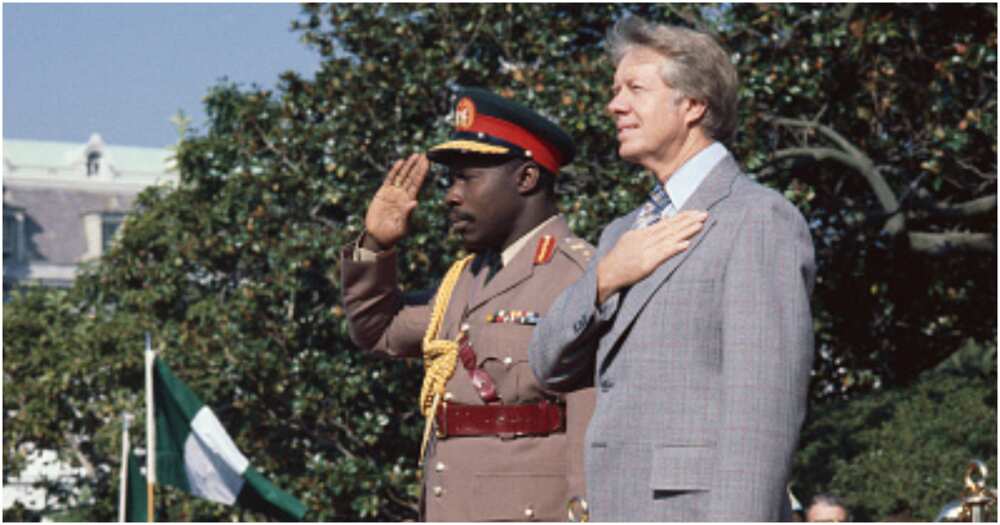 General Olusegun Obasanjo was the number two man in the military government of Murtala Mohammed.
When they assassinated Mohammed in 1976, Obasanjo took over to become the head of state at the age of 39.
Obasanjo chaired the elections in 1979 and handed over power to an elected president.
Shehu Shagari: October 1, 1979 – December 31, 1983
Shehu Shagari was the first Nigeria president who was elected democratically after the military rule of General Olusegun Obasanjo who continued power after they killed General Murtala Mohammed in one coup wey no dey successful.
Shagari was the one General Obasanjo willingly hand over power to.
His government began the second republic.
Major General Muhammadu Buhari: December 31, 1983 – August 27, 1985
In 1983, General Muhamamdu Buhari became the head of state after a coup that removed the elected government of Shehu Shagari.
His regime restricted imports which led to job losses and business closures.
As a military leader, he introduced a new currency to tackle corruption.
General Ibrahim Babangida: August 27, 1985 – August 27, 1993
General Ibrahim Babangida alias IBB or Maradona as many in the country called him at the time he ruled Nigeria as military head of state from 27 August 1985 – 27 August 1993.
He was popular as the leader who cancelled the 1993 election which Nigerians and the international community considered the most peaceful and freest and fairest in Nigeria's history.
June 12 Presidential elections 1993 election was the first after the 1983 military coup in Nigeria.
Moshood Kashimawo Abiola (MKO) ran under the platform of the SDP while Bashir Tofa ran under the platform of the NRC.
IBB cancelled the election base on allegations of violence and electoral malpractice.
Chief Ernest Shonekan: August 26, 1993 – November 17, 1993
Chief Ernest Shonekan was the interim head of the Nigerian Government between August 26 and November 17 1993.
It was a coup that the late General Sani Abacha carried out that led to his exit from office.
Chief Ernest Shonekan was appointed by General Ibrahim Babangida as Interim President.
Shonekan died in Lagos, south-west Nigeria at the age of 85 in the year 2022.
General Sani Abacha: November 17, 1993 – June 8, 1998
General Sani Abacha was Nigeria's former military ruler who died unexpectedly on the 8th of June 1998 at the age of 54 years.
Abacha, who was the Minister of Defence, use a military coup by force to collect power from caretaker president Ernest Shonekan on 17 November 1993 and ruled the country until he died in the year 1998.
General Abulsalami Abubakar: June 9, 1998 – May 29, 1999
General Abdulsalami Abubakar took over power after the death of General Sani Abacha in 1998, and he vacated office in 1999 after he handed over power to a civilian President in 1999.
Wen he entered government in 1998, he promised to conduct a democratic election within one year and return government to the civilian.
Abubakar was the one who established the Independent National Electoral Commission (INEC) to oversee the country's election.
True to his words, he transferred power to Olusegun Obasanjo who was elected under the platform of the Peoples Democratic Party (PDP) in 1999.
Olusegun Obasanjo: May 29, 1999 – May 29, 2007
Former military ruler Olusegun Obasanjo returned to power after he officially won the presidential elections in Nigeria.
He was elected as a civilian president after he returned from prison.
In 1995, Abacha's government sent Obasnajo to prison first for 30 years before they reduced his sentence to 15 years- he left prison in 1998 following the death of Abacha.
Umaru Musa Yar'Adua: 29 May, 2007 - May 5, 2010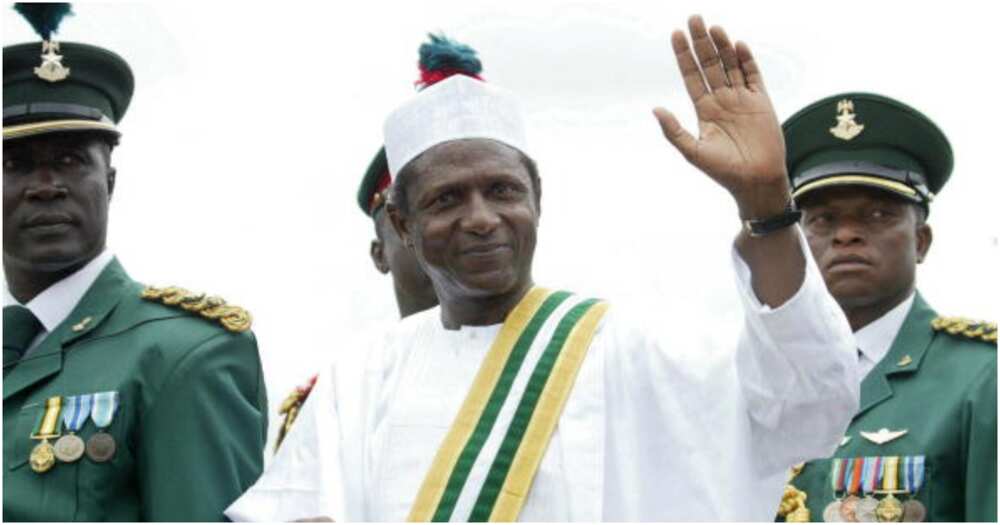 Umar Musa Yar'adua took over from President Olusegun Obasanjo after he won the 2007 general election.
Yar'adua took his oath of office that same year but died in 2010 before he finished his tenure.
His deputy, the then-vice president, Goodluck Jonathan took over the leadership of the country after Yar'Adua's controversial death.
Goodluck Jonathan: 6 May 2010 - May 29, 2015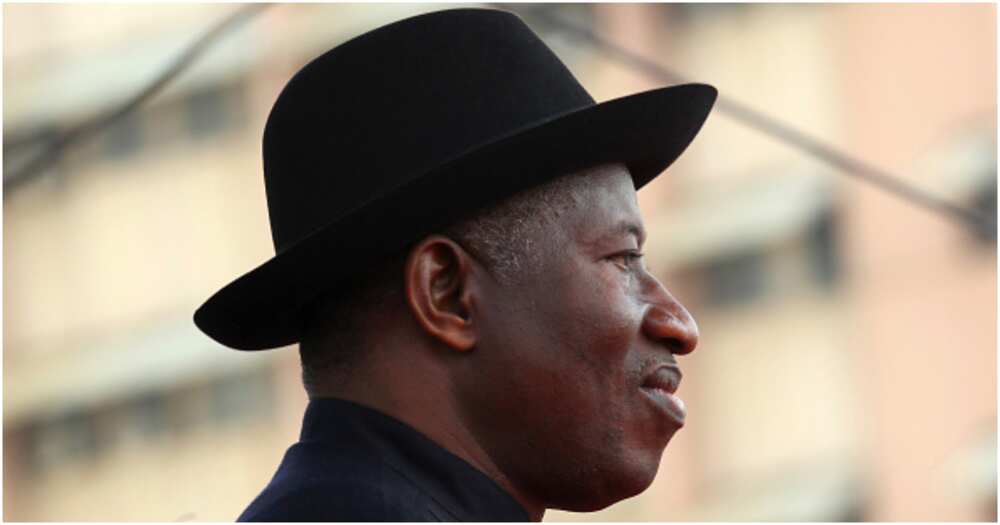 Goodluck Jonathan became President after he won Nigeria's general election in 2011.
Jonathan who contested under the platform of the PDP emerged as the winner of the election that year.
Before he ran for President he was the vice president to President Umar Yar'Adua
He held the office until 2015 when he ran again but lost to Muhammadu Buhari of the All Progressives Congress (APC).
Muhammadu Buhari: 29 May, 2015 - to date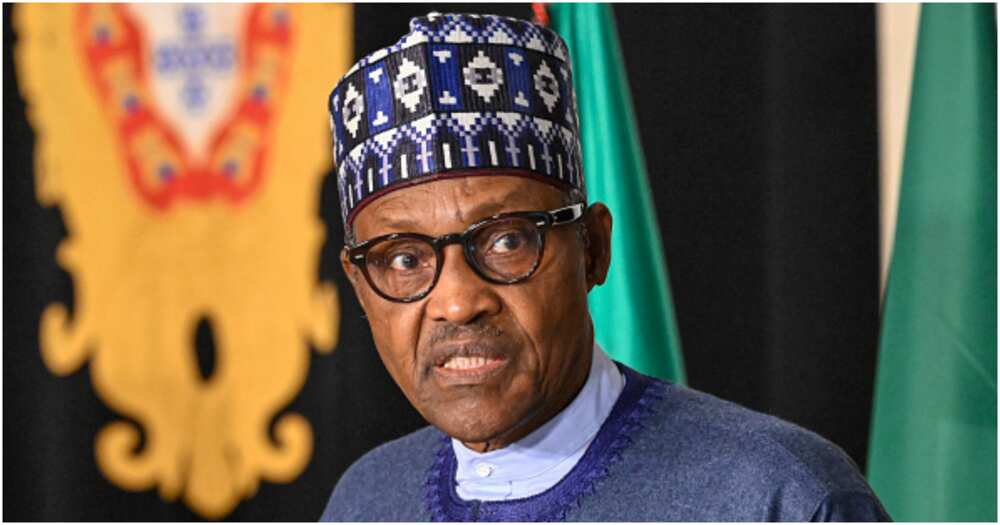 Buhari was the first opposition to win the 2015 presidential election. He defeated the opposition to an incumbent.
After his victory, he made some big promises to Nigerians.
His major promises were to defeat corruption and Boko Haram insurgents but all of these issues still threaten the nation till date.
Bola Tinubu (May 29 2023)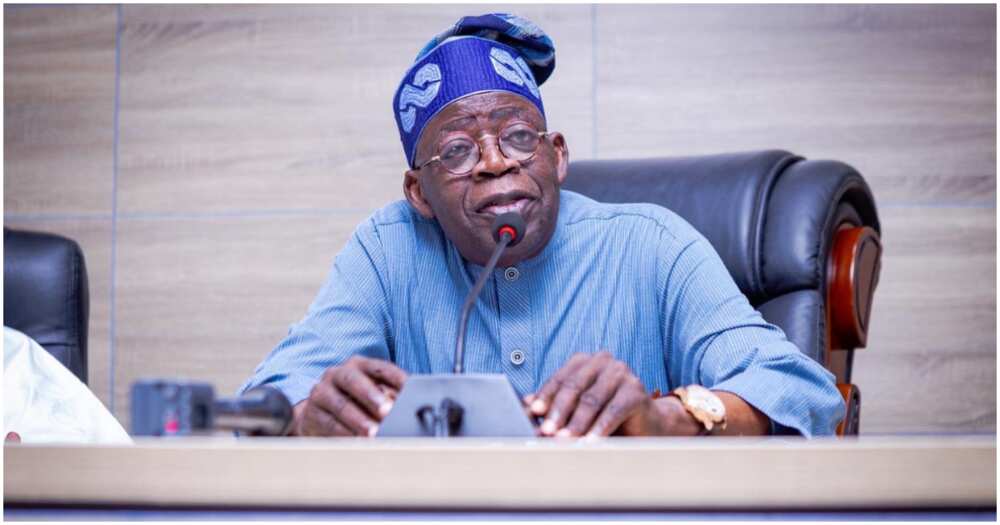 Asiwaju Bola Ahmed Tinubu will on Monday, May 29, take over from President Buhari as the 16th president of Nigeria.
Tinubu defeated Atiku Abubakar of the PDP and Labour Party flagbearer, Peter Obi, to emerge as the winner of the February 25, 2023, presidential election.
He will be sworn in alongside his vice, Kashim Shettima.
National honours, 6 other things Buhari will do before handing over to Tinubu
Legit.ng earlier reported that President Muhammadu Buhari entered his last week as Nigerian president as he prepared to hand over to the president-elect, Bola Tinubu, next Monday, May 29.
In the last week of Buhari as Nigerian president, he will carry out numerous activities.
The activities range from the commissioning of projects to the conferment of national honours on Tinubu and the vice-president-elect, Kashim Shettima.
Source: Legit.ng