Tinubu Has Reversed Gains Made in Nigeria's Democracy, Says Atiku
Former vice president Atiku Abubakar has accused Bola Tinubu of promoting dictatorship and tribal supremacy
The PDP presidential candidate made the comment in reaction to the suppression of voters during the Lagos state governorship election
Tinubu, a former Lagos state governor, had maintained his grip on the state since 2007, when he left office
FCT, Abuja - The presidential candidate of the Peoples Democratic Party (PDP), Atiku Abubakar, says Nigeria under a Bola Tinubu presidency will be reminiscent of Germany under Adolph Hitler where Jews were targeted and rights to vote and speak were suppressed.
Atiku's special assistant on public communication, Mr Phrank Shaibu, said in a statement seen by Legit.ng on Sunday, March 19, that the president-elect had reversed the democratic gains made by Nigeria over the years.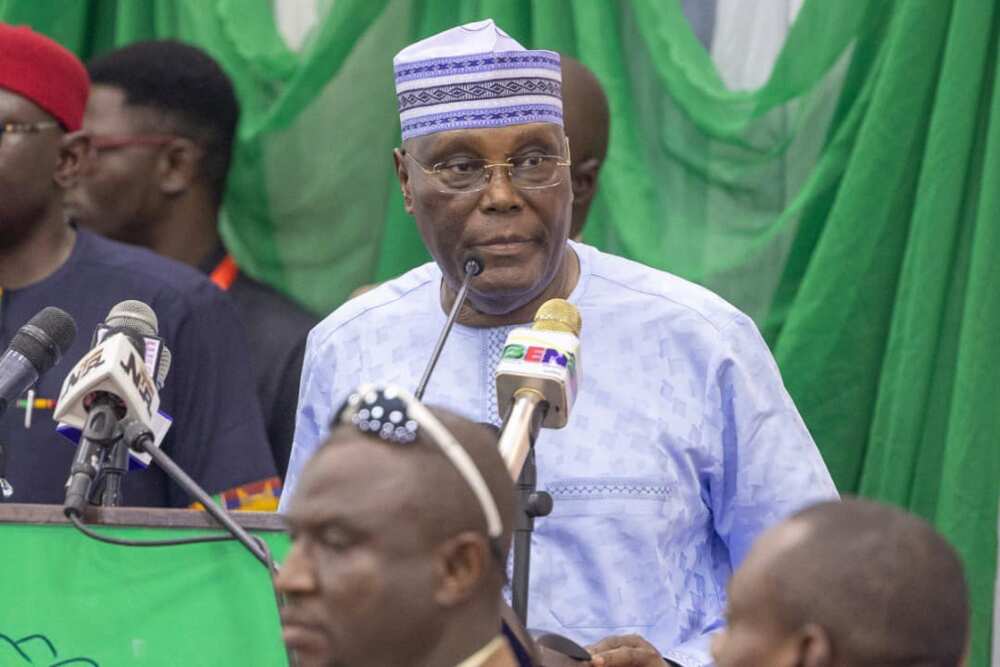 He stated that the governorship election in Lagos, where thugs asked those not planning to vote for the All Progressives Congress (APC) to return home, was just a tip of what to expect under a Tinubu administration.
He added that it was even more disheartening that the thugs were profiling voters and beating up those who were of Igbo extraction and asking them to return home.
Part of the statement read:
"What the world witnessed in Lagos at the March 18 governorship election was the tactic employed by Adolph Hitler in the 1930s.
"At that time, they engaged in profiling and used the Jews as their punching bag. Today, Tinubu has launched an assault on the Igbo and all non-Yoruba speakers in Lagos.
"Tinubu has adopted fascism with disdain for liberal democracy. With what happened in Lagos, Tinubu has elevated dictatorship, scientific racism, and Yoruba tribal supremacy and wants to take it to the federal level.
"When they see they cannot win an election, they resort to profiling and whip up tribal sentiments and violence. They did it against Jimi Agbaje in 2015 as well."
Atiku's aide also lambasted the spokesmen for Tinubu's Campaign Council – Bayo Onanuga and Femi Fani-Kayode – for their comments concerning the Lagos election.
He said their statements reflected their principal, who had failed to condemn the violence two days after the elections.
Shaibu stated that the Nigerian constitution permits anyone in every part of the country to vote and be voted for regardless of religion, gender and tribe.
MC Oluomo issues threat to Non-APC supporters in Lagos
Legit.ng had earlier reported that APC chieftain Musiliu Akinsanya, also known as MC Oluomo, had, before the election, warned those who won't vote for the party in Lagos to stay at home.
Oluomo, the chairman of the Lagos State Parks Management Committee, issued the threat in a viral video.
Nigerians who reacted to the threats alleged that security agencies had been compromised in the state for not arresting the ruling party's chieftain.
MC Oluomo's associate threatens Nollywood actresses for not supporting Tinubu
Recall that Koko Zaria, an associate of MC Oluomo, recently threatened Nollywood actresses Adunni Ade and Kemi Afolabi for not supporting Tinubu.
In the video that went viral on social media, Zaria condemned the movie stars in connection with the recently held presidential election.
He also said the actresses would know what would befall them whenever he meets them face-to-face.
Source: Legit.ng