Atiku, Tinubu or Obi: Fashola Discloses Party, Candidate That Will Win 2023 Presidential Election
The presidential candidate who will emerge victorious in this month's election has been revealed
Babatunde Fashola, in a recent interview, disclosed that the APC flagbearer would win the 2023 presidential election and emerge as Nigeria's next president
The minister of works and housing further mocked the poll that declared Peter Obi, the LP flagbearer, as the winner of the presidential election, noting Obi's path to victory is uncertain
The presidential candidate that will win the forthcoming election slated for February 25, 2023, has been revealed.
The minister of works and housing, Babatunde Fashola, on Monday, February 6, insisted that the All Progressives Congress (APC)'s candidate in this month's presidential election, Asiwaju Bola Ahmed Tinubu, would win the poll.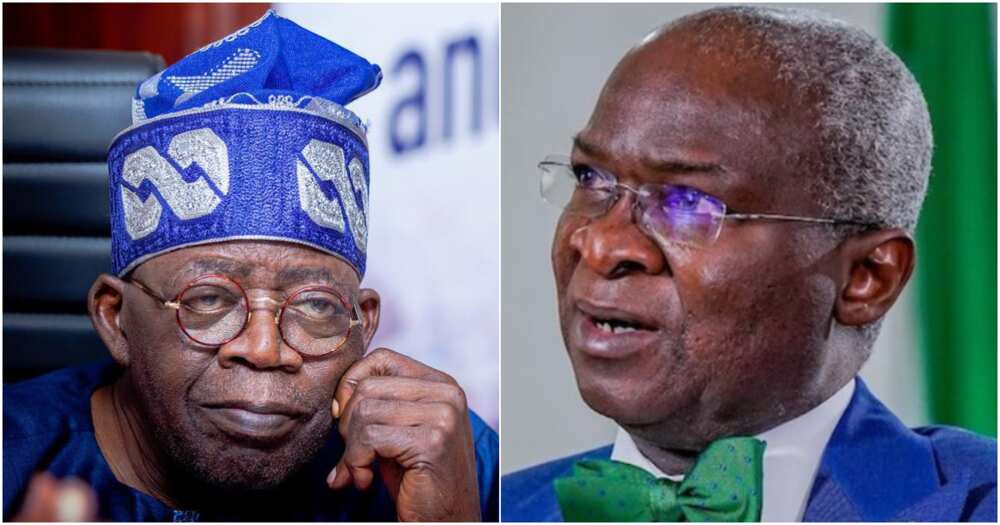 How and why Tinubu will emerge as Buhari's successor, Fashola drops hint
Stressing that the APC has momentum, Fashola, who spoke on Channels Television on Monday night, said the other presidential candidates were clearly behind the APC in terms of preparation, insisting that elections remain a game of numbers, a report by THISDAY confirmed.
He argued that if the opposition, including the Peoples Democratic Party (PDP), Labour Party (LP) and others, could not defeat the APC as one house in 2019, there was no way they would be able to defeat the ruling party as a divided house in 2023.
"Now, if you were not enough when you were together, how can you be enough when you're broken up into three?" he asked.
Fashola downplays poll declaring Obi winner
He also derided several opinion polls, which had announced Peter Obi as the clear winner of the February 25 presidential election, insisting that the polls were not just biased, but were non-representative of the country's diverse voting population.
"I used to laugh when I watch them as they are self-serving and sample was inadequate," he added. "Where is their path to victory?" he queried.
2023 Presidential Election: Buhari Speaks on How APC Will Work for Tinubu's Emergence
President Muhammadu Buhari, on Monday, February 6th, in Katsina, said the All Progressives Congress would mobilise all of its electoral machinery to ensure the victory of its flagbearer, Asiwaju Bola Ahmed Tinubu, in the February 25th presidential election.
Nigeria's leader also called on the Emir of Katsina, Abdulmumini Usman and the Emirate Council to mobilise for Tinubu's victory.
"We will work for his victory at the polls," Buhari said during a courtesy call at the Emir's palace in Katsina.
Saraki Reveals Possible Outcome of 2023 Presidential Election, Tells Nigerians What to Do to APC
Former Senate President, Bukola Saraki revealed how Nigerians can perform their civic responsibility in the forthcoming presidential election, slated for Saturday, February 25, 2023.
In a statement posted on his Twitter page and sighted by Legit.ng on Monday, February 6, 2023, Saraki urged Nigerians to shun any form of violence, especially protest, and get their Permanent Voters Card (PVC), to vote out the All Progressives Congress (APC)'s eight years of hardship.
The chieftain of the Peoples Democratic Party, (PDP) Saraki, tweeted:
"This 2023 election is a vote of no confidence in the APC-led government on the level of insecurity, excruciating poverty and ineptitude in every part of our socio-economic life."
Source: Legit.ng