"Don't Allow PDP Return to Power," Tinubu Begs Nigerian Voters Ahead of 2023 Presidential Election
Nigerians have been urged to ensure that the opposition, the Peoples Democratic Party (PDP) does not return to power in Nigeria.
The call was made to Nigerians by the flag bearer of the All Progressives Congress (APC), Bola Tinubu
According to Tinubu, it is important that Nigerians vote for responsive and responsible leaders in the forthcoming 2023 general elections
The 2023 presidential candidate of the All Progressives Congress (APC), Bola Tinubu, has called on every eligible Nigerian voter to ensure that they vote right by ensuring the ruling party retains power, the Punch reports.
Speaking to a crowd of his supporters at his campaign rally in Jigawa on Saturday, January 21, Tinubu urged residents of the state not to give the PDP a chance to return to power.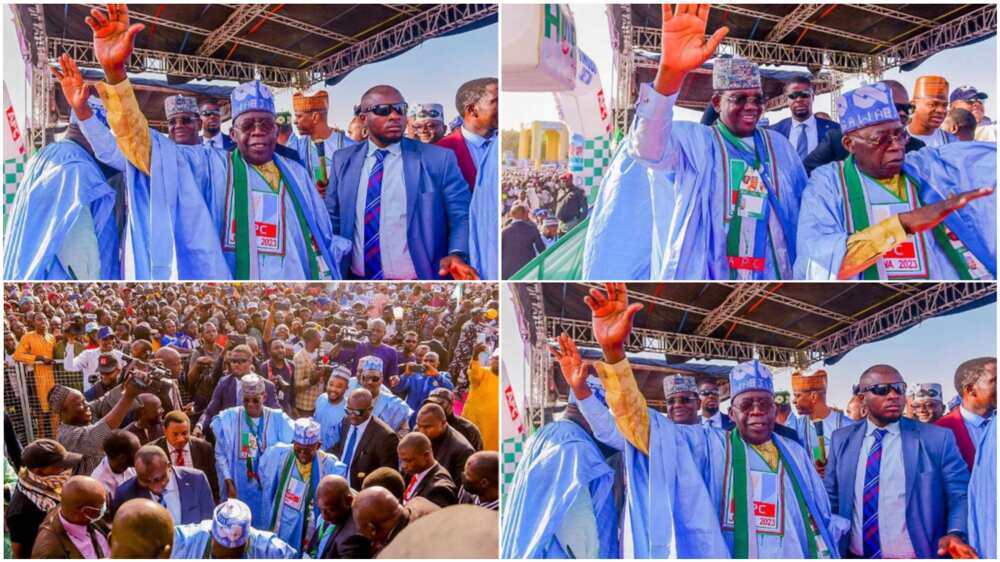 He said that having voted out the "jackals and hyenas" in the PDP administration in 2015, it would be unfortunate for Nigerians to have the opposition back in power.
In a statement issued by Tunde Rahman, the spokesperson for Tinubu, the former Lagos state governor commended the people for doing the courageous task of chasing the opposition away.
His words:
"Do not let them back into power. Like locusts, they will devour everything in their path!
"Instead, vote for the people that have a track record of delivering prosperity to the people. We did it in Lagos and Borno, and with your help, we will do it again for Nigeria. Vote for the people with the vision, the capacity, the competence and the integrity to do what is right.
"Vote for responsive and responsible leadership. Vote for us. Vote for the APC on February 25 and March 11."
Tinubu's campaign hits rock bottom as lead campaigner dumps APC barely 5 weeks to presidential election
A leading director in the All Progressives Congress Presidential Campaign Council had earlier resigned from the party.
Naja'atu Muhammad resigned from APC on Thursday, January 19, and as the director of the civil society directorate of the party's PCC.
According to Muhammad, her views no longer align with that of the APC and she will focus on supporting individual candidates for the 2023 election.
"Tinubu's primary school never existed": Group picks holes in form APC candidate submitted to INEC
A human rights organisation known as the Incorporated Trustees of Advocacy for Social Right Advancement and Development Initiative (ASRADI) accused Tinubu of lying on oath.
The group said the primary school the APC presidential candidate claims to have attended never existed.
ASRADI has filed an application in court seeking to compel the Inspector-General of Police (IGP) to investigate the former governor of Lagos state.
Source: Legit.ng