PVC collection: Gov Akeredolu sends strong message to southwest APC governors ahead of polls
There is a serious and alarming agitation over the slow pace of PVC collection nationwide
Powerful APC governor, Rotimi Akeredolu joined the agitation train after a meeting with the southwest leaders of the party''
He urged APC southwest governors to take it upon themselves to declare public holidays in their states
Ondo, Akure - Governor Rotimi Akeredolu of Ondo state has expressed his concern over the slow pace in the collection of Permanent Voter Cards (PVCs).
According to The Nation, southwest governors may declare Tuesday, January 24 as a public holiday for electorates to get their PVCs.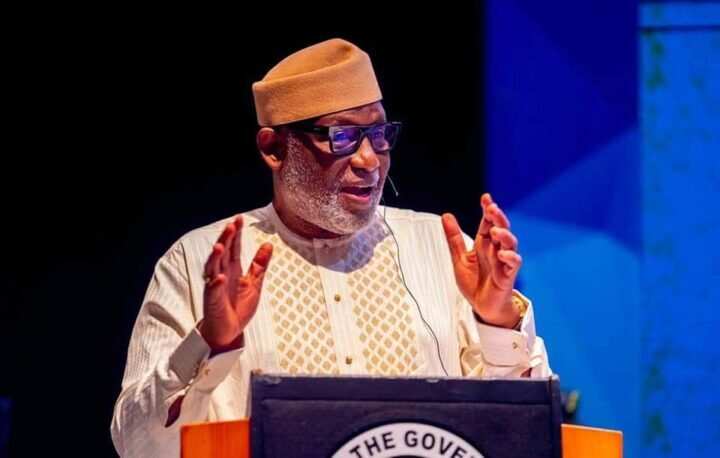 During the meeting of the southwest, All Progressives Congress (APC) Presidential Campaign Council (PCC) in Akure, Ondo state capital, Governor Aketi as he is fondly called urged all governors of the progressive party to take the step of declaring public holidays for electorates to collect their PVCs.
Details of the meeting also confirmed that conversations on how to seal victory for Bola Ahmed Tinubu, the presidential candidate of the party in next month's presidential polls.
Tinubu who is one of the top favourites for the presidential seat will have to do battle with Peter Obi of the Labour Party and Atiku Abubakar of the PDP.
APC top chieftains attends meeting
Governor Akeredolu was joined in the meeting by APC chieftains like the ex-Ekiti state governor, Kayode Fayemi, and deputy chairman of the APC southwest zone, Isaac Kekemeke.
Other leaders at the meeting were National Vice Chairman (South-West) and Deputy Zonal Coordinator of the Tinubu/Shettima Presidential Campaign Council, Isaac Kekemeke; APC Chairman, Ondo State, Ade Adetimehin, an engineer; former deputy governor of Osun State, Titi-Laoye Ponle; former deputy governor of Ogun State, Segun Adesegun; representative of Ekiti State Governor, Jide Awe; APC chairmen in the Southwest and other national and zonal leaders.
Top southwest governor speaks on which region should produce president in 2023
Meanwhile, Governor Rotimi Akeredolu has said that in 2023 presidency should come to the southern part of Nigeria.
Akeredolu said it is important that Nigerians vote for the presidential candidates from the south in the forthcoming elections.
The governor made the disclosure during 2023 Armed Forces Remembrance Day celebration in Akure, Ondo state's capital city.
Source: Legit.ng