Ramadan: What Quran Says About Politics, Islamic Lecturer Gives Insights
Ganee Suleiman has called on Muslims to be agents of positive change and good ambassadors of the religion
According to him, politics is an integral part of Islam reason it is mandatory for all true believers to participate in the governance of his society
Going further, he insisted that a true Muslim is expected to uphold justice and tolerance which are the ingredients required to promote public interest and peaceful society
Muslims have been advised to be agents of positive change and good ambassadors of the religion of peace, Islam.
The advice were given by speakers at the annual Ramadan lecture organised by a frontline politician and community leader, Mr Azeem Owe in Itire-Ikate, Lagos.
Ganee Suleiman disclosed that politics is an integral part of Islam reason it is mandatory for all true believers to participate in the governance of his society.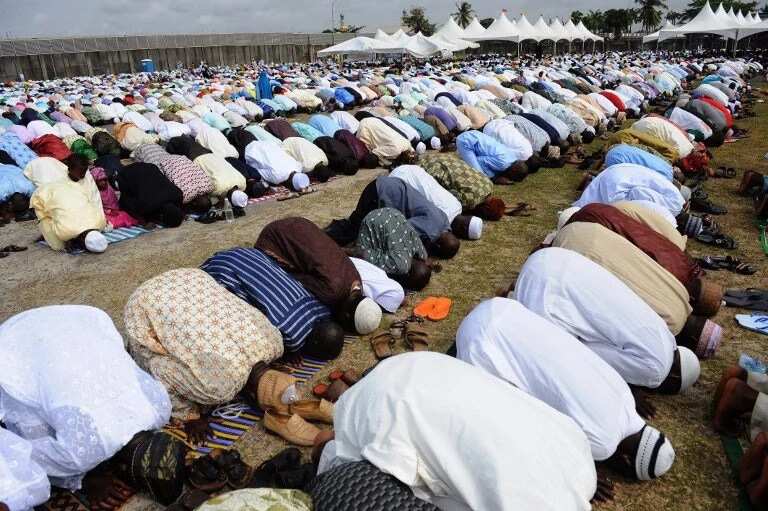 He said:
"The glorious Quran touches on every aspect of human lives including politics. It is a code of life that guide and teaches every Muslim how to live a better life.
Talk about politics, a true Muslim is expected to uphold justice and tolerance which are the ingredients required to promote public interest and peaceful society.
But unfortunately these two ingredients are missing in our politicians. Many of them are intolerant and unjust in their handling of the affairs of the country which is why we are having challenges of insecurity, economic and youth restiveness and armed banditry.
A true Muslim without doubt will be a just political leader whose heart will be filled with fulfilling the needs of the people. A politician that fulfils the five pillars of Islam and practice the ways of the prophet of islam will definitely not rig election nor sponsor thugs to disrupt election process because with that Islam in him, he will know things of this world is temporary and you will give account of how you acquire everything you had even if its a dime.
Therefore, we cannot separate Islam from politics because Islam preaches equity, justice and good governance. Islam ensures equality between citizens and between the leader and the led."
Speaking in similar vein, the organiser of the event, Mr Owe said the guide to a healthy political transition and a peaceful society lie in upholding the teachings of Islam.
According to him, the glorious Quran has all the answers to the country's challenges, but unfortunately the political class are heedless.
He said, "it is disturbing that we witness an increasing rate of violence and thuggery when the country is approaching election year.
With the knowledge of this and as we are in the month of Ramadan, we feel holding this lecture with the theme 'Islam and Politics' will go along in opening the minds of our political leaders to the divine truth.
We have to let them know that Islam forbids hypocrisy and manipulation of election results. It forbids rigging an election to favour an unpopular candidate.
The country is approaching election year and as Muslims, it is compulsory for us to know our duties and roles before, during and after the election.
We cannot sit down and fold our arms and expect miracle to happen. If we few unconcerned about the political process then we have no right to complain about the kind of leadership that such election brings forth.
For instance, in Itire-Ikate LCDA, votes during elections are reducing and this is because aggrieved members of our party are not happy with the manner our leaders are handling the affairs of the party.
So, as we are approaching the next general election, I am appealing to all our leaders to right the wrong and be sincere in addressing all the issues raised by the aggrieved members.
During the last local government elections in the state, chairmanship aspirants were made to pay N2million as fee for expression of interest while councillorship aspirants paid N500, 000 but despite this huge amount paid, the leadership of the party then imposed it's choice candidates in all aspirants. They lost at both end. Their money were not refunded neither were they given the opportunity to go to primary.
The affected candidates are aggrieved and they need to be pacified. Their money needs to be refunded for us to have a united voice during the 2023 election.
So, I want to commend our governor, Mr Babajide Sanwo-Olu for transforming Lagos State. The governor has proven to be a focused leader and he has succeeded in managing successive challenges with calmness and zeal.
With his obvious achievements, giving him another term of office is what we are clamouring for, for a sustained development.
We utterly support his bid for second term. Likewise, we support the aspiration of our national leader, Asiwaju Bola Tinubu for the presidency of the country.
As Muslims we are disturbed by the political happenings in the country. Islam teaches fairness in politics and the fear of Almighty Allah in whatever we do.
My advice to our party leaders is to change their style and approach to the electorate for the better. They should also learn to say sorry to citizens and stop imposition of an aspirant over another in the spirit of Islam and fairness."
Chief Imam of Aso Rock speaks on 2023 presidency, warns Buhari of uncertainties
Meanwhile, the Chief Imam of the State House, Sheikh Abdulwahid Sulaiman has called on President Muhammadu Buhari to remain steadfast in his pursuit of Nigeria's growth and development.
The Imam who spoke on Thursday, April 28, at the State House Mosque urged the president to stay on course and ensure that Nigeria's struggles are not vandalised by the uncertainties that may be characterised by the forthcoming general elections.
A statement released by the special adviser to the president on media and publicity, Garba Shehu, said the Imam made remarks at the conclusion of tafsir witnessed by President Buhari and other Muslim faithful.
According to Shehu, the Imam commended the president for his sacrifices and his selflessness to Nigeria and her people.
Source: Legit.ng