"WAEC Will Be Confused to See His Result": Nigerian Woman Posts Student's Grades on Facebook
A woman identified as Catherine Dimowo Obende on Facebook has shared the impressive WAEC result of a student who obtained 8 A's and 1 B
In her post, she expressed her optimism about the release of the result and congratulated the student, Ajagun Gold
Excited netizens have taken to the comments section to celebrate the student's remarkable achievement
In a heartwarming display of academic excellence, a student named Ajagun Gold achieved an outstanding result in the West African Senior School Examination (WASSCE).
The student's hard work and dedication paid off as he obtained an impressive score of 8 A's and 1 B.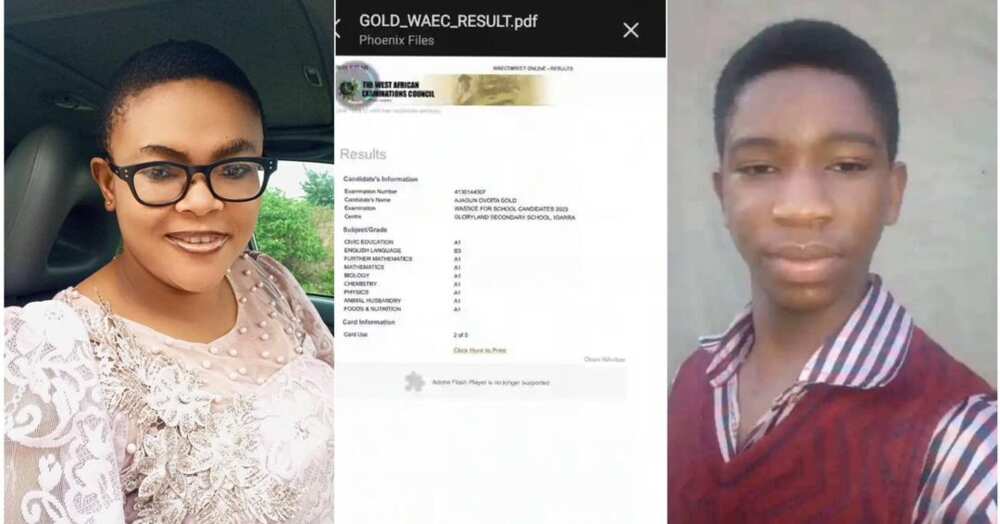 This exceptional performance has caught the attention of netizens, who are applauding the student's remarkable achievement.
Woman reveals she was optimistic about the result before it was released
Catherine, who shared the student's result on Facebook, recounted her optimism about the release of the result that was seized by WASSCE.
She revealed that Ajagun had visited her house to inquire about WAEC GCE registration, and she advised his mother to wait for the result.
The school management's presence in their office in Lagos further fueled her belief that the result would be released.
With this outstanding performance, his admission prospects are now incredibly high, and he is being congratulated by netizens for his remarkable achievement.
In Catherine's words;
"Congratulations AJAGUN GOLD, You were in my house this morning to make inquiry concerning WAEC GCE registration and I advised your mum to wait a little for the result as I am optimistic it will be released since the School management was in their office in Lagos.
"Glory Land has made us proud in Igarra and EDO State. Una well done.
"Honestly, WAEC as a body will be confused seeing this kind of result. Some schools can never get this result without malpractice hence, WAEC decides to withhold the result initially.
"Your admission is 99.9 sure now young man, congratulations once more! I beg make we bless this guy and make him go viral again!"
Netizens celebrate and call for viral recognition of student
The news of Ajagun Gold's exceptional result has spread like wildfire on social media, with netizens flooding the comment section to congratulate him.
Dasilva Ayode Kotu commented:
"Waooo, Awesome and excellent result keep it up and more wins boy."
Choice Paul Jatto said:
"Congrats."
Adumaza Lateef reacted:
"Congratulations."
Afe Gideon Aboja said:
"Congratulations."
Omoluabi Paul Adoiza commented:
"Brilliant! Congratulations to Him. May the Lord give you the requisite strength and grace to sustain this standard in Jesus name Amen. I specially celebrate this excellent result."
Ajibade Godwin Haname reacted:
"Congratulations."
Esheoshine Dania Veikayawu said:
"Congratulations to him."
Aliu Justus commented:
"Congratulations to u."
Olowojoba Enoch Ige Oshiomoshiofu reacted:
"Congratulations."
Gbenga Biggs Aiyede said:
"Congratulations."
See the post below:
Nigerian boy passes WAEC in flying colours
Meanwhile, Legit.ng previously reported that following the release of the West African Examination Council (WAEC)'s West African Senior School Certificate Examination (WASSCE) results nationwide, a Nigerian boy, identified as CâllMhê LegitBoss on Facebook, has shared his exam result with his followers.
The proud boy rejoiced over the fact that he passed all the subjects he sat for during the examination. According to his post, which has since gone viral, he passed with one A1, five B3s, two C4s, and one C6. While sharing his result, he expressed his gratitude to God for his success and congratulated himself on his achievement.
He wrote: "Finally my waec result is out. I thank God for everything. Congratulations to me." Netizens have taken to the comments section to congratulate him on his impressive result.
Source: Legit.ng