Man Imports House From China, Truck Brings Home to His Location, Its Size Surprises Him in Viral Video
A young TikTok influencer shipped a container home from China and was happy to take the delivery
Looking thrilled about the home, he said that the truck that brought the house was finding it hard to locate his land
Many people were interested in how he ordered the house and how much was involved in the whole process
A young man made a video to capture the container home he ordered from China which arrived in his country. A big truck brought it.
The TikTok influencer (@kylethomas) said he shipped it from AliExpress. As he spoke excitedly about the house in the TikTok clip, the trailer carrying the home was seen in the background.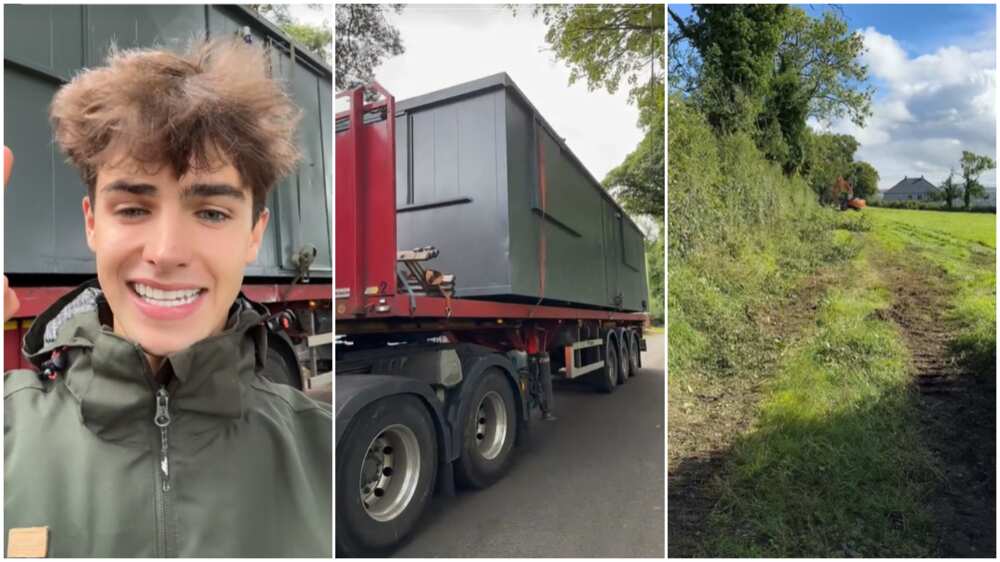 Container home shipped from China
The man added how the truck had a hard time trying to drive to his land. @kylethomas, who was surprised to see the house was real, said he would be putting the container on his land.
The man said he got the house because he wanted to have a place to stay during the rain. Many people were amazed by its size.
He is not the first to do so. In 2022, a man also shipped a container home from China.
Watch the video below:
Legit.ng compiled some of the reactions below:
Peyton wondered:
"A HOUSE? ON ALIEXPRESS!?!"
HiHatHero replied:
"Container that's been turned into a house."
j.ortega02 said:
"That's mad a whole house delivered to you."
punkuh said:
"Complain about the damage and see if they give you a second one."
Bufordstrailer said:
"Wait a minute here, you bought a house and didn't prepare the land ahead of time? Ahhhh the energy of youth! Congrats on the house!"
Campfoodie said:
"Bro you're suppose to build a foundation for it first lol."
Kenny Nguyen said:
"I am curious to see what it looks like too."
Damian Holbrook said:
"Oh I need an entire series about this situation."
jovavasour said:
"Can't wait for the update on this. Good luck."
Ashe said:
"We need a house tour!"
Family converts bus to flat
Meanwhile, Legit.ng earlier reported that a family, @roamwithbus, bought an old school bus and converted the vehicle into their home to save money. It took them many hours to see it to completion.
After paying $4,500 (N2,009,835) for the vehicle, they got to work. The mother in the family stated that they spent $1,250 (N558,287.50) on outside materials like paints.
Man installs container home in his village
Similarly, a man who loves farming made a video of a 40 feet container he turned into a house in his village.
While speaking in the TikTok clip, the man, @farminginafrica_official, revealed that he installed the container on a plot of land. He made sure other parts of the land had nature around.
Source: Legit.ng