"I Just Needed 2 Minutes of Peace": Mum Leaks Content of Letter Her Little Daughter Passed to Her in Bathroom
A smart kid in a trending video decided to show the online world the creative side of her young mind
The kid's mother was having a bath and begged not to be disturbed, but the kid needed to eat a snack
Putting her ingenuity together, the little girl took the snack and found a way to ask for permission to eat it
Kids are known to have the craziest ideas ever, and they have always found ways out of tricky situations.
A mother has earned praise from netizens online after showing off an amazing act of her little daughter.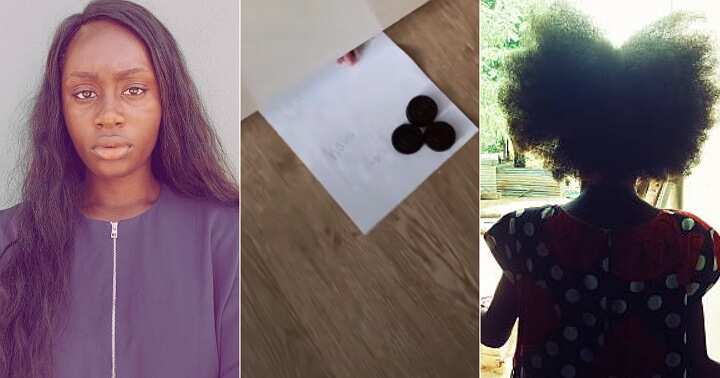 The proud mother wanted the world to know that she was raising disciplined children.
In a video she shared via her official TikTok account @smilingmindscollective, she wanted to have a little time to herself and decided to take a nice shower.
She locked the door to the bathroom and asked her kids not to disturb her. One of her kids later had cravings for snacks and wanted to eat some cookies.
Understanding that their mother issued a verbal 'do not disturb', the kid had to find a way to ask for permission before eating the cookies.
The smart child came up with the idea of using a visual aid to get permission. The kid took a blank white paper and wrote on it in singular words: 'Can I have this?'.
The paper was passed under the bathroom door with three chocolate cookies on it. We don't think the mother can say no to such ingenuity.
Social media reactions
@mrsmoran commented:
"Take 1 then say yes."
@Momphil commented:
"At least they asked."
@S. commented:
"I admire their creativity."
@Jaz commented:
"She forgot to put "circle yes or no"
@I am groot commented:
"That's so adorable though!"
@Sheri Pullium commented:
"Adorable! I miss my kids being little."
@Amber Baudoin Guillory said:
"Bruh why these kids do this?? they don't want nothing to do with you when you actually are available."
@Lori commented:
"Oh I remember these days."
@Ashley commented:
"Smart kid!!! Wish mine would take that approach."
@user1359981075597 said:
"You get to close the door? My toddler hands me the toilet paper. One piece for me, fifty pieces for the floor."
@Cece commented:
"Omg I wouldn't even be mad this is too funny."
@Shar commented:
"Guarantee they ate 5 before asking for those 3."
@Sophie. Hijabie wrote:
"Well raised they ask before picking anything at least."
@josefin270 commented:
"Hahah not my kids."
@Bernie Series/Movie_Clips said:
"This is so polite and adorable."
@JRodriguez commented:
"You don't see this in these kids anymore, Especially politeness."
Watch the video below:
Girl writes letter to her mum
Meanwhile, Legit.ng previously reported that a seven-year-old girl showed her love and admiration for her beautiful mother in a spectacular way. The doting daughter wrote a love letter to her mother which she kept by her mother's bedside before heading to school.
In the letter, she expressed her love for her mother and thanked her for taking very good care of her. Sharing screenshots of the letter via Facebook, the happy mother said: "My 7 years girl at grade 3 wrote me a letter and drop it at my bedside before going to school because I didn't wake up to send her to school.
"When she came back from school, meeting me sitting on the bed, she look around curiously and asked, "Mummy I wrote you a letter, did you read it" hmmm, that is when I saw a note neatly folded by my bedside and I smile, pick up the letter but I looked at her and all her attention was on me to see what my reaction will be."
Source: Legit.ng