Why I Started Selling Suya: Igbo Boy Who Sells Suya Opens up on What Hausa People Did to Him
Like an unwritten rule in Nigeria, it was commonplace to find only Hausa men selling suya in any part of the country until Felix Eden Favour came into the picture.
Felix, a final year student of the University of Uyo in Akwa Ibom state, is an Igbo youth who proudly sells suya and surprisingly has about five outlets and a retinue of staff.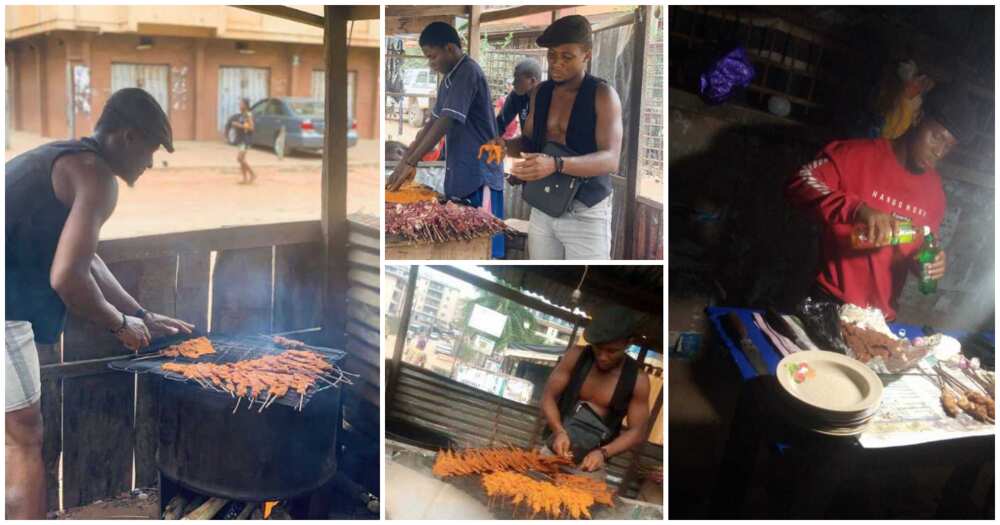 In this exclusive interview with Legit.ng's Victor Duru, the aspiring international kitchen figure and CEO of Felix's Kitchen, opened up on how he started and the future of the growing enterprise.
It is noteworthy that suya or tsire is a traditional smoked spiced meat skewer that originates from Northern Nigeria.
Felix started fending for himself at age 16
Felix, studying political science and public administration, has been a suya seller for over five years and revealed that he had been enterprising since he was 16.
He said:
"It started when I was at the age of 16. I had the urge to go into business because my family is not financially buoyant.
"I first started a barbing saloon (because that was my father's previous business) where I cut hair and sell home videos."
The Anambra indigene's barbing business was crippled twice by fire incidents.
Narrating the experience, he said:
"Something, however, happened one day. My not-so-good generator, which I have been using for a long while, caught fire, and this resulted in the owner of the place I situated my saloon giving me quit notice.
"After I got admission, I went to school with my clipper, hoping to continue the business there. However, COVID came in 2020, which meant I had to be at home.
"I got a shop in Onitsha and continued barbing, but the shop shockingly caught fire again. It was hard for me even at that young age. Everything inside that shop got burnt."
How the idea to start selling suya came
Following the two fire incidents, Felix said he concluded that he was done with cutting hair and began consulting people on the next business he could go into. He said he wanted something unique.
However, all but a piece of advice from his father caught his attention.
"So, I left barbing for good. I started looking for a unique business, and I sought advice from my dad and people.
"But the advice that stood out was going into cooking. My dad advised I go into suya and that I should contact a Hausa man who would sell for me and give me returns.
"I heeded and did as he advised but took over the business as the Hausa man I contracted wasn't doing the business satisfactorily and was unavailable sometimes."
Felix said Hausa people gave him the secrets of the business
Felix said he decided to do the selling himself but found out he needed to improve at cutting and organising the meat properly. This made him seek help from the 'masters of the business.'
He said:
"I started doing the suya myself but wasn't doing it well. So, when I returned to school, I got closer to the Hausa guys in Akwa Ibom. There's a place in Akwa Ibom where there is a large concentration of Hausa guys.
"These guys taught me and showed me the secrets of the business throughout my 300 level second semester and 400 level first semester till I got better.
"When I returned to Onitsha, I was doing suya well. Now I have three outlets in Anambra and two in another place."
Felix's plan for the future
The entrepreneur has no plans of ditching the suya business in the future. Nonetheless, Felix hopes to expand it to other states, go global and incorporate different local cuisines.
His words:
"My plan for the future is to have my own restaurant, kitchen or joint where people can come and have suya. Igbo suya. Suya that is done by an Igbo person."
He also wants to employ more people and train willing minds to successfully run a suya business and other cuisines.
"I also have that dream to employ labour. I went into this business because of a lack of jobs but people don't know this is a good source of earning a living.
"When I have a kitchen, I'd have a class where people would be taught how to make suya as well as other local and foreign cuisines."
Felix says he needs money to grow his suya business
The final-year student told Legit.ng that he desires to be an international kitchen figure, travelling the world doing what he loves most - cooking.
"I want to be an international kitchen figure. I want to travel around the world doing my kitchen work.
"I also specialise in barbecues. I can do this nationally and internationally."
Felix said his business is not where he wants it to be and still needs money, and he would appreciate financial support from well-meaning individuals.
"I need funds which are not necessarily millions. With N500k or close to a million, I can set myself (the suya business) up properly.
"Even now that I don't have much support because I am not good at begging people, I still need help. Any amount is something. I'd make sure I'd utilise the money if it were to be given to me."
Nigerian builds a magnificent suya joint
Meanwhile, Legit.ng previously reported that a Nigerian man had built a magnificent suya joint and named it a university.
In a short TikTok video shared on Sunday, November 6, by Jay Mobile, the owner of the joint identified his shop with a bold signpost almost the size of an average billboard.
Boldly written on the signpost is 'University of Suya", and it has a company logo which completes the corporate identity of the business. Another interesting thing about the suya joint is that it is also called the Faculty of Meatology.'
It is unknown why the owner chose such interesting appellations for his suya shop, but many people found it hilarious.
Source: Legit.ng