Jude Rudolf Solomon: Top Businessman in Nigeria Dies at 43, Ex-Employer and Mentor Otedola Reacts
Jude Rudolf Solomon, a Lebanese businessman who has spent many years in Nigeria, has passed away at the age of 43
He was a former employee and mentee of billionaire businessman Femi Otedola from whom he learnt the rudiments of business
Otedola described Jude as one of the finest gentlemen he has ever come across, saying he was deeply spiritual and an excellent father and husband
Friends and family of Jude Rudolf Solomon are mourning the death of the top businessman who passed away on Wednesday, September 13, at the age of 43.
In a press released sent to Legit.ng by the family of the deceased, Jude was born on November 1, 1978 to Lebanese immigrants whose family migrated to Nigeria in 1913 and made the country as their home.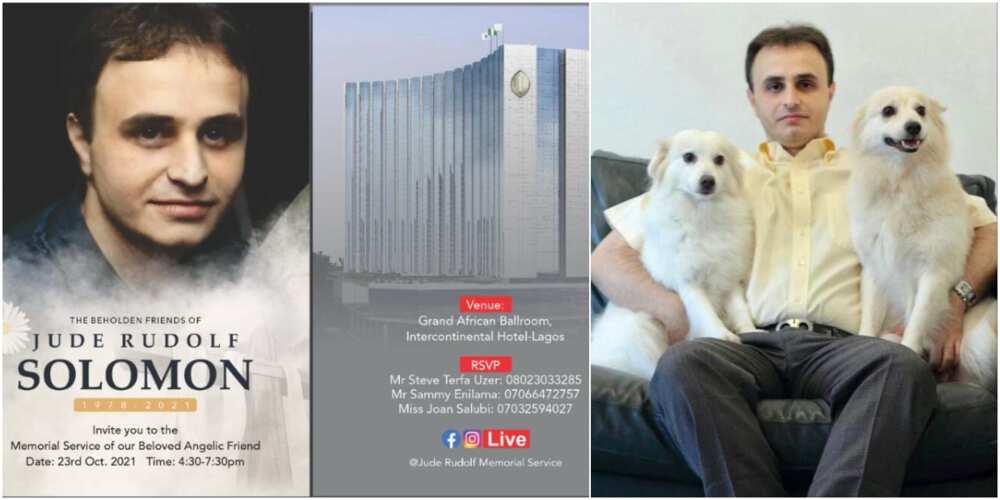 Early education
He received his early education at the Lebanese International School, Lagos, and proceeded to Lebanon for his tertiary studies.
Returning back to Nigeria
After his tertiary education, he returned back to Nigeria, and many of his friends thought he wasn't making a wise decision.
The statement read in part:
"Jude saw opportunity flowing in Nigeria. He was rewarded for following his heart and intuition. That decision set him on the path of greatness laced with outstanding achievements and successes.  
"However, despite living a short life, his impeccable accomplishment while on earth can never be ignored with a wave of the hand. That's why many have continued to celebrate him even in death for his selflessness, loyalty, generosity and sincerity."
Meeting Femi Otedola
Jude's path crossed crossed billionaire businessman Femi Otedola, and this was when he climbed the ladder of success in life.
He was said to have impressed the founder and chairman of Zenon Petroleum and Gas with his cerebral presentation.
The statement continued:
"Their meeting paid off when Otedola pleaded with Jude's uncle to persuade him to work with him at Zenon Petroleum & Gas Ltd."
Achieving success at Zenon
Being a problem solver and team player, he was able to prove himself to Otedola while working at his company as he helped Zenon to rise above its competitions. He rose to the position of Head of Sales and Marketing Zenon Nigeria.
He left Zenon in 2009 after eleven years of tremendous success at the organisation to pursue his interests in the energy sector and real estate development.
Family-oriented man
Jude wasn't only a successful businessman but also a family man and a lover of animals. He tied the knot with the love of his life, Maricel, in May 2011, with whom he had two sons.
Otedola reacts
Reacting to his former employee and mentee's death, Otedola described Jude as one of the finest gentlemen he has ever come across.
He wrote:
"I have known him for 22 years of his life. He worked with me for many years learning the rudiments of business. He was there for me at very significant periods in my life and business. We spoke every morning, severally during the day and last thing at night."
The billionaire businessman also described Jude as being loyal, sincere and extremely honest right to the end.
In his words:
"He was deeply spiritual and an excellent father and husband. His dedication to family was absolute. 'Jude, your life was a blessing, your memory a treasure, you are loved beyond words and missed beyond measure. Rest in peace beloved brother……you are now happily in Heaven with your Creator".
Memorial service
His memorial service will be held on Saturday, October, 23, at the Grand African Ballroom, Intercontinental Hotel, Lagos, by 4:30pm to 7:30pm.
Nigerian billionaire dies of COVID-19
Meanwhile, Legit.ng previously reported that Bolu Akin-Olugbade, a Nigerian billionaire businessman, died from COVID-19 complications.
The socialite died on Wednesday, January 13, at an isolation facility in Lagos.
Legit.ng gathers that the deceased was born on April 2, 1956, to the family of late Babatunde Akin-Olugbade, Balogun of Owu and a wealthy businessman.
Popular Lagos socialites dies
In an earlier report by Legit.ng, popular Lagos socialite Kayode Badru died after being involved in a fire accident at a Celestial Church of Christ.
The deceased was said to have flown into the country from Dubai for the graduation of the 40 people he sponsored to Academy For Innovative Art And Technology (ACIATECH).
According to @naijaonthego on Instagram which broke the news of Kayode's death, the socialite was in the church for Isegun (Victory) programme.
Source: Legit.ng