Obasanjo Derecognised As Balogun of Owu, Other Chieftaincy Titles in Yorubaland
Ex-President Olusegun Obasanjo is no longer recognised as the Balogun of Owu Kingdom in Abeokuta, Ogun State
After failing to apologise within three days, the Yoruba Council Worldwide derecognised the former civilian and military president
The group also noted that the ex-president will no longer be recognised by other titles conferred on him by other Yoruba monarchs
FCT, Abuja - The Yoruba Council Worldwide has seized to recognise ex-President Olusegun Obasanjo as the Balogun of Owu Kingdom in Abeokuta, Ogun State.
This development was made known in a statement sent to Legit.ng on Tuesday, September 19 and signed by the group's president, Aare Oba Oladotun Hassan Esq.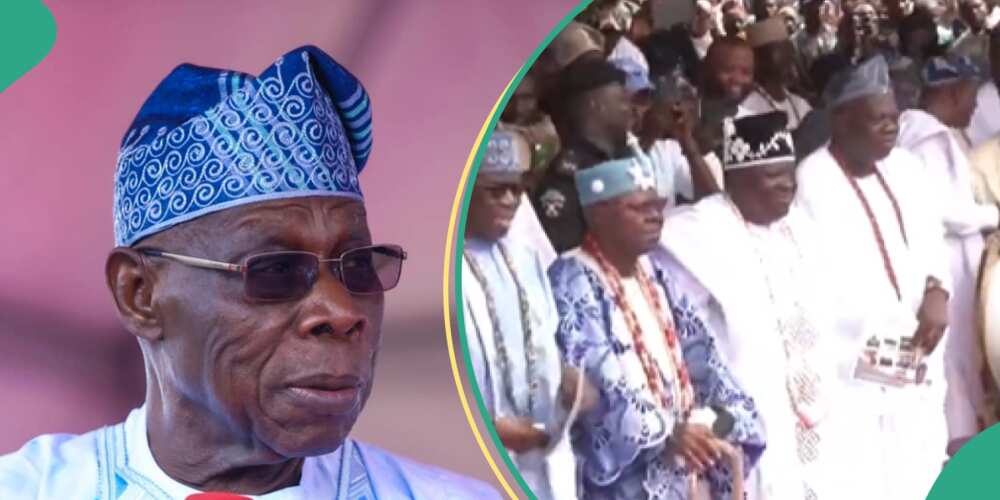 This was on the heels of the controversial scenario between the ex-president and local monarchs at the launch of some state government projects in Iseyin-Oyo State.
In a viral video on social media, Obasanjo was seen wearing a fuming look and asked the local monarchs to stand up and observe protocol.
This incident led to much criticism from other prominent monarchs and personalities in the southwest.
In an exclusive report by Legit.ng, the group's president, Aare Hassan, issued a three deadline for Obasanjo to tender an apology in a worldwide press conference.
Obasanjo breaks silence on Iseyin controversy with Oyo monarchs
Obasanjo, who has spoken about the incident, said he asked the local monarchs to stand up because while others were observing protocols at the arrival of Governor Seyi Makinde, they refused to stand up.
As contained in the statement released by the Yoruba Council Worldwide, the decision was reached after the group had asked Obasanjo to apologise within three days after the controversial incident.
However, Obasanjo failed to apologise, and the group in the statement said:
"..having waited endlessly for your compliance to the 3 days earlier call for sober apology press conference via our widely circulated notice on 16th September, 2023, we hereby declared and seize to recognize your Chieftaincy titles conffered on you by any monarchs in Yoruba Land, including the Balogun of Owu Kingdom, consequent upon your brazen refusal to apologize, degradation and disparaging comments to the Yoruba Obas on the 15th September, 2023 at Iseyin, Oyo State: A Total Sacrilege."
The group also noted that strict legal measures would be carried out against the ex-President.
They also noted that they "shall mobilize all market women, youths and leaders of thoughts for onward sanitization and compliance to our declaration forthwith."
'Forgive my husband': Obasanjo's wife begs Yoruba monarchs for forgiveness
Meanwhile, ex-President Olusegun Obasanjo's wife has begged for forgiveness on behalf of her husband for embarrassing Yoruba monarchs in Oyo State.
Mrs Obasanjo said her husband's attitude on Friday, September 15, was unacceptable and against the will of God.
She apologised to the monarchs in the southwest region, begging for eternal and permanent forgiveness.
Source: Legit.ng