"Why Bolanle Ninalowo Refused to Kiss Me on Set": Actress Zhainab Bakare Recounts Painful Experience
Nollywood actress Zhainab Bakare has shared her embarrassing encounter with top actor, Bolanle Ninalowo
She explained how Ninalowo refused to kiss her on a movie set and the interesting reason he gave for it
The video of Zhainab recounting her experience raised a series of comments from Nigerians
A Nigerian movie producer, Adeola Omooba, shared her thoughts with Legit.ng on Bolanle Ninalowo's action
Nigerian actress Zhainab Bakare is now in the news after sharing the experience she had with her colleague, Bolanle Ninalowo.
During an interview with another actress, Biola Adebayo, Bakare was asked about an experience she can never forget and she explained how Bolanle Ninalowo embarrassed her on a film set.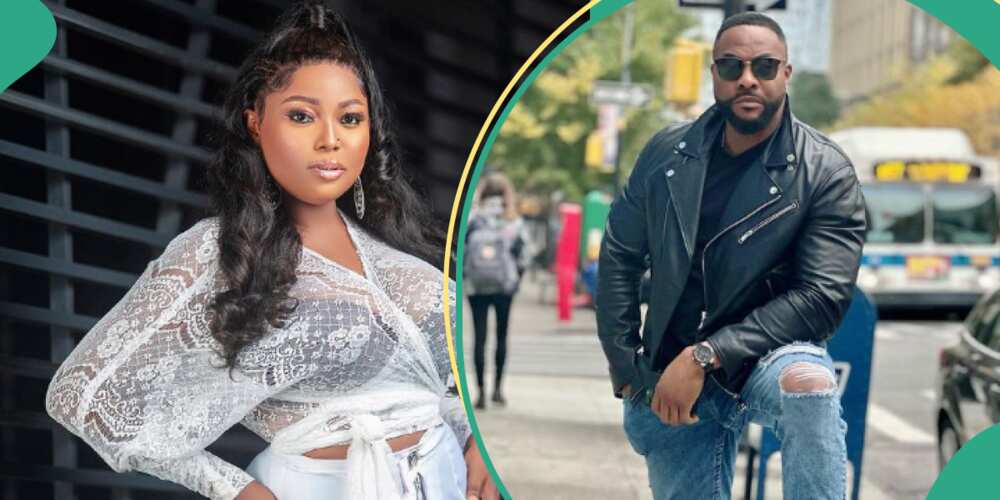 According to Bakare, Ninalowo refused to kiss her while playing a movie role. Not stopping there, she discovered that his refusal to kiss her was because she wasn't an A-list actress.
In her words:
"It keeps ringing in my head that why will an actor look at me and say 'I don't kiss, I only kiss a-list actors'. I say it in almost all my interviews because it really got to me. The person told my director on set that year that 'I think there's a kissing scene there and I won't kiss her'. So I think my director thought it was a joke, the actor was Nino (Bolanle Ninalowo) I was not there. So when I got to the set, the director gave us lines so we were acting and the director said okay it's time to kiss her and he (Nino) just flared up."
Zhainab went ahead to describe how Ninalowo blasted the director and openly said that he only kisses A-list actresses. According to the actress, it was a crazy experience for her.
See the full video below:
Nigerians react as Zhainab Bakare recounts how Bolanle Ninalowo embarrassed her
The encounter between Bolanle Ninalowo and the actress drew mixed feelings from netizens. Read what some of them had to say about it below:
tomiwa_eastriding:
"If this is true, then Nino has no business in acting!!! How would he feel if Ini Edo says she can't kiss him because he's not A-list actor!!!"
oyinlomodiamond:
"One thing I tell people is, "people will never forget what you say to them, especially when they are still struggling to make it in life". Learn how to speak to people. Nino might have forgotten now, but she will never forget, but he made her felt less of herself. It's his rules though, but not just well presented!"
hype_azzurri_10:
"This is an interview for crying out loud,why putting some respect calling the host name ??….Biola should be Biola in English."
poshest_hope:
"To think he's not even an A list."
monalisa.stephen:
"As an Actor , I fit kiss Snake and act anything. You should know what you signed up for the moment you chose that PaTH naw ."
esan_doctor:
"Abeg joor, na women own worse pass, Am an Actor too and I know how you alot of you female actress carry yourself, too much pride, if you where in he's shoes, you would have done worst madam, so rest."
temmyoftbl:
"People will never forget what you say to them and how you make them feel."
phrankleen:
"This actually shines light on the backwardness in Nollywood's movie making … they could have used a body double or very good CGI / camera angle to create the kiss. You are actually not obligated to kiss anyone on a film set aside behavioural issues like she highlighted. Kissing has nothing to do with being an upcoming, except if there's a sexual interest, you can't go around kissing randoms."
allezxiss:
"He should have just rejected the role completely, instead of embracing the actress on set."
It was very unprofessional - Adeola Omooba
A Nigerian movie producer, Adeola Omooba, spoke with Legit.ng and shared her opinion on how Bolanle Ninalowo reacted to his colleague, Zhainab Bakare on set.
According to the filmmaker, Ninalowo did not act like a professional. Not stopping there, she noted that for the kissing scene to have been part of the script, then it was an integral part that could not be worked around.
Omooba added that if it was her movie and her budget allowed it, she'd have done a recast for the role because it showed Ninalowo did not read the script before accepting the job. On a final note, she explained that the actor's action was perhaps a personal jab at the actress.
In her words:
"I think it's very funny and unprofessional to say "I only kiss A-list actors). It's what your job requires and if it's scripted then it most probably has an impact on the scene and/or story progression. Refusing to do it already takes away from the final product.
I don't think it can be worked around because this definitely will affect the chemistry between both actors on set. If I didn't have a budget to think about I'd definitely recast because now I'd believe you didn't read your script. You should have read the script before taking up the role or coming on set which is when you'd still have the liberty to opt out. I think the actor's reason may have been a personal jab at the actress"
How Bolanle Ninalowo shared his progress online
Nigerian actor Ninalowo Bolanle updated fans and netizens on his life progress since his marital crisis went viral.
Legit.ng reported that the Nollywood star caused a stir online after he revealed that he had dissolved his 18-year marriage with his wife, Bunmi.
In a recent Instagram post, Nino shared his perception of life and how to accommodate people.
Source: Legit.ng