"48hrs Still No Rap Song?" Wizkid Continues to Troll Nigerian Rappers, Calls Them Dumb
Top Nigerian singer, Wizkid, caused a massive buzz on social and offended a lot of rappers after saying rap is dead
The More Love, Less Ego star's statement led to many rappers coming for him and bashing his controversial statement
In a new development, Wizkid has still not backed down and has continued to troll rappers, calling them dumb
Grammy-winning Nigerian singer, Wizkid, got many netizens talking after his statement about rap being dead caused a massive uproar.
The music star made headlines after many Nigerian rappers took offense at his statement and made sure to react on social media.
Some stars such as Blaqbonez, YCee, Ladi Poe, Erigga, to name a few, were some of the rappers who reacted to Wizkid saying rap is dead.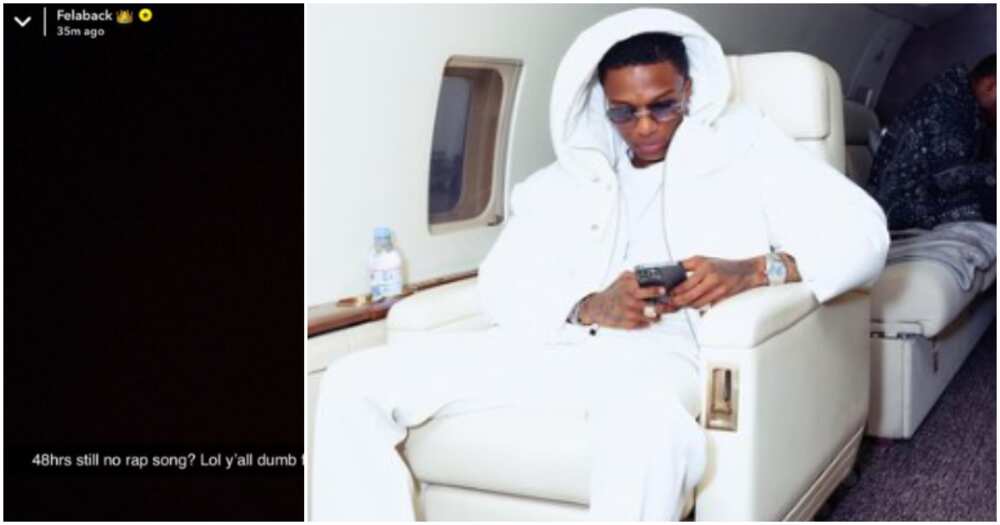 Wizkid calls Nigerian rappers dumb
In a new development, Wizkid took to his Snapchat page to ruffle more feathers. The music star did not back down and doubled up on trolling Nigerian rappers.
The Essence crooner taunted the rappers for not yet releasing any rap song even 48 hours after his controversial statement.
Not stopping there, the music star even called them dumb fvcks. He wrote:
"48hrs still no rap song? Lol y'all dumb fvcks!"
See the post below:
Nigerians react as Wizkid continues to taunt rappers
The Grammy winning singer's post soon trended online and it got people talking. While some people maintained that Wizkid was wrong for his statement, others said he was actually challenging the rappers to do better.
Read some of their comments below:
wayne_f.o.g:
"This is a great opportunity For those rappers to shine...if they waste it on talking alone they gonna waste it...should have heard about 20 songs about this situation."
tuga_2smart:
"None of them should rap, you can't say demeaning words to me and expect me drop a song."
danny_kleint:
"Na now I no say Wiz Dey una these rappers catch cruise Abeg he's trying to pass a message buh they ain't seeing it clearly , dem just Dey make noise ."
sznnn_x:
"This is a good opportunity for rappers to drop a classic diss song. Streams will go berserk. Machala hinting wisdom every day. Na who wise go chop."
joyanohobi:
"Fc coming to interpret as usual, one on twitter said mid wants to motivate them"
femijaye:
"The ego grows, the love lessens."
itz_m8m:
"MAke e rap na if e easy. Since he thinks he's better than everyone else. Abeg tell una popsy to rap it or stop disturbing people Abeg. No be force na. If he wants to help people he should do it like every normal person does theirs. No be to de curse person on top say e wan do dem favor. Nothing about this is right. He's just a ticking bomb pretending to be nice."
Popsi is capping - 8tch
Budding Nigerian rapper, 8tch, spoke with Legit.ng's Taiwo Owolawi on Wizkid's controversial statement about rap music being dead.
The music star did not seem pleased at all with Wizkid's utterances and noted that he was capping. However, he noted that he was not triggered by the statement because Wizkid did not specifically mention Nigerian rappers and that American rappers could have also reacted.
He said:
"First off, popsi is capping. But then I am not triggered about it because the typical Nigerian rapper needs their ego to be questioned before they want to prove something because this guy did not actually mention Nigerian rappers, he only said he doesn't listen to rap and that ish is boring. American rappers could have as well reacted. Nigerian rappers are always quick to be triggered by this thing and as at this time, they're not supposed to be triggered anymore.
Nigeria does not appreciate rappers
Speaking further during the interview, 8tch noted that Nigeria is not a space that allows rappers to thrive because these music stars put in so much work and people do not even pay attention to it.
He said:
"The Nigerian space does not really appreciate rappers. But I do get where they are coming from, we are putting in so much work and you people are not even paying attention to it but you people will come and say that they're not doing anything. To me, I think that conversation is from a place of ignorance. There are a lot of rappers still churning out things, it's just that they don't get the deserved attention. I can mention five new age rappers that are blazing on,YP, Zilla Oaks, Odumodu Black, Dan Dizzy is literally always freestyling all over the whole place, you people don't see it, you people don't talk about it. Dan Dizzy is the guy always going around with his speaker and you will give him words to freestyle with."
Wizkid's comment came from a place of ignorance
8tch added that Wizkid's comment about rap being dead was from a place of ignorance as he went ahead to list some Nigerian rappers who had recently dropped projects. He also noted that Nigerian rappers are as good as South African rappers but the country does not favour their style of music.
In his words:
"I was not triggered because it came from a place of ignorance but when Wizkid was broke shaming them and calling them dumb, that's what even made me wonder if he was the guy they were supposed to be triggered by, this person that no even send una papa in the first place. I mean, Vector dropped a project recently, Ladi Poe dropped an EP too either early this year or last year, Providence. Blaqbonez still dropped like a rap album this year. We had the Lamb Project with MI, AQ, Loose Cannon and Blaqbonez, four rappers on a project. People have dropped rap stuff so trust me, Nigerian rappers are constantly working and when you look at it, a typical Nigerian rapper is as good as a South African rapper but that space appreciates the genre more. "
Nigeria is not the right market for Hip Hop
8tch went ahead to compare the number of international singers and international rappers who have visited Nigeria and noted that the gap was a large one. He reiterated that Nigeria is not the right place for rap music because Nigerian rappers actually work hard.
He said:
"Check the number of international singers that have been to Nigeria to come and perform and check the number of international rappers that have been to Nigeria to perform. It's like a 70-30 ratio. So the problem is not that the rappers are not working, the problem is that this place is not a right market for Hip-Hop. It's palongo we want to hear."
Hip Hop has evolved
8tch also noted how rap has evolved with rappers adding melody to their rap to make it more appealing.
He said:
"When Wizkid said that Black Sherif and co are the only rappers he knows, that one is big cap from Big Wiz. Black Sherif is not a traditional rapper and Hip Hop has actually evolved. It's the same way you have people like Migos. If you listen to them, you will see that they're adding melody to their rap and when you really think about it, someone like Mohbad is also a rapper.
I feel like the Wizkid thing, initially Nigerian rappers should have not paid attention to it kept it going but the typical Nigerian rapper needs their egos bruised for them to jump and start screaming disrespect but they've been putting in work.
Two projects from rappers became number 1 this year. Lamb The Project cypher became number 1 at some point. So it's not like they are not putting in work, it's just that people are not so open to it."
How many rappers has Wizkid put on?
The rapper then questioned Wizkid about how many other rappers he had actually put on his projects. According to 8tch, the Star Boy is too shallow for that.
In his words:
"The Wizkid that is talking, how many rappers has he put on? How many has he put on his project? He is actually too shallow to feature a rapper, it's 'she tell me say' he will be singing. It's someone like Burna Boy that can properly feature a rapper so they were not supposed to be triggered.
The aftermath, the whole 'dumb, broke' and all of that, them reacting after that point for me was okay because Wizkid did not need to play us down like that."
Why kill people's dreams because yours don come true? - Erigga to Wizkid
Another popular Nigerian rapper, Erigga, has reacted after Grammy-winning singer, Wizkid, said rap is dead.
The More Love, Less Ego star, caused a big buzz on social media after he called Nigerian rappers who tried to challenge his claim, dumb and broke.
Erigga addressed the issue on his official Twitter page and noted that the same rap is what some people feed their families with.
The Warri-based singer started off by asking Wizkid the need to kill other people's dreams because his own had finally come true.
Source: Legit.ng