"Wow, This Is Amazing": Ikorodu Bois' Remake Video of Chris Hemsworth's Extraction 2 Trailer Goes Viral
Popular Nigerian child group, the Ikorodu Bois, trend online once again after a remake of a blockbuster movie trailer
A new clip by the Ikorodu Boiz, where they used locally sourced materials for a trailer remake of the American movie, Extraction 2, has gone viral online
The child group would is famed for movie remakes, as they once grabbed the attention of Idris Elba, the Russo brothers and Chris Hemsworth with their work
Famous Nigerian child group, the Ikorodu Bois, have once again grabbed international headlines as their latest movie trailer remake for the Netflix original action movie, Extraction 2 goes viral.
This isn't the first time the child group would go viral for their creative and ingenuine character trailer remakes of action, thrillers and dramas.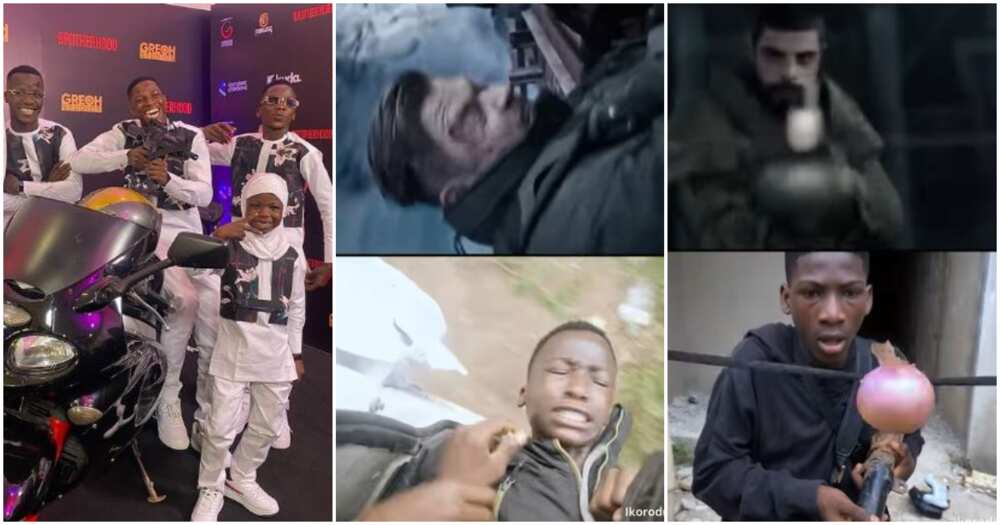 They once caught the attention of the American movie producers Anthony and Joseph Russo for their fantastic remake of the trailer of Extraction 1, the Old Guard.
Afterwards, they grabbed the headlines for their remake of Idris Elba's The Beast.
They have done it again as they go viral for another beautiful remake of Chris Hemsworth's Extraction 2.
Their latest work has sparked a lot of reactions online as celebrities and veteran moviemakers hail them for their dedication, talent and hard work.
Watch the Ikorodu Bois remake of Extraction 2 below:
See the reactions the Ikorodu Bois remake stirred online
@bolajisparks:
"So beautiful to watch❤️."
@shesblack_:
"Ok the details tho mad."
@iambisola:
"Madddddddddddd ."
@glorybwoy09:
"Abeg which one na original trailer ? Am confused."
@iamharleemah:
"It's the alubosa for me ."
@agbofilms:
"HOLY MOLY THIS IS BETTER THAN THE REAL TRAILER."
@teefamous:
"I No Even Watch The Original Video! Na Una I Dey Watch."
@toyinbukolasobande:
"This remake is top notch. Is there no space for remaking movies in the Guinness Book of records because these children need all the support."
@__idiiaat:
"No cap these children are blessed omo!!! Who else saw that moving bus can't stop watching this. That Malik guy don't let me say much sha. I love you guys."
Idris Elba thanks Ikorodu Bois on video call over impressive recreation of his movie
Meanwhile, Legit.ng reported that talented Nigerian youngsters, Ikorodu Bois, recently had an interaction with popular British actor Idris Elba.
The much-loved UK star had a video call with them to show his appreciation for their craftsmanship.
The youngsters remade the movie's trailer using interesting props to recreate some of the items in the film.
Source: Legit.ng