Kanayo O Kanayo Says Grown Man Scared He'll Be Used for Sacrifice: "He's a Good Man But I'm Terrified of Him"
Popular Nollywood actor Kanayo O. Kanayo has shared the post of a grown man who is terrified of him
In the post on his page, the anonymous man revealed he had seen the movie star at different locations but had always been scared of approaching him
The terrified man said Kanayo's role in movies as a ritualist needs to be changed, and the actor rebranded into a man of God
In a chat with Legit.ng, Nollywood filmmaker Diji Aderogba shared his opinion on the veteran actor's brand as a ritualist
Popular Nollywood veteran Kanayo O. Kanayo, over the years, has been tagged 'Nnanyi Sacrifice' because of the wicked roles he played in old movies.
The reputation has not been wiped out till today, and a man has expressed his concern and fear of the actor.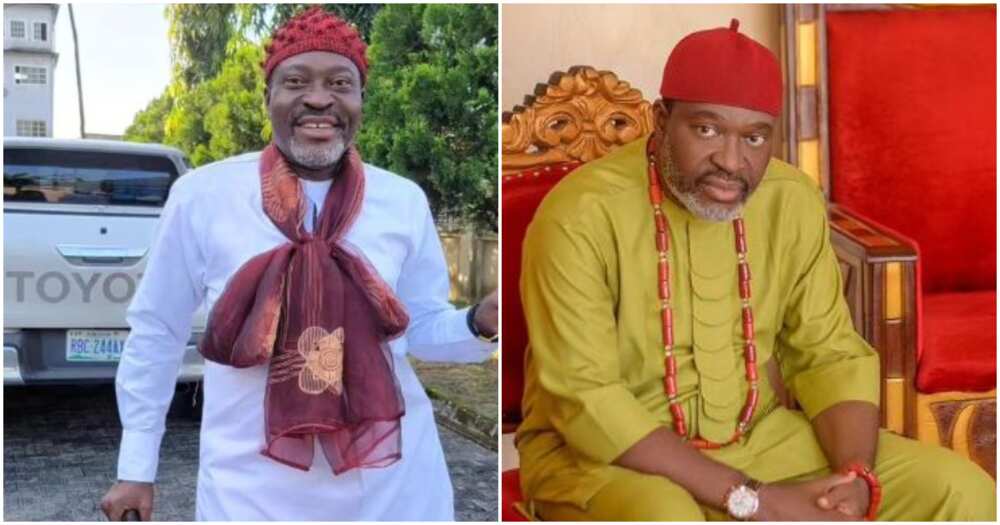 Actor Kanayo shares post of terrified man
The Nollywood legend shared the post on his Instagram page, granting anonymity to the grown man who revealed he never bothered to approach him at different locations because he was terrified.
According to the man, Nollywood painted the movie star as an unrepentant and cheerful ritualist, and he can't sit close to or eat from the same plate as the actor.
He queried why Nollywood capitalized on just one role for Nnanyi Sacrifice and made money off painting him as a ritualist.
The poster also added that Kanayo needs to be rebranded into a genuine man of God because he has heard he is a good man, but he is terrified that he might be used for ritual if he moves close to the Nollywood icon.
The actor captioned the post:
"Dear friends, please advise this man."
See the post below:
Netizens react to Kanayo's post
The actor's post got netizens making fun of the terrified man with hilarious ritual suggestions and comments.
Read some of the comments gathered below:
mikkyx__:
"If KOK do man of God for film… the film no fii sweet… na ritualist fit am please let it continue like that.'
lurd_taker_001:
"Sir let's use him for sacrifice "
franc_thona_furnitures:
"His roles in movie are scary but I bet it with you that he is close to God. He is just a good actor. He didn't choose himself to play the role, they choose him Bcus he does it better. He is just a hustler. God bless him."
tutu_blossom:
"So what will you say about ma Patience ozorkwor? Just dey play."
real_funkymallam:
"It's your imagination that you've refused to let go . K.O.K. has featured in so many soft and glamorous roles in his recent movies . Even in the situation, sit-com : Professor Johnbull, where he played the role of a Professor, should have erased that notion or skepticism in you."
whandie_gal:
"The truth is,, if KOK acts as a man of God in a movie, awl be waiting for the part where it will be revealed that He is a Ritualist and only faking to be a man of God"
veraphilip07:
"This kind person go good for sacrifice, Sir KOK what do u think?"
ugezujugezu:
"Only the one who is not well molded is moved by make-believe ideologies."
rebel_k46:
"Use him for ritual he's getting in the way "
Is playing just one role bad for Kanayo?
In an exclusive chat with Legit.ng Diji Aderogba, a Nigerian film director and two times AMVCA nominee, explains why Kanayo was given a lot of ritualist roles to play, the pros and cons.
He said:
"So it's called stock character, and it's not bad. If you are known for a particular type of role and do it well, you can stand out and get other roles even though it might not be every time. For example, the same way, you won't see The Rock play lover boy but just action, that's it. I don't think it is bad, but it can limit your chances of getting other roles every time."
Is Kanayo the 1st Nigerian actor to fly in a helicopter in a movie?
Veteran Nollywood actor Anayo Modestus Onyekwere better known as Kanayo O. Kanayo, trended on social media over some of his old ritual videos.
Amid the trend, Kanayo shared a record many didn't know he was the first to set in the Nollywood movie industry.
Kanayo, in a statement, appreciated God's faithfulness in his life by making him the first actor to be hired as a performer to fly in a helicopter in a movie.
Source: Legit.ng