"Vote Your Conscience": BBN Star Tacha Takes to the Streets, Gives Money to People With PVCs, Video Trends
Big Brother Naija (BBNaija) star, Tacha Akide, recently sparked emotions online with a video of her taking to the streets to stir the conscience of Nigerians ahead of the 2023 elections trends
The reality TV star, in the viral clip, was seen giving out money to people who had their PVC and revealed their desire to vote during the 2023 elections
In the clip, Tacha was seen talking to people to get their PVCs while slamming young Nigerians who don't have their PVCs for being part of the problem.
Popular and controversial Nigerian reality TV star, Tacha Akide is trending online after a clip of her on the streets of Port-Harcourt giving money to people went viral.
In the viral video, the former BBNaija housemate was seen talking to people on the street of her home city, while encouraging them to vote in the forthcoming elections.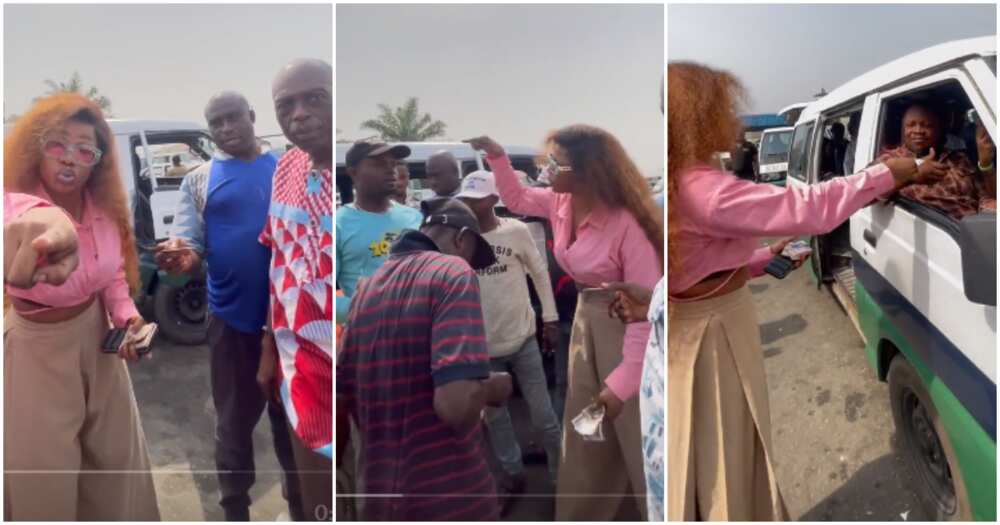 Tacha was also sighted giving money to anyone she met on the street who had a PVC, which she said is an encouragement stipend for them to vote their conscience.
In the clip, she was also seen engaging a man in a feisty exchange where she accused him of being one of the problems of the country for not having his PVC.
Tacha did an amazing job by encouraging people to vote - Zephyr says
Bayelsa-born, Port-Harcourt-based hypeman and media personality, Zephyr, during a recent chat with Legit.ng shared his thoughts about the viral clip of Tacha Akide taking to the streets to encourage people to get their PVCs and vote.
Zephyr said:
"Life is all about choices, people do what they want irrespective of how it affects others because life Na "All man for himself" but this particular decision can't be compromised. Tacha did an amazing job by going out personally, leaving behind everything she's got to do. She's okay and well-to-do and can even relocate to a better place and live because she's got the resources. Coming out is a big deal, no cap! And for those telling her to pick a side, Oga, go do your own and leave another person own. Like they say, use your head before them, use am for you."
Watch the viral clip of Tacha motivating people to go out by giving them money:
See how Nigerians reacted to the video of Tacha giving people money to encourage them to go out and vote during the 2023 elections
@glowree_diamond:
"I like how she's really concerned with the affairs of the country."
@marsh_melow_:
"There are CELEBRITIES and there are celebrities . While one is bragging about Having abortions every eke market day... Another is intentional about making her nation a better place. Dey choose your celebrity wisely. Udo."
@laviva_mandi:
"Not a fan of BBN, will never be, but I'm beginning to like this Tacha lady, she's got gut, gotta give it to her, and her passion for Nigeria politics ❤️❤️. Intentional right there."
@onyinyeuzu:
"I was denied my PVC today!!! They said my PVC was cancelled due to double registration and I couldn't even understand what they were talking about, so I asked them to prove that I registered twice and that was were begging entered that it must be a mistake from their servers cause they couldn't even find the supposedly second registration."
@cheemaoz:
"I mean, I have never been a Tacha stan but her doings these days are making me consider. She really is about that life. Well done."
@__theblackoma__:
"I get pvc ..why una no Dey reach my area."
@nwanyi_dinn_mma:
"Na so this gal don dey use style de draw me in small small."
@goldtech_interiors:
"Tacha one of the people taking this personal. It's a serious thing guys."
Tacha flaunts dollar bills she wants to blow in Dubai
Meanwhile, Legit.ng recalls reporting that popular, controversial social media influencer and former Big Brother Naija housemate Natasha Akide better known as Tacha, has got people talking online.
Tacha shared a short clip of herself counting multiple dollar bills late in the night while on vacation in Dubai.
Her sister, who was on vacation with her and was the one recording her, could be heard asking what she was doing and why she was up at 4:56 am counting money; she replied, saying, what should I be counting, men?
Source: Legit.ng