Banky W Cries Out Against Destruction of His Political Posters in Lagos State, Nigerians React
Popular Nigerian artist-turn-politician Banky W appears to be facing a difficult time with his contenders
The singer has brought to the attention of the public that his campaign posters are being damaged around the political constituency he is vying for
The house of Rep candidate for Eti Osa constituency took to his social media to share a video of how his alleged opponents attempted to bringing him down
Popular Nigerian soul artist-turn-politician Olubankole Wallington popularly known as Bank W, has called to the attention of his supporters concerning his political posters being ripped out from the locations they were mounted.
The politician took to his social media account to share a video that showed touts destroying his posters around an unidentified bridge in Lagos state.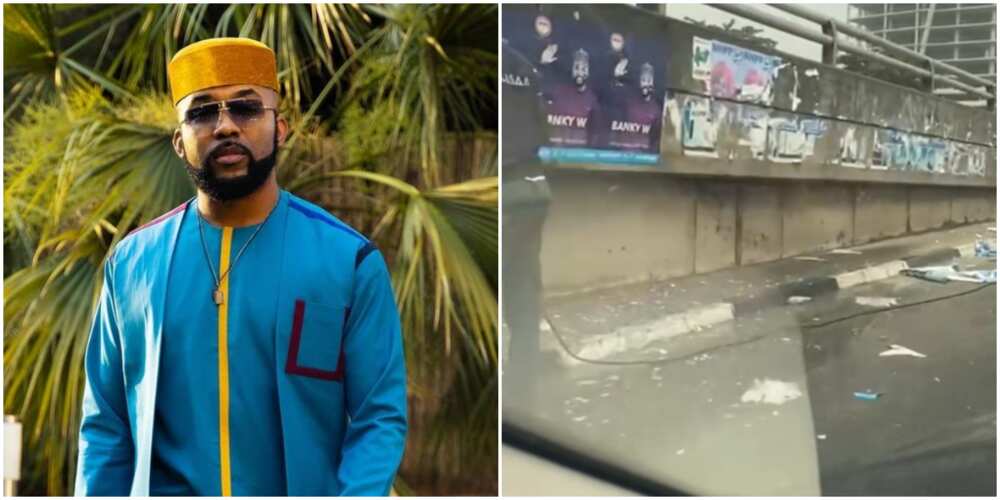 Mr Capable believes this was an agenda from his political rivals.
According to Banky:
"Evidence of what our opponents are doing to oppress our efforts... but no matter how many times they tear us down, we get back up and we keep going. They can try to bully and suppress us but it will not work. It is unfair, but it will be unsuccessful. Stand with us... fight with us... enough is enough. We have an election to win. Victory now loading."
They send boys overnight when we put up A-boards and flex banners
Banky continued his statement by highlighting that, his team had to resolve to wall posters when they noticed that his opponents were vandalizing his A-boards and Flex banners. In his words:
"PS: We have instructed our supporters to do the right thing and not deface public property. The challenge is that when we put A-boards and flex banners, overnight they send boys to remove them. And so our people revert to pasting posters, and we are faced with this. All we ask for is a level playing ground. Drive around Eti-Osa and tell us what happened to all the A-boards we put up? At one point we had the most in the area, and most people would verify this. Now, you can barely find any. But they're not ready for that conversation. Still, we move."
In June 2022, Banky W won the People's Democratic Party ticket to contest as the party bearer for the Eti Osa constituency ahead of the 2023 election.
See the post on Banky W's damaged political posters
The senior special assistant (SSA) to Babajide Sanwo-Olu, Lagos governor replies Banky W
Jubril Gawat, the senior special assistant (SSA) to Babajide Sanwo-Olu, Lagos governor, on new media, responded on Twitter to Banky's claim. According to Sanwo-spokesperson, Banky was not the only politician affected.
Furthering his point, Gawat shared a video in which "all the posters irrespective of the political parties were removed". He did not, however, explain why they were removed.
See Jubril Gawat's post, the senior special assistant (SSA) to Babajide Sanwo-Olu, Lagos governor
Reactions from both Banky W's and Jubril's post
@Gagulus:
"The posters are dirts? Una ehn."
officialomoba:
"Banky I am not sure how I feel about your campaigners littering our bridges and side bridges with your posters it is an eyesore, this has nothing to do with your political opponents, and I am sure if you are not running you will see this as wrong. Is this a case of if you can't beat them you join them."
seanof10:
"Bro nothing do you, I saw you in your constituency yesterday,na you get the seat, where you were at yesterday determines a lot.❤️❤️❤️❤️"
psalmxindyn:
"Not sure this has anything to do with who's on the poster. LASAA does this quite often in a wake to prevent defacing some infrastructures."
nvwole:
"Lies can go on for a while but the truth will deflate it in seconds. Can we retweet the truth aggressively?"
samuelolufemi5:
"They can remove posters on wall but they can't remove people's choice in their heart. February and March 2023 is near already.."
official_dimdim:
"I think the reason for removing it, is cause its defacing the property..."
Fans react to a sweet moment of Banky W with his son and wife Adesua
Nigerians reacted to a viral clip of ace singer-turn-politician Banky W, his wife Adesua Etomi and their little son shared a cute family moment when they celebrated Christmas.
The Wellington's surreal clip got people talking online as many netizens, in reaction to the video, declared them the cutest and classiest celebrity family within the Nigerian entertainment space.
The highlight of Wellington's Christmas Day clip was when Zaiah, the power couple's first son, pulled both his parent's head together and held it in place as they kissed.
Source: Legit.ng