Fox News Kristin Fisher bio: age, height, measurements, net worth, husband
Having reached incredible success in journalism, Kristin Fisher is now recognised as a beautiful Fox News presenter. She is talented in everything she does. As an Emmy-winner, she is well known all across the USA, especially, among Fox TV viewers, and she is believed to be rich.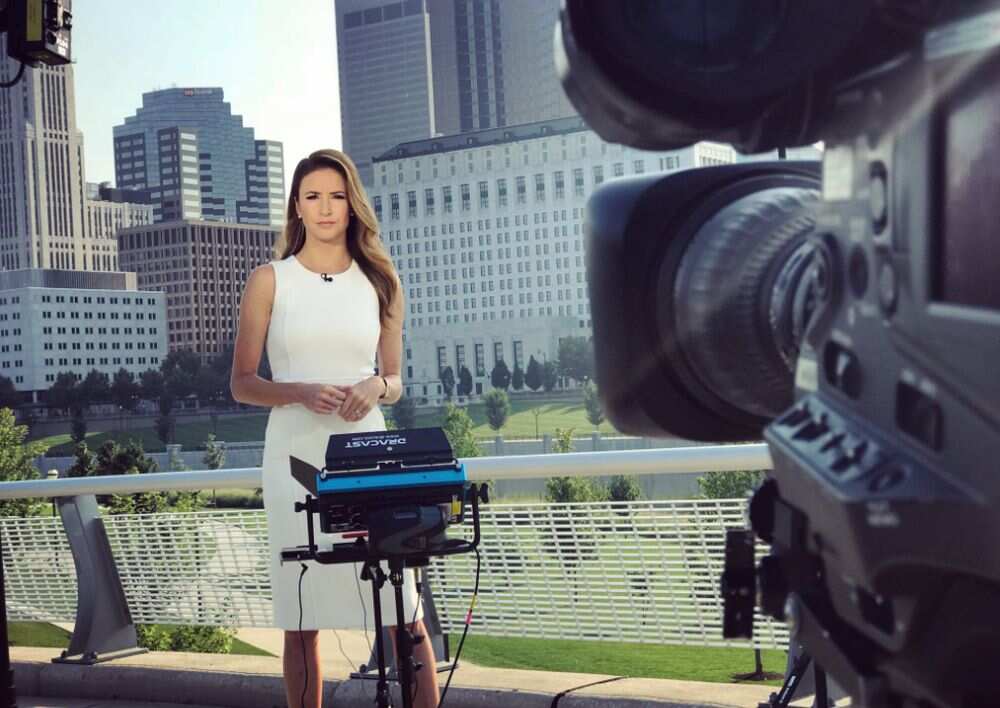 It is curious to learn more about one of the Fox News TV stars, find out details about Kristin's private life, explore her impressive bio, figure out her age and net worth. Modern journalists like this incredible woman are beautiful, talented, and happy with their family and an army of fans.
Kristin Fisher Fox News
After joining Fox News in May 2015, Kristin Fisher started her career at this famous company as a general assignment reporter. She was great and took part in multiple projects. The reporter was featured in Fox News @ Night and was a part of America's News Headquarters. Kristin appeared in Fox and Friends, and many other TV series created by Fox.
READ ALSO: Fox News Carley Shimkus bio: age, height, measurements, husband
Besides, the woman is the founder of Field Mouse Films. Her company makes documentary movies and works with different types of companies, including news outlets.
Kristin Fisher bio and personal life
This amazing woman originates from Texas. Born in the family of Dr. William Frederick and Dr. Anna Lee, Kristin Anne Fisher saw this world in Houston (Clear Lake).
The lady's parents were highly educated. Firstly, they were trained as emergency medicine physicians. Secondly, they were NASA astronauts. The family was raising two daughters, Kristin and Kara Lynne who is Kristin's elder sister.
The future Fox News star obtained her higher education at Boston University's College of Communication; she chose broadcast journalism as her main degree and got a B.A. in her field of study.
For several years, while still being a student and after graduation, Kristin has worked for ABC affiliates. She was a part of KATV, KJCT-LP, and she worked for ABC News as a freelancer. The lady lived in different states, including Colorado, Arkansas, until she relocated to Washington, D.C. in 2009, joined ABC News and then CBS affiliate.
After spending four years at WUSA-TV (CBS), the reporter was noticed by Fox News and got a job offer from this well-known company in 2015.
Experts, not just viewers, noticed her impressive work. She was awarded an Emmy Award in 2010 for presenting unique stories about heroes in the Washington community.
Kristin Fisher age
Fox News Kristin Fisher superstar was born in 1983. Her birthday is celebrated on July 29, and this year, in 2019, this talented woman turns 36 years old. Currently, her age is 35 years old. Her star sign is Leo.
Kristin Fisher husband
The beautiful and talented woman is officially married. Her husband's name is Walker Harrison Forehand.
The couple celebrated their wedding day eight years ago, in April of 2011. They have known each other since 2003. They first met when they both studied in Greece. Their 6-week study-abroad program gave them a chance to learn more about each other, become great friends, and keep in touch after returning to the USA.
Years passed by, and in 2009, their friendship blossomed into a romantic relationship which finally ended in their wedding.
Kristin and Walker are blessed with a child. Their daughter's name is Clara Fisher Forehand, and she is turning two years old in December 2019.
Kristin Fisher net worth
Many famous people do not reveal their official salaries and net worth. Different sources assure that Kristin Fisher net worth is unknown. However, many sources claim that his impressive woman boasted a net worth of approximately 1 million U.S. dollars in 2018.
As noted by GlassDoor site, reporters who work for ABC News in average earn approximately 80,000 U.S. dollars per year.
Kristin Fisher measurements
This gorgeous and educated woman has brown hair and hazel eyes. The famous reported is 5 feet and 8 inches high (nearly 173 cm). Her weight is 56 kilograms.
You can enjoy many impressive photos of the successful and hot American news celebrity Kristin Fisher on her social media account (she is active on Twitter with over thirty-eight thousands of readers), or you can watch Fox News and be pleased by its one of the most beautiful female reporters.
READ ALSO: Fox News Gillian Turner bio: age, height, measurements, husband
Source: Legit.ng