25 cute love notes for your significant other to make their day
Many people have used love notes over the years as a way to keep the fire in their relationship burning. Whether you are a man or woman, hearing or reading nice words from the person you like will definitely please you.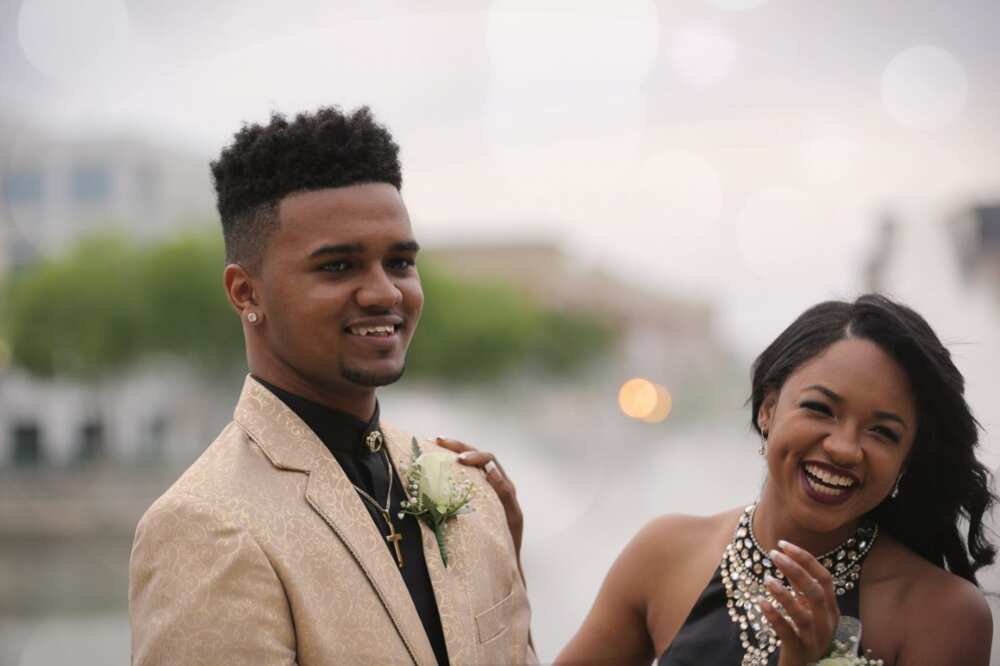 Sending cute notes to each other will surely keep the sparks on, which is something most partners need. Do you have any notes that you can send for your girl or man? If not, below are a few you could imitate.
Sweet love notes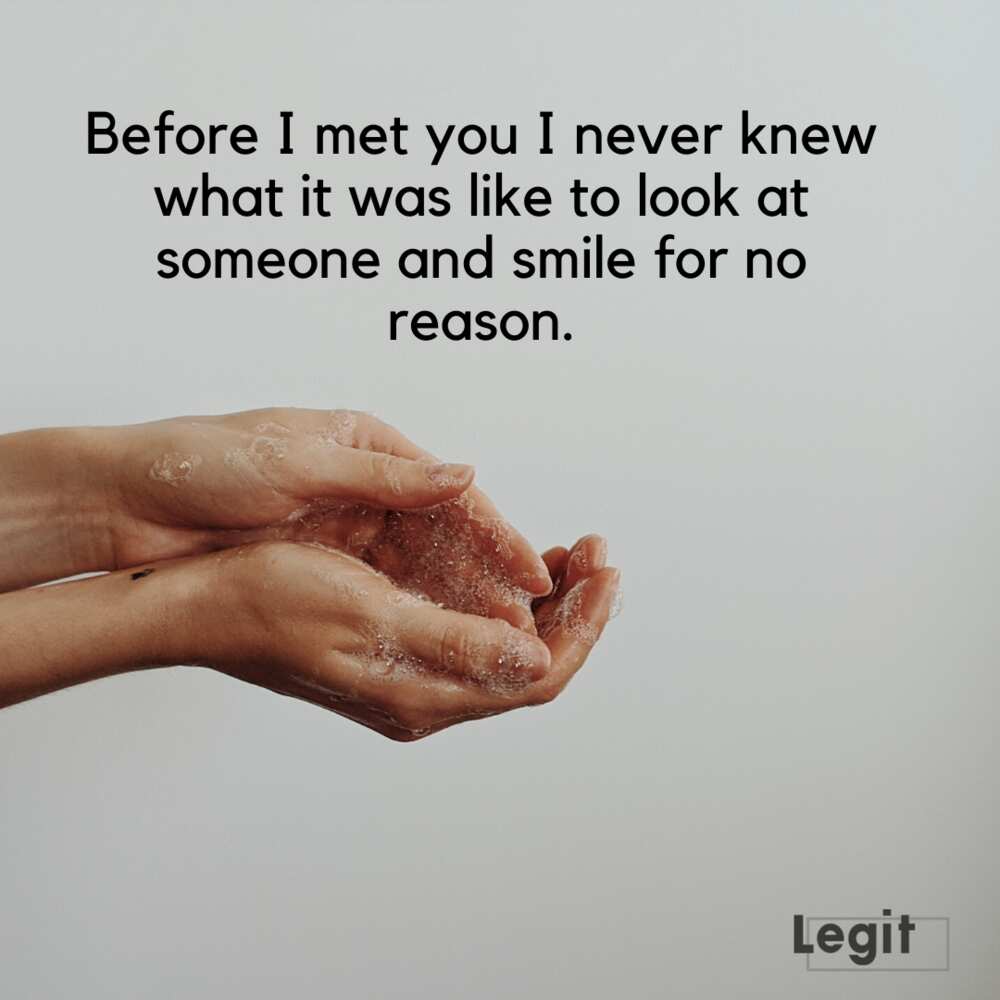 You can never go wrong with cute love notes. Do have any love note that works every time you want to remind your partner of how much they mean to you?
Below are more words to use to make them feel cherished.
If I had to choose between breathing and loving you, I would use my last breath to tell you how I feel about you. You are the best thing to ever happen to me, and I can never take this for granted. You remain the most cherished being in my life.
I want the deepest, darkest, sickest parts of you that you are afraid to share with anyone because I care for you that much. You make me feel safe to be vulnerable around you. I feel secure and protected that even my worst fears can be shared with you without having to worry.
Before I met you, I never knew what it was like to look at someone and smile for no reason. You are my joy, my happiness, and my essence of living. No one else completes me the way you do, and for this, I will always be grateful.
I saw that you were perfect, and so I loved you. Then I saw that you were not perfect, and I loved you even more. Nothing about you is wrong no matter how imperfect you may be, and this makes me adore you.
You have shown me that to love is nothing, but to be loved is something. It is also from you that I learn that the true magic lies in loving and being loved back for that is everything. I have found my peace in you, my darling.
Love notes for her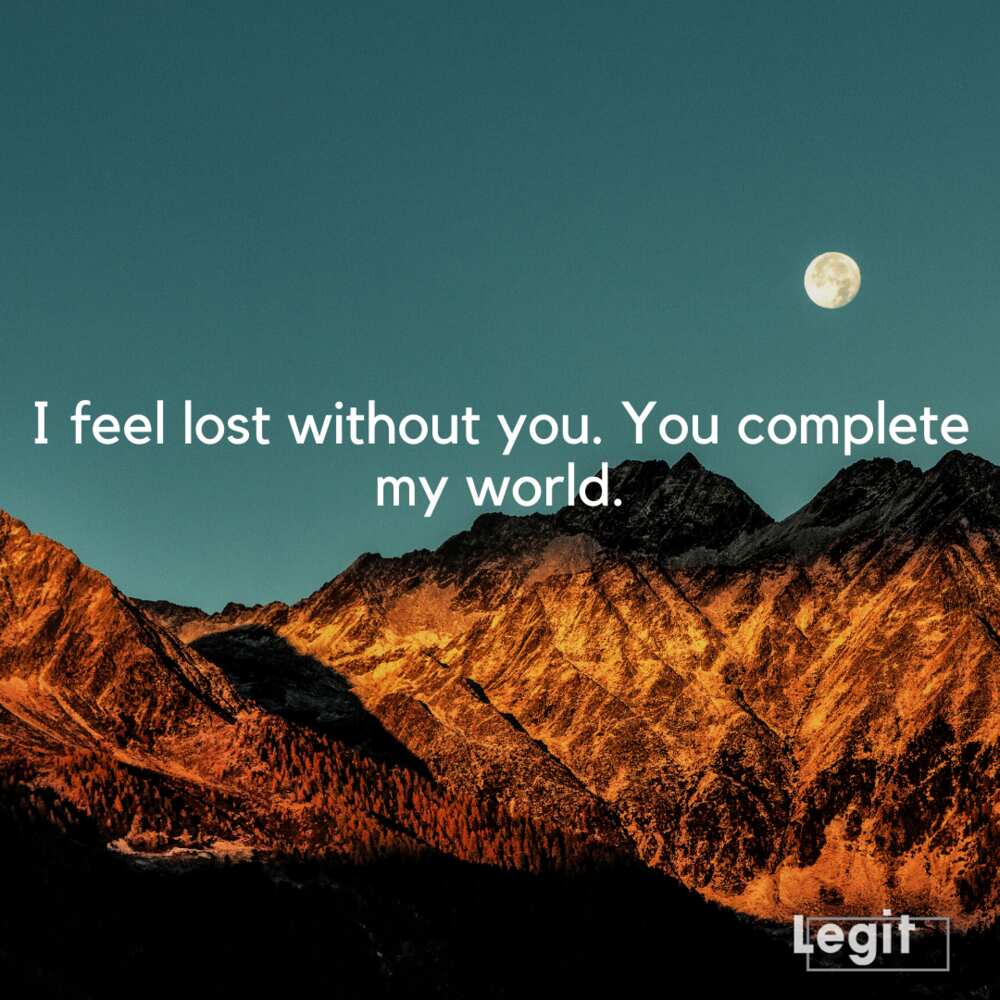 Have you ever wondered about what to write to a woman whom you adore? 'What should I write in my girlfriends note?' seems to be a question that is frequently asked, especially when sending her flowers or when trying to fix a date.
If you feel stuck, consider the following examples of cute notes for her. The right love notes for girlfriend will keep her hooked and make her think about you more.
They include:
Whenever I think about you, I just cannot help but smile. Falling for you was the greatest thing that has ever happened to me, and I have never been happier in my life. I know this feeling will last forever.
I feel lost without you. Every time I need direction, my mind finds its way to you because you act as my compass. I would be a lost cause if you did accept to be mine. I treasure you.
I will always work hard to make you feel that you deserve to be in my life. I have become a man of great repute just because you decide to stay with me, mould me, understand me, and hold my hand when things are tough. You will forever remain the woman of my youth and old age.
No matter what is coming in my day, I always know it will be a good one because at the end of it I get to see your smile. Tedious meetings? Boring busywork? None of it matters because I will soon be in your arms. Thank you for being my vacation from the rest of the world.
When you realize you want to spend the rest of your life with somebody, you want the rest of your life to start as soon as possible. That is exactly how you make me feel my darling. I will cherish you forever.
Love may have been something sent from heaven to worry the hell out of me, but I would gladly go through the worst troubles just to be with you my dearest. Your presence alone is enough to cure all my sickness.
No matter what is coming in my day, I am always consoled knowing that it will be a good one because I am assured that when all is done, I still get to see your smile. I can pull through tedious meetings, boring schedules, and stubborn co-workers, but it does not matter because knowing that I am coming back to your arms makes it all worthy.
You know that finding the right words for you is not easy, but when it comes to you, I can never seem to have an end. You are my everything since you make the words come out of my heart with ease. I can never truly say what you mean to me.
I find comfort in your arms because you are my home. I have managed to amass a lot of wealth over the years, but my greatest treasure so far is knowing that I have someone I can run to and break down without fear of being judged. You are my world sweetheart.
I know you have a lot to choose from, but still decided to stick with me. I appreciate this fact and will never take it for granted. I was blessed from the day you walked into my life.
Love notes for him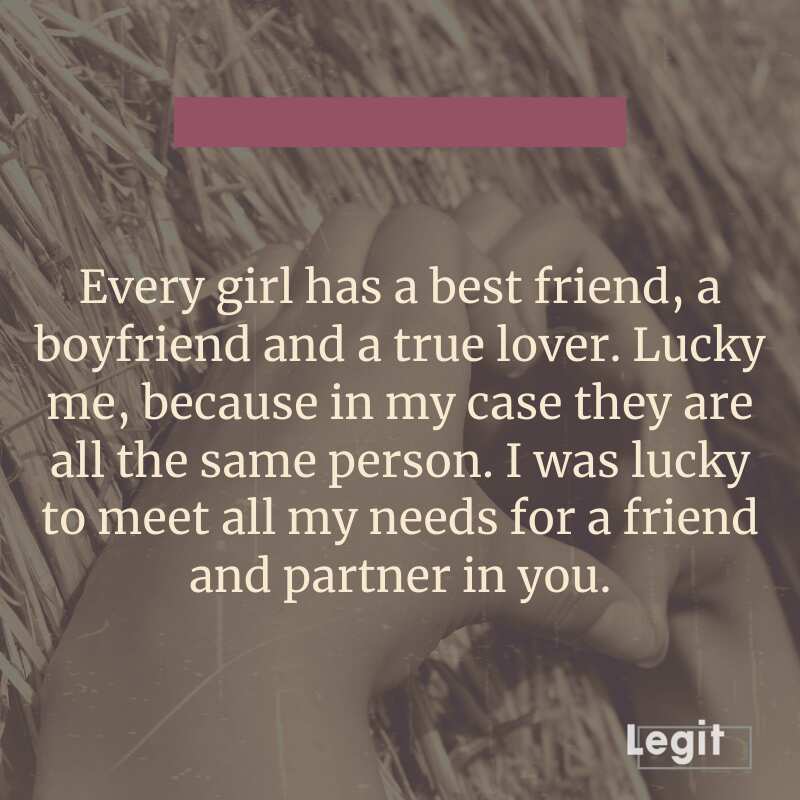 Most times, men are not appreciated because they are taken to be strong and independent. However, cute notes for him can make him feel appreciated and cherished, which will always yield loving results.
Do you know how to write love notes for husband? Well, if you have difficulties coming up with the right love note for him because you are either overwhelmed by emotions or are unsure about what to say, consider using the following love notes for boyfriend as examples.
Whether you are considering short love notes for him, or are the kind that enjoys writing a more expressive text, you can be sure that your man will appreciate the gesture. Below are perfect examples to consider.
The things you are: protector, partner, friend, confidante, the love of my life and my entire world. — the things I need beyond you: nothing. You are the man that completes me in more ways than you can ever imagine. Thank you for lighting up my world and making the load lighter.
Ours was a God-ordained union that makes all things perfect. You came in and taught me how to love myself more when all I wanted to do was to wallow in self-pity. I adore you so much and will always do the right thing to ensure that you are a priority because that is what I am to you.
You never give up on me even when I am stubborn and unbearable. In weakest moments, you remain my strength, and in my worst times, you ignore my shortcomings and make me feel like the most important woman in your life. Thank you for choosing me, darling.
Every girl has a best friend, a boyfriend and a true lover. Lucky me, because in my case they are all the same person. I was lucky to meet all my needs for a friend and partner in you.
I fell madly for you because of a million little things that you did not even realize you were doing. You notice all the little things about me and pay attention to me in a manner that makes me feel on top of the world.
Our journey and story is like a book. I enjoy re-reading the earlier chapters, and I cannot wait to find out what happens next. We have written a beautiful story together because you have been patient to accept and tolerate my excesses.
You are my last thought before I go to sleep and my first when I wake up. My days are incomplete without starting without you or ending them without you. My thoughts are always with you, which is why I dream about you every day.
You have proved your love for me in so many ways. You lifted me, you held my hand, walked with me, and even taught me what real affection is. We have built a home together and raised beautiful babies just because you treasure me beyond measure. I appreciate you, dear.
Having you in my life makes each day a little brighter. I can't wait to wake up in the morning because I know you'll be there. I think of you often throughout the day, and I rush home from work so that I can be close to you again.
I never thought that it was possible to love someone as much as I do you. My world is complete with you in it. We do not even have to talk; you holding my hands is enough to complete my joy.
How do I make my boyfriend feel special over text?
It is very easy to make your boyfriend feel like the world revolves around him. Using the right sweet words can warm his heart and make him dance to your tune with ease. Consider incorporating the following short words in your message:
You are my whole world.
I wish I were in your arms.
I would certainly be lost without you.
You make my heart beat out of my chest.
I just wanted you to know I am thinking about you right now.
I love you more than you will ever know.
I feel so safe when I'm with you.
I am getting butterflies just thinking about seeing you later.
What to say to your BF to make him cry?
Apart from using the words mentioned above, if you want to make your BF cry just because you make him feel emotional, then consider the following tips.
Tell him that you adore him.
Make sure he knows that he completes you.
Remind him of how he makes your world rock.
Throw in a few humorous statements, especially those he can relate with.
Write to him about how much you care for him.
How do you make a cute love note?
Learning what to say to your partner is a skill you must perfect. Your message should always be authentic, unique, and personal if you are to get their attention.
Here are a few tricks that you can use to write unforgettable notes.
Write from your heart since it comes out as genuine and true.
Be expressive. Do not hold back what you feel as long as you can express it properly.
Speak your truth.
Be simple and straight to the point.
Make it personal by mentioning things and instances that only they can identify with
Once you understand which things matter most to your partner, then writing will be easy.
The best love notes do not have to be exotic or too sophisticated. Go with the flow, and do what works for you.
Source: Legit.ng