50 birthday wishes for love: best messages and quotes for your lover
Nothing warms a heart and puts a smile on a face than receiving a birthday wish from someone special. However, most of the general wishes have become so common that they can be considered a cliché. Furthermore, birthdays come every year, and if you have been with your lover for a long time, then you might lack unique words that celebrate him or her. The good news is that you can use creative birthday wishes for love to congratulate and appreciate that special person in your life.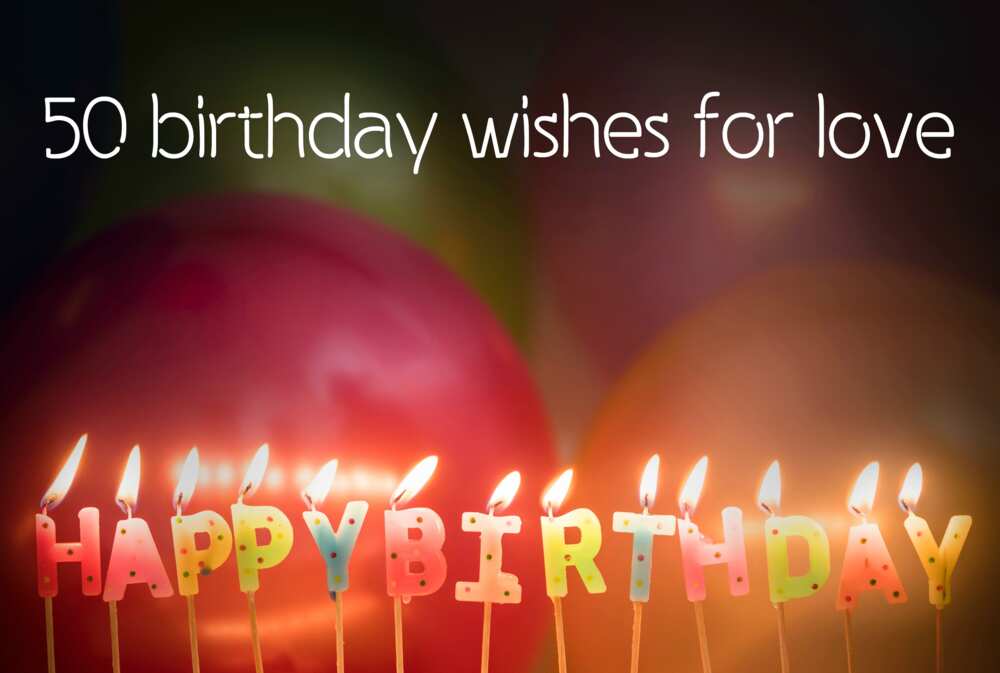 Getting the perfect gift for your better half should be easy after all you know them very well. However, when it comes to what to write on card most of us end up being blank. Then comes the question what should I write for a birthday wish? If your partner's day of birth is around the corner and you are wondering what message or quote to send, choose any of the birthday wishes for love listed below.
Best birthday wishes for love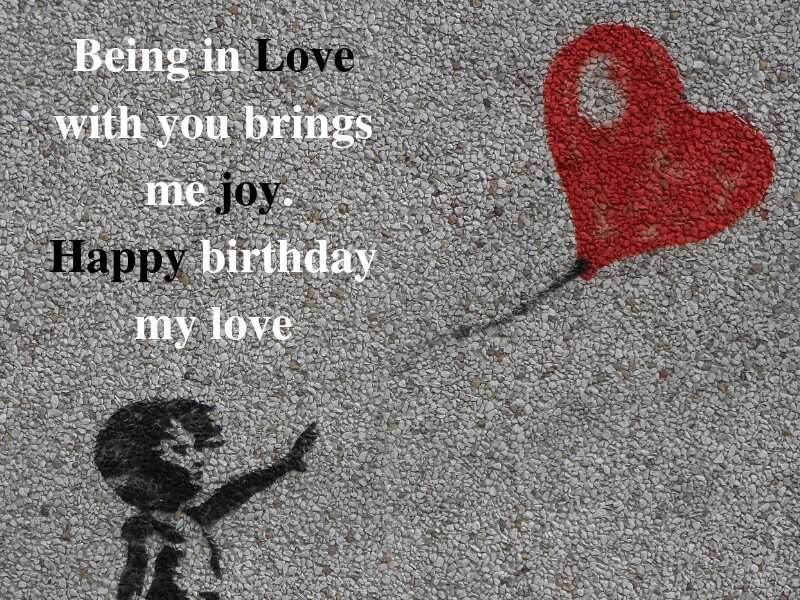 Love is not all about how you feel; your actions work to strengthen the bond and keep the flames burning. When that person is a husband, wife, girlfriend, boyfriend, or fiancée, their day of birth is much more than just an occasion. You are celebrating their life by making them feel treasured. However, writing birthday wishes for lover that they can treasure forever does not come easy for everyone. That is why we have compiled emotional birthday wishes for lover that you can use to make their day memorable and extra special.
No day goes by without me thanking God for bringing you into my life. I will always cherish and care for you. Happy birthday, hubby.
Ever since I met you, you have made every day feel special. But today I want you to feel appreciated and pampered because it is your special day.
Hope I make you happier just like the way you make me. Love you to the moon and back.
Words can never have enough power to express how amazing you are. But I hope these words will be a reminder of how beautiful you are inside out. Fun birthday my darling.
I do not need a special day to remind me how much of a blessing you are to me. You are important to me; that is why your day of birth can never go unnoticed. Happy birthday, my angel.
Today is a magical day because it is your birthday, my love. I have many surprises planned for you, but the most important is that I give you my heart. I cannot wait for you to reach home so that we can have our own private celebrations.
When I am having a bad day, I think of your smile, and the sad thoughts melt away. Only you, my soulmate, have the power to make me feel that way. I hope this birthday puts a smile on your face.
Happy birthday, my dear, great things are happening in your life and am glad to be part of it all. I wish you many more great years and never forget how much you mean to me.
I have many reasons to love you, but I have even many more to be by your side. You are my partner for life and you by my side makes me the proudest man on this earth. Warm wishes for your birthday, you are my everything.
Forget about all your worries and let these words bring you comfort on your birthday. You are a wonderful lover, and I can never replace you.
READ ALSO: 50 inspirational business quotes to motivate for success
Birthday wishes for girlfriend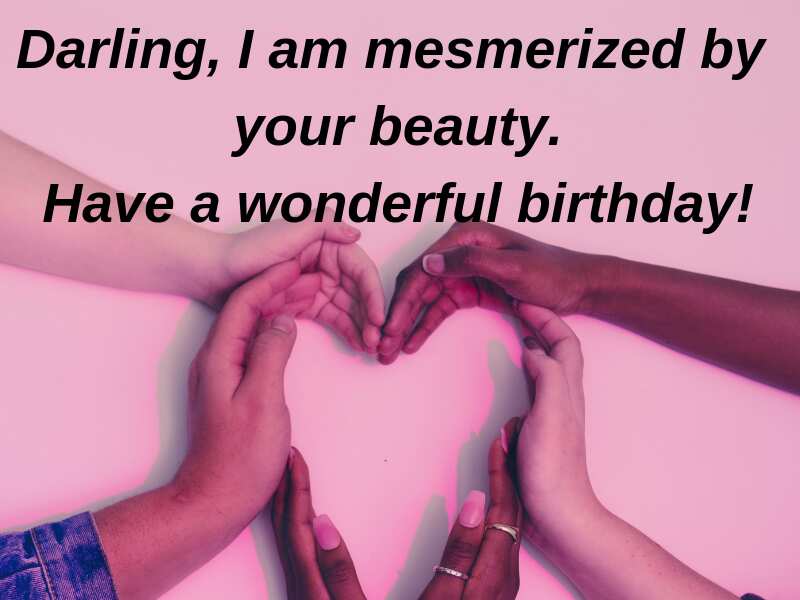 Your girlfriend's day of birth provides the perfect opportunity to prove how much you treasure her. While you can throw her a surprise party and get her a present, words can bring happiness that money cannot buy. Need some inspiration for your next wishes, check out these romantic birthday wishes for gf.
Happy birthday, my love, remember only the good memories because you deserve to be happy always. Thank you for being the light in my life.
Have an awesome birthday knowing that you are more beautiful today than were yesterday. After all, you are like fine wine; you get sweeter with age.
Can I be your genie and make your birthday wish come true? Enjoy every moment of your life as if it was the last. You deserve all the happiness in this world, and I will spend all my life ensuring that you never have to deal with a dull moment.
Thanks for being the best version of yourself. For this reason and so many more, I fall in love with you again and again and again. Have a blast on this day of your birth.
So thankful that you were born today. The fact that I get to celebrate this special day with you is even more magical. I love you now and forever.
With the wishes you are getting, everyone is reminding you that you are a year older. Well except me. Ever since I have met you, your natural beauty radiates just like the sun. You remain stunning and gorgeous. Happy birthday, my darling.
I know you have a list of things you want to complete before you go out. Surprise I will do them for you, my soulmate. Go out enjoy your birthday, get pampered and have fun.
Very few people have the chance to meet someone that they connect with in so many different ways. But I am lucky to have found that in you. Hope you will like our seven-course dinner just as much as I enjoy celebrating your special day.
Happiest birthday to my crazy girlfriend. I love you more than anyone or anything else.
A billion kisses to my birthday girl. Thank you for making me your ideal partner. I want to be with you for as long as you will let me and make as many fun memories with you like the stars in the sky.
A wonderful birthday to the most stunning woman I have ever dated. I will fight for us always and forever.
I know you hate the thought of becoming older, but you are sexier than ever. You are the most daring lover, and you have made my fantasies come true.
Sweetheart, your day of birth is always the perfect opportunity to remind you that I only have eyes for you. I am proud to have a girlfriend as hard-working, caring, and respectful as you.
Birthday wishes for boyfriend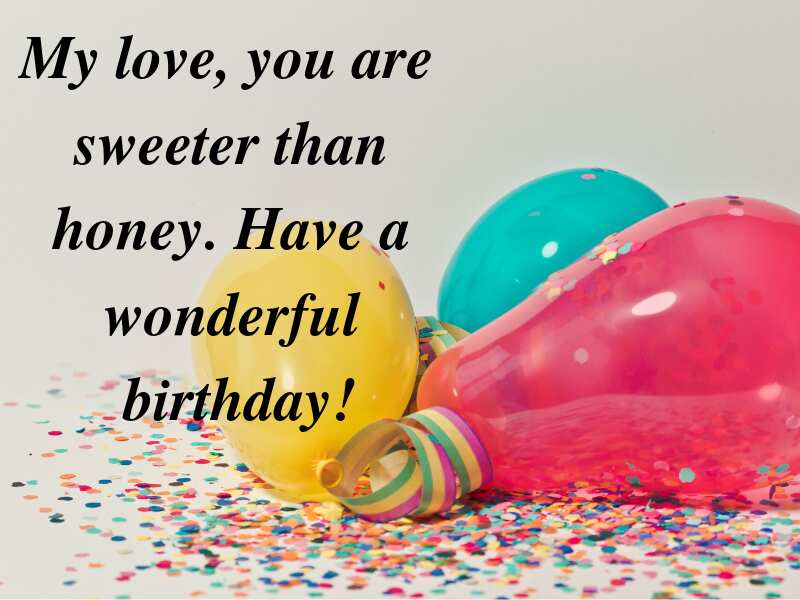 Are you looking for happy birthday wishes for lover? Most ladies tend to be excited about celebrating their boyfriend's day of birth. However, if the two of you have just started dating you may ask "how can I make my boyfriend feel special on his birthday?" The trick to impressing him with heartwarming wishes is to consider his personality.
Whether you are good with words or have suddenly experienced a mental block and have no clue what to say, we have romantic birthday wishes for boyfriend that will clearly relay your sentiments. Remember, with these messages you are not limited to sending them via text or posting on various social media platforms. You can convey the same message by printing it on a T-shirt, phone cover, favourite cup or any other item that they like.
Happy birthday to my love. It does not matter how old you get; your kisses and hugs are still the warmest and most loving. Enjoy your day!
You have been my rock and in times of need I know I can always count on you. Thank you, my dearest, for everything you have done to make me the person I am today. Fabulous birthday, darling.
Honey, thank you for being a perfect partner, my best friend, and lover. Wishing you a birthday filled with laughter and lots of fun memories.
You are the one person in this world whose day of birth brings so many good memories. It is never a dull moment with you. Your positivity and ability to see the good in everything are the qualities I admire in you. Too many more years filled with unforgettable memories!
Who would have thought I would meet a caring, loving, considerate and fantastic person like you. I never want to lose you. Happy birthday! You are cherished.
Songs, words, and gifts can never be enough to express the joy you bring into my life. But I will keep showing you how much you mean to me because I cannot think of a life without you. Great birthday to you!
I may not have enough cash to buy you a Ferrari, but I hope my love for you is enough. I will always make you happy. Have a blast on your day of birth.
Whatever you wish for when you blow out the candles on your birthday cake, here are the words to remind you of how special you are to me.
There are many reasons why I fell for you. You are crazy, spontaneous, funny, kind and generous. I do not know why you adore me, but I hope it is as much as I care for you. Wishing you a fantastic birthday, my bae.
To the King of my heart, as you celebrate your birthday never forget that you are my most cherished gift. And tonight, I will show you just how special you are to me!
I am so excited that this year I get to spend your birthday with you, my handsome boyfriend. Let us enjoy each second and make our romance last forever.
I am so proud to have such a charming man in my life. I still feel butterflies when you get close to me. You know what I like and what makes me tick. Happy birthday, handsome.
READ ALSO: 70 best emotional quotes and sayings
Happy birthday love quotes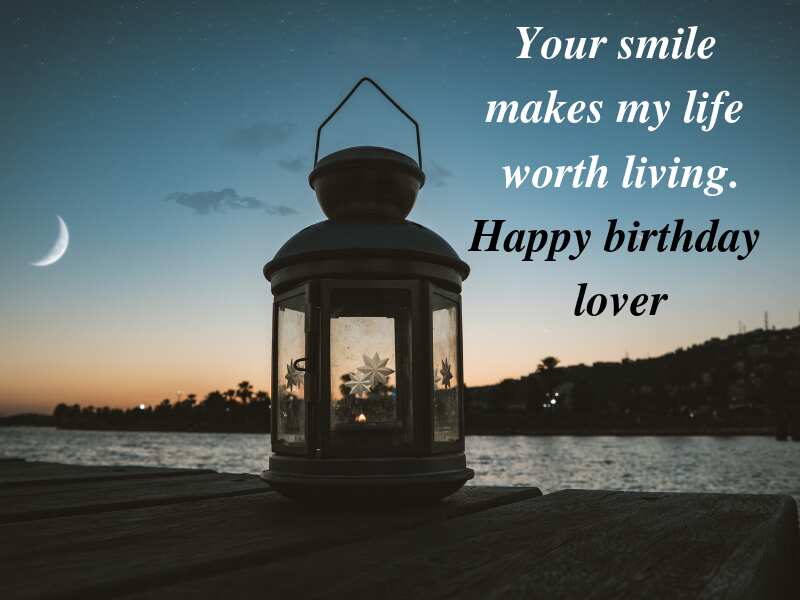 Are you wondering what the best wishes for birthday are? Or are you asking what do I write in a birthday card for my lover? Finding the perfect words to wish someone you love can be difficult especially if you talk less. Hopefully, you can use the following quotes to bring a smile on their special day.
For your birthday, I want you to know that you are my life. I will never break your heart or make you cry. Instead, I will make you smile and give you the attention you deserve.
Birthdays are a way of letting us know that we are growing old. I hope we grow old together. Happy birthday, love. Enjoy your day!
Here is the best birthday wish to someone who spreads joy to everyone they meet. I hope you know it is you, my adorable partner. A toast to many great years where we celebrate you.
When I laid eyes on you, I knew you were the one I wanted to spend the rest of my life with. Thank you for making the wish come true. Now it is your turn to blow some candles and make a wish. Happy birthday to my precious one, the one person who brings so much joy to my life. I am so proud to be yours.
Honey, may all that you want to come true on your birthday. Wishing you a prosperous life filled with love, happiness and a ton of unforgettable memories.
Every human being gets older with age. You, my love, look beautiful every single year. Thank you, a million times, for coming into my life and changing it in a good way. Happy birthday.
The best gift I can give you on your birthday that money can never buy is my love. Cherish it as I cherish you.
Let us eat the sweetest cake as we celebrate the birthday of my beloved hubby, soulmate and best friend. You are the best thing to ever happen to me, and I celebrate you for being perfect in my eyes.
There are 12 months in a year but only one great wife that I adore every second. Have a blast on your special day.
Happy birthday to my favourite man. The joy you give me cannot be measured. Wishing you as much fun as you are.
Warmest wishes on your special day my darling. Continue to shower the lives of others with your stunning spirit.
I wish you love, hugs, and kisses. But since today is your birthday, my sweetheart gets an extra dose of everything good.
When it is that time of the year to make a loved one feel special, you can buy a gift and even throw them a surprise party. However, you can make their day better by adding heartfelt birthday wishes for love. Hopefully, you can use any of the above messages and quotes to show how wonderful their special day is to you as well.
READ ALSO: 35 motivational health quotes and sayings
Source: Legit.ng