100+ ride or die quotes for your best friend or significant other
Loyalty is rare, and it's the greatest blessing when you find someone willing to be there for you no matter what. This loyal person is your ride or die; it could be a partner, friend, or even a family member. Knowing that they always have your back will boost your confidence. And ride or die quotes will help your relationship even grow stronger.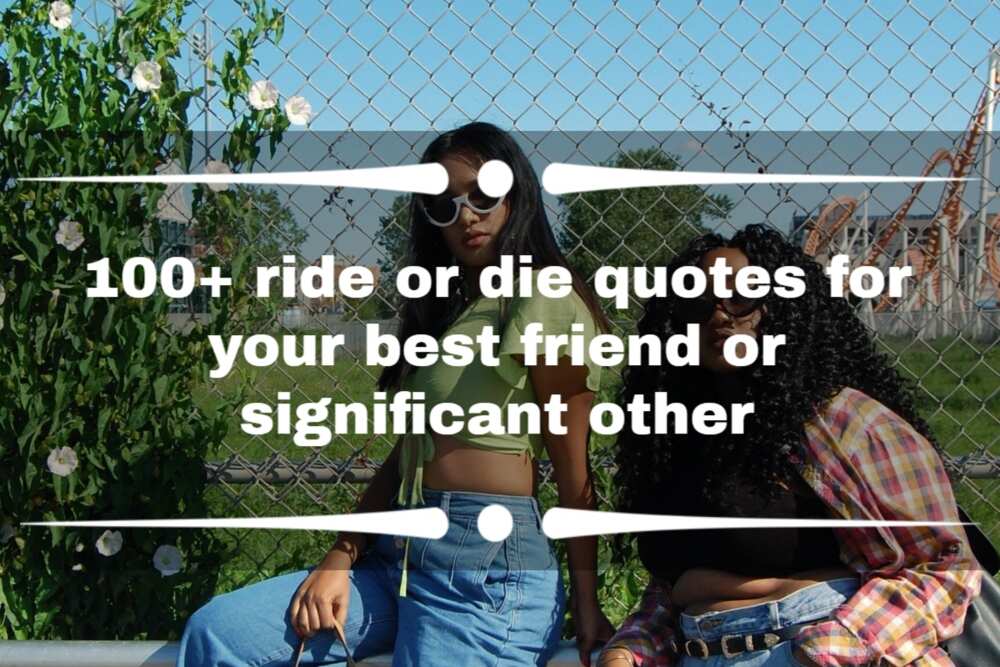 Your ride or die is anyone who is with you through thick and thin. The person has been tried and tested and will stand by you. It is natural to want to express gratitude to them; sometimes, words are not enough. Send them these ride or die quotes to express your appreciation and tell them you value them.
Best ride or die quotes
Some friends and loved ones have been with you in your worst times and have never left your side. If you have such a person in your life, appreciate them by sharing these great quotes with them.
Live free, ride free, die free. – Tillie Cole
Keep away from people who try to belittle your ambitions. Small people always do that, but the great ones make you feel that you, too, can become great. — Mark Twain
The only people worthy of being in your life are those who help you through the hard times and laugh with you after the hard times pass.
Surround yourself with people with you when it rains, not just when it shines.
Sometimes you put walls up not to keep people out but to see who cares enough to break them down. — Socrates
Loyalty does not mean staying and getting cheated on.
A friend overlooks your broken fence and admires the flowers in your garden.
The mouse is a fair treat, but this one would talk the hind legs off a donkey. – C.S. Lewis
Real isn't who's with you at your celebration; real is who's standing next to you at rock bottom. – Christopher Ferry
Don't ever give up on something or someone that you can't go a day without thinking about.
You don't build a bond without being present. – James Earl Jones
Ride or die is a kind of love where you use jazz hands and pelvis thrusts in one dance. – C. Camaron
Real friends never have to tell you that they're your friends. – Morgan Matson
Stay real, stay loyal or stay away.
When they are seen as a type and not as individuals, they are easy for a fanatical mind to grasp and hate. – Mercedes Lackey
The whole is other than the sum of the parts. – Kurt Koffka
Whatever you have is going to die, and you are going to have to rebirth something new. You have to be willing to ride the waves. – Will Smith
Today is the oldest you have been and the youngest you'll ever be again.
When things go down, you'll see who is real.
Friends don't leave their friends for other friends.
Ride or die quotes for best friends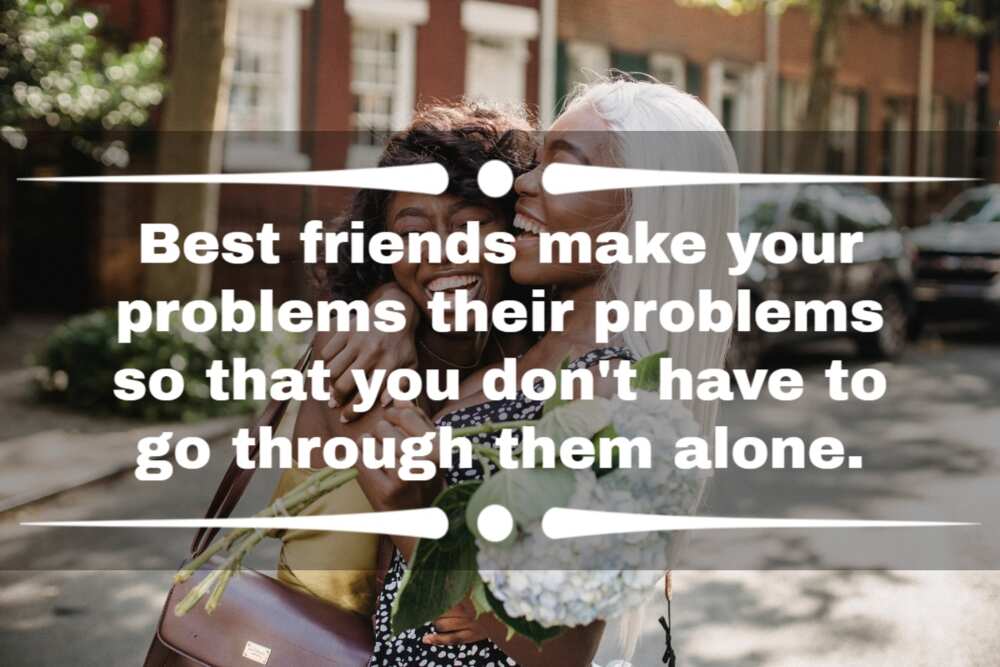 Friends are a dime a dozen, but a loyal friend is hard to find. Here is a list of ride or die best friend quotes you can send to your bestie.
Best friends are like fat thighs that stick together.
Friends fight for you, respect you, include you, encourage you, need you, deserve you and stand by you.
It's not that diamonds are a girl's best friend, but your best friends are your diamonds. – Gina Barreca
One may have tons of friends, but only one tried and true.
There are friends, there is family, and there are friends who become family.
True friends are ready to catch you even before you fall.
Friendship is accepting a person with all their qualities, good and bad. – Mohanlal
And till the end, you're my very best friend.
A friend knows you as you are, understands where you have been, accepts what you have become, and still gently allows you to grow. – William Shakespeare
Best friends make good times better and bad times easier.
A best friend knows you and loves you just the same. – Elbert Hubbard
Friendship isn't always about who's been in your life the longest, but the people who walk into your life and show you this is where they're meant to be.
Best friends don't care if your house is clean. They care if you have wine.
Making a million friends is not a miracle. The miracle is to make a friend who will stand by you when millions are against you.
Best friends make your problems their problems so that you don't have to go through them alone.
A friend can tell you things you don't want to tell yourself. – Frances Ward Weller
A good friend knows all your best stories. A best friend has lived them with you.
A true friend thinks you are a good egg even though he knows you are slightly cracked. – Bernard Meltzer
If they stand behind you, protect them. If they stand beside you, respect them. And if they stand against you, defeat them.
Friends who slay together, stay together and wish to die together.
You and I are more than friends; we were like a really small gang.
Ride or die = the highest loyalty you'll ever find in a person.
A best friend is one who brings out the best in you.
They are not your friends until they have defended you in your absence.
All for one, and one for all, that's what friends are for.
Ride or die couple quotes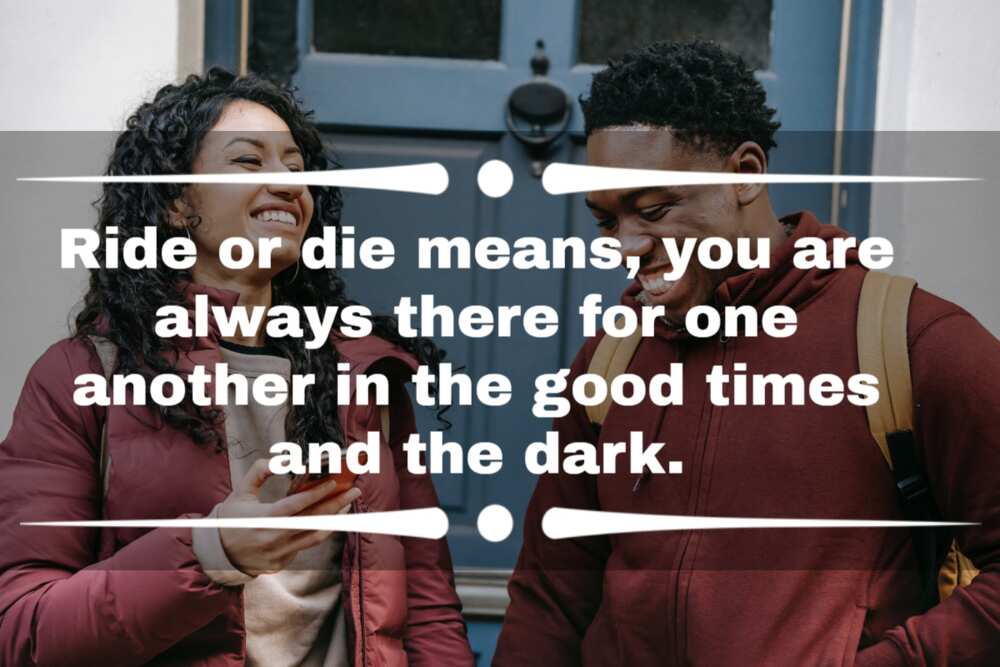 Having a ride or die partner is an excellent sign of commitment and love. Below are the best quotes on loyalty to send to your lover.
There is no love without forgiveness, and there is no forgiveness without love. – Bryant H. McGill
Every man needs a woman when his life is a mess, just like in a game of chess. The queen protects the king.
Shared joy is a double joy; shared sorrow is half a sorrow. – Swedish Proverb
All relationships go through bad times, but genuine relationships get through bad times. –Anurag Prakash Ray
A relationship where you both love, protect and spoil each other is the best.
Behind every happy couple lies two people who have fought hard to overcome all obstacles and interferences to be that way. Why? Because it's what they wanted. – Kim George
Trouble is part of your life, and if you don't share it, you don't give the person who loves you enough chance to love you enough. – Dinah Shore
Every relationship has problems, but what makes it perfect is when you still want to be there when everything goes wrong. – Ritu Ghatourey
Whatever problems arise in a romantic relationship, facing them together as a couple is essential. If an aspect of the relationship stops working, don't simply ignore it; instead, address it with your partner. Things change, so respond to them together as they do. – Anne Nwakama
Great couples still get angry with each other, but they continue to discuss until there is a solution, even if it takes several days. – Bob Grant
Both people need to care deeply about the other person, put the other's needs before their own, and make a daily commitment to that person to stick it out. – Alessandra Torre
Problems should be like speed bumps. You slow down just to get over it, but don't let it stop you from heading to your destination. – Sonya Parker
Loyalty is tested when time gets ruff. It means riding with you in the good times and still holding you down through the bad.
Ride or die means you are always there for one another in the good times and the dark.
Best relationship: Talk like best friends, play like children, argue like husband and wife and protect each other like brother and sister.
Happily ever after is not a fairy tale. It's a choice. – Fawn Weaver
The real lover is the one who can thrill you by kissing your forehead or smiling into your eyes, or just staring into space. – Marilyn Monroe
Love is what makes the ride worthwhile. – Franklin P. Jones
Couples that ride together stay together.
Ride or die love quotes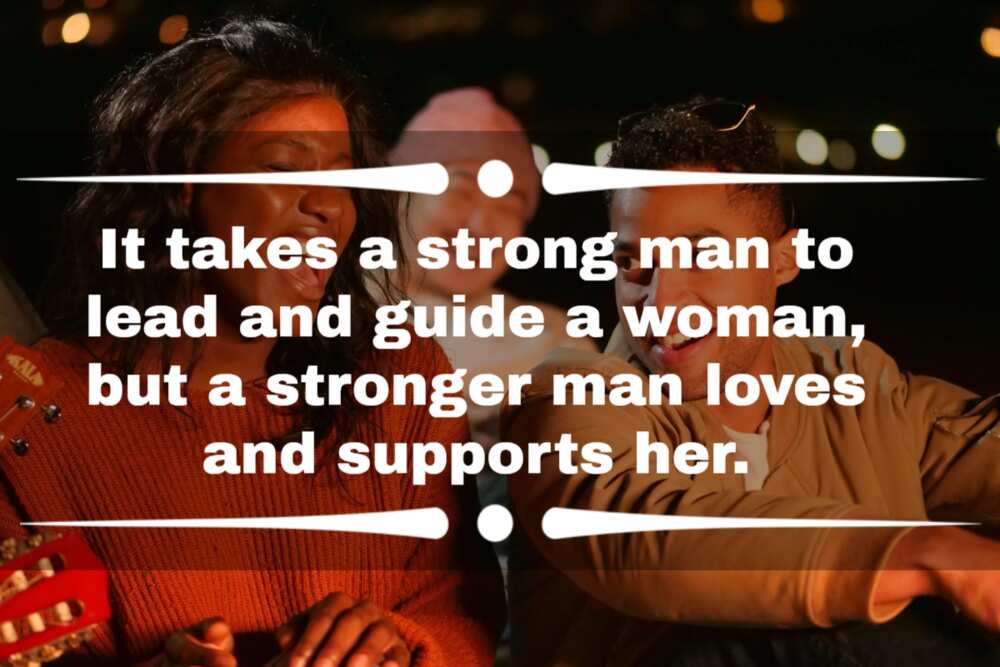 To love and be loved is one of the greatest feelings in the world. This is more so if your lover is your ride or die. Here are some quotes about love for your soulmate.
If you love someone, your presence is the greatest gift you can give them. – Thich Nhat Hanh
It takes a strong man to lead and guide a woman, but a stronger man loves and supports her.
Most women want a man that's already established. A strong woman will be a part of his struggle, survive it, succeed together, and build an empire.
The man meant for you will love you even when there are no more reasons to love you.
Being a ride or die means staying by a man's side whether he has $500 or $5. Not when he cheats ten times, and you stay.
A good relationship is one where you always try to make each other ridiculously happy. Every single day and as often as possible.
A loyal chick comes with a smart-mouth and a crazy attitude.
A true queen will stand by her king even at his lowest moments.
Absence sharpens love; presence strengthens it. – Thomas Fuller
Your girl should be your #1 fan, best friend, lover, rider, and first supporter.
Ride with who rides for you.
If a man has not discovered something he will die for, he isn't fit to live. – Martin Luther King Jr.
Ride or die friend quotes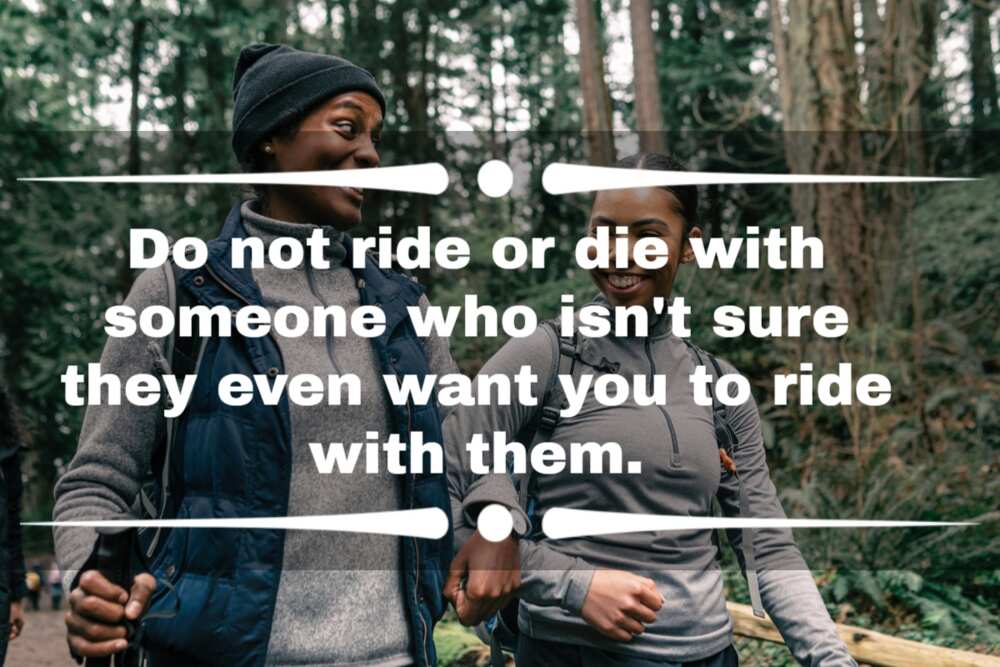 Having someone who will stick with you through life challenges is a big confidence booster. Below is a collection of quotes you can share with your favourite human being.
Never confuse people who are always around you with people who are always there for you.– Gee Linder
Never trade your rider for a slider.
If you want to lift yourself up, lift up someone else. – Booker T. Washington
There's nothing more vital to the bond you share with someone than simply being there for them. – Suman Rai
Many people want to ride with you in the limo, but you want someone who will take the bus with you when the limo breaks down. – Oprah Winfrey
You're always one decision away from a totally different life.
Coming together is a beginning, staying together is progress, and working together is success. – Henry Ford
A good friend keeps your secrets for you. A best friend helps you keep your secrets. – Lauren Oliver
Do not ride or die with someone who isn't sure they even want you to ride with them.
There is no such thing as a self-made man. You will reach your goals only with the help of others. – George Shinn
Taurus is a loyal friend that will ride or die with till the very end.
All you need is that one loyal homie.
Famous ride or die quotes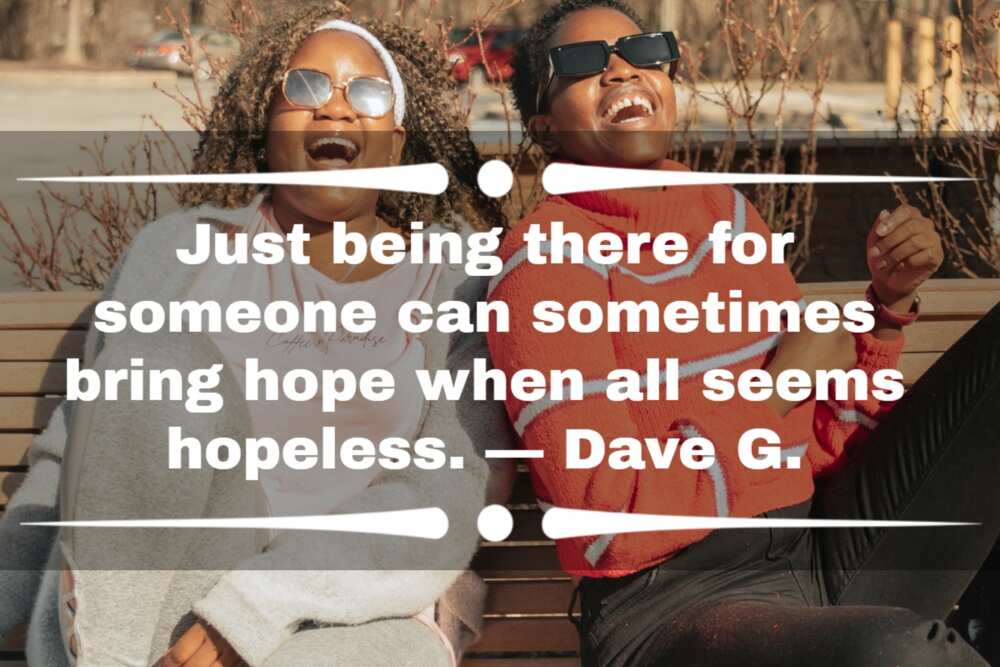 It is essential to treasure people who stick around when things are thick. They help you manoeuvre the speed bumps in life. Use these quotes by famous people to appreciate that loyal person.
Just being there for someone can sometimes bring hope when all seems hopeless. – Dave G. Llewelyn
Making a hundred friends is not a miracle. The miracle is to make a single friend who will stand by your side even when hundreds are against you. — John Spence
Loyalty is tested when times get rough. It means riding with you in the good times and still holding you down through the bad.
A good friend will always stab you in the front. – Oscar Wilde
It's not just about riding together. It's about being willing to die for one another. – Denzel Washington
If a girl understands your mistakes, sticks through your mistakes, and smiles even when you've done nothing for her, it's obvious she's a keeper. But it's also apparent you don't deserve her.
Confidentiality is a virtue of the royal, as royalty is a virtue of faithfulness. – Edwin Lois Cole
You will be my ride or die like Bonnie. I'm gonna play Clyde.– Ace Hood
I will ride with you, and I will die with you. – George Washington
I would rather die with you than live without you. – William Shakespeare
I am going to be with you every step of the way. Ride or die, baby. – Selena Gomez
Real couples run up together.
No matter how serious life gets, you will consequently need the company of people with whom you can completely be stupid.
Sometimes love has its ups and downs, ins and out's. All it takes is two strong, devoted people.
Ride and die; friends never leave you in a lurch.
It is rare to find who will stand by you, especially in low moments. Occasionally, people will stick around when things are good, so when you find that loyal person, appreciate them. The above ride or die quotes will help you find the words to express your feelings towards them.
READ ALSO: 35 great mentor quotes that will help inspire and motivate you
Legit.ng recently published an article about great mentor quotes. Having a mentor is one way to succeed in life. Mentor quotes also work on your confidence and ensure you can face life hurdles. When life becomes challenging, use these mentorship quotes to keep going.
Mentor quotes are crucial as you live life because life can be very unpredictable. These mentor quotes a derived from some of the most successful people in the world. You can tap into their knowledge and ways to succeed in your own life. These mentor quotes will come in handy, whether it's your career or relationships.
Source: Legit.ng