35 great mentor quotes that will help inspire and motivate you
Without a doubt, reading mentor quotes is one of the best ways to boost your confidence and keep you going no matter what life throws at you. Everyone has their bad days and you would want to keep your head high, especially during tough times. That is why mentorship quotes are necessary as you keep on grinding.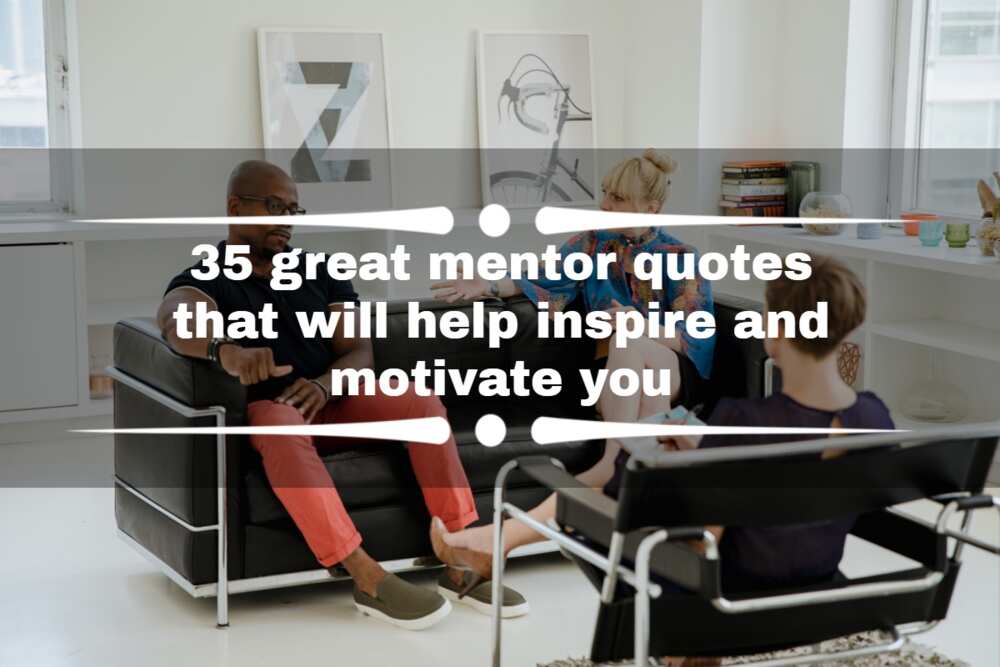 Mentor quotes are essential in all stages of life because of many reasons. Most popular and successful mentors cite helping others as the meaningful contribution that makes their careers flourish. Whether you want to become an executive mentor or get inspiration, this collection of quotes about mentors will come in handy.
Inspirational mentoring quotes
There is no greater way of starting your day other than reading uplifting and motivating quotes to keep your day productive. Have a look at the quotes about the greatest mentors shared below for inspiration.
One who refuses to seek the advice of others will eventually be led to a path of ruin. A mentor helps you to perceive your own weaknesses and confront them with courage. The bond between a mentor and protégé enables us to stay true to our chosen path until the very end.
If a man is to shed the light of the sun upon other men, he must, first of all, have it within himself. – Romain Rolland
The dream begins with a teacher who believes in you, who tugs and pushes and leads you to the next plateau, sometimes poking you with a sharp stick called truth. – Dan Rather
The delicate balance of mentoring someone is not creating them in your own image but giving them the opportunity to create themselves. – Steven Spielberg
I think the greatest thing we give each other is encouragement...knowing that I'm talking to someone in this mentoring relationship who's interested in the big idea here is very, very important to me. I think if it were just about helping me get to the next step, it would be a heck of a lot less interesting. – Anne Sweeney
I've learned that people will forget what you said, people will forget what you did, but people will never forget how you made them feel. – Maya Angelou
One looks back with appreciation to the brilliant teachers, but with gratitude to those who touched our human feelings. The curriculum is so much necessary raw material, but warmth is a vital element for the growing plant and for the soul of the child. – Carl Jung
Show me a successful individual and I'll show you someone who had real positive influences in his or her life. I don't care what you do for a living– if you do it well, I'm sure there was someone cheering you on or showing you the way. A mentor. – Denzel Washington
The conflict between an apprentice and his master is not always bad; in fact, it is almost inevitable, if the apprentice's destiny is to exceed the accomplishments of the master. – Kilroy J. Oldster
As a mentor, you have to be willing to put yourself in your mentee's shoes to understand the struggles that they deal with. – Toby Keith, American musician
If a child is to keep alive his inborn sense of wonder, he needs the companionship of at least one adult who can share it, rediscovering with him the joy, excitement and mystery of the world we live in. – Rachel Carson
Great mentor quotes
Reading these positive sayings about mentorship will keep you focused on your life goals and create a space for growth and development.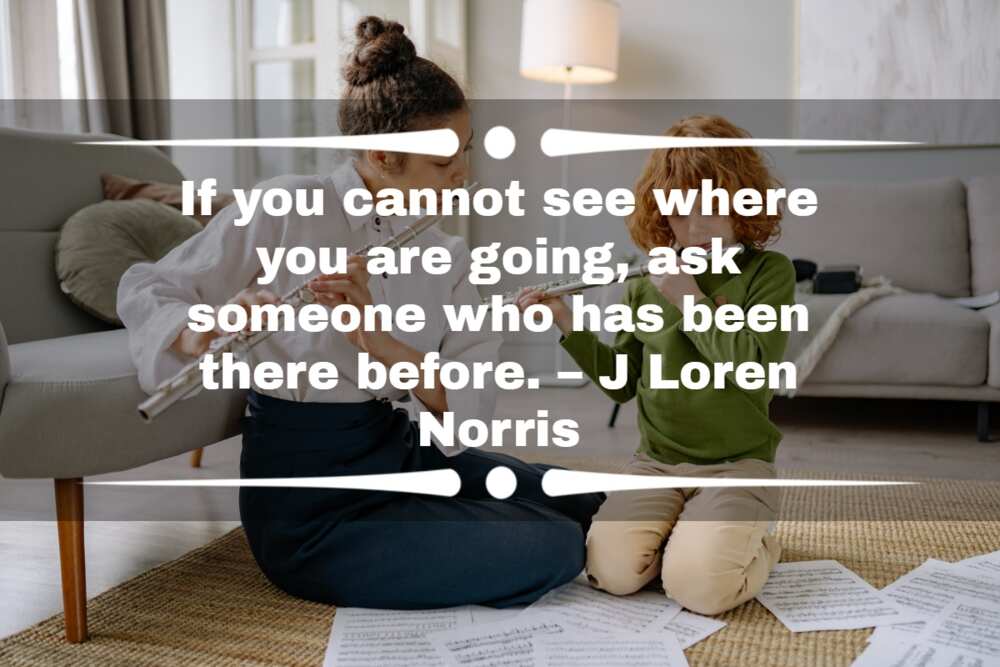 A mentor is a brain to pick, an ear to listen, and a push in the right direction. – John C. Crosby
If you cannot see where you are going, ask someone who has been there before. – J Loren Norris
One person might be senior and wiser and have more experience, but I've learned a lot from the people I mentor. – Michelle Obama
A mentor is someone who allows you to see the hope inside yourself. – Oprah Winfrey
Mentors build mentors. Leaders build leaders. When you look at it closely, it's really one and the same thing. – Tony Dungy
The people closest to me determine my level of success or failure. The better they are, the better I am. And if I want to go to the highest level, I can do it only with the help of other people. We have to take each other higher. – John C. Maxwell
The path to diversity begins with supporting, mentoring, and sponsoring diverse women and men to become leaders and entrepreneurs. – Denise Morrison
What you want in a mentor is someone who truly cares for you and who will look after your interests and not just their own. When you do come across the right person to mentor you, start by showing them that the time they spend with you is worthwhile. – Vivek Wadhwa
What I think the mentor gets is the great satisfaction of helping somebody along, helping somebody take advantage of an opportunity that maybe he or she did not have. – Clint Eastwood
More than mere teachers, mentors are often emancipators, freeing artists from poor technique, clouded vision and personal uncertainty. – Paul Soderberg
The true secret of giving advice is, after you have honestly given it, to be perfectly indifferent whether it is taken or not and never persist in trying to set people right. – Hannah Whitall Smith
If your actions inspire others to dream more, learn more, do more and become more, you are a leader. – John Quincy Adams
Inspirational quotes about mentorship
How do you appreciate a good mentor? You can show your appreciation to your mentor by sending them a sweet message acknowledging how grateful you are for the efforts they put in you. Here are some positive mentor quotes for you.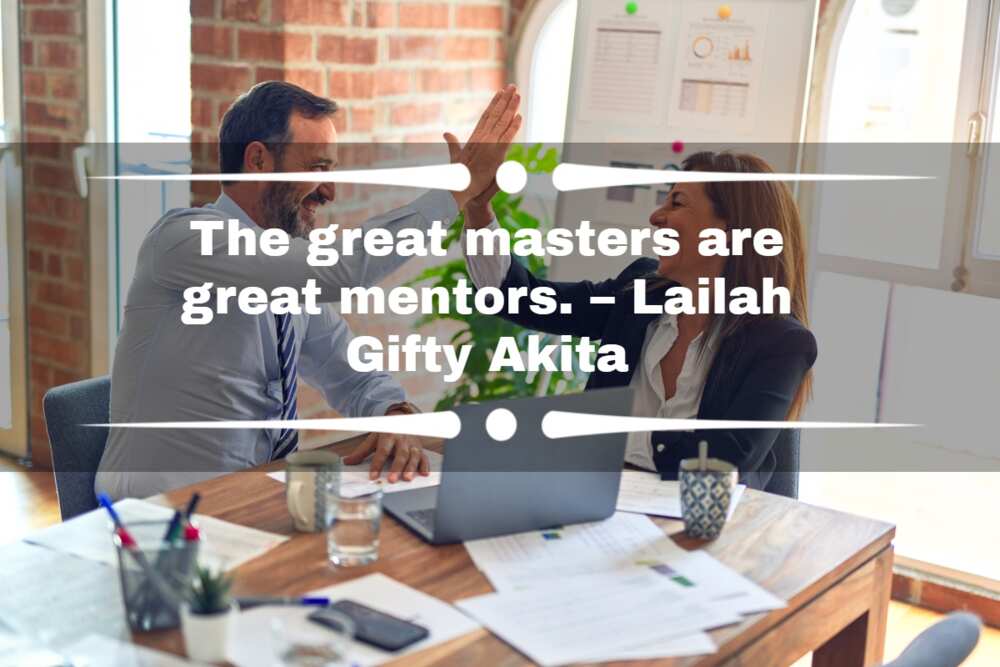 My job is not to be easy on people. My job is to take these great people we have and to push them and make them even better. – Steve Jobs
You have to believe it's possible and believe in yourself. Because after you've decided what you want, you have to believe it's possible and possible for you, not just for other people. Then you need to seek out models, mentors, and coaches. – Jack Canfield
The teacher who is indeed wise does not bid you to enter the house of his wisdom but rather leads you to the threshold of your mind. – Khalil Gibran
What is a teacher? I'll tell you: it isn't someone who teaches something, but someone who inspires the student to give her best in order to discover what she already knows. – Paulo Coelho
Mentoring brings us together — across generation, class, and often race — in a manner that forces us to acknowledge our interdependence, to appreciate, in Martin Luther King, Jr.'s words, that 'we are caught in an inescapable network of mutuality, tied to a single garment of destiny. – Marc Freedman
The great masters are great mentors. – Lailah Gifty Akita
Mentoring is an indispensable requirement for an artist's growth. Not only are skills and experience shared, but there is value in the essential re-examination of one's own work and techniques. – Jim Norman
A mentor is a person, an expert in a specific area of endeavour, who trains, guides and observes a less experienced person to also become an expert through support, advice, and involvement in character-building opportunities. – Israelmore Ayivor
Coaches are aware of how to ignite passion and motivate people. They have an energy that is contagious and knows exactly how to get their team excited. – Brian Cagnee
The mediocre teacher tells. The good teacher explains. The superior teacher demonstrates. The great teacher inspires. – William Arthur Ward
Encouragement: To place courage within them, by coming alongside them and inspiring them to hold on, to work hard, to fight for the cause placed in their care. – Jozua Van Otterloo
A mentor is someone with a willingness to help others, who has the capacity to inspire, a determination to work hard, a clear sense of vision, an inspiring purpose, a deep sense of integrity and an appreciation for joy. – Kerry Kennedy
Increase your confidence and overall well-being by always appreciating the little progress you make on a daily basis. Hopefully, the mentor quotes shared above will help inspire you as you keep on grinding.
READ ALSO: 100+ good night message for a friend ideas to send to your bestie
Legit.ng recently published an interesting piece about 100+ ideas good night message for a friend to send to your bestie. Remembering a friend before you sleep is a priceless expression of friendship.
Sending a message late at night is one way to help your friends cope with the day's stress. This can provide them with the peace they require while sleeping. They also help you share your genuine feelings towards your friends thereby strengthening and deepening your relationship.
Source: Legit.ng