Best Tinder bios for girls to catch the eye of your soulmate
A good Tinder bio should stand out from the rest; hence it needs to be creative. Tinder has assisted several couples in meeting online and settling into long-term relationships, some of which have led to marriages. There are numerous Tinder bios for girls that will help your profile stand out and pique the interest of others.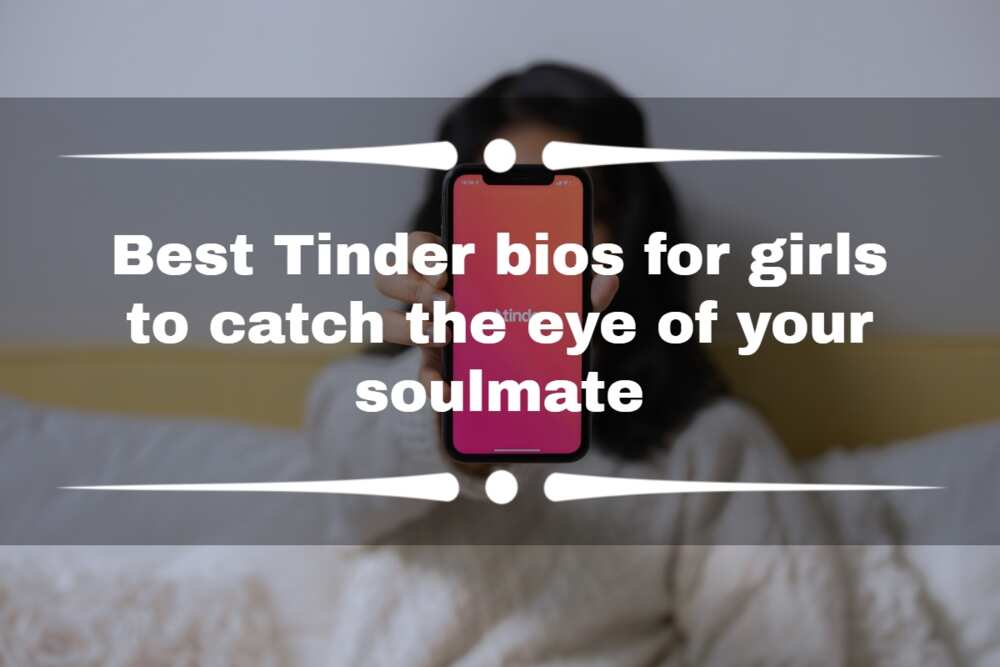 A Tinder bio is important for ladies because it serves as a brief introduction to potential matches and can influence whether they choose to swipe right or left. A well-crafted bio can help a woman stand out by showing her personality, interests, and what she's looking for in a match. It can also give potential matches an idea of what they have in common, making it easier to start a conversation.
Best Tinder bios for girls
Let it sound funny and catchy if you want to create a good Tinder bio. Here are the best Tinder bio examples to get you started!
I'm a simple girl looking for a good time.
Looking for an adventure partner. You in?
I'm a funny woman with a good sense of humour.
I'm a simple girl who's looking for the right guy.
We'll get along if the little spoon is your favourite position.
I am looking for a person I can laugh and be silly with.
The most important thing to know about me? I dance at concerts.
I'm a nurse by day and a professional cuddler by night. Interested?
Netflix binger, coffee addict, and dog lover. Living life one day at a time.
I want to know your favourite song, but in order to tell me, you have to sing it to me.
If we match, it means we're both desperate and have low self-esteem. Let's embrace it!
I've been told I have a pretty face, so I'm hoping that's all it takes to find someone here.
I'm looking for a crime partner. You must be willing to eat pizza and drink wine.
Looking for someone to dance around with me in the refrigerator light, sing in the car, and get lost upstate. Yes, this is all from a Taylor Swift song.
I don't need a man, but it would be nice to have one around to help with heavy things and reach things on high shelves.
I'm here to find my one and only. But, in the meantime, I'll settle for someone who can make me laugh and is willing to look after my dog while I'm away.
Good tinder bios for girls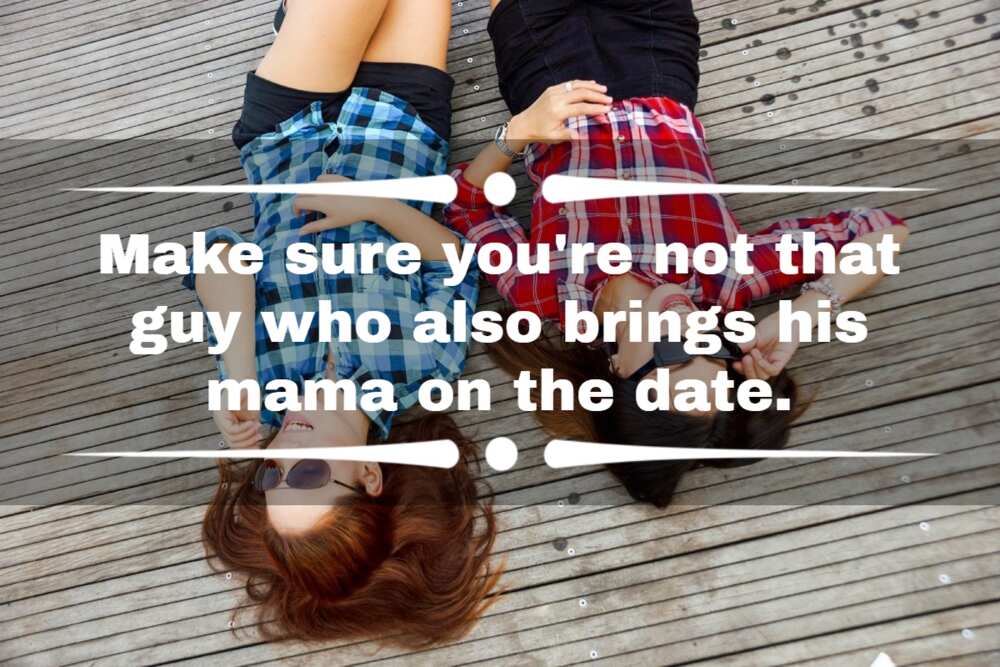 The key to writing an effective Tinder bio is honesty. Share some interesting insights into your personality, such as your favourite hobbies, what makes you unique, and how a potential match might fit into your life. To get an idea of what you should write, look at some of these Tinder bio examples for girls.
Swipe right. It's a good idea.
Can we just stop talking and just fix our date?
Living life and looking for my perfect match.
I might play hard to get, but please don't give up.
I just want to find the right person for me.
Not here for a long time, but here for a good time.
I'm just looking for someone to bring to family events.
Hey you, I'm the one that you're looking for everywhere?
Make sure you're not that guy who also brings his mama on the date.
First, send for me some pizza. I won't give you my images until that time.
You are urged to disregard this profile. I'm aware you can't. Swipe right now.
Respect me, and I will do the same. Screw me, and I will double-screw you.
Tell me just one good reason why you're still single. And, then, we go ahead.
I love long walks on the beach, getting lost in a good book, and making good decisions.
Stay with me, and we'll make every effort. If you ever consider leaving me, you will always be lost.
I intend to meet new people and possibly more. I enjoy stargazing, hugging, and discovering new things.
Long Tinder profiles for women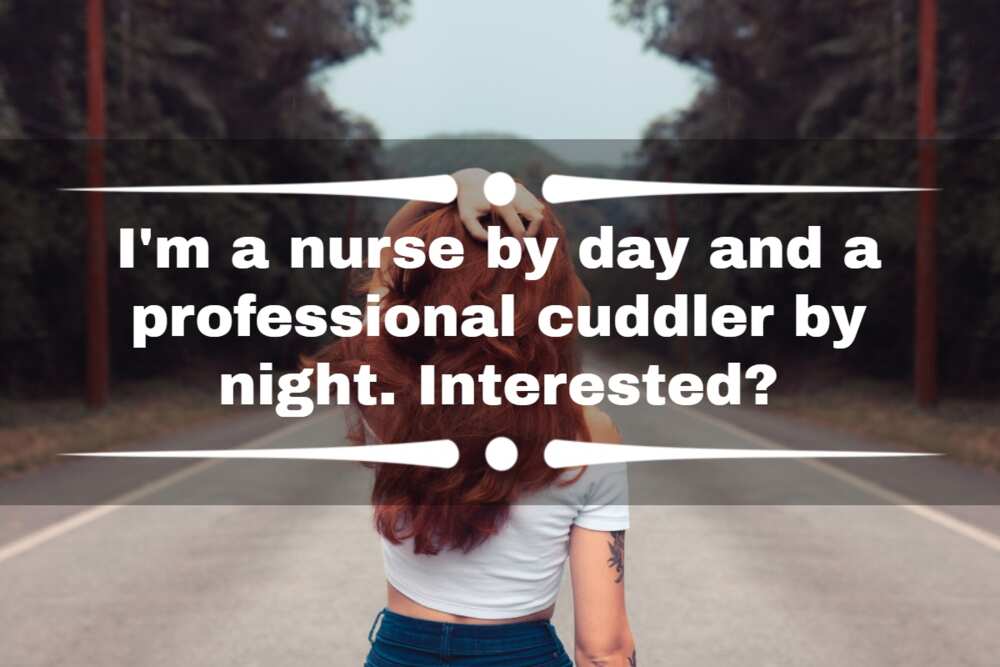 As a woman, your Tinder bio is the first point of contact for a potential match. What you write in your bio can pique someone's interest, inspire them to message you, and initiate the first conversation. Take a look at some of these adorable tinder bios for women.
I'm looking for someone who can keep up with my spontaneity and sense of adventure.
Wanting someone to break my heart so I could focus on my studies instead of falling in love.
I love animals, coffee, and cuddling. I'm looking for a man who can appreciate all of these things.
I need someone to share everything I can and leave me at the moment when I need him the most.
I'm looking for someone who appreciates the little things in life, like long walks on the beach and feeling each other up in public places.
I'm struggling to think of something witty to say, so I'll just say that I like watching sunsets and making out under the stars.
I don't take myself too seriously and am seeking a humorous companion. Life is too short to not be joyful!
I want a guy who has never spoken to a girl, isn't hooking up with anyone and doesn't even have a Tinder profile.
Now taking applications for a boyfriend. You must be certified in cuddling and telling me I'm pretty. Swipe right to inquire within.
You're probably looking for my friend Ann if you're seeking someone smart, humorous, and attractive. However, since she's not here, I suppose you'll have to go with me.
Sincerely, I simply want to continue being the only stunning young girl here, as I am, without trying to become the ideal lady in the world.
Looking for someone who can keep up with my wit and sarcasm. Must also be able to provide emotional support when needed and be willing to watch Grey's Anatomy on repeat with me.
Cute tinder bios for girls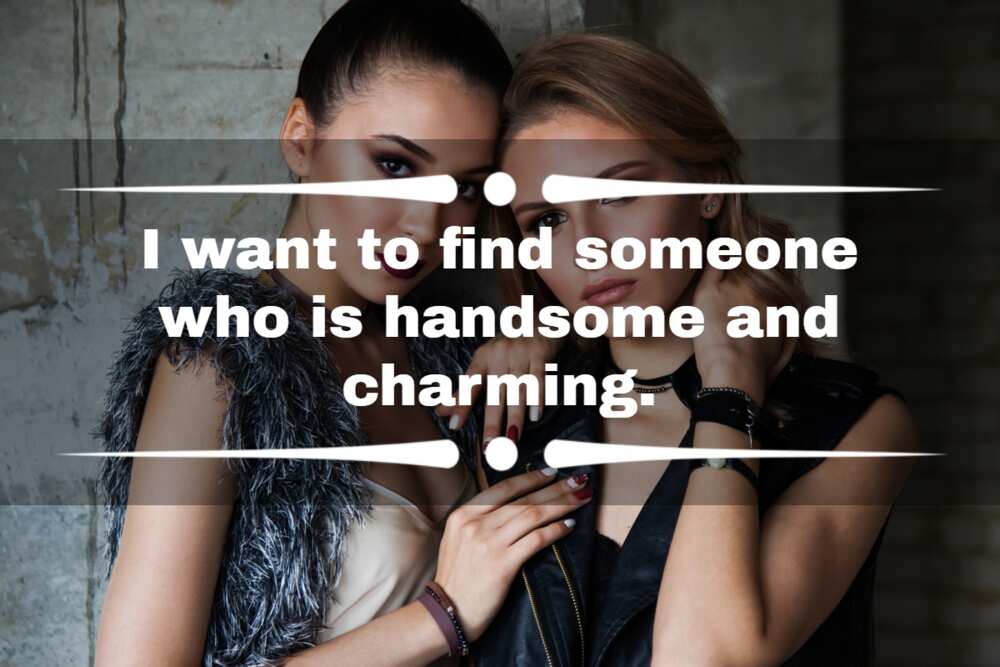 Every swipe or match on Tinder represents the start of something exciting. Here are some simple and cute Tinder bio ideas for girls.
Swipe right and tell me your favourite movie.
Netflix is my religion, and I am very devout.
I want to find someone who loves me for me.
I want to find someone who is handsome and charming.
Stop looking for any girls on Tinder, have a lovely lady instead.
My kink is when girls care about my feelings and what I have to say.
I'm the type of person who will do something just because it's forbidden.
Let's have a who's better in bed contest. Hoping to make you a sore loser.
I can go from cute to crazy in a flash, so go ahead with your own risk.
Is joining Tinder one of my best ideas? I guess we will have to see.
Not picky about how tall you are because everyone is the same height in bed.
Did you bring your library card? Because you need to continue checking me out.
Not desperate like your ex, not perfect as you think. I'm just who I am. You have no choice.
I'm looking for someone who appreciates my wit, intelligence, and overall amazingness.
Short female tinder bio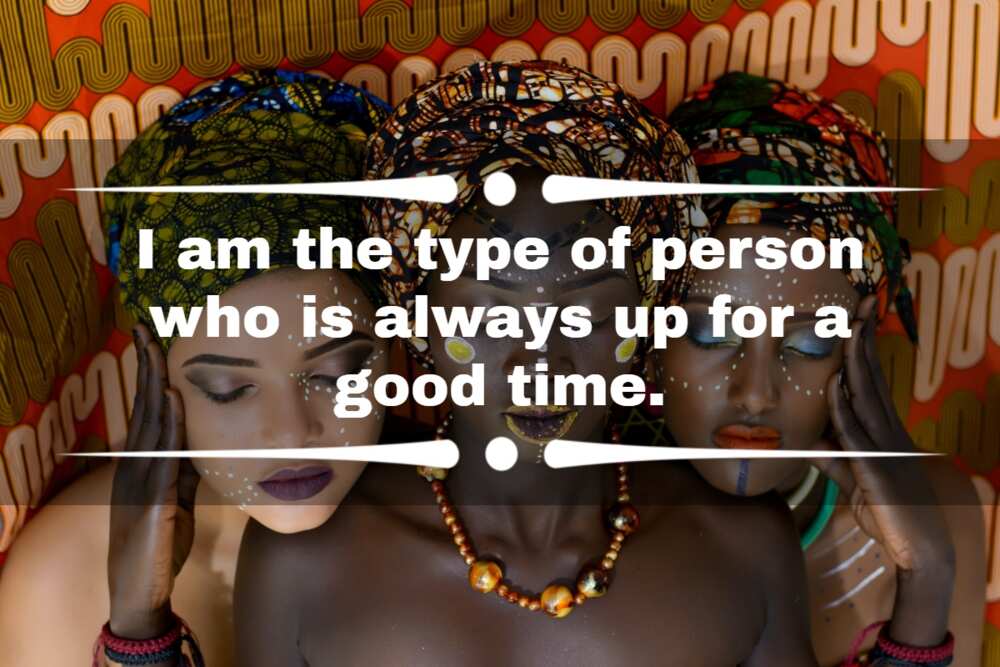 Because your Tinder bio is the first thing potential matches will see, making a good first impression is critical. A Tinder bio should be brief and, to the point, upbeat.
Give me your best pickup line.
Looking for the peanut butter to my jelly.
I can quote every episode of Game of Thrones.
Make and send me a playlist, so I know it's real.
My mother would describe me as her daughter.
If you're kind, cool, and honest, I'll try to hold your hand.
Let's discuss what our couple's email addresses will be.
Bonus points if you can make me laugh, cook, and have a dog.
I am the type of person who is always up for a good time.
Steal my sweater and put your cold feet on me already!
Sanitize your hands, body, and soul before you swipe right.
I can convince you to delete this app forever after just one date.
Tell me about the last time you cried, and I'll tell you about mine.
Not into casual hookups, only into competitively ranked hookups.
Can't wait to match, exchange one message, and then never talk again!
If you're sick of looking for the right match? You are welcome to take a break here.
I will always bring you a snack even if you say you didn't want one.
Your Tinder bio should reflect your personality and provide information about who you are. Choose one of your best Tinder bios for girls from the list above. A compelling and attractive bio can ultimately increase the chances of attracting a match and forming a connection.
READ ALSO: 100+ baddie captions for Instagram to improve your social media game
Legit.ng recently published an article with 100+ baddie captions for Instagram to improve your social media game. Instagram captions add context to the images and videos you share. When you're feeling your best, you deserve to flaunt it with a catchy caption.
Captions convey emotions, feelings, attitudes, and moods at the time. As a result, it is critical to have some appropriate captions for your Instagram post. Find some baddie Instagram captions to boost your confidence.
Source: Legit.ng