100+ baddie captions for Instagram to improve your social media game
Are you a big Instagram fan? Your Instagram photos may require baddie captions to pique the interest of your followers. You can give your haters something to talk about with baddie captions for Instagram, whether you want to make a subtle flex in a selfie with your besties or go full-on savage mode in a reel.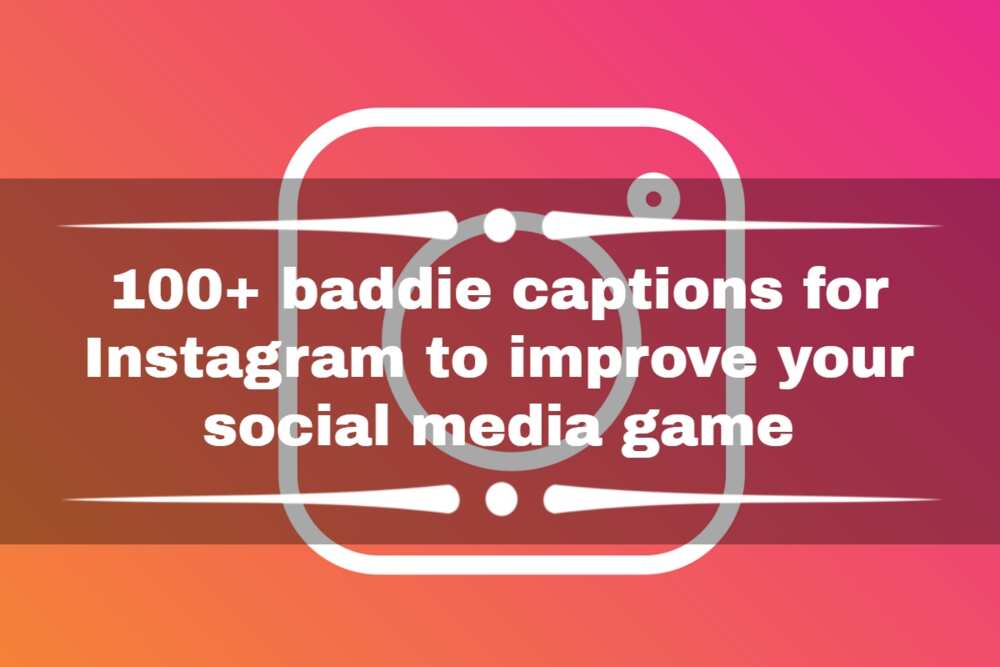 Instagram captions add context to the images and videos you share. When you're feeling your best, you deserve to flaunt it with a catchy caption. Here are some of the best Instagram captions for baddies.
Baddie captions for Instagram
Captions convey emotions, feelings, attitudes, and moods at the time. As a result, it is critical to have some appropriate captions for your Instagram post. Here are some baddie Instagram captions to boost your confidence.
I'm a bad*ss with a good a*s.
All wild things come for me.
My girlishness has sharp teeth.
I do a thing called what I want.
Not every queen needs a king.
Nothing feels good than being bad.
Learn to be you and let the world adjust to that
Didn't they tell you that I was a savage?
My attitude is high than your height.
This is how you become a heartbreaker.
It's not a tiara. I simply bedazzled my horns.
The baddest b*tch in town has just arrived!
Chill, babe; we are all bad in someone's story.
This is not a race, but I still take first place.
The only time I have problems is when I sleep.
I am on my worst behaviour, and I don't care.
You ease my mind, you make everything feel fine.
I have never seen trouble look fine like today.
You are never going to have me; stop trying.
It's either you take me as I am or watch me as I go.
Be such a bad person that they cannot afford to ignore you.
I am great at holding back but trust me, sometimes I don't.
Sometimes you have to leave not for ego but for self-respect.
I don't work for the money. I make the money work for me.
You don't have to worry about me because I got my own back.
If you're honestly happy, f*ck what other people think.
Tell me not to do something, and I will do it twice and take a picture.
Why I would be mad? He chooses trash over treasure.
The haters want to rewind me because I live my life fast forward.
Savage baddie captions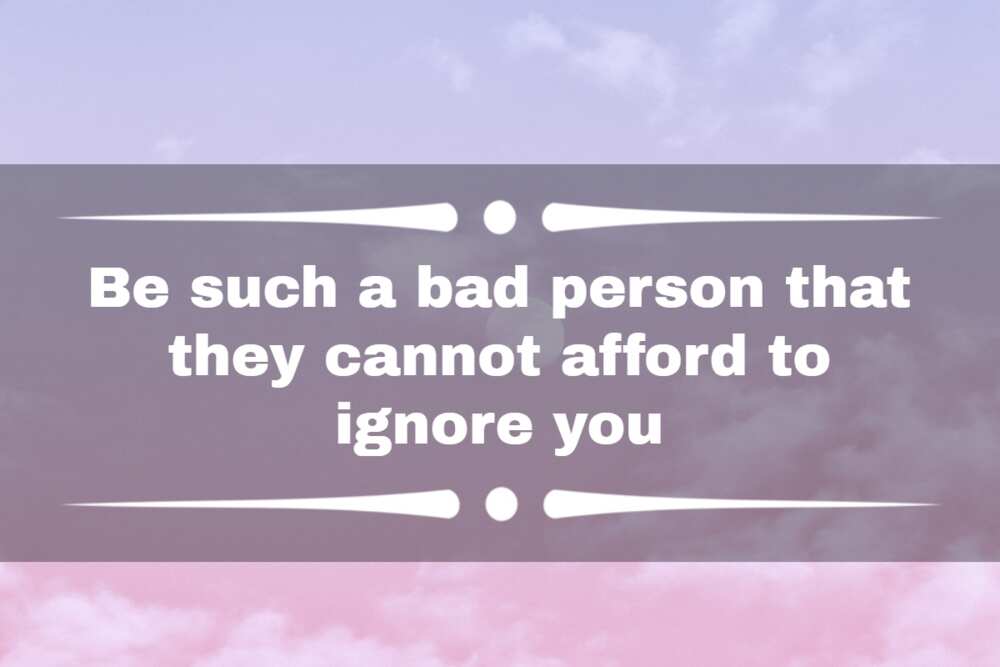 Sometimes it isn't easy to come up with the perfect caption to post along with your photo. Here are some baddie Insta captions ideas for capturing the savage moments on your posts.
Treat me like a princess.
People drink beer by choice.
Life isn't perfect. But my hair is!
Judge me when you are perfect.
A sass a day keeps the basics away.
I don't need a king to be a queen.
I have found puddles deeper than you.
Oh darling, go and buy a personality.
No guts, no glory, no legend, no story.
I am a selfie lord. Bow before your king!
Throwing shade isn't going to help you shine.
Just call me the king of all social media.
You were my cup of tea, but I drink wine now.
People will stare. Make it worth their while.
There's always a wild side to an innocent face.
All I care about is my family and my money.
The same ol' me, just a little bit more fabulous.
You know me once, but you won't know me twice.
You can't afford my swag, even if you wanted to.
Your man is watching me from a fake profile.
Only check for me if you have a cheque for me.
I do not have to chase anyone because I am the catch.
Life is hard, but it is even harder if you are stupid.
Attitude is a little thing that makes a big difference.
I live my life fast forward, but the haters want to rewind me.
Bi*ches love being your friend till you do better than them.
No matter what a woman looks like, if she is confident, she is se*y.
People don't remember well; they remember differently.
I'm never gonna let anybody think they can control me.
I need a room full of mirrors to surround myself with a winner.
Attractive Instagram captions for baddies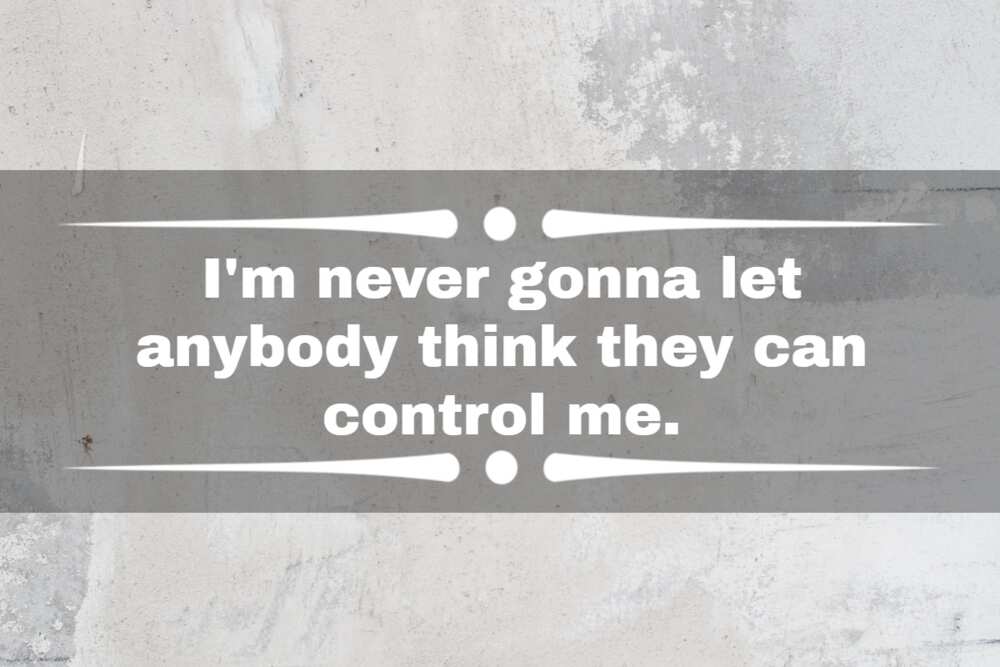 Instagram captions for baddies are used when you want to show off your sassy attitude to haters. These baddie quotes for Instagram listed below will be ideal for you.
I play life like a pro!
Enough! I am choosing now.
I put Coco in Chanel.
Part sweet, part savage.
I can be your bad habit.
I'm the truth, so hold your lies.
My attitude is kinda savage.
Let me file that under I don't care.
Be so bad that they can't ignore you.
You're never going to have me.
I do the thing called what I want.
The only way you'll win is if I quit.
I'm a vibe that no one else can replace.
Take me as I am, or watch me as I go.
I hope karma will slap your face before I do.
If you cannot be nice to people, just shut up.
Discover your worth and add the tax to it.
I gotta stop giving CPR to dead situations.
I am a thus girl who talks and flies nicely.
A good person is a bad person who is never caught.
The older I get, the less I want to be around b*llshit.
Are you burning from the sparkle in my eyes?
My skin is glowing while my money is growing.
Don't waste a single second; go straight to the point.
No one cares, and that's why I also don't care. That's life.
May God have mercy on all my enemies because I don't!
You are not going to shine by throwing shade at others.
I do not work for the money, but I let the money work for me.
This is just the old me with an extra touch of fabulous.
Captions for Instagram baddies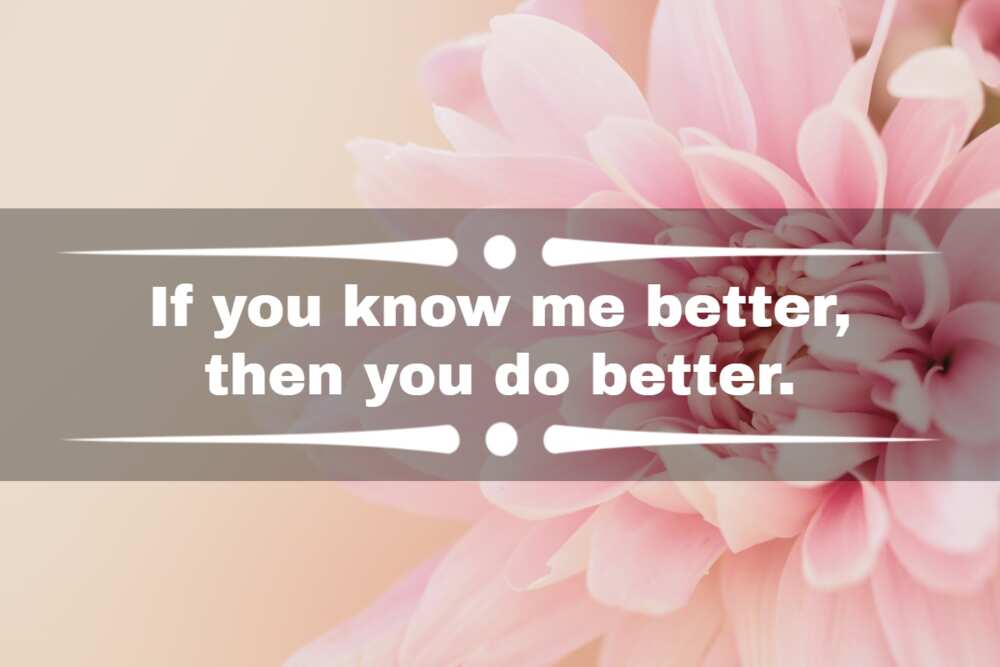 Baddie captions are sometimes the most enjoyable aspect of posting a selfie to Instagram. It's critical to find the right caption to showcase your sassy personality. This list is a great place to find some baddie IG captions.
I'm too good for you.
I was born to stand out.
I am wild but fragile, be careful.
They told me I couldn't, so I did.
And she would bow to no one.
Life goes on, with or without you.
If you love something, don't let it go.
An innocent face has a wild side too.
You don't need a king to be a queen.
Be a flamingo in a flock of pigeons.
Life is better when you're laughing.
Get busy living or get busy dying.
Less perfection, more authenticity.
Trouble never looked so God da*n fine
I am not afraid to walk this world alone.
She has fire in her soul and grace in her heart.
You don't have to be perfect to be amazing.
Live in the present because life is a gift.
This is the year my dreams will come true.
Shut up; I wear heels bigger than your d*ck.
She does what she wants, and she breaks the rules.
I'm not looking for my better half because I'm whole.
You want to be at my level? Then climb b*tch.
Some backwoods and lighter, just so I could spark.
I was patient; now I can scream that we made it.
Lips popping, skin glowing, a*s fat, grades good and a bad attitude.
I climbed on top, and now I am looking down on you.
They say karma is a bi*ch, but trust me, I am one too.
I am a mixture of sunshine and a little hurricane.
I don't play with my life because it is a dream.
Clever Instagram baddie captions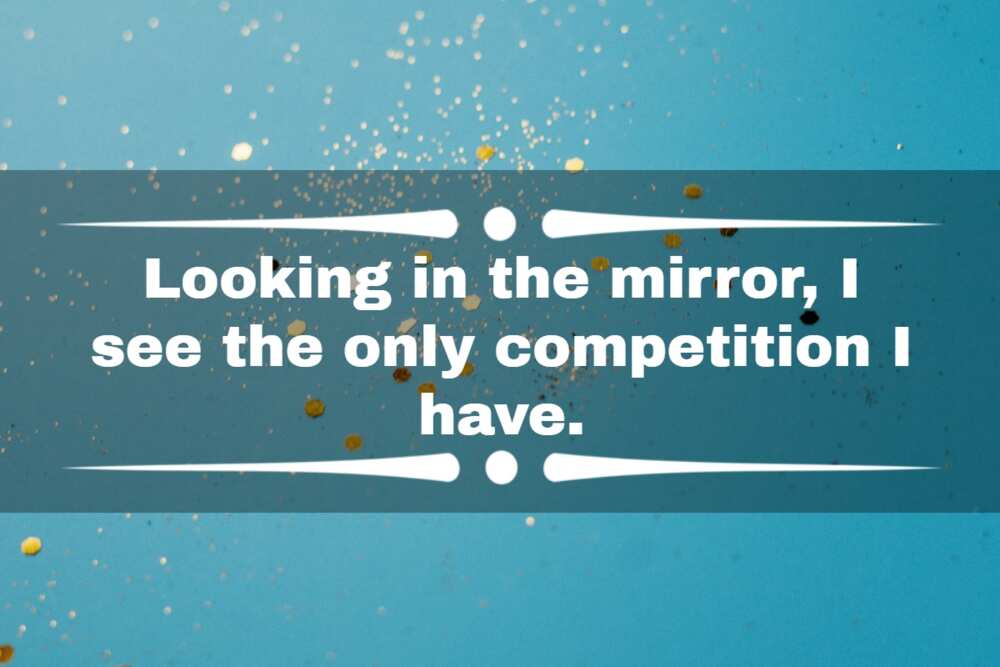 Below are some clever baddie captions you can you on your next post.
Unapologetically myself.
I am mine before anyone else.
The skin glow; money on growing.
Something out of my comfort zone.
Turn your shadows into the light.
Everyone falls, bad*sses try again.
It's not a loss if It wasn't worth keeping.
I'm the girl you've always wanted.
Queens do not compete with hoes.
Confidence level: selfie with no filter.
Get straight to the point! Waste no time!
She's a keeper; too bad you didn't keep her
If you know me better, then you do better.
Blood type: matte black with a hint of gold.
Turn your savage up and lose your feelings.
Just check out the alphabet. I came before U.
He was a dime. Too bad I loose change.
Baby, get your vibe up and pour another cup.
You can rate me between 0-10 because I broke it.
I am actually a very nice person until you p*ss me off.
Don't tell your girl about me. She might become a fan.
Don't be ashamed of who you are; that is your parent's job.
Looking in the mirror, I see the only competition I have.
Just because I don't react doesn't mean I didn't notice.
Always speak how you feel, and never feel sorry for being real.
The question isn't who's going to let me; it's who's going to stop me.
Your a*s must get jealous of all the sh*t that comes out of your mouth.
Oh, I saw something that reminded me of you today, but do not worry, I flushed it.
The above best baddie captions for Instagram can help you express yourself when posting on the platform. You can also use them to respond directly to your enemies or those provoking you on Instagram.
READ ALSO: 53 crazy funny best friend quotes to send to your bestie
Legit.ng recently published an article containing 53 hilarious best friend quotes to send to your bestie. Friendship is important because it makes life more interesting and enjoyable. Crazy and hilarious friends are among the best people you'll ever meet.
Crazy funny companions will make your life more interesting and always be there for you. They do not judge you and accept you exactly as you are.
Source: Legit.ng