Igbo traditional wedding attire ideas for bride and groom
Igbo traditional marriage, also known as Igba Nkwu Nwaanyi, is a series of events that leads to the marital union of a man and a woman from two families. This post consists of Igbo traditional wedding attire ideas you can recreate for your or your friend's marriage ceremony.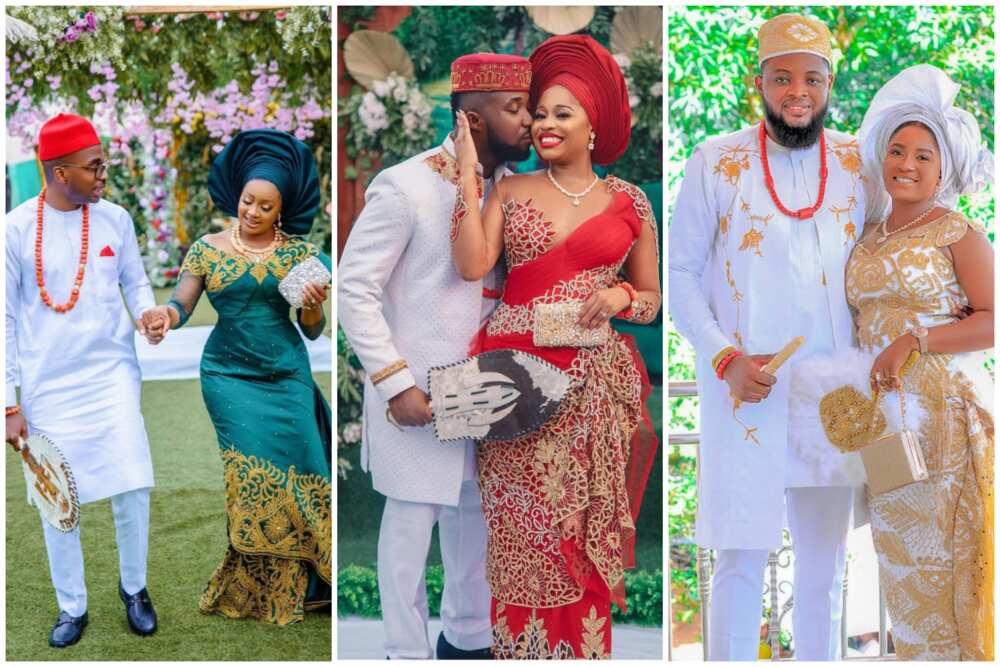 The Igbos are rich in culture, and this reflects in the way they get married. The outfits of the bride and groom are always unique and attention-grabbing. Igbo traditional wedding attire can vary depending on the specific cultural group and personal preferences of the bride and groom. However, some common elements are often incorporated into the wedding dress.
Igbo traditional wedding attire
If you are preparing for your Igba Nkwu and looking for the best and trending Igbo brides' traditional wedding dress styles or wondering what does an Igbo bride or groom wear on their traditional wedding, consider the list below.
Igbo traditional wedding attire for bride and groom
During traditional Igbo weddings, unique customized attire is worn to represent families and friends. The guests, family members, and the bride and groom wear fabrics and designs that complement one another. Below are some Igbo traditional wedding attires for couples that will leave all your guests speechless.
Navy blue outfit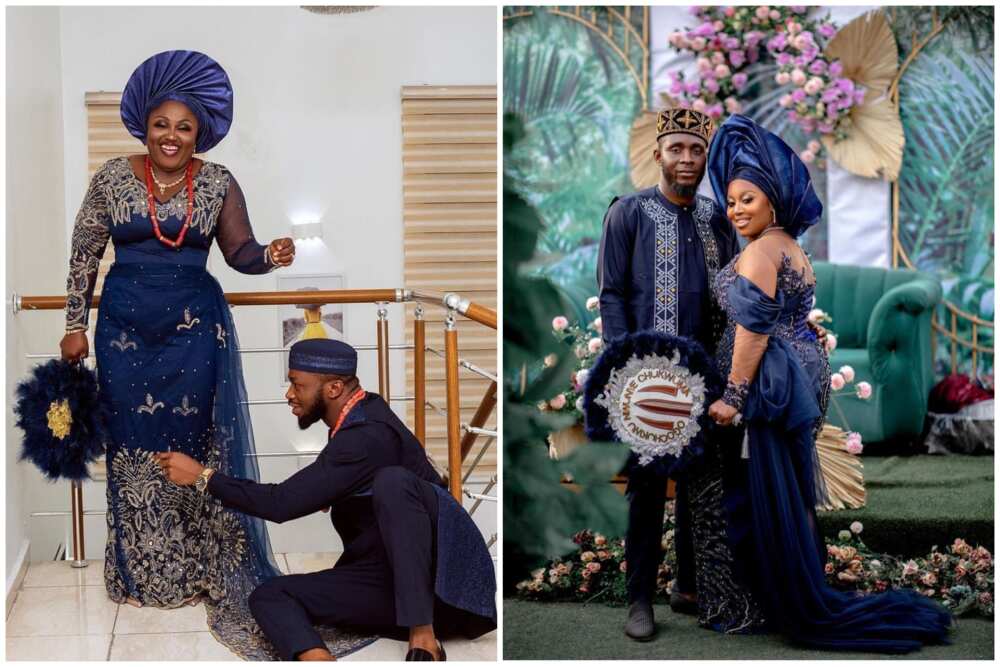 Here one bride wears a long blue gown with see-through sleeves decorated with silver beads, while the other has an off-shoulder moment. The outfit can be adorned with a gele, silver necklace and matching hand fan.
The groom's outfit is an adorned jacket on a long sleeve senator. The groom may use a black or navy cap to match the attire. Coral beads, a matching stick and a hand fan can also be used to rock the outfit.
White and blue combination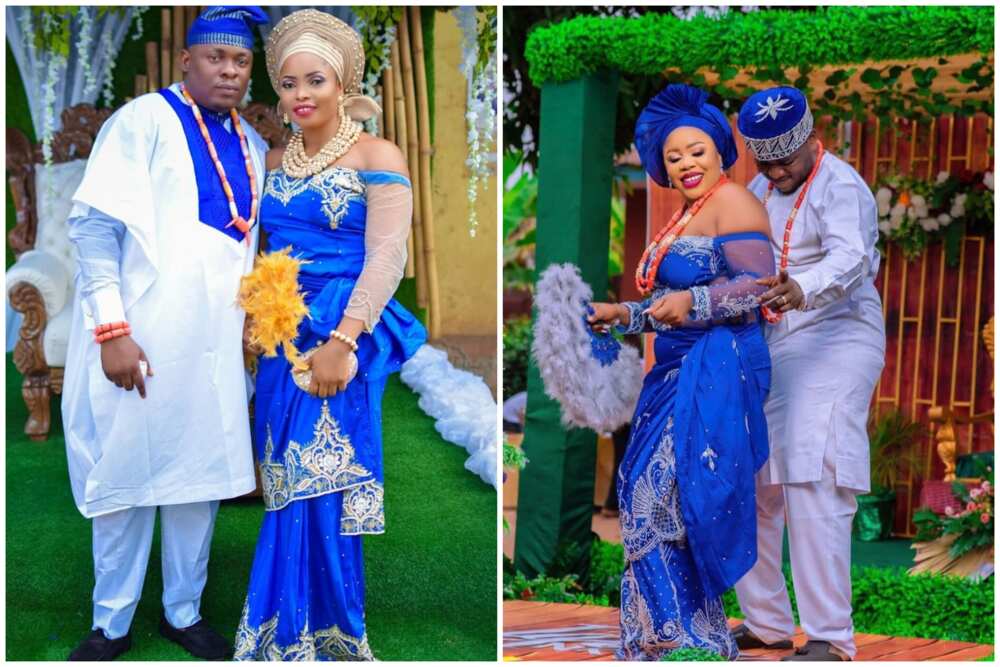 The bride wears a blue blouse on a two-piece wrapper. The blouse is designed into an off-shoulder with a beaded illusion long sleeve. Coral beads, hand fan, head tie and silver earrings can be used to rock the outfit.
The groom wears a white long-sleeved kaftan with a matching blue cap. The outfit can be worn with coral beads and accessories such as a matching horsetail, hand fan and walking stick.
Gold and white combo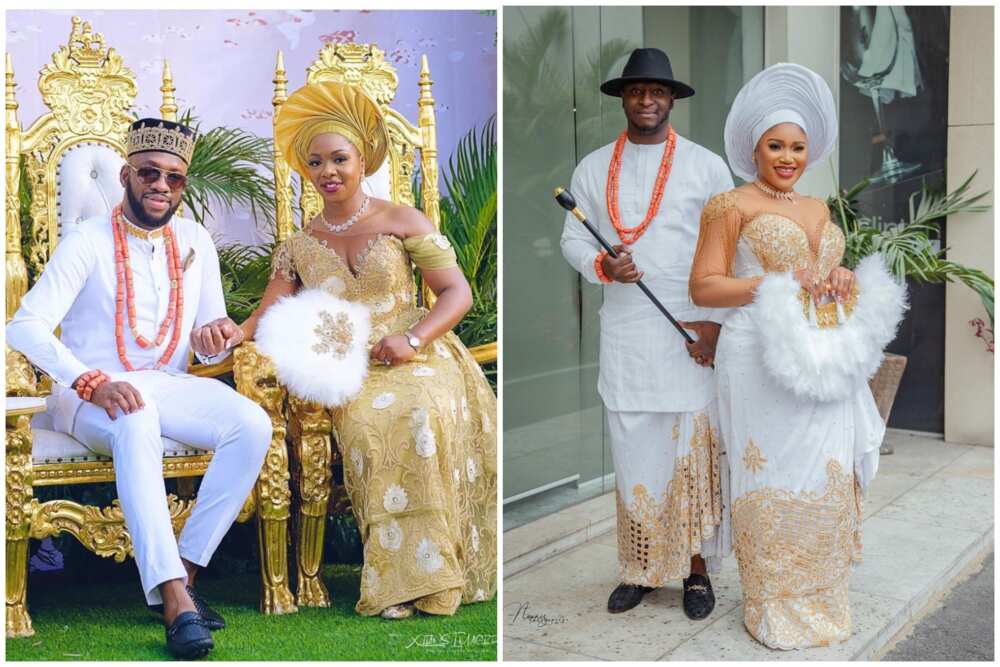 The colours together make a stunning combination for the couple's look. The bride wears a white and golden blouse on a matching two-piece wrapper, and the attire is matched with a golden gele and white hand fan designed with gold. This traditional wedding attire is usually accessorized with coral bead necklaces, bracelets, and crowns/hats.
The groom wears a well-detailed round-neck senator designed with gold materials. The attire is adorned with coral beads and a matching black cap designed with gold.
Isiagu on white senator matched with brown lace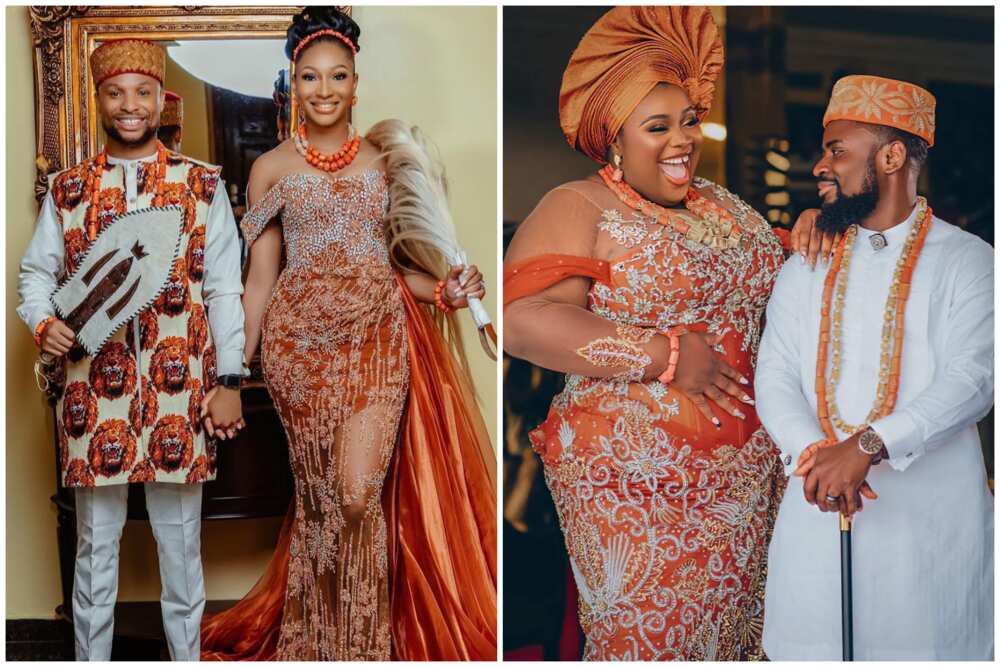 The bride wears brown lace designed with silver beads. The shoulder strap is made to hang loosely on the shoulder. Coral beads, and black or white horsetail, can be used to add to the outfit.
The groom wears an Isiagu jacket on a white long-sleeve kaftan set. He matches the attire with a brown shoe, a white and a brown hand fan or walking stick, a red coral bead and a red cap decorated with brown materials.
White and golden wrapper combo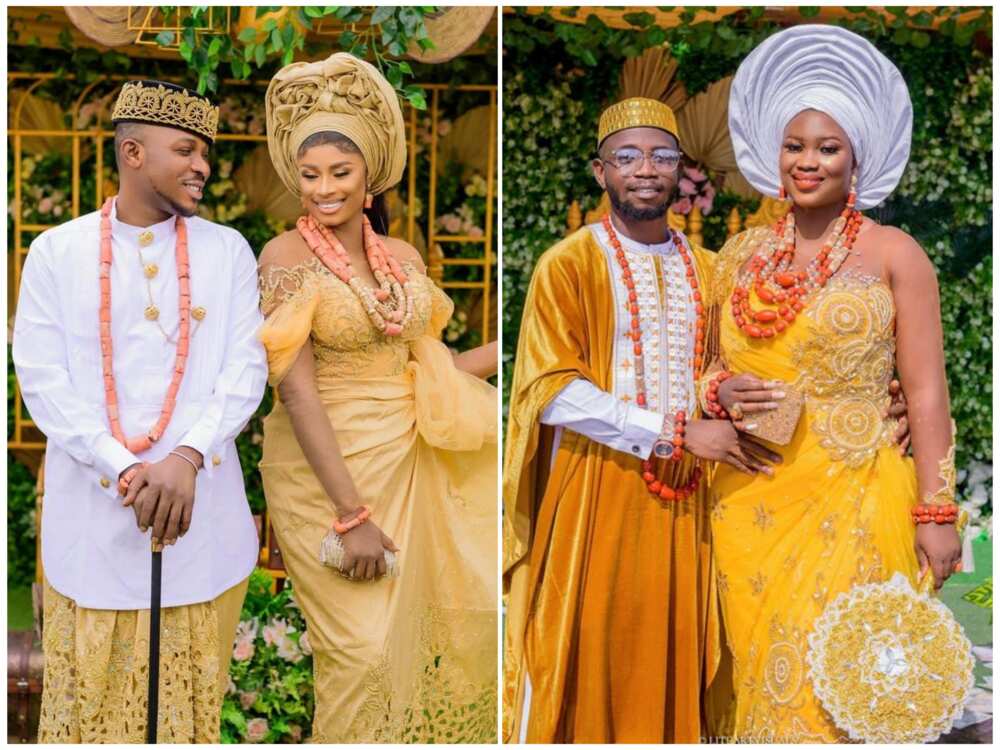 This outfit features various gold foil printed designs that will excite anyone. The bride wears all-gold attire with a blouse and matching wrapper. The blouse is matched with a gele, purse, shoes, red coral beads, and a touch of gold.
The groom wears a golden wrapper with a white kaftan shirt. He matches the outfit with an embroidered cap. Brown suede shoes, coral beads and a walking stick can also be used to rock the attire.
Traditional wedding attire for Igbo bride
The Igbo wedding attire for the bride can be worn as a skirt and blouse, tie wrapper or gown and should have an ethnic design that complements the rich culture of the geographical area of the bride's heritage. The Igbo bride's attire can be any colour.
The bride is beautified with lots of embroidery and accessories such as coral beads, horsetail, a well-designed hand fan and jewellery.
Long sleeve blouse on the two-piece wrapper with golden designs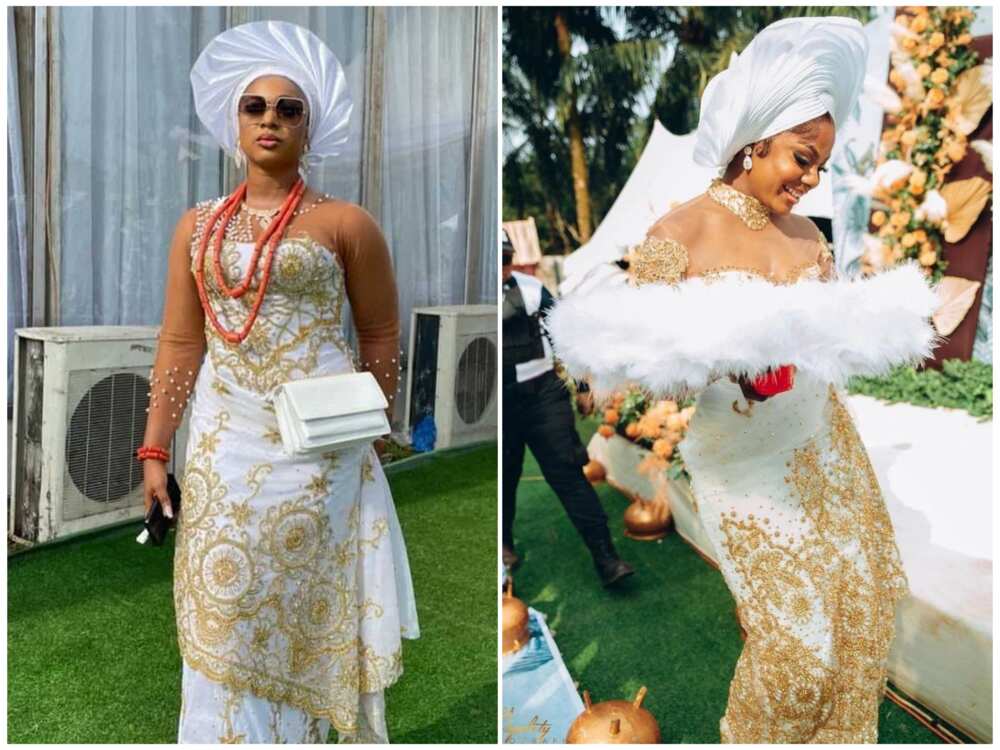 The blouse and two-piece wrapper are mostly worn for traditional weddings. A hand fan, horsetail, silver gold purse and matching jewellery can be used to add to the outfit.
Fit and flare long mermaid gown
This type of dress hugs the body and flares off just below the hips, accentuating the waist, or just above the knees, beautifully showing off the curves of the body. The attire can often be adorned with long or short coral beads, matching jewellery, purse, hand fan and horsetail.
Straight fitted gown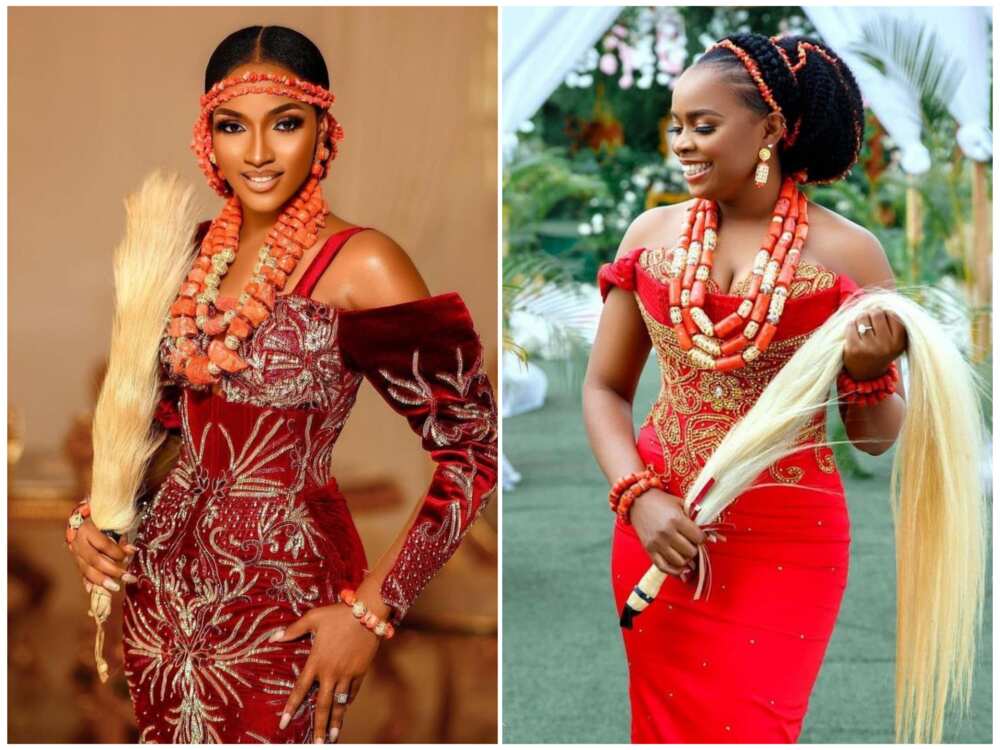 A straight-fitted dress is designed to accentuate every aspect of your natural body type. The bride may accessorize the attire with long or short coral beads and traditional matching jewellery, such as beaded necklaces, earrings, and bangles. The bride should go with a matching head tie. A horsetail, matching purse and hand fan can be used to add more beauty.
Short sleeve blouse on the two-piece wrapper with gold and silver designs
Blouses and wrappers are worn by brides on their traditional engagement or wedding ceremony. The off-shoulder blouse is matched with a two-piece wrapper. A silver or gold purse, shoes, jewellery and hand fan go well with the outfit. Coral beads and horsetails can be used to add more beauty.
Strapless fit and flare mermaid long gown
Mermaid dresses are the perfect attire for someone looking to highlight their figure. The design overflows to the bottom, creating a lovely effect. The outfit can be made even better by the accessories on the women's heads and necks, such as coral beads.
Igbo traditional wedding attire for the groom
The Igbo grooms often wear loose-fitted, knee-length shirts and flabby trousers. The men use only one of the chosen colours or materials, which they sew into any traditional outfit they favour.
The most crucial thing is that the groom's outfit should match the bride's, attire and the clothes should be made from similar materials. Some prefer suits, regular shirts, and trousers, but donning clothes that match the colour theme shows kinship with the couple.
A cap
The Igbo grooms wear caps of different styles, and the colour of the cap doesn't need to match the rest of the outfit. Mostly, men choose gold, red, black, or silver caps regardless of their attire. Some men also accessorize their hats with vibrant feathers to add more flare to the outfit.
A shirt and pants
The minimal dressing for a groom mostly consists of a high-collared, long-sleeved shirt, which flows down to the knees, and pants. The groom might add a heavy Agbada with lots of embroidery on top of his native shirt and trousers.
Igbo men also wear an Isiagu or a plain white shirt that reaches the knees. Isiagu is a pullover shirt, usually embroidered with lion heads, crowns or other large symbols.
Some grooms like wearing simple trousers that are traditionally wide-legged, while others, however, go for the wrapper, which can be as short or as long as they want. The pants usually vary from flabby to tight, but the latter detail depends on personal preferences. The traditional groom's attire can also be accessorized with coral necklaces, gold chains and walking sticks.
The Igbo traditional wedding attire is an essential part of the Igbo culture. Every Igbo tribe member has a different dressing style for the day of marriage. The groom and bride will have the opportunity to show off their creativity through their clothing.
READ ALSO: Top 30 types of Igbo dressing for men and women with pictures
Legit.ng recently published an article about the top 30 types of Igbo dressing for men and women. Igbo fashion has evolved over the years and now has more western elements. However, various traditional aspects remain. Igbo fashion is generally colourful and involves numerous accessories such as beads, hats, necklaces, and trendy whisks.
The Igbo men's traditional attire is called Isiagu, also known as Chieftaincy. This is made with high-quality suede materials. For women, an embodied puffed sleeve blouse along with two wrappers and a head scarf are worn.
Source: Legit.ng